The leaves are beginning to turn and pumpkin flavors are in the minds of kids and adults everywhere. So today, I made my first pumpkin treat of the season! This Pumpkin Biscotti recipe is easy, pretty and delicious!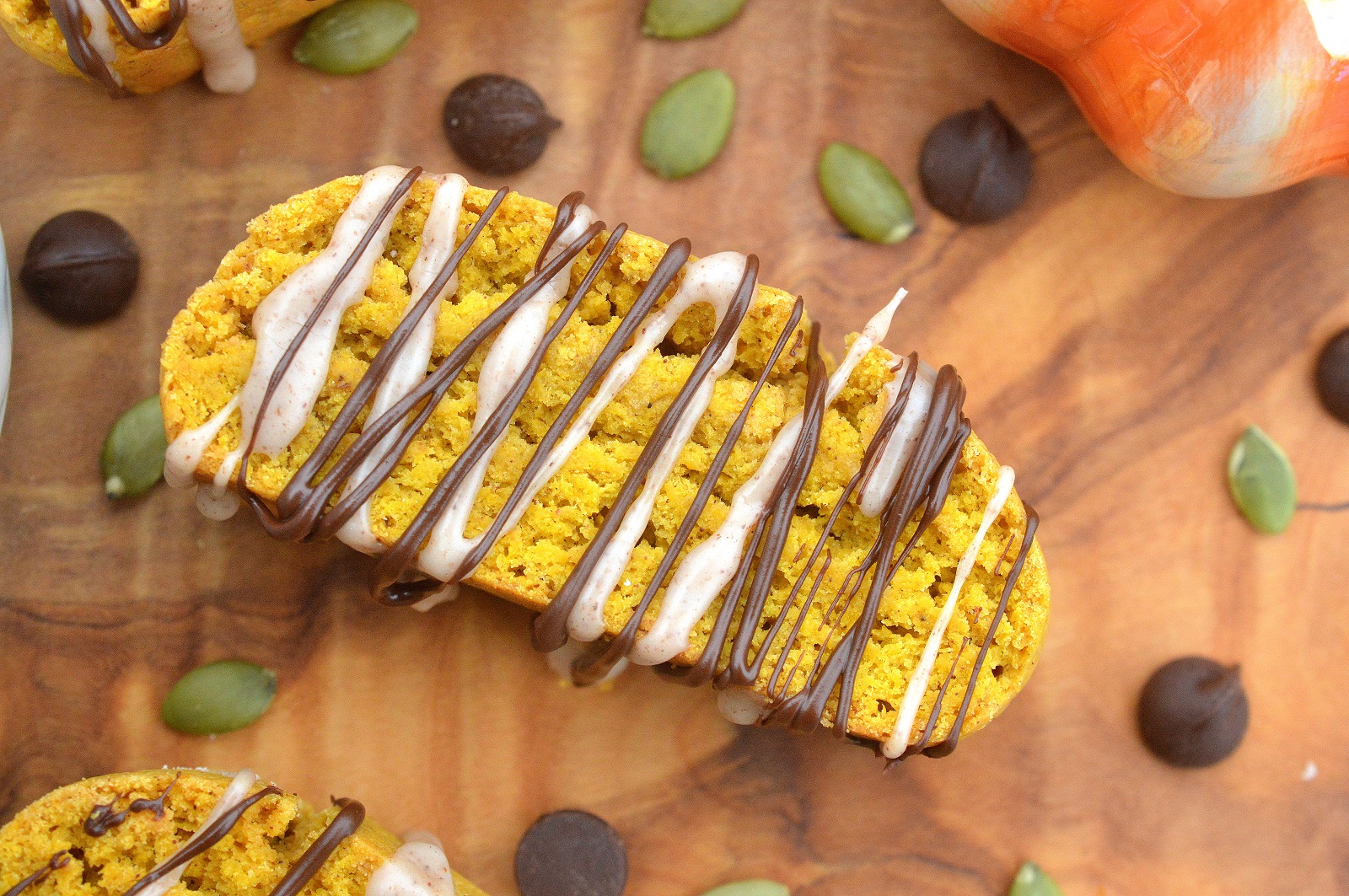 Pumpkin Biscotti was was worth the wait. The girlie has been begging to make pumpkin...anything since the end of August.
I kept saying no, no no. Let's wait. To me, it's like listening to Christmas music too early. Am I alone in this?? Anyone else feel this way?
Making biscotti is easy, people think it is hard, however, once you make biscotti, you say to yourself "that was easy" and then do it again and again.
Unlike waiting for the each batch of cookies to be done, then wait for the tray to cool a bit, the scoop or form more cookies and do it all over again. Biscotti recipes are as simple as 1-2-3 in my opinion.
Ingredients
butter
brown sugar
sugar
pumpkin puree
egg
salt
pumpkin pie spice
cinnamon
3 cups 
baking powder
powdered sugar
water
dark chocolate chips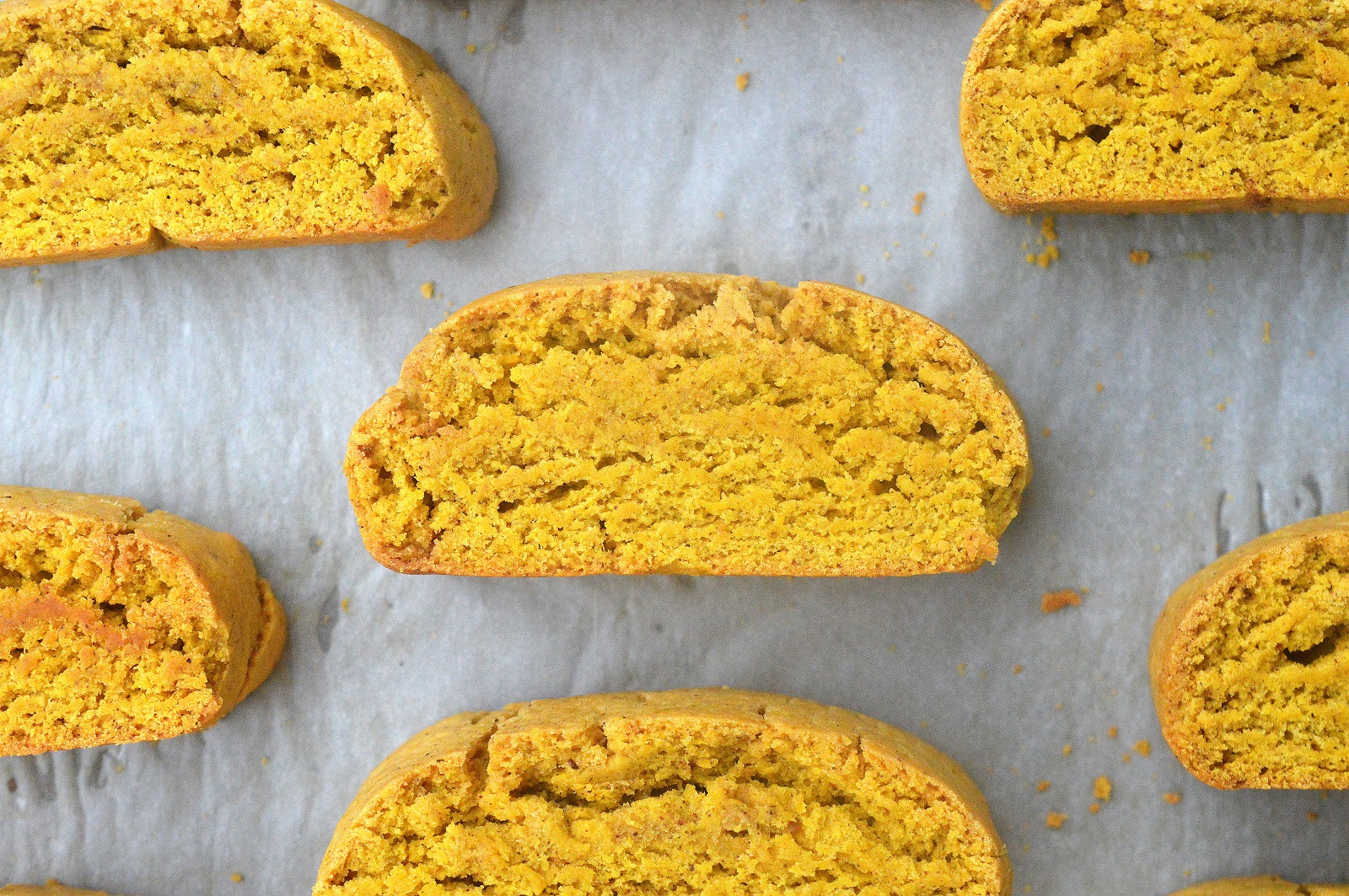 I'm a self-proclaimed cookie monster.
Really! Cookies, homemade cookies that is, are my Achilles heel. I can't stop at one. I just keep eating them. I love a cookie or three for breakfast.
My son Connor (15) follows exactly in my footsteps when it comes to cookies (love that kid). Biscotti are one of his favorites and this Pumpkin Biscotti Recipe did not disappoint him. If you like Biscotti as much as my son and I do, check out my other biscotti recipes: Apple Cider Biscotti, Carrot Cake Biscotti, and Eggnog Biscotti.
Make these as full of pumpkin pie spice as you like and then decide to drizzle them with a cinnamon drizzle or make them a little more special by also adding a thin dark chocolate drizzle...Why not?
The flavors in this biscotti recipe all go well together.  When I make biscotti, I make them on the softer side. They are firm and have a good crunch, but they are not all dried out like you would find in a coffee shop.
Just my family's preference. You decide how you want them.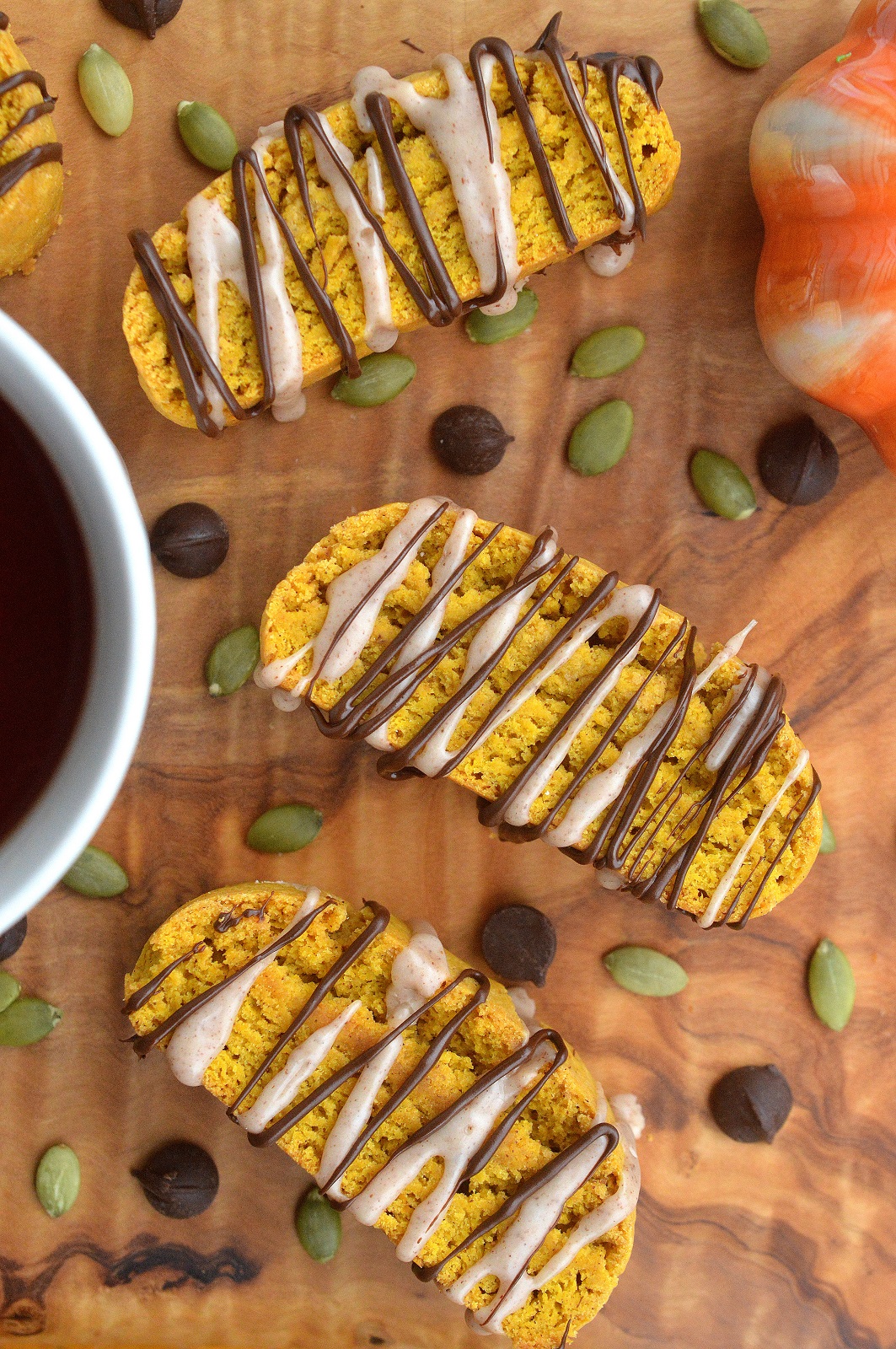 This Pumpkin Biscotti Recipe is a home run for anyone who enjoys pumpkin, or fall treats! Biscotti make a great food gift too!
You may also enjoy these recipes
Enjoy!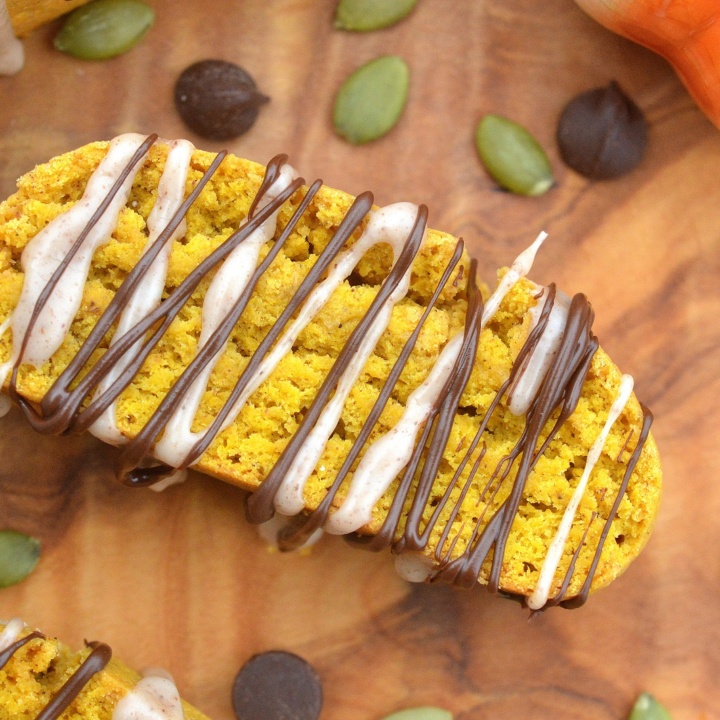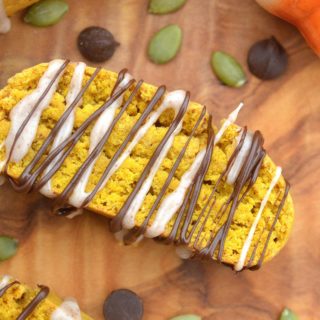 Pumpkin Biscotti Recipe
Ingredients
1

stick butter

¼

cup

brown sugar

¾

cup

sugar

6

TBS

pumpkin puree

1

large egg

Pinch

of salt

1

TBS

Pumpkin Pie Spice

½

teaspoon

cinnamon

3

cups

flour

2

teaspoons

baking powder

Cinnamon Glaze

1

cup

powdered sugar

1

teaspoon

cinnamon

2-3

teaspoons

water

Chocolate Drizzle

½

cup

dark chocolate chips
Instructions
In your mixing bowl, combine butter and sugars.

Mix until incorporated.

Add in pumpkin, egg, salt, spices, flour and baking powder and mix until dough is fully incorporated.

Remove dough from bowl onto a pastry board or parchment paper lined countertop.

Halve the dough and roll the dough into a foot long log. Making it even in thickness and height.

Place it on a parchment paper-lined baking sheet.

Repeat with the second piece of dough.

Allow 2 inches between dough logs and side of the pan.

Bake for 25 minutes.

Remove from oven.

Lower oven to 325 degrees.

Allow biscotti to stand 3 minutes.

Carefully cut into ½ inch wide slices.

Turn slices onto one size, allowing a little space between each.

Bake for 10 minutes.

Remove from oven and carefully flip each piece to the opposite side.

Bake for 10 more minutes.

**If you want biscotti on the softer side. once you turn oven off, allow them to sit in hot oven with the door closed another 5 minutes.

***If you want hard biscotti, once you cut them from the log into individual slices lover oven to 300 degrees and allow to cook bake 20 minutes, flip over and do the same.Turn oven off and allow them to sit in the oven until the oven cools.

To make the Cinnamon Glaze, combine sugar, water, and cinnamon and mix until smooth. You don't want it runny, you want it thick, yet able to drizzle.

Spoon glaze into a plastic baggie, snip off one end and drizzle over biscotti.

Melt chocolate (if using) and do the same.

Allow glazes to dry. Store in a cookie jar or other airtight container for up to 2 weeks.
Notes
If you don't have pumpkin pie spice simply combine 1 TBS cinnamon, 1 teaspoon nutmeg, 1 teaspoon ground ginger, ½ teaspoon allspice and ½ teaspoon ground cloves, mix well.
Follow me on Tik Tok for 1 minute videos