Mid to late September, October, and November here in Bucks County, PA is a gorgeous time of year! The leaves begin to change and fall fun and fall flavors like this Pumpkin Crunch Cake recipe are what its all about!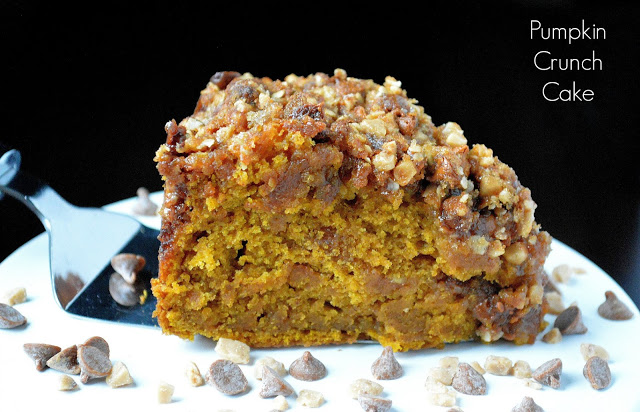 That may be the reason that my family and I seem to be having a pumpkin something almost daily. I know I am not alone in this. Can you even find canned pumpkin in September?? It sells out fast! My daughter and I especially look forward all year to Fall, both the weather, the beauty and the pumpkin delicacies we can enjoy! This Pumpkin Cake recipe kicks off our festivities.
This Fall Cake recipe has become a family & friends favorite. And it's easy too! 
I had been thinking about a cake or pound cake flavored with pumpkin for a couple of weeks back in 2014 when I first posted this recipe. The word 'crunch" was popping into my head whenever I thought about it.  So I tinkered and tinkered until I got it where I wanted it.  In my first attempt, I grabbed a bundt pan.  I'm not sure what I was thinking since the crunch was on top, so getting that cake out of the pan, then flipping it was a feat for sure…not so smart especially since this cake is so moist and heavy from all of the pumpkin. Miraculously it didn't break apart, but I knew that was not the way to go! Use a springform pan instead. (or make as cupcakes).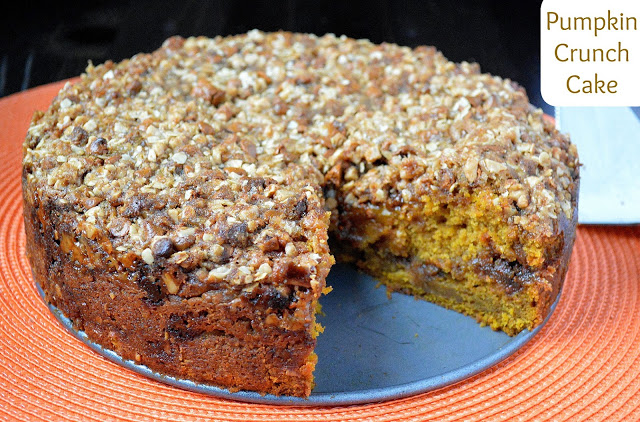 This cake is SO moist and explodes with pumpkin flavor, it reminds me of something but what that something is, I just can't figure out.  I can vaguely remember a boxed cake when I was a kid that said it had pudding in it, that might be what this reminds me of, it's so moist and dense.  My husband and my sister especially were crazy for this pumpkin cake, they begged me to stop making it (since I made it 3 days in a row to get it right) so they could stop eating it. They couldn't control themselves!
If you are into nuts, feel free to add some chopped pecans in for extra crunch, my kids are allergic so no nuts for us. Initially, I envisioned a pumpkin-flavored drizzle over-top the cake but trust me, it doesn't need it.
Pictured above is the full batter in one springform pan (maybe a 9-inch? That was back in 2014)/ Pictured below is the cake made in an 8-inch springform pan AND I did use some of the batter to make two smaller cakes. This is why it is not as high as above.
How To Make The Topping For This Pumpkin Crunch Cake:
You can make the topping in a variety of ways. Originally, I used packets of my daughters favorite instant oatmeal (O Organics Maple Brown Sugar Oatmeal), I added butter and some brown sugar until the crumble was where I wanted it.
Later I decided to use plain oatmeal, brown sugar, butter, AND then added Hershey's Heath Toffee Bits and their  Cinnamon Chips…OMG is that good! (If you only have one or the other, that is fine as well)
You can honestly make any type of crumble or strudel you like for the topping and make it sweet or less sweet, based on your preference. I have even used chopped dried banana chips for the topping before.
Tip: The cinnamon chips and the toffee chips (without chocolate) can be hard to find in regular markets. Walmart and Target however usually have them for less than $3 a bag.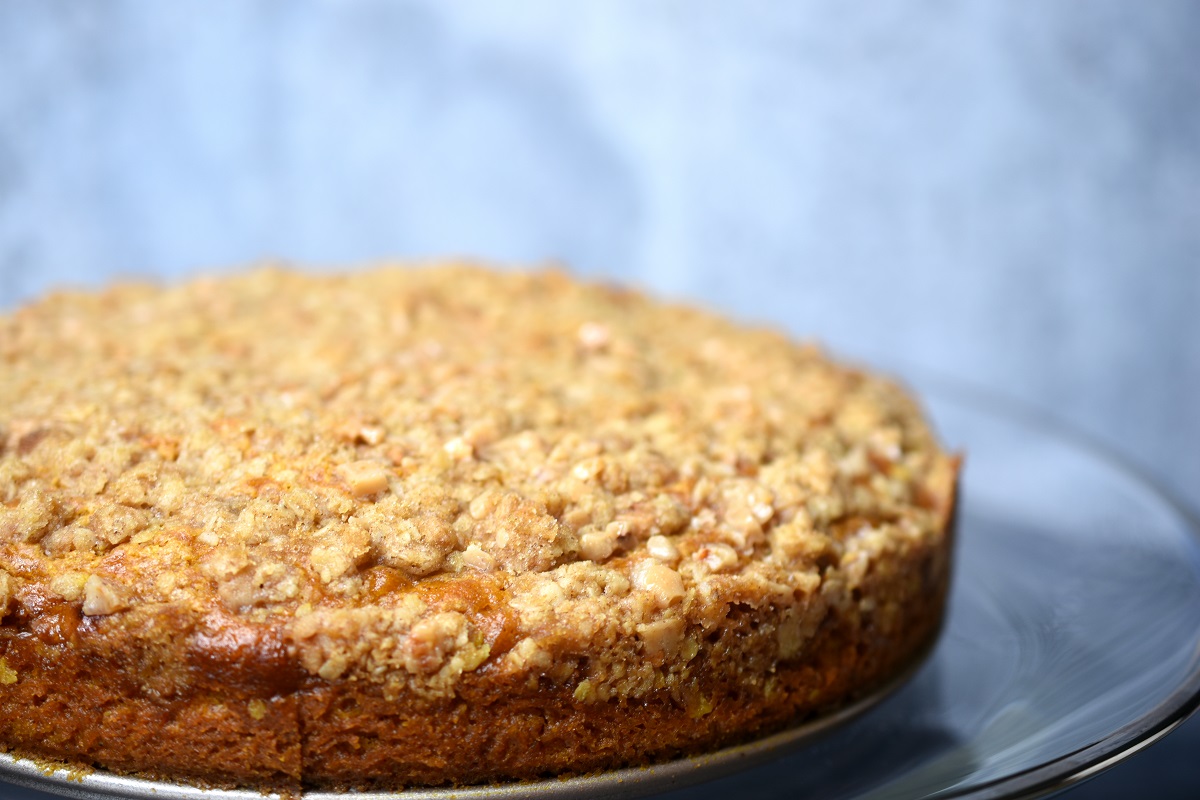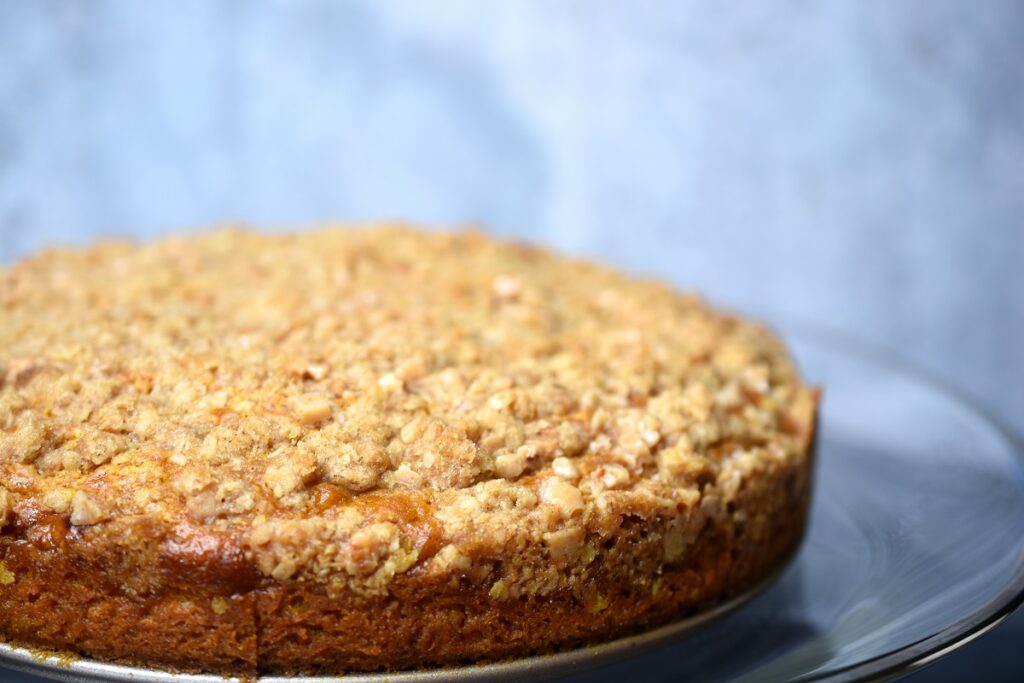 Expert tips for making a Pumpkin Cake:
When looking for canned pumpkin, make sure you grab "pure pumpkin" in a can and not pumpkin pie filling which has additional ingredients and spices already in it. Or you can roast your own pumpkin. See how to roast a pumpkin easily in your oven here. 
You want your batter a little thicker, not runny.
You can adjust the sweetness level of the cake. Cut it down by 1/4 cup or more of sugar for a less sweet cake.
Experiment with toppings, plain oats mixed with spices and butter, adding toffee chips, cinnamon chips, or both. Adding maple flakes (yum) or anything else you think would be delish.
A springform pan really does work best for this, but go ahead and try whatever pan you have.
You can split this batter into two smaller springform pans or like I do sometimes, one 8 inch pan and two 4 or 5-inch pans. That way I can give one away and keep the little's for us.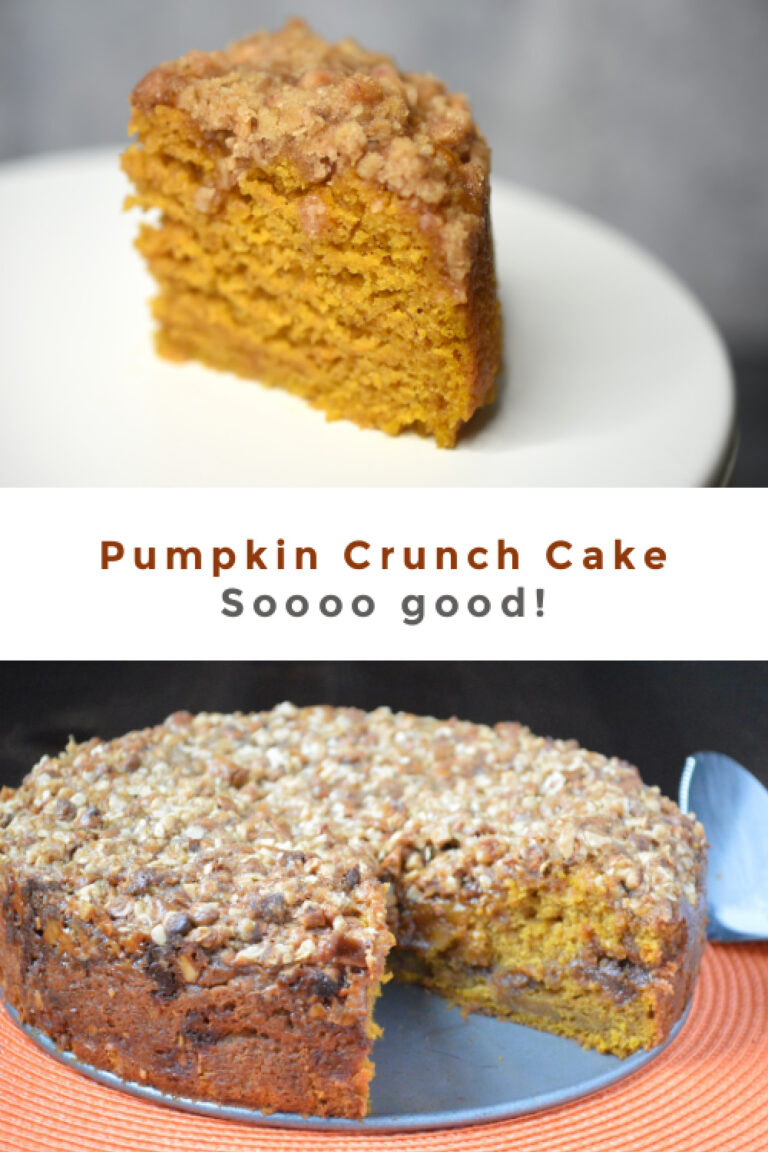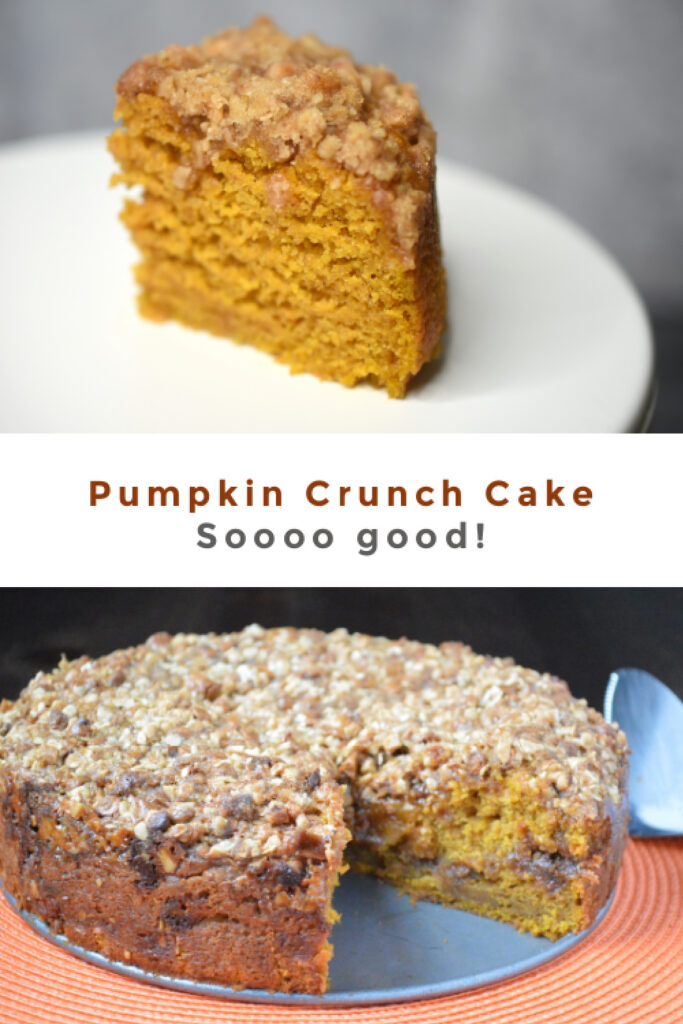 If you want a showstopper of a recipe that is not only a dessert… it's a history lesson…Try my "The Original Pumpkin Pie…The Way The pilgrims Made It" This may just become a new Thanksgiving tradition in your home! You see the pilgrims did not have flour, so this is close to what they did…Check it out!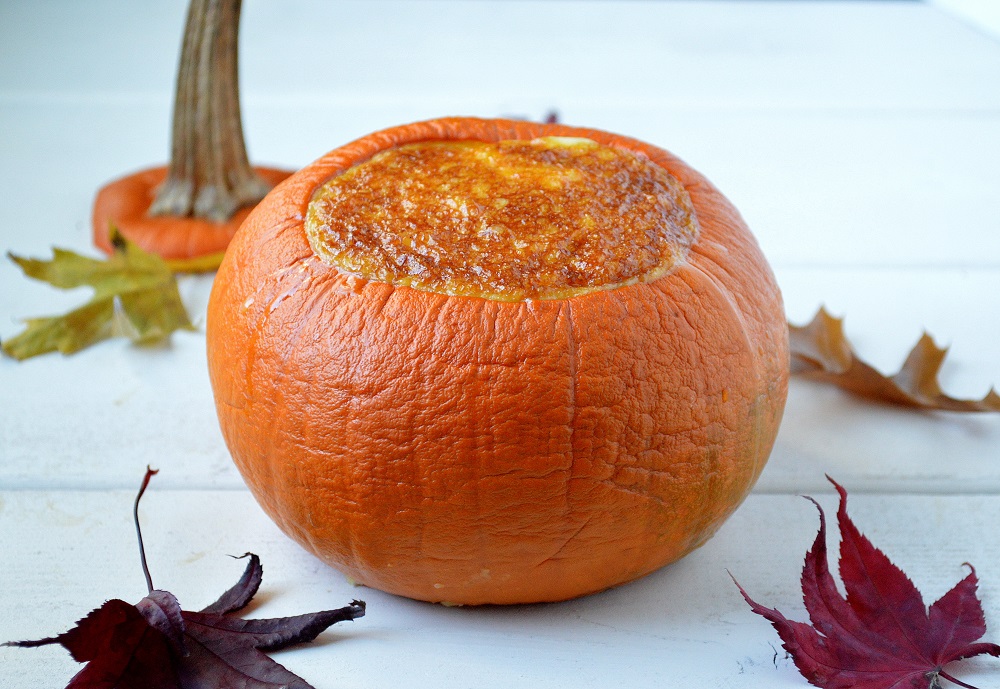 If you're looking for more pumpkin love, here are some of my favorites:
Pumpkin Pie Shooters
Thanksgiving  Pumpkin Parfait Dessert Bar
Pumpkin Pie Biscotti (yum!!)
Spiced Pumpkin Bread Pudding With Maple Glaze
Easy Baked Pumpkin Donuts
Hope you love this one as much as I do!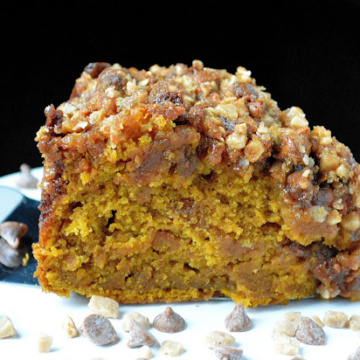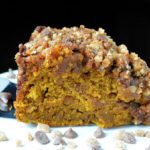 Print Recipe
Pumpkin Crunch Cake
This recipe for Pumpkin Crunch Cake will wow your family and friends! It's moist and full of flavor. This recipe is a keeper!
Ingredients
Cake

1 1/2

cups

sugar

4

oz

butter

melted and cooled

2

cups

fresh roasted pumpkin or a 15 oz can of pumpkin puree (pure pumpkin NOT pumpkin pie filling)

1/4

cup

vanilla yogurt

1

TBS

vanilla

2

eggs

2

cups

flour

1 1/2

TBS

pumpkin pie spice

1

TBS

baking powder

1

tsp

baking soda

1/4

tsp

salt

Crunch Topping Mixture

3/4

cup

toffee bits

3/4

cup

cinnamon chips

1/2

cup

Quaker Oats Oatmeal

1/4

cup

brown sugar

4

TBS

butter
Instructions
In your mixing bowl, combine sugar, butter, pumpkin, yogurt & vanilla and mix until blended.  Add in the eggs and mix until incorporated.  In a small bowl, whisk together the dry ingredients, then pour them into your wet mixture and mix until fully incorporated.  Set aside.

In a small mixing bowl, combine toffee bits (made by Heath), cinnamon chips (made by Hershey's), oatmeal and brown sugar.  Work it together with your fingertips, then add in the butter and mix it in with a pastry cutter or your fingertips until its crumbly and worked in.

Spray/grease a springform pan and place half the batter in it, scatter 1/2 of the crunch mixture over-top.  Place the rest of the batter in and repeat with the remaining crumb mixture.

Bake at 350 degrees 50-65 minutes or until a tester inserted comes out clean and dry.  Cover your cake lightly with foil after 30 minutes.

Colleen's Notes:  My favorite way to make the topping was by using 2 packets of an organic snicker doodle oatmeal I had on-hand instead of straight up oatmeal.  Feel free to try something like that if you have packets of some sort you feel will go well in your pantry.  If not the oatmeal works just fine.

IF you can not find the cinnamon chips or toffee chips, don't worry just combine 1 1/2 cups plain uncooked oatmeal (I use Quaker Oats), 1/2 cup brown sugar, 1 tsp cinnamon, 1/4 tsp nutmeg, a pinch or 2 of salt and 6 TBS butter and mix with a pastry cutter, fork or your fingers until crumbly, coat the top of the cake mixture with that and pop it into the oven.

If you want a less dense cake (however I think this is what makes this cake so good), only use 8 oz of pumpkin.  If you need to make Pumpkin Pie Spice, my Little Chef shows you how to

here

. If you need to know how to roast a pumpkin, again my 9 year old has your back!
Notes
If you do not have cinnamon chips or toffee bits, that's fine. Just use the oats, brown sugar, butter and throw in some cinnamon or pumpkin pie spice. Double it so you have enough to top the cake. You can use chopped banana chips for crunch or add white chocolate chips, what ever you want. Just get whatever crumble you make to be crumbly yet stick together a bit, so it crisps up nice. 
Nutrition
Serving:
12
g
|
Calories:
500
kcal
|
Carbohydrates:
73
g
|
Protein:
5
g
|
Fat:
21
g
|
Saturated Fat:
13
g
|
Cholesterol:
88
mg
|
Sodium:
463
mg
|
Potassium:
184
mg
|
Fiber:
2
g
|
Sugar:
49
g
|
Vitamin A:
8303
IU
|
Vitamin C:
2
mg
|
Calcium:
124
mg
|
Iron:
2
mg