This simple Hot Milk Cake recipe is one of those vintage recipes that no matter which century you make it in...it will always be a hit! This cake calls for ingredients anyone would have on-hand and is great plain, with powdered sugar, alongside fresh fruit or in this case with caramel drizzled all over it, mmmm!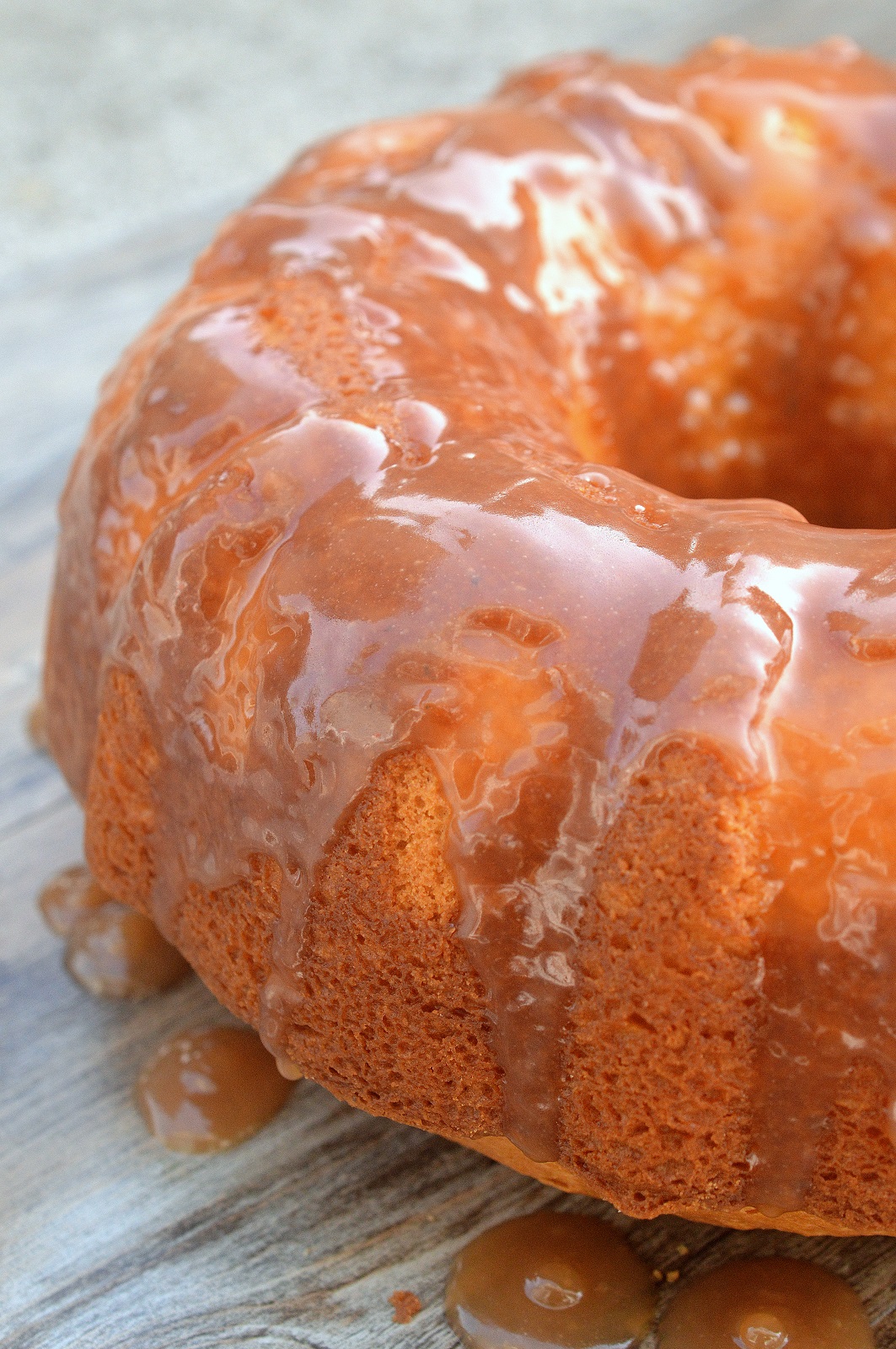 My grandmom called this a Hot Milk and Butter Cake, and I guess it's because you simultaneously heat up the milk and butter before you add it in to the batter. She served it plain and once I remember her making a white frosting for it and sprinkling it with coconut for Easter. Food memories are the best!
This scrumptious Hot Milk Cake recipe can be whipped up pretty quick. The browning of the outside of the cake is delicious and to me the best part actually (and it goes so good with caramel). I have made a couple of tweaks to the recipe over the years, adding more sugar (since back when this cake was first being made...sugar was rationed), and I add some heavy cream to make it richer. A few years back I was lucky enough to cook with one of the best chef's in the world - Darina Allen who owns the world-famous Ballymaloe Cookery School in Ireland.  She told me that American milks, butters and creams didn't have enough fat content to do certain recipes justice and I should always add in some heavy cream...so I listened.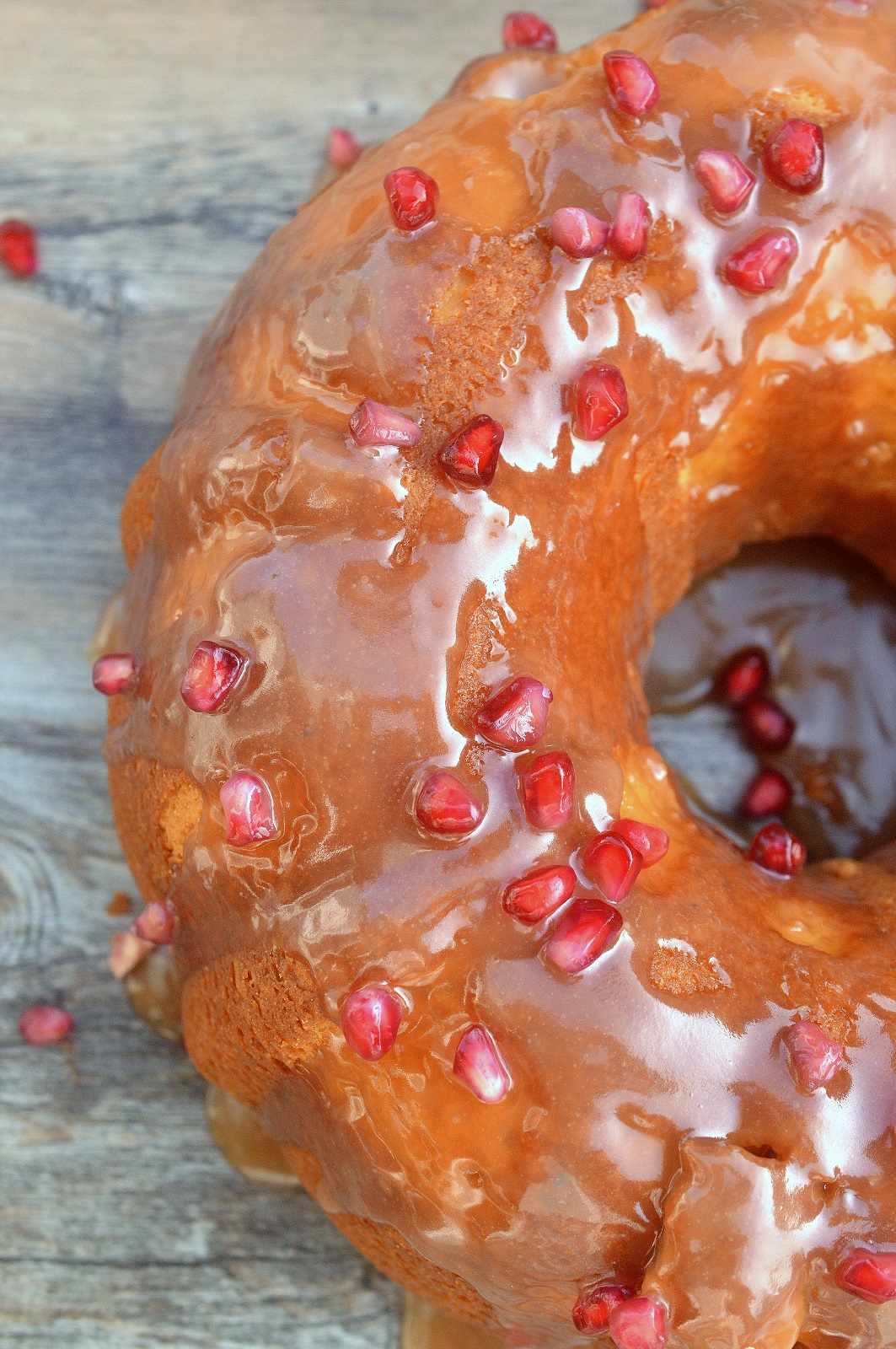 I teamed up with DairyPure milk for this recipe. DairyPure milk is typically the milk found in our fridge. My son drinks about a gallon a week just by himself!
DairyPure milk is the only milk backed by an exclusive Five-Point Purity Promise. DairyPure milk contains no artificial growth hormones, is tested for antibiotics, is continually quality tested to ensure purity, only comes from cows fed a healthy diet and is cold shipped from your trusted dairy. I feel good about buying this milk for my family and the fact that it's made rather local to me is an added bonus!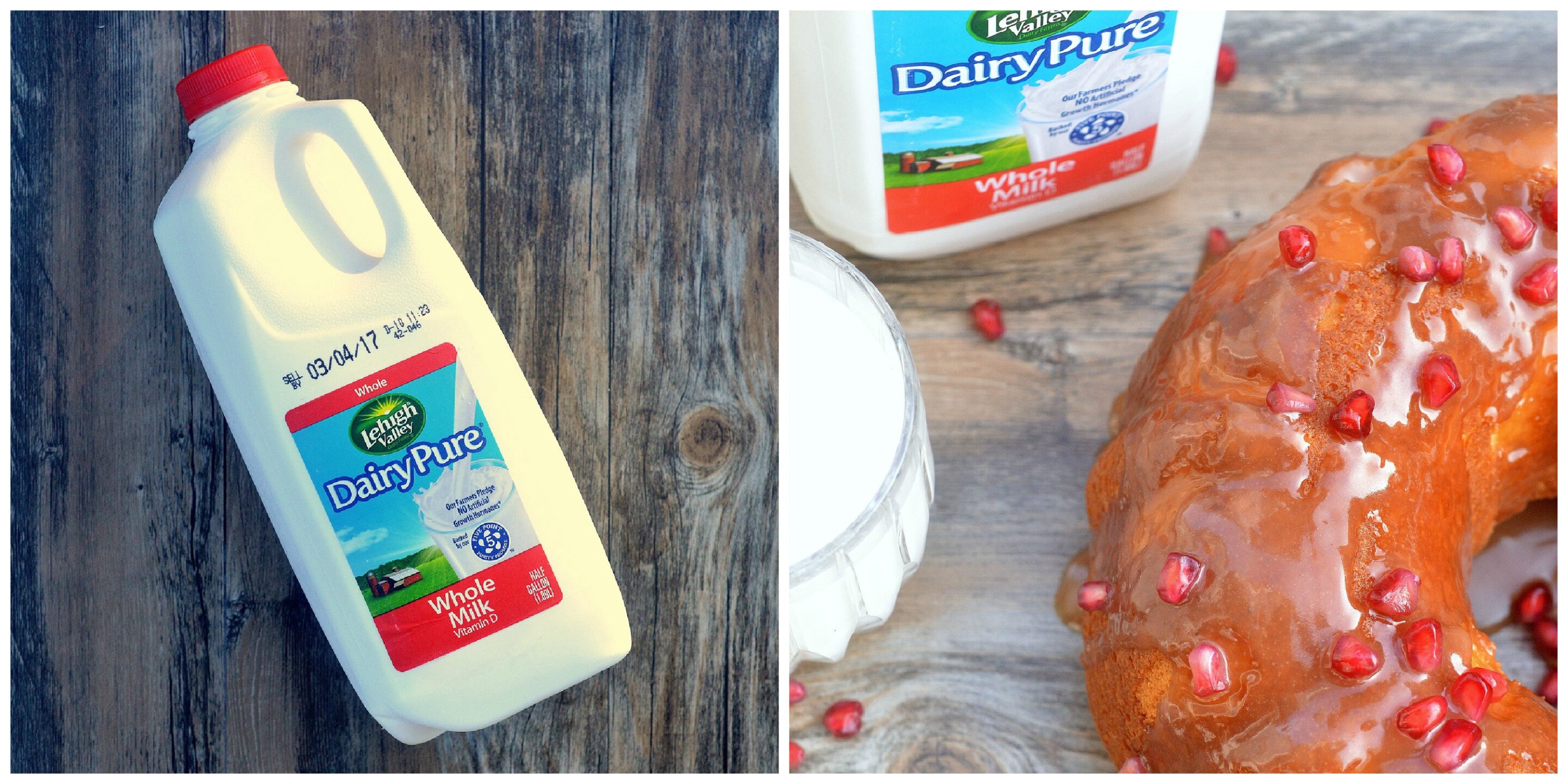 DairyPure is available in the dairy case at grocery stores nationwide in whole, 2% reduce d fat, 1% low fat and skim/fat free milk varieties.
For recipes, local retailers, the full line of products, and to learn more about DairyPure's exclusive Five-Point Purity Promise, visit: HERE.
You can also follow them on Facebook and Pinterest for special offers, recipe inspiration, news and more! 
DairyPure whole milk was the perfect addition to this Hot Milk Cake recipe, as was the addition of DairyPure heavy cream. AND, a ice cold cup of their fresh delicious milk is a perfect compliment to a big giant slice of this cake! That is IF you son hasn't emptied your container...Ahem!
Who wants a slice??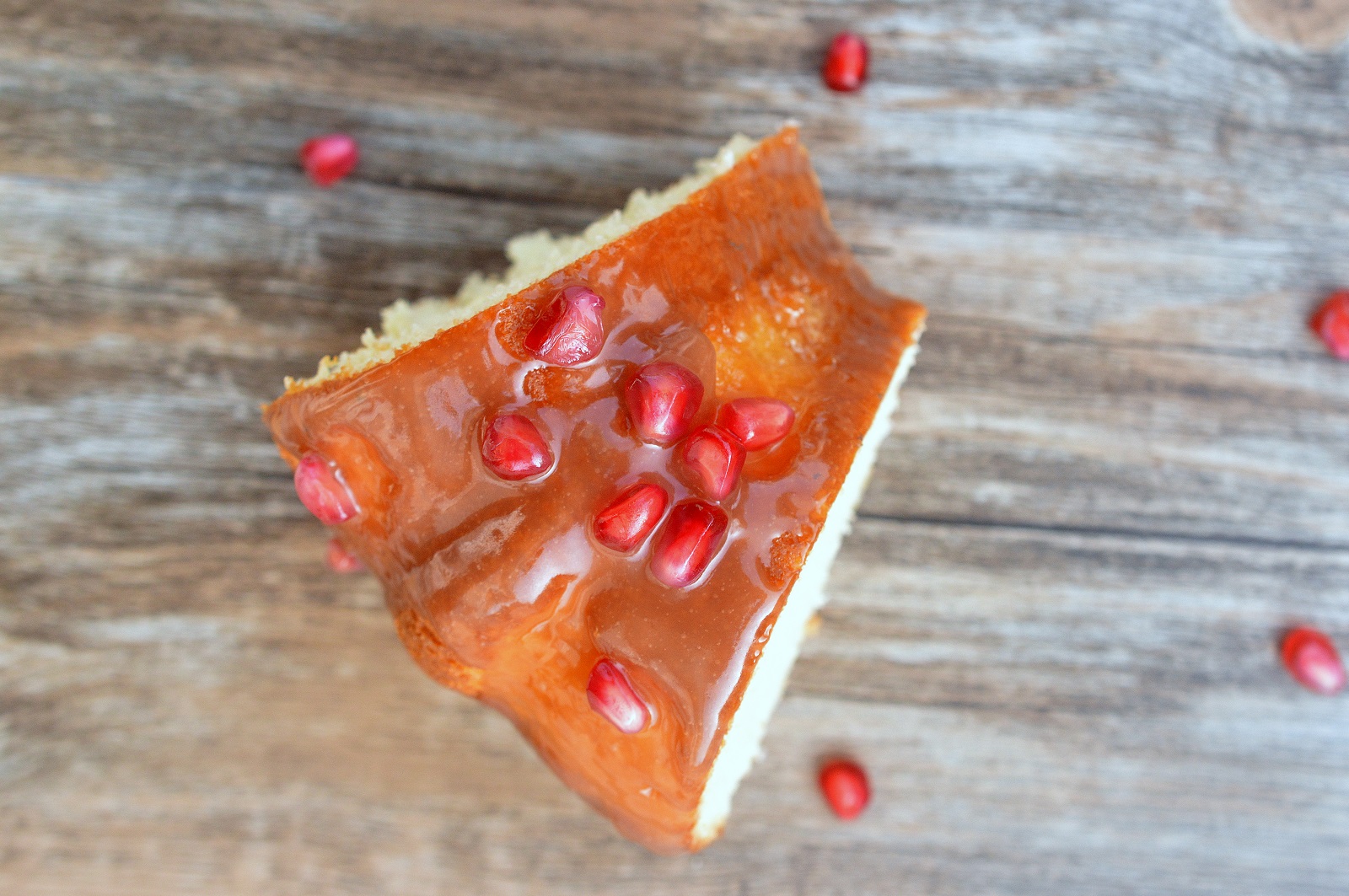 You can make this cake ahead of time and it will keep well in an airtight container. You can freeze it as well. Just don't top it (if you even choose to top it) with caramel sauce, powdered sugar or frosting in advance, add whichever you enjoy shortly before you plan on devouring it, errr I man eat it!
My kids and husband LOVE this cake! It's one dessert the whole family enjoys! Love when that happens!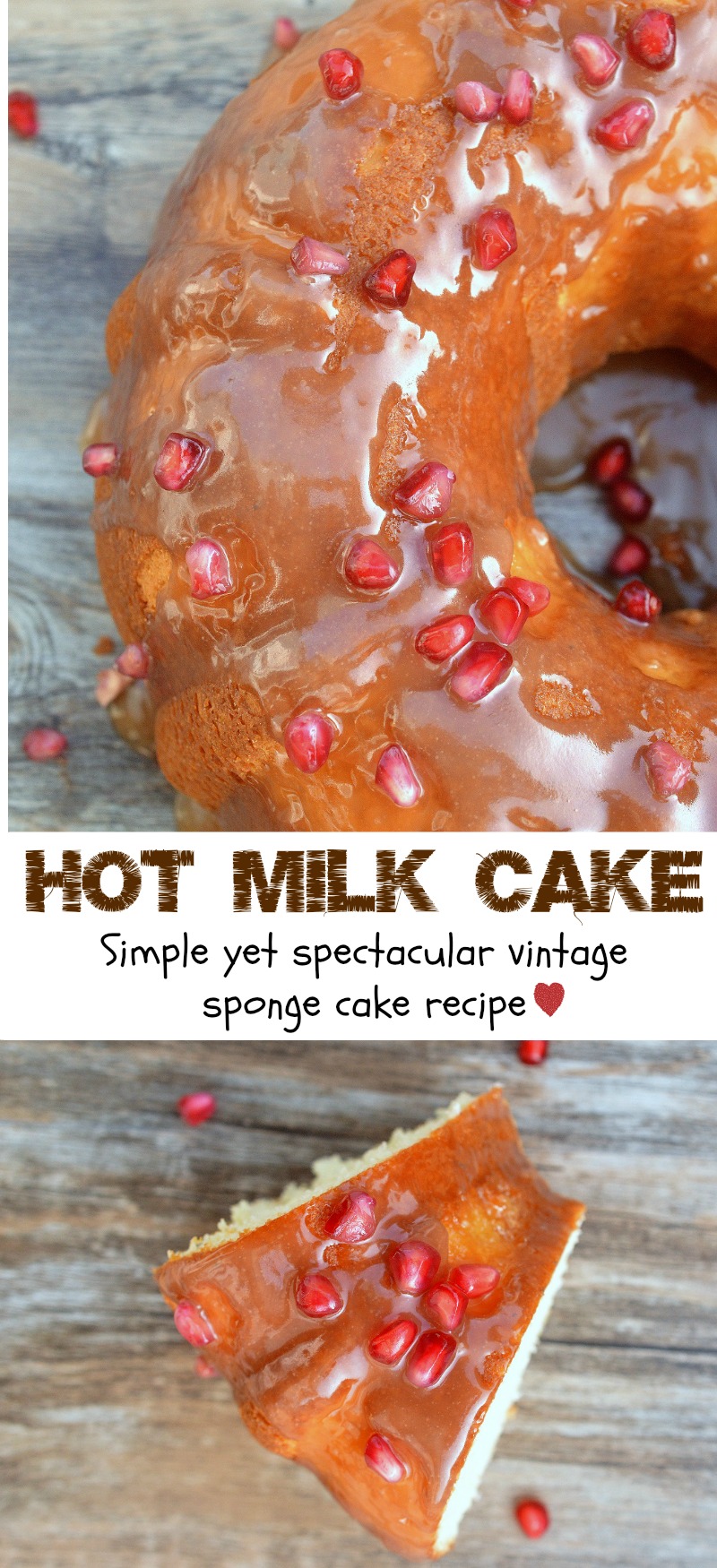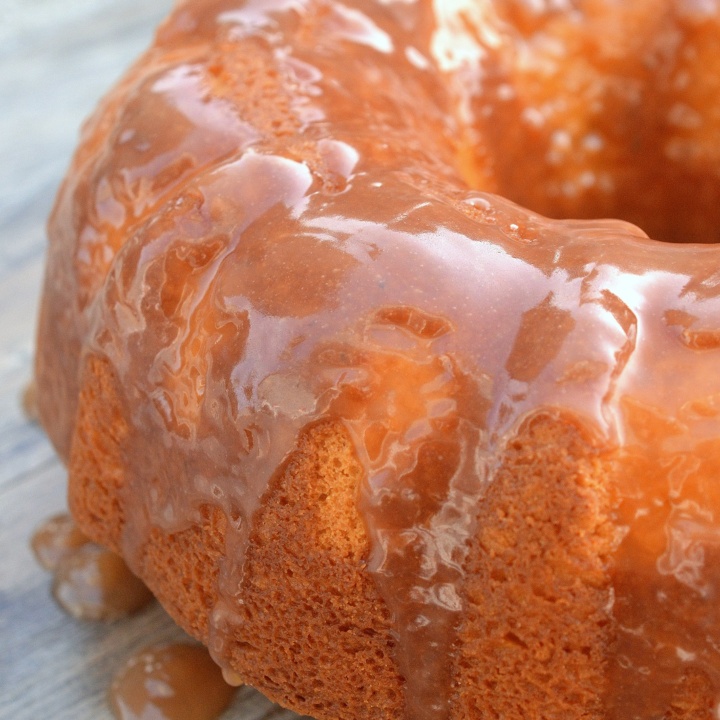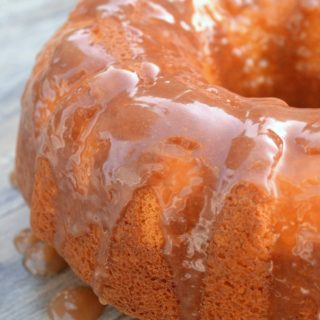 Vintage Hot Milk Cake Recipe
Ingredients
3

eggs

if extra large 4 eggs if regular sized

2

cups

sugar

1

stick of butter

½ cup

1

cup

DairyPure whole milk

2

TBS

DairyPure heavy cream

1

TBS

vanilla extract

2

cups

flour

2

teaspoons

baking powder

¼

teaspoon

salt

Caramel

optional

Pomegranate Arils

optional

Other optional toppings include: powdered sugar

mocha frosting, vanilla frosting, fruit, etc
Instructions
Preheat oven to 325 degrees.

Grease a bundt pan (or spring form pan) very well with spray or butter/flour.

Combine eggs and sugar in your mixing bowl and mix on medium for 4-5 minutes or until batter has doubled in size and is nice and fluffy.

Meanwhile, melt your butter in a saucepan over medium heat, add in milk, cream and vanilla and allow it to just come to a simmer, then immediately lower heat to low. Whisking often.

Allow it to bubble for 2 minutes.

With mixer running, slowly drizzle in the hot milk mixture.

Once that is fully incorporated, add in your flour, baking powder and salt (premix ahead of time), add it in in 3 increments. Scrape down sides of bowl and when mixture is fully incorporated, pour it into your greased bundt pan and bake for 50 minutes.

Check cake, if tester comes out clean, remove it from the oven. If not bake another 5 minutes. Repeat process until fully cooked.

Allow cake to cool for 10-15 minutes, then carefully remove it (you may want to run a butter knife around gently just in case).

Allow cake to cool if you decide to add icing.

Serve warm or at room temperature.

If you decide to drizzle with caramel like i did, just pour it over-top, so good! Warm your homemade or store-bought caramel sauce up just a bit before drizzling over-top
Follow me on Tik Tok for 1 minute videos