Hold on to your hats! This Easy Refrigerator Strawberry Jam Recipe is freaking delicious, calls for just 3 ingredients AND it's pectin-free. You can choose just how much sugar you wish to add and, in my opinion, this is so simple your kids can make it! This recipe will be in my upcoming book...yes...cookbook! I am in the midst of writing a cookbook!! Deadlines, recipe testing & writing have kept me busy this summer. I can not wait to share the book with you...squeal!!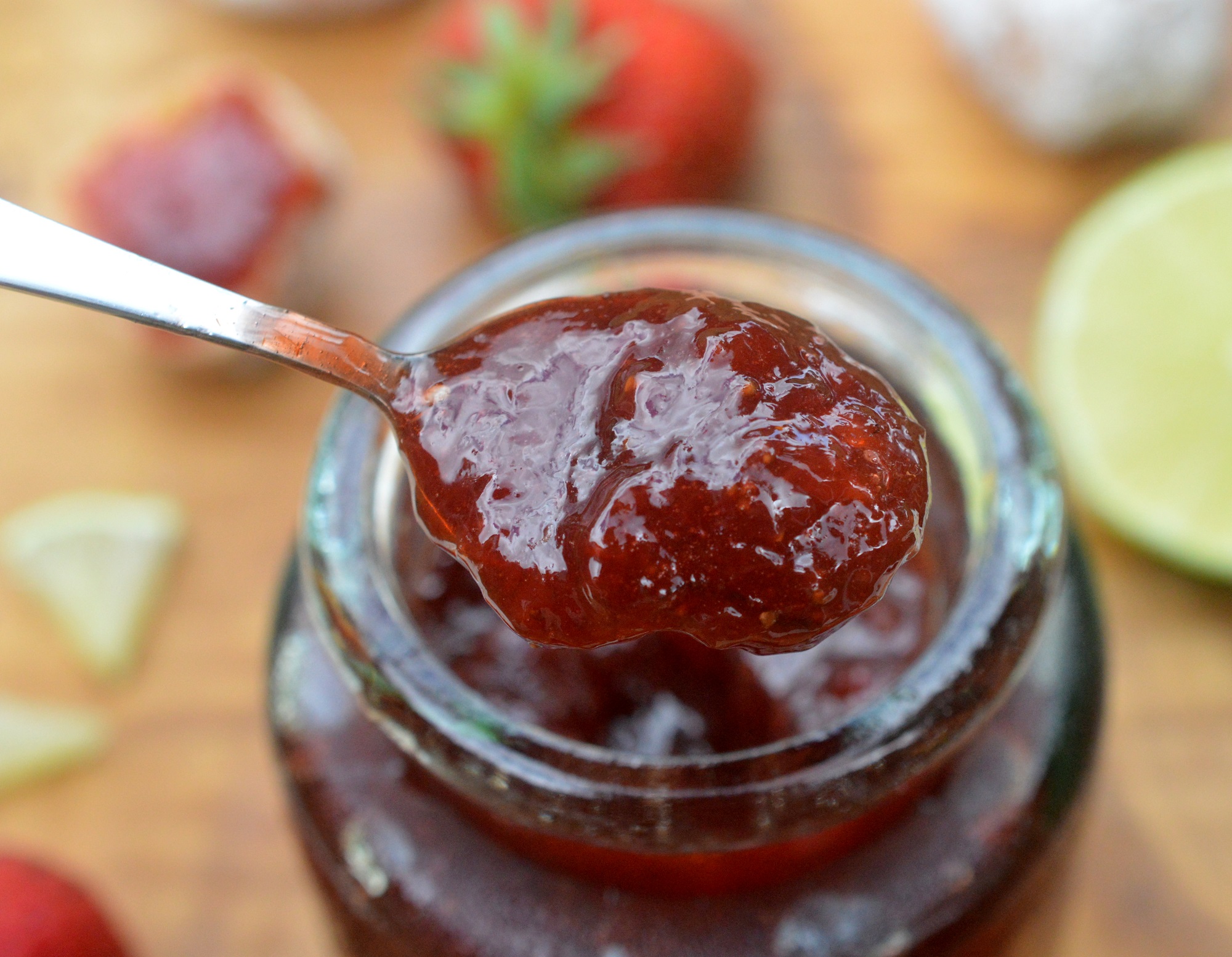 You know how couples can go to "war" over silly things like putting the lid on the toothpaste, which direction the toilet paper faces and if the seat is left up?? In my house, one such battle involves jam. Grape vs Strawberry actually.
He only will eat grape jam....that's it. Not another smidge of jam will he try, grrrr. He also ONLY wants cheesecake plain...plain!!!
That man won't even eat cooked fruit other than apples and my Rotisserie Bourbon & Brown Sugar Glazed Pineapple (its to-die-for). He says the pineapple doesn't count as "cooked" since it's not cooked down. That man!!
Meanwhile, I want nothing to do with grape jelly, nope...not gonna do it. If that was all the jelly left on earth...I still wouldn't eat it. Well, maybe if the much-anticipated zombie apocalypse happened and there was no food left and I desperately needed something sweet...Then I am pretty sure I'd eat it. BUT that's the only way. Hmmmph!
This Easy Refrigerator Strawberry Jam Recipe came about after NOT having any strawberry jam in the house and being too lazy to go to the store for some. I figured, I have strawberries and previously I had made freezer jam, so let's try something different.  Since I had limes on-hand and not the traditional lemons, I went with making a strawberry lime jam and it was glorious!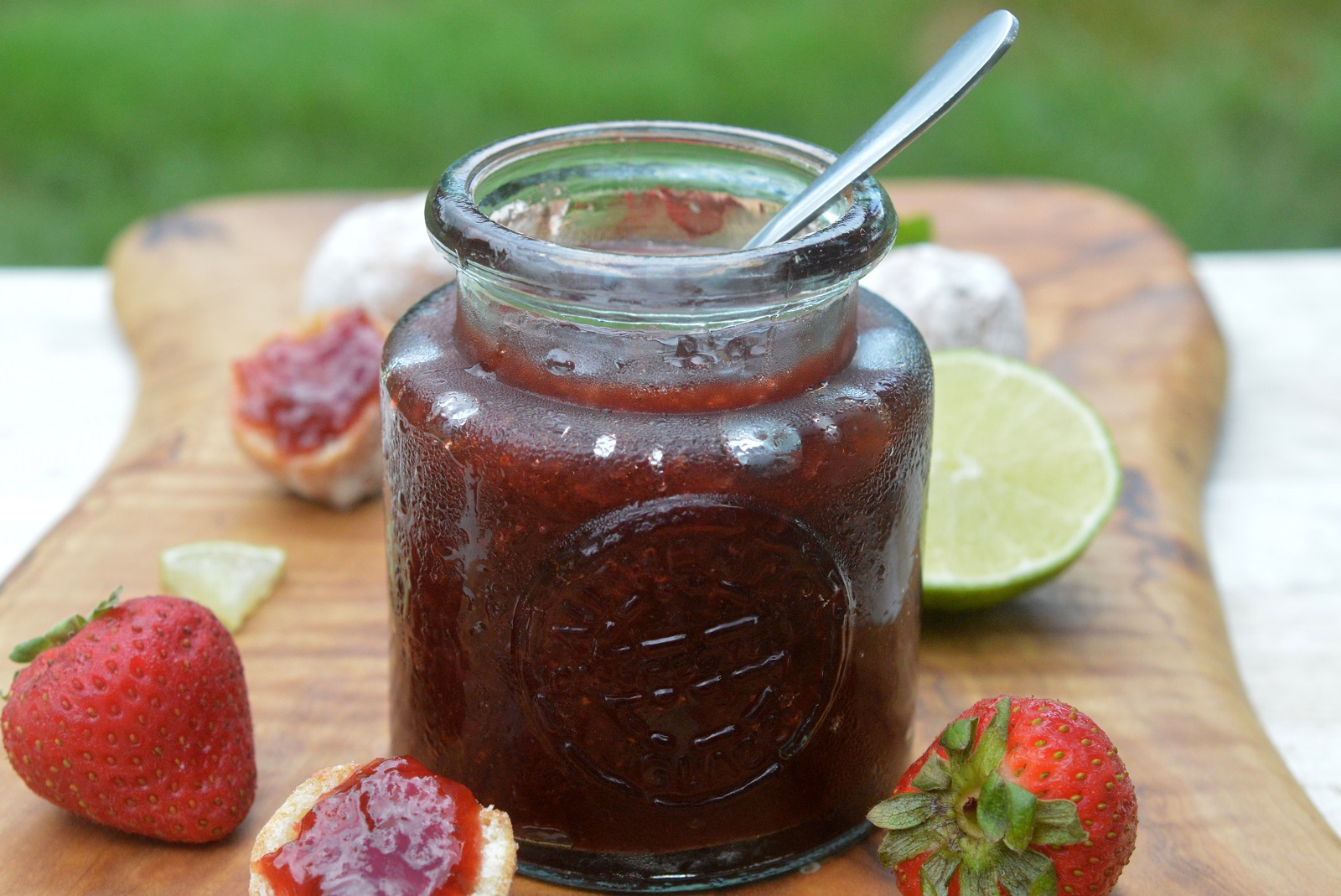 I am talking just eat it off the spoon delicious!
I have made variations of this Easy Refrigerator Strawberry Jam Recipe. Using lemons, limes, adding mint (daughters idea), adding cinnamon and once adding vanilla. My favorite way is strawberries + limes. Yummmm-O!
You-know-who has never tasted it.
Which is just fine...more for me and the kids!! Who by the way choose strawberry jam or jelly over grape jam or jelly, just like their mama...so I call that winning the battle!
What say you??
Give this jam a try. Let the kids help or let them take the reigns.
If you research no-pectin jams, you will see that many of them call for 2-4 cups of sugar. That's just plain crazy to me. I DO understand that the more sugar you use the thicker it will be, however, if you cook it down enough, you still get a nice jam consistency after its chilled. I just don't see the need for all of that sugar. I want to taste the strawberry and the lime, not sugar. If however you berry's are not very sweet, feel free to add a few more TBS of sugar.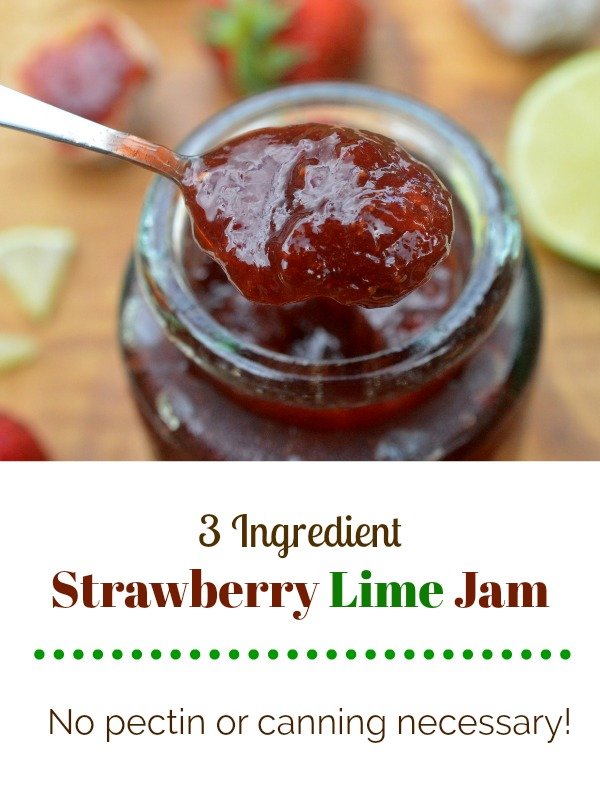 This Easy Refrigerator Strawberry Jam Recipe makes a fantastic food gift! Pair it with some homemade scones or biscuits and tuck them into a cute lil' basket...A-dorable (and delicious)!
UPDATE!! My cookbook is now available on Amazon (you can also find it on Target, Walmart and Barnes & Noble's websites).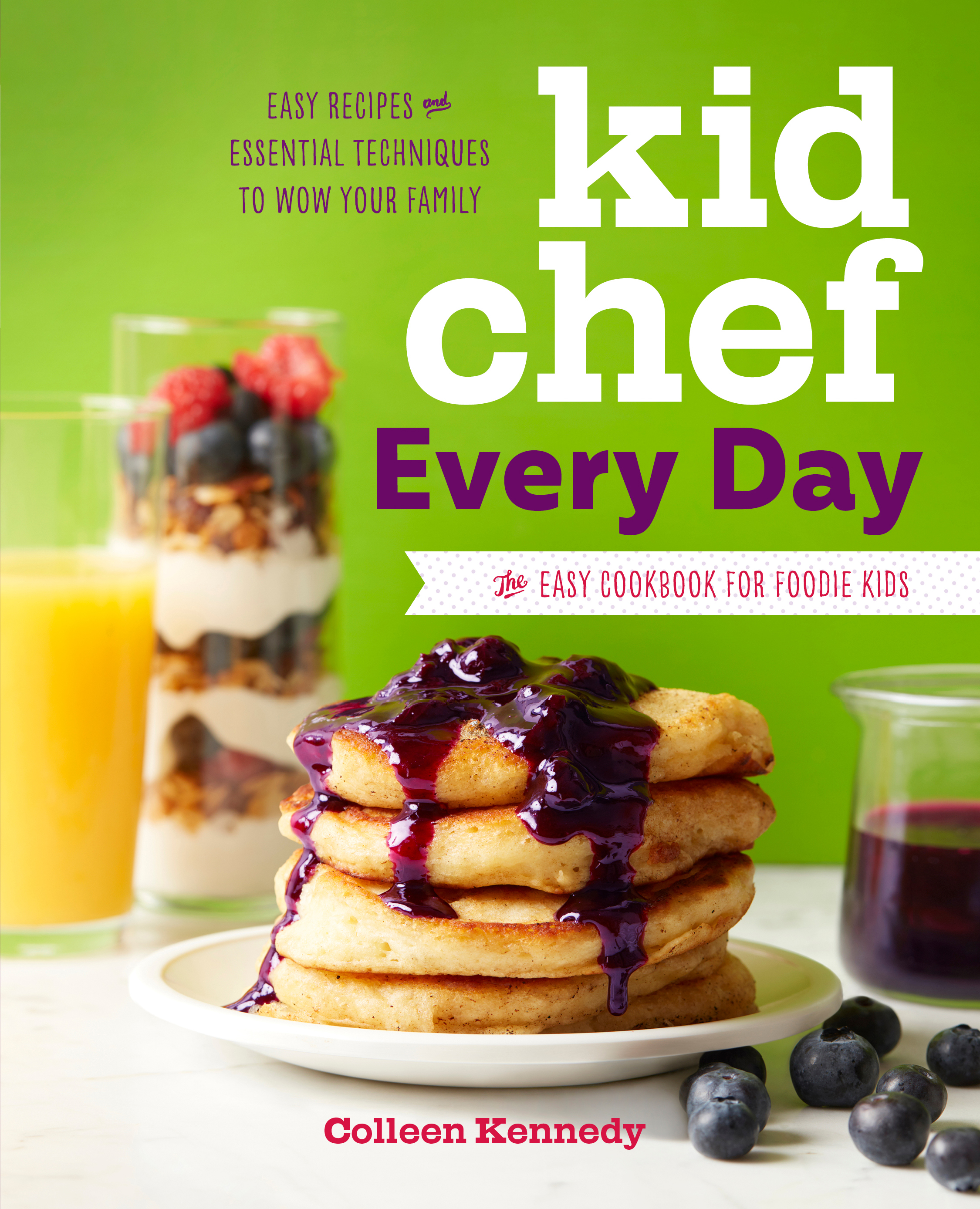 Tag me on Instagram or Facebook @SouffleBombay if you make this! I'dove to see your take on it!!
Enjoy!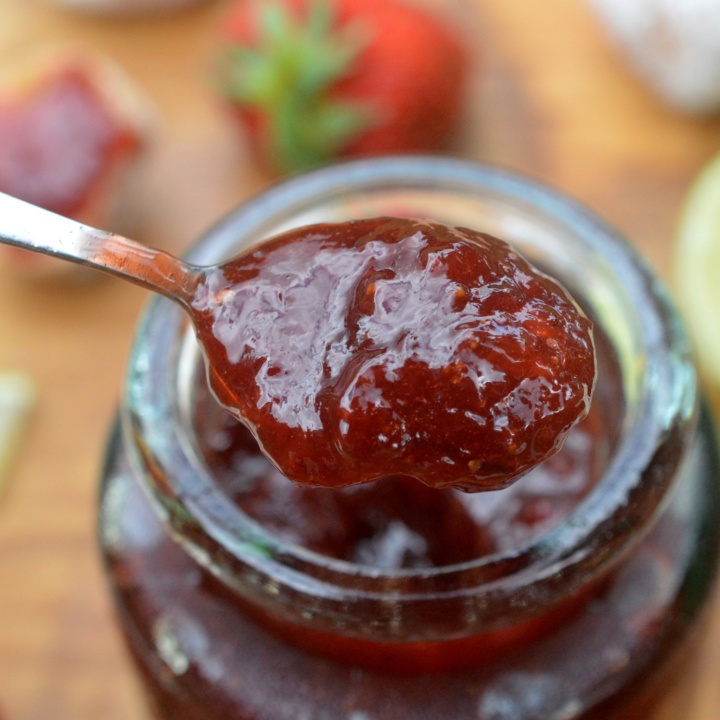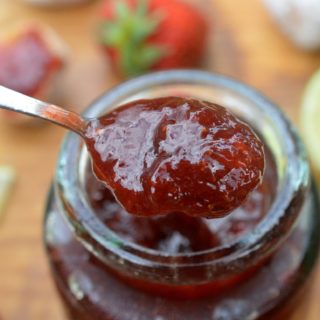 Easy Refrigerator Strawberry Jam Recipe
Ingredients
2

pounds

fresh strawberries

3

TBS

fresh lime juice

1 ½

cups

sugar

1

TBS

lime zest
Instructions
Wash strawberries well. Remove stems and dice. Combine all ingredients in a medium sized pot. Mash mixture with a potato masher to help break strawberries down.

Bring mixture to a boil in a pot at least twice the size of the mixture and stir s occasionally. Lower heat to medium-high and simmer for 15 minutes, stirring often. Do not leave this on the stove unattended.

The mixture will foam up and then as it is getting reduced, calm down and thicken up a little. The best way to tell if it is close to ready is to dip a spoon or spatula in every so often. First, the jam will begin to lightly coat the spoon, later it will drip/slide off in sections. That's when you know it is ready.

Remove from heat and allow mixture to cool completely. Store in a mason jar or glass bowl with lid and refrigerate until ready to use. Stays good for 2 weeks in your refrigerator.

Tips: Use a larger pot than you need to prevent splatter. If the jam is not as thick as you would like it after it has been completely chilled, simply return it to a pot and allow it to boil again for 7-10 minutes. Repeat cooling process. It may take a couple of times making this until you "see" when the jam reaches the right consistency
Follow me on Tik Tok for 1 minute videos