This flavored sugar recipe is one you really want to keep, make, cherish etc.! It is magical! Yes, its super simple however, this Spiced Sugar recipe will transform a number of baked goods and other things!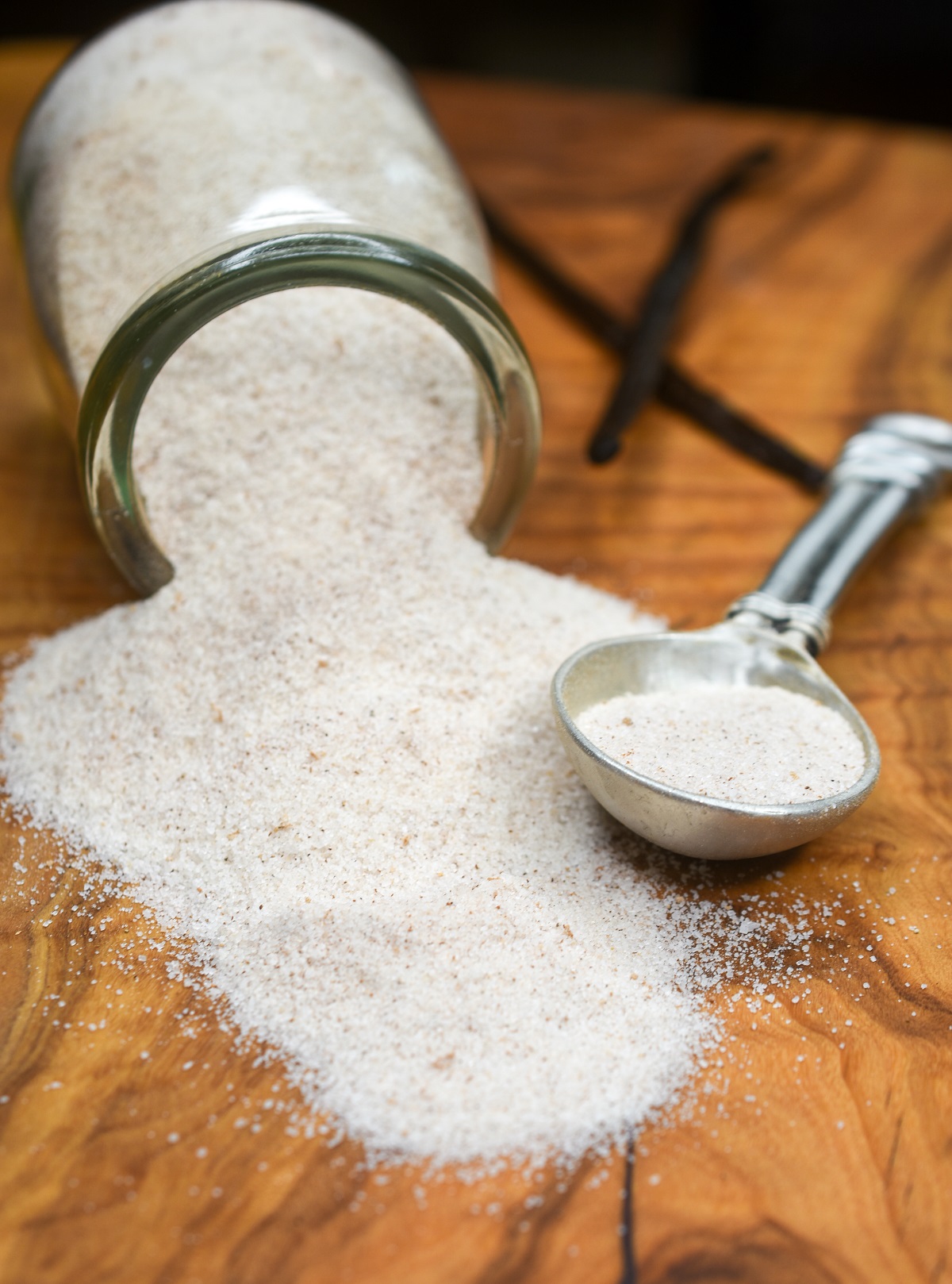 Sugar and spice were meant to go together I have been making this spiced sugar recipe for ages! It's been written into a number of my early recipe posts over a decade ago as a note or in the recipe card, as well as in a number of my TikTok's.
Watch my 35 second video how to make my spiced sugar.
I thought that I should do a post for it on its own since so many people ask me about it each week.
It started with a simple vanilla sugar recipe half a lifetime ago and then I discovered a product from a spice retailer, called The Spice House (based out of Chicago) they have THE BEST spices and products!! I bought it so much that I had to replicate it.
My spiced sugar is SO simple to make, just 4 ingredients and it lasts indefinitely in a mason jar. It also makes a great food gift. I am all about foodie gifts. Here are additional homemade food gift ideas.
Why make this Spiced Sugar?
It's lovely on so many things, it adds depth of flavor and a bit of refinement. You'll have people wondering what that special flavor is.
Use this sugar n spice combo in baked goods, as a part of toppings, on toast, etc. Anywhere you would use sugar.
My favorite way to use it is in my Candied Pecans and Candied Nut recipes.
On top of a crème brulee is "chefs kiss".
Ingredients
White sugar
Vanilla beans
Cinnamon
Cardamom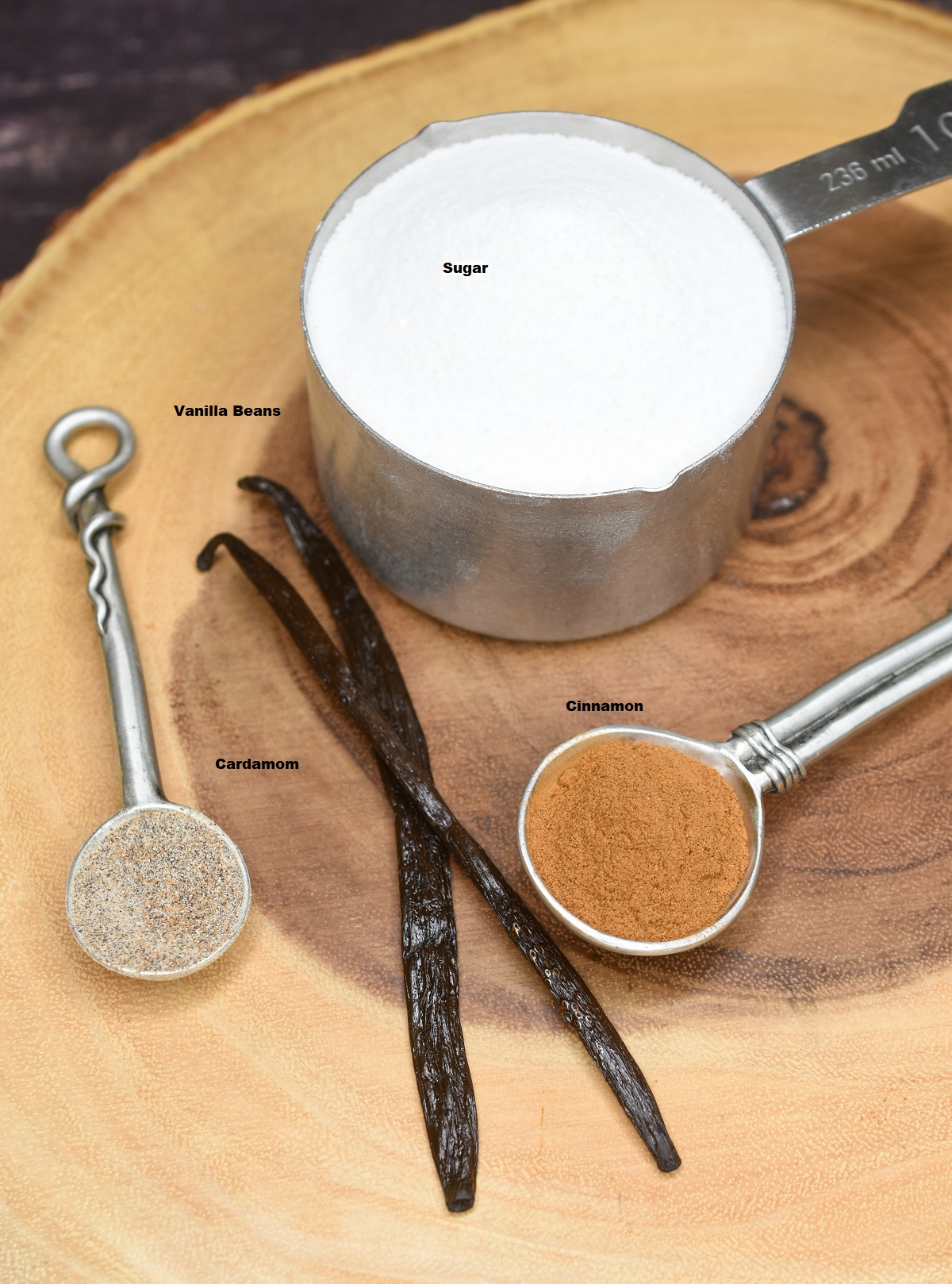 Instructions
This spiced sugar recipe takes just minutes to make. All you need to do is scrape out the seeds from 2 vanilla beans and add them to your jar of sugar. After that add in the spices, snip the leftover pods into two and tuck them in. Give the jar a hardy shake and you are good to go.
The flavor intensifies over time. And yes, I do tuck the pods in there, why waste them. You can choose to do that and then just a month later, pull the dried pods out and add them to you tea before you toss them.
OR you can make my Homemade Vanilla Syrup recipe with them 🙂 No waste!
Tips for making Spiced Sugar
The better quality your spices and vanilla beans, the better this flavored sugar will be.
Don't throw away the scraped out vanilla beans!! Cut in half and tuck into the sugar.
Shake a couple times a week o move flavors around.
Vanilla taste will intensify over time as vanilla dried up (especially if you tuck the pods in).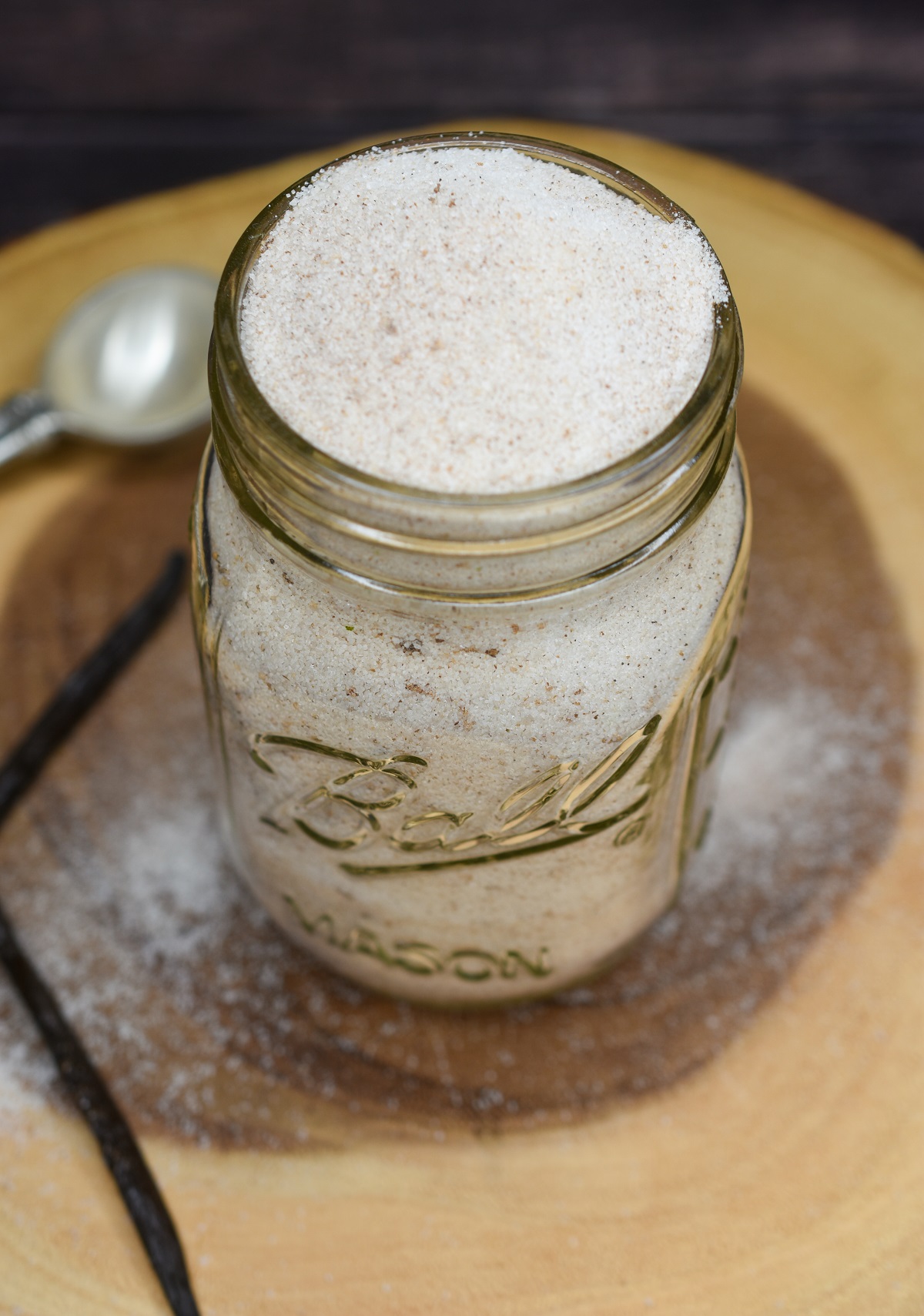 Uses
This is amazing on toast, bagels, oatmeal, French toast, waffles and pancakes.
Use in coffee, lattes, tea.
In baked goods like pie, banana bread, pumpkin donuts, pumpkin crunch cake, cookies, as part of a crumble topping or atop crème brulee.
Use for making Candied Nuts (out of this world!!).
Anywhere you use plain sugar swap some or all out for some of this spiced sugar.
Variations
You can add in nutmeg, ginger or allspice for a different flavor, however I highly recommend keeping the cardamom.
Increase the cinnamon, cardamom or vanilla beans for more intense flavor.
Storage
Keeps forever in a sealed jar.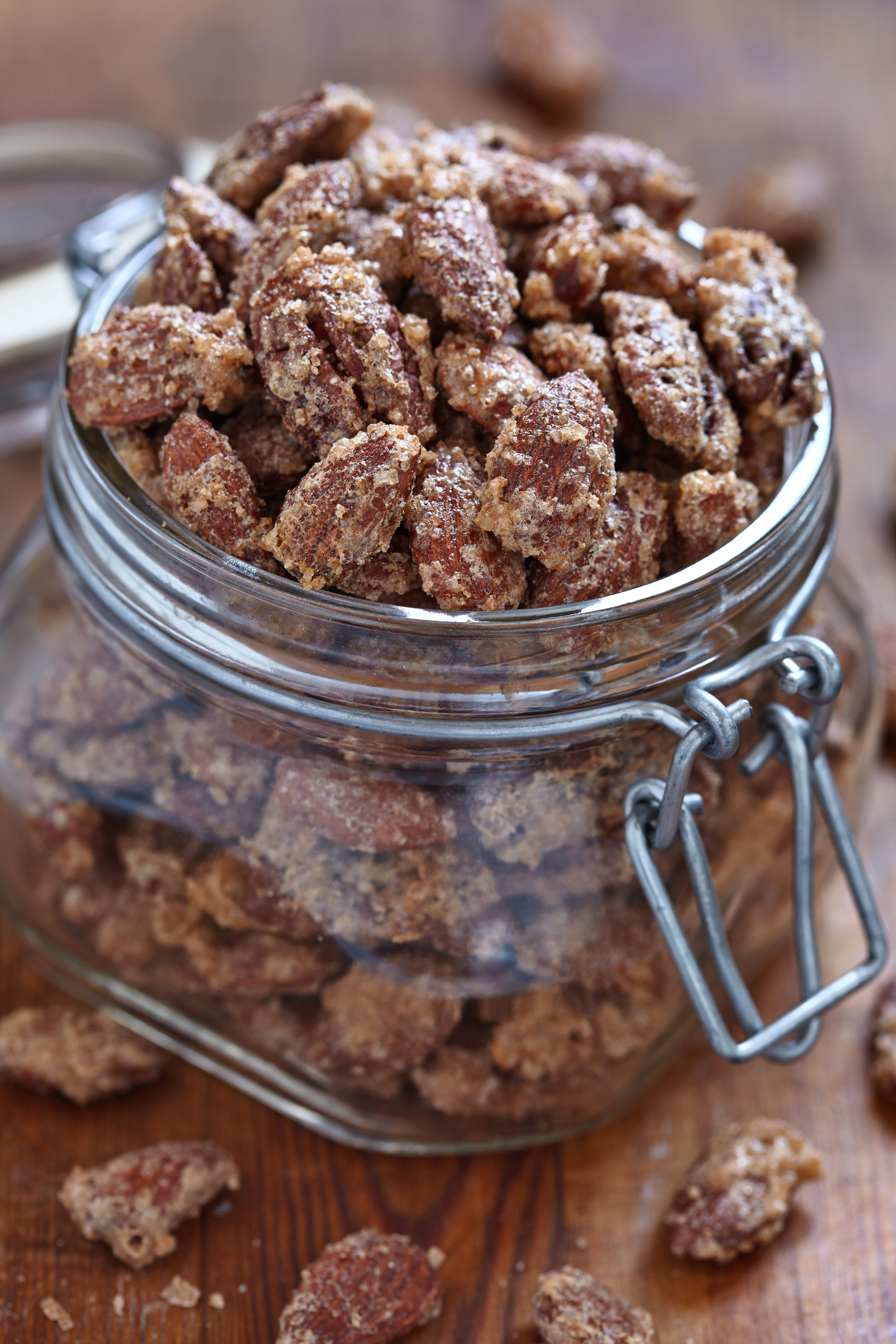 I hope you love, love, love this special sugar recipe! And the above Candied Pecans are a must try with this sugar spice recipe! xo Colleen
Originally shared back in 2012 in a Pumpkin Pie Spiced Almond Recipe, now it lives here in its own post.
Homemade Food Gift Ideas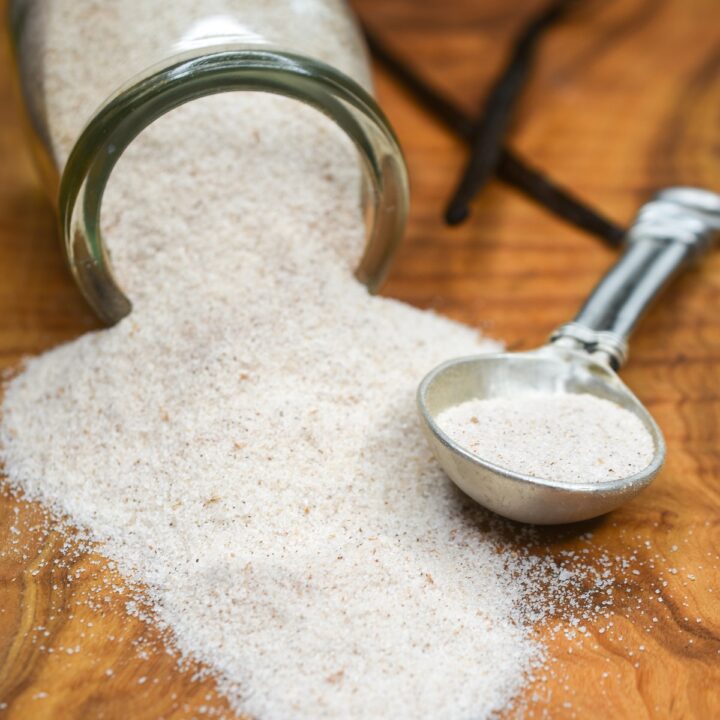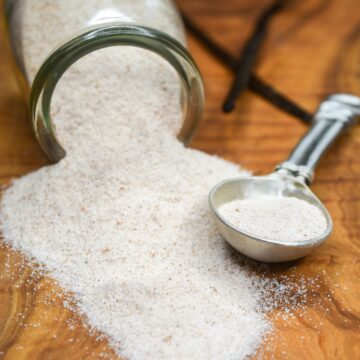 Spiced Sugar
I have been making this Spiced Sugar for over a decade! Transform your oatmeal, pies, baked goods, coffee, tea & more with this sophisticated flavored sugar. Just 4 ingredients.
Ingredients
2

cups

sugar

2

vanilla beans

2 ½

TBS

cinnamon

2

teaspoons

cardamom
Instructions
Place sugar into a mason jar or bowl.

Slice vanilla beans lengthwise, open them up and scrape the seeds out from the vanilla beans using the back end of a paring knife.

Add vanilla beans to the sugar, cut leftover pods in half and tuck in to the sugar as well.

Add in cinnamon & cardamom, whisk or shake vigorously until fully combined.

Store in a jar and use on all the things!
Notes
Flavor will deepen over time. Shake jar occasionally.
For more intense vanilla (or other spice flavor) add in an extra bean or more of the spices.
Nutrition
Serving:
32
servings
Calories:
48
kcal
Carbohydrates:
12
g
Fat:
0.04
g
Sodium:
0.1
mg
Potassium:
0.3
mg
Sugar:
12
g
Calcium:
0.1
mg
Iron:
0.01
mg
Follow me on Tik Tok for 1 minute videos