Whether you want to make Lavender Syrup to flavor homemade lemonade, to add flavor to cocktails or baked goods, this recipe do the trick.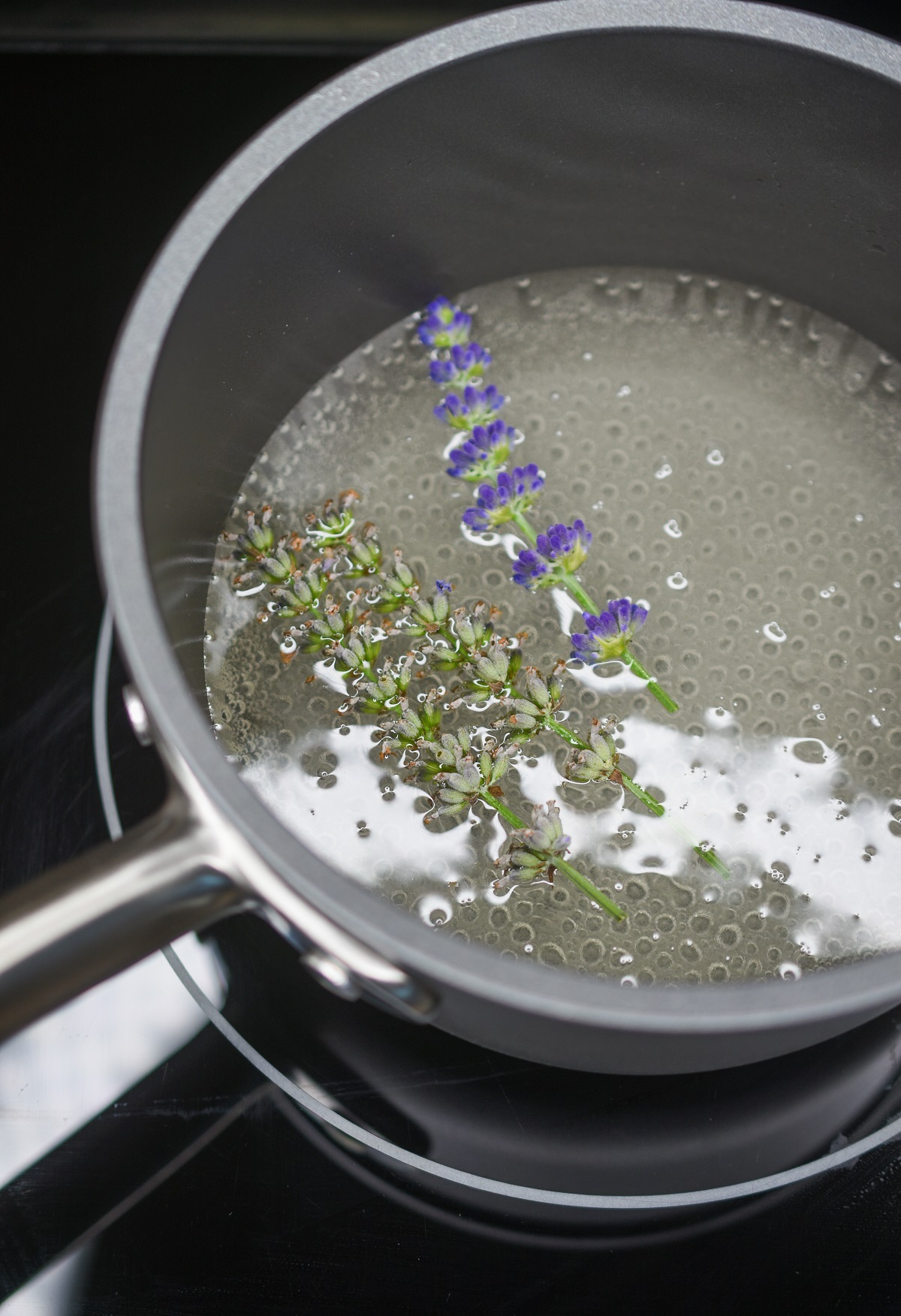 It is super easy to make this Homemade Lavender Simple Syrup recipe to infuse cocktails. The subtle taste and scent of lavender adds dimension and a bit of sophistications.
This lavender syrup recipe will transform your lemonade as well. Sure homemade lemonade is truly delicious, no one will argue that! Adding some of this syrup to it is a delicious change! It adds a bright, clean flavor.
A perfect bridal shower drink idea or non-alcoholic baby shower drink idea. It is also a fabulous drink idea for a mother's day brunch!
Picture pitchers or mason jars full of Lavender Lemonade ready to go with sprigs of lavender bundles around it on the table or placed in small vases. Lovely!
PHOTO OF THAT
If you want to make lavender syrup for cocktails, it is a perfect compliment to a number of cocktails.
Ideas For Lavender Syrup Cocktails
Change up the flavor of a Tom Collins or a Moscow Mule
Make Vodka Lavender Lemonade
Try a Lavender Margarita
Add a subtle flavor of lavender to a Gin and Tonic
Change up your French 75 with a splash of this syrup, yum!
You can even add some of this to an Old Fashioned. Well, the ladies may enjoy that kore than the men. My husband won't let anyone mess with his Old Fashioned, lol!
Whatever else you dream up, experiment!
What Type Of Lavender To Use
Pick fresh lavender you have growing or find or purchase lavender that you know has not been treated with pesticides (with or without flowers).
You can also use dried lavender that is for culinary use.
If you do not want to make this syrup, you can purchase it on Amazon and make any of the cocktails, drinks or baked goods suggested. This lavender syrup is a good choice. It happens to be gluten-free, Halal, Kosher, contains no artificial colors, no artificial flavors, no artificial ingredients, no artificial preservatives, no artificial sweeteners, and are non-GMO. The color comes from added blue algae.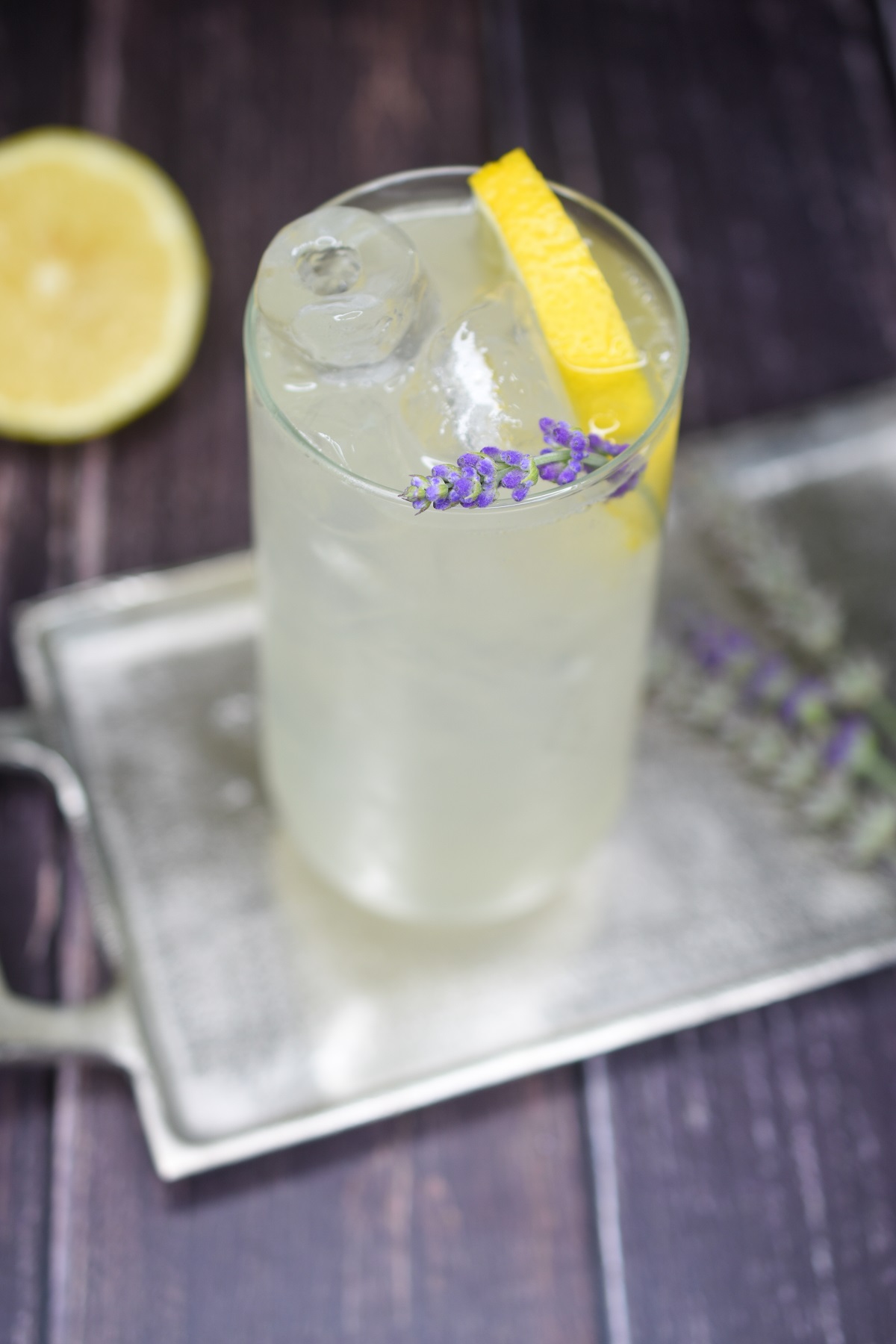 Ingredients
Does Simple Syrup Need To Be Refrigerated?
Yes, once made and cooled, store your lavender simple syrup or any type of simple syrup in the refrigerator. For best results refrigerate your simple syrup in mason jars with a lid after completely cooled.
How Long Does It Last?
Even thought simple syrup is made with sugar which is a natural preservative, it will not last indefinitely. I would say use it within 4 weeks. IF you see any sign of mold however, discard sooner.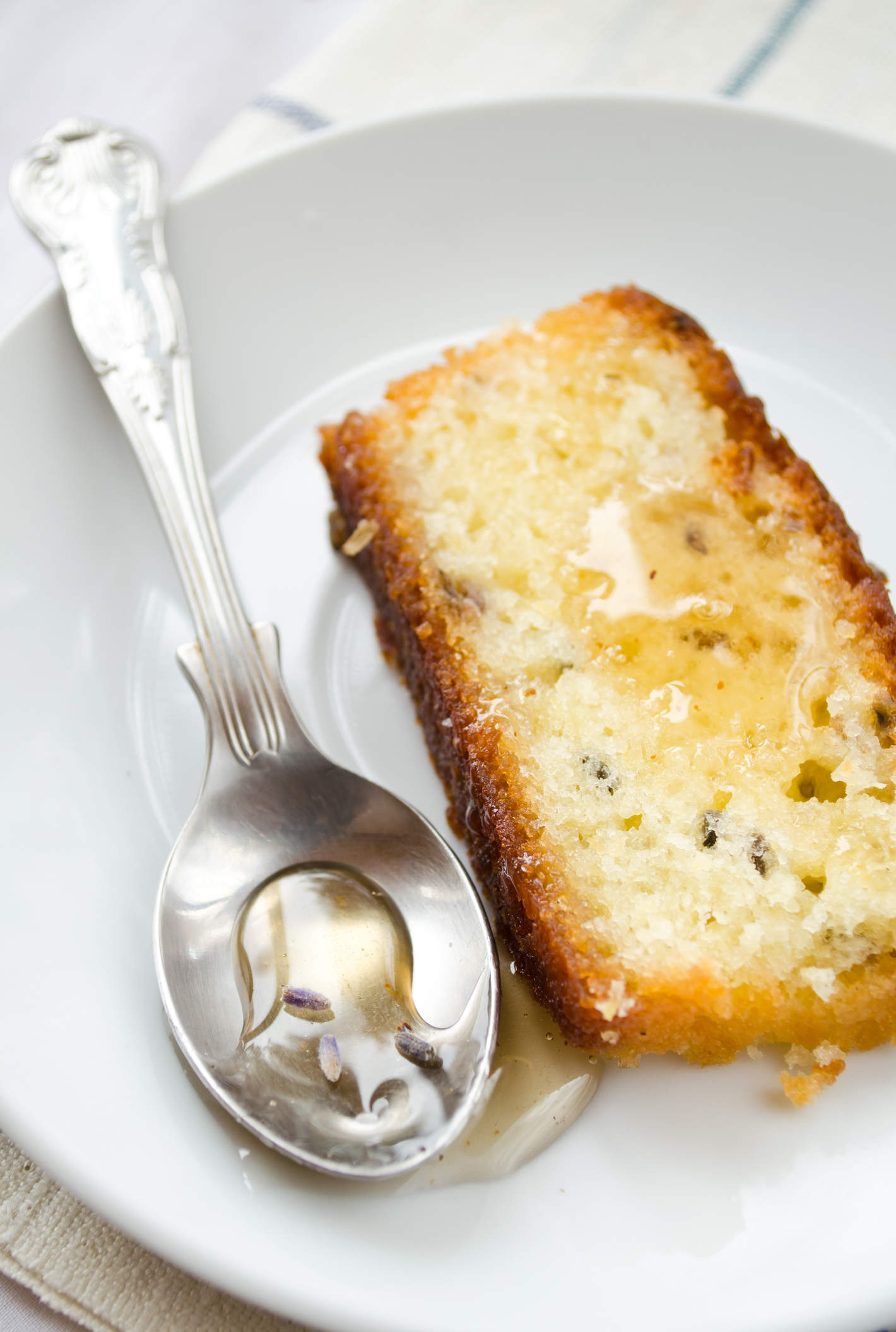 Simple Syrup on Cakes
Often people will use simple syrup on cakes. It will add moisture and enhance the flavor (based on whatever flavor you use in your homemade simple syrup or even just plain simple syrup as it is sweet).
Brush simple syrup onto cooled cake layers before frosting, It will help moisten cakes as well if you accidently baked your layers for too long and they are on the drier side.
Lavender Syrup In Coffee Or Tea
Add this syrup to hot or iced coffee for a subtle floral taste. Add it to hot or cold tea as well. You can even flavor club soda or seltzer with lavender simple syrup for a homemade lavender soda.
Variations
You can choose to use alternative sweeteners such as honey, agave nectar, maple syrup, or stevia as a substitute for sugar in simple syrup. Keep in mind that the sweetness level may vary and you may need to adjust the amount to taste.
What sugar to use for making simple syrup
It is common to use white sugar for this recipe. YOu can also use pure cane sugar or sugar in the raw with similar results.
You can also use alternative sweeteners like, agave or honey.
You can try additional alternative sweeteners, however each varies in sweetness so you will need to experiment a bit to get it just right to your taste.
Pro Tips
When heating your water and sugar (or other sweetener) to make simple syrup, do not bring to a rolling boil. Only heat it enough until it just begins to bubble then remove from heat and stir until sugar / sweetener is fully dissolved.
IF you allow your mixture to come to a rolling boil, it will be thicker the longer it boils/simmers
Simple syrup is typically a 1 to 1 ratio, which means 1 part sugar and 1 part water. For example, 1 cup of sugar and 1 cup of water.
For a thicker simple syrup, often referred to as a rich syrup. Change the ration to 2 to 1. So 2 parts sugar and 1 part water.
If you choose to use alternative sweeteners, you will need to experiment to get the ratio correct to your taste since every type of sweetener differs in sweetness.
Recipes You May Enjoy
Lavender Syrup Recipe
Easy to make homemade Lavender Syrup is a delicious way to flavor cocktails, lemonade, drinks, cakes and more!
Ingredients
1

cup

sugar

1

cup

water

a few sprigs of fresh lavender

(or dried that you know has not been sprayed with pesticides)
Instructions
Place ingredients in a small pot and heat until a simmer begins.

Allow to sit and cool completely before storing in a mason jar in the refrigerator until ready to use.
Notes
The longer you leave the lavender in the syrup as it cools, the stronger the taste/scent will be. Same goes for how many sprigs you choose to use.
Calories were calculated on 2 TBS of the lavender syrup per person, whether that was used to make lavender lemonade, drizzle on ice cream, in coffee, etc.
Nutrition
Serving:
8
servings
Calories:
96
kcal
Carbohydrates:
25
g
Fat:
0.1
g
Sodium:
2
mg
Potassium:
1
mg
Sugar:
25
g
Calcium:
1
mg
Iron:
0.01
mg
Follow me on Tik Tok for 1 minute videos