It's no secret that I enjoy whipping up a variety of homemade moonshines (that anyone can make…no "still" required) using Everclear. I love making all sorts of boozy creations to bring to a variety of gatherings, it's kinda my signature move, lol! This Watermelon Lime Moonshine was a big hit the first time I passed it around and it's perfect for summer!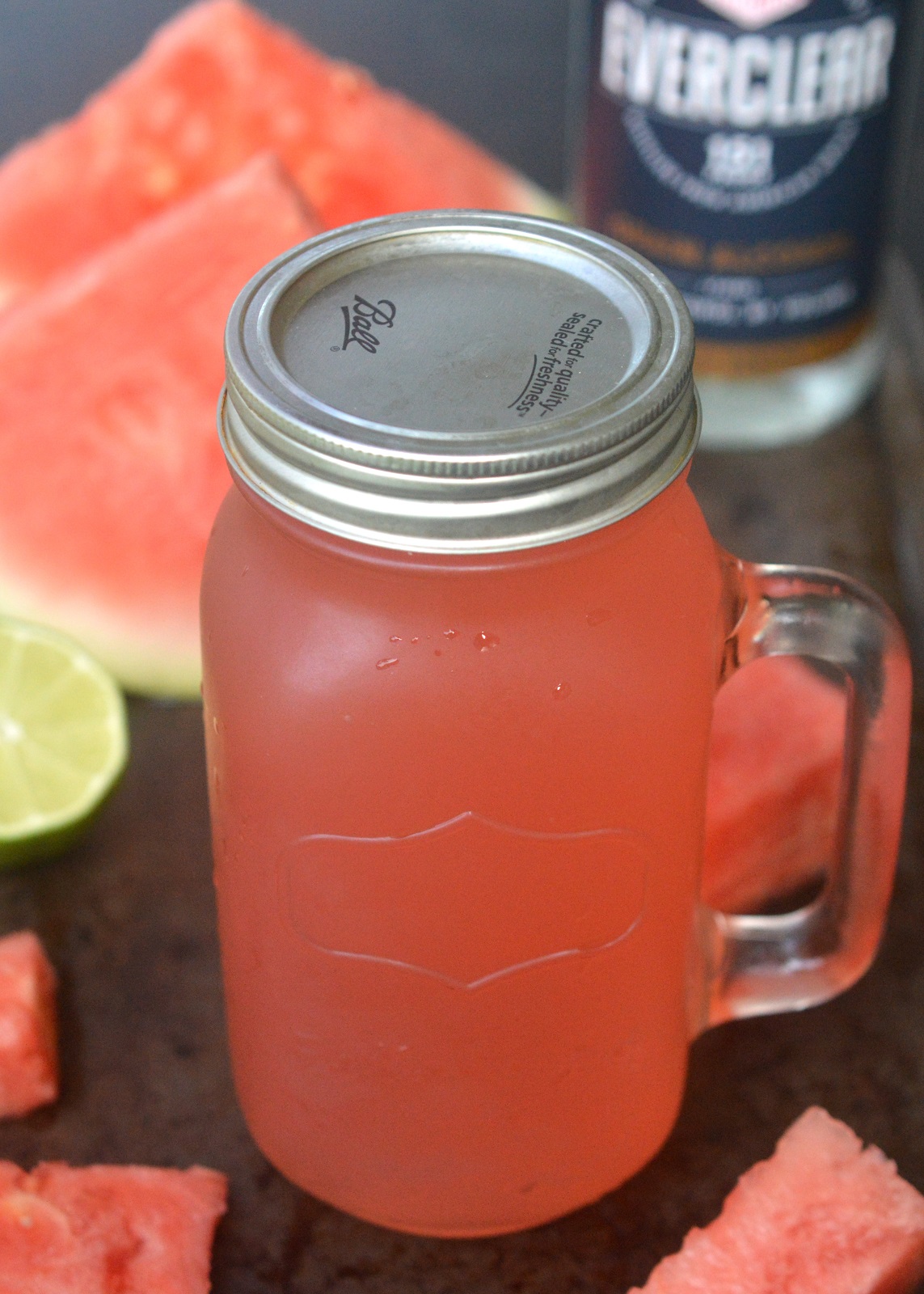 Making this Watermelon Lime Moonshine recipe is easy. It will literally take you 20 minutes or less and for that small time investment, trust me…Wherever you bring this, people will be singing your praises!
You can enjoy this moonshine as shots or use it as an ingredient in making a variety of cocktails. My favorite way to enjoy it is as a Watermelon Moonshine Slushie. OMGosh is that ever delicious and refreshing!
The better the watermelon the better the Moonshine. You know how it is, sometimes you get a watermelon (or any fruit for that matter) that is so perfectly ripe, harvested in the peak of season that bite after bite, it transports you to food nirvana. Annnnd then sometimes you take one bit and blech…No-flavor-at-all. SO to combat that, I also use Watermelon Pucker in this recipe to ensure the flavor I want, no matter the season, no matter the watermelon.
What Is Watermelon Pucker?
Made by DeKuyper, Watermelon Pucker is an imitation Schnapp that is 30 proof. It had a rich watermelon flavor and is an ingredient most-often used in margaritas and martinis.
What is Everclear?
Everclear is grain alcohol and its the most potent store-bought alcohol that can be purchased. It's actually banned in about a dozen U.S. states and the 190 proof is only sold in about 1/2 the states.  It comes in either 120, 151 or 190 proof bottles.  Most commonly you will find the 151 variety. Always be careful when you have it on-hand. Make it clear to any underage kids in your home that THIS is something they (or their friends) never touch. Better yet, keep it stashed out of sight. Everclear is either. Everclear is not meant to be drunk on its own.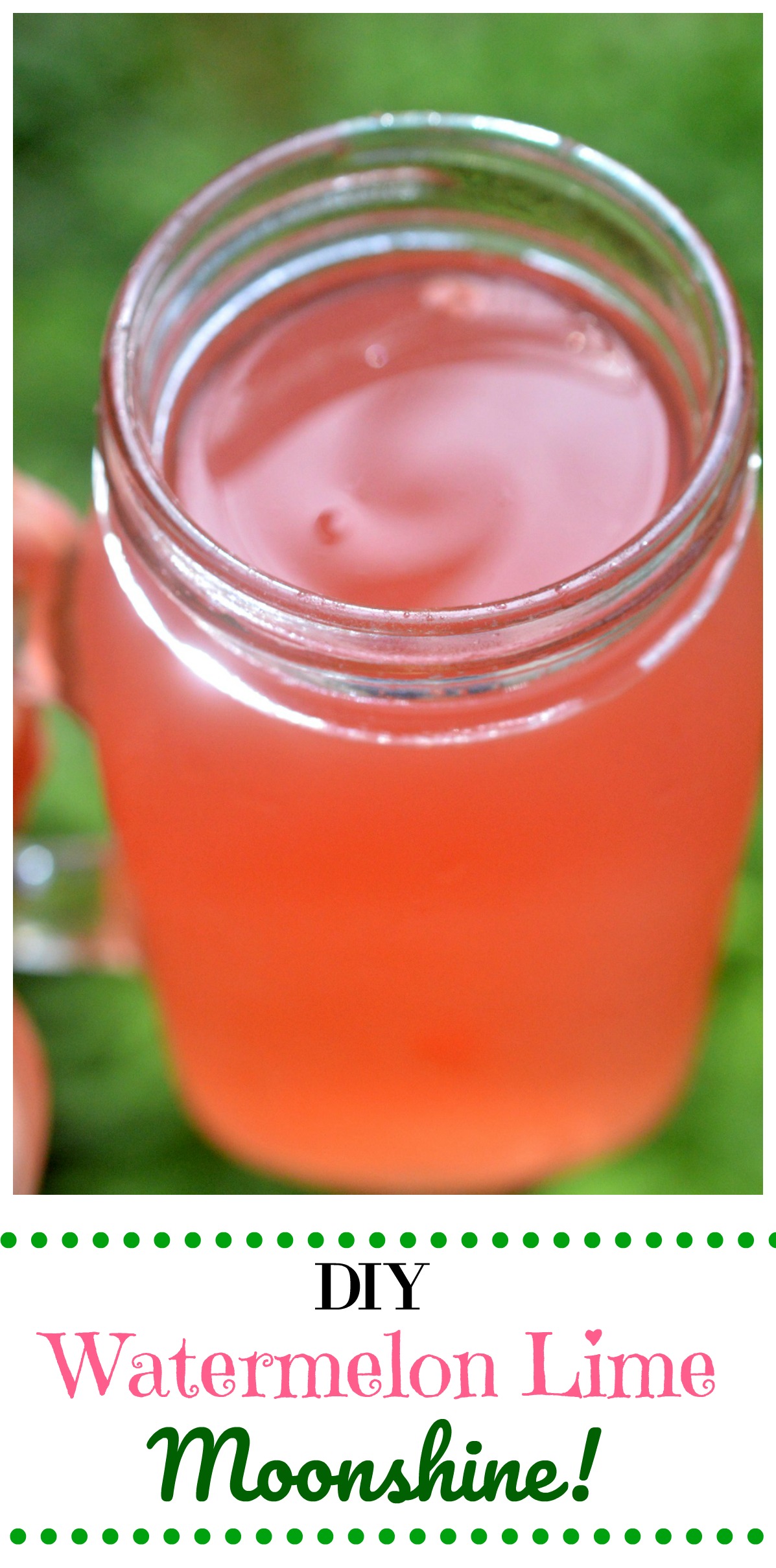 How Do You Make Watermelon Lime Moonshine?
Not many people have an actual still on their property to churn out homemade moonshine, however, anyone with the help of a bottle of Everclear can use that as a base to whip up a variety of flavored libations at home…Easily!
Using Everclear as a base, all you need to do is infuse it with flavors, in this case, watermelon and lime. To do that, I make a lime simple syrup and use about 1/2 a watermelon along with some Watermelon Pucker. After its all combined, I let it sit overnight and then use a potato masher to mash up the watermelon soaking in the mixture then strain it into a bottle. Keep the bottle chilled until use. I actually like to leave it in the freezer. I have kept this for up to a week in the refrigerator, longer in the freezer.
What Variations Can I Make To Watermelon Lime Moonshine?
You can choose to omit the lime from the simple syrup, however, I think it's delicious with the lime. Other than that, I have a variety of moonshine recipes on my website, including the ever-popular Apple Pie Moonshine, a Fresh Peach Moonshine and the incredibly decadent Chocolate Moonshine (that sure is something!!).
What Can I do With Watermelon Lime Moonshine?
You can choose to drink the Watermelon Moonshine as "shots", use it as an in cocktails (it goes great with vodka and tequila) or you can freeze it and enjoy as a boozy slushy. The high alcohol content will not allow it to truly freeze, it stays as slush in the freezer.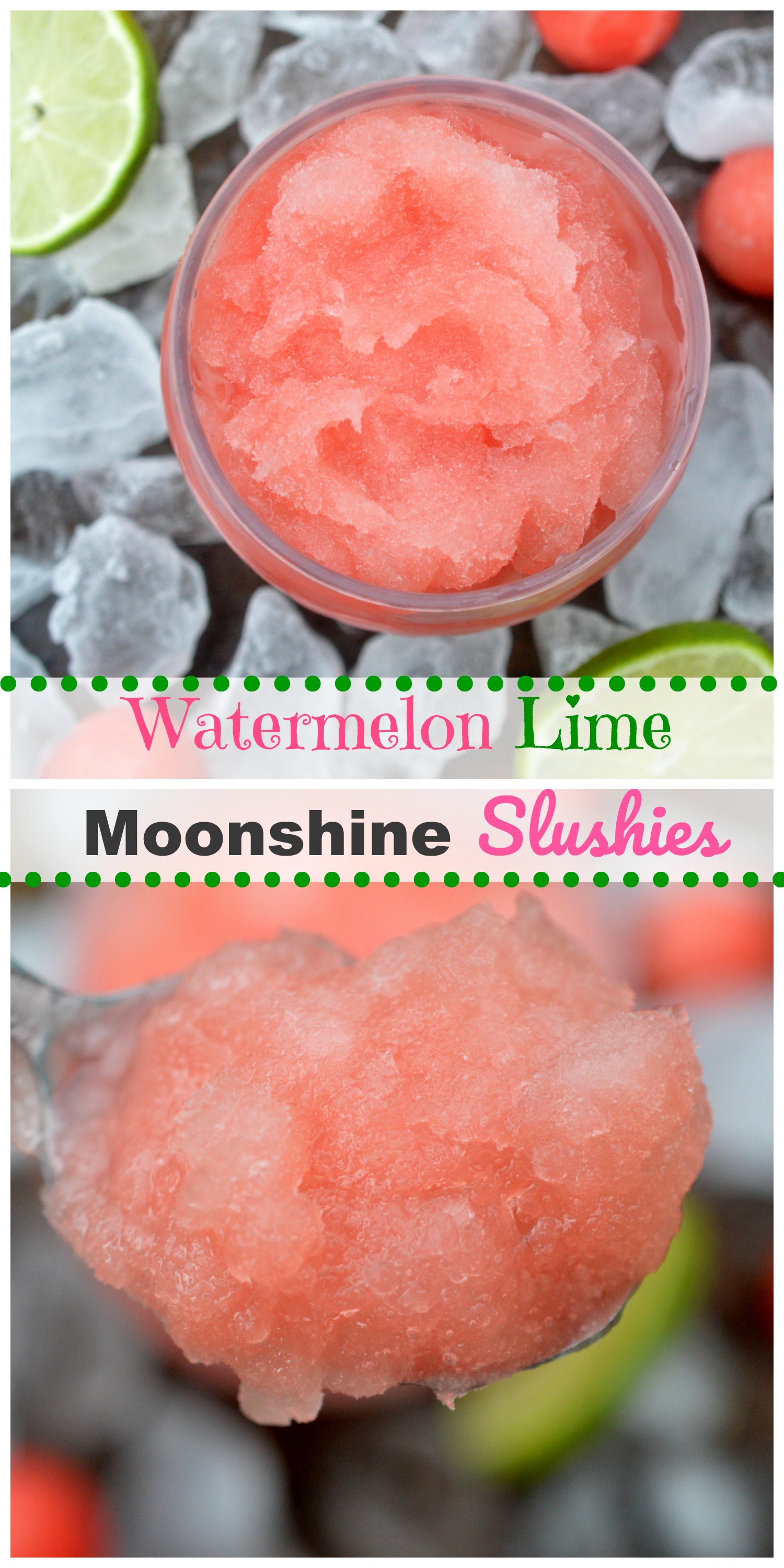 I hope you give my Watermelon Lime Moonshine a try!
Just remember to be responsible when enjoying any alcoholic beverages, especially Everclear, to always keep it away from children and underage kids.
Cheers!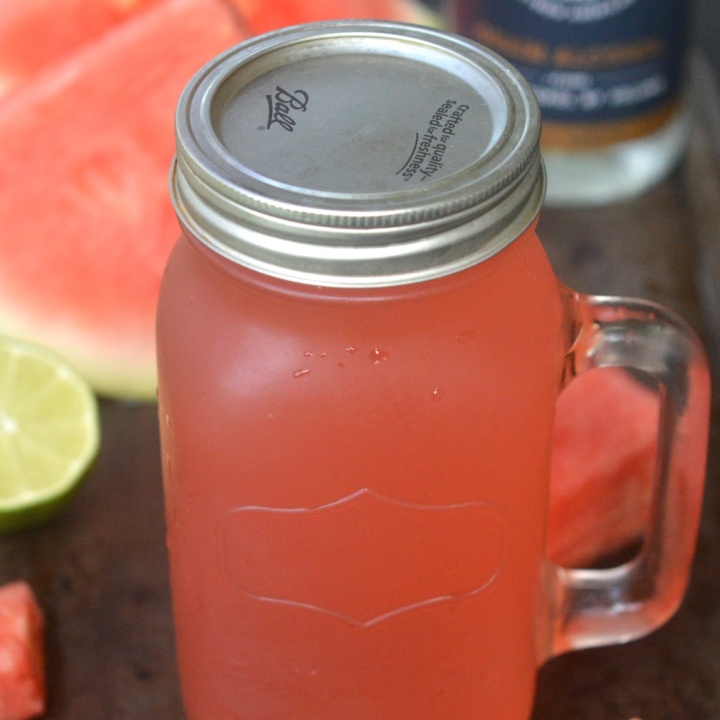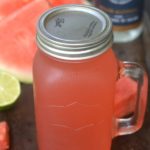 Print Recipe
Watermelon Lime Moonshine
Making homemade flavored "Moonshine" is easy and the results are both delicious and fun!
Ingredients
4

heaping cups of watermelon chunks

about 1/2 a watermelon

1

cup

Everclear

1/2

cup

fresh lime juice

about 3 limes

1 1/4

cups

sugar

1 1/2

cups

water

1/2

cup-1 cup Watermelon Pucker
Instructions
Combine watermelon chunks and Everclear in a glass jar with lid.

In a small pot, combine lime juice, sugar, and water. Over medium heat, stir until sugar is fully dissolved (no need to bring it to a boil). Remove from heat and allow it to cool down.

Pour simple syrup into the jar.

Allow it to sit in the refrigerator overnight or up to 48 hours.

Pour contents of jar into a bowl and mash the watermelon with a potato masher, then strain mixture back into the jar.

Add in 1/2 cup of the Watermelon Pucker. Shake, taste to see if the flavor is to your liking. If not sweet enough or watermelon tasting enough add in additional Watermelon Pucker.

Store in your freezer until ready to enjoy.

Note: Always leave headroom in the jars for expansion. The mixture should not truly freeze up, however, err on the side of caution. Freeze overnight (or longer).
Nutrition
Serving:
8
g
|
Calories:
386
kcal
|
Carbohydrates:
77
g
|
Protein:
4
g
|
Sodium:
2
mg
|
Fiber:
4
g
|
Sugar:
73
g