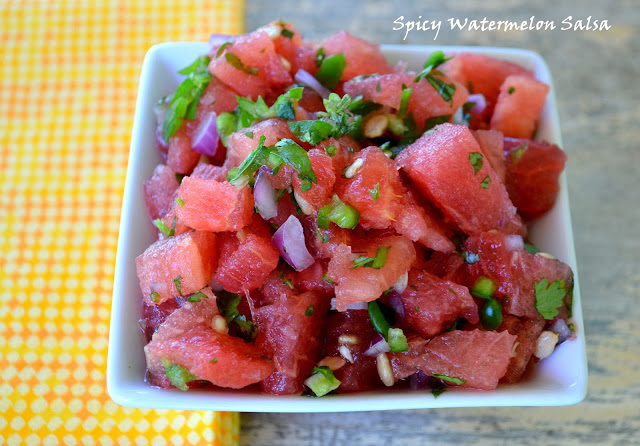 Last weekend I attended the 3rd Annual Eat, Write, Retreat hosted by Casey Benedict of Kitchen Play and cookbook author Robyn Webb.  I had attended the first one in DC 2 years ago and really enjoyed myself. I learned a few things, made a few new friends and took in some of the sights of DC.  So when I heard it was coming to my birthplace, I immediately thought about registering.  Just before I did register, I saw that Tuscan Fields Farro was offering to send one lucky food blogger to EWR and I decided to try and go for it...why not?  Maybe I would be lucky and win.
So, I made a dish using Tuscan Fields delicious and easy to prepare farro and win I did!  I was so stinking excited when I found out!!  If you have never tried farro, you should!  Check out my recipe for Farro with Feta, Radishes, Peas & Chives - It makes a great lunch, side dish or dish to bring to a BBQ.
And THAT my friends is where my luck started!  Yup, I said started!! 


The dish above, in the photo, was inspired both by the gorgeous watermelons we were surrounded by all weekend at EWR and my friend Joe.  Joe loves to challenge himself in the kitchen.  He always shows up at neighborhood parties with something yummy in tow - who doesn't love a man that cooks...am I right?  Memorial Day Weekend, he showed up with a watermelon salsa, something I had never seen before.  I immediately popped a scoopful into my mouth then one into my husband's mouth and it was fantastic!  It was refreshing, light and flavorful all at once!  I knew I had to try my hand at it.  I am not sure what he put in his, but I mimicked this one after pico de gallo.  Thanks Joe!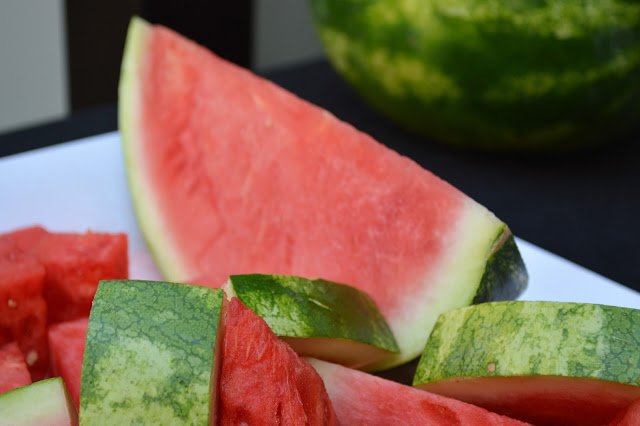 Two really cool challenges were a part of this years EWR.  One was the Amazing Apps Culinary Challenge hosted by California Figs, US Potatoes, California Ripe Olives and California Raisins - Each attendee was going to receive in the mail a box containing a secret ingredient that we needed to use in an appetizer - you would get either figs, potatoes, olives or raisins, I received potatoes.  One winner would be chosen based on a set criteria for judging and they would each win an iPad, an iTunes gift card, a cool  OXO Cookbook Holder and a $500.00 gift certificate to OXO!!  How cool was that??
The second challenge came from In The Raw - They send each of us a big bakers bag of their brand new Monk Fruit In The Raw along with their sugar cookie recipe.  They asked us to decorate the cookies anyway we chose.  They then would select their favorite as well as a second random winner and each would receive In The Raw products for a year and a beautiful Kitchen Aid Stand Mixer!
Saturday was in full swing with some fantastic speakers on everything from writing, to photography to learning all about the growing of mushrooms in the mushroom capital of the world - Kennett Square, PA (yup, store that one in your head for the day you just might need it in a trivia game).  Throughout the weekend Casey & Robyn were picking names out of a hat for random prizes...everything from baskets of baked goods to OXO tools & gadgets to a Kitchen Aid Stand Mixer!  All of a sudden, they called my friend Heather's name...she won a $500.00 gift card to Calphalon!!  I was like "Oh!! Yeah Heather!!!" I turned around to catch her eye and give her a crazy wave when I heard my name called for the same thing!! AAAH!  That was so awesome!!! Just after that, In The Raw was there to announce the winners of the cookie contest and yup...you guessed it, I won that too!  I was seriously freaking out at that point!  They always say good/bad things happen in 3's.  Well "they" were right on the money for me! 1-2-3!
Check out the winning artistic cookie from Sherron, gorgeous!!
After we finished our sessions for the day, my roomie Renee and I headed to our room, where we had exactly 20 minutes before we needed to be back downstairs to head to the awards gala at the trendy Philadelphia restaurant in the sky - R2L.  I must have been a bit lightheaded from all the excitement because I decided to take a shower - yup...I had exactly 17 minutes to get showered, dry my hair, throw some makeup on and slip into a dress!  I actually did it!  I broke one of my fingers in the process (who knows) but I did it! lol!
We headed to R2L and when we got there, there were tables of food hosted by the 4 sponsors of the Amazing Apps Culinary Challenge.  We had some great bites of potato, fig, raisin and olives apps!  I was so excited to see fresh figs - they haven't hit stores in my area yet and my fig tree is months away from bearing fruit, so I have to confess I ate at least 5 of them plain - they were stunningly de-lic-ious, I could have stayed and ate them forever!!  At the bar they were serving one of my favorite wines - Mirassou and they had my absolute favorite Mirassou Riesling, it was shaping up to be a great night! *Clink*
The moment arrived - they were about to announce the winners of the Amazing Apps Culinary Challenge, someone joked and said that I was going to win my category...I said "no way"!  A new friend Roxana said "come here Colleen, I want to rub you for luck"...and she did!  I was standing next to Carolyn of All Day I Dream About Food  (who was also a speaker on photography AND SEO - talk about talented) and she said "I swear if you win I am going to fall at your feet", she was so funny!
Potatoes were up first...then BAM!  They said my name.  I was like WHAT...ME???  The sweat came pouring down me, I started shaking like crazy.  I. Could. Not. Believe. It.  I was waiting for Aston Kutcher to pop his pretty little head out and let me in on the joke!
I really don't remember much...I was awestruck.  Carolyn really did drop down in front of me (it was hilarious) and then they called Roxanna's name for raisins - the girl who rubbed me for luck!  I thought I entered The Twilight Zone.  The next thing I remember was the doors opening and waiters filling the room.  They were serving trays and trays of the 4 winning dishes- my dish was being served at R2L.  How crazy is that!  Check out my winning recipe - Potato & Caramelized Onion Flatbread
I think I finally stopped shaking 90 minutes later.  I mean, I was actually embarrassed of my good fortune that day - so happy, grateful and excited but in disbelief and somehow embarrassed that I won a bunch of stuff!  In life I am more of a giver than a getter if you know what I mean, so this was topsy-turvy!  I gathered my wits - congratulated the other winners, then headed out for a celebratory drink at DelFrisco's with my friend Lisa, who I hadn't gotten to chat with yet that weekend and we had a great time!
Here's the thing...I started my blog as a way for me to both leave a piece of myself behind for my kids and a way for me to do something a little creative when it came to my passion - cooking.  Doing "this" is mostly something I do alone.  Sure my daughter cooks with me a ton and my son does too from time to time and yes, we get to enjoy the fruits of my labor as a family - BUT nobody around me really "gets it" except funny enough my 8-year-old daughter, so to win something in front of my peers for something I made, THAT was and is really something!  I am sure the 3 other winners felt exactly the same!  The excitement and joy on my kids face's once I got home (my hubs kept the secret) was priceless and somehow the iPad instantly became "the family iPad", hmmmm.  I'm still trying to figure that one out!
Check out the other winning dishes (and I have to say...I did in fact visit every website after all the app recipes went up, there were so many fantastic offerings!  Everyone did such a  great job!)
Figs - Heather's Phyllo Cups with Fig Compote, Goat Cheese Mousse & Pistachios
Olives - Joanne's  Black Olive Gougeres with Smokey Red Lentil Dip
Raisins - Roxana and her Raisin Cheese Crackers
Stay tuned...since I was so lucky last weekend, I am sharing the wealth so to speak!  I did a few crazy random acts of kindness following my wins and now it's your turn.  Next week I will have another installment of "Guess the Dish" and we will see which one of YOU get's lucky!! 
Sorry for the super-long post!  I had so much to tell!!  Click below for the delicious Watermelon Salsa Recipe!
Oh wait...one more thing to share...it's so funny...I just have to!  Sunday morning as we were about to begin with the lineup of speakers...all of a sudden I hear "Colleen Kennedy...could you please come to the stage?" I was like..OMGosh what now??  The whole room began talking...I think they were all wondering the same thing!! Lol!
And then THIS happened: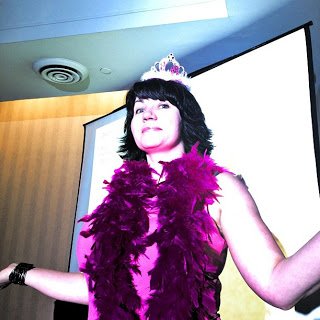 Casey & Robyn decided to crown me "The Queen of Eat Write Retreat"  It-was-hilarious!!  You have to love that about people - the creativity, they funniness and the good feelings for others that they have!  Casey & Robyn have that in spades!  Thanks for the memories (as well as all that I learned and all the new friends I met)!!!  Thanks for sending me this photo Lauren!
Spicy Watermelon Salsa


2 cups of chopped watermelon
¼ cup chopped Cilantro
1-2 TBS minced jalapeno (depending on your heat preference)
¼ cup chopped red onion
2 TBS fresh lime juice
Gently toss the above ingredients and serve with tortilla chips or pita chips.  Or just eat it with a fork...I did!
Colleen's Notes: The above recipe is just a guide, just like with salsa...there really is no recipe you need to stick to.  If you want more watermelon...add it, more or less heat??  Increase or decrease the amount of jalapeno.  I like to leave the stems and seeds in for extra heat.  If you don't like cilantro, omit it and maybe add in some parsley and or basil.  If you want it sweeter, add in a bit of honey or some chopped mango.  If you want it crunchier add in some bell peppers.  Take this wherever you want it to go, let me know what you come up with!
I think making this with the addition of chopped mango would be fantastic on a fish taco...I need to make that happen!
Enjoy and may YOU have an incredibly lucky day in the near future!