Almost nothing is quite as satisfying as biting into an incredible burger hot from the grill! Am I right? Loaded or simply dressed, burgers are an iconic American staple in both backyards and restaurants. These easy-to-prepare Guacamole Burgers are a fresh take on the traditional. You just have to give them a try!
Post updated June 17, 2107 (originally published August 2017)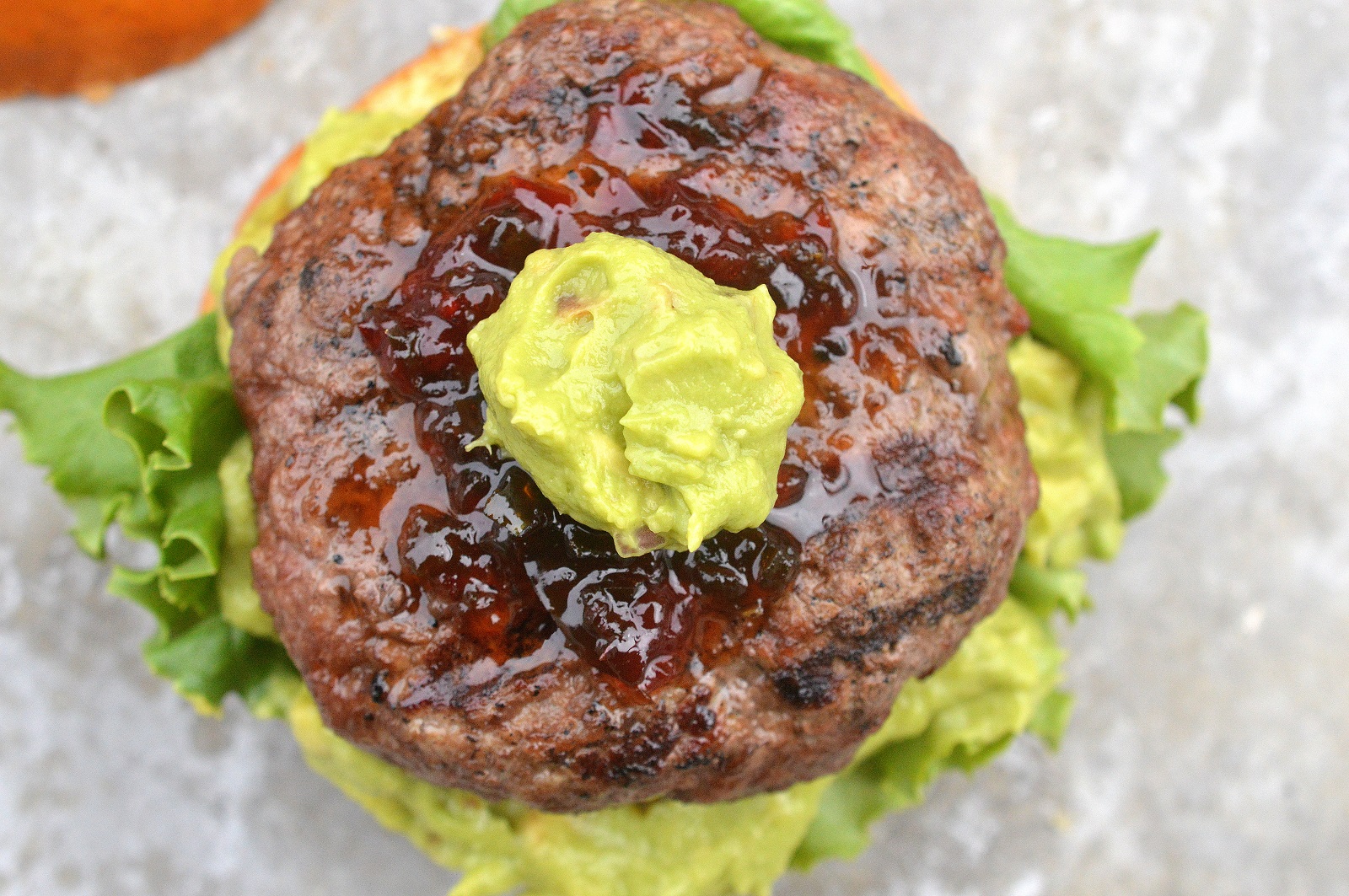 On a whim, I decided to combine a few of my favorite things into one delicious burger. I made some fresh guacamole and for an amazing kick, I basted the burgers with hot pepper jelly and added a little extra hot pepper jelly when assembling them.  Geeeez, was this ever a delicious burger!  If dairy is a concern, you will never notice you are missing cheese with these Guacamole Burgers since the creaminess of the guac stands in its place. This burger is so delicious!
Creamy guacamole combined with the smoky, juicy burger and the sweet & spicy kick of the hot pepper jelly all play off of one another so well. These Guacamole Burgers are like a symphony on your palate!
I only have one regret...Bacon! Why on earth didn't I think to add bacon to these burgers??? They honestly didn't need bacon but hey...BACON!! Why the heck not? Your call!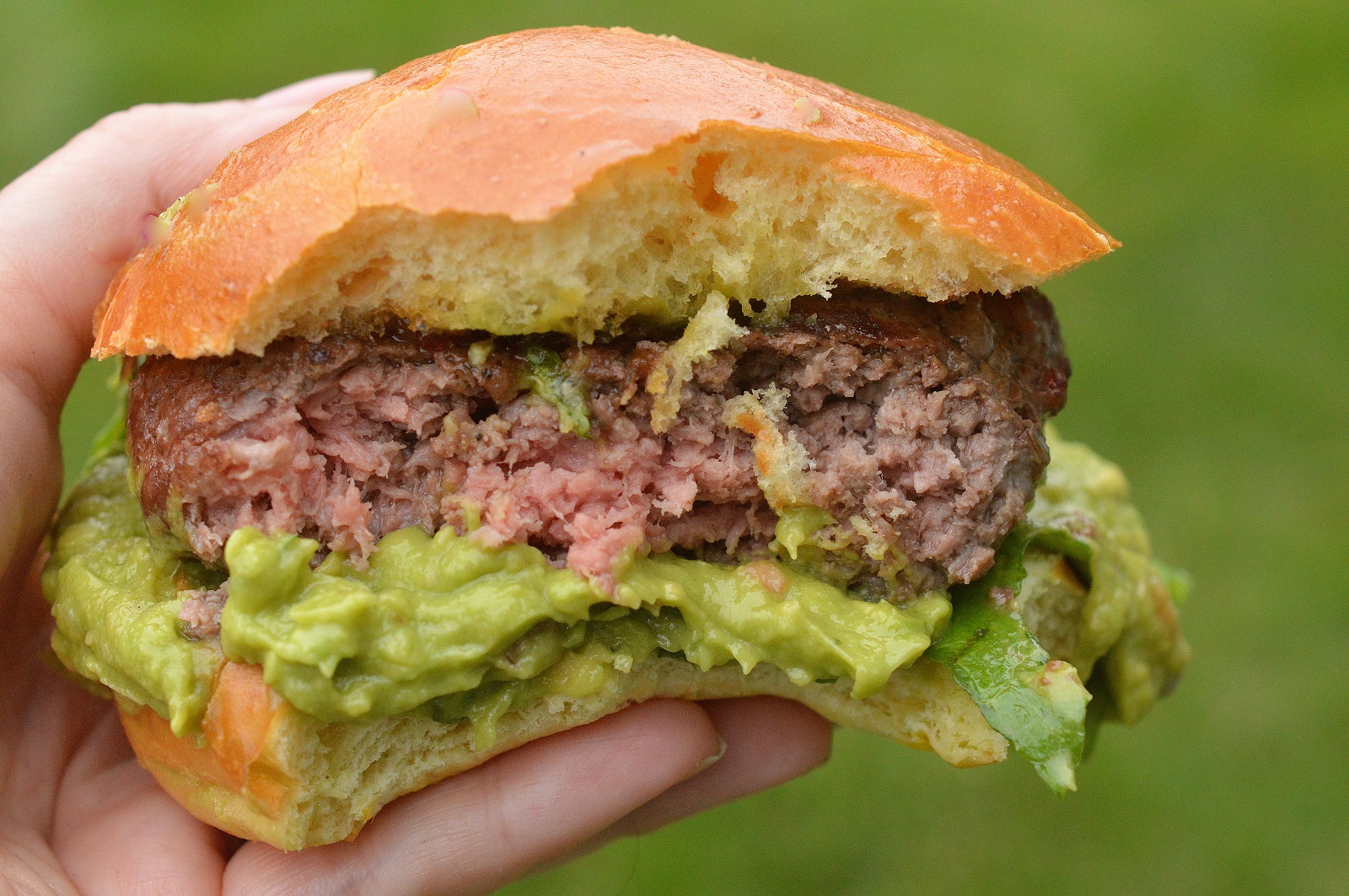 My son and husband went bonkers for these Guacamole Burgers and my daughter (who doesn't eat beef or pork due to allergies) ate the guac and chips until her heart and her stomach were happy!
Guacamole is SO easy to make, it's good for and it tastes great too! All you need are ripe avocados, fresh lime juice, Kosher salt, minced jalapeno, fresh garlic. From there you can choose to add cilantro (if you hate cilantro, like my husband, add in fresh basil leaves instead...it give a fresh taste) a bit of onion (I don't), some chopped tomatoes and if you like it spicy, red pepper for more of a kick.  It literally takes minutes to make guac, I say make extra and serve chips and guac too! However, if that's not your thing, store-bought guac will work as well.
I've made guac plain (we like it spicy), with pomegranate seeds, with bacon (yes BACON!!!), with fruit and even with lobster. There really are no rules, just make it however you like and make it often!
As far as burgers go, sure some people add this, that or the other to their ground meat. Me? I am happy with quality fresh-ground meat, salt & pepper. Sometimes I combine more than one meat together for my burgers, which in my opinion is when they shine the most.
How Do You Make Guacamole Burgers?
Making Guacamole Burgers doesn't take much more effort than making traditional burgers. Make or purchase guacamole and have it at the ready for when your burgers come off the grill or out of the pan. Just before your burgers are done to your liking, brush them with the hot pepper jelly (if your jelly is very thick, pop it in the microwave for a few seconds to liquify it a  little)
What Variations Can Be Made To Guacamole Burgers?
In my opinion, the best protein for these burgers is beef. The only other protein that I think would work well with the guacamole and the hot pepper jelly (and be almost as delicious) would be chicken. You can choose to add bacon to the burger assembly and another tasty variation could be adding a corn salsa to the burger...why not! If "heat" isn't your thing, you can swap out the hot pepper jelly for fig jam for a burst of sweetness. BUT, really hot pepper jelly is not really spicy, it's a pleasant spicy/sweet and its wonderful over cream cheese served with crackers! You can also enjoy the burger bunless. I actually love a bunless burger, I feel I can taste the meat and the components better that way.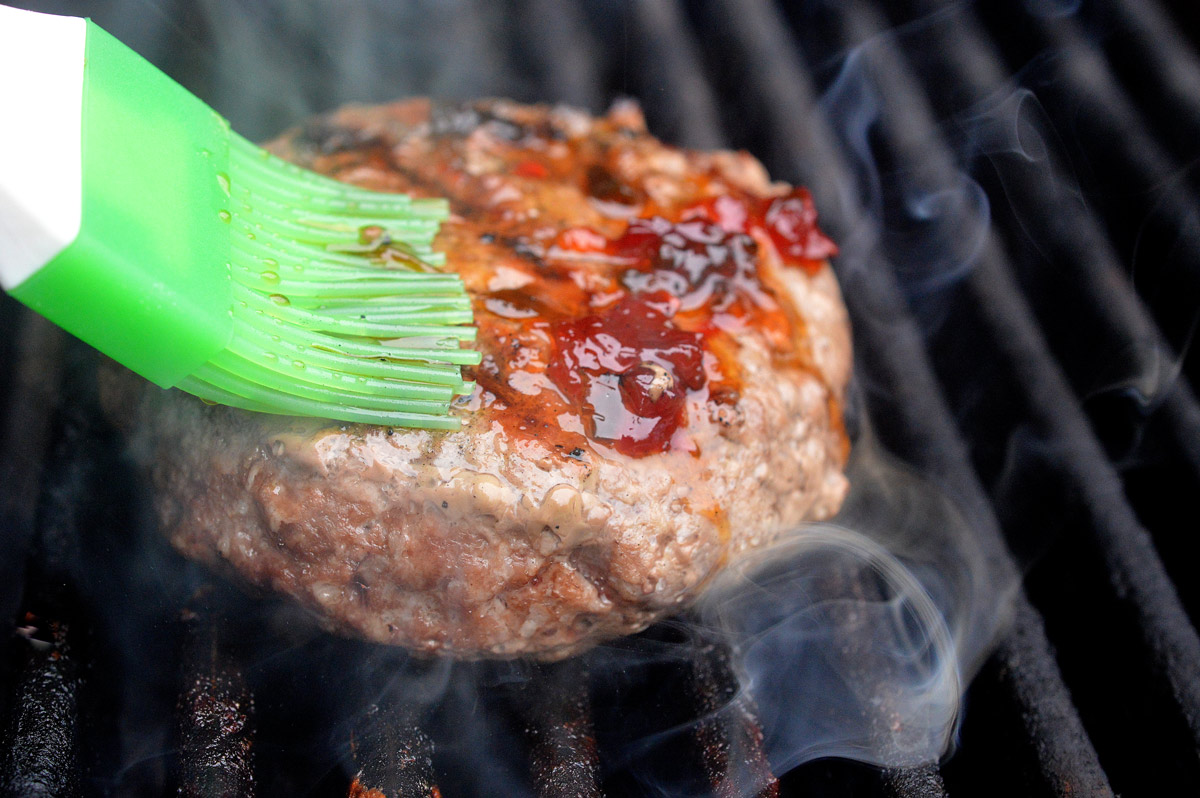 I hope you try out these Guacamole Burgers! If you do tag me on Instagram, I love sharing the recipes people make from my website!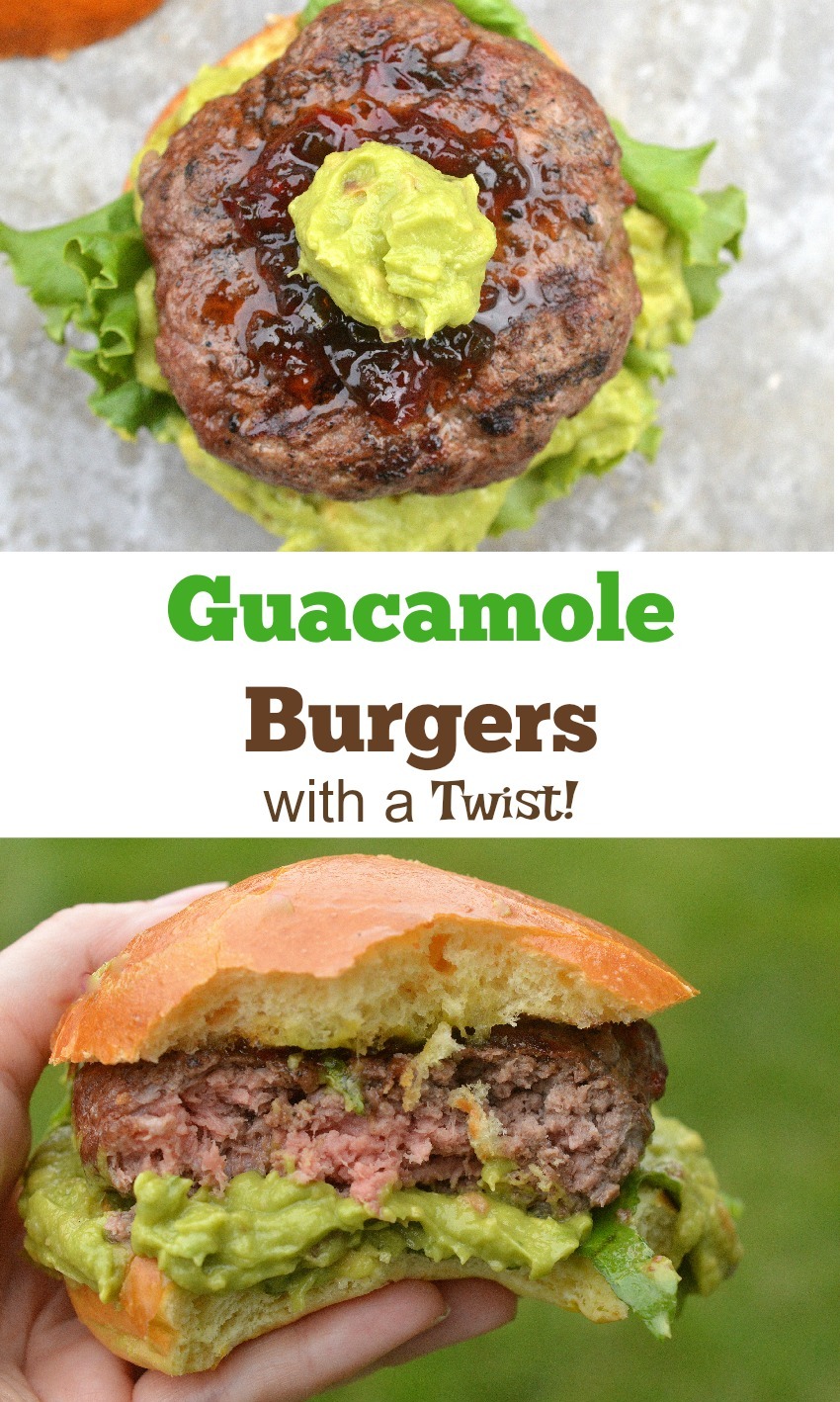 Enjoy!!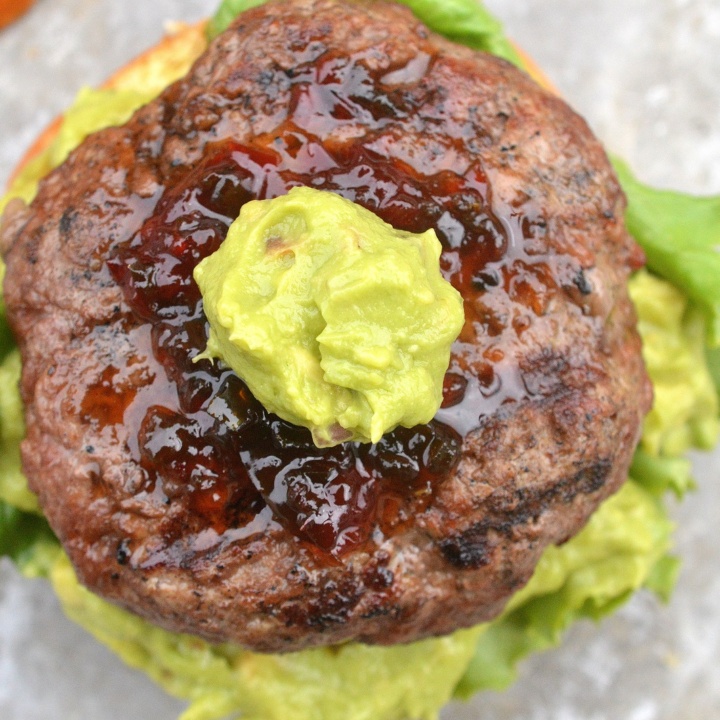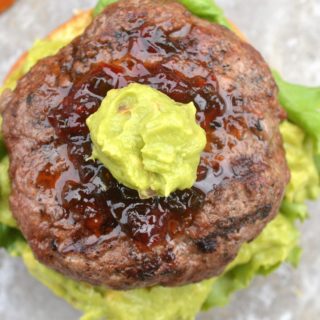 Guacamole Burgers
Ingredients
1 ½

lbs

ground beef

½

tbs

Kosher salt and ½ teaspoon black pepper

or more to taste

Hot Pepper Jelly

Guacamole

Rolls

Greens
Instructions
Toss the beef with salt and pepper.

Form into patties and place on a large plate or baking sheet (about 7-8 burgers).

Cover and chill 30 minutes.

If you have chilled the burgers longer, allow them to sit at room temperature for 20-30 minutes.

Season all sides of the burgers with additional salt and pepper.

Clean, oil and heat grill, once hot place burgers onto the grill and cook until done to your liking. Once you flip the burger, baste the cooked side with some of the hot pepper jelly, when you remove the burgers, baste the other side.

Assemble burgers, rolls, greens, guac, add an additional dollop of jelly on top of the burger and top with the other half of the bun.

Smush it down a bit and dig in!

Tip: When forming your burgers, be firm with the meat and work it into a tight even patty. Use your knuckle and make a small divot in the center of the burger.
Nutrition
Serving:
6
g
Calories:
706
kcal
Carbohydrates:
64
g
Protein:
46
g
Fat:
31
g
Saturated Fat:
6
g
Cholesterol:
100
mg
Sodium:
1560
mg
Fiber:
9
g
Sugar:
15
g
Follow me on Tik Tok for 1 minute videos