Because its #BurgerMonth I made some killer Feta Stuffed Lamb & Onion Fig Jam Burgers with a Tapenade Mayonnaise and Geez-Oh-Man were they ever good!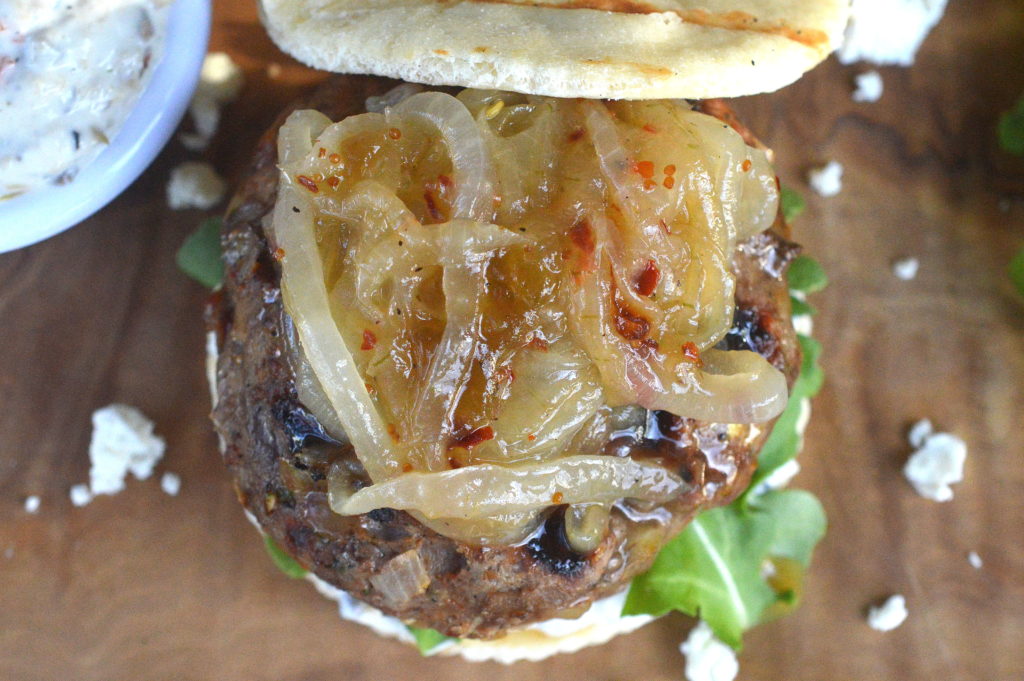 My friend Kita from Girl Carnivore & Pass the Sushi came up with this fun #BurgerMonth concept a few years ago and since then, collectively, a number of the #BurgerMonth food bloggers have put up some insanely delicious one-of-a-kind burgers!
This year we have over 40 bloggers involved and lots of prizes for you guys to win!
One of the sponsors, cuttingboard.com, is a site that I own a few cutting boards from. My favorite one (Olive Wood) is pictured in my images here. I seriously love that board!!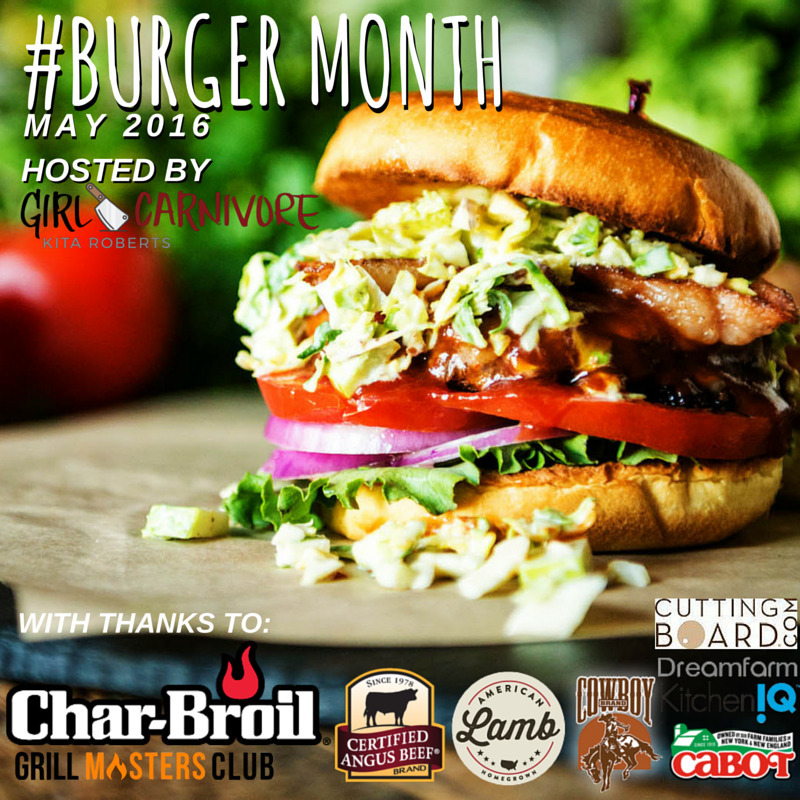 #BurgerMonth 2014 I made these Sausage & Beef Burgers with Roasted jam, Mozzarella and Pesto Jam. I served these at a 4th of July party in 2014 (switching the roasted tomatoes out for a Tomato Jam) and since then, the people in my life ask me to make these again and again, you will not be disappointed!
#BurgerMonth 2015 I made these Jalapeno Chicken Burgers With Bourbon Jalapeno Peach Sauce which were different & delish.
So for my 2016 #BurgerMonth Burger, I decided to go with lamb...why not just keep moving through the proteins, right?? Plus lamb in burger-form is so stinkin' good...so these Feta Stuffed Lamb & Onion Fig Jam Burgers were born!  I added a number of components to the burger.  I stuffed it with Feta cheese, made a homemade Tapenade and used some of it in a Tapenade Mayo, and I whipped up an Onion Fig Jam and spiced it up with some red pepper (which I kept eating by the forkful).  The Tapenade is delicious on its own and literally takes minutes to make if you have a food processor. Enjoy it with crackers, on the burger or in the mayo like I did. Here's the link to make it - 10 Minute Tapenade

Now here's the thing...There is almost nothing as good as a perfect burger...right? However as much as I love a great hunk of warm crusty bread, slathered with some butter...I don't want to taste bread when I bite into a burger...It's like a pretty woman or girl with waaaay too much make-up on. I want to taste burger, the char and the components that make the flavors dance across my tongue.
Often burgers are dwarfed by the big roll that comes with it...which also then fills you up and you leave half your burger on your plate...so I decided to simply use some flatbread as my rolls for this, I cut let a few pieces of flatbread kiss the grill, then cut rounds out with a biscuit cutter.  It worked perfectly and was delicious! Try it! My 14 year old son proclaimed it to be the best burger of his life (awww!)!!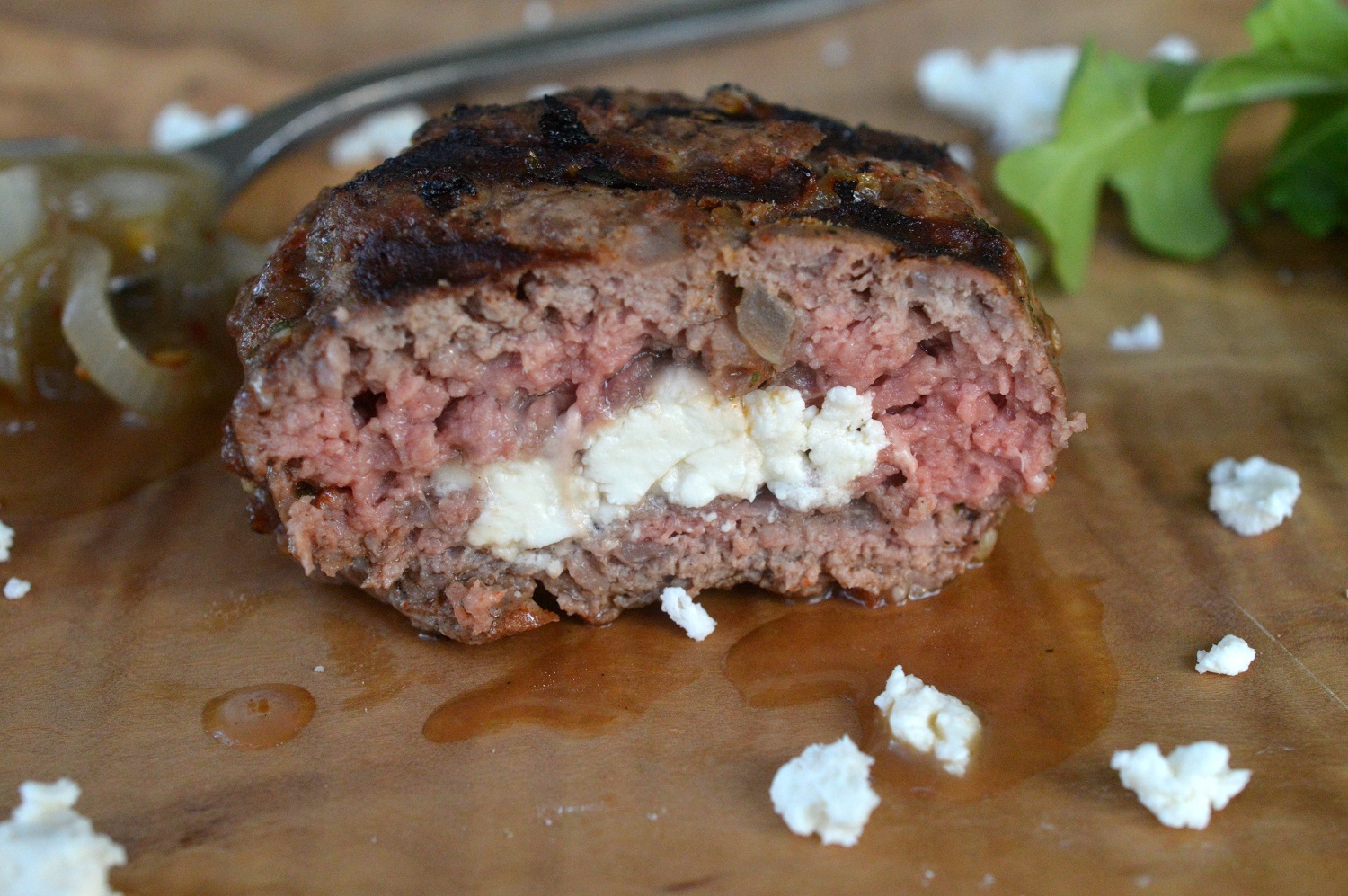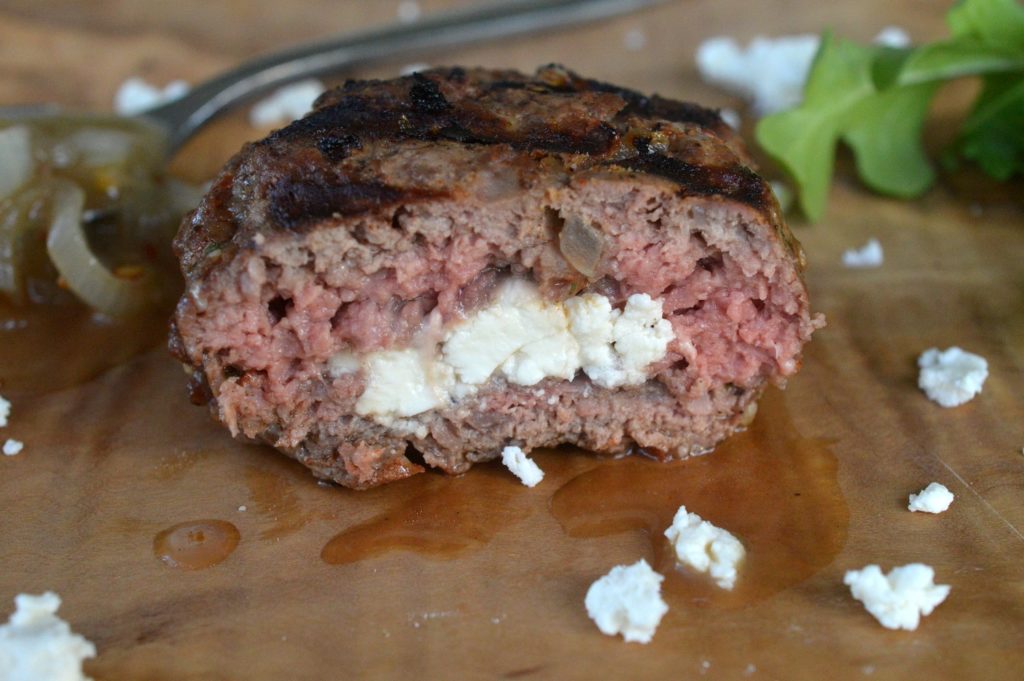 Make these Feta Stuffed Lamb & Onion Fig Jam Burgers, I think your going to like them! Ask your butcher or farmers market to grind up 2 pounds or so of a leg of lamb.  The fresh-ground quality lamb will help make a memorable burger. If you make this, I'd love to know. Tag me (Souffle Bombay) on Facebook or Instagram, I get so excited when people show me what they made 🙂
I added sauteed onions to the ground lamb, as well as seasonings and an a bit of lemon zest. That's it. The key is allowing them to set up...as well as gentle grilling. Since I was stuffing these with Feta cheese, I made them into BIG meatballs, stuffed them and reshaped them. Then allowed them to chill for 45 minutes or so. One I took them out of the fridge, I simply pressed them into burger form and made sure the seasoned Feta stayed in place.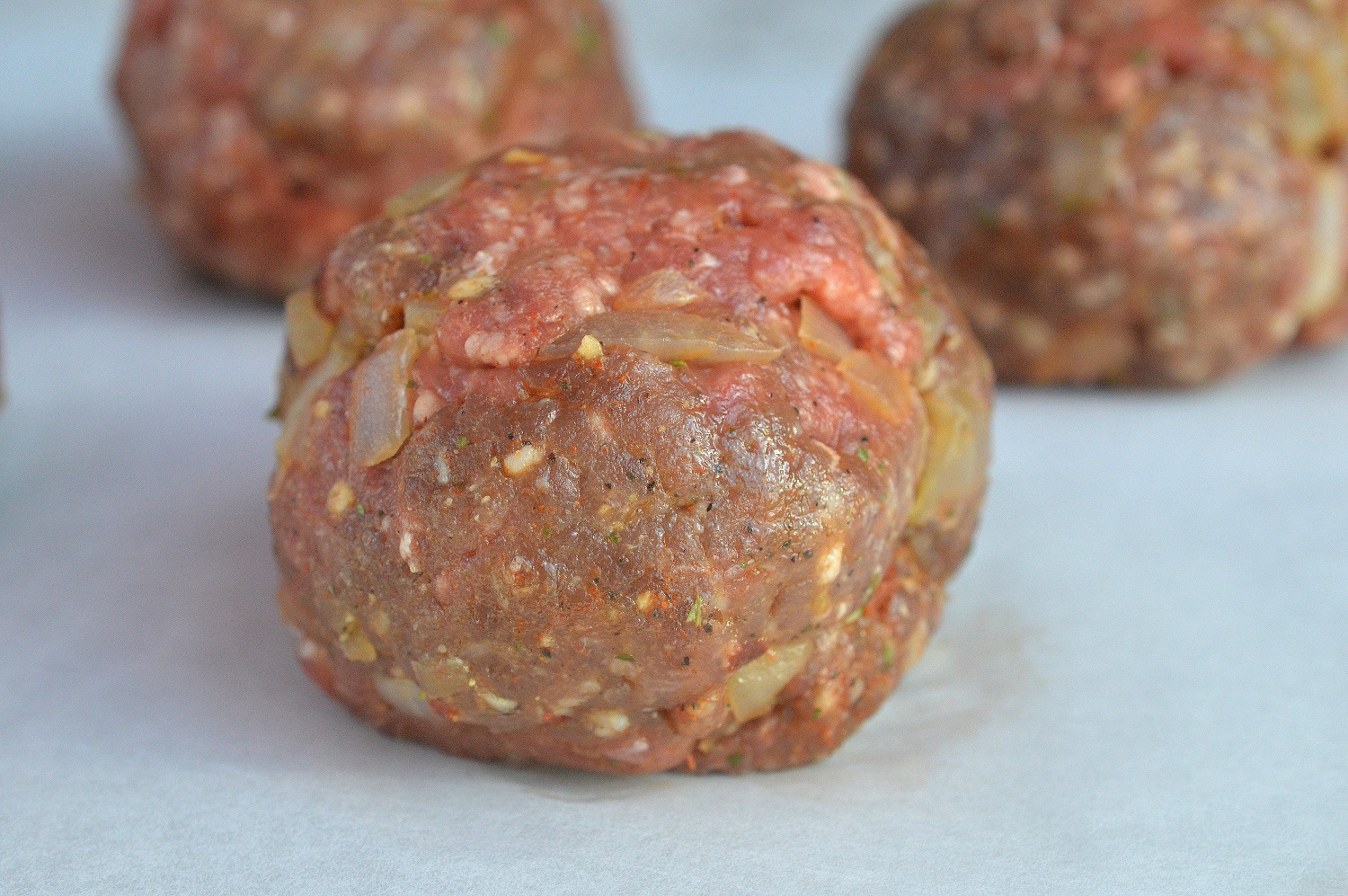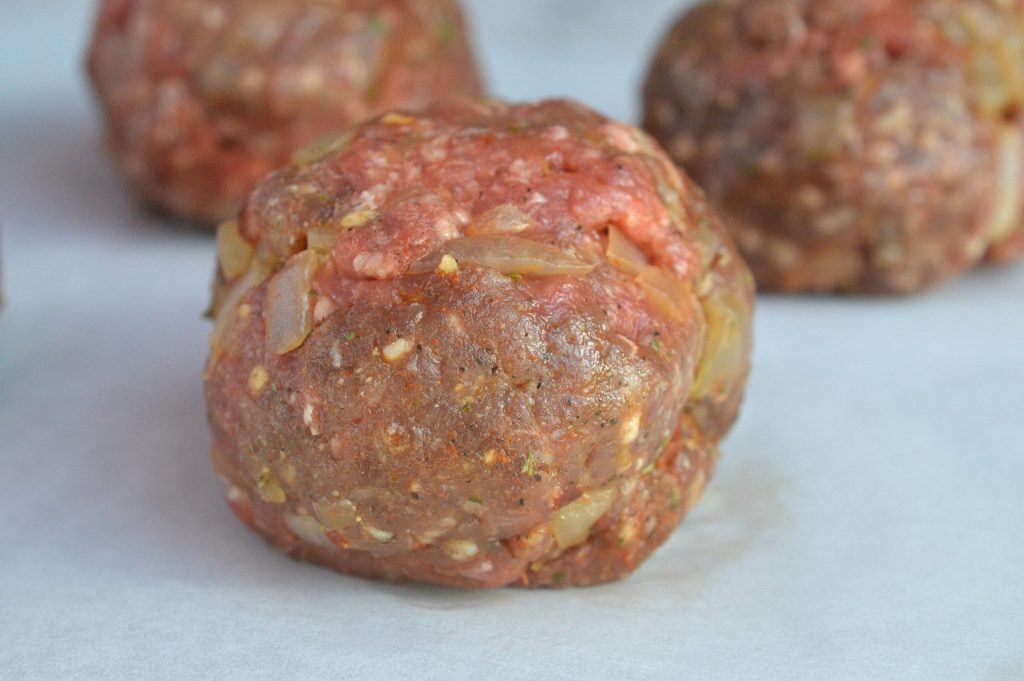 To make #BurgerMonth even MORE fun! We have great prizes for you to WIN all-month-long!
Take a look...
I had a blast creating my #BurgerMonth 2016 XX Burger!  I would love to thank Certified Angus Beef, Char-broil, KitchenIQ, Cabot Cheese, Grill Master Club, American Lamb Board, Cowboy Charcoal and CuttingBoard.com for the fantastic prize packages and Kita of Girl Carnivore & Pass The Sushi for organizing it! I sure could go for a burger right about now...How about you?
Blogs : Week 1
http://cookinginstilettos.com/
http://culinary-adventures-with-cam.blogspot.com/
http://www.mycatholickitchen.com/
http://www.tryanythingonceculinary.com/
The list above are just the first week's worth of food bloggers making creative burgers for #BurgerMonth...To follow along on social media and see all-the-burgers, use the hastag #BurgerMonth. You can also enter each week's prize drawings.
Good luck & happy (burger) eating!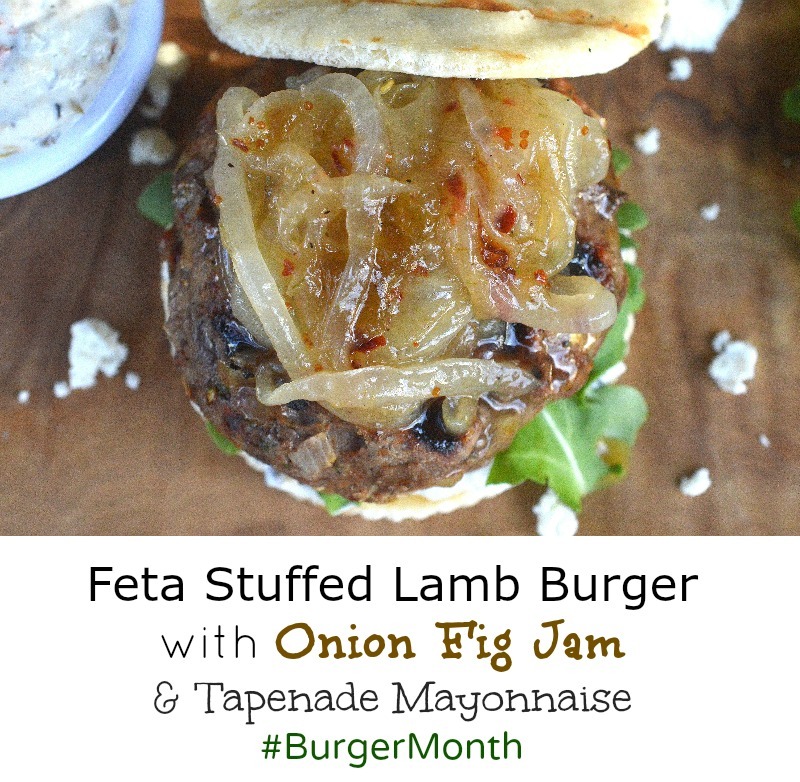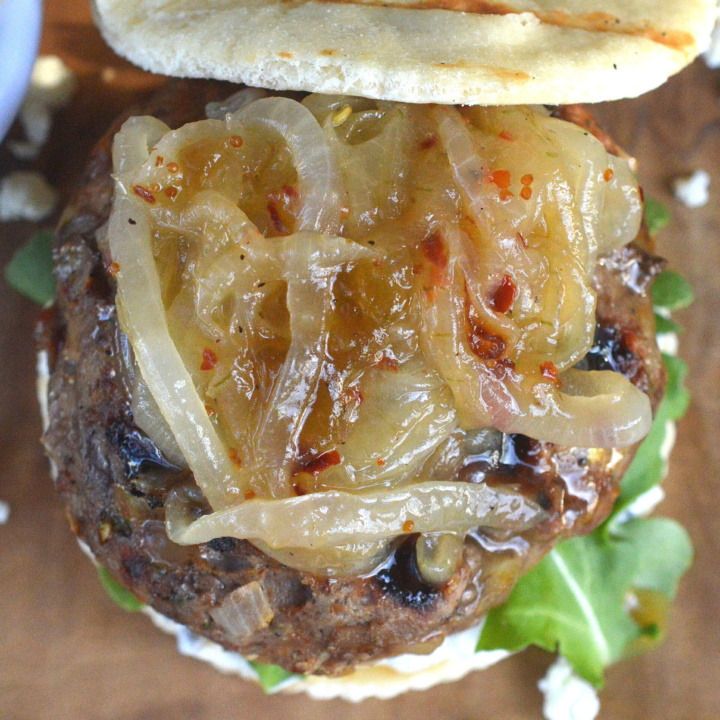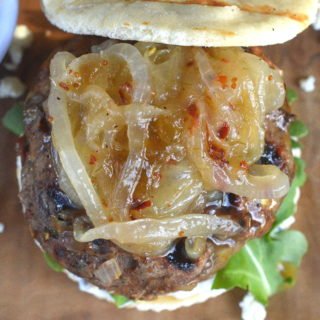 Feta Stuffed Lamb & Onion Fig Jam Burgers
Ingredients
Lamb Burgers

1

TBS

grapeseed or olive oil

2

cloves

garlic

minced

½

cup

chopped Vidalia onion

Kosher salt & pepper

Pinch

or two of crushed red pepper

2

pounds

ground lamb

1

TBS

lemon zest

½

block of Feta cheese

about 5 oz

Onion Fig Jam

2

Vidalia Onions sliced into rings

2

TBS

butter

Kosher salt & pepper

Red pepper flakes to taste

½

cup

of Fig Jam

Tapenade Mayo

¼

cup

tapenade

½

cup

mayo

Burger Assembly

Flatbread

Burgers

Onion Fig Jam

Tapenade Mayo

Arugula
Instructions
In a saucepan, heat your oil and saute garlic for 1 minute, add in the chopped onions and saute until golden. Season with salt, pepper and crushed red pepper, set aside in a small bowl to cool.

In a bowl, combine lamb, cooled onions and lemon zest, season with salt & pepper.

Gently combine the mixture until incorporated (without over-mixing).

Form into large meatballs (5-6).

Season feta with salt & pepper, break it into chunks and work a chunk into the center of each "ball".

Seal the meatball back up, cover and refrigerate for 45 minutes or so. **(If you don't like Feta, you can skip this step).

In your saucepan, saute the sliced onions until golden brown, season with salt, pepper and red pepper flakes. Remove any leftover butter (if any) by pouring it out or blotting the onions a little dry, Allow them to cool a bit. Add the fig jam to them and store in a covered bowl or mason jar until ready to use.

Make tapenade (or use store-bought).

Combine tapenade and mayo, mix well.

Set aside in a small bowl until using.

Can be made ahead of time, covered and stored in the fridge.

When ready to cook the burgers, oil grill, heat it to high.

Gently shape your "balls" into burgers.

Grill the burgers for 12-15 minutes or to your preferred level of doneness. The feta filling will help the centers of the burgers to not overcook, so if you like your burger well, you will need to cook them longer. i suggest placing them on your upper grill rack to finish off, so the exterior doesn't get dry if so,

Assemble burgers and enjoy!
Notes
Feel free to omit Feta if you are not a fan.
You can also simply add tapenade on its own vs a tapenade mayo if you are counting calories.
Try to not eat all of the onion fig jam before you eat the burgers 😉
Follow me on Tik Tok for 1 minute videos