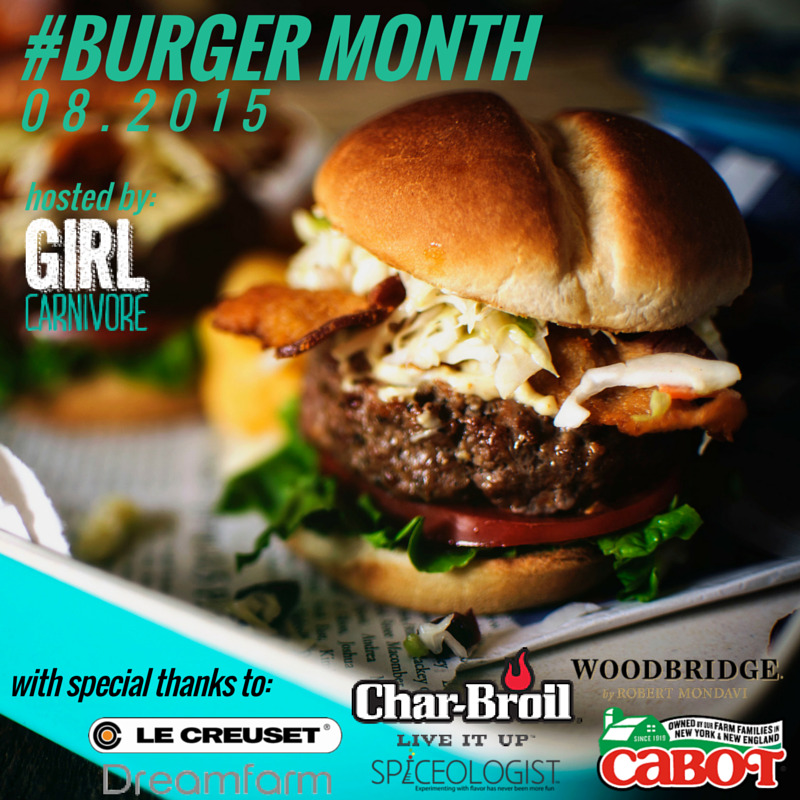 It's that time again...time for 30+ days of delicious & inspiring burgers for you to drool over delivered by 30+ fabulous food blogers! You better stock up on napkins!
My friend Kita (hard-core food blogger, pod caster, comic book master and cat-herder extraordinaire) from Girl Carnivore has once again worked her magic to deliver great burgers, fabulous sponsors and fun prizes to make this the best #BurgerMonth yet!
A peek at the first 7: Visit Girl Carnivore for the links to these burgers or follow #BurgerMonth via social media to find them all!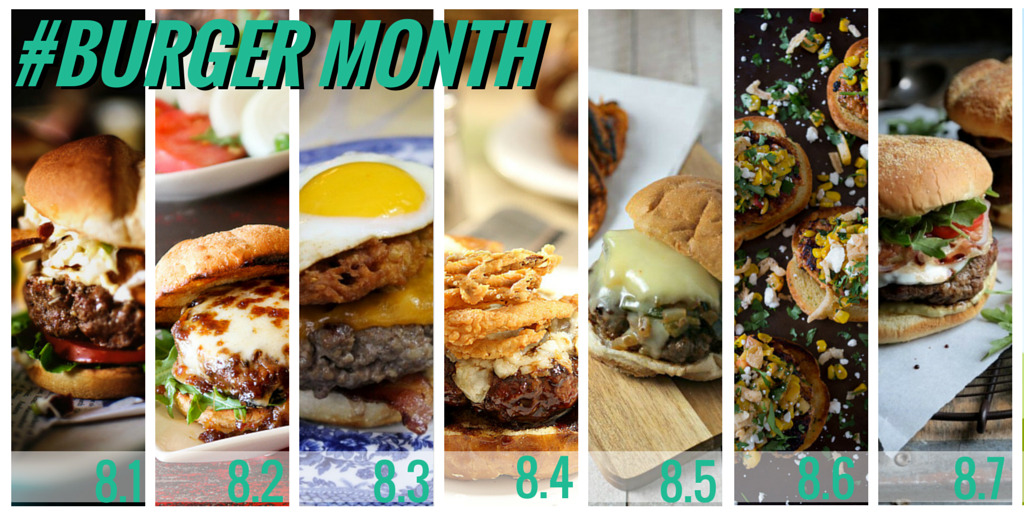 Not only are we hoping to inspire you to get-your-burger-on...we have awesome prizes too! Woot!!
I tinkered with posting a shrimp burger, but decided that going the chicken route might be a better all-around crowd-pleaser, since...I just don'r know how it's possible...but some people don't like (gasp!) or can't eat shrimp!
I wasn't sure if everything I wanted to add to the burger would work...but you know what? I did!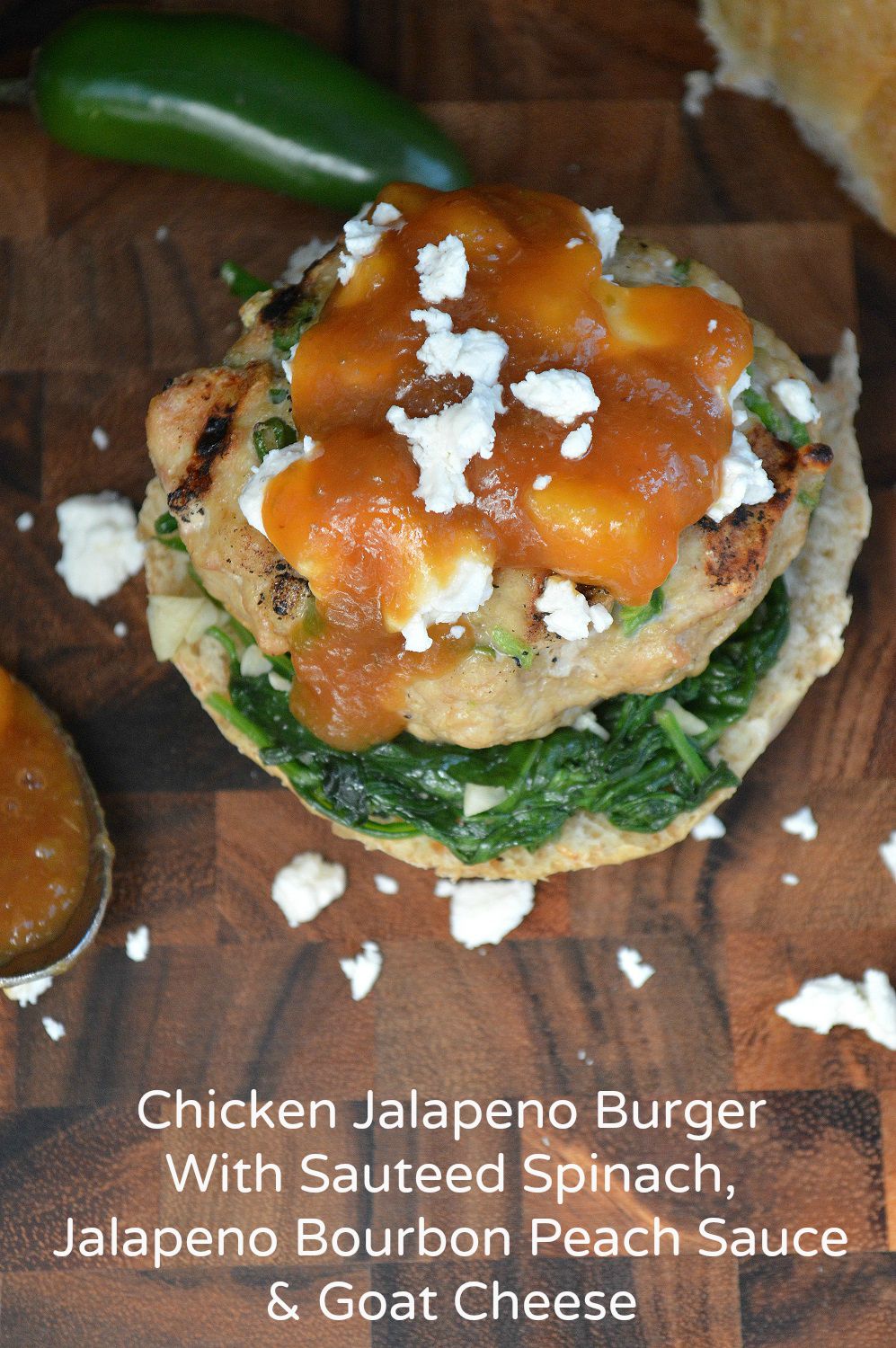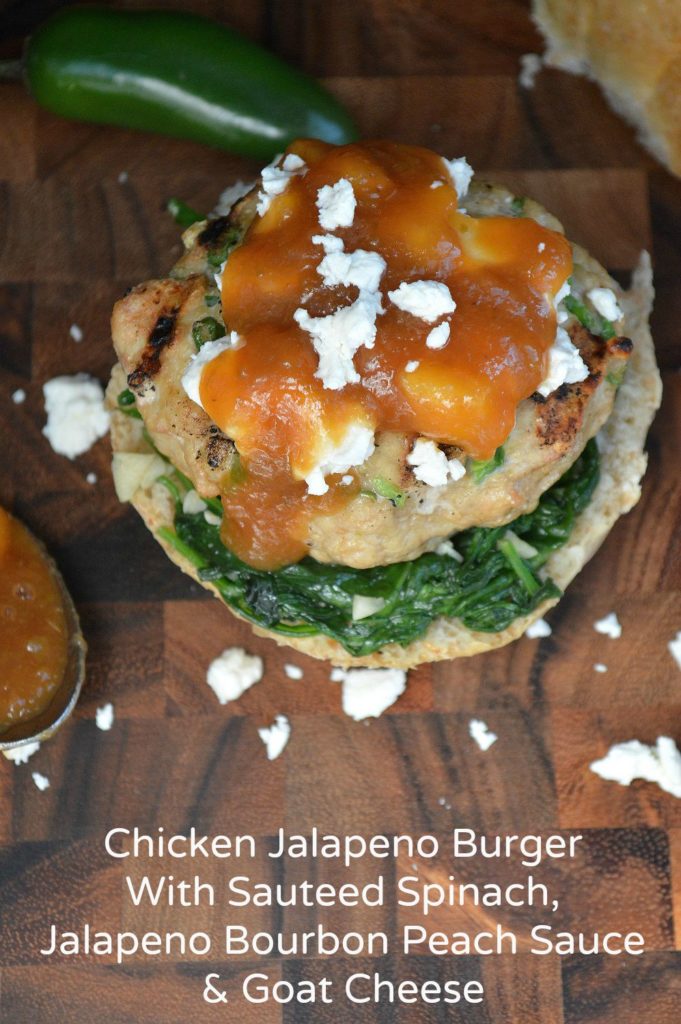 You know I like heat, right? I went with making a simple Jalapeno Chicken Burger. I wanted to nestle it atop some sauteed spinach. I wanted to include goat cheese and I wanted peaches to have something to do with it. So, I made a Jalapeno Peach Sauce with a splash of Bourbon!
The result was a delicious burger, that was satisfying yet not overindulgent. Everything worked together. It was moist, full of flavor and and all around winner. Even my husband, who detests cooked fruit, any cooked fruit, other than an apple pie (groan) and who hates goat cheese...Loved it! He couldn't get over the flavor of it. Score one for me AND cooked fruit!! Whoop!
If you are looking for something different in a burger...this is it!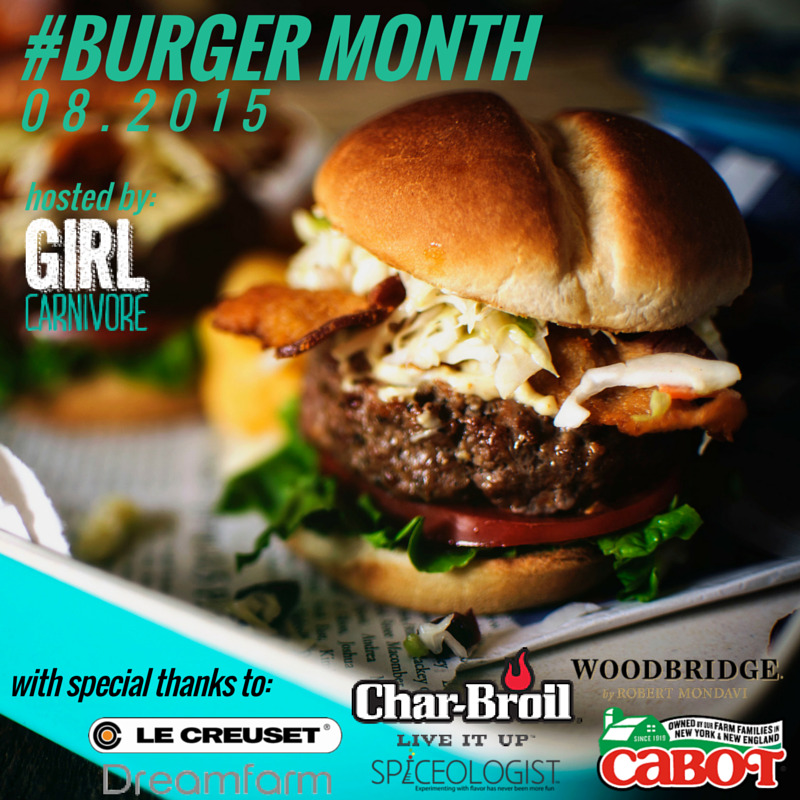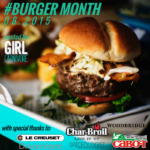 Print Recipe
Jalapeno Chicken Burger With Bourbon Peach Sauce & Goat Cheese
Ingredients
For Burgers

1

pound

ground chicken

2

Jalapenos

minced (seeds too if you want the heat)

1

scallion sliced thin

A few dashes of Cumin

Kosher salt & black pepper

Onion salt

For Bourbon Jalapeno Peach Jam

2

large peaches

peeled & diced

1

TBS

honey

1

TBS

brown sugar

1

jalapeno

minced

1

TBS

lemon juice

½

TBS

bourbon

You will also need burger buns

sauteed spinach (see notes) and plain or honey goat cheese
Instructions
For The Burgers:

Combine the ground chicken, jalapenos, scallion, cumin, salt, pepper & onion salt in a mixing bowl.

Handle it as little as possible. Just enough to mix the ingredients and form 3-4 burgers.

Oil and preheat your grill.

Grill over med-high heat 5 minutes per side. Doing your best to not overcook them. You want them juicy (making them large helps). Allow them to rest for 2-3 minutes before serving

For Bourbon Jalapeno Peach Sauce:

Combine all ingredients in a small pot or saucepan except for ⅓ cup of the diced peaches.

Bring mixture to a boil, lower to a simmer for 12-15 minutes until thickened, stirring often.

Remove from heat, add in reserved diced peaces and set aside.

When ready to assemble the burgers, add sauteed spinach to your bun, top with a burger, top the burger with some goat cheese, top the cheese with the peach sauce and serve!
Notes
To make sauteed spinach, heat 3 TBS grapeseed or olive oil in a large skillet, add in 4 cloves of garlic minced, sautee for 1 minute. Add in 1 pound of fresh spinach leaves. Keep tossing the spinach in the oil until spinach wilts and reduces. season liberally with salt & pepper. Remove from heat when all spinach has wilted (about 4-5 minutes of cook time total).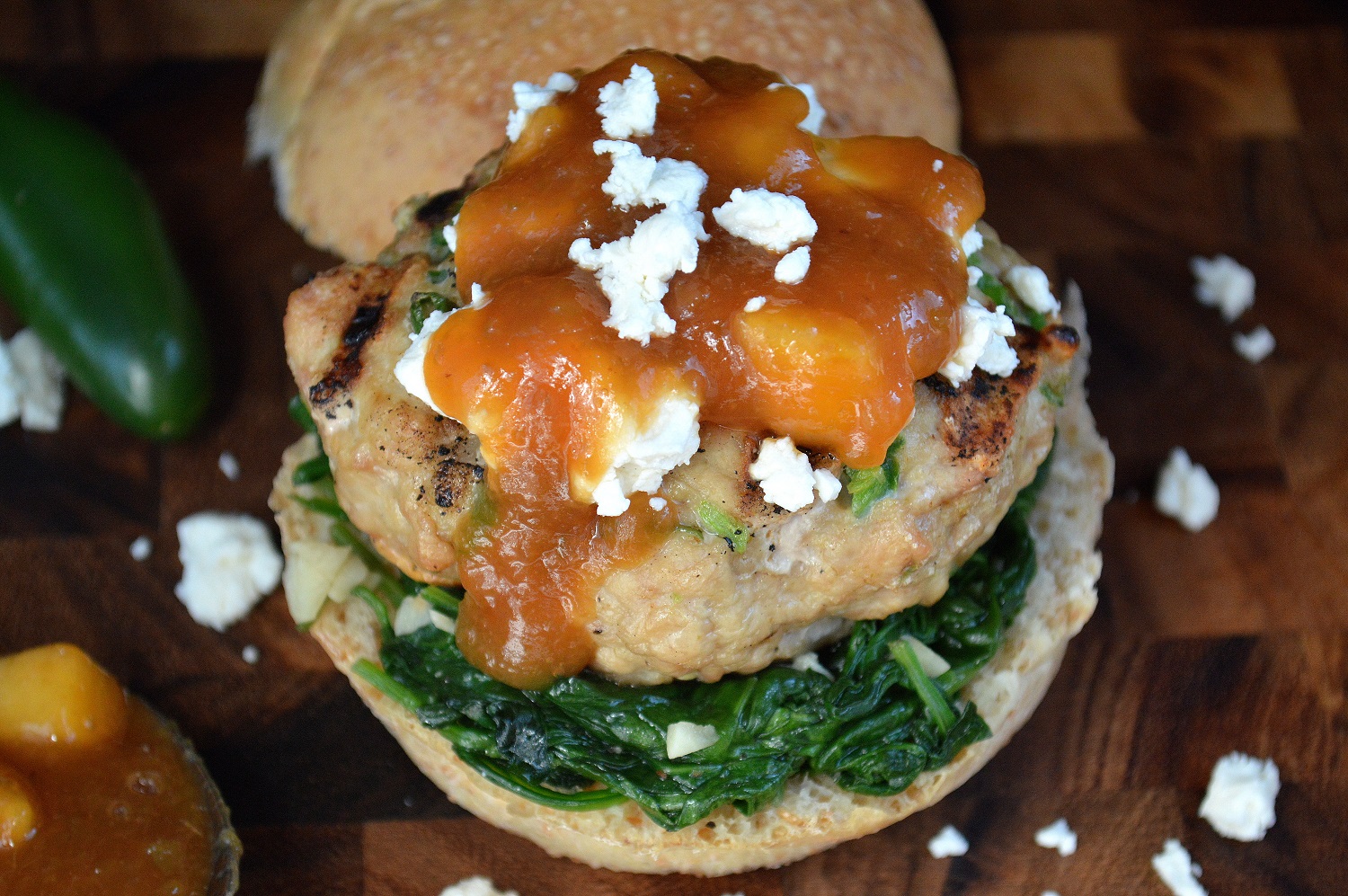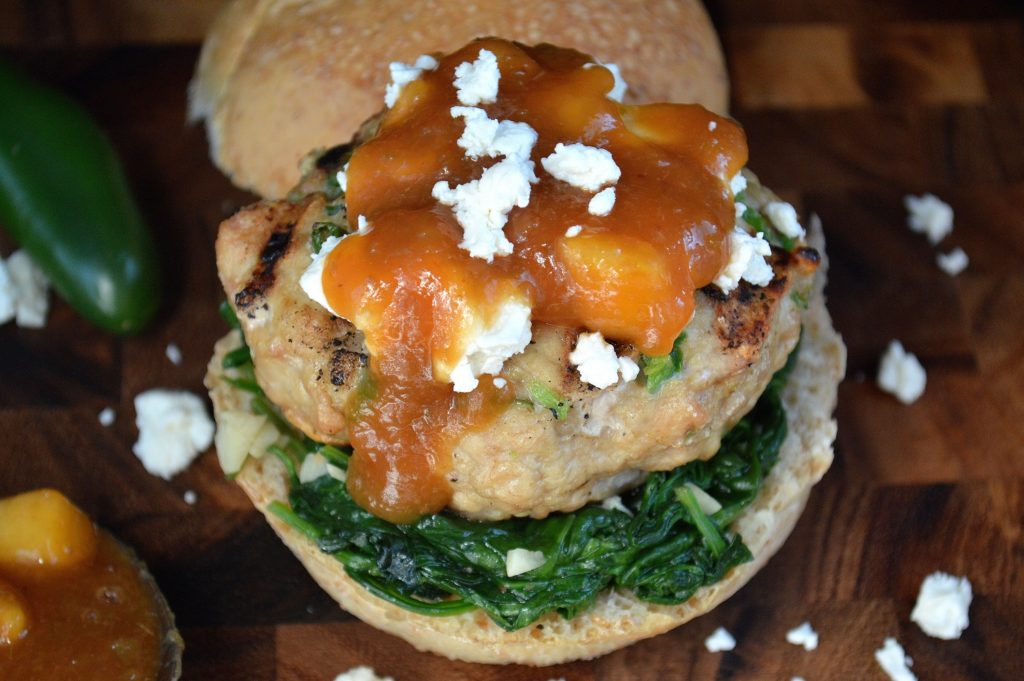 This post is part of the #burgermonth celebration happening all month long across the interwebs with 30 other talented bloggers!! Be sure to follow #BurgerMonth to check them all out and don't forget your napkins...you've got a lil' something on your chin!