Hold on to your hats because THIS recipe is a definite keeper, one the whole family will love! Lasagna Stuffed Chicken Breasts With Spinach is perfect for a family meal. Add a salad and maybe some garlic bread and you are set!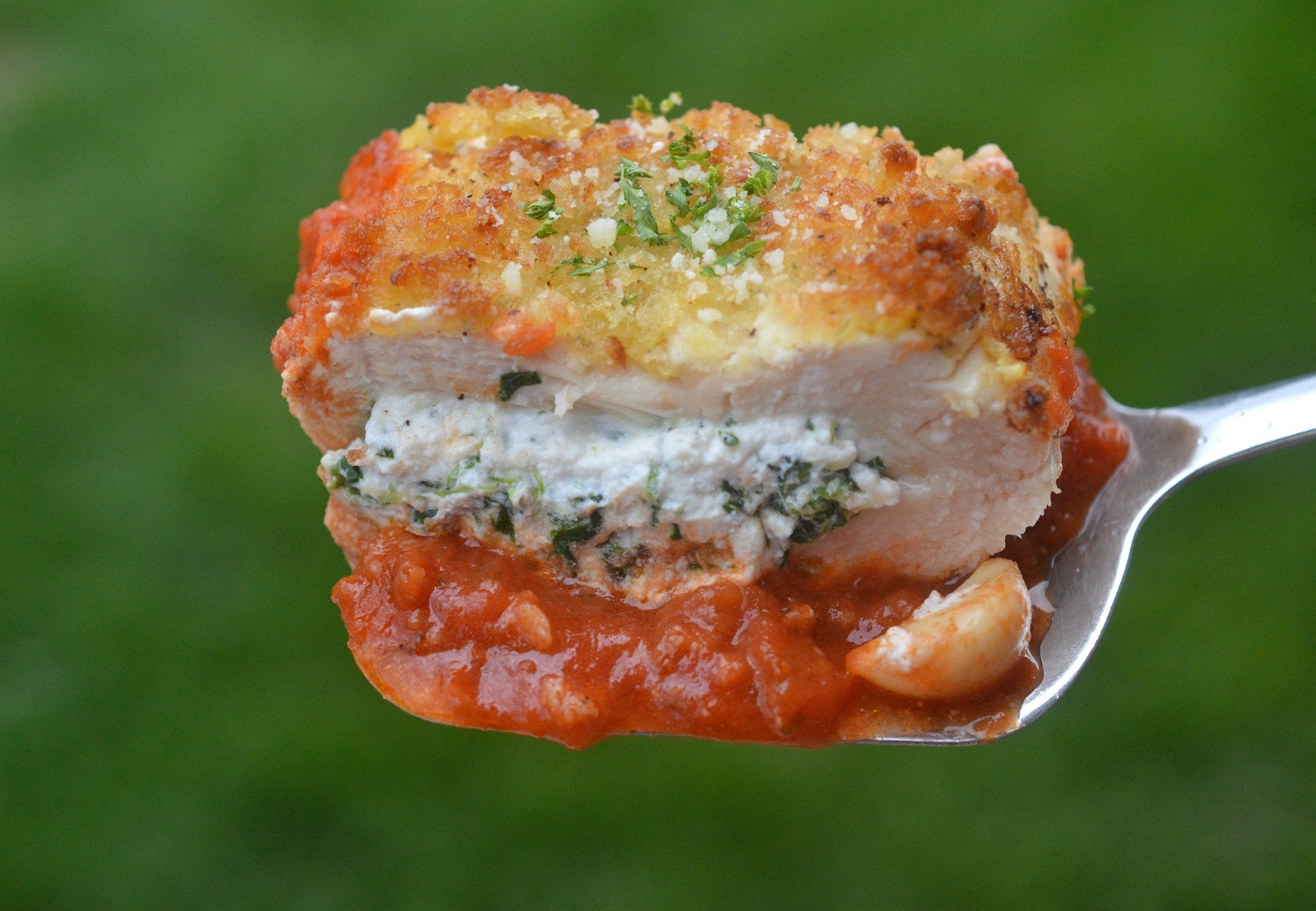 This post is sponsored by Mezzetta® and their line of pasta sauces. The thoughts and opinions within the post are my own.
There are a few ways in which I classify "winning" as a mom, one of them is when everyone in my house enjoys the same dinner. I know many of you can relate to that, lol! This Lasagna Stuffed Chicken Breasts With Spinach is really good and it's not hard to make. Plus its totally versatile and the leftovers are great reheated as well!
Chicken breasts, filled with Italian cheeses, spinach, and seasoning, mingling with a flavorful red sauce. Crispy on the outside, tender on the inside and full of flavor, m-mmm-M!
Let's talk about the Mezzetta® Pasta Sauces, which is what caused me to share this particular recipe. One of the things I love about my job is that I am sometimes introduced to new products as well as new-to-me products. I have long been a big fan of Mezzetta products like their awesome variety of olives and peppers but for whatever reason, I had no idea they made pasta sauce.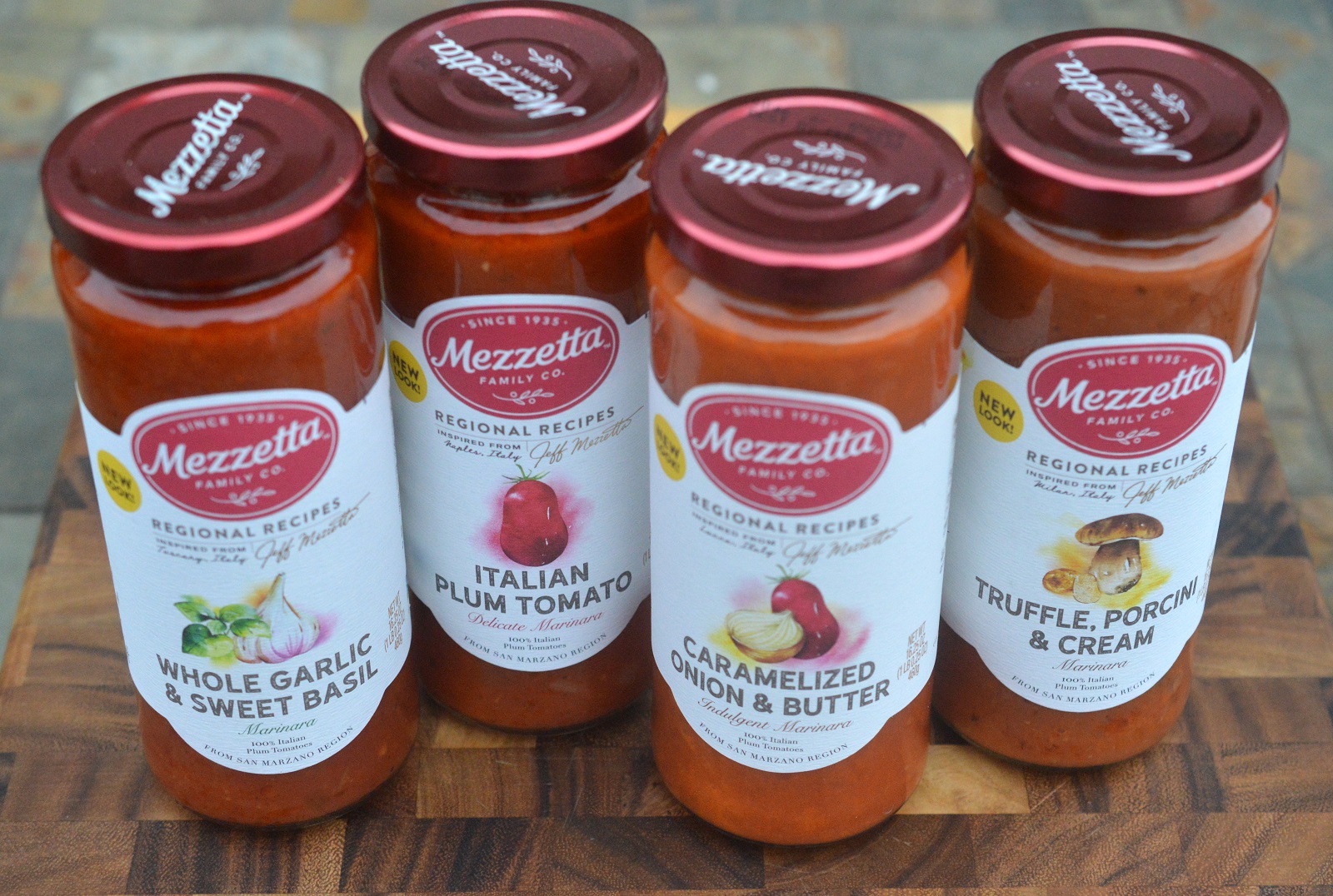 I'm seriously blown away by the quality, taste, and texture of the Mezzetta® sauces I have tasted so far. SO much so that I am taking a stance to say that these are the very best jar sauces I have had to date.
Do you know how you almost always tinker with your store-bought pasta sauce to get it tasting the way you want? WIth the 4 varieties, I tasted...no need necessary.
I am no stranger to making my own sauce, something I do often. Both of my kids learned how to make it when they were about 8. I do however use jarred sauce very often as well. Now that I have discovered Mezetta pasta sauces, I can say with conviction that they are my new go-to.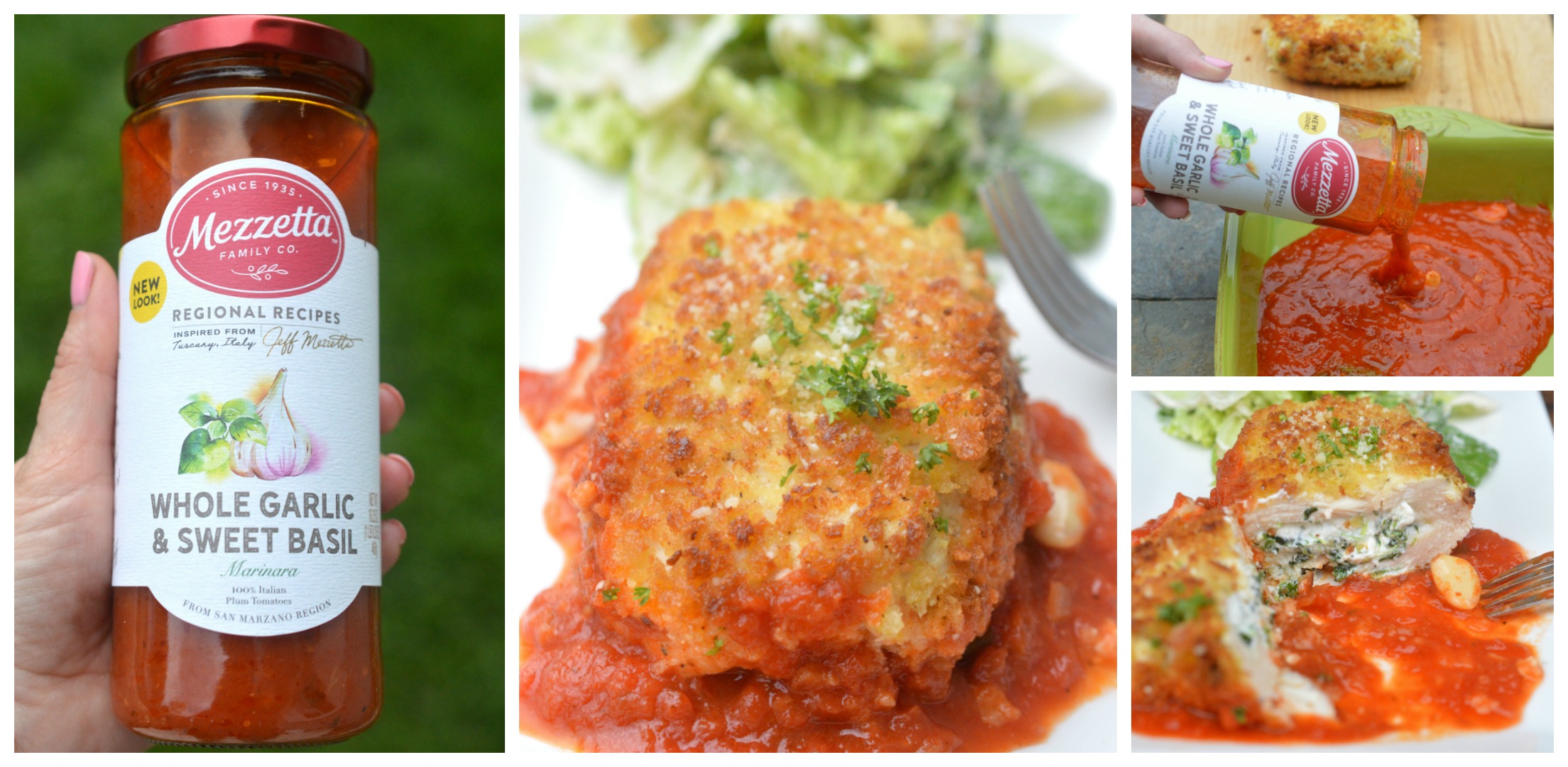 It's like the Italian grandmom of my dreams...really, (I have often wished to be Italian....just ask my parents or Santa Claus back when I asked him for an Italian Horne gold necklace, lol) made a variety of sauces with competence and love in her ocean-side cottage in Italy and mailed me a package!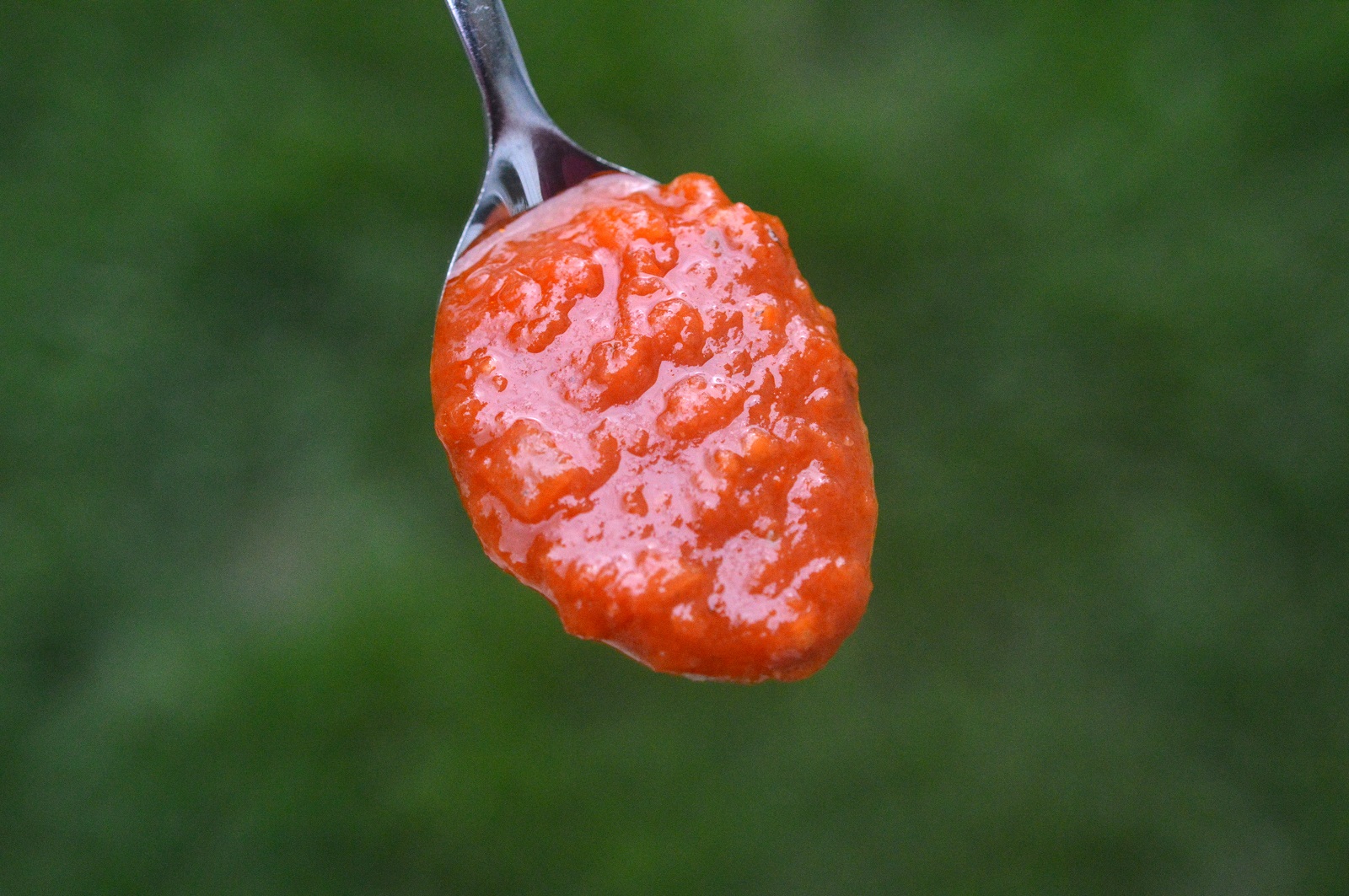 The Italian Plum Sauce (Non-GMO project verified and no added sugar) is the perfect texture with bits of tomato and onions visible (see above photo...wow!). The Whole Garlic & Sweet Basil Sauce ( (Non-GMO project verified and no added sugar)) has actual basil leaves and is loaded with gorgeous garlic cloves. SO good! The Carmalized Onion & Butter and Truffle Porcini & Cream are inventive and loaded with flavors. I did not get to try the Calabrian Sauce, but I want to asap! Love me some heat in my food! I also did not try the Parmigiano Reggiano Sauce...yet.
Take a look here to see all the flavors Mezzetta® offers 
Each sauce flavor is inspired by a region in Italy plus they have a line of family pasta sauces as well...12 varieties and two sizes. I am going to wager you will be smitten, just as I/we are and become a convert after trying these. Let me know what you think.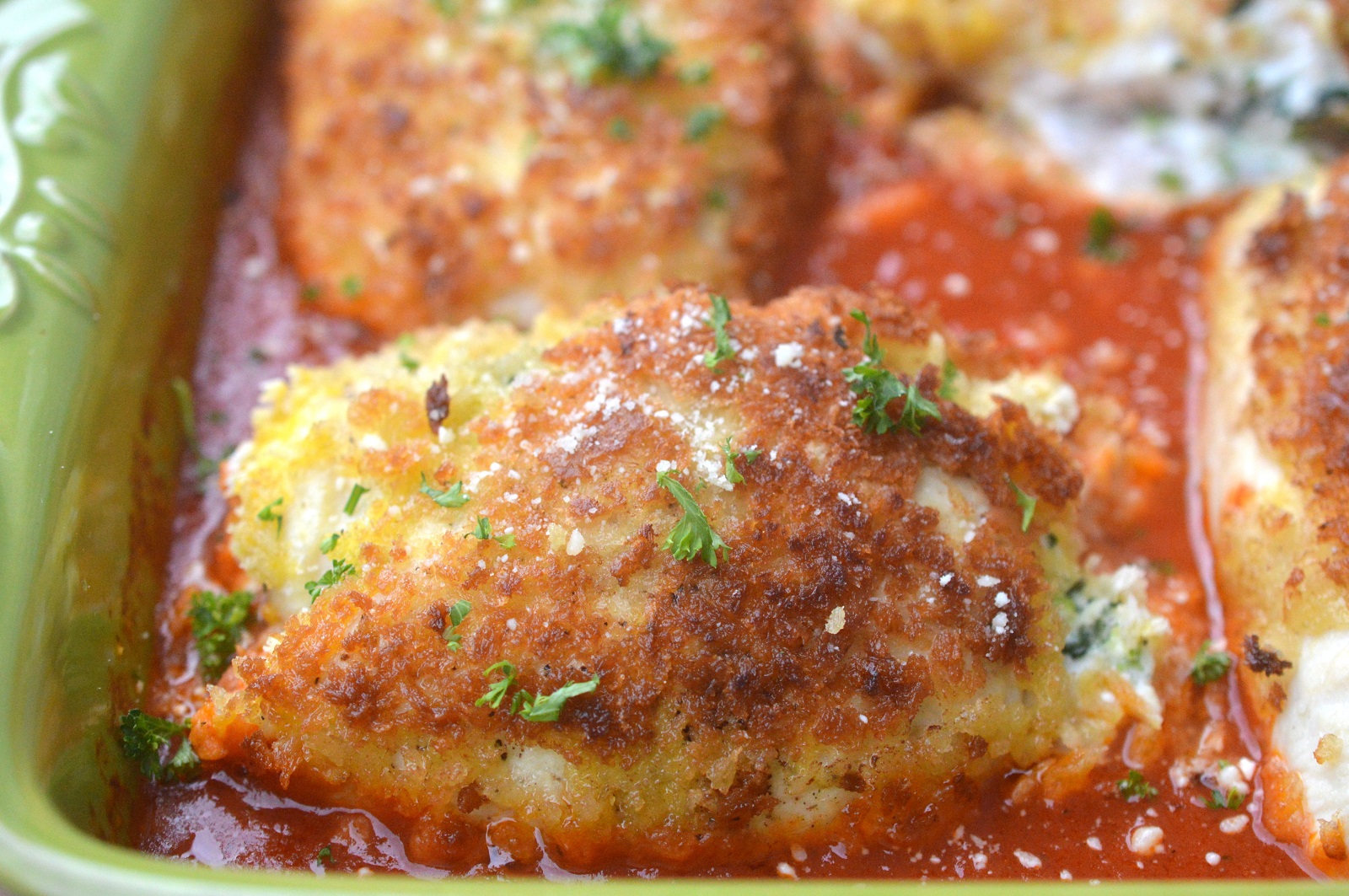 Let me also know if you make these Lasagna Stuffed Chicken Breasts With Spinach.
They are a play on Chicken Rollatini Recipe...Pretty much the same thing except these bundles are a little larger and more robust. If you are on a Keto diet, these will work for you. Same goes for a gluten-free diet, simply swap out the Panko for a GF variety of breadcrumbs.
How Do You Make Lasagna Stuffed Chicken?
Making this recipe is easy! All you need is a handful of ingredients - chicken, spinach, seasoning, ricotta and mozzarella cheeses, breadcrumbs and sauce. The secret to knocking this recipe for Lasagna Stuffed Chicken Breasts With Spinach out of the park is to make sure you crisp up all sides of your stuffed chicken (like I showed in my Instagram & Facebook Stories). Don't just saute the top and bottom of your chicken, use tongs and crisp up the other sides too. Use thinner chicken cutlet pieces found at your grocery store our cut and pound your own. After browning your chicken, nestle them in oven safe dish lined with pasta sauce and bake until done. Then dig in!
Another tip is to used plain frozen chopped spinach for the filling. Fresh spinach may make the dish watery. You have the ability to squeeze the thawed frozen chopped spinach dry which works best in this recipe.
What Is The Difference Between Lasagna Stuffed Chicken and Chicken Rollatini?
They are basically the same thing. The real difference is the size of the chicken you are working with. If you have thinner smaller pieces of chicken and can stand them up in your dish (so the filling side faces up) people call them Chicken Rollatini. I also think a Rollatini refers to the spreading of the filling ON the chicken and then rolling it up vs slitting open a chicken breast and stuffing it. Potato...Pa-tot-o.
What Variations Can You Make To Lasagna Stuffed Chicken Breasts With Spinach?
You can make Lasagna Stuffed Chicken Breasts With Spinach and omit mozzarella cheese, it is delicious with just a spinach and ricotta filling. You can choose to leave out the spinach or add ground beef or ground sausage to the filling or line the chicken breasts with a piece of prosciutto before filling and rolling them. It's up to you, any of those will work.
I SO hope you make this crazy-good Lasagna Stuffed Chicken Breast with Spinach as well as try Mezzetta® sauces. report back if you do. Comment here or tag me on Instagram with your creation and I'll share it on my Stories. Love that!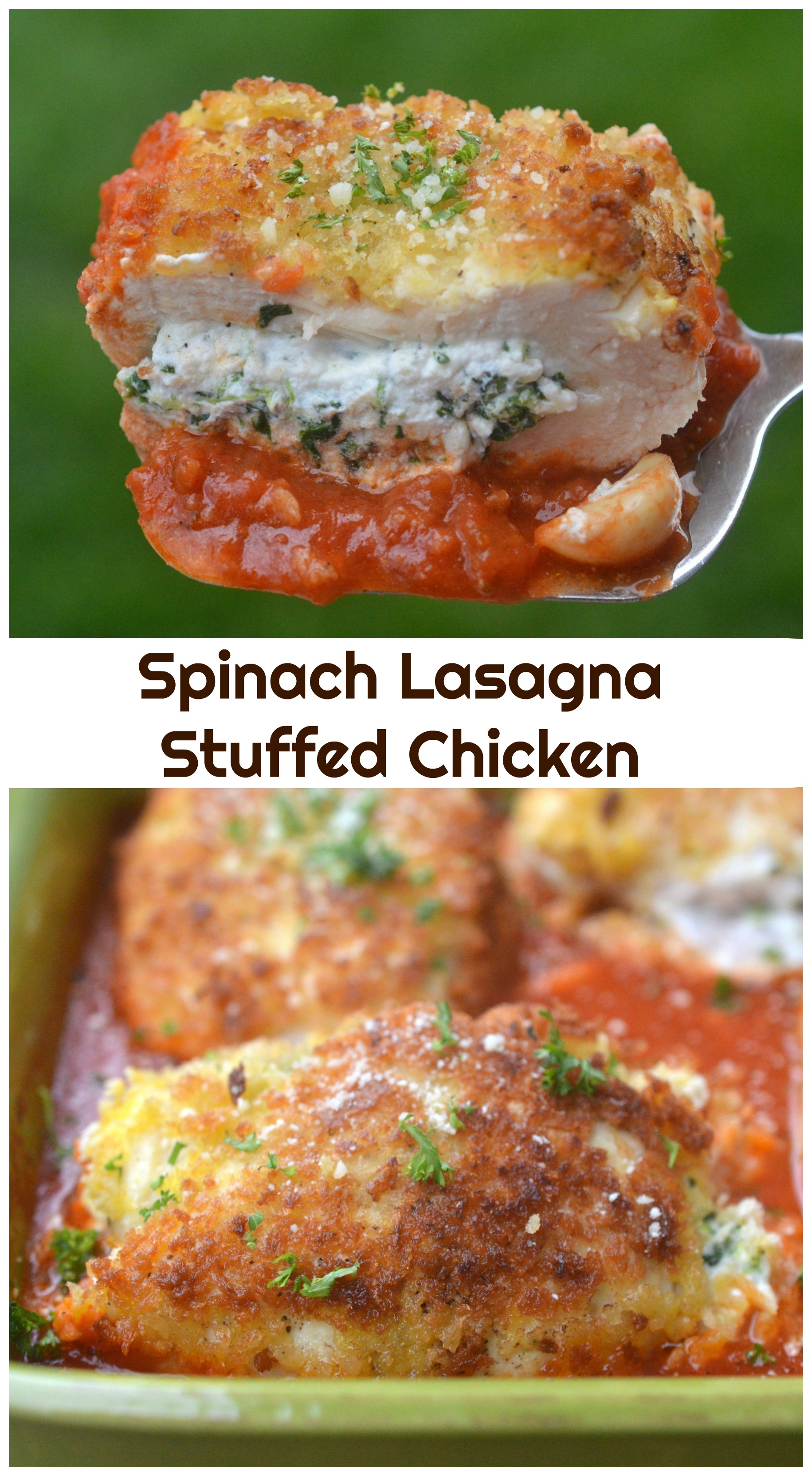 Enjoy!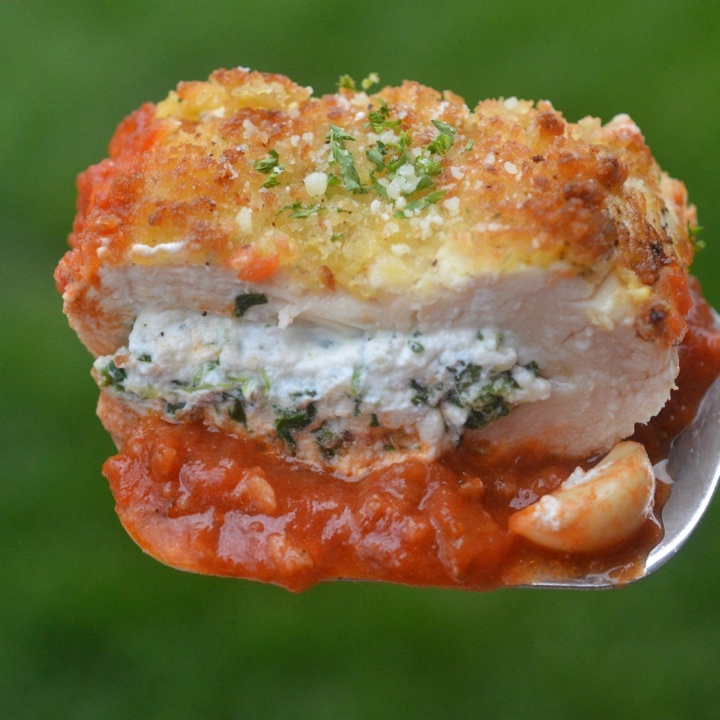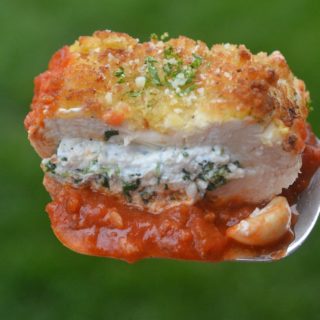 Lasagna Stuffed Chicken Breasts With Spinach
This recipe for Lasagna Stuffed Chicken Breasts With Spinach will wow the whole family!
Ingredients
3

large or 6 thin chicken breasts

see notes

15

oz

container Ricotta cheese

½

cup

Mozzarella cheese

¼

cup

grated Parmesan cheese

Salt & pepper

1

cup

plain frozen chopped spinach

thawed and squeezes dry

2

eggs

2

cups

panko breadcrumbs

Grapeseed or Olive oil for browning.

Pasta sauce

Optional: garlic paste for the filling
Instructions
Make sure your chicken is the same amount of thickness throughout. Pounding it with a mallet in spots 9under plastic wrap) if necessary.

Season your chicken on both sides with salt and pepper.

In a small mixing bowl, combine the cheeses and mix with a spatula until smooth. Season with salt & pepper, add in the spinach and stir until combined.

Place a couple of spoonfuls of the mixture onto each piece of chicken and smooth it out evenly.

Roll from the smallest edge towards the larget edge until chicken is a bundle. Place seam-side down on paper plates or on a baking sheet.

Preheat oven to 375.

Pour enough pasta sauce into the casserole dish you will bake the chicken in, to coat the bottom about ½ inch.

Whisk your eggs in a bowl and place Panko on a plate, seasoning it with some salt and pepper.

Dip chicken one at a time in the egg, coating all sides and allowing excess to drip off. Immediately roll in Panko and place on a cutting board or tray, repeat with each piece of chicken.

Heat frying pan over med-high heat. Once the pan is hot, add 2-3 TBS oil and brown chicken on all sides (about 2 minutes a side. Place into your oven safe dish

Place 2 TBS of oil into a skillet (It's best to brown two at a time, so you have plenty of room to flip the chicken over as well as brown the sides), Place chicken into sauce lined casserole dish and repeat with remaining stuffed chicken.

Bake for 20-25 minutes or until cooked through. Final cook time will vary by size and thickness of chicken,

Sprinkle chicken with grated parmesan and chopped parsley if desired and serve. You can also add Mozzarella cheese to the top of each stuffed chicken and return it to the oven until its melted.
Nutrition
Serving:
1
g
Calories:
530
kcal
Carbohydrates:
42
g
Protein:
53
g
Fat:
16
g
Saturated Fat:
7
g
Cholesterol:
130
mg
Sodium:
967
mg
Fiber:
4
g
Sugar:
10
g
Follow me on Tik Tok for 1 minute videos