Grilled Bacon Wrapped Chicken Skewers are one thing my whole family can agree on for dinner! I mean hey, its chicken...which everyone loves and bacon, baaaacon!! It doesn't get much better (or simpler) than that!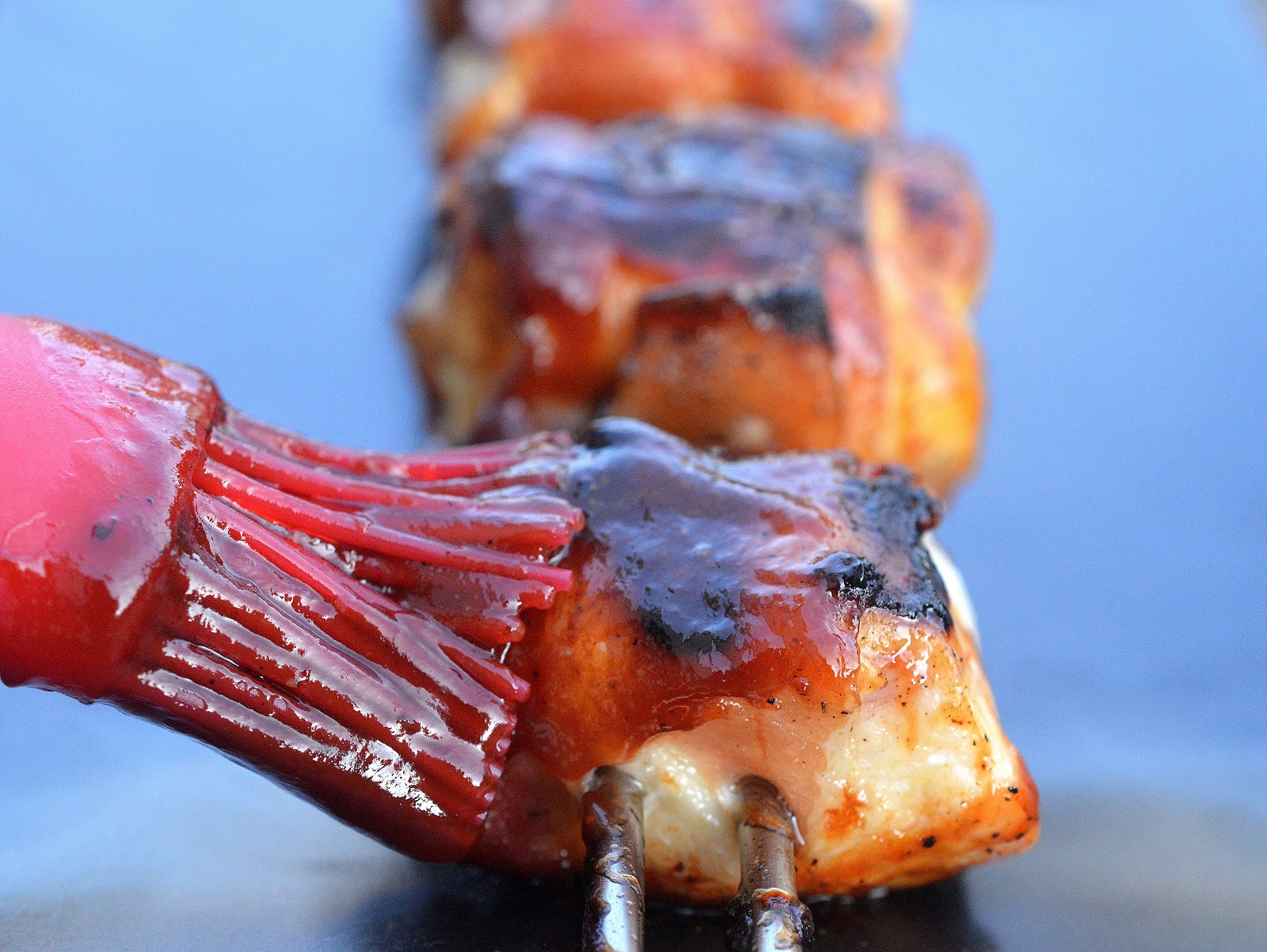 My sister and I have been making Grilled Bacon Wrapped  Chicken, forever. Sometimes we even wrap bacon around a shrimp and piece of chicken..that is so stinking good!!
Did you ever take notice that often, the simplest foods are sometimes the tastiest or most memorable? Every time I bring Grilled Bacon Wrapped Chicken Skewers to a barbecue, game day gathering or serve it at our place, people rave about it. When they see me after, again and again, they comment on it. Meanwhile I may have also brought something more complex that I thought would be the standout and this 3 ingredient bite is what they remember, lol!
You can go super simple and cut chicken breasts into chunks, season them with a bit of salt and pepper and then wrap each one with half a piece of bacon. Or, you can get a little more complex and also season the bacon with a tangy rub that you make yourself from brown sugar, garlic powder, and cayenne pepper or purchase one of my very favorite rubs called Bronzeville "Galena Street Rib Rub"  and add just a bit of brown sugar to it (this rub makes the best brisket!!). Mmmm-mmmm-mm!
One tip I will give you when grilling this or anything with barbecue sauce is...Cook it almost all the way and then brush with the sauce. YOu don't want to start with your protien smothered in BBQ sauce. This way it won't flare up and you'll just have some nice char marks on the bacon.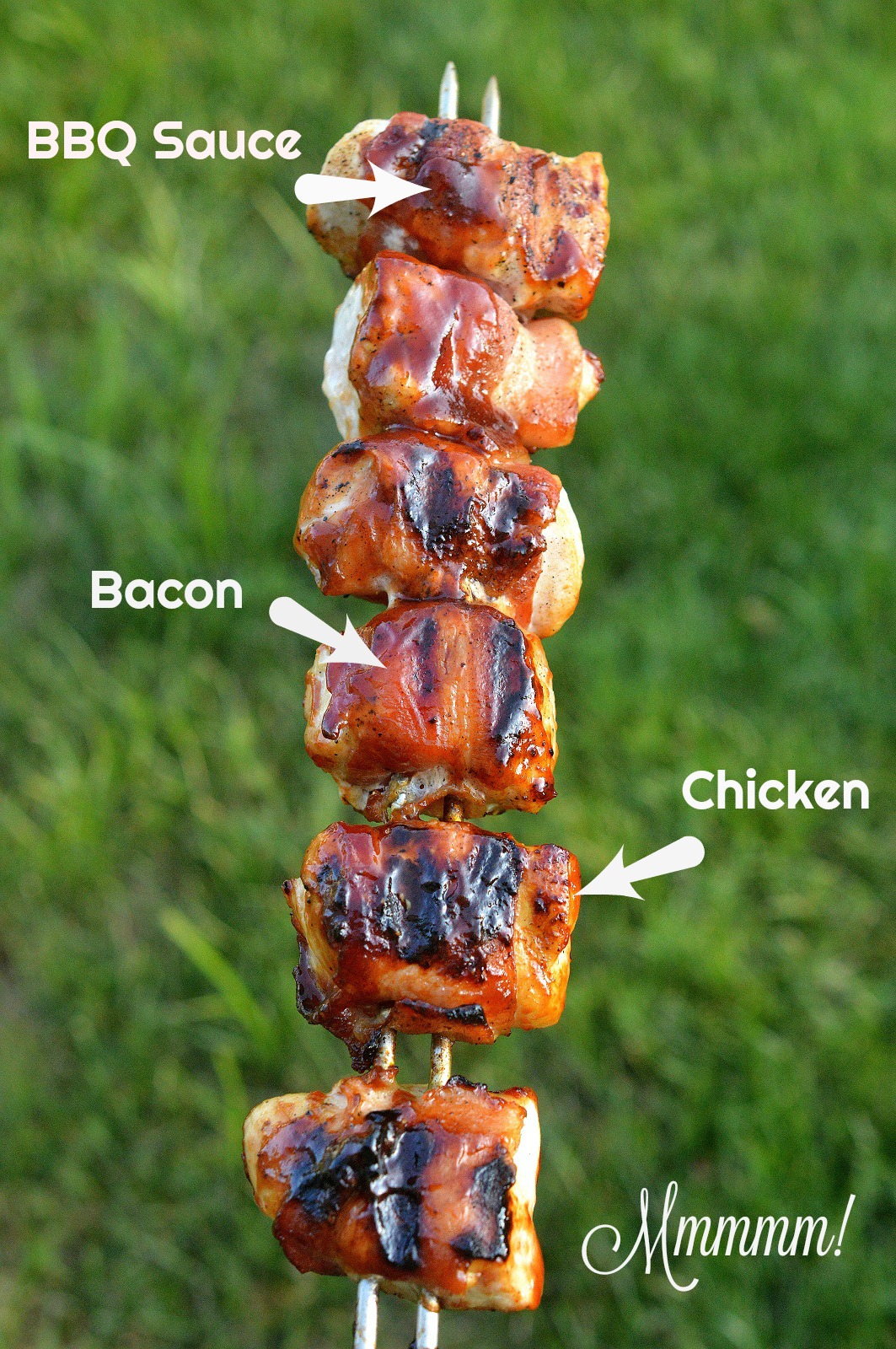 I hope you try these super easy and oh-so-yummy Grilled Bacon Wrapped Chicken Skewers. They make a simple, quick weeknight meal too when paired with a veggie or two or a salad.
Enjoy!!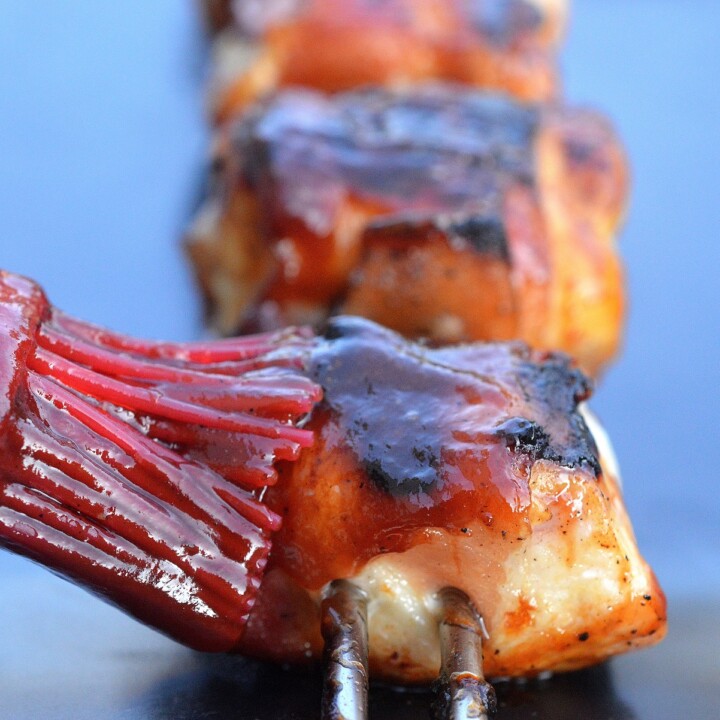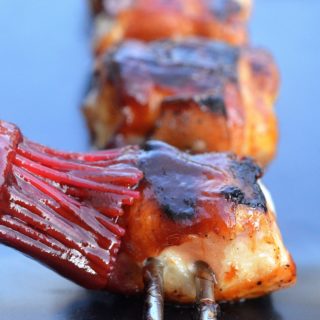 Grilled Bacon Wrapped Chicken Skewers
Ingredients
Boneless Chicken

Salt & pepper

Bacon

Barbecue sauce

Optional: Bronzeville Rub

or your own version
Instructions
Cut your chicken into 1 inch or so chunks and then season them with salt and pepper.

But your bacon strips in half (vertically)and then wrap one around each chicken piece.

Skewer like-sized bacon-wrapped chicken chunks onto the same skewers, leaving a small space between each one. (If you smush them all together, they will not cook as even).

Cook on you preheated grill over med-high heat. Flip after 3 minutes and then baste the cooked side with sauce. After another 3 minutes, flip again and baste that side with sauce. Another minute or so and they should be done. It all depends on the thickness of your chicken and your bacon.

rcooking.
Notes
I feel that Oscar Mayer Bacon is the best for grilling, it's not too thick and crisps up perfectly without the meat over cooking.
If you do decide to season your bacon with a rub of some sort, do that after you've wrapped it. Use your fingers to rub it into the bacon.
Follow me on Tik Tok for 1 minute videos