It's time once again for Burger Month!!! This year I have a flavor-packed Asian Burgers with Ginger Honey Glaze. Yum!!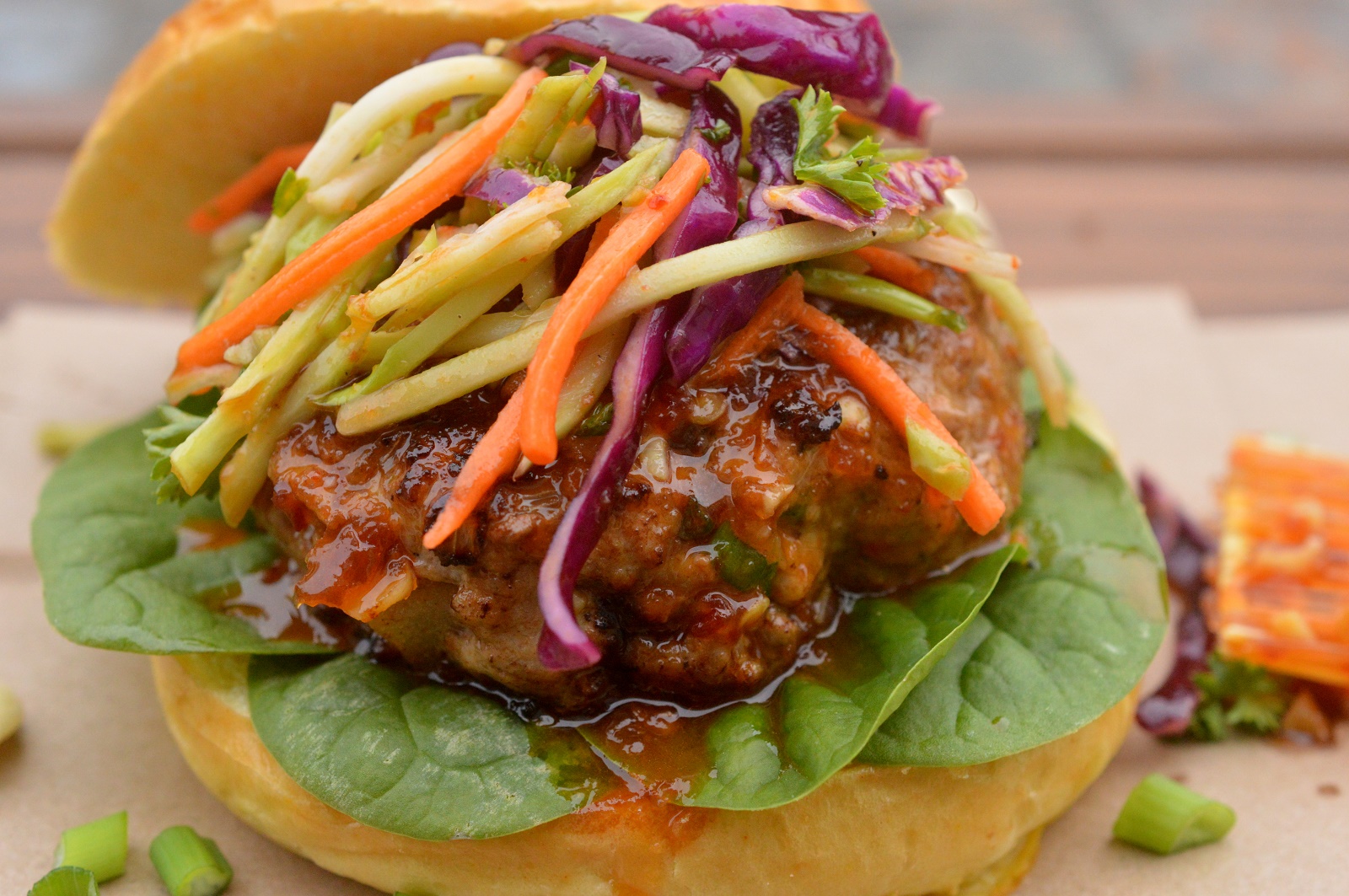 The inspiration for this burger came from one of my favorite meatballs to make, both the meatball and the burger are gluten free and really, really good! This recipe for my Asian Burgers with Ginger Honey Glaze is not difficult to make and it works as either a weeknight meal or as a party dish. Offering a pork burger is a great idea as an alternative to the traditional.
The glaze is ah-mazing! You may want to make a little extra. Typically I grill burgers, however for this burger, the crispy char is what makes it extra good, so I cooked it in a pan. Feel free to grill yours, that's just what I chose to do. I gave it a good coating of the glaze, topped with some slaw and before I knew it...my son had ran off with the burger I was trying to shoot! Ha...I love that! I asked him to hold it for a shot...then said take a bite and poof...off he went with my burger...teen boys! Lucky for me I made 6 more!
If you are not into slaw on your burger...Do you know what would be CRAZY-delicious on this?? Candied Jalapeno's aka Cowboy Candy. Heck yes...I am so doing that next time I make these!
Last year, for #BurgerMonth I made a Feta Stuffed Lamb Burger with Fig & Onion Jam (love using lamb for burgers!), 2015 I made a Jalapeno Chicken Burger with Jalapeno Peach Sauce and 2014 I made Sausage & Beef Burgers with Roasted Tomatoes, Mozzarella & Pesto (YUM!!). SO...I have used beef, lamb and pork so far...sounds like next years burger will be seafood for me!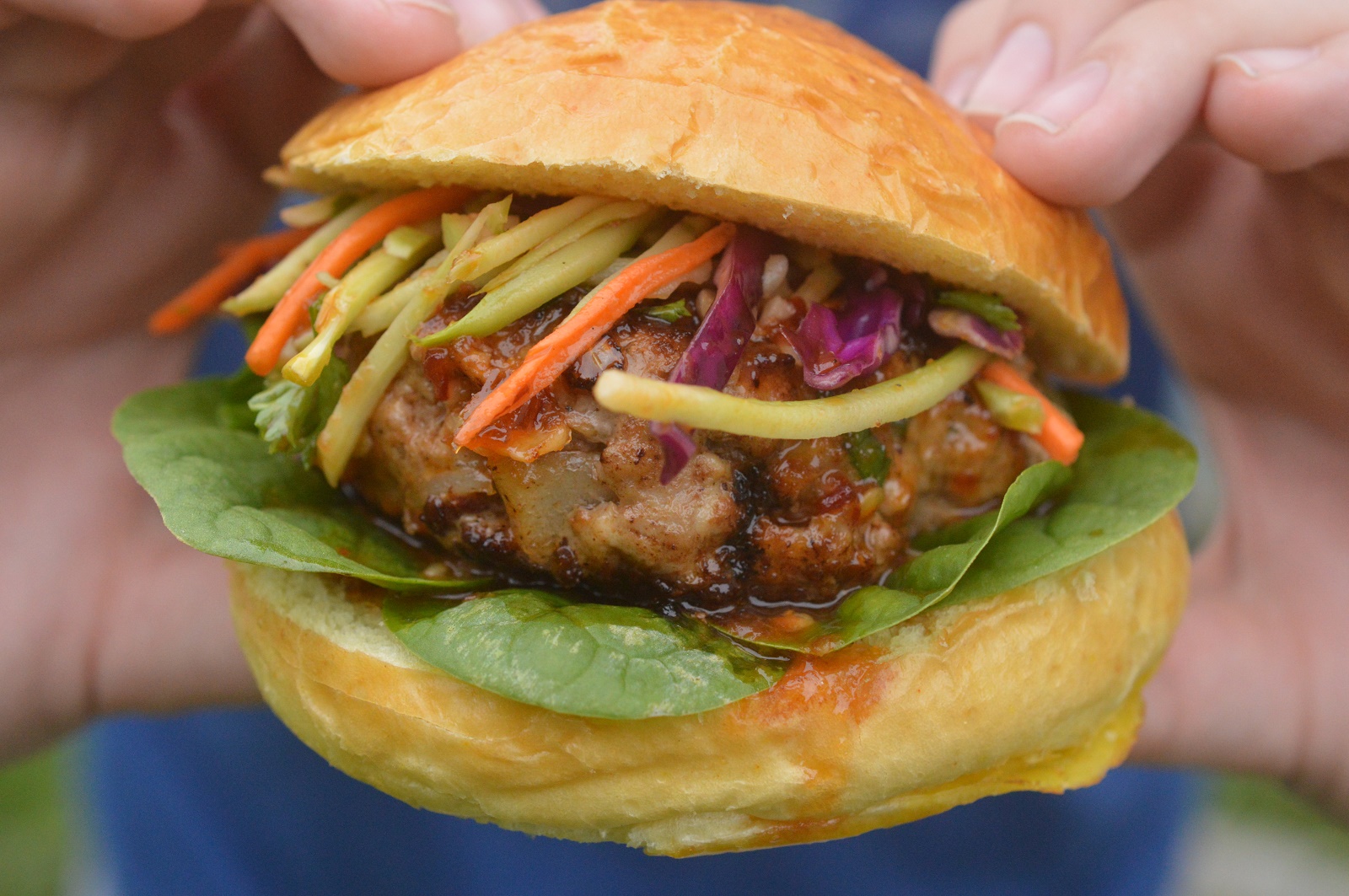 For the past few years, my foodie friend Kita...who makes and eats burgers like a boss lady (aka Girl Carnivore and Pass the Sushi) has organized #BurgerMonth. It started out as a way to profess our love of a good burger and has since morphed into a full-fledged extravaganza!
This year we have about 100 burgers coming at you of every size, flavor and protein you can imagine. I mean really...the ideas for a burger are endless. Sure beef, tomatoes, lettuce, onions and condiments on a bun are delicious...they really are. However there are so many more things you can do!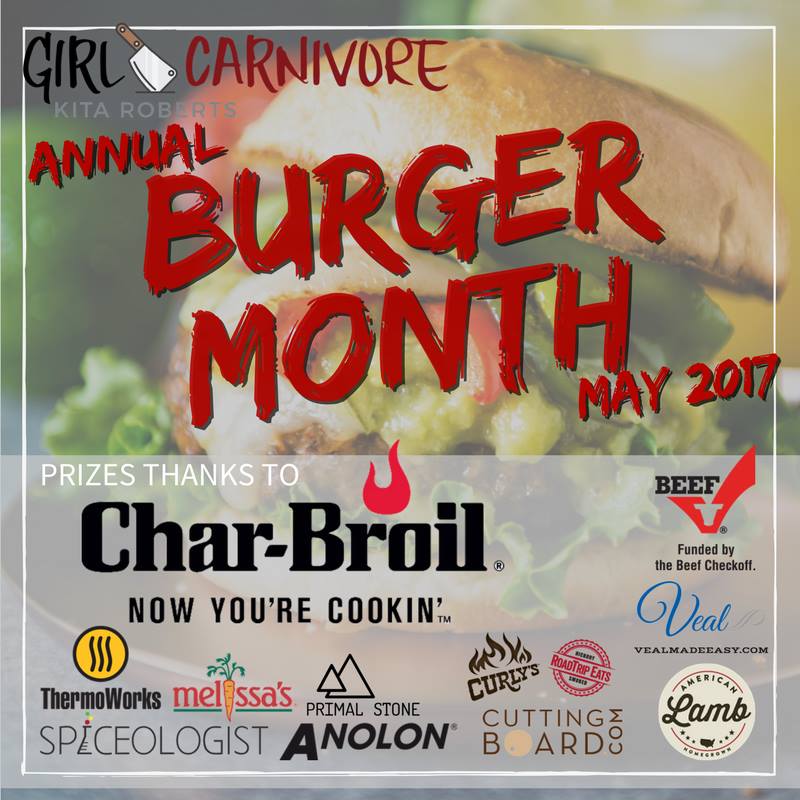 Take a look at the beautiful board I used for shooting this burger from www.cuttingboard.com. They are one of my favorite online shops! I must have 6-7 boards from there. Each one beautiful and unique! Cuttingboard.com only sources sustainably made cutting boards from around the globe. This one is their 12 x 9 Walnut Board with Twisted Iron Handles (made in the USA) and was monogrammed with a K (for my last name). This is SO gorgeous, the photo does not do it justice! What a great Mother's day, Father's Day or wedding gift!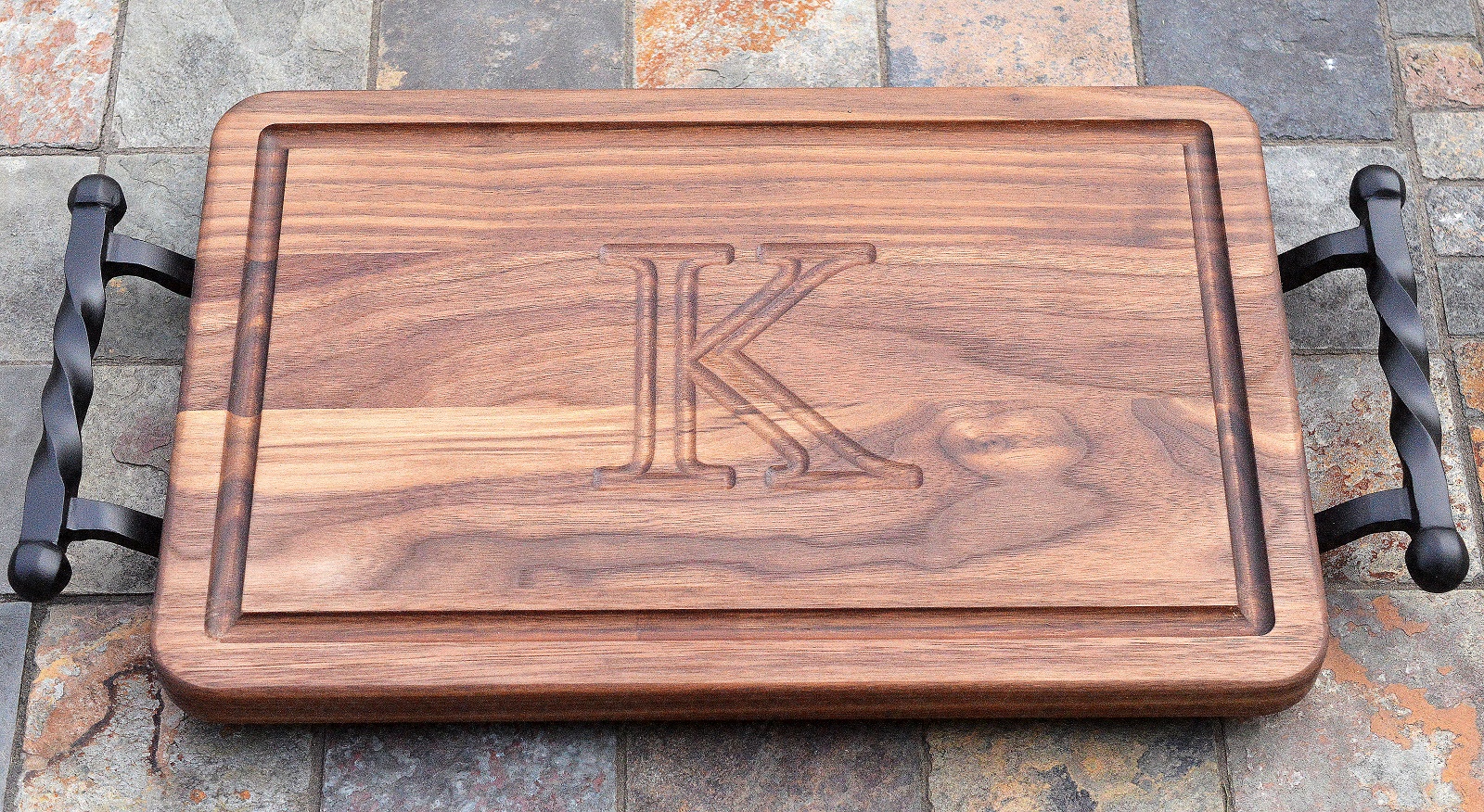 This post is not a sponsored post, however I did partner with cuttingboard.com and receive the gorgeous cutting board above. This post is a part of the month-long super cool celebration of all things burger which was the brainchild of Kita from Girl Carnivore. Follow the hashtag #BurgerMonth across social media for all the fun, delicious burgers and prizes, all month long. 100 foodies...100 burgers!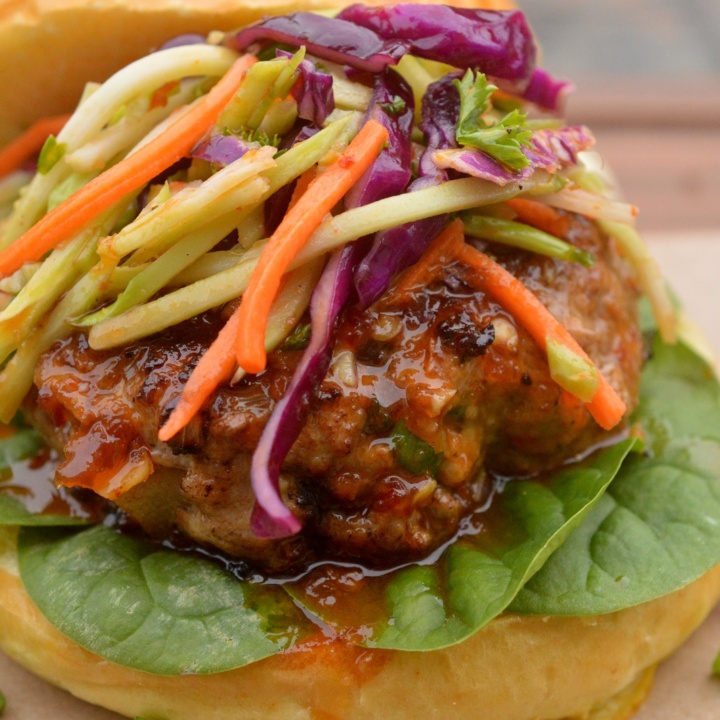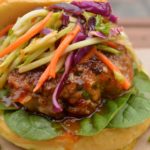 Print Recipe
Asian Burgers with Ginger Honey Glaze #BurgerMonth
Chicken Burgers with Asian flavors are a nice change from the traditional.
Ingredients
Burgers

1

pounds

ground pork

2

large cloves garlic

minced

2

TBS

minced red onion or sweet onion

2

TBS

scallions

sliced thin

1

TBS

minced ginger

2

TBS

sesame oil

1

TBS

soy sauce

optional

Kosher salt & pepper

2

TBS

chopped parsley or cilantrro

Salad greens or baby spinach for your burger bun

optional

Ginger Garlic Sauce

3

TBS

sesame oil

1

teaspoon

minced garlic

1

TBS

minced ginger

1½

TBS

rice wine vinegar

2

TBS

honey

1-2

TBS

Chili with Garlic Sauce

depends on how much you enjoy heat

½

teaspoon

cornstarch

Cilantro or parsley for garnish
Instructions
Burgers

Combine all ingredients together and form into patties.

They will be wet. It's fine. Allow them to chill for at least 30 minutes to set.

Place on a baking sheet until ready to cook.

When ready to cook, preheat your non-stick skillet or your grill (be sure your grates are clean and oiled prior to igniting the grill).

Use a small amount of olive or grapeseed oil (1-2 TBS or so) to fry burgers until nicely browned. Lower heat and allow burgers to cook through. Brush liberally with glaze when done. Serve on a roll or simply on a plate with some of the slaw (see notes for recipe).

While burgers are cooking (or before) Make your Spicy Ginger-Honey Sauce

In a frying pan with sides, combine sesame oil, garlic and ginger and saute for 1-2 minutes until fragrant. Add in vinegar, honey and chili with garlic sauce and bring to a boil. Add in cornstarch and whisk until combined and thickened. Taste
Notes
To make a quick Asian-flavored slaw:
Grab a bag of slaw mix (pre-shredded). I like adding thin slices of red cabbage to this. In a small bowl, combine 1 TBS sesame oil, 1 TBS fresh lime juice, 1 TBS soy sauce, 1 TBS honey and salt & pepper. Give it a good toss and allow it to sit for 10 minutes. The burger and glaze are flavorful, so I go super simple and fresh with the slaw. Feel free to make a more complex one if you wish.
Nutrition
Serving:
4
g
|
Calories:
335
kcal
|
Carbohydrates:
8
g
|
Protein:
13
g
|
Fat:
28
g
|
Saturated Fat:
8
g
|
Cholesterol:
54
mg
|
Sodium:
351
mg
|
Potassium:
223
mg
|
Fiber:
1
g
|
Sugar:
7
g
|
Vitamin A:
29
IU
|
Vitamin C:
2
mg
|
Calcium:
12
mg
|
Iron:
1
mg
Enjoy!!