To celebrate Burger Month 2019, this post is part of a fun and tasty burger grill giveaway hosted by Girl Carnivore who has teamed up with 100 epic food bloggers! Join in the deliciousness of all things burger by following the hashtag #BurgerMonth2019 For many, a good burger is a perfect food. This Mediterranean Burger is a delicious twist to a typical burger. For this year's Burger Month Burger, I decided to go with a flavorful veal burger, which by default ends up being a Keto Burger (without a roll)!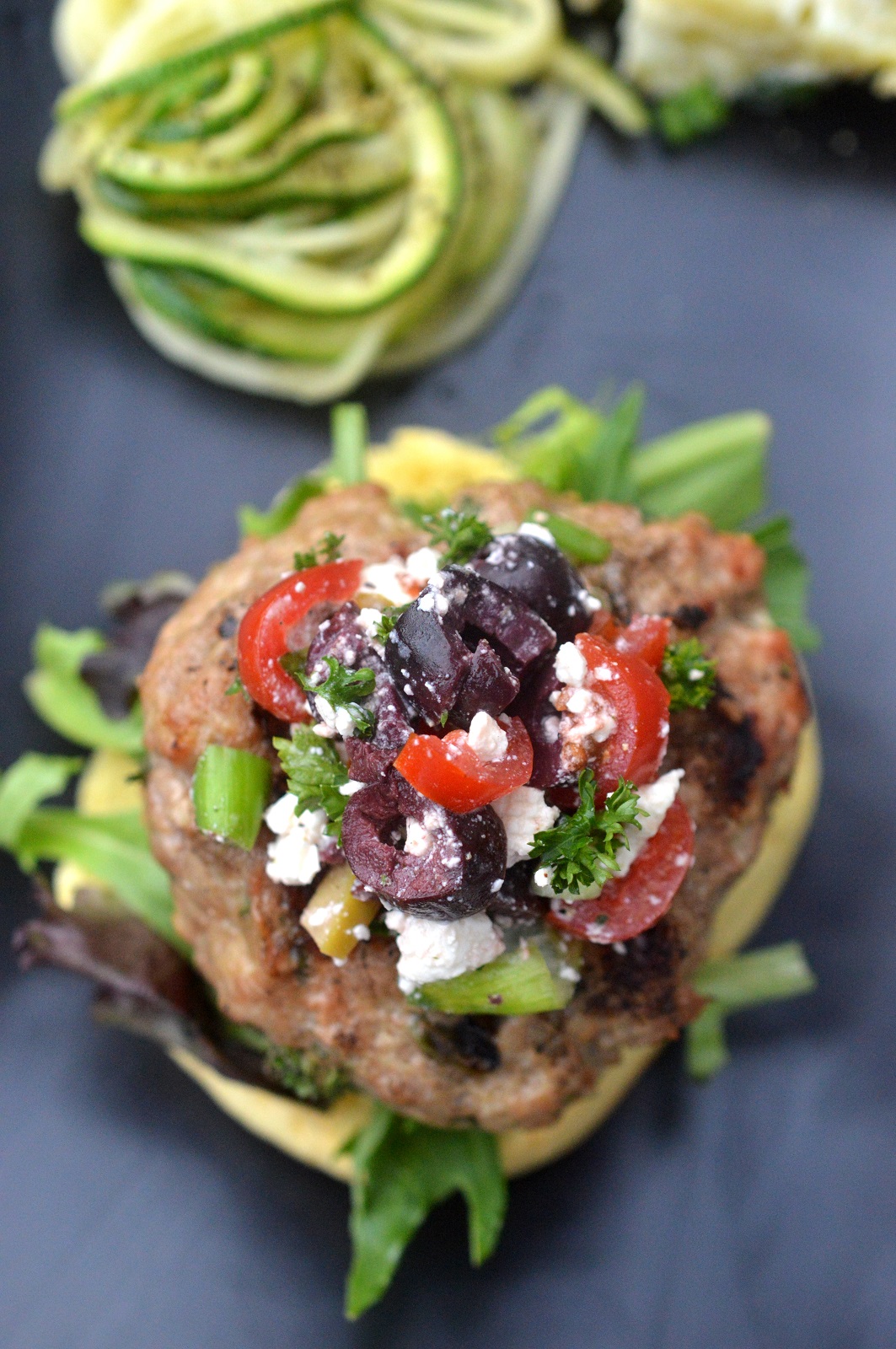 Burgers can be made with a variety of proteins and flavor profiles. Instead of limiting yourself to the traditional idea of a burger. I challenge you to open up your mind, excite your palate and start experimenting with a variety of proteins, and even some vegetables in burger form.
My Mediterranean Burger recipe is simple to make and the harmony of flavors and textures really work well together. The burger itself is tender and juicy. It's studded with Feta cheese and a handful of fresh ingredients that make it sing. The topping is fresh and vibrant, together, bite after bite, it's a party in your mouth! Enjoy it on a roll or on a plate, either way, it's equally delicious!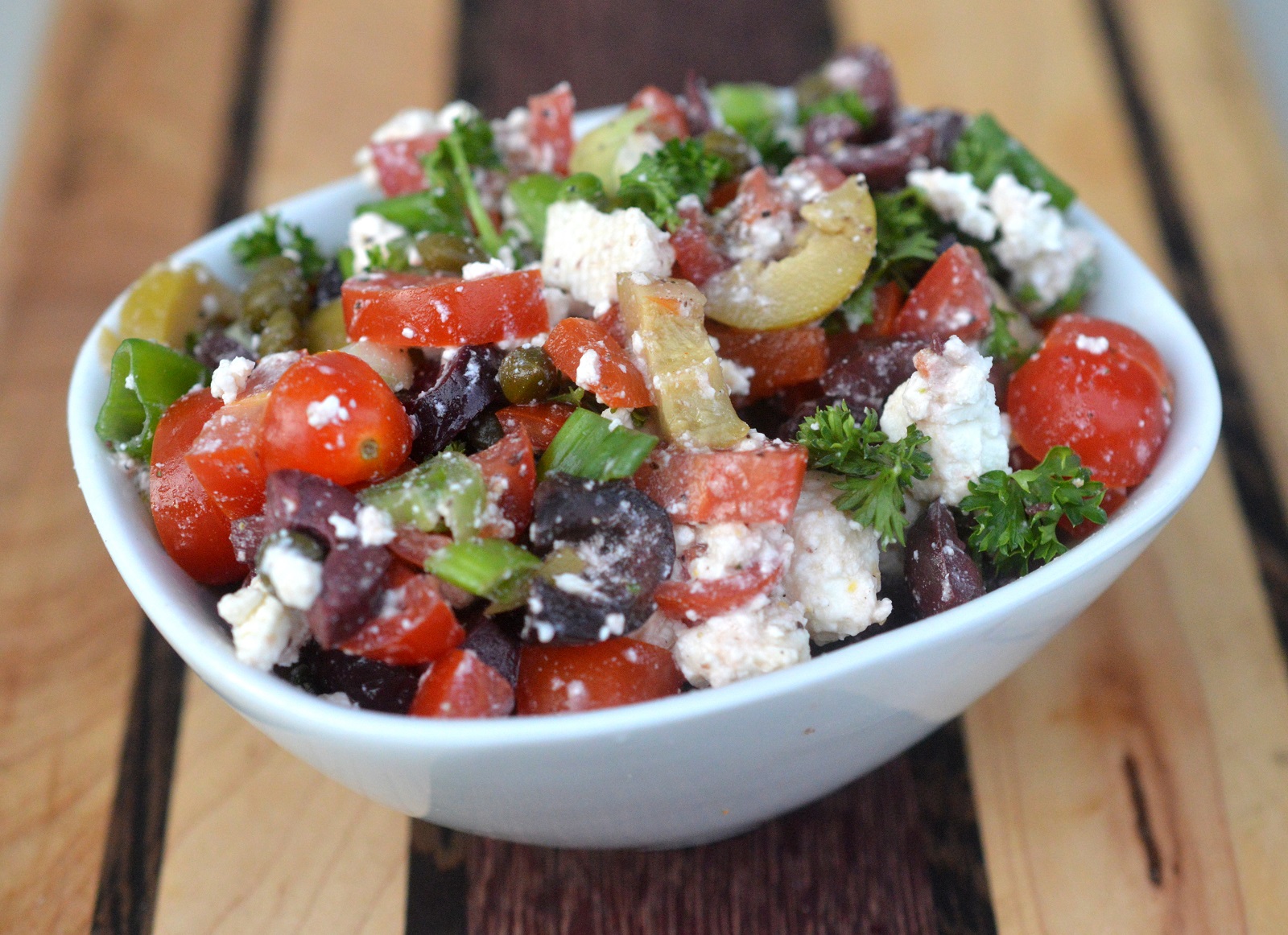 Today's post is sponsored by The Beef Checkoff Program. The Beef Checkoff Program was established as part of the 1985 Farm Bill. The checkoff assesses $1 per head on the sale of live domestic and imported cattle, in addition to a comparable assessment on imported beef and beef products. In states with qualified beef councils, states may retain up to 50 cents of the dollar and forward the other 50 cents per head to the Cattlemen's Beef Promotion and Research Board, which administers the national checkoff program, subject to USDA approval.
I grew up in Philly, my father is Polish and my mother Irish. My mom loves veal. It has always been her "out to dinner" favorite. For whatever reason, she didn't make it at home growing up. My Italian friends, however, had veal dishes often for dinner. I loved going to eat at their houses, so much so that one year I asked Santa Claus for an Italian horn necklace.
My thinking was since I loved Italian food, I must be Italian. Sadly, Santa did not bring me my coveted Italian horn necklace and as a result, my parents broke the news to me that I was in fact not Italian (trust me I did go back and forth with them trying to convince them that I was, lol). Live and learn!
Today, many people still associate veal with Italian food, and while that is both fine and delicious veal and the veal industry have both had a paradigm shift since I was a kid, I just don't think everyone knows it yet.
In addition to my Mediterranean Veal Burger, There are SO many exciting recipes to make with veal that do not involve red sauce. Recently I enjoyed Veal Carpaccio which was an AMAZING appetizer. I also had a very exciting Veal Loin with asparagus, ramps, and fiddleheads (
you just have to love those two delicious but brief gifts of Spring!!
), and a Herb Pasta Veal Ragu with a Ramp Ricotta (swoon!).
The Veal Made Easy website has fantastic recipes and videos like Homemade Veal Egg Rolls, Veal Za'atar Flatbreads, Crispy Veal & Walnut Salad, and Caribbean Jerk Veal Chops to name a few. Visit VealMadeEasy.com to explore their library of recipes, bet you find a few exciting recipes you want to try asap!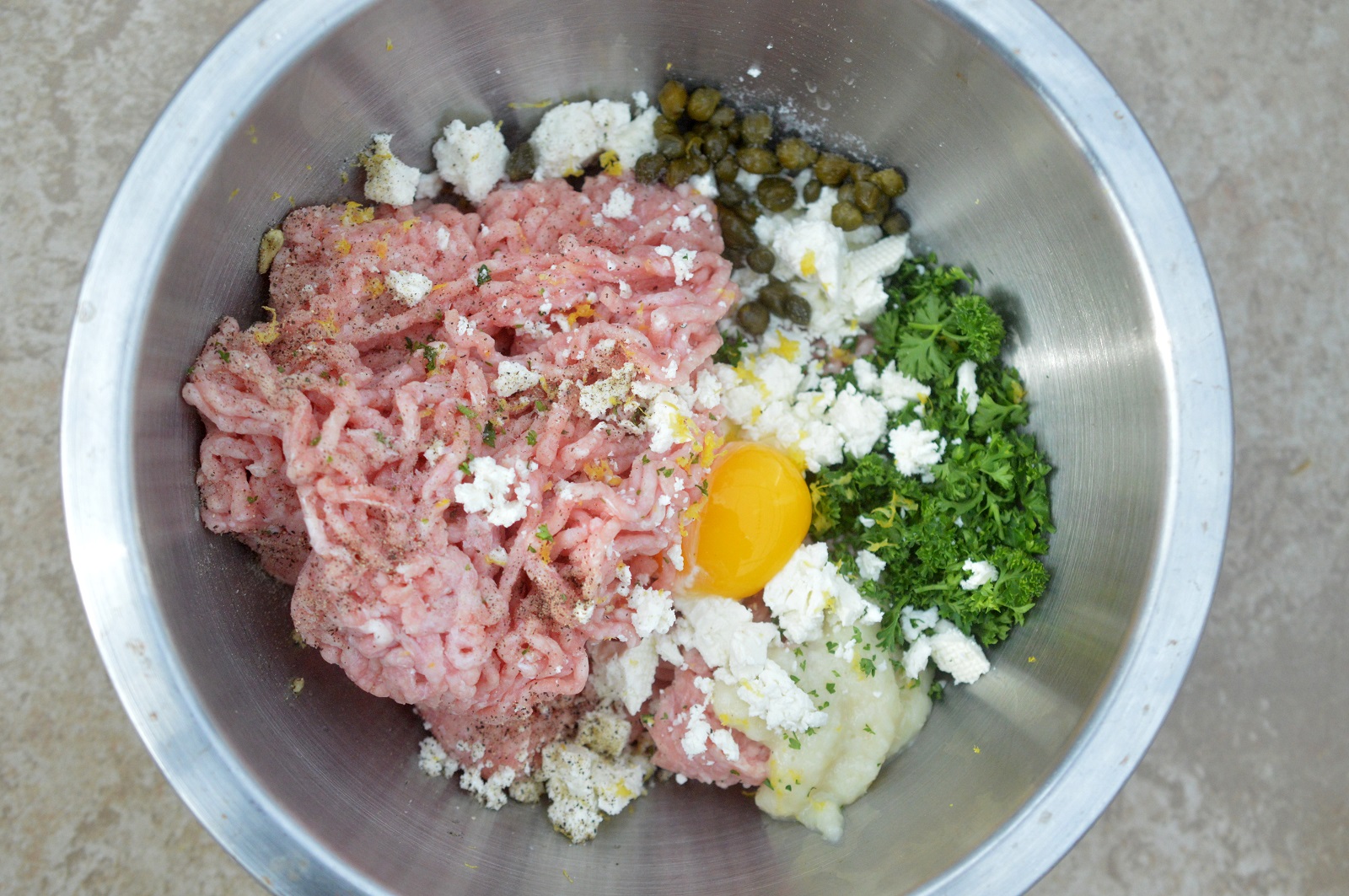 How Do You Make Mediterranean Burgers?
Start with ground veal, which you can find at just most supermarkets and butchers. To that, you will add in a little garlic oil (just combine garlic, oil salt & pepper and let it sit for 15 minutes) chopped red onion, parsley, an egg yolk, lemon zest, salt & pepper and crumbled Feta cheese. Form the burgers, let them chill for 30 minutes or more so the flavors can develop. Grill or pan-fry until done to your liking. These burgers happen to be gluten-free, no filler is needed. Make a topping by combining Feta cheese, fresh lemon juice, parsley, tomatoes, capers, scallions or chopped red onion and olives.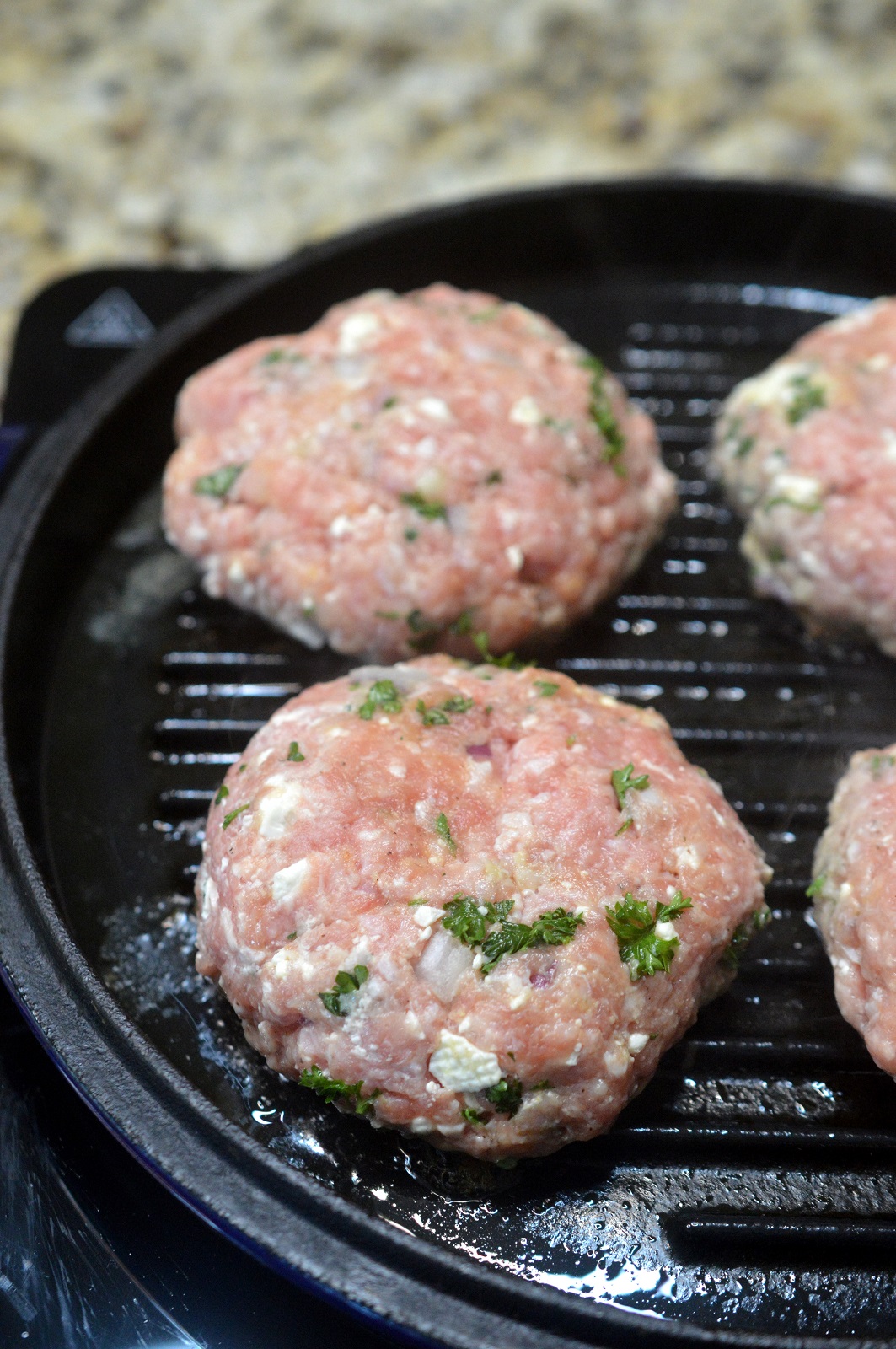 What Are The Health Benefits Of Veal?
We all know that our bodies require a large amount of protein to function efficiently. "The current recommendation for protein intake is 10% – 35% of total calories. The Daily Value for protein is 50 grams. While most Americans meet these recommendations for protein, it is common for people in the U.S. to consume too many calories overall. When choosing among different protein foods, it's important to consider calories."
ONE SERVING OF LEAN VEAL HAS 27 GRAMS OF PROTEIN AND 170 CALORIES.
TO GET THAT MUCH PROTEIN, IT TAKES ABOUT…
4 servings firm tofu (

260 calories

)

4-1/2 servings of almond butter (

880 calories

)

4-1/2 medium hard-boiled eggs (

330 calories

)

1-2/3 cups hummus (

900 calories

)
How Has The Veal Industry In The United States Changed?
Veal farmers are committed to the values that have guided American farmers for generations. Farmers know animals raised for food deserve the highest standards of care and compassion. Today's veal farmers are focused on animal comfort, farm, and animal sustainability and cutting edge science.
Practices such as castration, dehorning, and tail docking are not necessary when raising veal. Additionally, hormone implants are not permitted for use in veal production. Today's veal is raised similarly to the other meats we enjoy such as chicken, beef, turkey, and pork.
Did you know that at veal calves reach 500 pounds or so when they go to market? For more information as well as educational videos about veal farming visit www.vealfarm.com
I do hope you try out this Mediterranean Veal Burger! Let me know how you like it!
I also hope you check out ALL the delicious burgers of Burger Month by following the hashtag #BurgerMonth2019 or by following along on Girl Carnivore's Instagram and via The BurgerMonth.com website page.
Enjoy!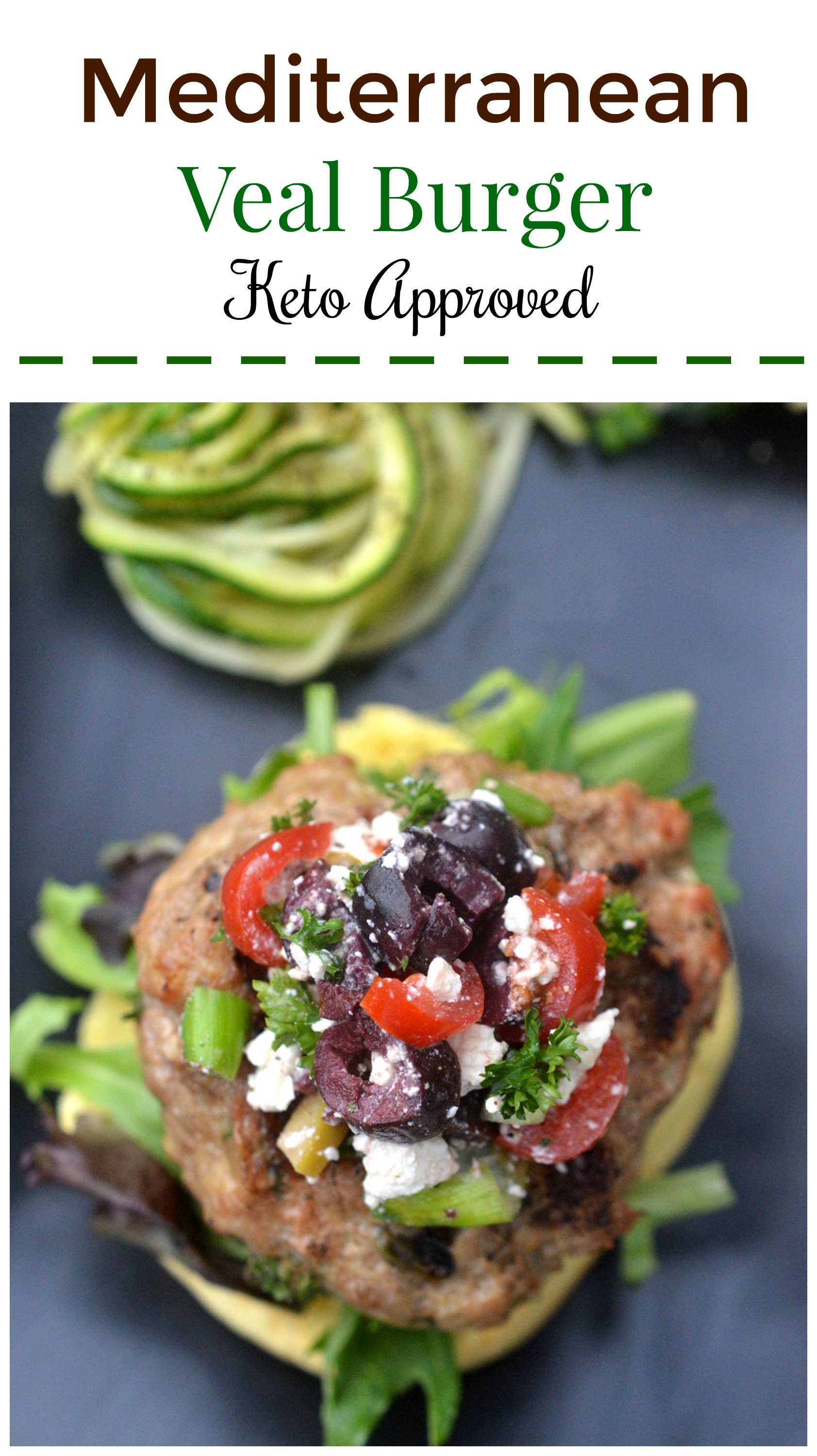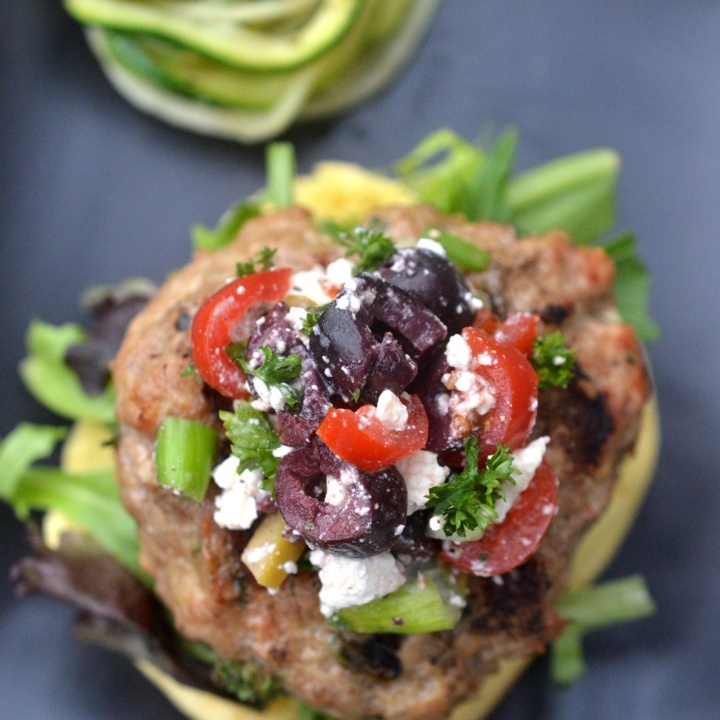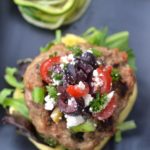 Print Recipe
Mediterranean Veal Burger
This Mediterranean Veal Burger is bright and full of flavor. Enjoy it on its own, as a gluten-free meal, or nestle it into a ciabatta roll or potato bun with just a small dollop of mayonnaise. This veal burger is juicy and delicious and pairs wonderfully with an ice cold beer or glass of white wine.
Ingredients
Burger

1

pound

of ground veal

2

TBS

minced garlic

1

TBS

olive oil

Salt & black pepper

1

large egg yolk

2

TBS

chopped red onion

3

TBS

chopped parsley

½

cup

crumbled Feta cheese

A squeeze of fresh lemon juice

about 1 teaspoon

Topping

¼

cup

chopped parsley

¼

cup

sliced scallions or chopped red onion

¼

cup

chopped Kalamata olives

¼

cup

chopped green olives

2

TBS

capers

¼

cup

chopped tomatoes

¼

cup

crumbled Feta

A squeeze of fresh lemon juice

about 1 teaspoon

Burger Assembly Options:

Bun of your choice or enjoy bunless

Greens

Mayo
Instructions
In a tiny bowl, combine minced garlic and oil. Season well with salt and pepper and allow it to sit for 10 minutes or so, mixing it occasionally.

Combine the veal, seasoned garlic oil mixture, egg yolk, red onion, parsley, feta and lemon juice in a mixing bowl. Season with additional salt & pepper. Form into four (4) quarter-pound patties.

For the Mediterranean Salsa Topping, combine all ingredients in a small bowl, season with salt and pepper and toss. Set aside.

Cook patties in a lightly oiled grill pan or on your outdoor grill for approximately 5-6 minutes per side or until internal temperature is 160 degrees.

Top burgers with your Mediterranean Salsa. If using a bun, place greens, then burger then salsa onto the bun. If using mayonnaise or another condiment, place that below the greens. Enjoy!

Notes: Always brush and oil your grill before using for best success. If you enjoy cheese on your burger, feel free to add your favorite cheese to the burger just before its done cooking. The feta in and on the burger does give some great flavor, so additional cheese is not necessary.

You can use garlic paste in place of the minced garlic, however making your own garlic oil adds depth of flavor and moisture to these burgers. It's a great tip!
Nutrition
Serving:
4
g
|
Calories:
310
kcal
|
Carbohydrates:
5
g
|
Protein:
33
g
|
Fat:
17
g
|
Saturated Fat:
8
g
|
Cholesterol:
195
mg
|
Sodium:
681
mg
|
Fiber:
1
g
|
Sugar:
2
g