Thanks to the Beef Checkoff for sponsoring this recipe for these amazing Grilled Meatloaf Stuffed Peppers! So often the foods that get me the most excited happens to come off of a grill. These easy to make stuffed peppers are made with veal as protein and bonus, they cook quicker than traditional meatloaf and deliver on taste, big time!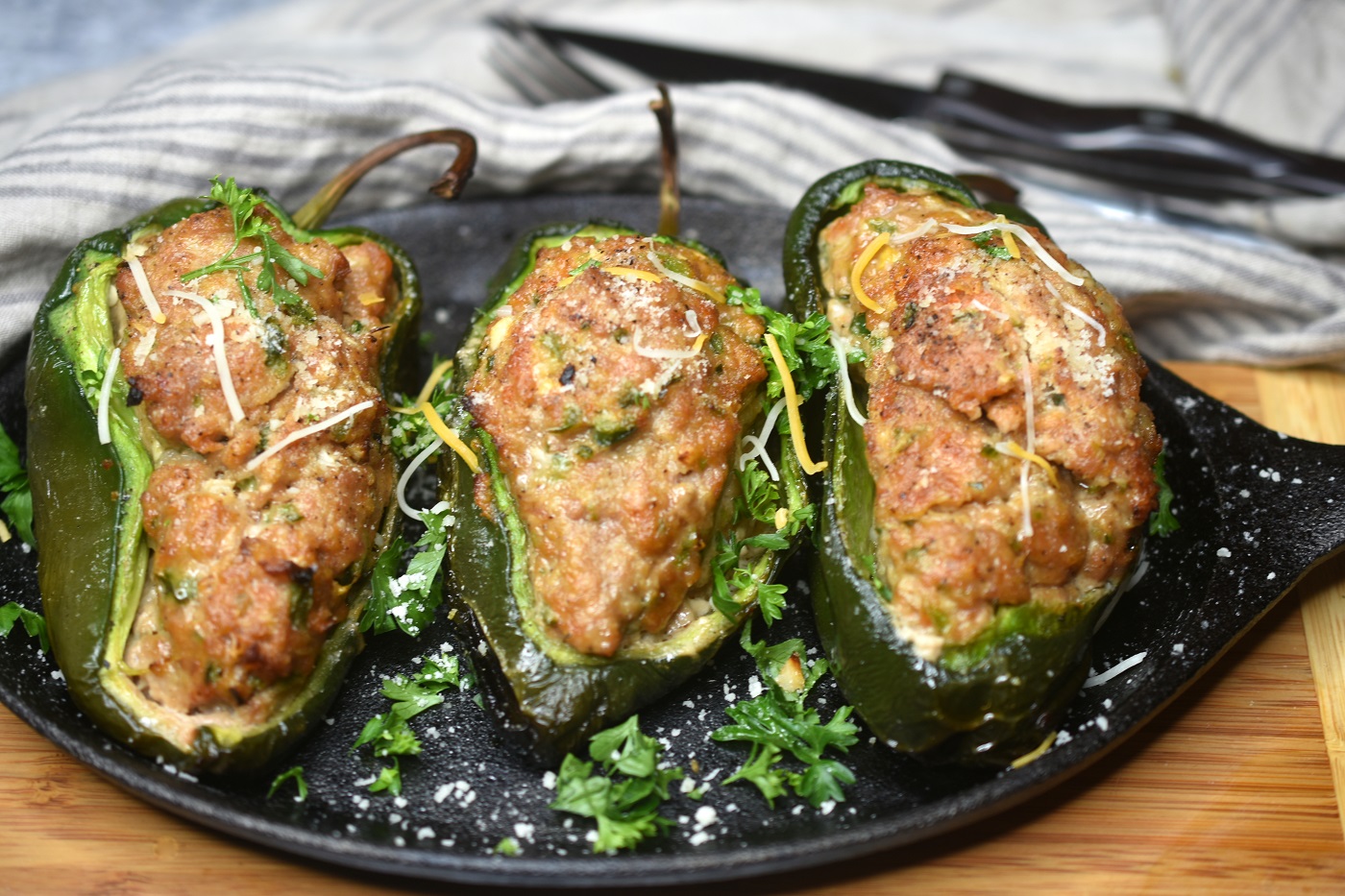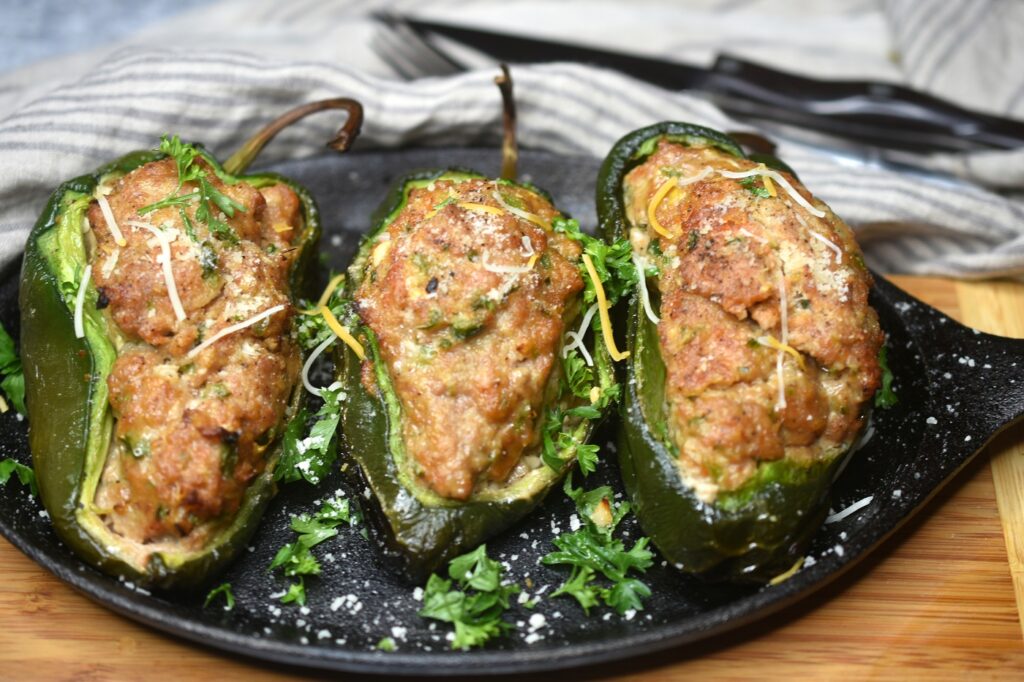 You read that correctly, veal is the only protein used in these lil' meatloaves. Often when you make meatloaf you use a blend of beef and veal or beef, veal and pork. You have to try these using just ground veal. They are just so delicate and flavorful! I use poblano peppers each time I make these however you can use standard green peppers if you like, I just like the poblanos (they are not spicy).
These Grilled Meatloaf Stuffed Poblano Peppers are a game-changer in both flavor, cooking time and ease of cleanup! 
If spicy is your thing, you can stuff smaller long hots or even large jalapenos…they will cook even quicker and have a spicy kick.  I add a jalapeno to my mixture (with seeds) for a kick however that is up to you as well.
Since I live in Pennsylvania, grilling season for me is typically late March through October. Sure I TRY to grill in the cold months, however its just not the same as in the other months. Maybe that's why grilled food always gets me excited, because every year there is a hiatus, lol! These days we are staying home more and grilling out more.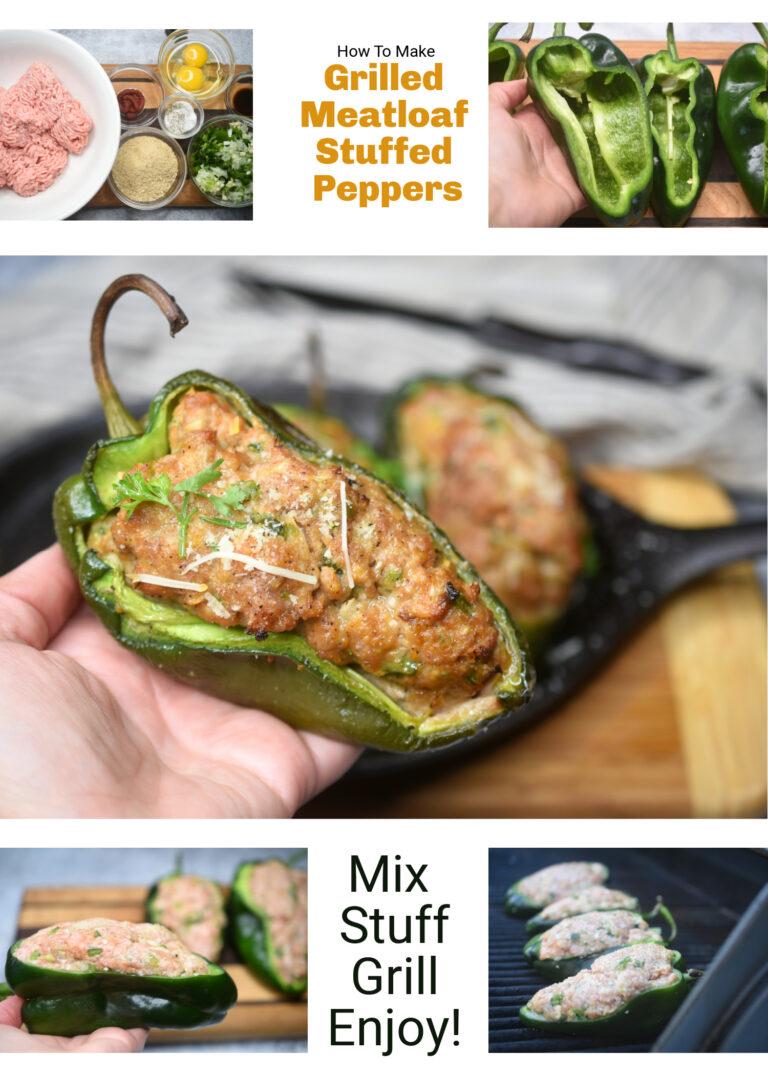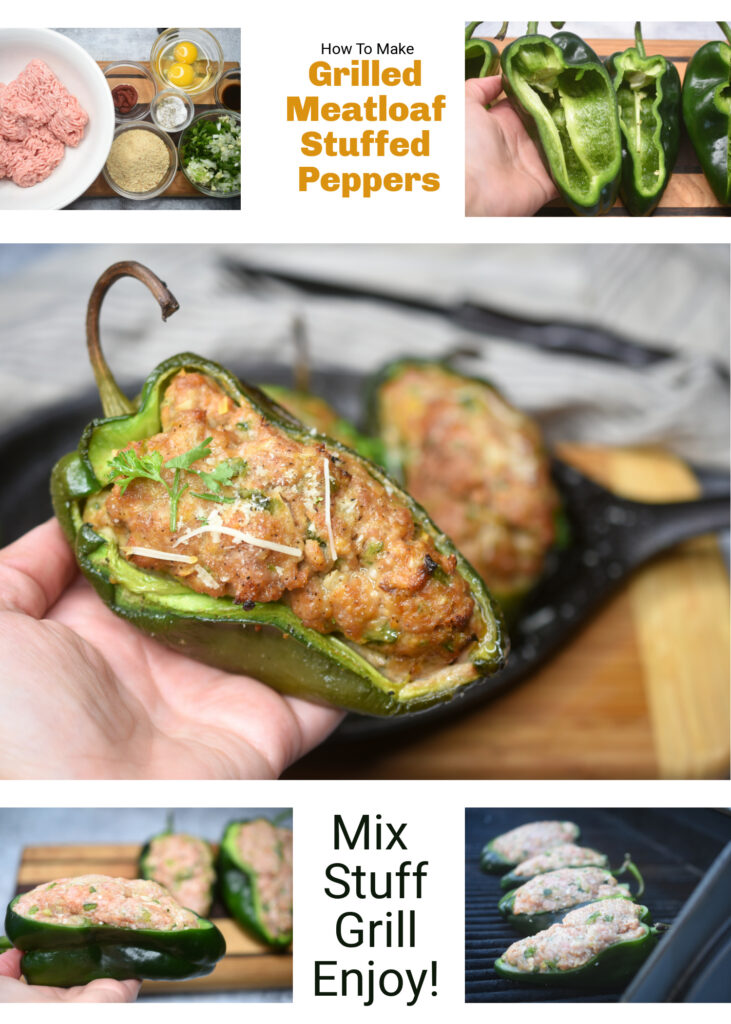 When it comes to grilling, veal is a great choice. It cooks quickly, takes on the amazing flavors of how you choose to prepare it and ounce-for-ounce; it's one of the most nutritious proteins.
Veal comes in well over a dozen different cuts (similar to beef), however the cuts typically found in grocery stores are Veal Cutlets, Ground Veal and Veal Loin Chops. My favorite is a nice big thick Veal Rib Chop, ask your supermarket butcher to order some of those for you (or order one online or out)…If you have never had one you are in for a treat!
Veal Cutlets – In addition to all the wonderful dishes you can make with breaded veal, cutlets are great for grilling too, think Grilled Stuffed Veal Cutlets with Shredded Parmesan Cheese and Kale (or spinach…check out my Instagram Highlights for that), used for skewers such as a Satay, brushed with garlic oil and seasoned then quickly grilled for sandwiches topped with broccoli rabe and Provolone cheese and or roasted peppers, YUM!
Ground Veal – Anything you can do with any other ground meat, you can do with ground veal. It's just so delicious and easily takes on the flavors you add to it. I've made these Greek Grilled Koftka Skewers from Jersey Girl Cooks on the grill and they were SO good! Veal makes some fantastic burgers too, check out these Mediterranean Burgers, a flavor explosion! In addition to the recipe shown here for the Grilled Meatloaf Stuffed Peppers, you can make a whole meatloaf on the grill as well. Game changer!
Veal Chops – Rib Veal Chops are one of the Holy Grail food for me, however loin rib chops are just as tasty when cooked to perfection. Veal rib chops typically sell out when on menus as a special. You can easily cook them at home on your grill or on the stove/oven. There are a variety of ways to prepare them, two of my favorites are this Grilled Chop and these pan-fried chops will make you happy, why go out??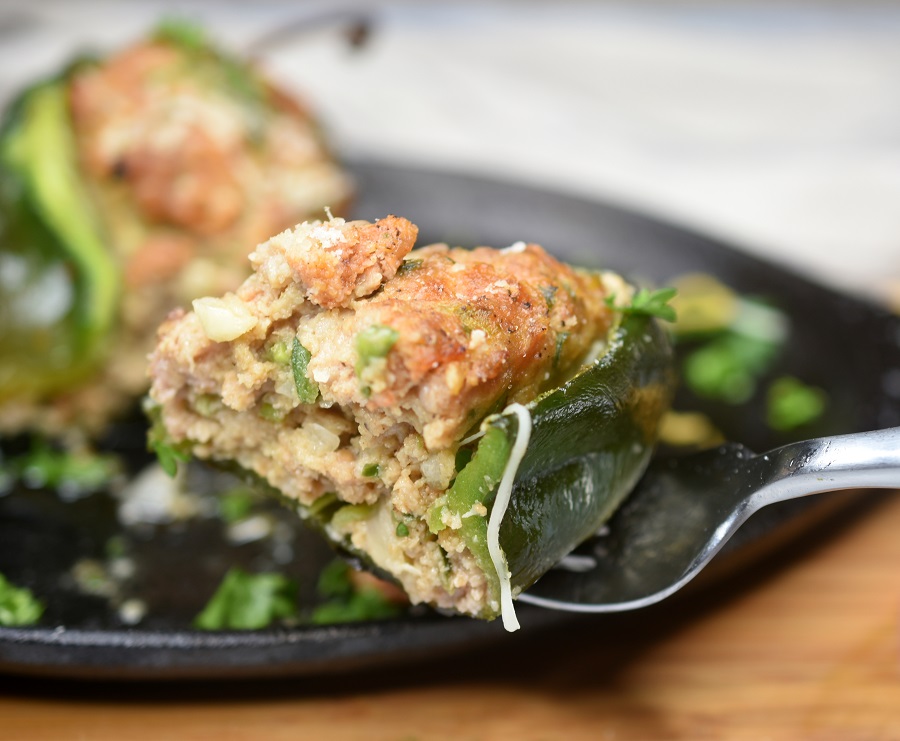 I received the veal used for this post and highlighted in my Instagram Stories from Mosner Family Brands (out of New York), check out their website and use this discount code "veal15"  and save then have their delicious veal sent right to your doorstep!
The cuts of meat I have tasted from Mosner have been top quality, flavorful and so tender.
Tips for grilling Meatloaf Stuffed Peppers:
For easy grilling and eating, find the side the pepper will best stand upright on and cut the top of the pepper off of the opposite side
Instead of tossing the sections of pepper you cut off in order to stuff them, chop them and use in your meatloaf mixture
Gently remove the seeds and membrane from the pepper after you cut it open with a paring knife or small spoon
You can use any pepper for this recipe, I happen to like the size and flavor of poblanos for this. If using a smaller pepper you may wish to first sauté the onions, peppers and garlic in a 1/2 TBS of oil or bacon grease (yum) to start the cooking process since smaller meatloaf stuffed peppers will cook faster than larger ones. I often do this anyway, however with a larger pepper its really not necessary.
You can top your peppers with shredded cheese, close the grill and let it melt…so delicious! (see photo below)
You can brush the meatloaf area of the peppers with your favorite barbecue sauce. brush a few times as they cook.
Veal is low in fat, so not much fat/liquid accumulates in the pepper as it cooks; any liquid can be easily dumped out into the grill by tilting peppers just a bit.
In the recipe I say add salt and pepper to taste, I like to season the meat well however some people may be on a low salt diet. You do you. You may also wish to lightly season the inside of the peppers (I do not).
If you have extra meatloaf mixture (since pepper sizes vary) you can always make a mini loaf on foil on the grill or cook it off as meatballs.
I hope you love these as much as we do!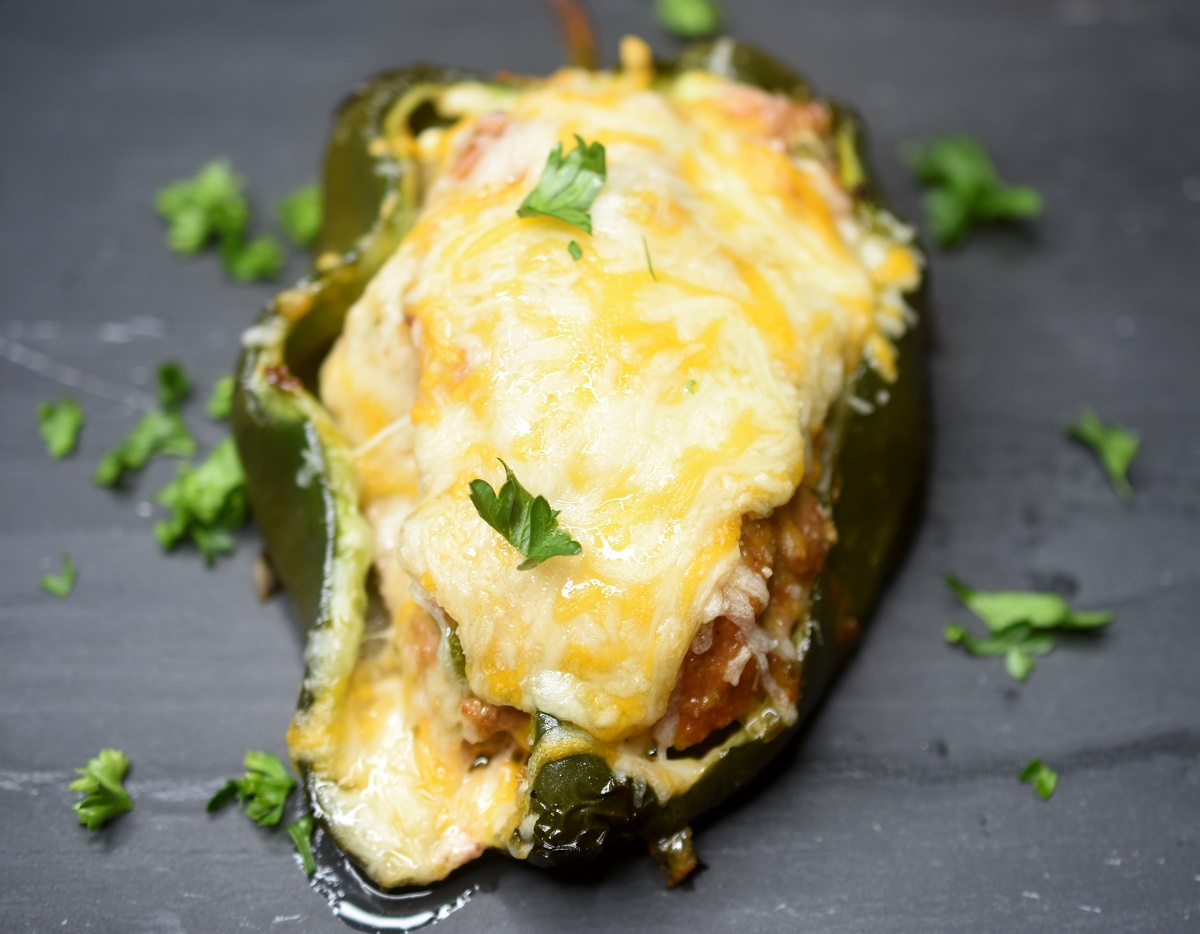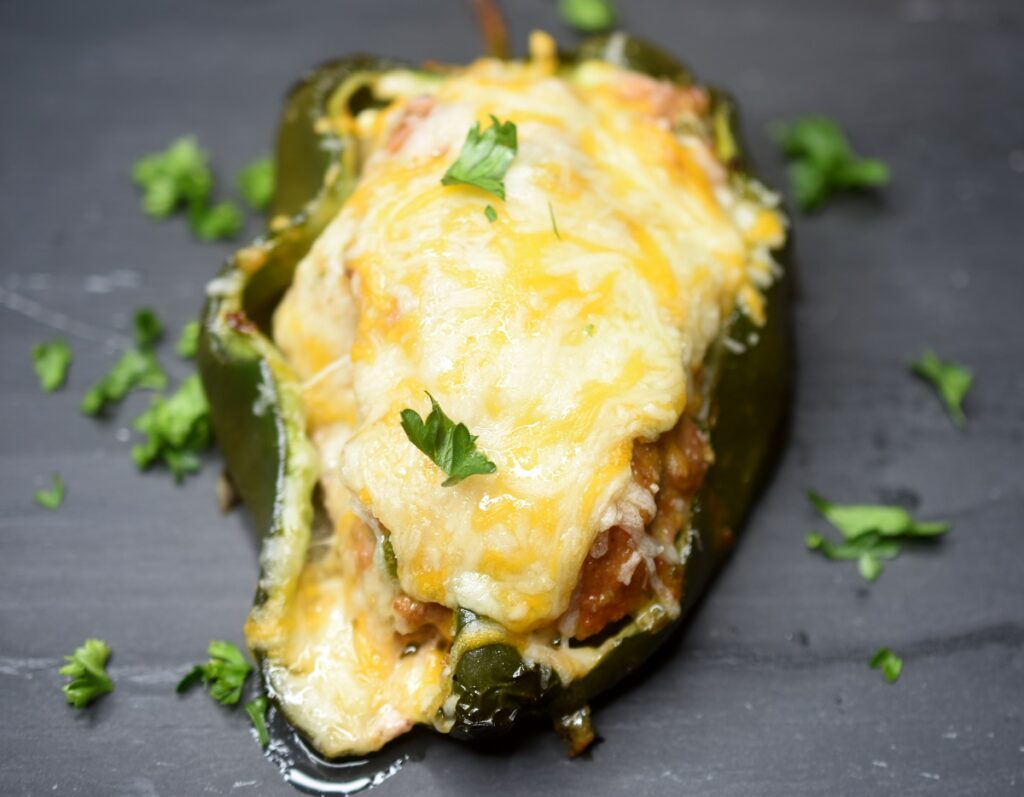 What Does Veal Taste Like?
Veal has a delicate taste and is very tender. The tenderness is what many people crave when it comes to veal. Most cuts of veal cook quickly. Veal easily takes on the flavors you use while cooking it, whether it's a delicate or a robust sauce or simple herbs and spices, either highlights the tenderness and delicate texture of the protein. When cooked correctly a veal chop or cutlet is amazingly tender, similar to filet mignon. It's juicy and full of flavor.
Osso Buco is a memorable dish made with veal shanks that's even better the second day. When you come across it on a menu (or veal chops for that, matter), order it!
Is Veal Nutritious?
Veal is a high-quality protein, a 3-ounce serving of cooked trimmed lean veal is approximately 170 calories and it's a good source of key nutrients. Including vitamin B-6, vitamin B-12, niacin, riboflavin, zinc, selenium, and choline. Learn more about veal nutrition here on the Veal Made Easy Website.
Some of the veal recipes I have on me website are:
Visit VealMadeEasy.com for all sorts of delicious veal recipes as well as information of veal nutrition, sustainability and more.
Whenever I write a veal recipe, I always like to point out and/or educate people on modern-day veal farming. I have personally toured quite a number of veal farms (as well as dairy and beef farms, cheese factories, etc.).
Today's veal farmers are passionate about animal well-being and sustainability. They raise their animals in airy barns, full of light and fresh air. The calves have plenty of room to move about and buddies to play around with. Some farms I have visited even have outdoor access so if the calves feel like going outside, they can. There are even some farmers that raise pasture-raised veal.
Practices that people often preach about (such as castration, dehorning, and tail docking) are not necessary in the raising of veal. Additionally, hormone implants are not permitted for use in veal production. When it comes to veal, many people have no idea just how much the industry has changed. Many practices that people that critics talk about about ended decades ago. 
Where does the thinking "veal is raised in tiny crates or tiny houses and they can't move about for the duration of their lives" come from? You do in fact see calf hutches when you drive by dairy farms, and some ice cream stands on farms. Those, hutches are where "baby" dairy cows are being housed for the earliest parts of their life. When a cow is born, unlike humans, they are born with zero immunities.
While human babies pick up immunity from their mother's placenta, newborn calves do not. SO for that reason the first 6-8 weeks of their life both female dairy calves and male veal calves are kept in individual areas as a precaution for their health. On veal farms, those individual areas may have a partition which after 6-8 weeks is removed. On many farms after that period, the veal calves are moved to larger group pens which house 15-30 calves. It comes down to the individual farmers and their way of caring for their animals.
To learn more about what I have learned from my experiences touring veal producers farms (and more) check out this post or/and watch my Veal 101 Highlight on Instagram here.
I hope you love this recipe as much as my family and I do! Tag me on Instagram @soufflebombay when you make it and I will feature your creation!!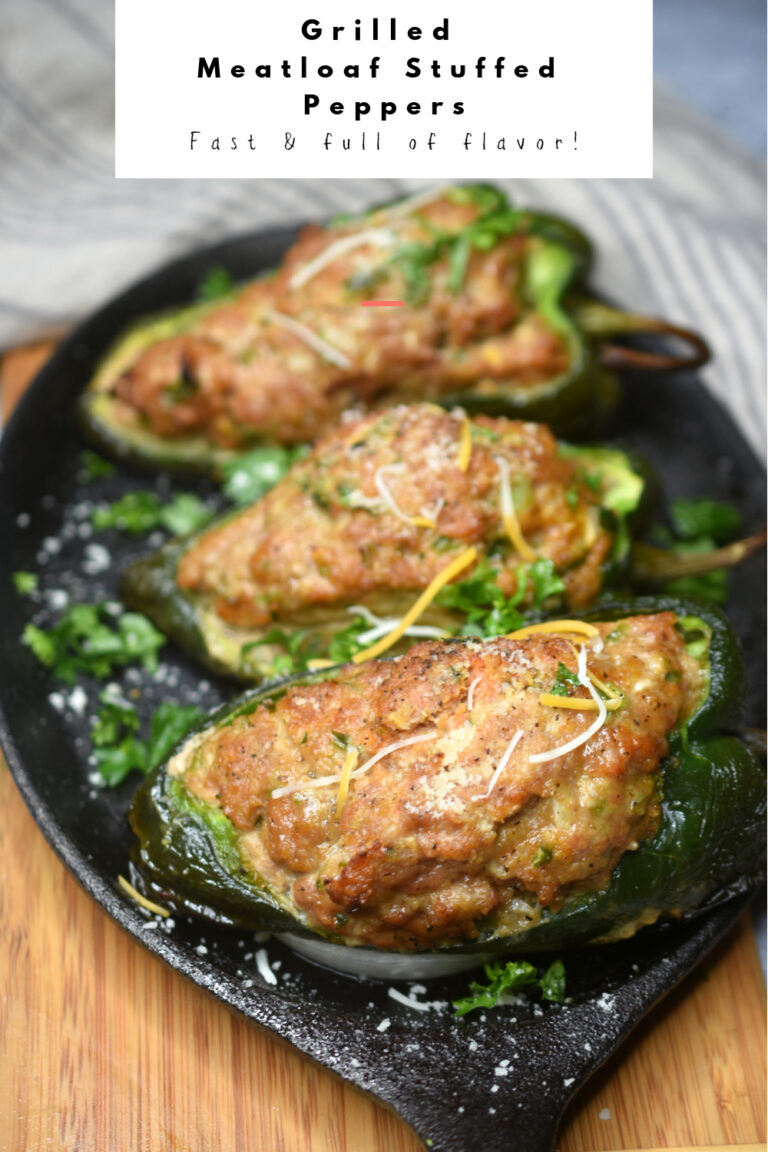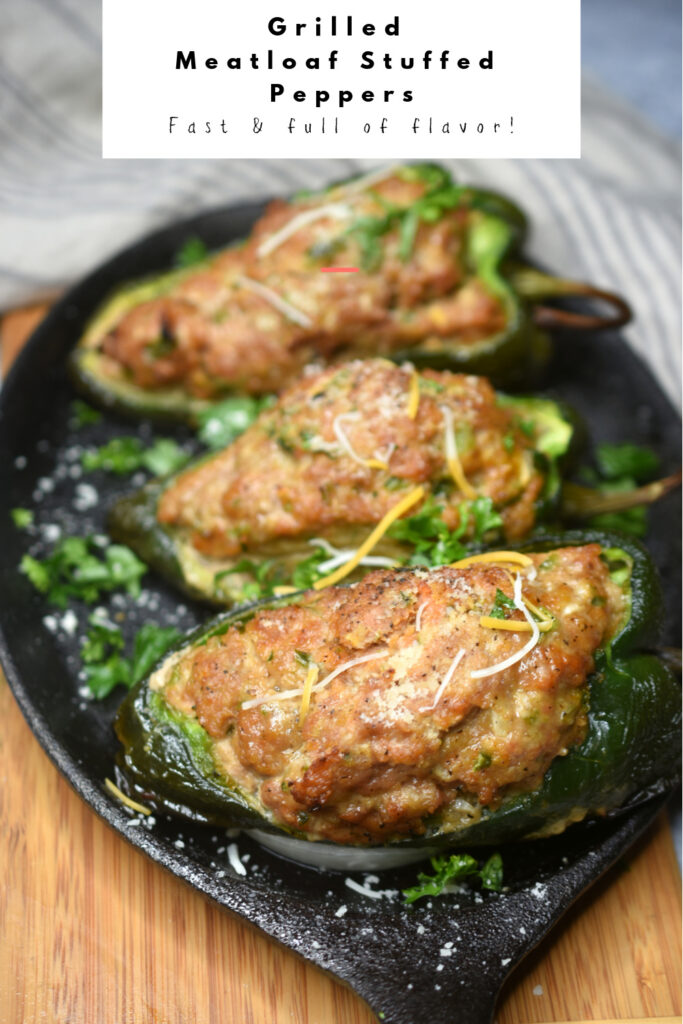 Enjoy!!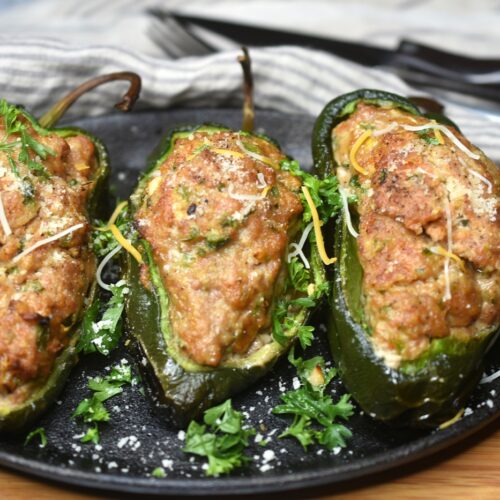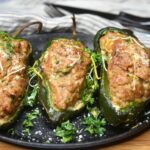 Print Recipe
Grilled Meatloaf StuffedPeppers
Make meatloaf faster and more delicious by stuffing this veal meatloaf mixture into poblano peppers (or your favorite peppers) and grilling them! It's a game-changer!
Ingredients
1 1/2

pounds

ground veal

1/2

cup

breadcrumbs

1 large

egg

plus 1 yolk

1/3

cup

onions (I like using Vidalia)

1

clove

minced garlic (or garlic paste)

1

whole

jalapeno (if you do not enjoy a little heat, remove the seeds and stems before you chop)

additional raw pepper (that you cut off the peppers before stuffing)

(optional)

1/2

TBS

Worcestershire sauce

1

TBS

tomato paste

salt and pepper to taste

4

large poblano peppers

4-5 peppers, can also use any type pepper preferred in place of poblano peppers
Instructions
Combine ground veal, breadcrumbs, eggs, onion, garlic, jalapeno, Worcestershire sauce, tomato paste, salt and pepper in a large bowl.

Slice the poblano peppers open enough to allow meatloaf mixture tom be places inside. carefully remove the seeds. Tip: find how each pepper "stand" best to determine which side to slice open so each pepper will stand best on the grill and on the plate.

Chop the parts of the peppers cut off to add to your meatloaf mixture (you may not use all of it, depends on how much you have and how much you have and your taste for peppers)

Using your clean hands, gently mix the meatloaf mixture until combined. Season with additional salt and pepper if desired.

TIP: You can always quickly cook off a small "meatball" in a saute pan to taste your mixture and adjust seasoning or ingredients according to taste.

Stuff peppers with the meatloaf mixture. Stuff them full, allowing a mound of the mixture to rise from the opening. (the meat will shrink some as it cooks),

Heat grill to high and when ready place peppers directly onto the grates over direct heat and cook for 6-8 minutes. Then carefully move your peppers to indirect heat (turn the burner(s) off directly below them or move them to your upper grate) and continue cooking until done. I typically pull them when the internal temperature reaches 155 via digital thermometer, the internal temperature continues to rice after they are removed, hitting the recommended 160 degrees.

If choosing tom top with shredded cheese (a blend of cheddar and Monterrey Jack cheese is nice) do so a few minutes before the peppers are done to allow the cheese to melt. If brushing with barbecue sauce, do so a few times during the cooking process.
Nutrition
Serving:
4
servings
|
Calories:
419
kcal
|
Carbohydrates:
18
g
|
Protein:
44
g
|
Fat:
18
g
|
Saturated Fat:
7
g
|
Cholesterol:
365
mg
|
Sodium:
382
mg
|
Potassium:
928
mg
|
Fiber:
3
g
|
Sugar:
5
g
|
Vitamin A:
829
IU
|
Vitamin C:
98
mg
|
Calcium:
99
mg
|
Iron:
4
mg