Not only do I have an addictive, finger-licking-delicious Glazed Bacon Wrapped Sausage Bites recipe for you today, I am also going to share some other appetizers on the grill for tailgating that everybody will love!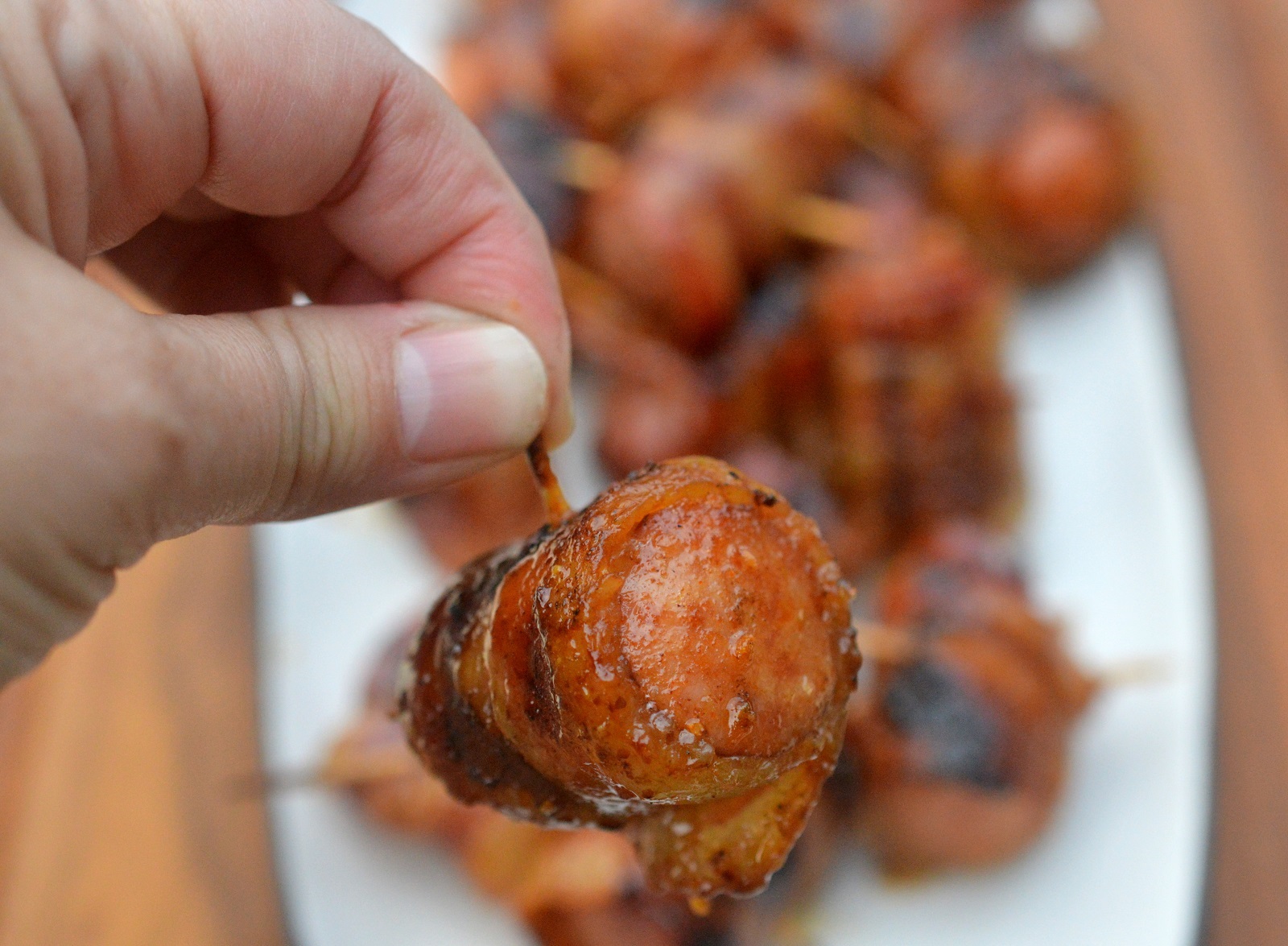 This post is sponsored by Johnsonville.
Whether it's Alabama-inspired Smoked Sausage & Grits or Hot 'N Spicy Sausage Jambalaya for Louisiana fans, Johnsonville is asking SEC football fans to share their original and favorite sausage tailgate recipe for a chance to win championship game tickets! Woot! I mean food and football...what's better than that?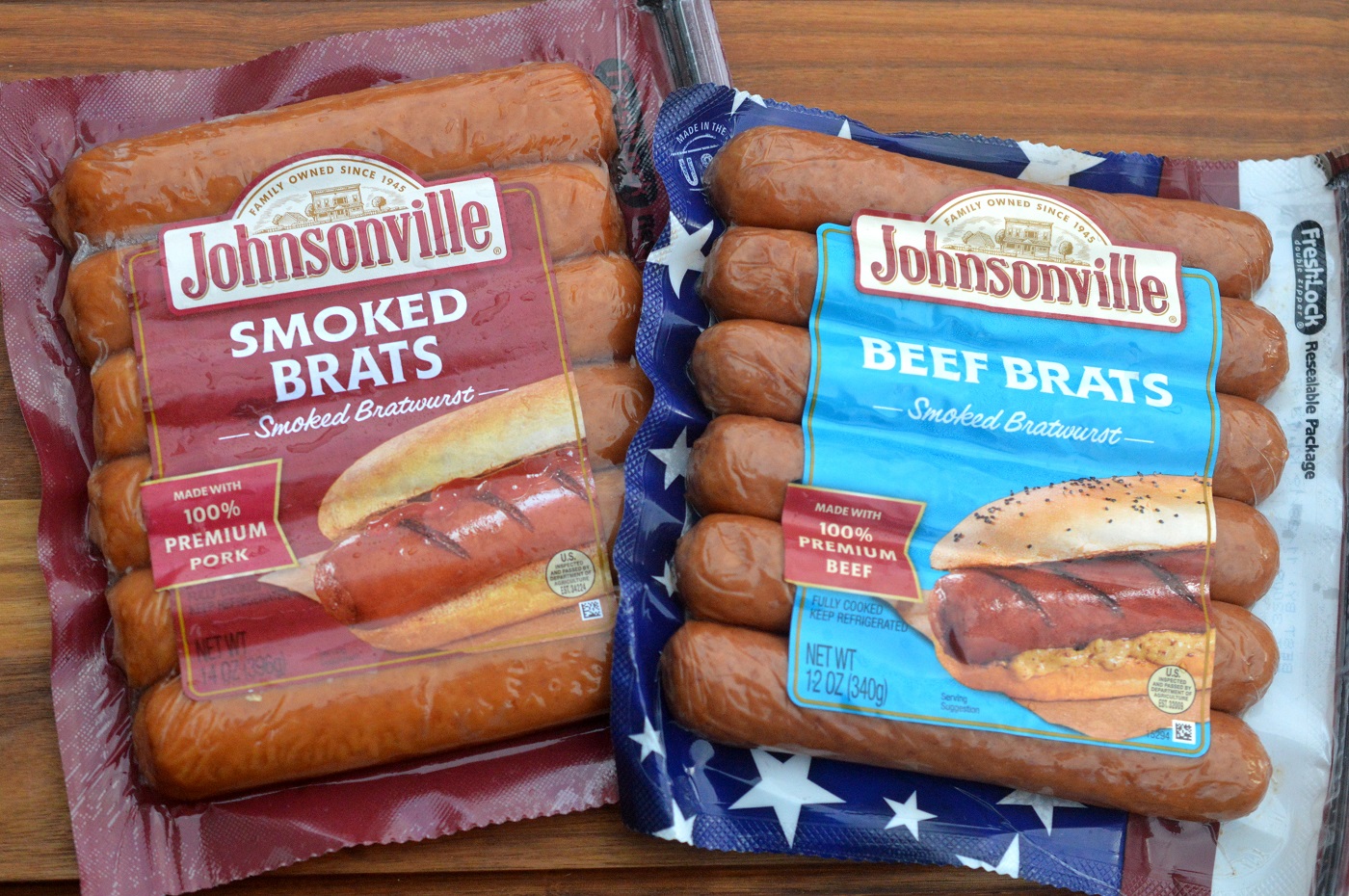 If you are looking for an easy appetizer on the grill for tailgating or for a crowd or just for two, this recipe for Glazed Bacon Wrapped Sausage Bites is it! I used both Johnsonville fully-cooked Smoked Sausage and Beef Brats for this recipe, however, you could also use Kielbasa (which I have not done before) or any of their varieties of fully cooked sausages.
These lil' bites of Heaven are a combination of sweet and smokey with just a little heat. The bacon is crisp and the sausage is juicy. People go back for more, again and again, so you better make a double batch...Or more!
My husband and I (along with 2 friends) were just in a BBQ competition at a grilling company's BBQfest. The location was just 20 minutes away from us which was awesome, however, competitors came from as far away as Georgia. Celebrity BBQ Pitmasters, Big Mo Casion (from Iowa) and BBQ Bob Trudnak were there as well grilling up their specialties for all to enjoy.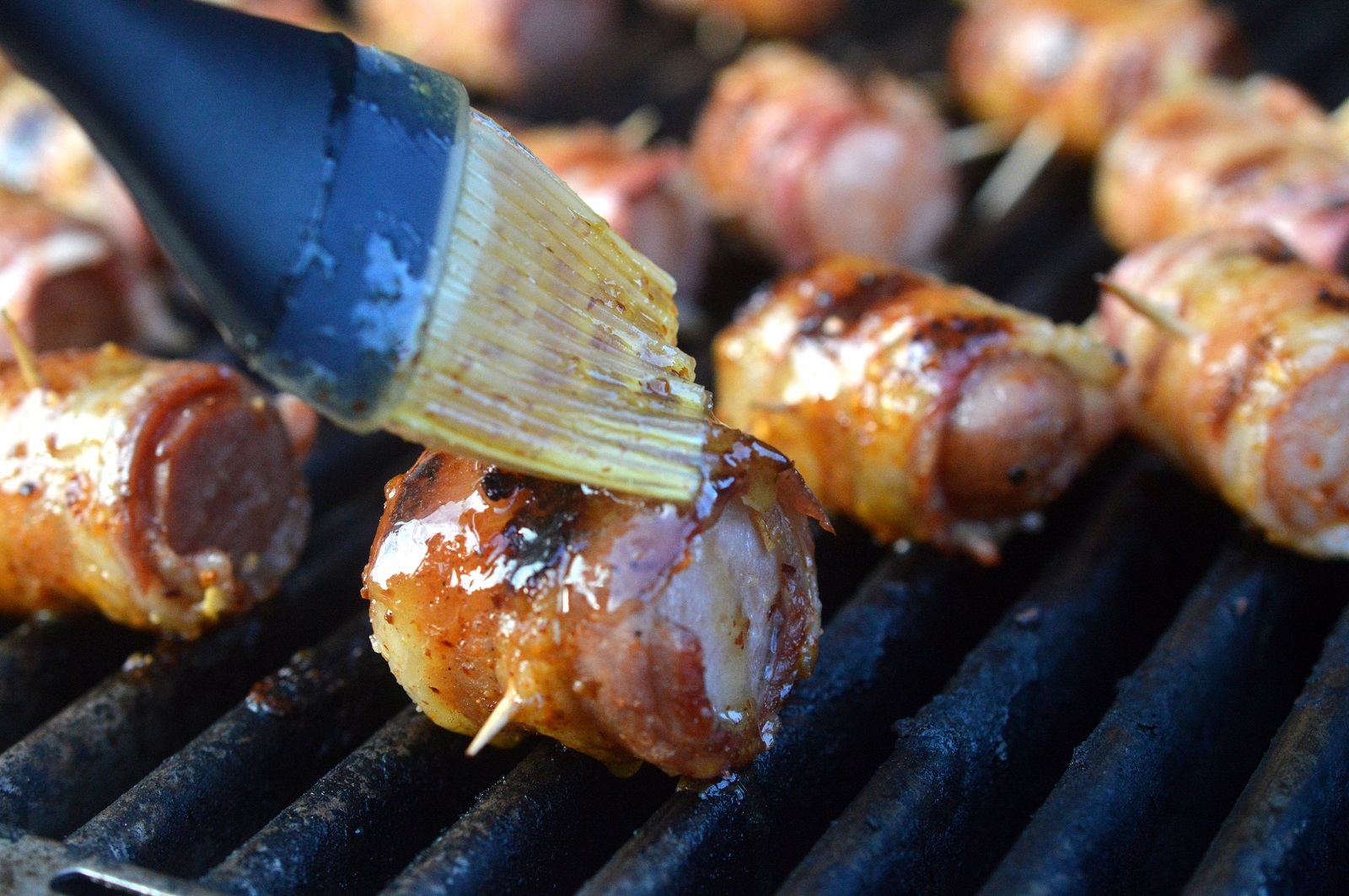 It was a busy day but it sure was fun! We made 8 different types of bacon-wrapped bites for people to enjoy including something very similar to this Glazed Bacon Wrapped Sausage, which was one of our first dishes to "sell-out". People loved it and kept coming back for more.
How Do You Make Glazed Sausage Wrapped in Bacon?
This recipe comes together quickly, especially if you have two sets of hands working on it. First, you make a simple glaze with just a few ingredients. Next, an easy rub that you rub onto the bacon and toss the sausage in. Then you wrap up the sausage pieces, secure them with a toothpick, and cook. As the bacon begins to crisp up, you brush the bundles with the glaze and in no time you will be passing them around.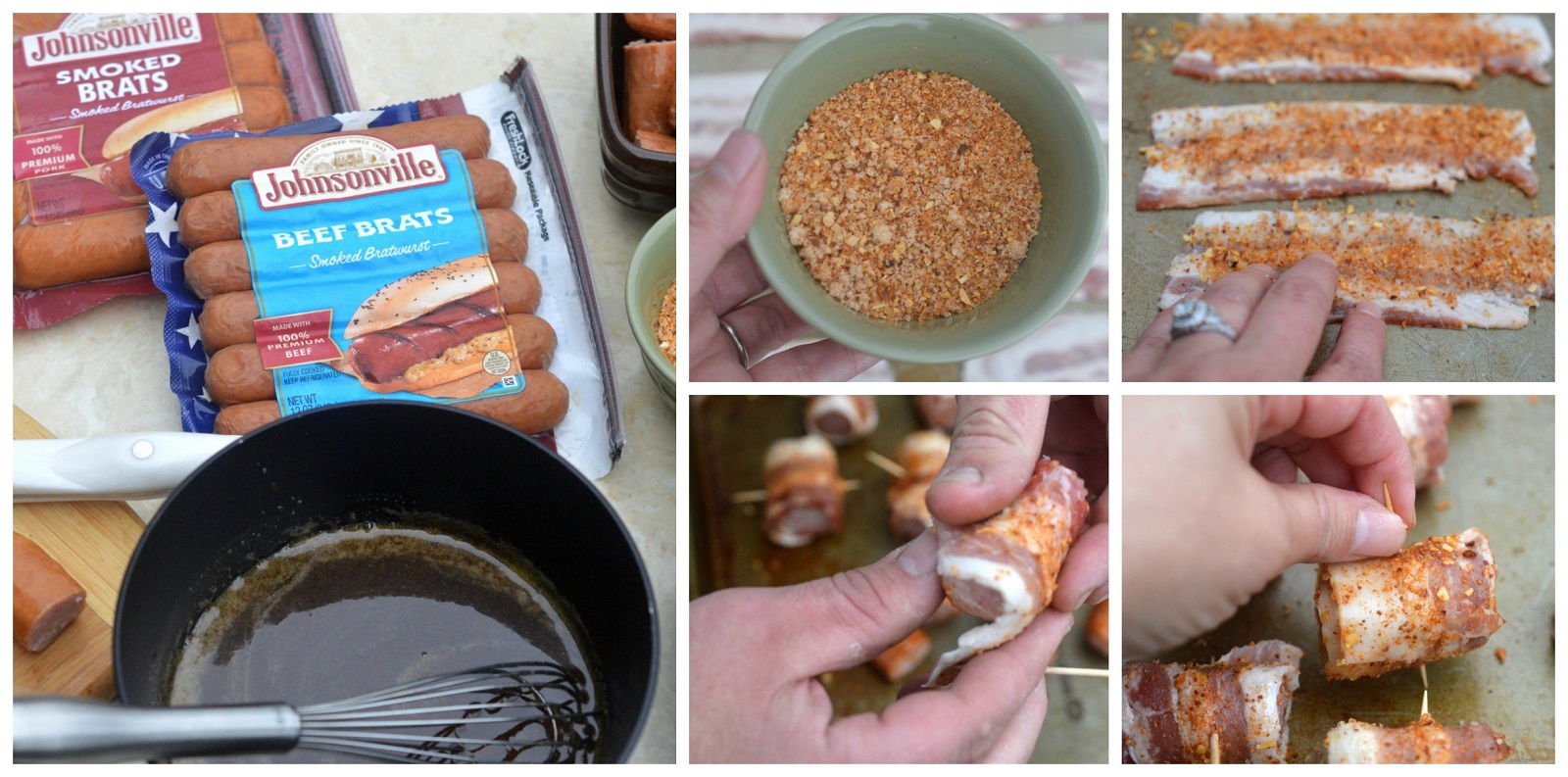 Do You Make Sausage Bacon Bites In The Oven Or On A Grill?
You can make sausage bacon bites on a grill or in an oven. If making in an oven, I recommend placing the bundles on a rack over a baking sheet (like a cooling rack/wire rack) or on a broiler pan which allows them to crisp up. And the baking sheet will catch all the gooey glaze drippings.
What Variations Can You Make To These Wrapped Sausage Bites?
You can choose to make these with sausage or kielbasa. I have made these with both cooked sausage and raw kielbasa, both ways turn out just about the same. If you would like a little kick of heat, add in a sprinkle of red pepper to your glaze.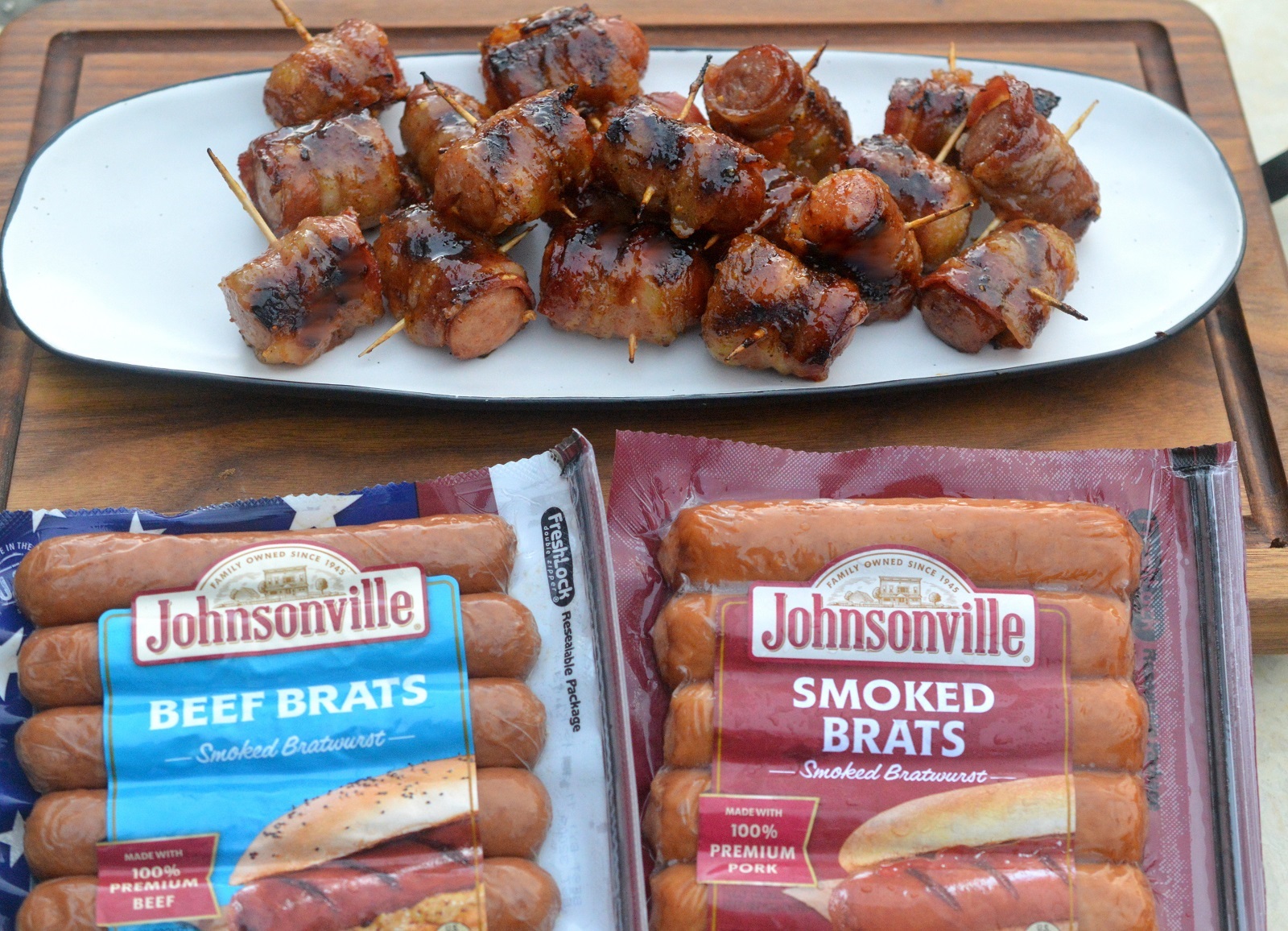 What Can I Do With Leftovers?
That is IF you have leftovers, lol! Leftovers hold up very well. To reheat simply toss them in a preheated oven (350 degrees) after you allow them to sit out for 30 minutes or so for 10-12 minutes. OR reheat via a microwave just for a bit.
Other Yummy Appetizers
It's always good to have more than one appetizer to please the entire crowd. Not everyone will eat sausage or bacon, so I give a variety. Here are some of my other hit appetizers for a crowd:
Roasted Red Pepper & Artichoke Spread - Make this ahead and serve with bread or crackers.
Incredible Garlic Shrimp - A definite crowd pleaser and a favorite of mine. You need these in your life!
Spicy Honey Lime Grape Salsa - A favorite for spring and summer BBQ's! Light and refreshing.
Baked Brie with Sweet Pepper Jelly - This recipe is a sweet, peppery appetizer and created by Half-Scratched. The best part is you can make it ahead!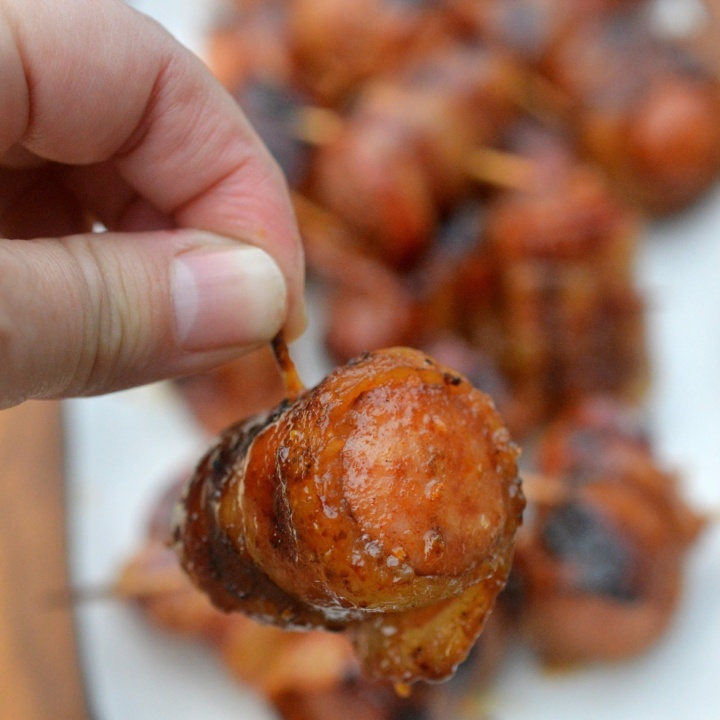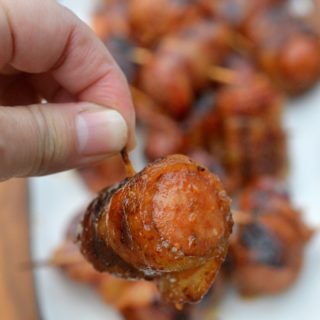 Glazed Bacon Wrapped Sausage Bites
Looking for a perfect tailgating bite, game-day appetizer or party food? These simple Glazed Bacon Wrapped Sausage Bites are full of flavor. Make extra!
Ingredients
2

pounds

Johnsonville Smoked Brats

or your choice of sausage

1

pound

of bacon

thinner bacon works best

Glaze

1

cup

of brown sugar

2

TBS

of maple syrup or maple flakes

2

TBS

coarse mustard

I use Grey Poupon Country Dijon

2

TBS

white wine vinegar

can substitute plain vinegar

2

TBS

water

Rub

¼

cup

brown sugar

1

teaspoon

kosher salt

2

TBS

McCormick Sweet & Smoky Rub
Instructions
Cut sausage into 2-inch pieces and set aside.

Cut your bacon strips in half with kitchen shears or a sharp knife and set aside.

Mix rub ingredients together and blend well, then sprinkle 1 TBS of the rub onto your sausage pieces and toss.

Separate bacon half-strips and rub a bit of the seasoning rub onto both sides of your bacon strips. Do 4-5 at a time.

Wrap a strip around a sausage p[eice and secure with a toothpick and place back onto a baking sheet.

Repeat until finished.

If you have extra seasoning left over, just toss it into your glaze and heat it until it melts in.

If grilling, clean and oil your grates, heat grill to high and then place your sausage bites onto the grill turning the grates they are actually on to low. Turn the bites allowing them to crisp up but not burn.

Once they begin to crisp up, brush them with the glaze, turning and brushing again and again until done to your liking. You may need to move bites to indirect hear or your upper rack to prevent burning after you glaze them.

If cooking in your oven, place Bites onto a rack or broiler pan and bake at 375 for 25-35 minutes (brushing them with the glaze after the bacon begins to crisp up) or until bacon is crisped to your liking.

Best served warm.
Nutrition
Serving:
4
g
Calories:
526
kcal
Carbohydrates:
15
g
Protein:
27
g
Fat:
40
g
Saturated Fat:
16
g
Cholesterol:
98
mg
Sodium:
2004
mg
Sugar:
12
g
Follow me on Tik Tok for 1 minute videos