Making food for entertaining doesn't have to be complicated. I learned years ago that sometimes the simplest meals make the biggest impressions. Take this Grilled Greek Zucchini, Shrimp & Feta Cheese Salad for example. Not a big effort yet it's so pretty plus it's fresh and healthy with big flavors. Bet your guests will be impressed!
This post has been sponsored by Treasure Cave® Cheese. All thoughts and opinions are my own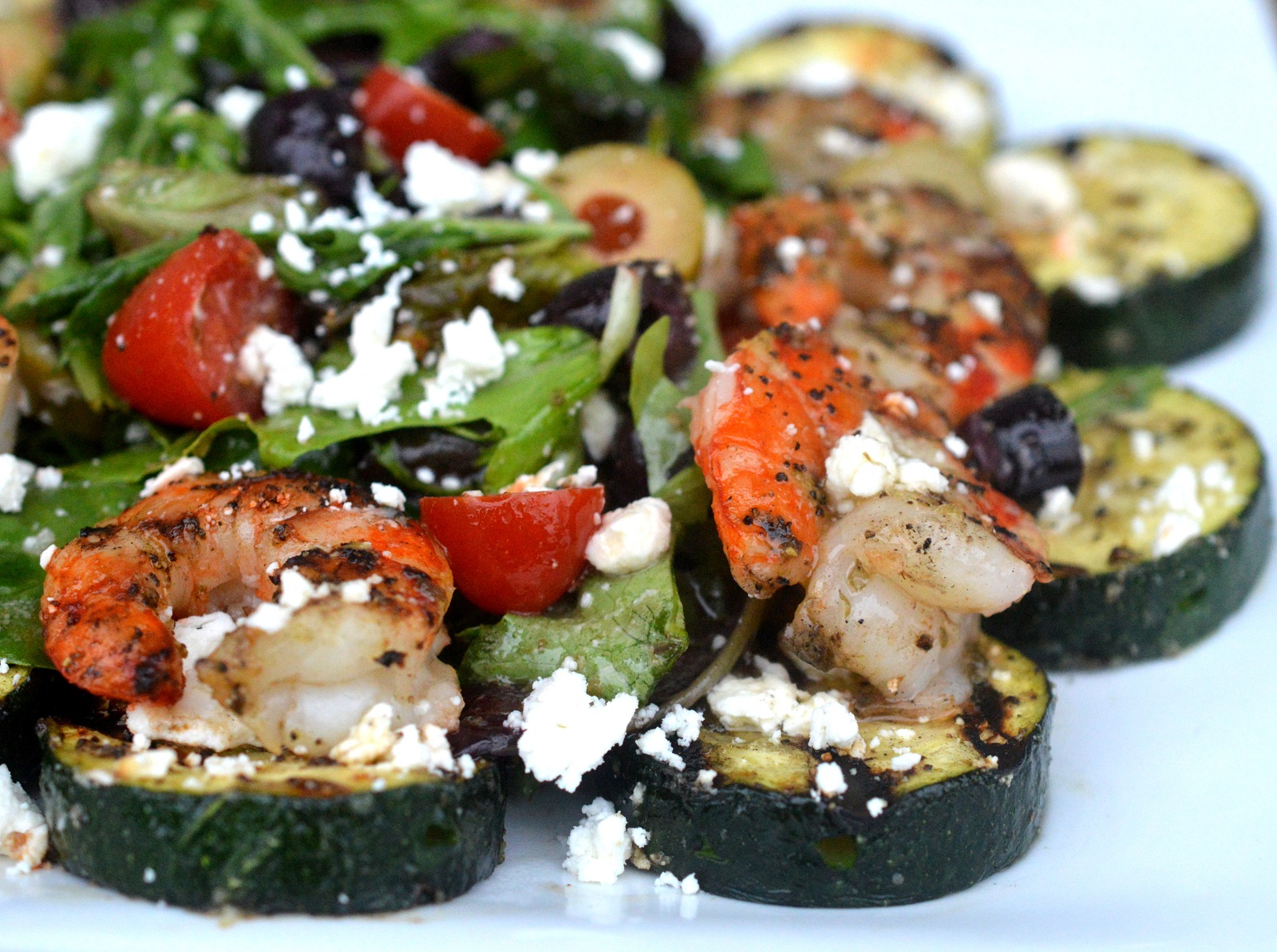 I teamed up with Treasure Cave® Cheese products for this post and decided to use their fresh and tangy pre-crumbled Feta Cheese as an inspiration for a summer grilling recipe. I had no real plan for this recipe, it was just one of those things I threw together—which often end up being my favorites. Funny how that works…right?
In no time, I had a gorgeous dish that literally took me 20-25 minutes to make, start to finish. I'd proudly put out this Greek Zucchini, Shrimp & Feta Cheese Salad for friends, family, a party, or make it just for myself to enjoy. I promise you will get some rave reviews!
Making this Grilled Greek Zucchini, Shrimp & Feta Cheese Salad is so easy that even a beginner home cook or griller can pull this off!
This meal will wow any level of foodie and bonus!! It's a healthy, eye-catching dish that's perfect for summer entertaining!
Just in time for the outdoor entertaining seasons, ACME offers everyone the chance to win hundreds of prizes all summer long! There's even a monthly giveaway of a Weber® Spirit II gas grill with a cover! That will sure help with summer entertaining!
June through August, you will have the chance to win hundreds of Instant Win Prizes. Play once a day, every day! Visit HERE to enter to WIN!
As a food blogger, of course, my home away from home is the grocery store. Most of the employees of my local ACME know me and know why I am in there so much, lol! Some even follow along on my social media channels, telling me what they made of mine and I love it! ACME has been the main grocery store in my life since I was a kid growing up in Philly, tagging along with my parents to shop.

I can always count on ACME for all of my culinary needs! I woke up, popped in, grabbed what I needed, and even used the handy ACME mobile app to save a few bucks on my purchases and rack up my beloved gas points…(love that!)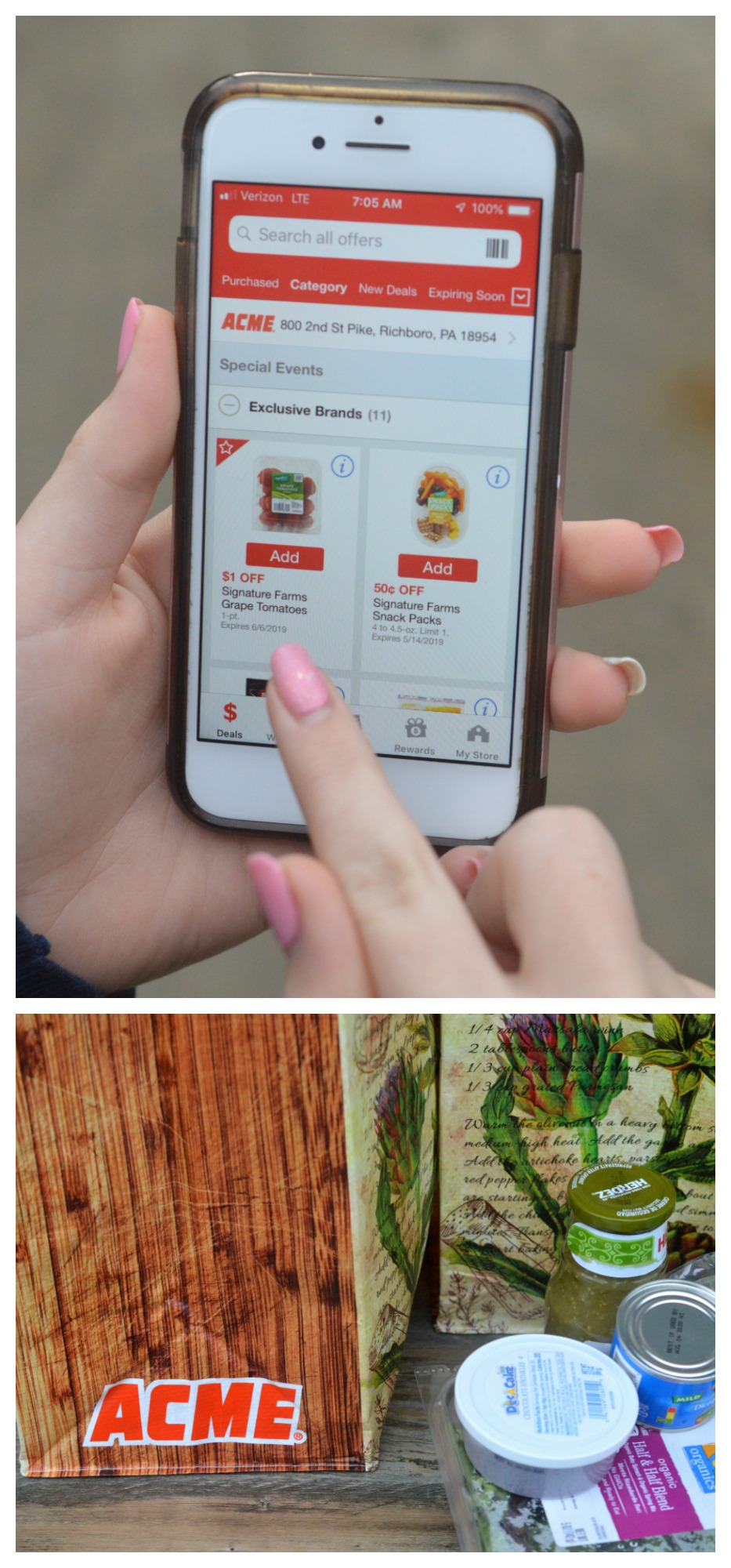 In addition to this Feta cheese, Treasure Cave® Cheese makes Blue cheese, goat cheese, Gorgonzola Cheese and Parmesan Cheese. They are a trusted brand. In my store, they are found over by the yogurt in the cheese section. Treasure Cave® Cheese is aged to perfection and crumbled for your convenience. The result is an exquisitely rich & delicious flavor, offering something for every cheese lover and lots of culinary inspiration.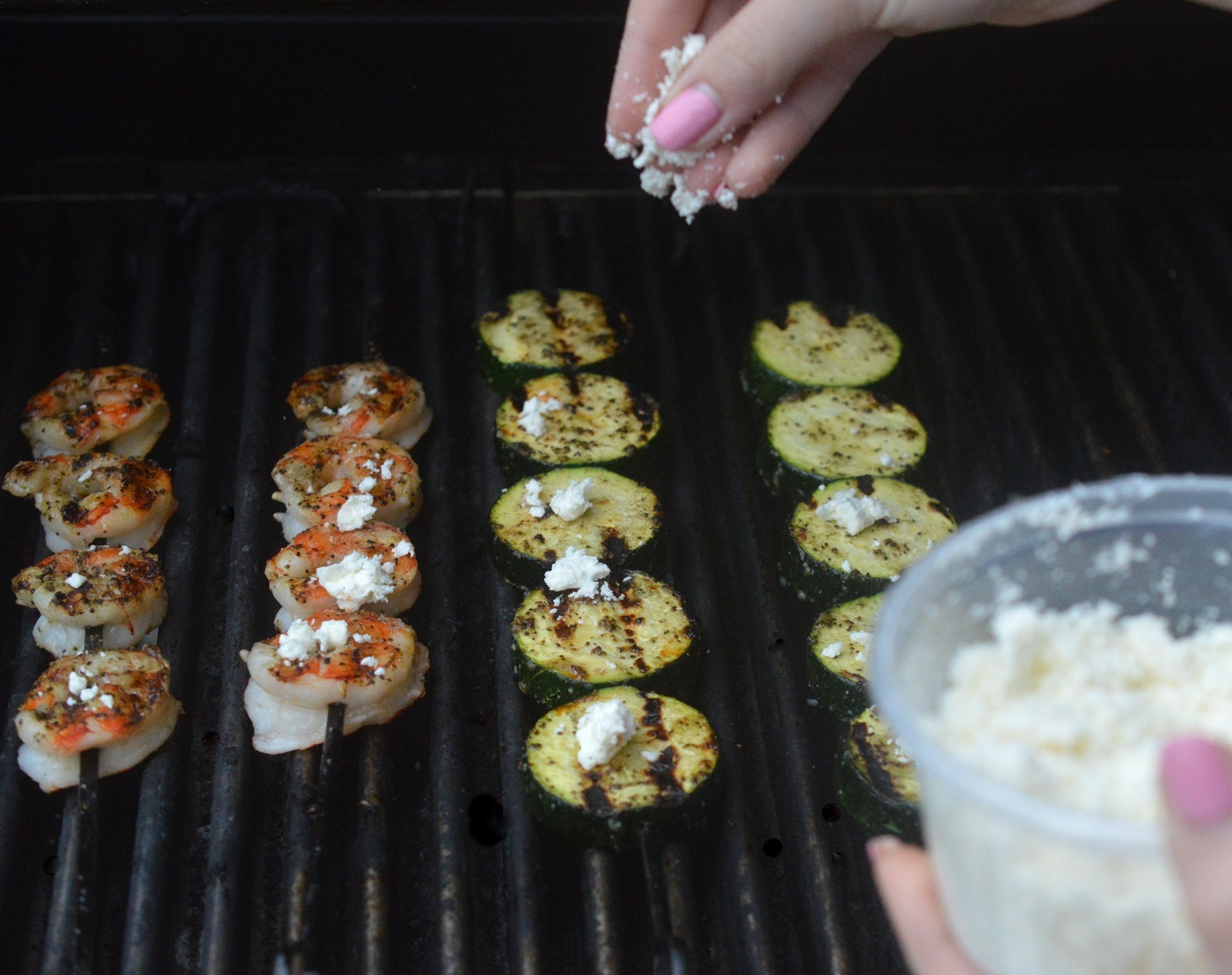 The perfectly seasoned grilled zucchini and shrimp, mingling with the greens loaded with olives, tomatoes, and Feta cheese is a delight of flavors and textures, bite after bite.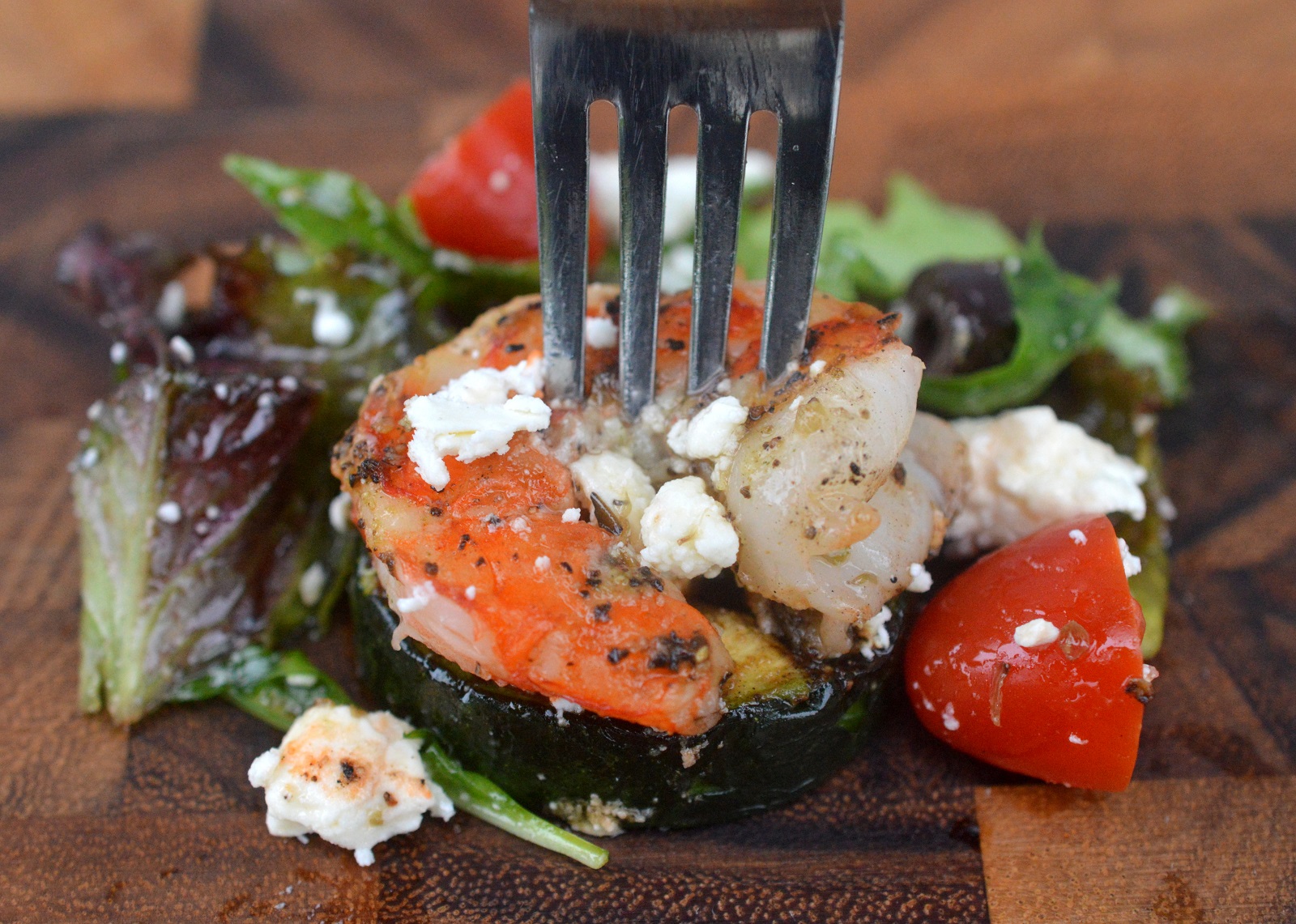 How Do You Make Grilled Greek Zucchini, Shrimp & Feta Cheese Salad?
Making this delicious dish is easy! All you need are some quality ingredients and 30 minutes, or less, of your time. First, skewer the zucchini and shrimp and season them with Greek flavors. I always recommend separating vegetables and meats/seafood onto separate skewers when grilling to ensure an even cook for each. That also allows you to start on the grill with what takes longer to cook and end up with everything being cooked perfectly as well as finishing simultaneously.
While the grill does its job, toss some greens with a homemade or store-bought Greek vinaigrette, along with Kalamata olives, green olives, tomatoes, and Treasure Cave® Feta Cheese. Then, once you pull your skewers off the grill, assemble and serve!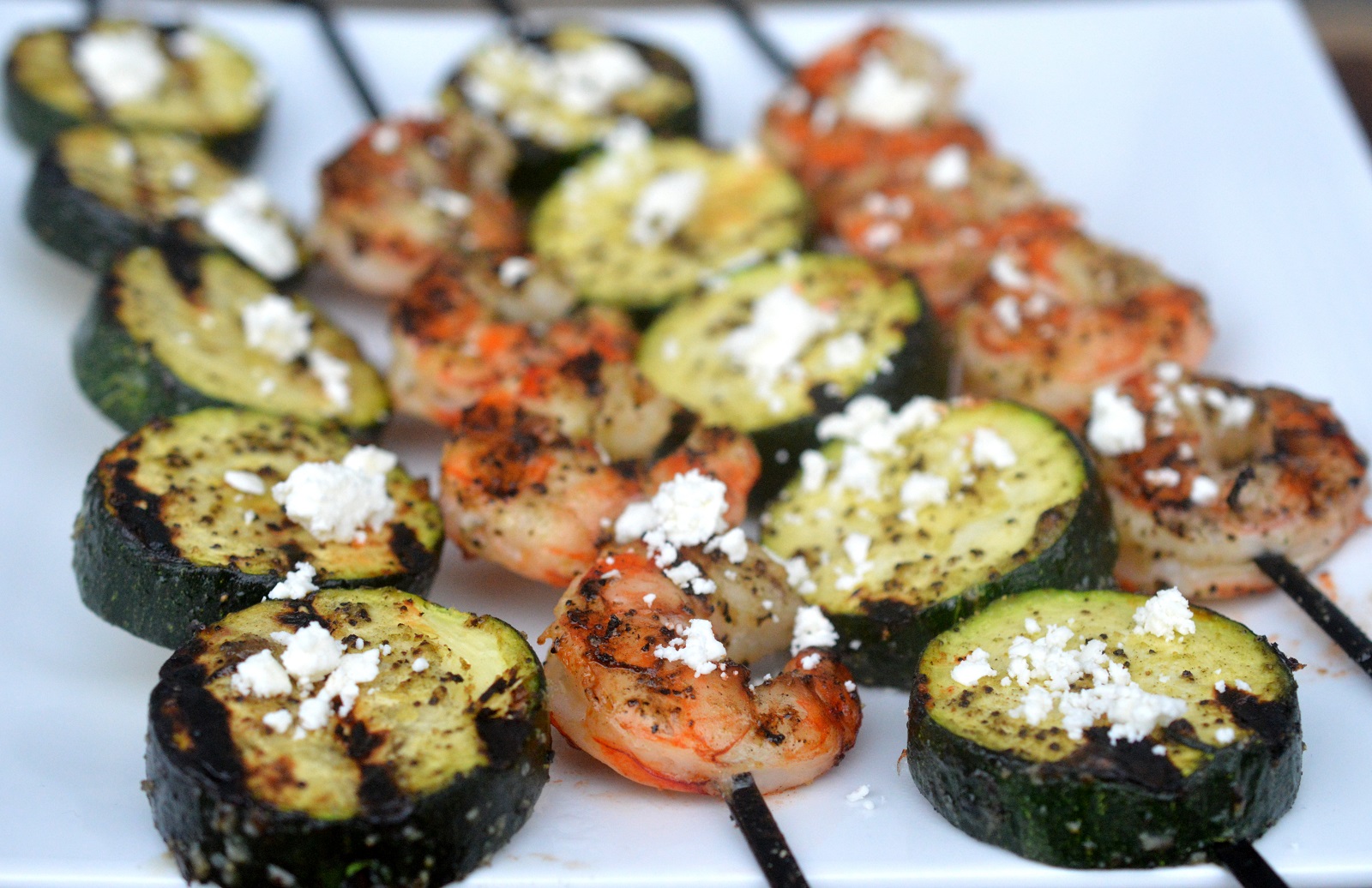 What Variations Can I Make to Grilled Greek Zucchini, Shrimp & Feta Cheese Salad?
You can vary this dish a number of ways. Switch out the shrimp for scallops. Add in just one variety of olives or as many as you wish. Add in whatever additional vegetables you may enjoy (grilled or raw). You can even toss the salad with couscous or orzo. Yum! Make it your own; there are no rules.
How Long Does It Take To Grill Zucchini?
Grilling zucchini doesn't take long. First, slice it into rounds, cut it lengthwise or longer thicker strips, or halve it lengthwise and create grilled zucchini boats. In my opinion, grilled zucchini is best "al dente". You really don't want to cook it until it's soggy. You want it crisp-tender. If choosing to cut into slices or strips, you'll typically end up cooking it about 6-8 minutes (with the grill cover closed), flipping once. It depends on the thickness. Same goes for the zucchini boats. They'll take a little longer; just test them with a fork. You want a little resistance, not hard…not soggy.
How Long Does It Take To Grill Shrimp?
Shrimp cooks fast on the grill or in a pan. You can grill shrimp on skewers, in a grill pan on the grill, or directly on the grill if they are large enough. Cook time varies just a bit depending on the size of the shrimp. When it comes to grilling shrimp on skewers, I typically go for either 21/25 or 16/20. That size typically is done in 5-7 minutes (with the grill cover closed), flipping once.
What Else Can I Use Treasure Cave® Feta Cheese For?
In addition to salads, Treasure Cave® Feta Cheese is a fantastic ingredient for crostini, atop soups, as a part of both hot and cold dips, and atop hummus to name a few. I just made amazing Mediterranean Burgers and used feta both in the burger as well as in the topping (yum!). I also enjoy feta in summer fruit salads, especially watermelon salads. Visit the Treasure Cave® Cheese website for recipes using each of the cheeses they produce. Follow Treasure Cave® Cheese on Facebook & Instagram for inspiration, news, contests and more.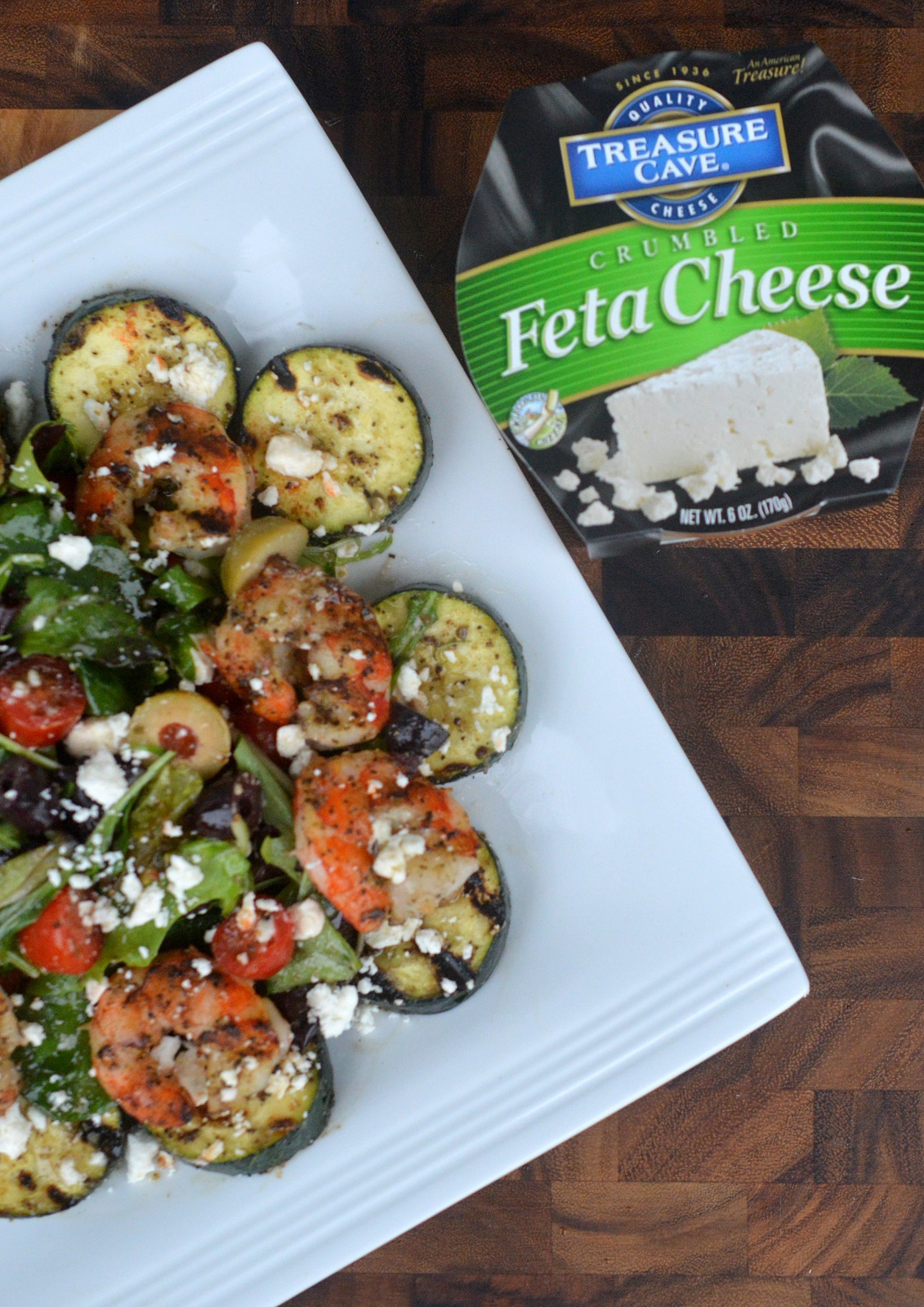 Serve this Grilled Greek Zucchini, Shrimp & Feta Cheese Salad as a stand-alone lunch or dinner, as a first course or appetizer, or as part of a tapas-inspired meal or even a grazing table. It's a total home run of an easy recipe! Hope you love it as much as my family & I did!
If you make this recipe or are inspired by it to make a variation of your own, tag me on Instagram (via Stories or traditional post) at #soufflebombay or @soufflebombay and I will highlight it on my Stories.
Enjoy!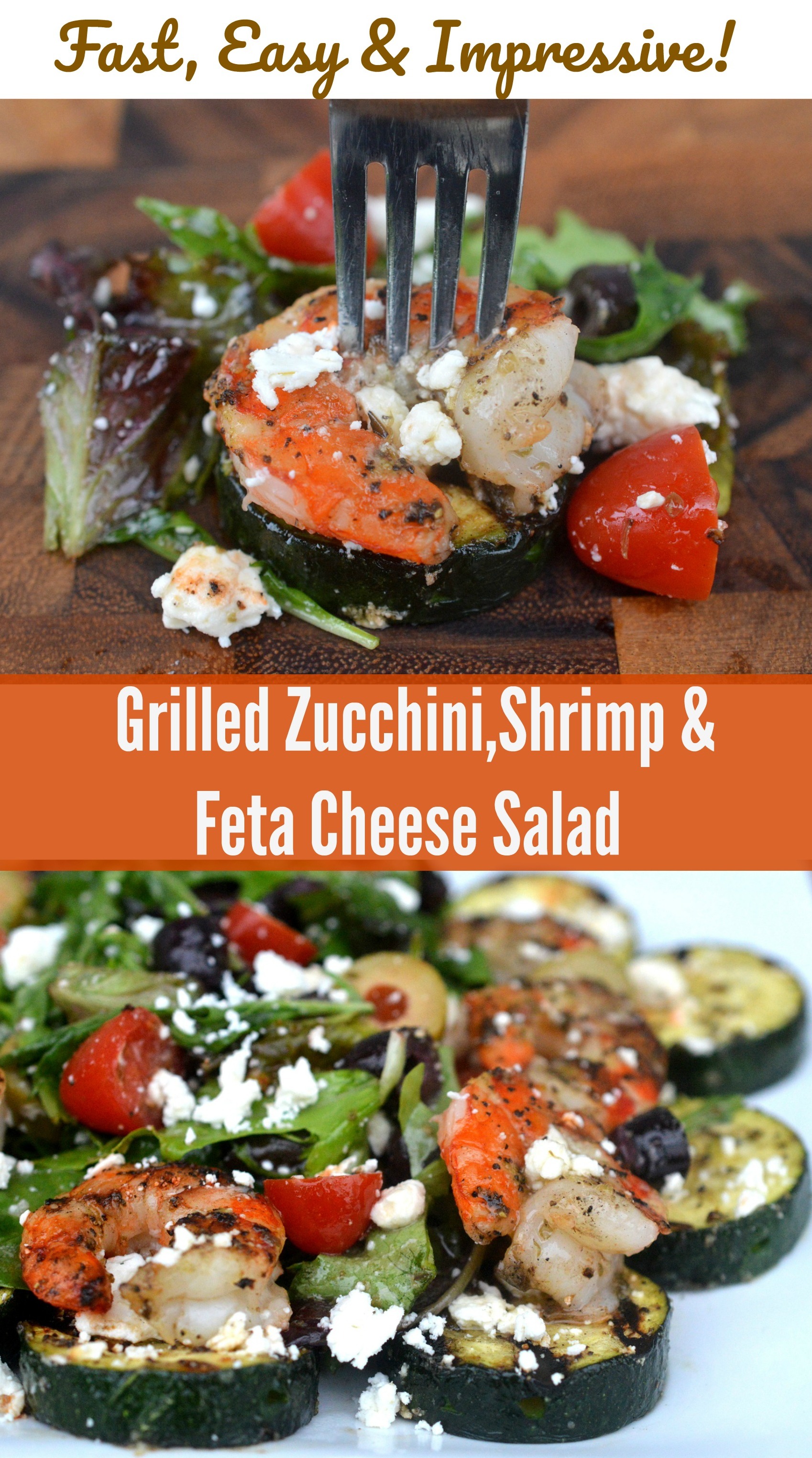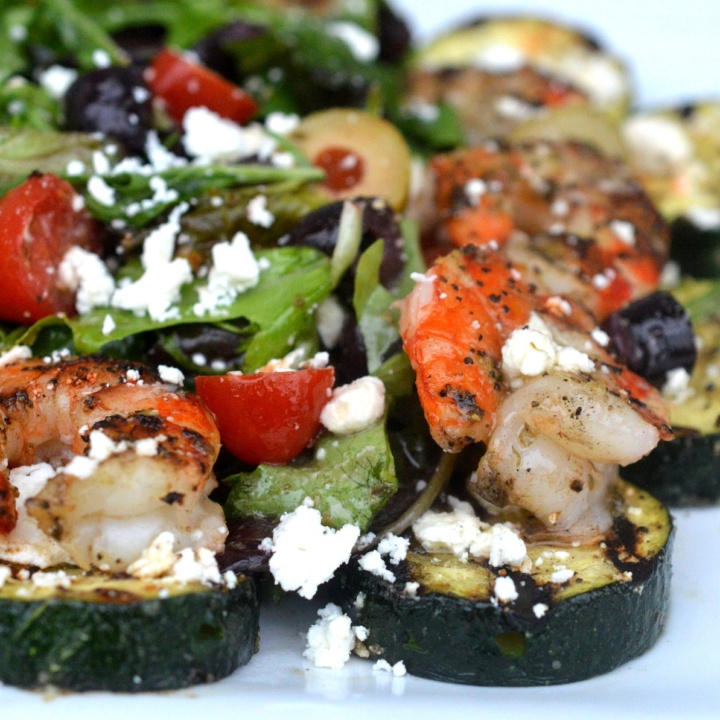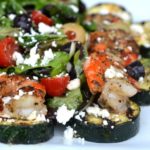 Print Recipe
Grilled Greek Zucchini, Shrimp & Feta Cheese Salad
This amazing but simple Grilled Greek Zucchini, Shrimp & Feta Cheese Salad will wow your guests. Serve as an appetizer, salad or main course.
Ingredients
1/4

cup

of grapeseed or olive oil

1

clove

garlic minced or 1 TBS garlic paste

2

TBS

Greek seasoning

divided (see notes)

1/2

pound

of large shrimp

raw (21-25 count)

1

large zucchini or 2 smaller ones

5

cups

of Salad greens

1/2

cup

Kalamata olives

halved

1/2

cup

green olives

halved or cut into thirds

1/2

cup

grape tomatoes

halved

1

cup

crumbled Treasure Cave Feta cheese

divided
Instructions
In a bowl combine oil, garlic and 1 TBS of the Greek seasoning and mix until incorporated (you can also use a strongly flavored Greek salad dressing for this).

Oil 4-5 metal skewers.

Peel your shrimp, removing the tails and skewer 5-6 per skewer (don't "mash" them together, just allow the shrimp to touch).

Wash zucchini, cut into 1/2 inch or a little thicker rounds and skewer each zucchini so they are flat.

Pour about 1 1/2- 2 TBS of your oil mixture into a small ramekin and use that to brush your shrimp and your zucchini liberally on both sides. If you used Greek seasoning to make the mixture, shake a bit additional onto the shrimp and zucchini.

Clean & oil your grill and then heat to high. Place zucchini on first and grill for 3 minutes. Place shrimp on the grill.

Turn Zucchini over after its been on the grill 4 minutes total. Shrimp should take about 6-8 minutes total to cook (turning once halfway). Zucchini should take 7-9 minutes to cook. Cook time will depend on the size and thickness of your shrimp/zucchini), so eyeball them closely.

Toss your greens, olives, tomatoes and 3/4 cup of the feta with your remaining oil mixture/dressing 9or as much you enjoy).

With a minute to go on the grill, sprinkle 1/4 cup of Treasure Cave Feta Cheese onto your zucchini and shrimp, close the lid for 60 seconds, then remove.

Choose to place skewers as they are atop the greens or arrange them similar to what I did in the photos and enjoy!
Nutrition
Calories:
303
kcal
|
Carbohydrates:
10
g
|
Protein:
18
g
|
Fat:
23
g
|
Saturated Fat:
7
g
|
Cholesterol:
144
mg
|
Sodium:
800
mg
|
Fiber:
2
g
|
Sugar:
3
g