Grills across the country are cleaned, oiled and ready to go for spring and summer nights and weekends! How about adding this Grilled Potato Salad With Bacon & Jalapenos to your menu?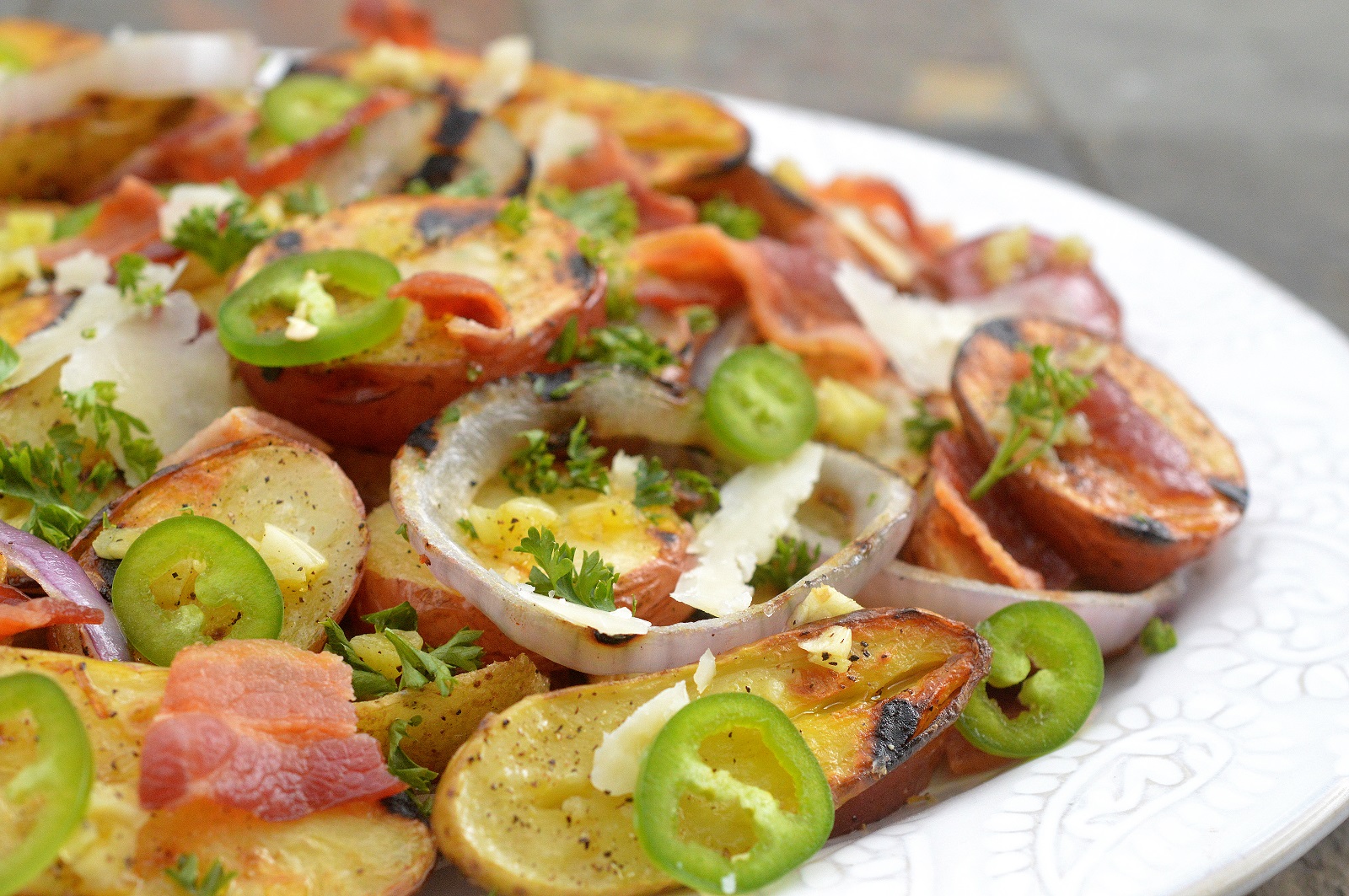 Potato salad is an iconic American dish. It shows up at BBQ's, baby showers and everywhere in-between.  I teamed up with Side Delights for a fun, flavorful and healthy #PotatoSaladRedux. So with that in mind I gave potato salad a fresh & healthy update...Grab a fork and dig into my Grilled Potato Salad with Bacon & Jalapenos!
Don't be shy...go back for seconds!!
This Grilled Potato Salad will hold up in the summer heat. No mayonnaise to worry about...and BONUS!! No need to scrub your potatoes, or heat a pot of water, or turn on the oven if you use Side Delights! Side Delights Steamables are triple washed and ready to be steamed in your microwave. No mess, no stress and no wasted water. Love that!
Look how clean they were straight out of the bag, red potatoes can be dirty so this was great.  I happen to be a fan of leaving skins on potatoes. No its not because I am lazy, lol! I like the texture and the extra nutrients found in skins are great!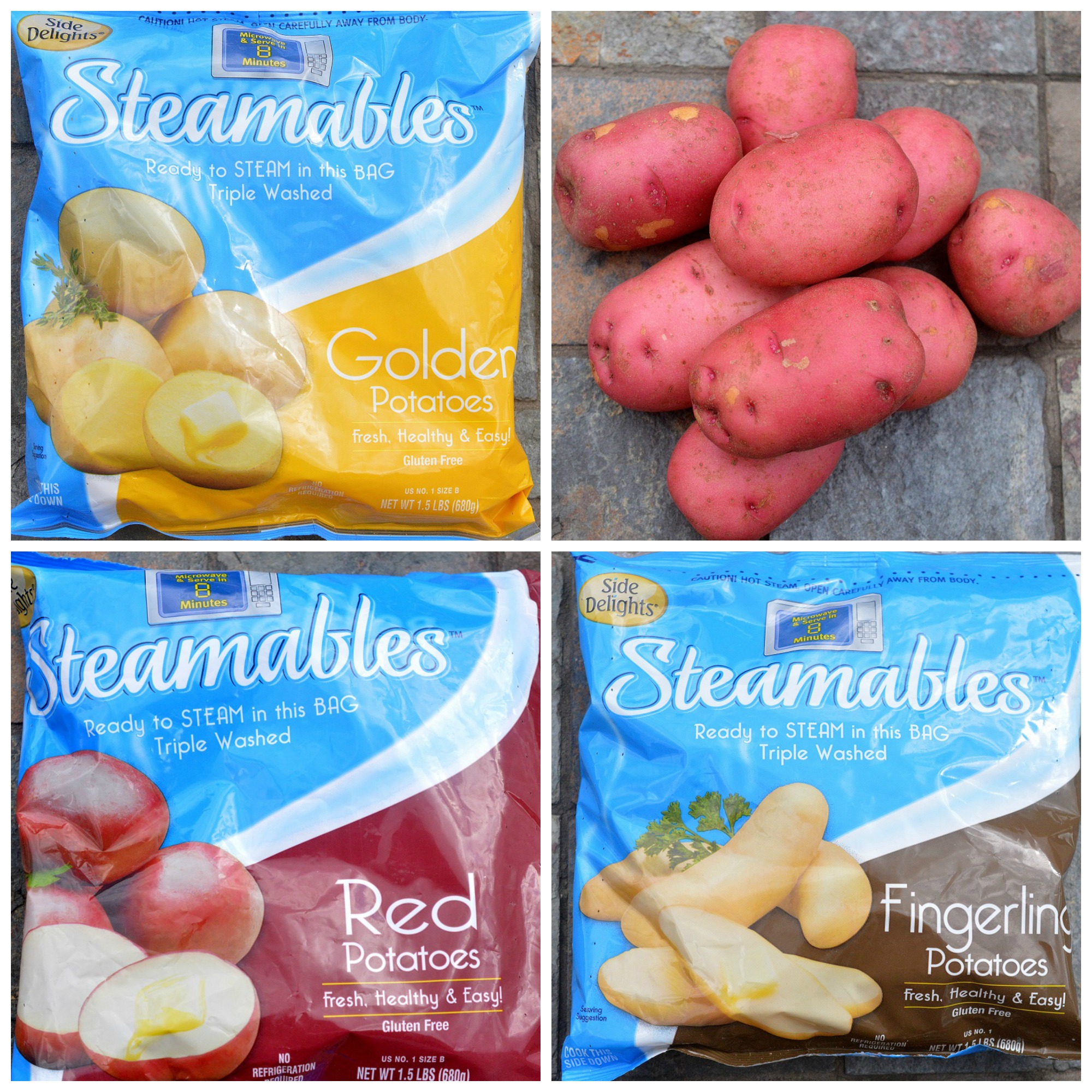 A platter of Grilled Potato Salad with Bacon & Jalapenos makes for a colorful, pretty addition to any meal or BBQ. Use whatever potatoes you enjoy. If they happen to be Side Delights, your prep time is cut down significantly (as is the heat generated in your kitchen).
Potatoes, Sauteed or grilled red or sweet onions, a simple and flavorful garlic oil, thin slices of jalapeno, fresh shaved Parmesan, herbs and bacon...gotta have some bacon...make for a fantastic and easy side dish. It looks impressive.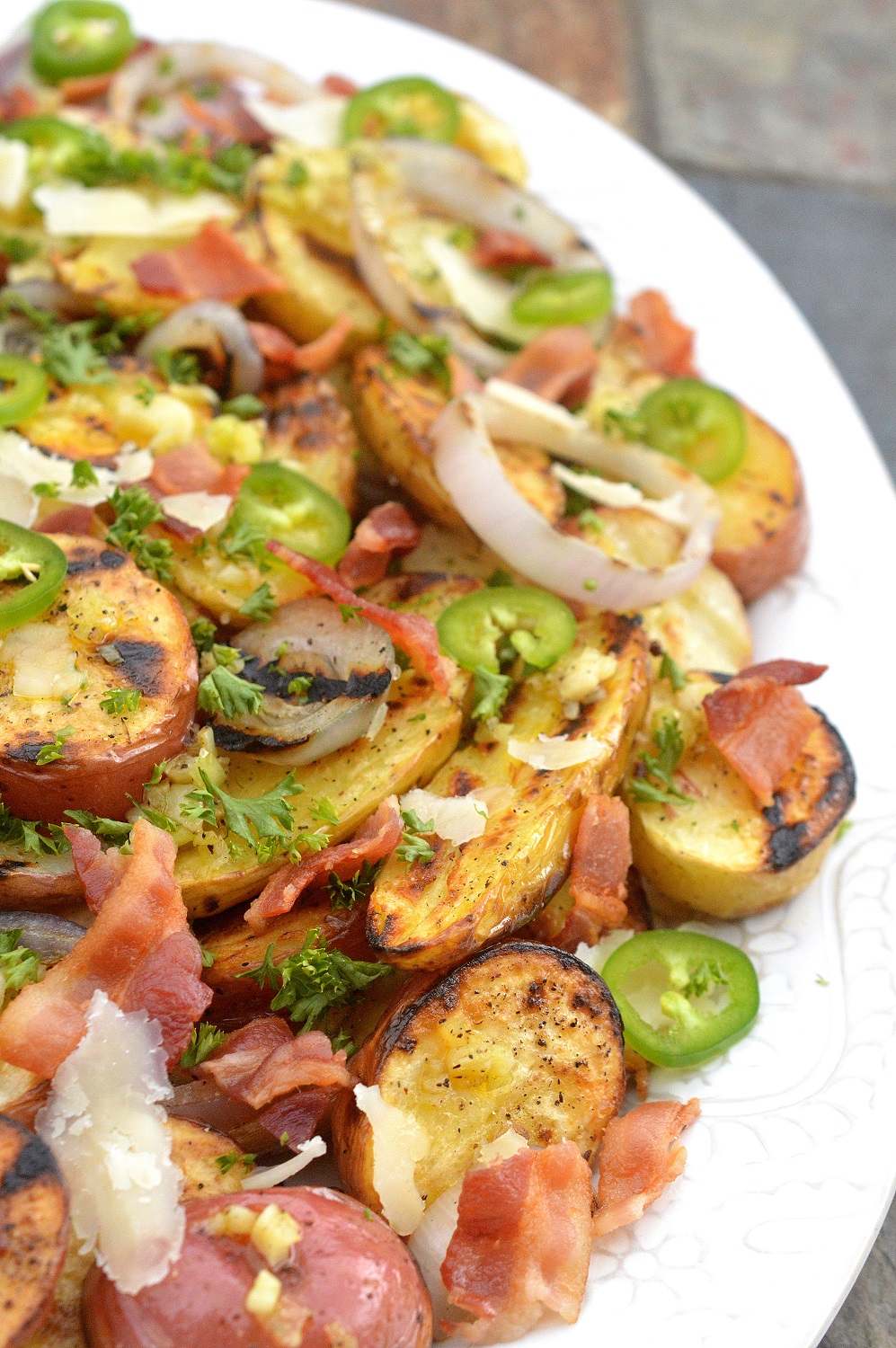 Years ago when Ree Drummond was a new-ish blogger and she first had her Tasty Kitchen site up, part of every members profile asked the question "favorite food". It was then I realized that (what seemed like) half of America listed their favorite food as...potatoes! I can not argue that! Potatoes are so versatile. Soups, salads, mashed, fried, breakfast or dinner...Potatoes shine!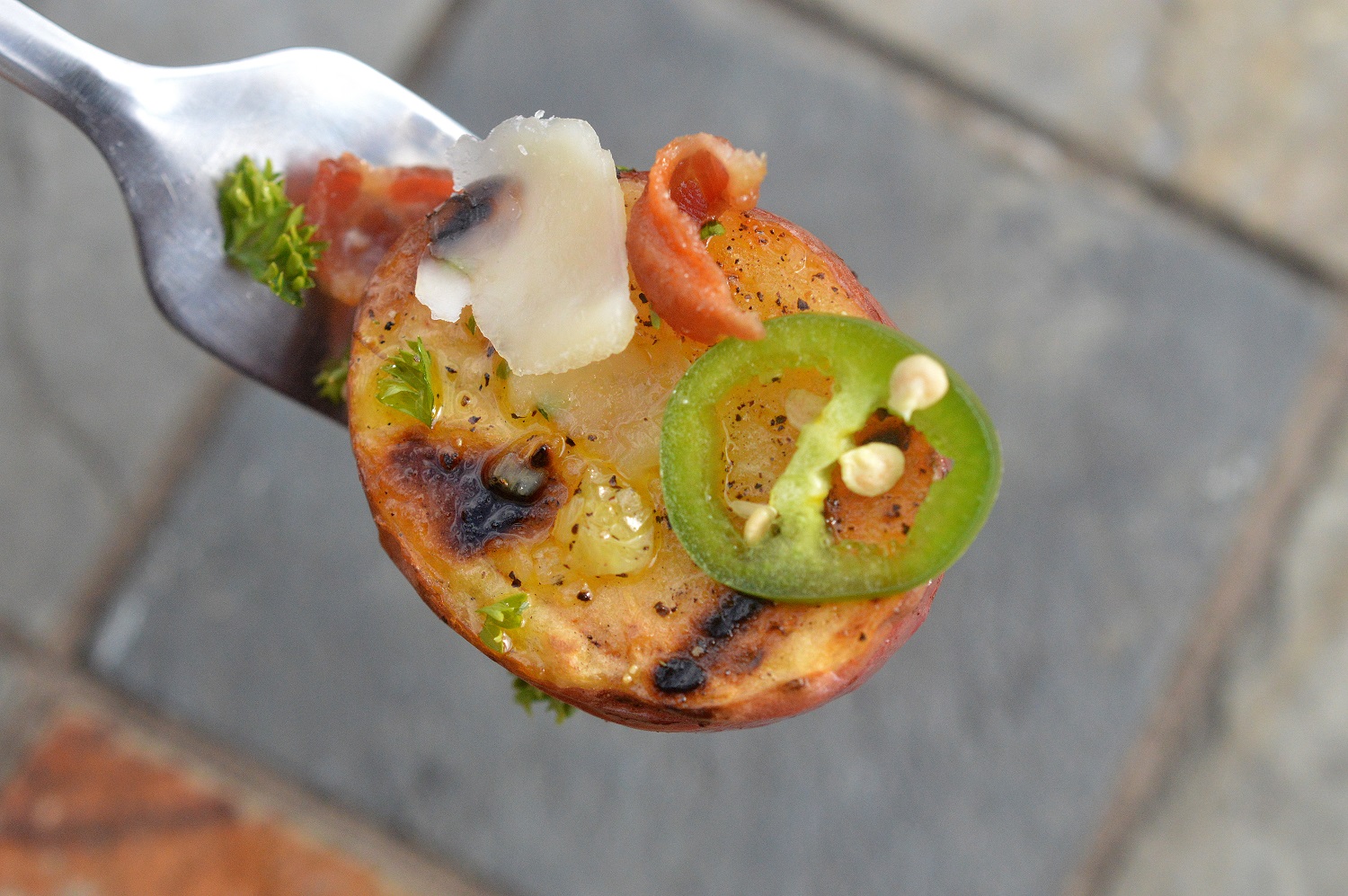 I hope you try out both my Grilled Potato Salad with Bacon and Jalapenos, and Side Delights Steamables. You will not be disappointed with either! Tag me on social media if you make this on Instagram or Facebook @soufflebombay or #soufflebombay I'd love to see your take on this!
Look for other Food Bloggers recipes by following the #PotatoSaladRedux on social media! 
For recipes, specials, new products and more, follow Side Delights on Facebook.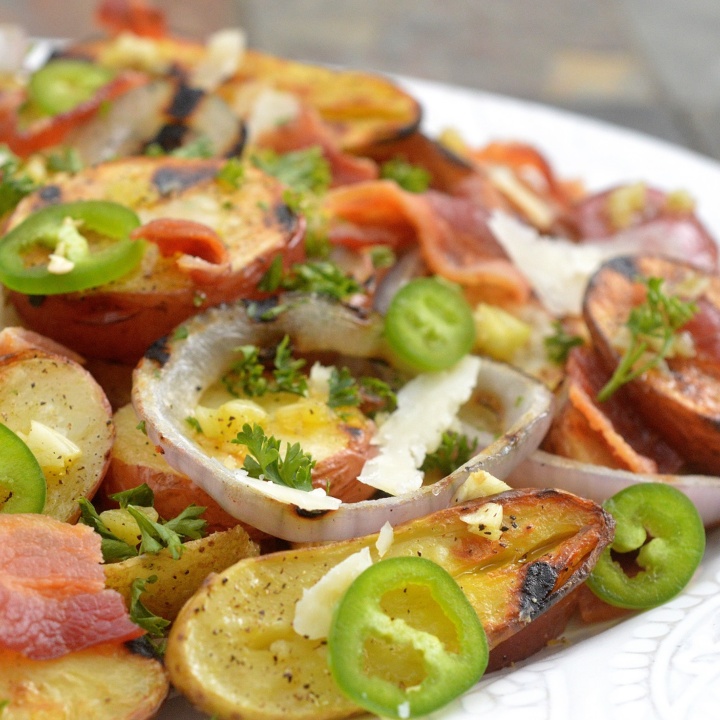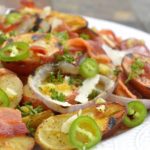 Print Recipe
Grilled Potato Salad with Bacon and Jalapenos
Ingredients
2

pounds

potatoes

1 -2

large red or Vidialia onions

1

cup

grapeseed or olive oil

4-5

big cloves garlic

minced

Kosher salt & black pepper

2

jalapenos

8

slices

crispy bacon

Wedge of Parmesan cheese

Fresh Parsley
Instructions
Combine oil, garlic, salt & pepper Season it to your liking) in a mason jar and allow it to "steep" for 30 minutes to an hour.

Microwave your Steamables or scrubbed potatoes for 3-4 minutes in your microwave.

You want them to be partially cooked, not soft by any means, just not rock hard.

Allow them to cool a bit and then slice into rounds, placing them on a baking sheet as you do.

Slice your onion(s) into halves, thick slices or chunks (all depends on your choice of potato, I used fingerling and red for mine) and do the same.

Brush both potatoes and onions with your garlic oil, and then sprinkle with some additional salt and pepper (you can add smokey Paprika as well if you like).

Grill potatoes and onions, turning once (with tongs or a spatula and (brushing with the oil before you turn) until done.

Remove from grill, brush with more oil and assemble salad by adding in (layering or placing on a platter) the jalapenos, bacon Parmesan and parsley (don't be shy with those...go big!). Drizzle the remaining oil over-top (as much as you might enjoy), sprinkle with seasoning and enjoy warm or at room temperature.