Boil them, mash them, stick them in a stew! No matter how you want to cook them, potatoes are scrumptious and nutritious! Have you ever made Oven Smashed Potatoes with Garlic, Parmesan and Rosemary? If not, run and grab some potatoes!
I love a perfectly baked potato with butter salt, pepper, and bacon (bacon!!).
Mashed potatoes are delicious too, especially Brown Butter and Scallion Mashed Potatoes which I first saw in a Bon Appetit Magazine a billion years ago and immediately had to make (I was NOT disappointed, mmmm).
However, something about Crispy Smashed Potatoes hits all the notes I crave. These Oven Smashed Potatoes with Garlic and Rosemary are buttery, flavorful, part fluffy and part crispy. I have no shame in saying I can eat just this and call it a meal!
I'm half Irish which means loving the humble potato is in my DNA! I am totally happy to eat potatoes in one way or another every single day!
A simple search on my site will prove that true. I've got recipes for my "famous" Mashed Potatoe Pie, Loaded Potato Nachos, Homemade Sour Cream & Onion Potato Chips, Leftover Mashed Potatoes being used for Skillet Potatoes, Grilled Potato Salad with Jalapenos & Bacon, Pulled Pork Potato Nachos, Sweet Potato Hummus and many more!
What Kind Of Potato Do I Use When Making Smashed Potatoes?
You really can choose to use any kind of potato when making smashed potatoes. Choose mini potatoes, small potatoes or medium potatoes. In this photo I used Golden Potatoes, however, you can use red (new) potatoes, Yukon, even fingerling potatoes can work here.
Sweet potatoes can be used however for those I would change up the flavor profile...I may do a post on them soon if anyone is curious. I also keep meaning to try this with purple potatoes.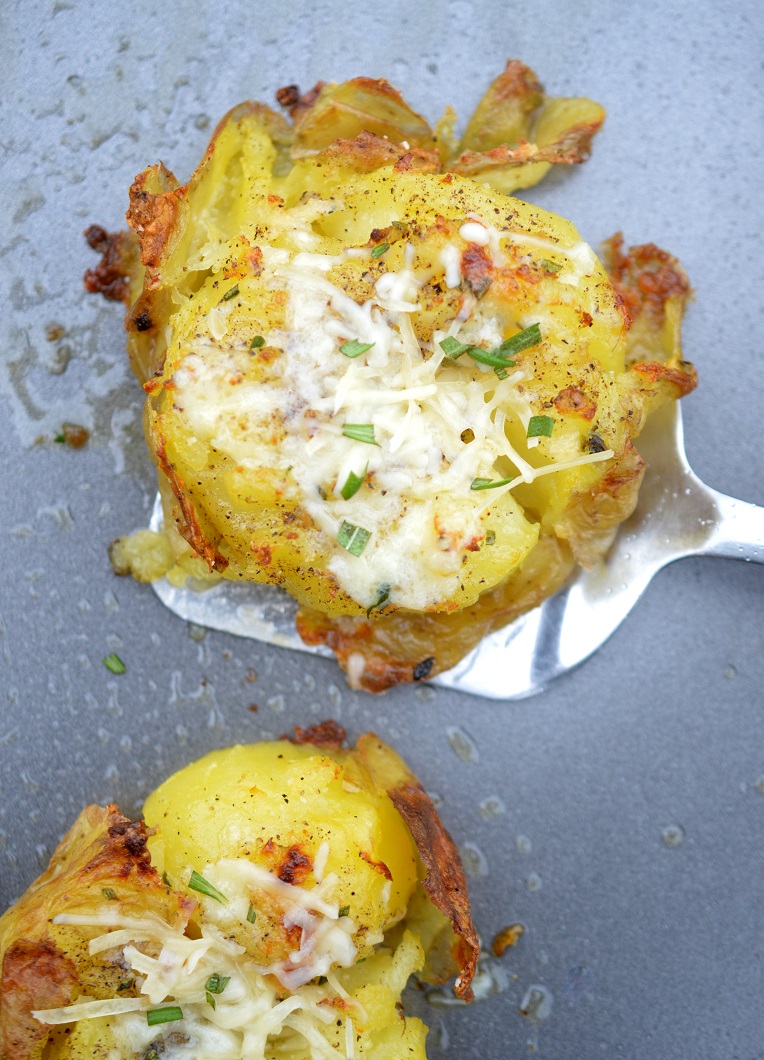 Ingredients
potatoes (red, russet, Yukon or your favorite potato) either small potatoes or full size
butter
garlic paste
parmesan cheese
rosemary, salt and pepper
Instructions
All you need to do is boil, drain, smash, season, baste and bake.
Making Smashed Potatoes with Garlic and Rosemary is easy! I like to top these with a healthy pinch of shredded Parmesan cheese then pop them back in the oven just long enough to melt.
What Do I Top Oven Smashed Potatoes With?
Choose to keep your smashed potatoes simple like these Smashed Potatoes with Garlic and Rosemary or you can take them wherever you want them to go. Make them cheesy or top with ingredients like bacon, sour cream, fresh herbs, chives, scallions, etc.
If you can get your hands on Raclette cheese. THAT would be an amazing topping! Invite me over!!
I actually think mini smashed potatoes are a fun addition to a cheese board or charcuterie board. Why not??
Can I Reheat Leftover Smashed Potatoes?
Yes, they do reheat well. You may choose to brush them again with a little garlic butter and toss on a sprinkle of fresh herbs and cheese.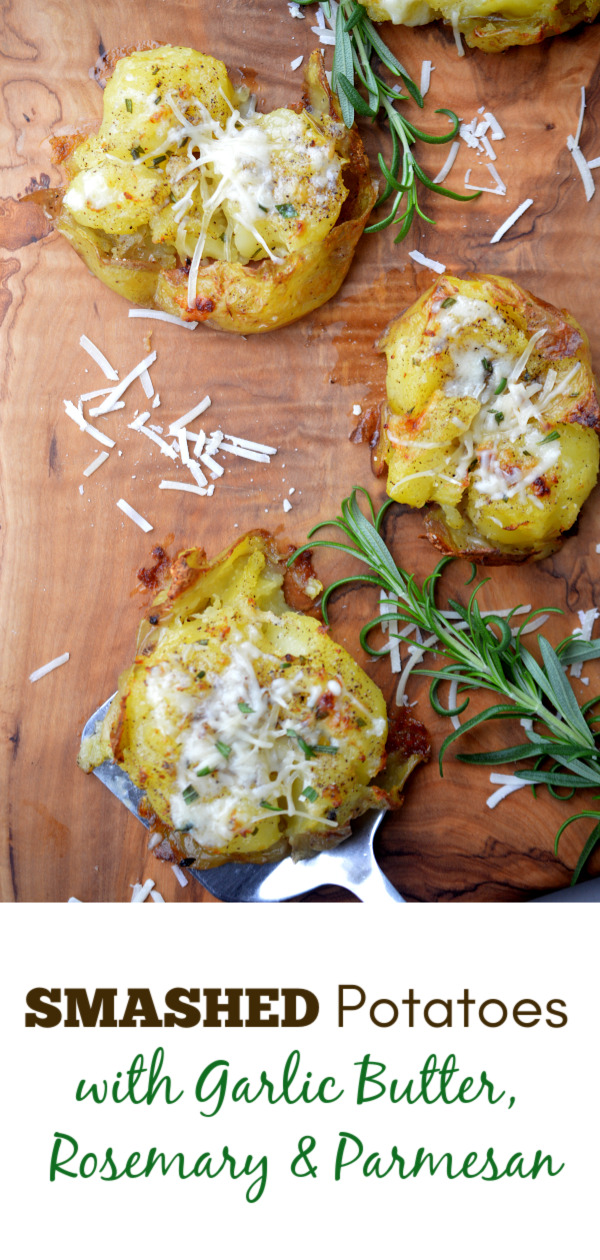 I HOPE you try making these luscious Smashed Potatoes with Garlic and Rosemary!
Recipes to try
Enjoy!!
Recipe originally published November 2018. Updated March 2023.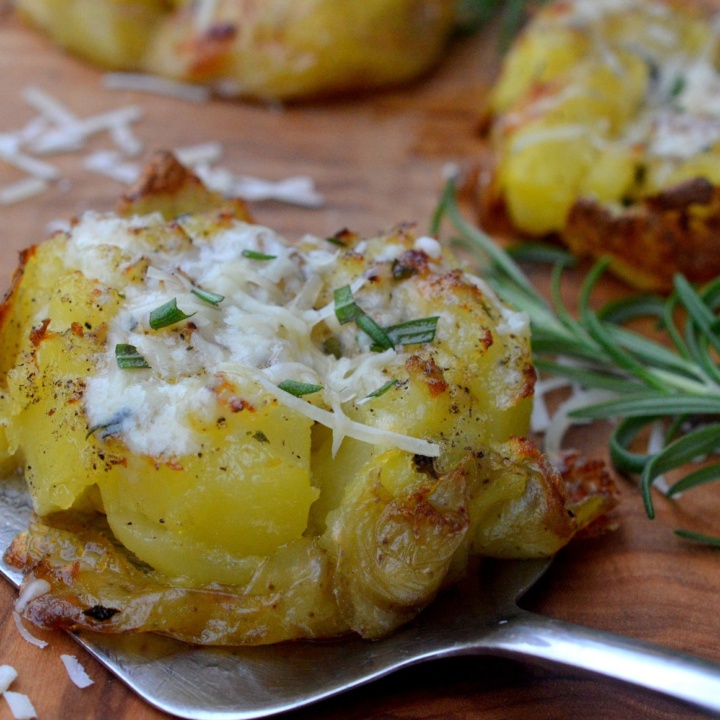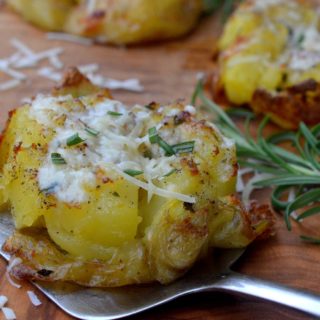 Smashed Potatoes with Garlic & Rosemary
Oven Smashed Potatoes with Garlic & Rosemary are fluffy, crisp and all around amazing! Enjoy as a meal, side dish or as part of a charcuterie board or tapas night!
Ingredients
6

medium/small potatoes

see notes

4

TBS

melted butter

1 ½

TBS

garlic paste or 2 large cloves of garlic minced

Salt & pepper

Fresh Rosemary

Parmesan cheese
Instructions
Boil potatoes for 15-20 minutes or until fork-tender. Depending on the size potato you use.

Preheat oven to 425 degrees.

Once the potatoes are done, run them under cool water, strain them and then allow them to sit on a baking sheet for a few minutes to dry.

Combine melted butter and garlic in a small ramekin or bowl.

Lightly oil baking sheet.

Using a potato masher or the bottom of a wide flat cup or metal measuring cup, press down on each potato, splitting them open and mashing them down a bit. There is no wrong or right, keep them a little high or mash them down further. If you go crazy and press too hard, simply push it back together (like play-dough).

Season each smashed potato with salt and pepper and then brush each potato liberally with the garlic butter. Season again and sprinkle with chopped Rosemary.

Bake at 425 for 15-20 minutes or until crisped to your liking. To speed things along, you could also broil for 3-5 minutes.

Once done, you can choose to brush with additional garlic butter.

Top each potato with a 4-fingered pinch of shredded Parmesan and place back in your still warm oven just until cheese mostly melts and enjoy!

You can also choose additional toppings like crumbled bacon, sour cream, Thyme, Sriracha salt, etc.
Notes
You can use small potatoes, mini potatoes or medium potatoes for this. Your choice. You just need to adjust the cooking time up or down when boiling.
You can choose to use grapeseed, avocado or olive oil instead of butter, however, butter makes these so crispy and delicious!
Nutrition information will vary based on size and type of potatoes used.
Nutrition
Serving:
3
servings
Calories:
443
kcal
Carbohydrates:
70
g
Protein:
9
g
Fat:
16
g
Saturated Fat:
10
g
Polyunsaturated Fat:
1
g
Monounsaturated Fat:
4
g
Trans Fat:
1
g
Cholesterol:
40
mg
Sodium:
198
mg
Potassium:
1973
mg
Fiber:
7
g
Sugar:
6
g
Vitamin A:
497
IU
Vitamin C:
39
mg
Calcium:
61
mg
Iron:
3
mg
Follow me on Tik Tok for 1 minute videos