One of my favorite parts of the holiday season is the traditions and rituals that I/we have built up over the years. Of course quite a few of them involve food and one of them is this super-easy, different & festive Nantucket Pie aka Cranberry Pie!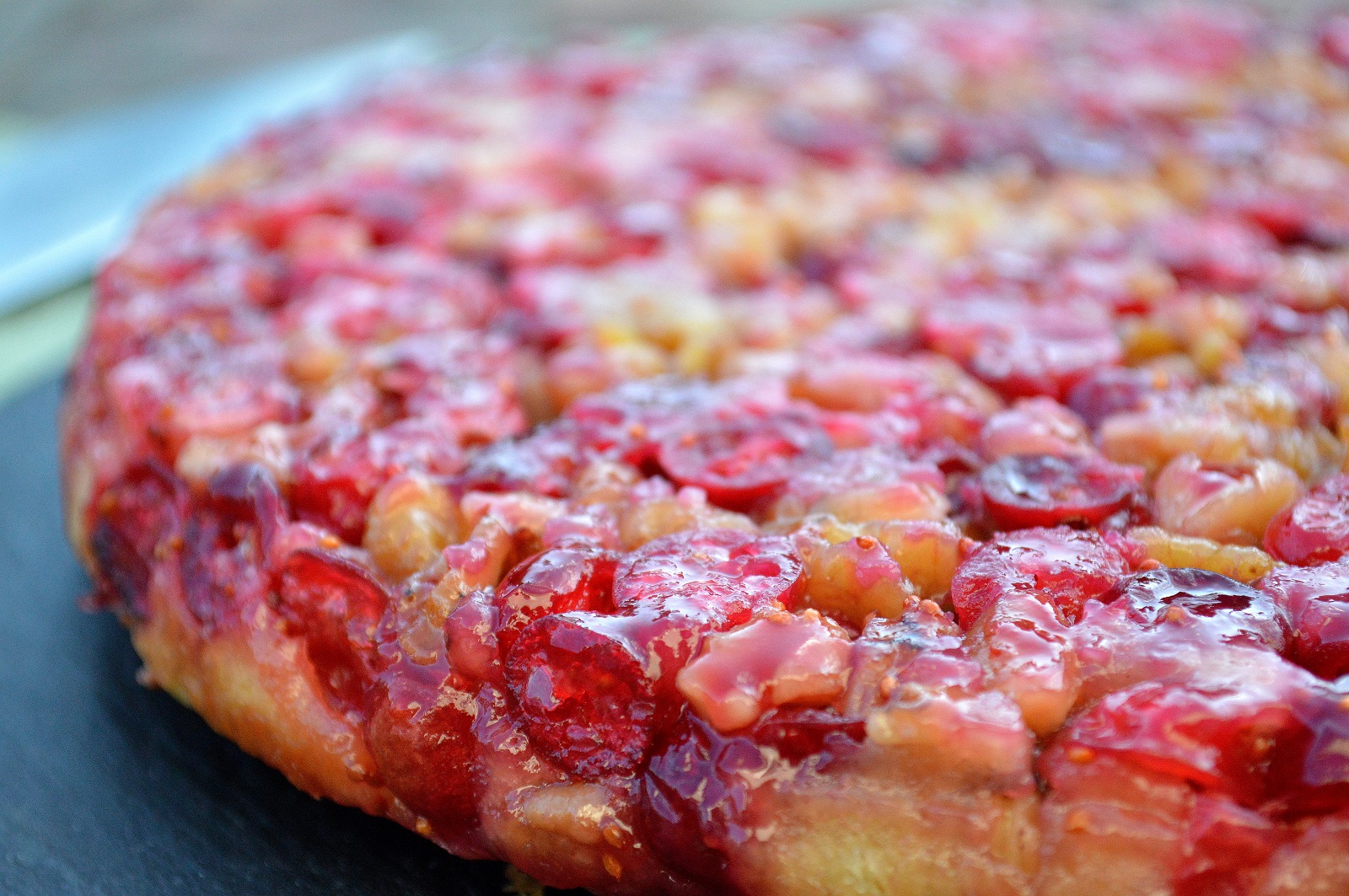 Are you a planner when it comes to holiday baking and cooking or do you wing it? Me? I make lists. Lists for what I want to make, when I want to make it, who I want to make things for, and then a list for the ingredients I need.
I ask each person in my family what they want and what they want to make (because in my opinion, there is no better time than the holidays to get your kids cooking and comfortable in the kitchen, plus it's fun and it's memories in the making!). Then I get to shopping.
What Is Nantucket Pie?
Nantucket Pie is a vintage New England recipe which is basically a simple sponge cake loaded with fresh cranberries and walnuts made like an upside-down cake. After all the Pilgrims were settled up that way first, right...So it makes sense that this came out of that area. I imagine it dates back a while.
However certainly not to the Pilgrims era. Nantucket Pie aka Cranberry Pie is in fact not a pie at all. It's actually a cake. It's so simple to make and it highlights fresh cranberries. Honestly, everyone I know that has tried this "pie" wants the recipe. It's just one of those things. The taste is unique and it's just such a perfect recipe for fall, Thanksgiving and Christmas.
Why Is This The Best Thanksgiving or Christmas Dessert Recipe?
Whether you call it Nantucket Pie or Cranberry Pie, I feel that this dessert is incredibly easy to make which turns out perfect again and again and again! It's just SO pretty and festive! Everyone becomes smitten with it! Include this on your Thanksgiving or Christmas dessert table!
If you make this, it will become a regular Christmas & Thanksgiving dessert
Tips
You can only use fresh cranberries for this, dried will not work, sorry!
Yes! Halve the cranberries. Trust me it goes fast and it allows the sugar to mingle better and counter the natural tartness of the berry.
In my opinion walnuts work best. You can swap out for rough chopped pecans if walnuts are an issue.
Using a springform pan (8 or 9 inch) works best. Trust me I have made this over 100 times, lol! You can use a pie plate, its just trickier getting it out. You may try using a round of parchment paper (I have not) that should do the trick.
If you have a 10 inch springform pan, increase the batter (cake) ingredients by 50%
If you have a nut allergy issue, you can leave the nuts out completely. You lose the amazing texture difference between the nuts and the cranberries, however its still delicious and festive. Just increase the cranberries to 2 ½ cups and up the sugar you toss them with by a TBS.
How Do I Make Cranberry Pie?
When I came across this recipe decades ago, it was not written as a recipe but rather as a story with the ingredients mentioned. I was so pleasantly surprised when I made it.
It's just 6 ingredients. Like I said its simple but the result spectacular! First, you halve the cranberries then toss them and the walnuts in sugar and add that to the pan. Next, you make the sponge cake, pour that over the berries, bake and then once it cools slightly, flip it out and enjoy once it's cooled.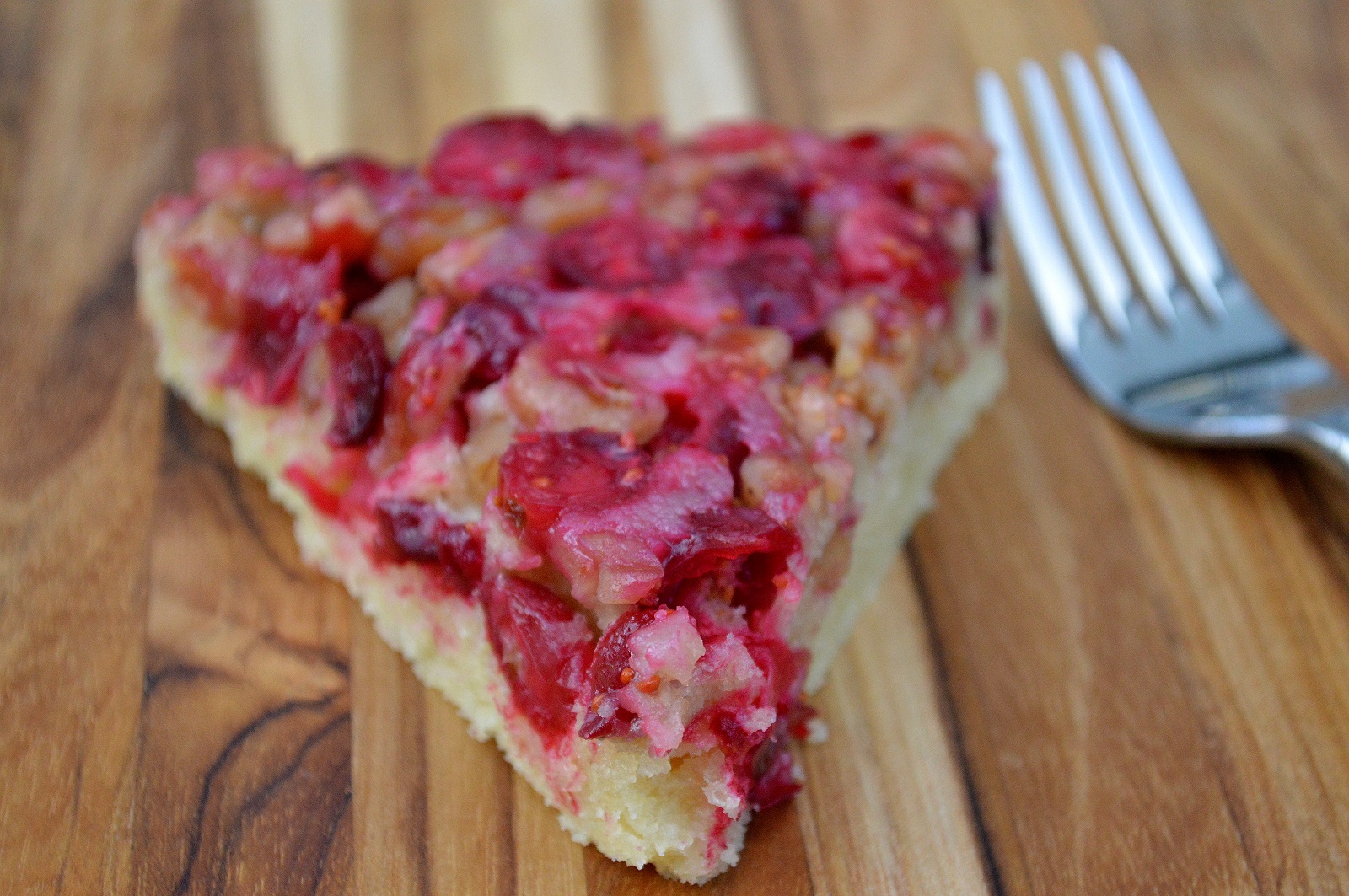 I have been making this Cranberry Pie recipe (also known as Nantucket Pie) since I was about 22 (more than half my life!!). I vividly remember reading a story in Gourmet Magazine (November 1993) back then about the holidays in New England and in the story sitting there in the middle of a paragraph was Nantucket Pie.
No real recipe format was given, it was part of the story. I highlighted it and made it as soon as I saw the first bag of cranberries pop up that season. I was like a kid on Christmas day waiting in anticipation for it to come out of the oven!
Ever since I have been making it and am "know' for it. I have made this Cranberry Pie for friends, family, and neighbors. It's traveled to Connecticut and New York. Once someone has a slice they find me and ask for the recipe, lol! It's one of the most requested recipes from people in my circle of life and I love it!
This recipe first appeared on this website back in November 2009 just after I began my food blog. It actually appears twice on here. Once back them as mini's and this one as one "pie".
I have seen it pop up on the internet since I first posted it however, people seem to leave it upside-down…They don't flip it as what I read way back then indicated you do. Why would you hide that beautiful color?
And yes...I KNOW it's not an actual pie 🙂
If you are on TIKTOK, check out the 1 minute video for this dessert , here. Find me as Colleen's Cooking on that platform.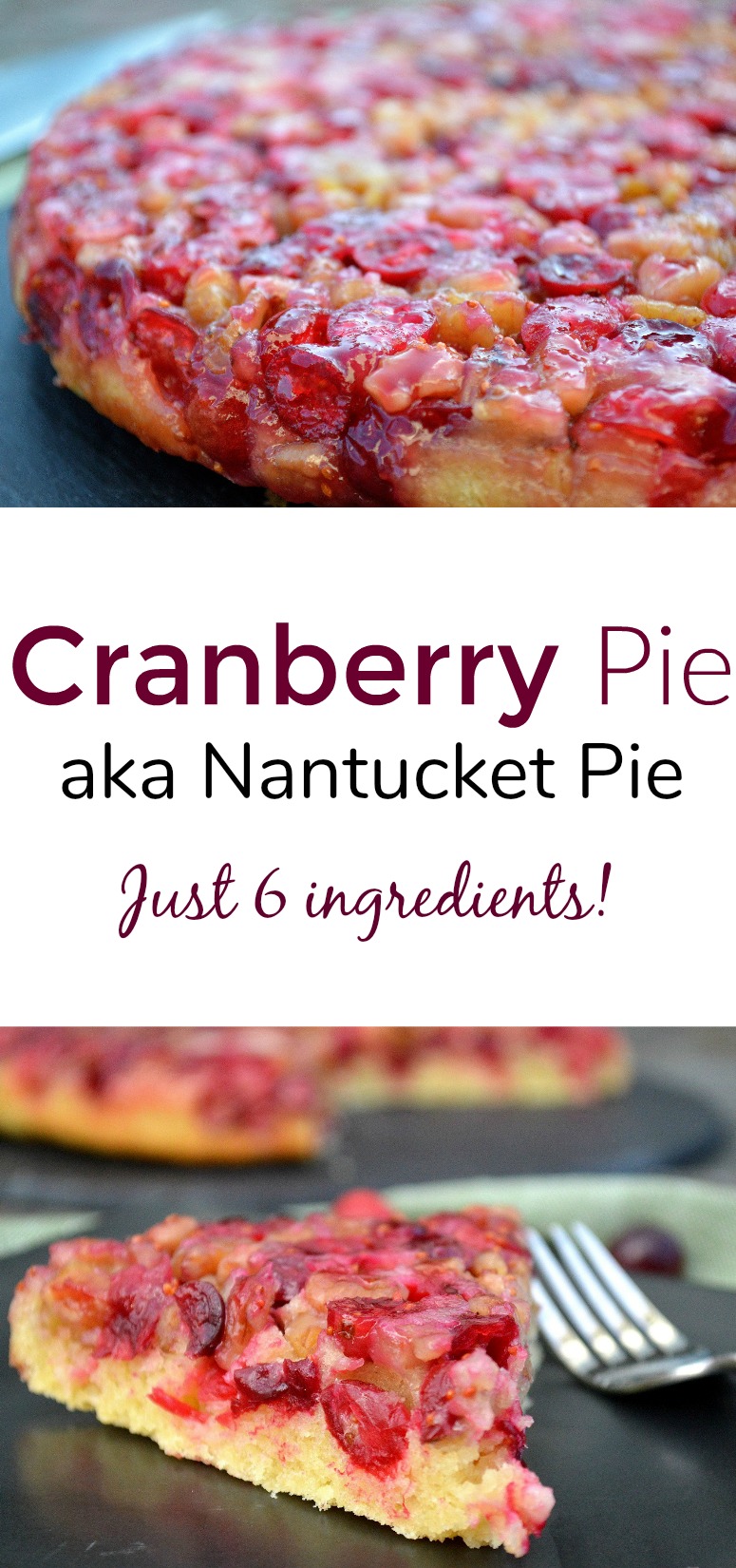 This Thanksgiving & Christmas dessert recipe is SO pretty and just 6 ingredients!!
You can choose to up the cranberries to 2 ½ cups and add in an extra TBS of sugar if you want to omit nuts if there is an allergy issue (like my kids) all-together OR you can swap the walnuts for rough chopped pecans.
If you make this you just have to show me a pic on Instagram, Twitter or Facebook! Tag me at @SouffleBombay, it would make me happy to see more Cranberry Pie / Nantucket Pie out there!
If you enjoy cranberries, you may want to check out my Cranberry Soda Bread. Simple to make...just grab some butter and tea and dig into a warm slice fresh from the oven! OR if you want to check out another unusual BUT amazing Thanksgiving dessert, you need to try The Original Pumpkin Pie, trust me!!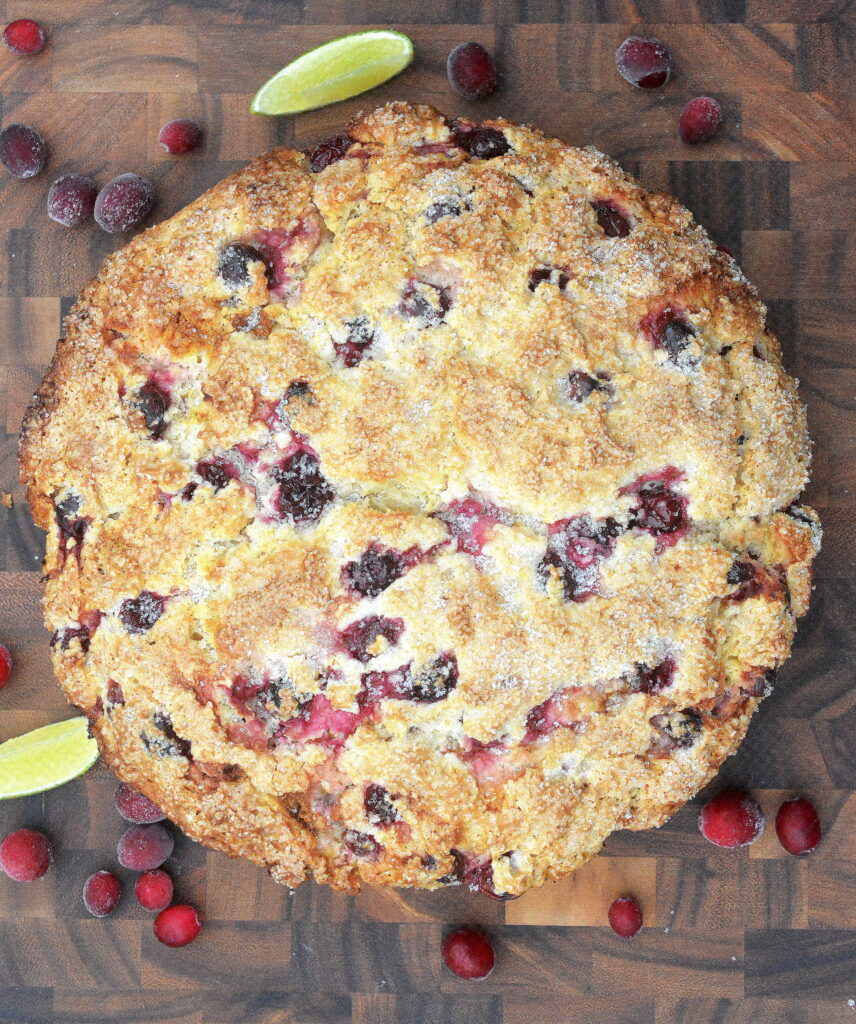 You may also enjoy
If you are looking for an simple holiday appetizer using cranberries (dried in this case), check our my Holiday Goat Cheese Appetizer! So pretty and festive and only takes 10 minutes or less to make!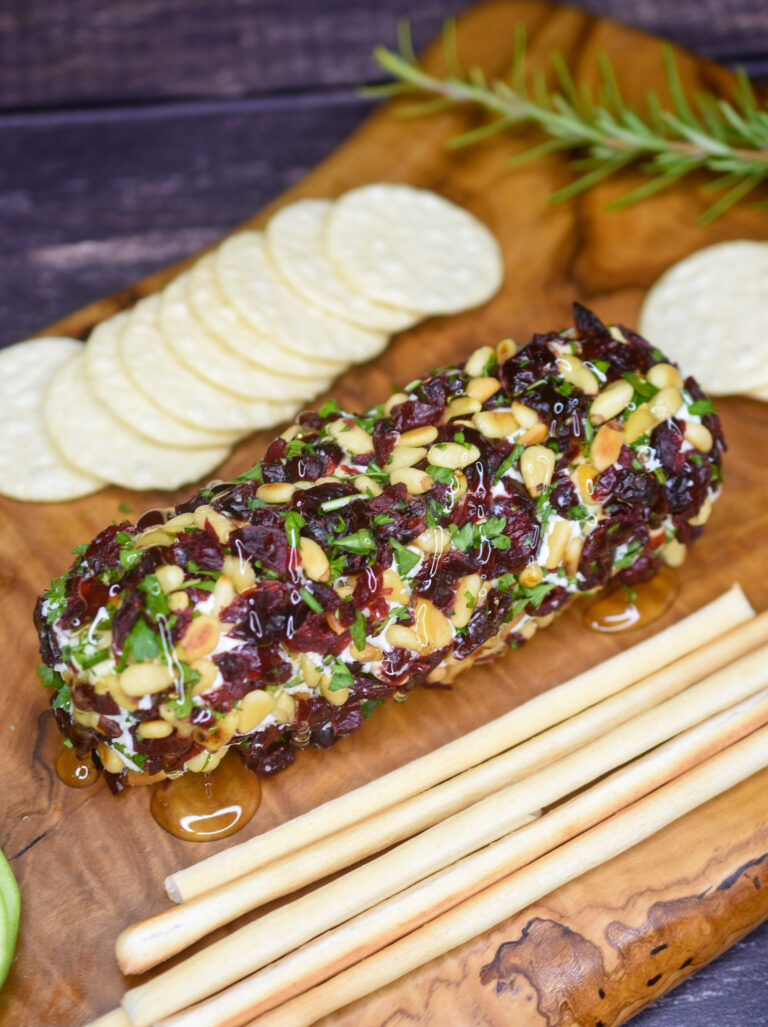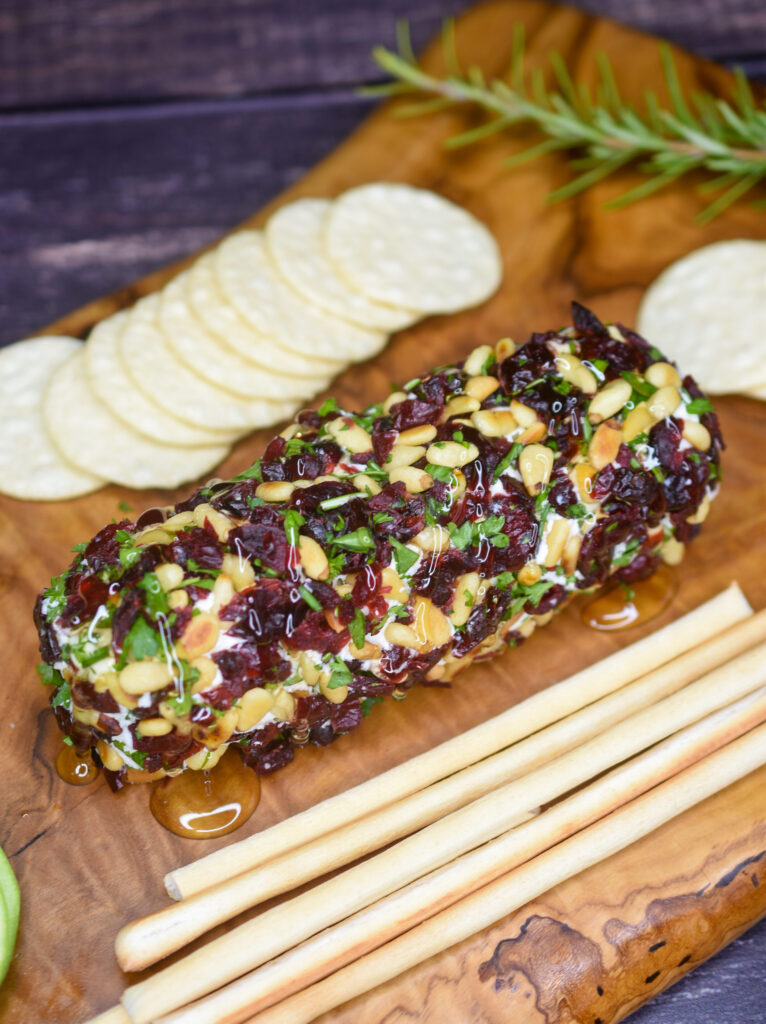 Updated November 18, 2021 First posted on 11/7/2009 HERE. This particular post was originally posted November, 2019. Updated 11/18/2021 with tips.
Happy Thanksgiving!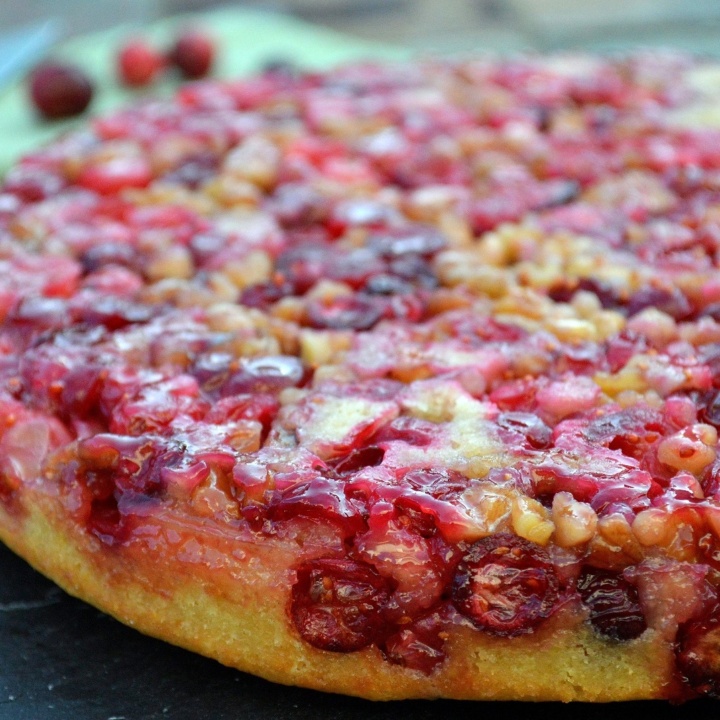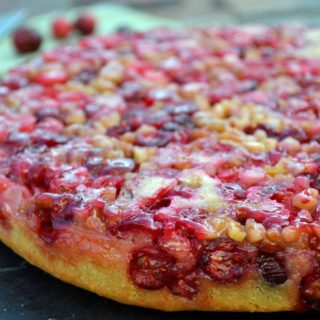 Cranberry Pie aka Nantucket Pie
The BEST and most festive Thanksgiving and Christmas dessert! Plus its just 6 ingredients to make!
Ingredients
Topping

2

cups

of halved fresh cranberries

½

cup

chopped walnuts

½

cup

sugar

Cake

2

large eggs

¾

cup

butter

melted and cooled

¾

cup

sugar

1

cup

flour
Instructions
Preheat oven to 350 degrees

Grease a springform pan (you really do need a springform (cheesecake) pan for this. An 8 or 9 inch work best.

In a medium bowl combine cranberries, walnuts and ½ cup of sugar. Toss well.

Pour mixture directly into your well-greased spring form pan.

Spread evenly and pat down a bit.

In a medium bowl, combine butter sugar and eggs. Mix until smooth add the flour. Mix until smooth.

Batter is thick, spread batter gently over the cranberry/walnut mixture until all areas are covered. With a spatula and your fingers.

Place springform pan on a parchment paper lined baking sheet (to catch drips…trust me) and bake for 30-35 minutes.

Once removed from the oven let it sit for 15 minutes. Then ever so gently go around the perimeter of the pan with a butter knife, gently breaking the connection of the pie and the pan. Slowly, release the side of the pan and remove the ring.

Let the pie sit for another minute. Then gently invert onto a plate. As you slowly begin to remove the bottom of the pan from the top of the pie use a butter knife to guide the topping away from the pan, if necessary, Newer pans just come right off no problem (be sure to grease your pan really well with an oil spray). If you want more of a thicker cakey-feel you can always the increase the batter ingredients by 50%, which I have done, however, this original way is how I like it best. I love the crispy edges that result from the sugar and cranberry juice!

Cool and serve.
Notes
This keeps well and can certainly be made a day ahead. It will hold up for days as well, I just have a thing about making baked goods as fresh as I can.
Nutrition
Serving:
9
g
Calories:
363
kcal
Carbohydrates:
41
g
Protein:
5
g
Fat:
21
g
Saturated Fat:
10
g
Cholesterol:
82
mg
Sodium:
125
mg
Fiber:
2
g
Sugar:
29
g
Follow me on Tik Tok for 1 minute videos