Enjoy Irish Soda Bread? Or maybe you are not a fan of ISB since you are not into raisins? If so, you are in for a treat via my Cranberry Soda Bread!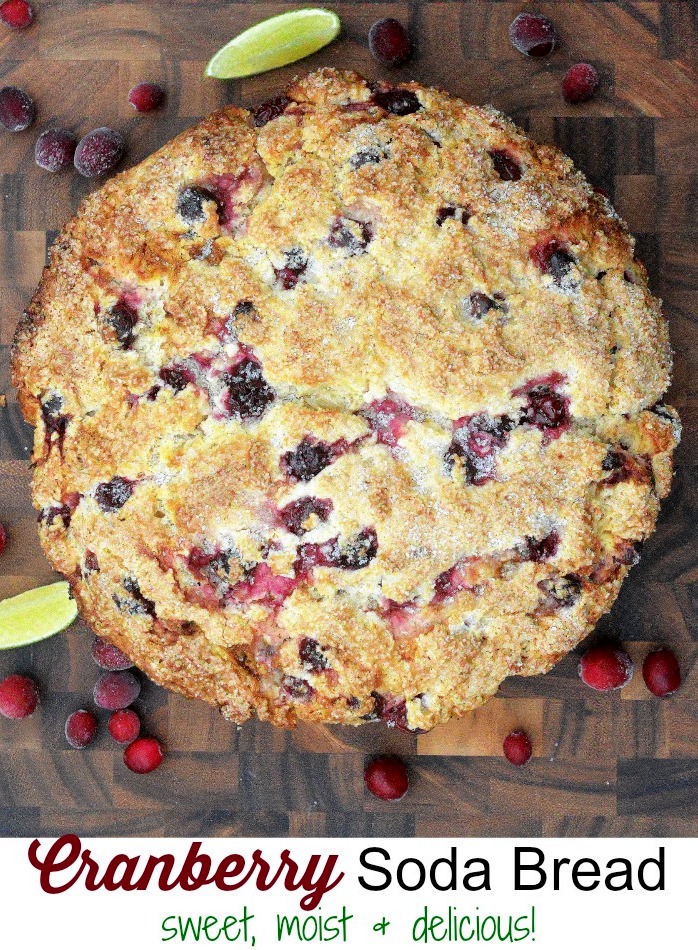 With the holidays approaching, I thought it would be appropriate to adapt my Irish Soda Bread into something festive for Christmas. So I decided to see what it would be like if I added fresh cranberries and lime. For extra fun, I am entering it into a holiday contest Cape Cod Select Premium Frozen Cranberries is holding.
I have to say that the Cape Cod Premium Frozen Cranberries did not disappoint. In fact, I was super impressed! The quality and size of their cranberries were nicer than any I have pulled from the bags I typically purchase from the produce section at the supermarket. This was the first time I have ever used a frozen cranberry. It will not be the last, especially since I can get fresh cranberries all year long now that I know about Cape Cod!
I also want to share that typically, when I work with fresh cranberries, I go through them and some need to have pieces of stem removed and some are so soft I throw them away. Neither was the case with Cape Cod Select, impressive!
Frozen just after they are harvested, cleaned and sorted…these cranberries are just beautiful! I have always wanted to visit a cranberry bog learn about how they grow and watch a harvest, I think that would be really cool!
Not only did it work, this Cranberry Soda Bread is delicious as it is pretty!
Think food gift, Christmas breakfast or brunch or just because. Yum!!
My recipe for Cranberry Soda Bread is moist, and sweet. Nothing dry about it. The cranberries give a nice burst of tart flavor. I literally stood in my kitchen, all alone and took bite after bite from the huge piece I had cut. I was making noises as I took bites, lol!
Can you see the moistness of the "cake-like bread here compared to a typical Irish Soda Bread??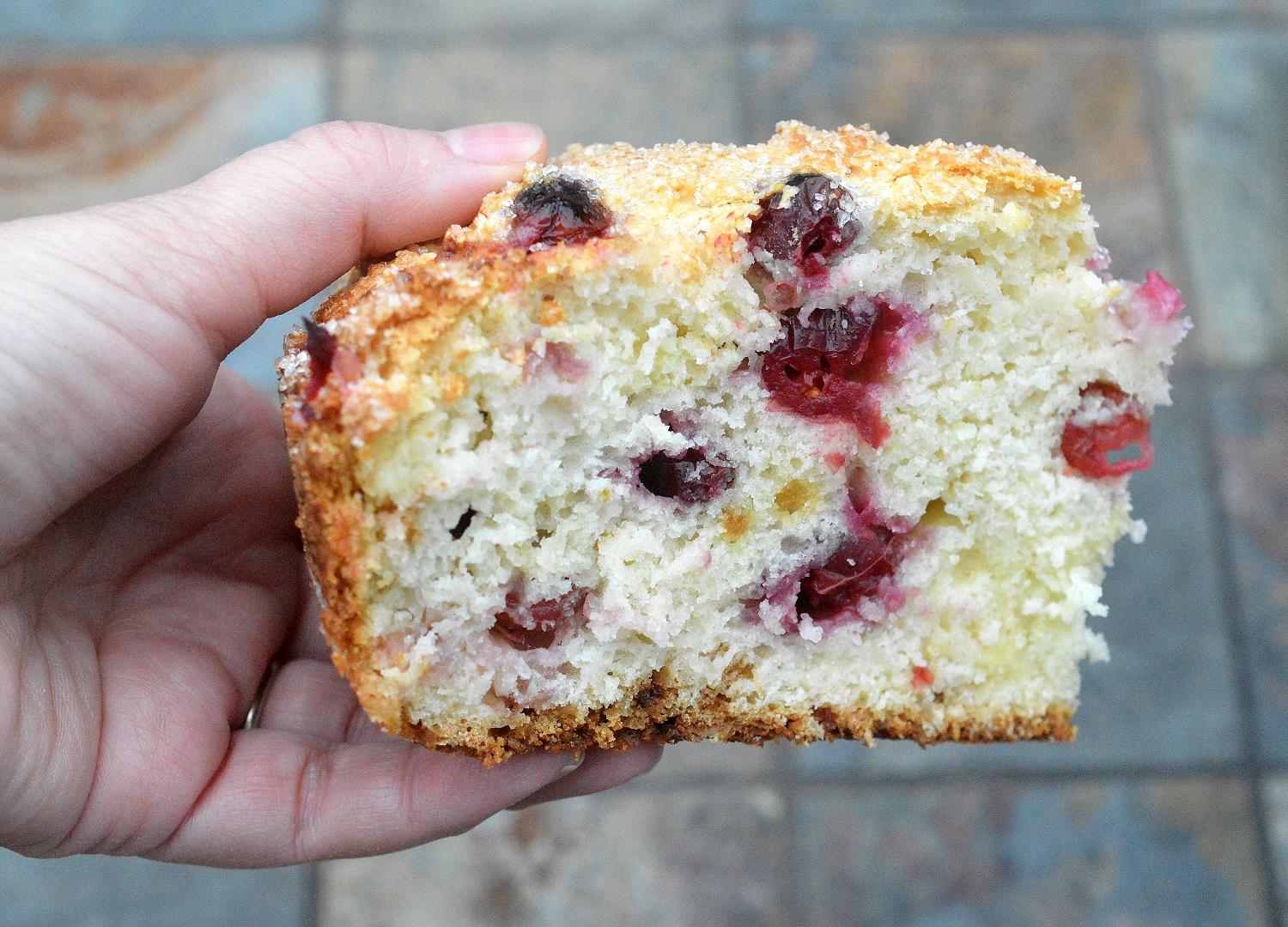 All alone in my house I was like, mmmmm, omnmnmn, mmrrrffffhh, ummmppfhhh. When I realized what I was doing, I started cracking up!
This bread is best warm in my opinion, like typical Irish Soda Bread. I mean it is good any time BUT hot-out-of-the-oven…you will be making happy-food-noises too, lol!
You can plop the dough in your pan and bake it where you go…That is what I would do if I could….OR you can bake it up at home, place it on a pretty plate and package it up in a food bag ties with a festive ribbon. Your recipient can eat it at room temperature or they can heat slices up.
You can bake this as one large loaf or make two smaller ones (it really makes a big loaf!). If you don't enjoy the nice tartness of a cranberries, you can half the cranberries and toss them with 1/4 cup of sugar before adding them to the batter.
Here is the link to my original Irish Soda Bread, for when you want to enjoy that. I would put my version up against anyones. The TODAY Show even covered it 2 years ago 🙂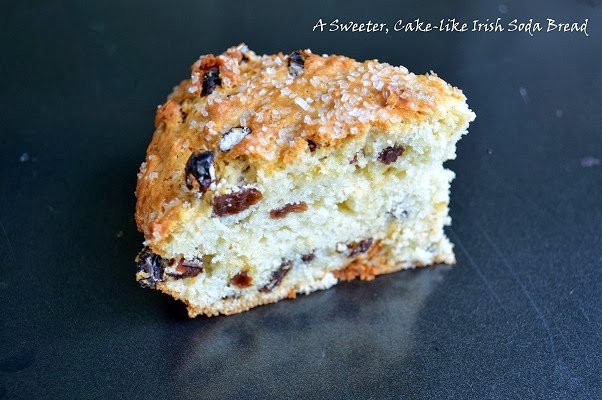 Wish me luck in the contest!
This is not a sponsored post, I just thought it would be fun to enter their contest 🙂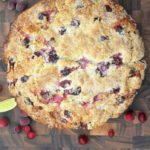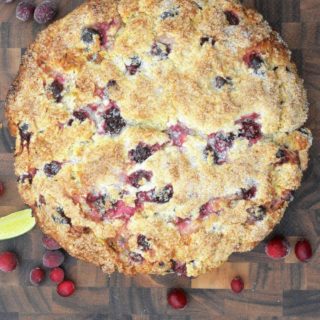 Print Recipe
Cranberry Soda Bread
Ingredients
2

heaping cups of Cape Cod Select Premium Frozen Cranberries or fresh cranberries.

4 1/2

cups

of flour

1 1/2

cups

sugar

divided

2 1/2

tsp

baking powder

Dash of salt

1

tsp

baking soda

1/2

cup

butter

softened

2

TBS

lime zest

1

TBS

lime juice

2

cups

buttermilk

1/2

cup

heavy cream

1

large egg

Coarse sugar for dusting
Instructions
Preheat oven to 350 degrees

To make 1 large loaf, use a 10-12 inch cast iron pan or ovenproof skillet with 2-inch or better sides or to make 2 loaves use 2 smaller cast iron skillets, ovenproof pans or 2 cake pans.

Cut a big enough circle of parchment paper out to line both the bottom and the sides of your pan(s).

Toss cranberries with 1/4 cup of the sugar and set aside.

Whisk the flour, 1 1/4 cups of the sugar, baking powder, salt, and baking soda in a large bowl until blended.

Add in the butter lime zest, lime juice, buttermilk, heavy cream, egg and the cranberries that were tossed with the sugar to the dry ingredients and stir gently until incorporated – do not over mix.

Scrape mixture into pan(s) then "let the faeries out" by making a shallow "x" with a sharp knife in the center of the dough. Sprinkle coarse decorator sugar or regular sugar overtop your loaf/loaves (it makes for a nice crust) and bake for one hour to 1 hour and 15 minutes or until toothpick or skewer inserted comes out dry. For smaller loaves, check after 45 minutes, however, most likely it will take an hour to bake.

Once a wooden skewer inserted comes out not "wet" it is done. It can be moist crumbs...just not batter. Cool a bit then flip out of the pan(s), peel off the parchment paper and allow the bread to cool on a cooling rack, that is if you don't just dig right in like my family and I do!
Notes
You can substitute dried cranberries for the frozen. If you do, no need to toss them in sugar.
Since this recipe yields a large loaf, often when I am making this for someone, I set aside 25-30% of the batter to make my family a small one….which we eat almost instantly! Depending on it's size I start checking the smaller loaf after 35 minutes or so – the large one usually still takes an hour.
This is wonderful for days after you make it as long as you have had it wrapped up tight. just pop a slice in the microwave for 20-30 seconds to warm it through and smear it with butter.
Nutrition
Serving:
10
g
|
Calories:
368
kcal
|
Carbohydrates:
73
g
|
Protein:
6
g
|
Fat:
12
g
|
Saturated Fat:
7
g
|
Cholesterol:
53
mg
|
Sodium:
269
mg
|
Fiber:
2
g
|
Sugar:
337
g