Enjoy Irish Soda Bread recipes? If so, you are in for a treat! My Cranberry Soda Bread is a festive twist on the original and is perfect for Thanksgiving, Christmas, holiday entertaining or simply with tea.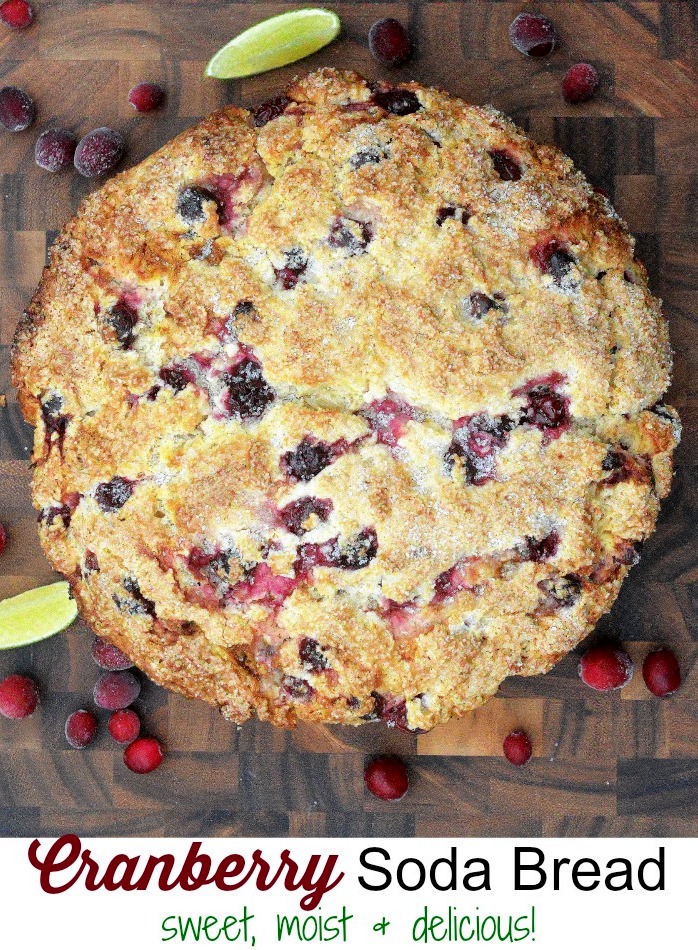 Years ago around the holidays, I thought it would be appropriate to adapt my Irish Soda Bread into something a little more festive.
So I decided to see what it would be like if I added fresh cranberries and lime zest in instead of my typical raisins.
Not only did this work BUT bay is it gorgeous AND delicious! So festive and everyone who has had this cranberry soda bread is smitten with it!
Think food gift, Christmas breakfast or brunch or just because. Yum!!
My recipe for Cranberry Soda Bread is moist, and sweet. Nothing dry about it. The cranberries give a nice burst of tart flavor.
I literally stood in my kitchen, all alone and took bite after bite from the huge piece I was enjoying. I was making happy food noises as I took bites, lol!
Can you see the moistness of the "cake-like bread here compared a typical Irish Soda Bread?? If you enjoy cranberry scones, this is more like a giant cranberry scone recipe in both taste and texture.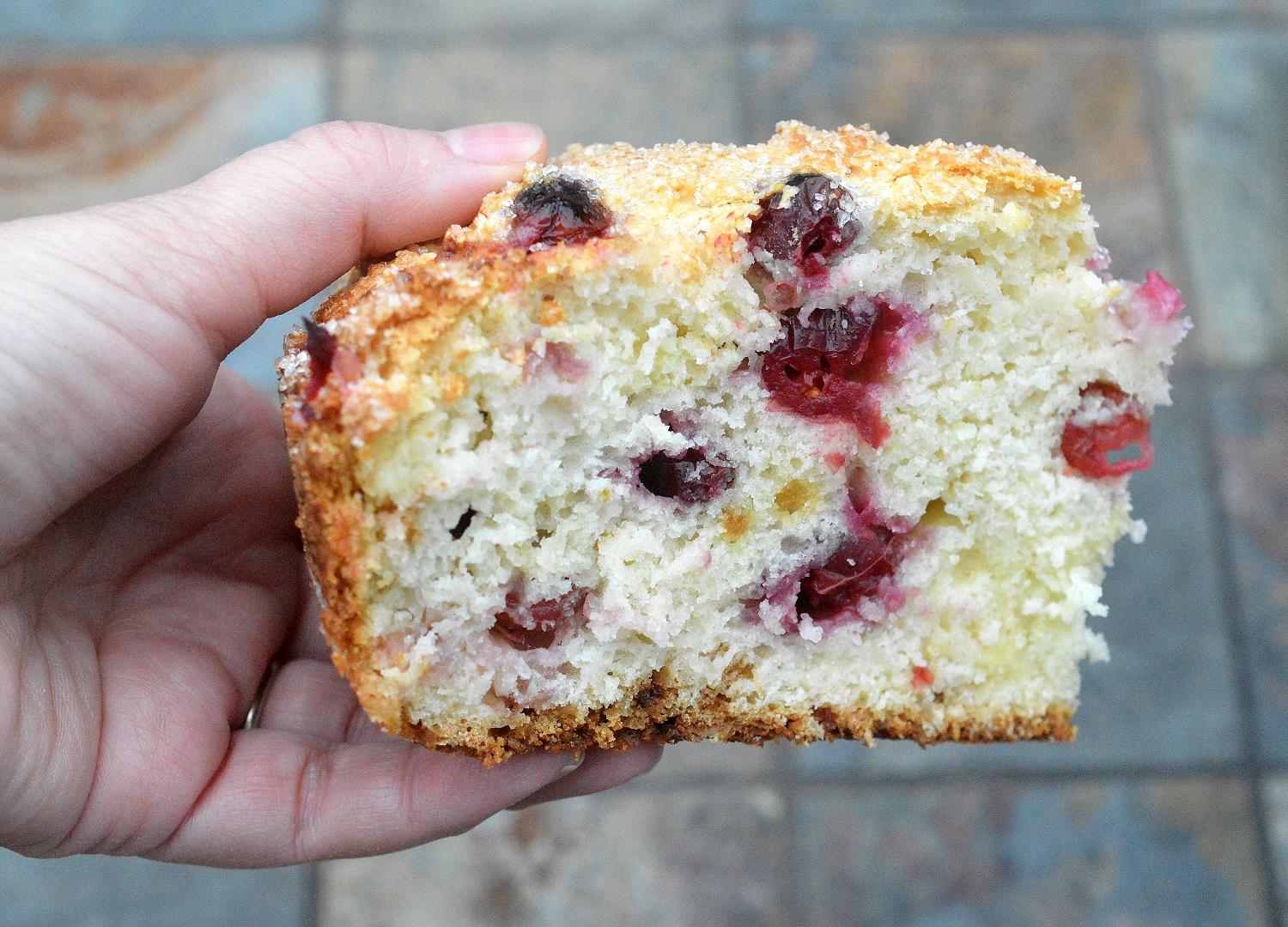 All alone in my house I was like, mmmmm, omnmnmn, mmrrrffffhh, ummmppfhhh. When I realized what I was doing, I started cracking up!
This bread is best warm in my opinion, like typical Irish Soda Bread. I mean it is good any time BUT hot-out-of-the-oven...you will be making happy-food-noises too, lol!
You can plop the dough in your pan and bake it where you go. That is often what I choose to do. Or you can bake it at home and tent it lightly with foil (if it is still warm) as it travels. Wrap from the bottom, leaving the foil opened allowing steam to escape from the top.
You can let it cool, plop it on a plate and use one of those see through gift bags to package it up complete with bow and recipe - an awesome holiday food gift idea (or any day)!
Ingredients
cranberries
flour
sugar
baking powder
salt
baking soda
butter
lime (optional)
buttermilk
heavy cream
egg
coarse sugar for dusting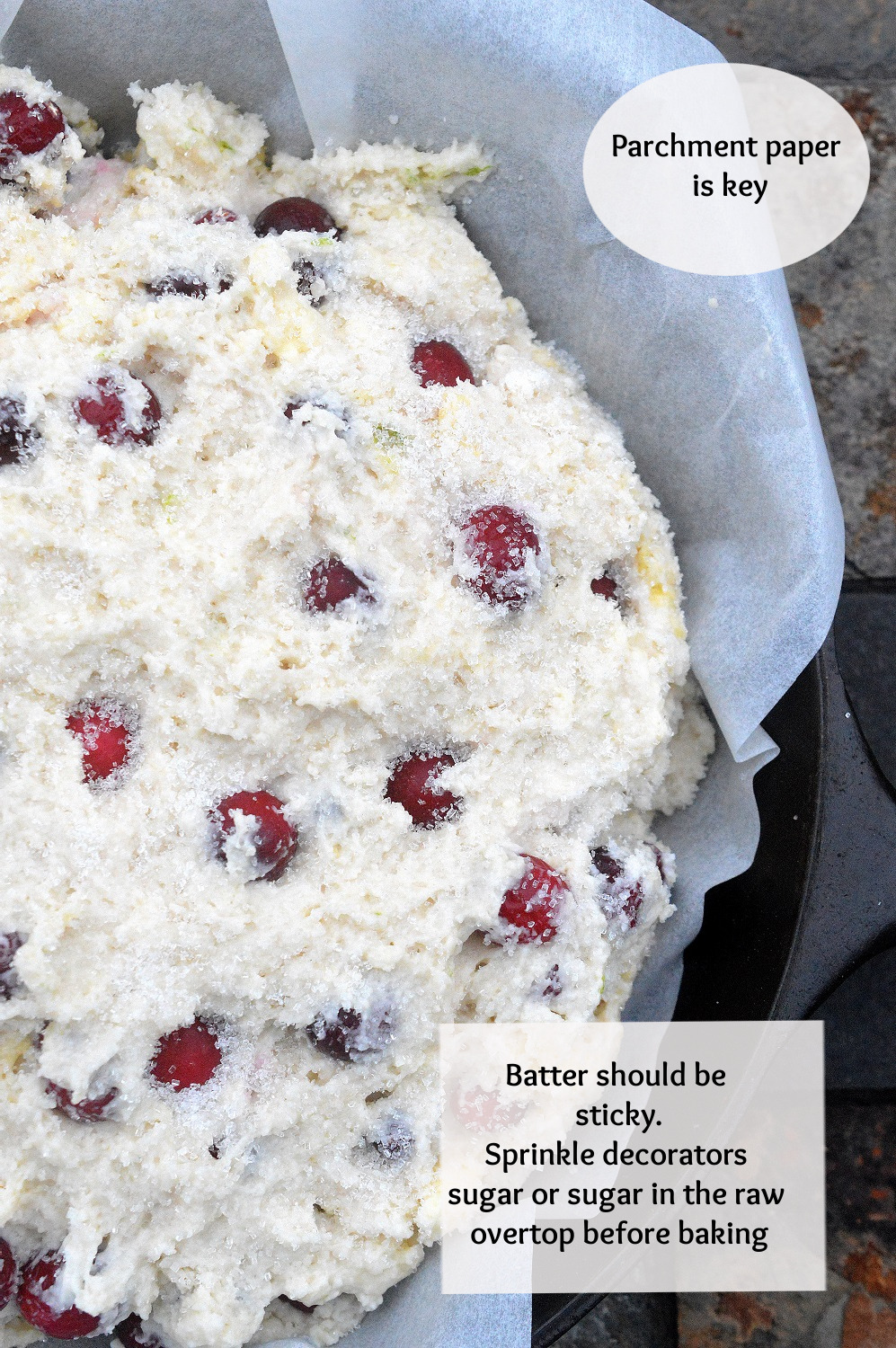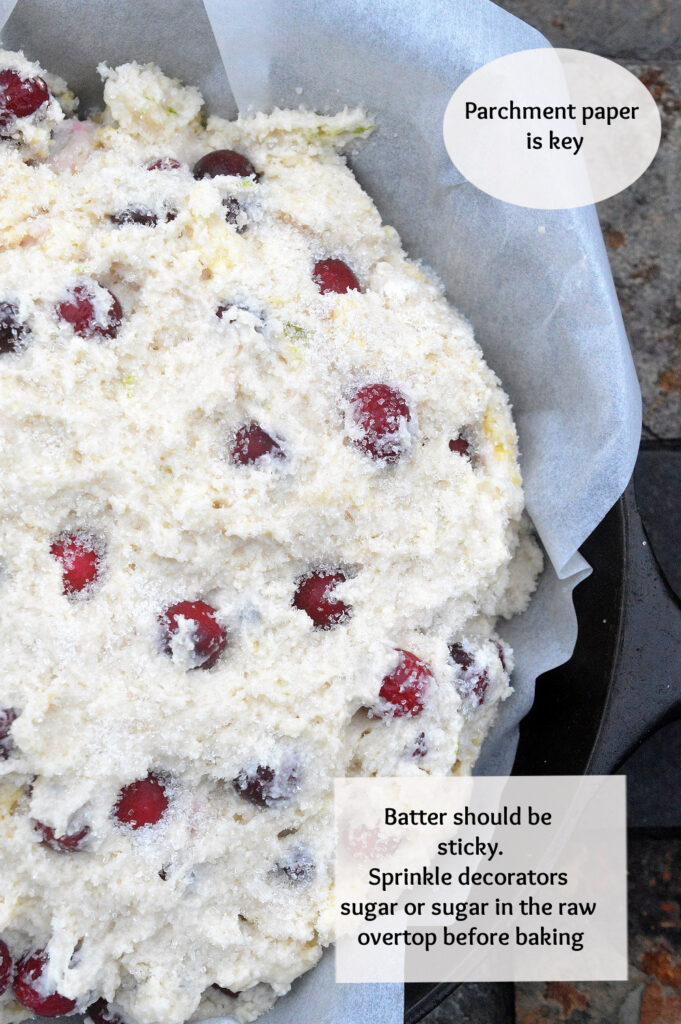 Tips for making soda bread
Soda bread is very forgiving, and you can make it in one bowl. Preheat your oven, gather your ingredients and your bowl and you will have it in the oven in well under 10 minutes.
Parchment paper is key whether you make it in a cast iron skillet (mine is over 100 years old) or in an oven safe pan or even a cake pan. You want to use one of those thing to help it hold its shape. Whichever you choose line it with parchment paper, its fine if it sticks out of the pan. I am never without these parchment paper sheets, they are the best!
Always make sure when baking your baking soda is fresh (not more than a month old if opened).
U.S. buttermilk does not have the same fat content as Irish, so adding in heavy cream is key.
Cranberries are tart, I recommend halving the berries and tossing with ¼ cup of the sugar first while you make the batter. (if you have time, allow them to sit that way for an 15-30 minutes or so), then fold them into your batter.
Always let the faeries out! Or the devil...whichever theory you ascribe to!! After your batter is in the parchment paper lined pan, take a clean sharp knife and make a cross or X on top.
Top the batter with coarse decorator sugar for an extra sweetness, and sparkling crust. The best! You can find them at most craft stores in the baking section or on Amazon. Love this sugar to top my sugar cookies with as well.
Bake on top rack set to the middle area (no rack above).
Bread is done when a wooden skewer or toothpick comes out mostly clean, not wet.
You can bake this as one large loaf or make two smaller ones (it really makes a big loaf!). Smaller loaves will take less time overall but typically still at least 40 minutes.
Lime zest completely optional, adds festive flecks of color for Christmas.
Here is the link to my original Irish Soda Bread I would put my Irish Soda Bread up against anyone's.
The TODAY show featured it and once the food editor of the Washington Post, who had a slice at an event we were at together called it "the prettiest Irish Soda Bread he ever saw" I am still smiling!!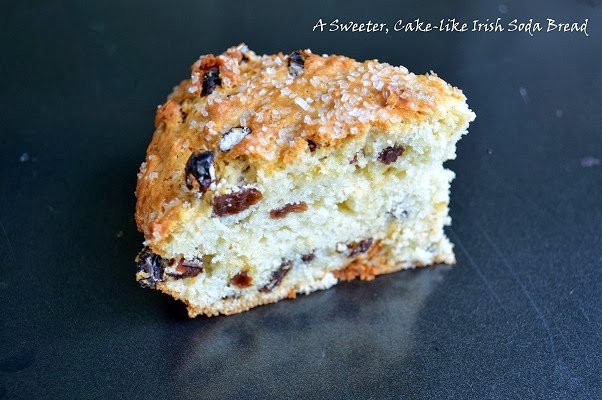 I don't know about you, however as soon as I see that first bag of cranberries in the grocery store in the fall, I buy two right away and keep on buying until the season is over. You can make so many things with fresh cranberries.
Recipes using cranberries you may enjoy
Check out My Cranberry Goat Cheese Log recipe, so easy and so festive!
If you cranberries them as much as I do, you must make this Nantucket Pie aka Cranberry Pie (which is not a pie at all). This is just SO pretty and perfect for the holiday season, plus its so easy to make. Everyone always asks for the recipe.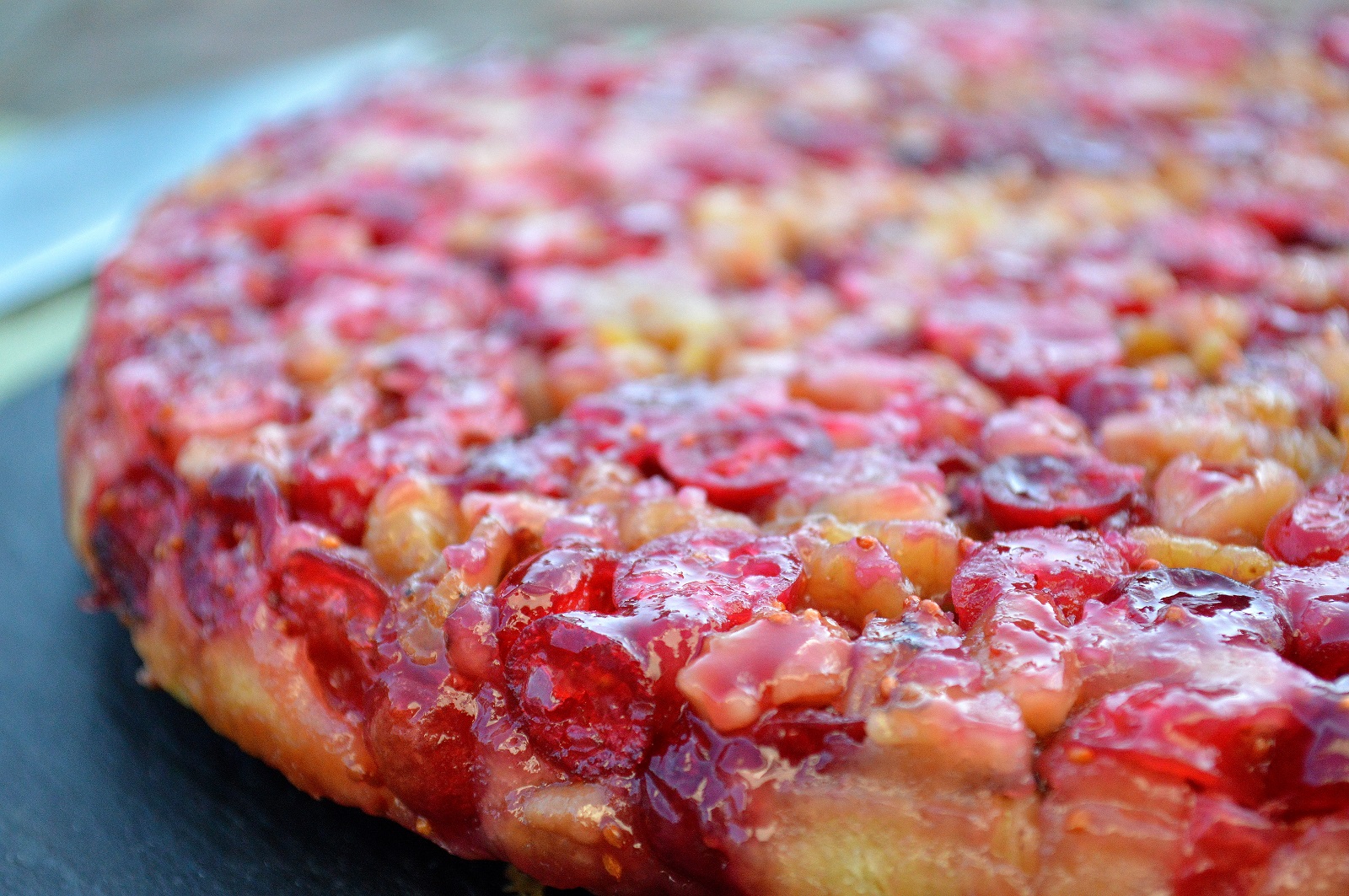 Cast Iron Pan - A must for every home cook. Lodge Pans are great and affordable, less than $20 for this pre-seasoned pan, which can last a lifetime!
Parchment Paper- the one thing I can not be without, ever! This is pre-cut, which is just so easy & efficient!
This post was originally published December, 2016. It was updated 10/26/22 with new information. This post contains affiliate links which mean if you click on one and purchase my suggested product, I get a payment of a few cents. Nutritional information calculated by a WordPress plugin.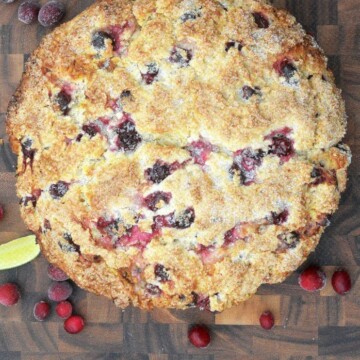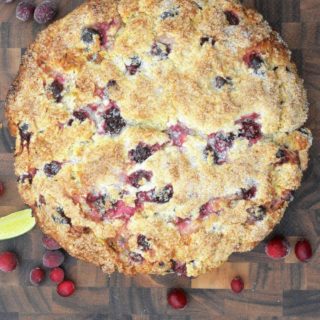 Cranberry Soda Bread
Cranberry Soda Bread is perfect recipe for Thanksgiving or Christmas breakfast, brunch or visiting. A twist on the classic Irish Soda Bread. Similar to cranberry scones in taste and texture.
Ingredients
2

cups of fresh or frozen cranberries

4 ½

cups

of flour

1 ½

cups

sugar

divided

2 ½

teaspoon

baking powder

Dash of salt

1

teaspoon

baking soda

½

cup

butter

softened

2

TBS

lime zest (optional for a festive look)

2

cups

buttermilk

½

cup

heavy cream

1

large egg

Coarse sugar for dusting
Instructions
Preheat oven to 350 degrees

To make 1 large loaf, use a 10-12 inch cast iron pan or ovenproof skillet with 2-inch or better sides or to make 2 loaves use 2 smaller cast iron skillets, ovenproof pans or 2 cake pans.

Cut a big enough circle of parchment paper out to line both the bottom and the sides of your pan(s).

Toss cranberries with ¼ cup of the sugar and set aside.

Whisk the flour, 1 ¼ cups of the sugar, baking powder, salt, and baking soda in a large bowl until blended.

Add in the butter lime zest, buttermilk, heavy cream, egg and the cranberries that were tossed with the sugar to the dry ingredients and stir gently until incorporated – do not over mix.

Scrape mixture into pan(s) then "let the faeries out" by making a shallow "x" with a sharp knife in the center of the dough. Sprinkle coarse decorator sugar or regular sugar overtop your loaf/loaves (it makes for a nice crust) and bake for one hour to 1 hour and 15 minutes or until toothpick or skewer inserted comes out dry. For smaller loaves, check after 45 minutes, however, most likely it will take an hour to bake.

Once a wooden skewer inserted comes out not "wet" it is done. It can be moist crumbs...just not batter. Cool a bit then flip out of the pan(s), peel off the parchment paper and allow the bread to cool on a cooling rack, that is if you don't just dig right in like my family and I do!
Notes
Tip: For sweeter berries, slice the cranberries in half and toss them with a little sugar before adding to the batter.
For a sweeter loaf overall add in an additional 2-4 TBS sugar to the dough.
Since this recipe yields a large loaf, often when I am making this for someone, I set aside 25-30% of the batter to make my family a small one….which we eat almost instantly! Depending on it's size I start checking the smaller loaf after 35 minutes or so – the large one usually still takes an hour.
This is wonderful for days after you make it as long as you have had it wrapped up tight. just pop a slice in the microwave for 20-30 seconds to warm it through and smear it with butter.
If you intend to travel with a hot loaf, wrap in foil however, leave the top open to prevent the crust from getting moist from the heat being trapped.
Nutrition
Serving:
10
g
Calories:
490
kcal
Carbohydrates:
79
g
Protein:
8
g
Fat:
16
g
Saturated Fat:
10
g
Cholesterol:
62
mg
Sodium:
375
mg
Potassium:
157
mg
Fiber:
2
g
Sugar:
33
g
Vitamin A:
574
IU
Vitamin C:
3
mg
Calcium:
146
mg
Iron:
3
mg
Follow me on Tik Tok for 1 minute videos