Looking for an easy restaurant-quality recipe that you can make for a romantic night in? Or just because? Try this recipe for Pan Fried Veal Chops with White Wine Sauce. My husband, son and I enjoy this dish a couple of times a year. I have made it for friends and family as well who all enjoy it.
This sponsored post is part of an ongoing series with Veal Made Easy and The Beef Checkoff Program.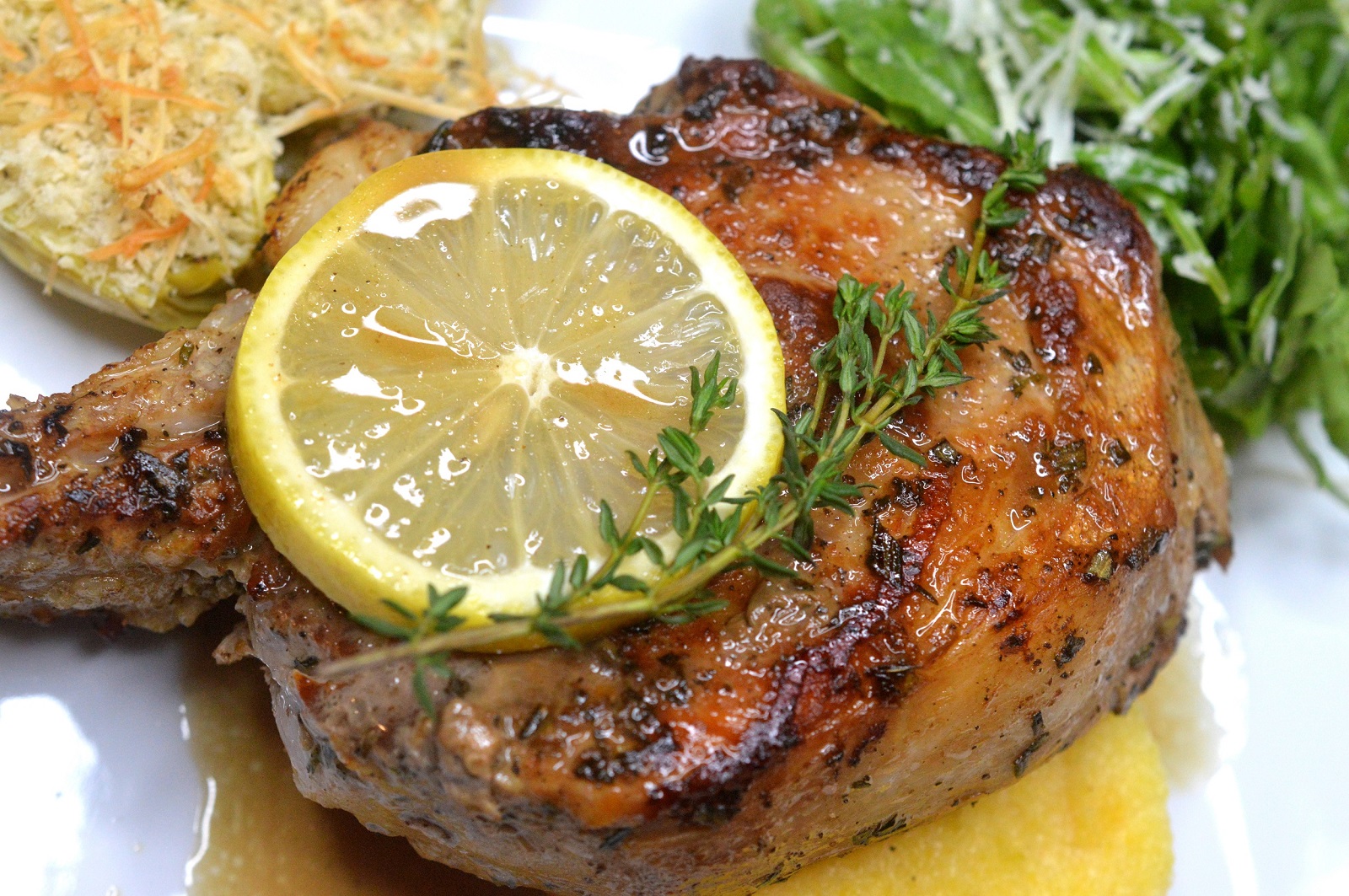 Sometimes I serve these veal chops with polenta cakes, and asparagus other times, rice, couscous or potatoes. I always serve it with a simple arugula & Parmesan salad tossed in olive oil, lemon juice, salt, and pepper.
The trick when cooking a nice veal chop like this is to use a digital thermometer, so you know when your chop is done. Then you can allow it to rest properly while you make the sauce.
True story: When I was a teenager, I saw one full-page advertisement in the back of one of the teenybopper magazines I regularly read that was anti veal and that was all it too. I never even considered eating it. Meanwhile, it was my mom's favorite.  I can't even tell you why I didn't eat it. I would never say a word when people around me enjoyed veal but me, nope...wasn't going to do it.
A couple of decades later, I learned about the veal industry a little more and a few years after that I went on an immersive veal farm tour. Since then I have visited numerous veal farms in four states, talked in-depth with multiple veal veterinarians and spent time with the veal producers responsible for 70% of the U.S. production.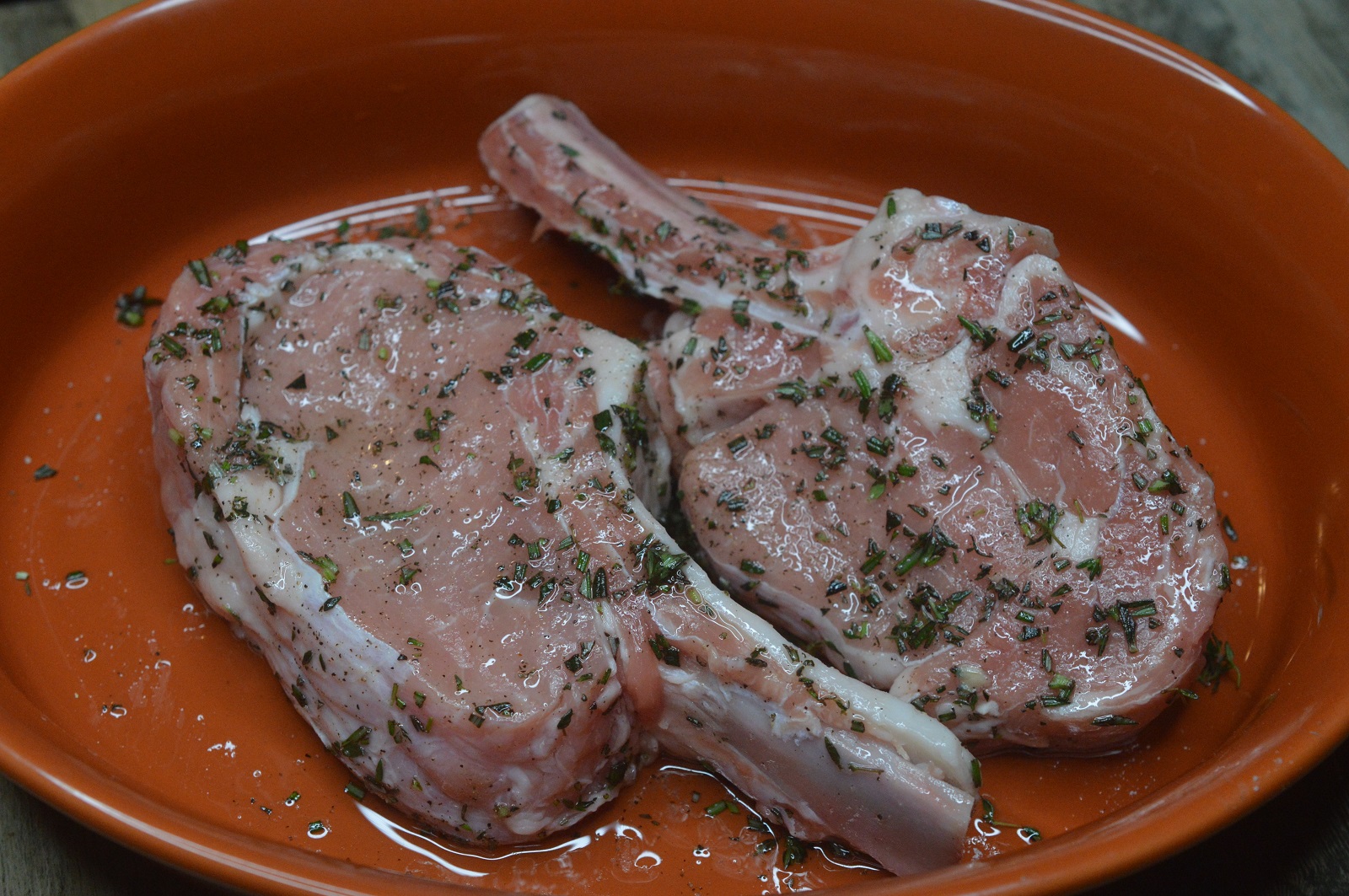 It's funny what causes a paradigm shift in people's behaviors or eating habits. Growing up and well into adulthood, I wanted nothing to do with most vegetables once they were cooked and then one day...Boom, I started eating them...well all except cooked broccoli and carrots, lol!
As far as veal goes, for me, all it took was education. Veal wasn't what I thought it was and then of course once I opened my mind up to it and began eating it, I saw why my mom considers it her favorite. It's truly delicious! In addition to being a high-quality protein, a 3-ounce serving of cooked trimmed lean veal is a good source of key nutrients including vitamin B-6, vitamin B-12, niacin, riboflavin, zinc, selenium and choline and I also love the sustainability story of the industry. 
My family and I enjoy pan-fried and grilled veal chops (like Pan Fried Veal Chops with White Wine Sauce), using ground meal in recipes, veal cutlets and more! If you have not opened your mind to veal or just have never had it for whatever reason, I invite you to try it.
Learn a little about the modern-day veal industry by reading this post in full and by visiting the Veal Made Easy and Veal Farm websites. AND please ask me any questions. As you can see from what I wrote above, if I can't answer your questions, I have access to the people who can.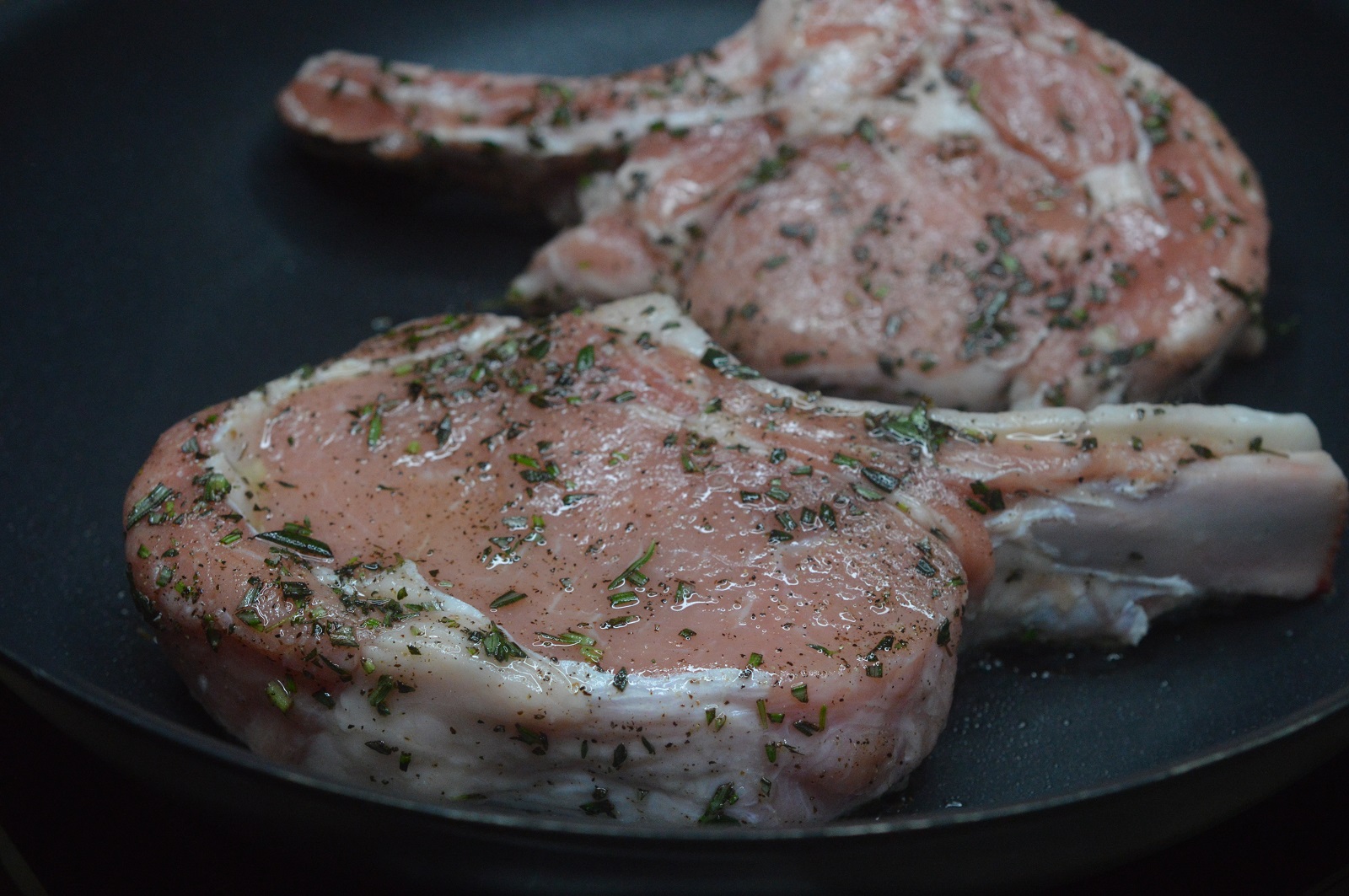 In the '70's and '80s American veal farmers adopted the European way of raising their animals. That way of raising veal livestock all changed 20 or so years ago and continues to evolve with a focus on animal care and comfort. Let me clear up a few myths for you and share some of what I know:
WHAT IS VEAL?
Veal is nutritious, nutrient-rich meat which is more tender than beef, harvested from calves typically 22-24 weeks old, weighing 550-600 pounds. veal calves, for the most part, are a byproduct of the dairy industry (dairy farmers sell male calves since they are in the business of producing milk which male cows can not do). In my opinion, veal is delicious, it is more tender than beef and picks up the flavors used in its preparation.
Contrary to popular belief, today's veal is raised in airy barns, full of light and fresh air. The calves have plenty of room to move about and buddies to play around with. Some farms I visited have outdoor access if the calves feel like going outside, they can. There are even some farmers that raise pasture-raised veal.
Practices such as castration, dehorning, and tail docking are not necessary in the raising of veal. Additionally, hormone implants are not permitted for use in veal production.
Where does the "veal is raised in tiny crates or tiny houses and they can't move about for the duration of their lives" come from?
You do in fact see hutches when you drive by dairy farms, and some ice cream stands on farms house calves…Those, however, are where "baby" dairy cows are being housed for the earliest parts of their life.
When a cow is born, unlike humans, they are born with zero immunities. Human babies pick up immunity from their mother's placenta, while cows do not SO for that reason the first 6-8 weeks of their life both female dairy calves and male veal calves are in individual areas.
On veal farms, those individual areas may have a partition which after 6-8 weeks is removed. On many farms after that period, the veal calves are moved to larger group pens which house 15-30 calves. It comes down to the individual farmers and their way of caring for their animals.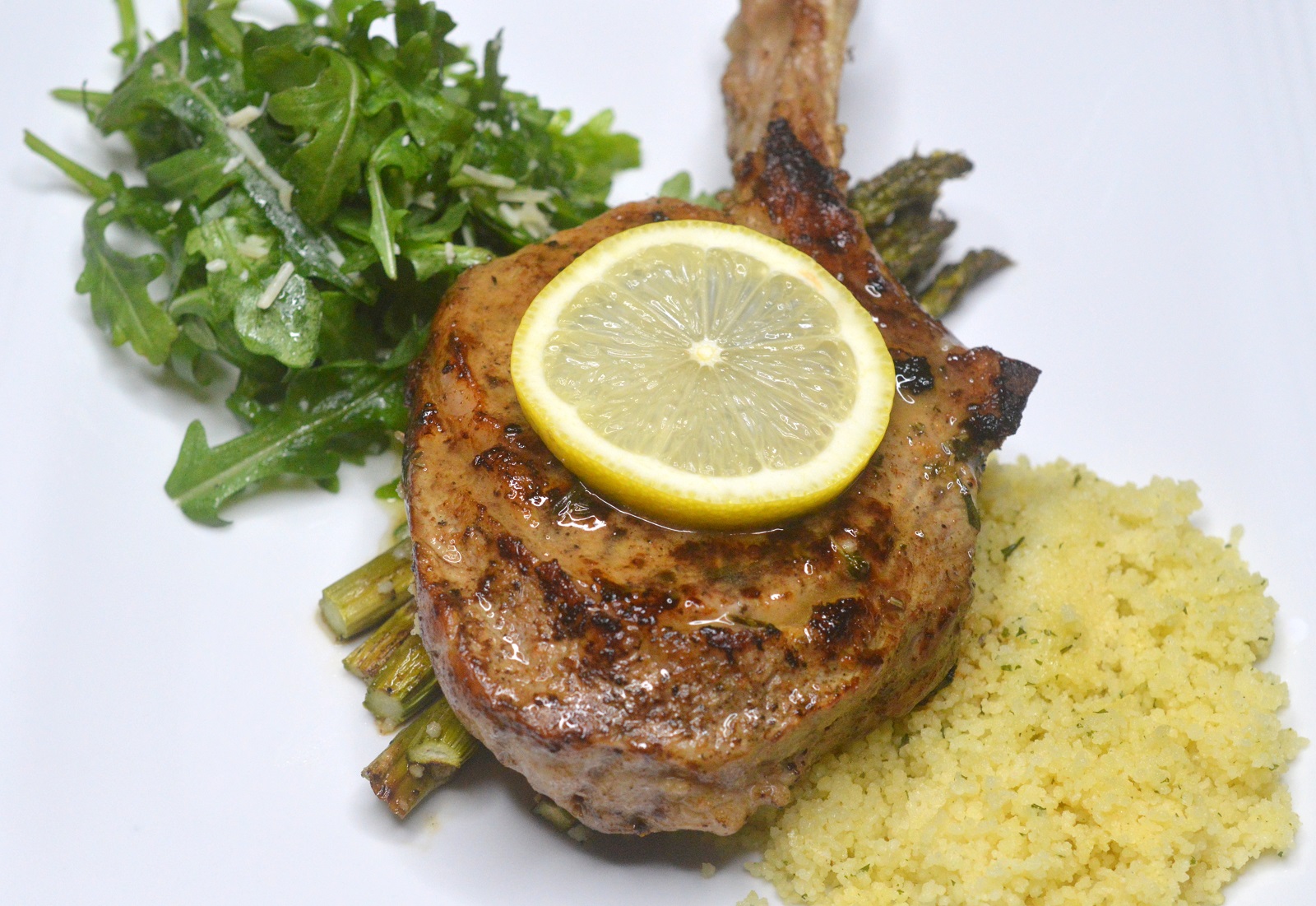 How Do I Make Pan Fried Veal Chops?
It's easy! Start with 2 or more gorgeous veal chops weighing ¾ of a pound or so each OR use veal loin chops or top loin chops. Marinate them simply in garlic-infused olive or grapeseed oil seasoned well with salt and pepper. You can choose to add fresh minced herbs during the marination process and/or in the pan sauce.
Next, it's all about a hot pan when it comes to cooking good cuts of meat like these veal chops. Heat your pan, add just a bit of oil or no oil since the chops have already been marinating in oil. When the chops hit the pan you want to hear a sizzle. Lower the temperature and cook your chops till they reach an internal temperature of 125-145, depending on your preference.
Remember once you remove them from the pan they will continue to cook some as they rest. As they rest you deglaze the pan and make the wine sauce.
Is It Difficult To Cook Veal Chops At Home?
No. The trick is to allow them to sit on the counter for 30 minutes prior to cooking so they cook evenly. Since veal easily picks up the flavors you add to it, I like to marinate it typically with garlic, thyme, and rosemary. Then cook it in a hot pan if its chops or a loin chop, sear it before roasting if it's a veal roast, and cook it quickly, without overcooking if its veal cutlets or ground veal. Visit www.vealmadeeasy.com for all sorts of recipes and cooking tips.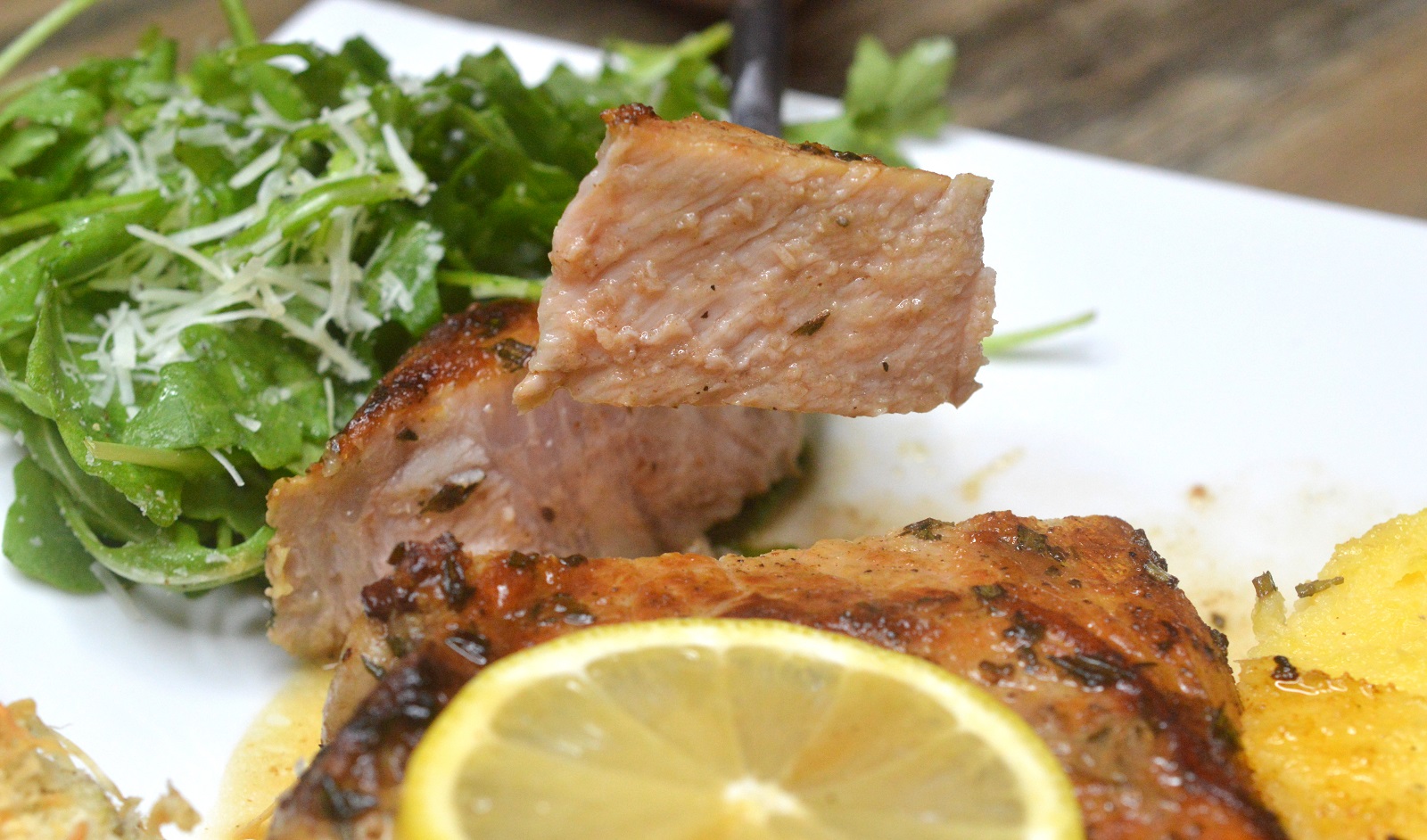 WHAT DOES VEAL TASTE LIKE?
Veal has a delicate taste and is very tender. Most cuts of veal cook quickly. In my opinion veal cutlets and ground, veal picks up the flavor of the sauce you are making with it or from the ingredients used in the method of preparation. A veal chop is amazingly tender like filet mignon. It's juicy and full of flavor. Osso Buco is a memorable dish made with veal shanks that's even better the second day. When you come across it on a menu (or veal chops for that, matter), order it!
Is Veal Healthy For You?
Veal is a high-quality protein, a 3-ounce serving of cooked trimmed lean veal is approximately 150 calories and its a good source of key nutrients including vitamin B-6, vitamin B-12, niacin, riboflavin, zinc, selenium, and choline. Learn more about veal nutrition here on the Veal Made Easy Website.
WHAT RECIPES CAN YOU MAKE WITH VEAL?
Veal is versatile and in my opinion easy to cook.  Treat ground veal as you would any other ground meat, the same goes for the cutlets. You don't have to have red sauce anywhere near veal if you don't want it. Yes, every method of Italian cooked veal is delicious, however, there are so many ways to enjoy it.
Take a look at my Mediterranean Veal Burger - You're going to want to give this a whirl!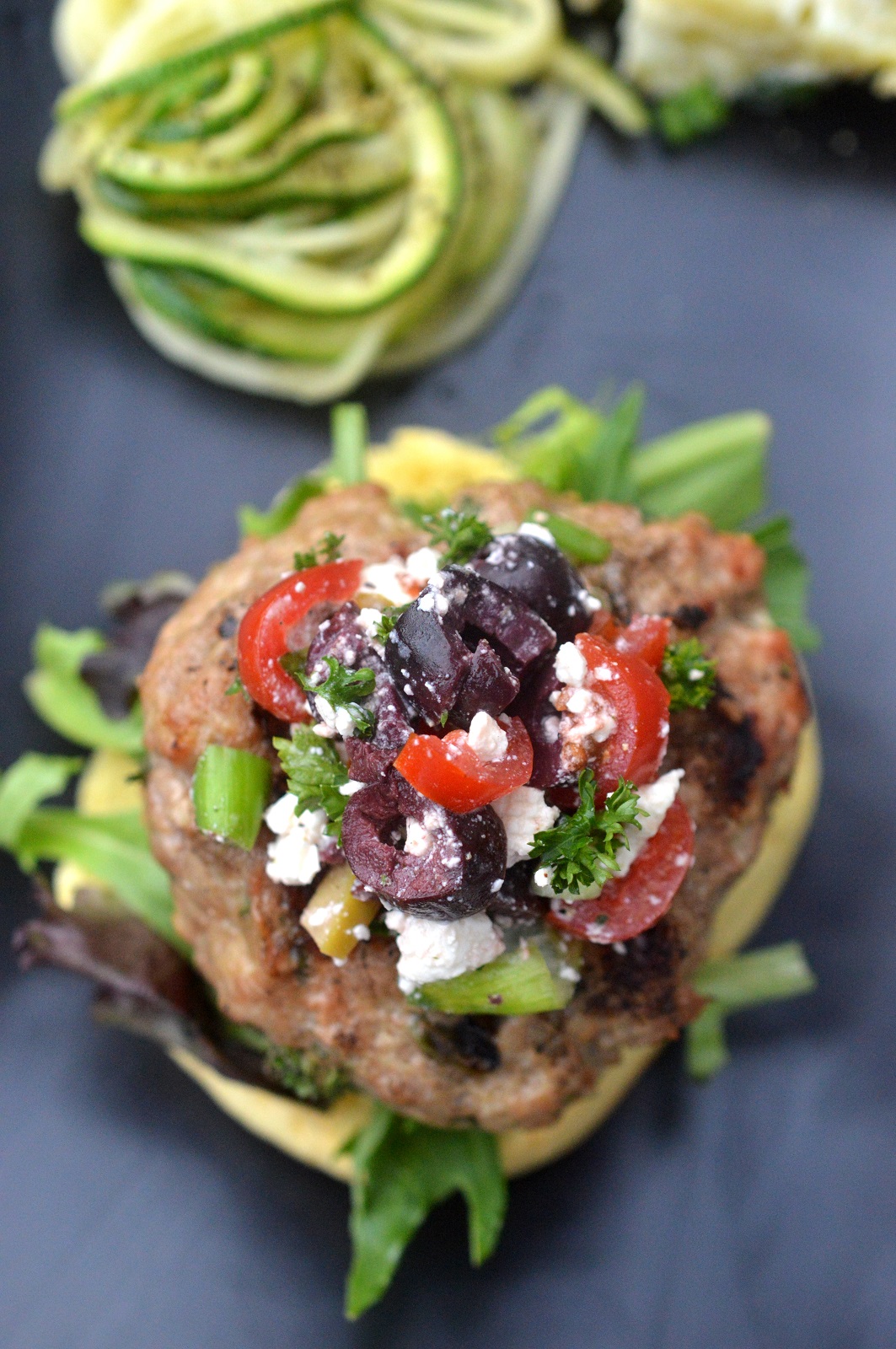 Or my Satay Skewers made with veal cutlets.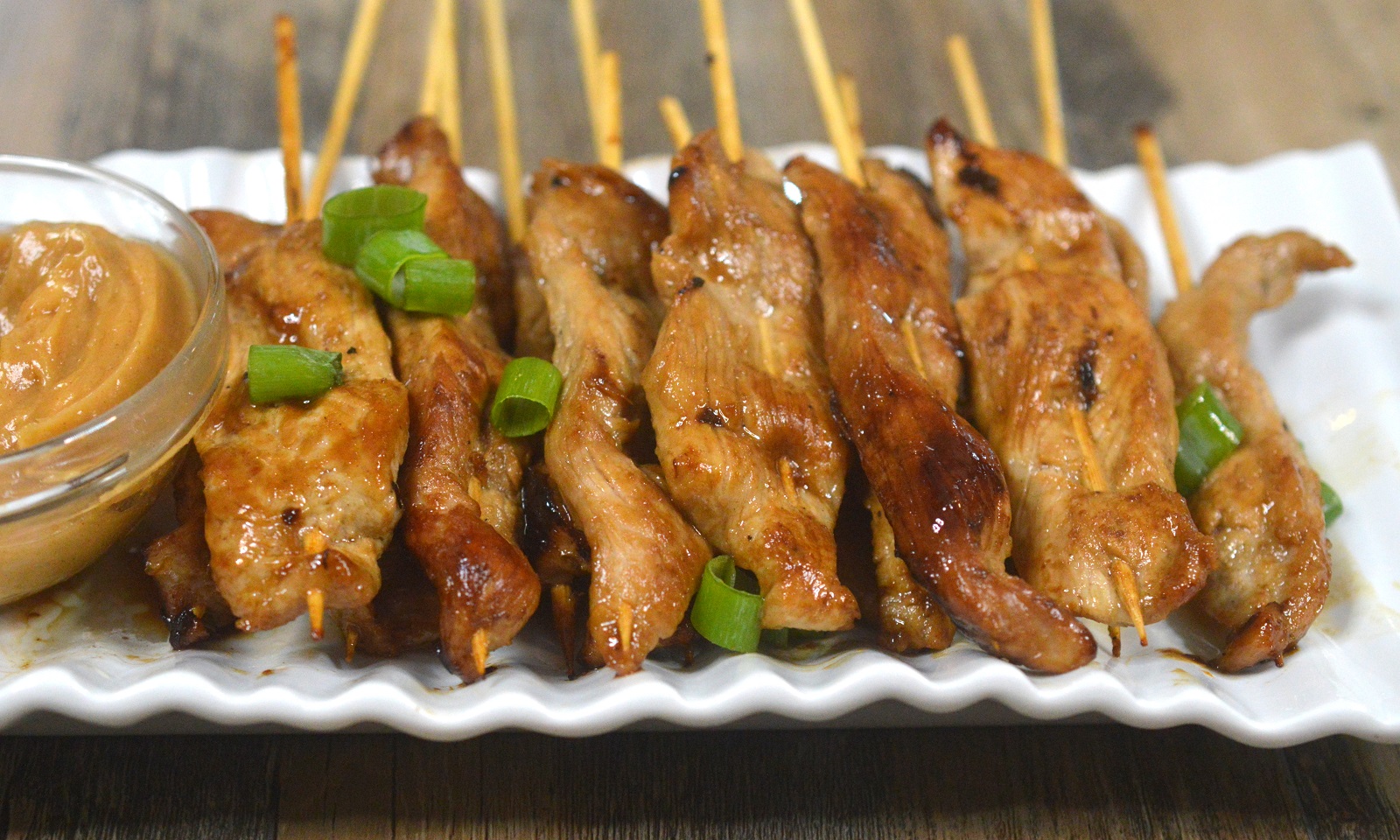 OR this Ground Veal Stir Fry, yummo!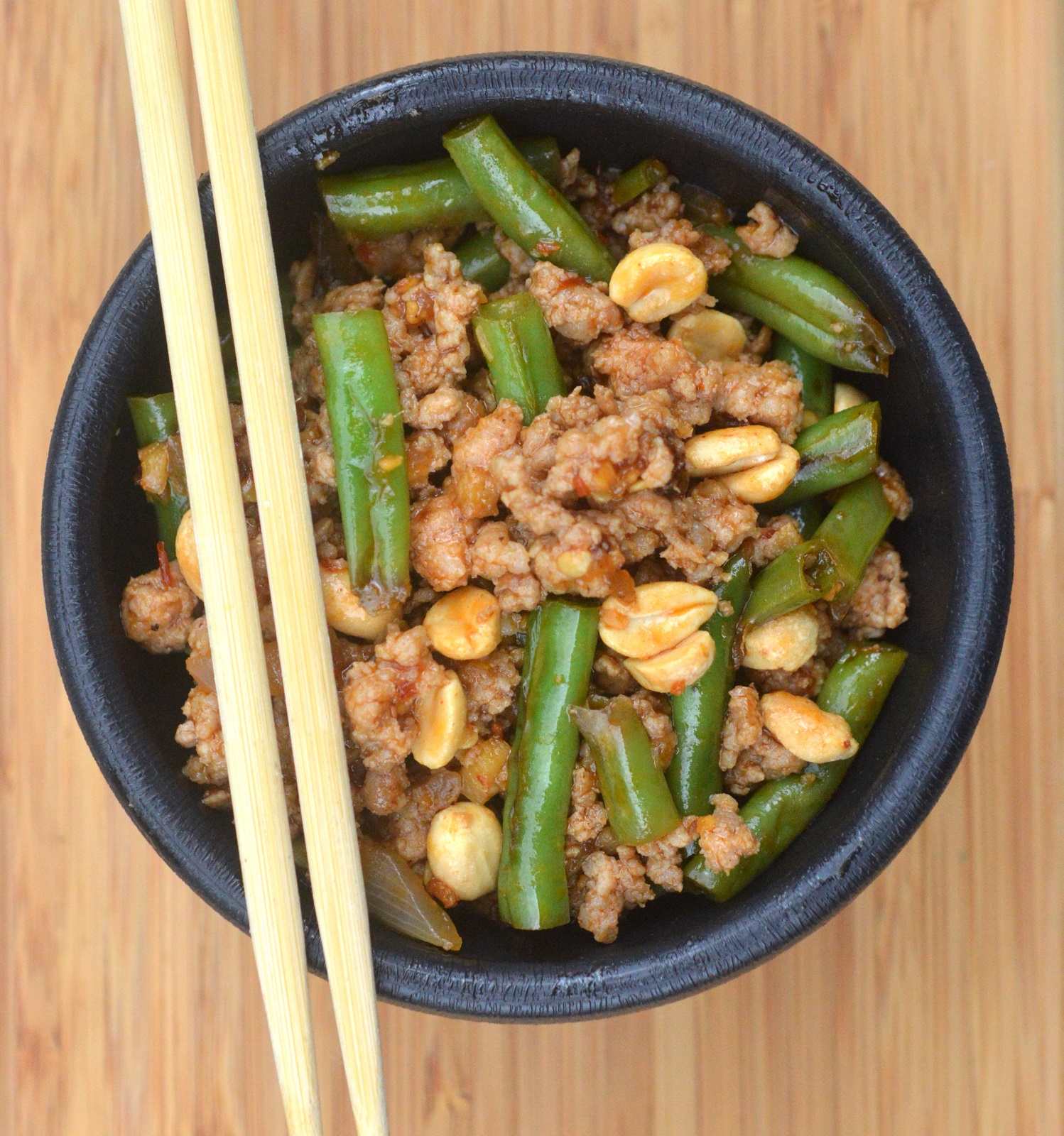 For a variety of veal recipes and videos, visit the Veal Made Easy website.
Enjoy!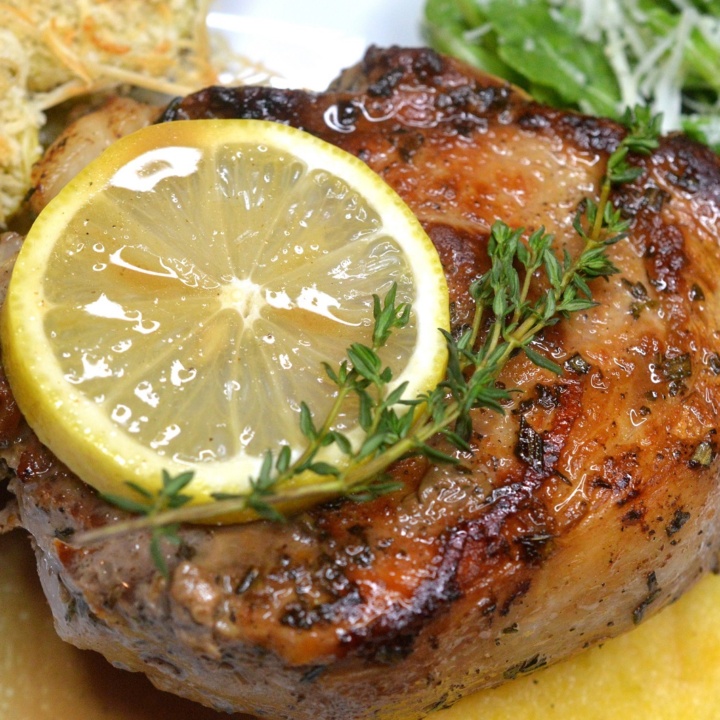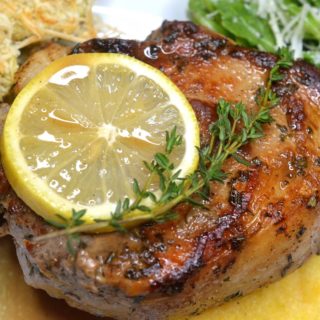 Pan-Fried Veal Chops with White Wine Sauce
Pan-Fried Veal Chops with White Wine Sauce is a restaurant-quality meal you can easily make at home. Serve with polenta, mashed or roasted potatoes, and a simple arugula salad. Yum!
Ingredients
2

Veal Chops

weighing approximately ¾ of a pound each

3

TBS

olive oil

1

TBS

minced fresh Rosemary

½

TBS

fresh thyme leaves

3

TBS

garlic paste

or 2 cloves garlic, minced

Salt & pepper

3

TBS

dry white wine

3

TBS

chicken stock

1

teaspoon

fresh lemon juice

1

TBS

butter
Instructions
In a small bowl, whisk together oil, Rosemary, thyme, garlic paste and a pinch of salt. Allow the flavors to mingle for 15-30 minutes.

Pat chops dry and season well with salt and black pepper. Pour marinade over top the chops, and rub it all over. Allow chops to marinate at room temperature for 15 minutes.

Heat a large cast-iron or heavy nonstick pan over med-high heat, once it's hot add 1 TBS of olive oil to the pan, once it begins to shimmer, like little ripples of water, add the chops, scraping any of the marinade into the pan as well.

Pan-fry the chops, turning them once or twice until internal temperature in the thickest part of the chop registers 145 degrees or done to your liking (remember the meat will continue to cook after it's removed from the pan). *You can also choose to finish them in your oven for 10 minutes or so at 375 degrees.

Place chops onto a plate.

Deglaze your pan with the wine, scraping up any browned bits with a spatula. Add in the stock, lemon and butter and bring to a boil, stirring occasionally.

Season with salt and pepper and allow the sauce to continue boiling to reduce it for a few minutes.

Plate chops, spooning sauce over top.

Garnish with a lemon slice and/or thyme sprigs.

Notes: The oil from the marinade should be enough to pan-fry the chops. If not, add in small amounts of olive oil throughout the cooking process as needed.

If you enjoy a thicker sauce, spoon out 1-2 tablespoons of the sauce into a small bowl and whisk with a ¼ tablespoon or so of cornstarch, stirring to combine. Return that to the pan and whisk constantly until fully incorporated and thickened.
Nutrition
Serving:
2
g
Calories:
803
kcal
Carbohydrates:
3
g
Protein:
63
g
Fat:
57
g
Saturated Fat:
18
g
Cholesterol:
300
mg
Sodium:
990
mg
Fiber:
1
g
Follow me on Tik Tok for 1 minute videos