This easy Arugula & Parmesan Cheese Salad makes for an easy first course or a very light lunch.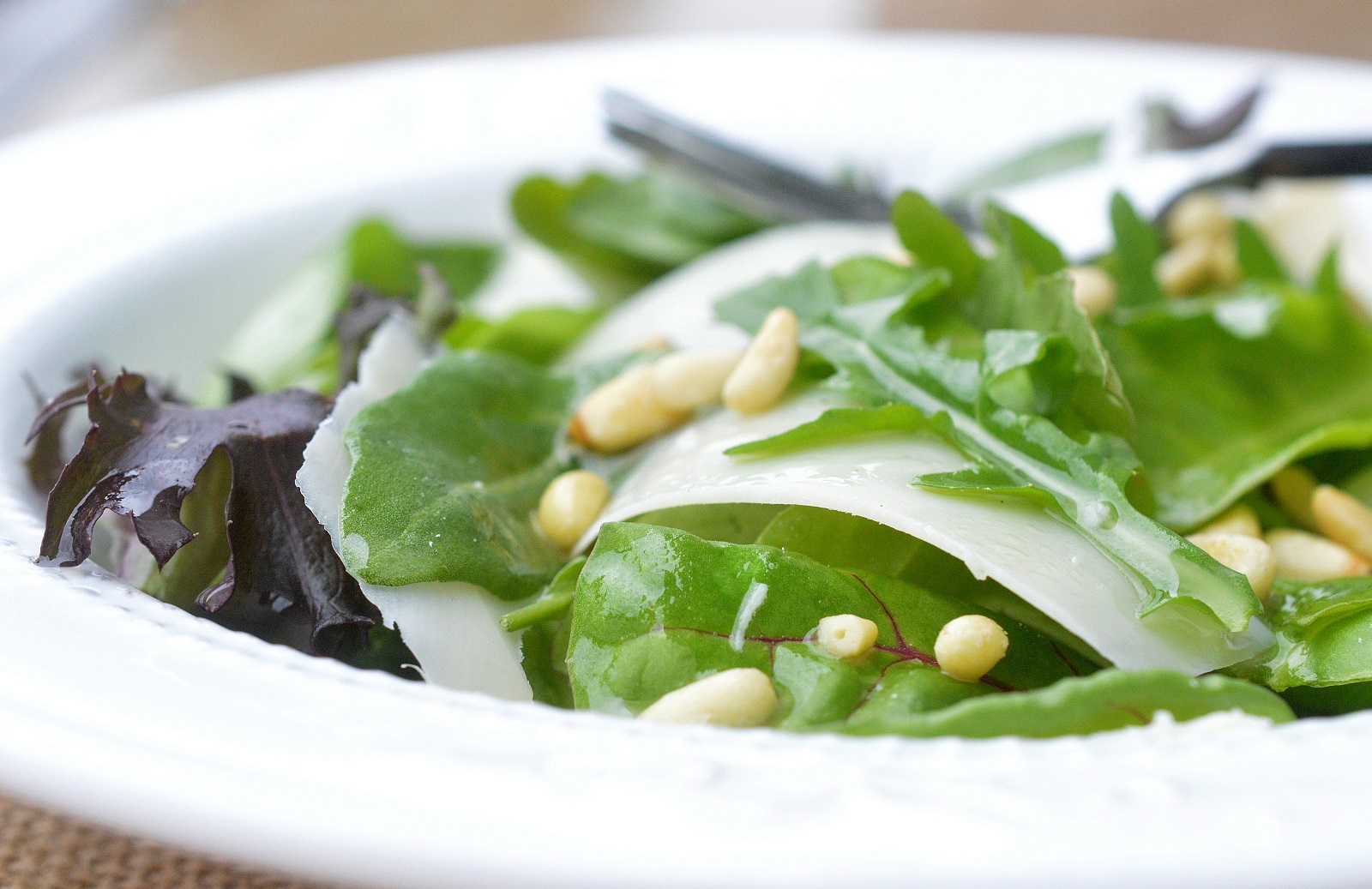 I crave salads. I can't go more than a couple of days before I "need" one, and when I get it, I enjoy the heck out of it. Sometimes I crave a robust chopped salad and sometimes I want something simple and light, like this Arugula & Parmesan Cheese Salad. I love peppery taste of the Arugula and the crunch of warm Pine nuts in this salad…and of course the freshly shaved Parmesan.  I eat a handful of the cheese while I assemble the salad, mmmm!
In addition to really enjoying salads. Sometimes I need a salad because….well, because cookies exist.  I  seriously love cookies. Only homemade cookies that is. I love making them, eating the dough (I don't care who says what about that…I've been doing and enjoying the heck out of it since birth), I love the smell that fills the house and the excitement of my family.
Since the kids were toddlers, I try to keep the cookie jar full. I tell them, me filling the jar with cookies is me leaving behind my love…Sappy I know, however when you are a momma who works long days in corporate America and sometimes travels for business that simple act can make you feel a little bit better. Now that I work from home, I still try to keep the cookie jar full. Every time I hear the glass lid being put back in place onto the cookie jar, I smile. My jar has seen a lot of action since my kids were toddlers and I love it!! 
My husband and kids love cookies hot out of the oven, while I like to wait until the next day.  I can not even calculate how many times I have had cookies for breakfast, lol!  Pizzelles are my favorite!!  I swear I eat 100 of them in December, and 100 may be an understatement! I can not wait to make and eat them!!! So you can see why light salads like this Arugula & Parmesan Cheese Salad in November and December are a good thing for me!  I have to save up as many calories as I can for cookies…It's my yin and yang!
My daughter has always said "my savory stomach is full, but my sweet stomach is empty" I know where she gets that from lol! My sweet stomach when it comes to cookies, high quality salted dark chocolate caramels, Swedish Fish and Gobstoppers is never full….sigh.
Have a favorite salad or cookie for that matter?? Let me know. I am always looking to try new ones out! Right this minute I am dreaming about a robust chopped salad. I know what I am having for dinner tonight alongside a bowl of chili!!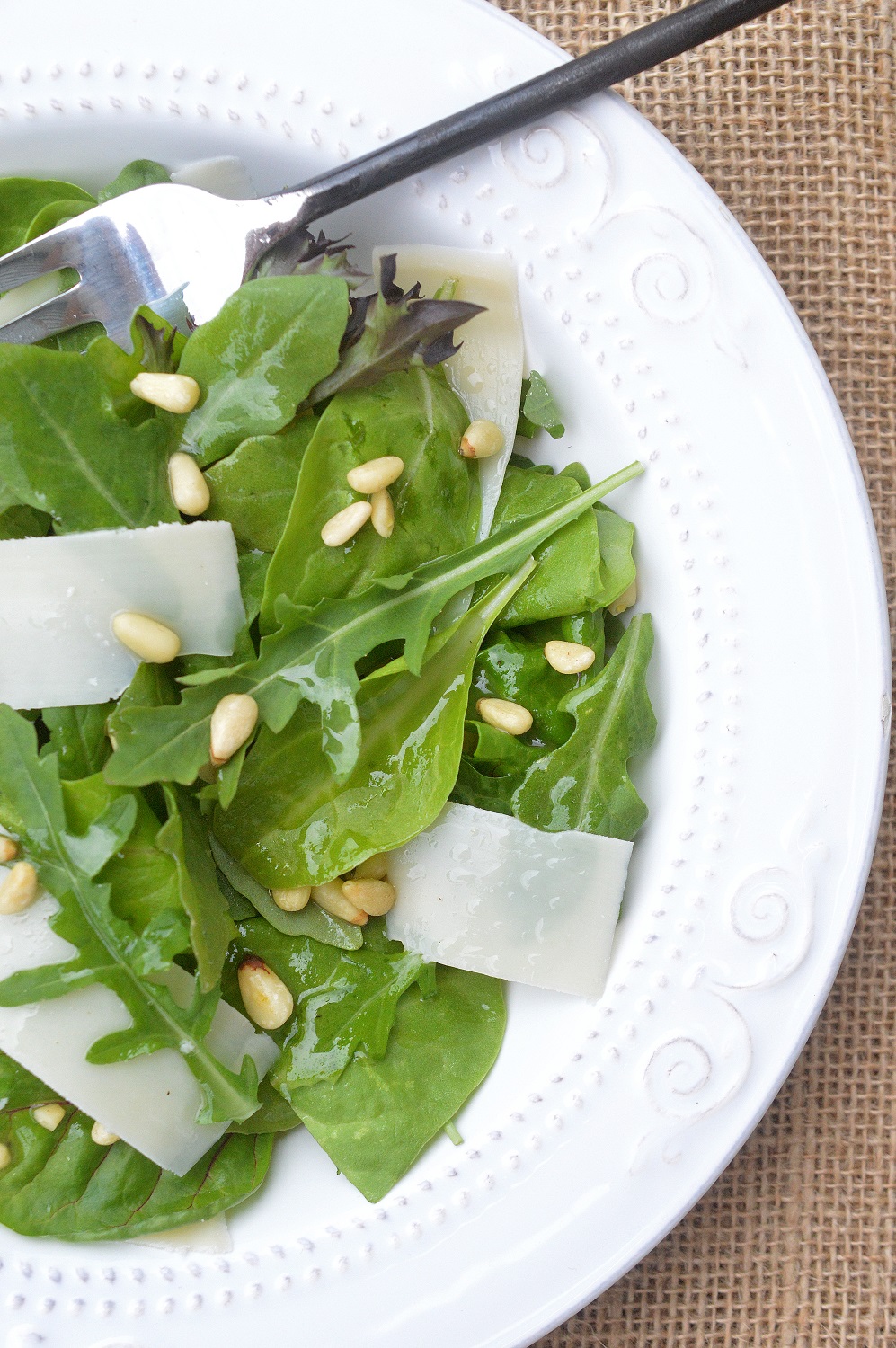 Two of my favorite cookie recipes are Pizzelles (and old iconic Philadelphia Bakery recipe that I was lucky enough to be given decades ago) and what I call The Perfect Cookie. My son's favorite are Pizzelles (just like his mama) and my Chocolate Chambord Cookies.

I have a ton of cookie recipes Pinned over on my Pinterest Cookie Board.
When it comes to salads, I love a good Cobb Salad! Here is my take on a Cobb Salad with Sriracha Ranch Dressing. Also, this Crispy Avocado Salad with Bacon & Tomatoes is seriously delicious!! If you dig calamari…try this Asian Crispy Calamari (it is SO good!!)

For all kinds of satisfying salads…Check out my Salad Pinterest Board…Yummmmm!
This simple Arugula & Parmesan Cheese Salad can be made more robust by adding some 1 inch rolls of Prosciutto (yum) and or croutons. If you enjoy fruit in your salad you could always add in some spiced roasted pear slices or sauteed figs!
Enjoy!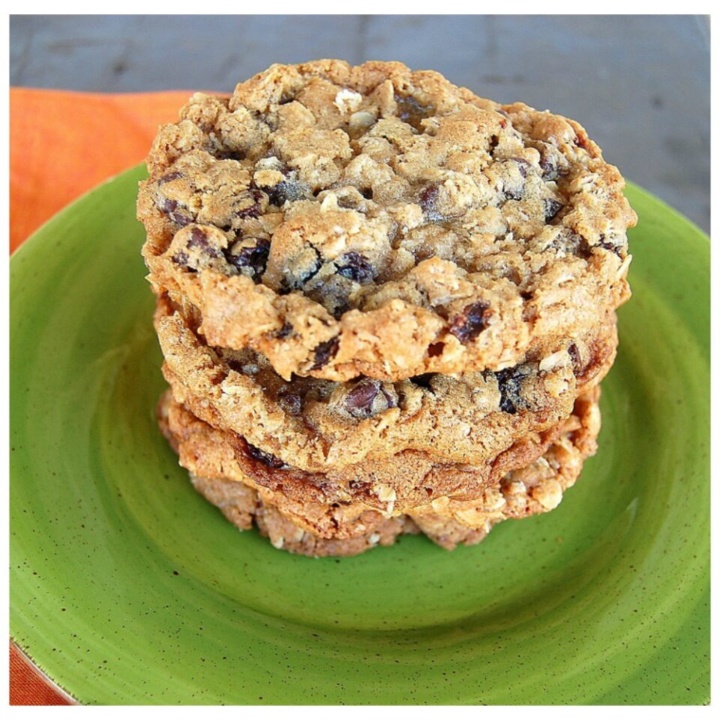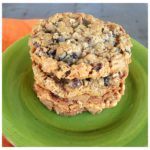 Print Recipe
Arugula Parmesan Cheese Salad
Ingredients
1/4

cup

grapeseed or olive oil

Just a bit of lemon zest

1

TBS

to 1 1/2 TBS of fresh lemon juice

1

TBS

honey

or more to taste

1/2

tsp

coarse Dijon Mustard

I like Grey Poupon Country Dijon

Salt and pepper

Pine Nuts

Arugula

Fresh Parmesan Cheese shavings
Instructions
For the Dressing:

Combine everything in a mason jar. Shake vigorously until emulsified.

For the Salad:

Toast Pine nuts at 275 degrees for 4-5 minutes, just until they begin to lightly brown, shaking pan halfway through.

Toss arugula with the dressing, sprinkle on the pine nuts, and shavings of Parmesan Cheese.

Serve and enjoy!