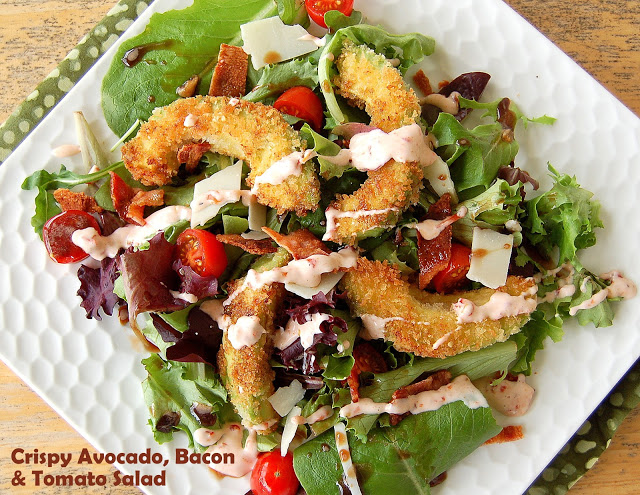 Ever since I became aware of Top Chef, I love to grab ingredients and whip something up. It is fun to see where it can go. My little cooking diva...Samantha is now asking me to do the same to her. She wants me to put out ingredients and she wants to come up with something all-by-her-8-year-old-self! Lol
I took it easy on her for her first "challenge", last night I laid out heavy cream, berries and vanilla bean paste. She also had use of the kitchen supplies. Off I went to watch Top Chef On Demand and my girl got down to business!!
How cool is THAT?
I'm sitting in another room with my feel up while my "baby girl" made us dessert!
I did peek in on her a couple of times...she was SO serious slicing berries and she was so meticulous while building each of our servings. She served each of us an adorable small bowl layered with berries and freshly whipped vanilla bean cream.
Today, it was my turn. I looked around the kitchen and grabbed an avocado, a slice of bacon, Panko, cheese and greens and got down to work to make myself a salad and boy oh boy was this good!! THIS will be in regular rotation for sure.
I know in the back of my mind I had seen Avocado Fries somewhere, on Pinterest I think. So I figured I would fry up some slices, similar to how I make Parmesan Encrusted Chicken for my children, and make that the start of my salad. I am SO happy I threw in some bacon! The bacon, combined with the perfectly ripe grape tomatoes, mingled with pieces of shaved Parmesan was incredible! That combined with the crunchy, buttery goodness of the avocado, drizzled with the dressings. OMGosh people, I need you to come over so I can make this for you!
At the last minute, I decided to add a second dressing with some heat and that sealed the deal.
This was the best thing I have made/eaten to date in 2013...I know that not saying much since it is only the 11th, but wow! For me, it was like a piece of music that every instrument playing together beautifully!
If you are looking for a dish to impress for lunch, a starter or a meal...this is it my friends!


Crispy Avocado Bacon & Tomato Salad
Serves 2
1 avocado (look for one that is almost ripe, not mushy yet)
Pinch of Kosher salt & pepper
⅓ cup flour
1 egg, beaten
½ cup Panko
2 TBS grated Parmesan cheese
Olive oil for frying
Greens (I used Field Greens)
Sliced Tomatoes
Shaved Parmesan cheese
2 pieces of crispy bacon, snipped into pieces
Honey Lime Dressing


2 ½ TBS honey
2 TBS Balsamic vinegar
1 clove of garlic, minced
3 TBS fresh squeezed lime juice
Pinch of Kosher salt and pepper
Spicy Ranch Drizzle


⅓ cup Ranch dressing
½ - 1 teaspoon Chili with Garlic Sauce or Sriracha or even Tabasco sauce
Halve your avocado and run a sharp knife gently around the perimeter of each half to loosed the meat from the skin. Gently remove the skin and the seed. Slice each half into wedges. You should be able to get 8-10 wedges from the avocado, depending on its size. Don't slice them to thin...you want them to hold up to the breading and frying. Sprinkle the wedges with a bit of Kosher salt & pepper.
Place the flour in a shallow bowl. Place the egg (beaten) in another bowl and the Panko/cheese mixture in another bowl. Dredge each piece in the flour, gently shake off any excess flour. Dip into the egg mixture, then finally into the Panko mixture, coating all sides well. Set aside.
Heat your oil in a frying pan. Place just enough olive oil in your pan to just cover the bottom of the pan.
Heat over medium high heat until oil becomes hot enough to fry. It usually begins to make a sound once its close. Gently set your avocado pieces in the oil. Fry on all sides until browned. In total about 1 ½ - 2 minutes. Gently remove from the pan, set on a paper towel lined plate.
Assemble your salad(s).
For dressing, combine all ingredients in a mason jar or shaker, shake until fully combined. Adjust to your liking (sweeter or more vinegar, I went for a sweet flavor). Drizzle over salad.
Combine the Ranch dressing and Chili with Garlic Sauce (or Sriracha or Tabasco) in a small bowl and mix until fully incorporated. Adjust to your taste. Drizzle over salad.
I would love to know if you try this and liked it as much as I did!!