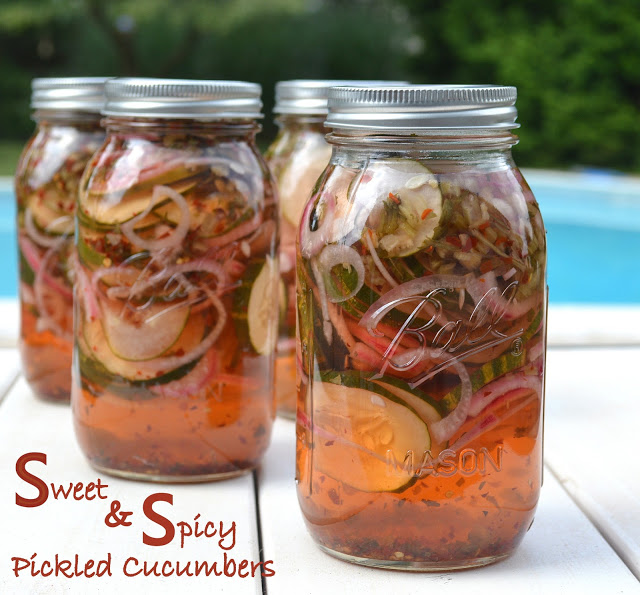 It's that time of year, when gardens both big and small are beginning to explode with a bounty of crispy, juicy goodness!   Now we see just why we toiled, sweated and nurtured our little plants! These Quick & Easy Sweet & Spicy Pickled Cucumbers are one of the reasons we did! 
I however have a black thumb, really, I do!  Just ask my husband, no wait...I changed my mind...don't ask him, It will be too embarrassing!!! The best yield I ever had from planting a garden was about 4 years ago - I planted a ton of stuff - waaaay too close together and barely paid it any attention.  Everything grew and I was up to my eyeballs in vegetables!  My next door neighbor, Amanda, who is a serious gardener (actually she's perfect at just about everything), just kept scratching her head and couldn't believe all that grew, lol!
That year, I decided to use some of the cucumbers and pickle them.  My husband is a big fan of pickles, and adores any spicy food.  My dad makes incredibly delicious Kosher pickles, so I wanted to do something different.  My husband flipped over these so been making them every year since.  These Quick & Easy Sweet & Spicy Pickled Cucumbers are a perfect & light accompaniment to any BBQ meal and they seem to be a go-to late night snack for my hubs.
Last year the deer took out my whole garden in one night, so this year, I am only growing a variety of tomatoes and peppers, as well as herbs in pots that I have sprinkled around our property. Other than that, I have my trusty blueberry bush & Fergie the fig tree (update...Fergie the fig tree has bit the dust...).  That is it.  Even though I really have been trying to do all that I need to to get the most out of them (and keep them alive), our 2 resident groundhogs, Munchie & Crunchie, have really been up to no good.  I literally stood at my sliding doors and watched Crunchie eat a huge jalapeno plant down to a tiny stalk in under 4 minutes.  Ugh!  For the last 4 years my daughter had considered those two rascals, who live under our pool house, her pets. Oh well, she's happy that they are happy (and well fed) and I run an unofficial vegetarian buffet...its all good!
If you're looking for something to do with your cucumbers, try this!  It is ready to eat in about 18 hours, plus these Quick & Easy Sweet & Spicy Pickled Cucumbers make a fantastic hostess or food gift!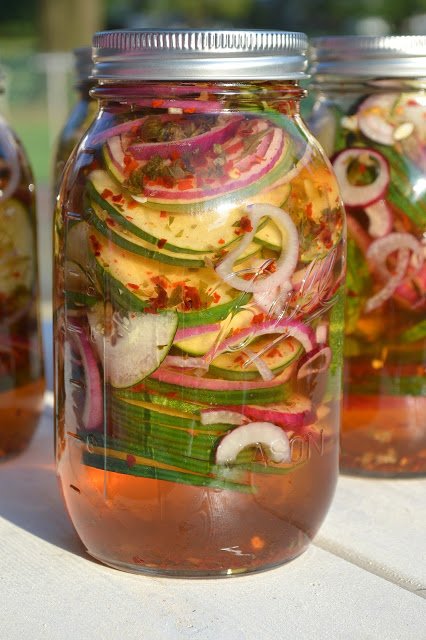 This is also a great way to cook with your kids!  The onions however might get to them (they make my daughters eyes tear like crazy - but she gets through it, lol).  Kids who have an understanding of a knife can help slice your cucumbers and just about any age can help pack the jars.  Then, they can proudly announce..."I made this and give jars away as gifts!!"
Do you have a favorite vegetable to pickle?  I would love to hear what it is if so!


After 18 hours: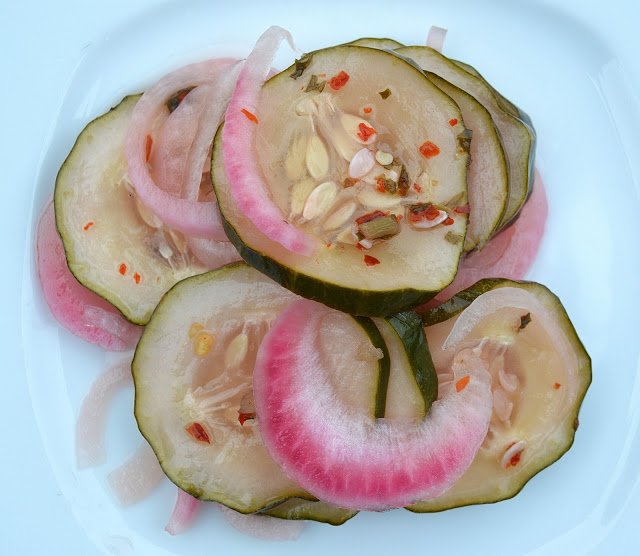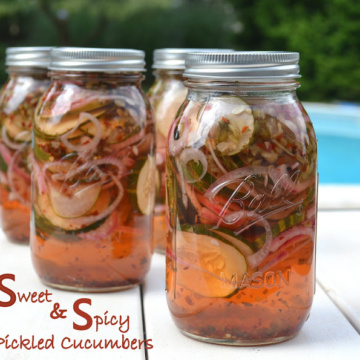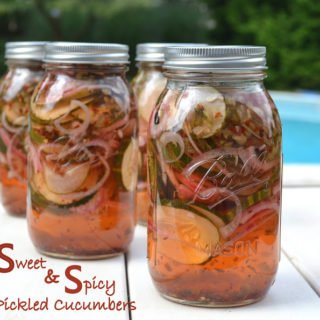 Quick & Easy Sweet & Spicy Pickled Cucumbers
Ingredients
4

quart-sized mason jars

4-5

large cucumbers

sliced thin

2

large red onions

sliced thin

3

cups

white vinegar

1 ¾

cups

sugar

1

TBS

celery flakes

1-2

teaspoon

red pepper flakes

depends on how spicy you like it

1 ½

TBS

Kosher salt

3

cups

of ice
Instructions
Toss your sliced cucumbers and onions in a large bowl, then fill each jar with the mixture, gently pushing down the veggies to allow room for more.

In a pot, combine the vinegar, sugar, celery flakes, red pepper flakes and salt and bring to a boil. Remove the pot from the heat and add in 3 cups of ice.

Stir until the ice is melted. Pour mixture into your jars, until you are just shy of the top.

Place the lids on and allow jars to cool to room temperature.

Place jars in the refrigerator until you are ready to enjoy or share them.
Notes
Colleen's Notes: In the photo I packed the jars much looser (with cucumbers and onions) than typical since I was giving them away to friends/family. Typically, you want the veggies more tightly packed, I just didn't want them going to waste based on who I was giving them to. The more veggies in the jar the less liquid you will use - so you might get 5 quart jars out of it.
To help gently hold down the veggies, often I use the opposite end of a muddler to do so.
Feel free to try variations as well - add some red bell peppers sliced thin to this or try doing it with some blanched cauliflower, broccoli and/or carrots. You can add in a couple cloves of garlic and/or some black peppercorn seeds as well for a different flavor. You can also increase or decrease the amount of sugar. These keep well for a week in the refrigerator.
Follow me on Tik Tok for 1 minute videos
Enjoy!!