If you enjoy giving food gifts or cookie trays during the holidays, this Chocolate Toffee Bark is a tasty addition to a tray of cookies or a gift idea packaged on a new piece of bakeware or servingware!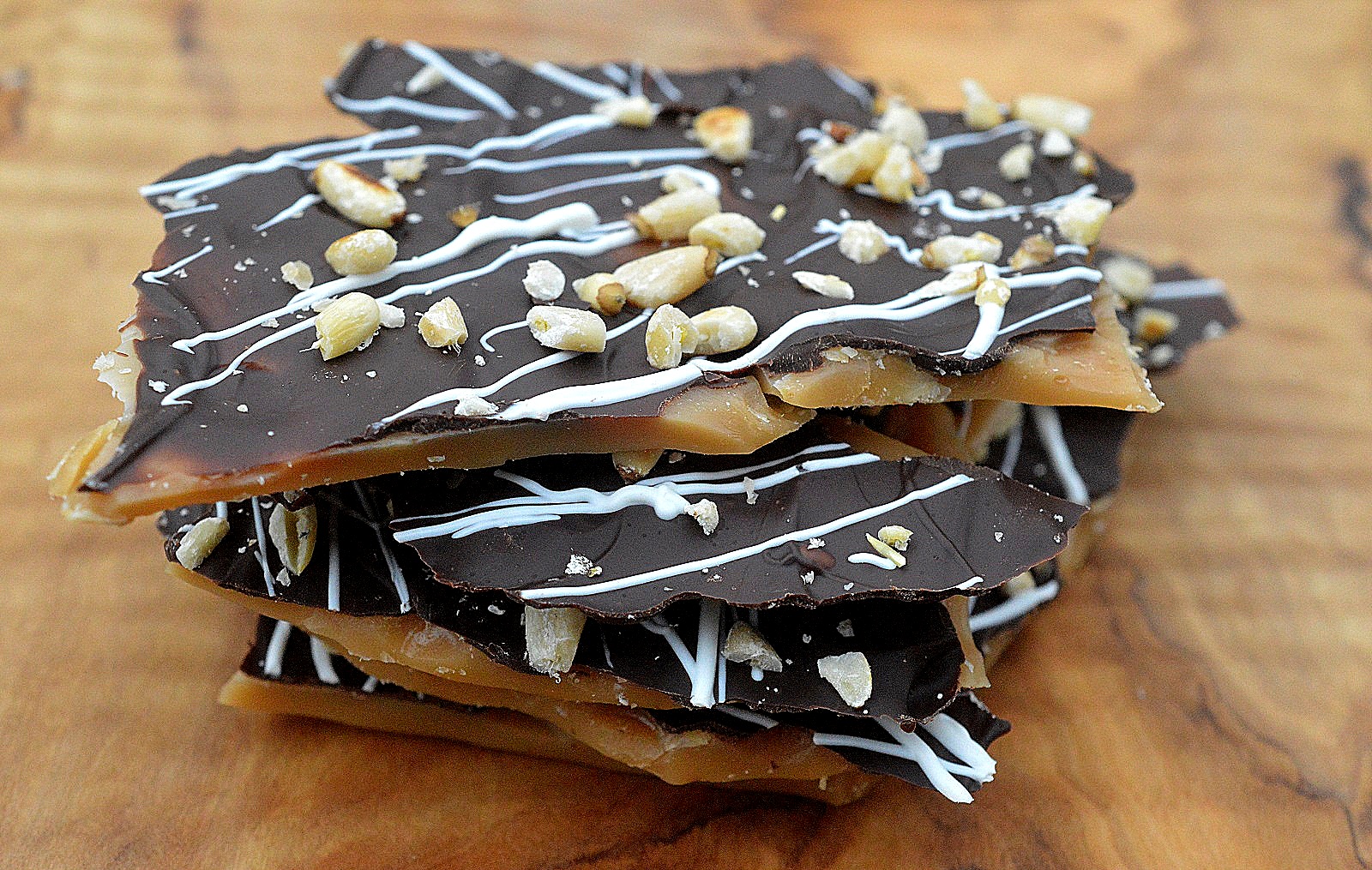 This Chocolate Toffee Bark is loaded with buttery toffee, rich chocolate and give you a satisfying crunch! Adding nuts is up to you,  I decided to go with pine nuts, however, feel free to either omit nuts altogether or simply decorate with a white chocolate drizzle.
I vividly remember the first year I decided that I would make food gifts for just about everyone in my life. My family, friends, and co-workers will never know the hours and expense that went into those ingredients, tins, jars, and plates! I can remember standing in the kitchen of my apartment, exhausted, covered in flour at 2:30 am on a work-night just trying to get finished, lol!
Since then I have streamlined my food gifts and make things like my Eggnog Biscotti (making biscotti is easier than you realize), Homemade Vanilla, Vanilla Syrup and Vanilla Sugar, my "famous" Apple Pie Moonshine and Chocolate Liquor, sugared nuts and my Bourbon Cherry Pie Filling. Plus the usual suspects of my favorite Christmas cookies. Yum!

Adding a candy element by way of a Chocolate Toffee Bark is a great addition to any gift or cookie tray.  30 minutes will result in something delicious! Get the recipe for the Chocolate Toffee Bark HERE.
I have teamed up with PotsandPans.com again to bring you this recipe.
To make this Chocolate Toffee Bark, I used a Farberware Ceramic Baking Pan.  I thought it was so pretty. They have a number of color choices. The coating made it possible for me to make the bark right on the tray, no parchment paper necessary! How nice would it be to load up one of these colorful and functional Farberware Ceramic Baking Pans from PotsandPans.com with cookies and candies and gift it this holiday season? They come in multiple sizes and colors. I know I would like it!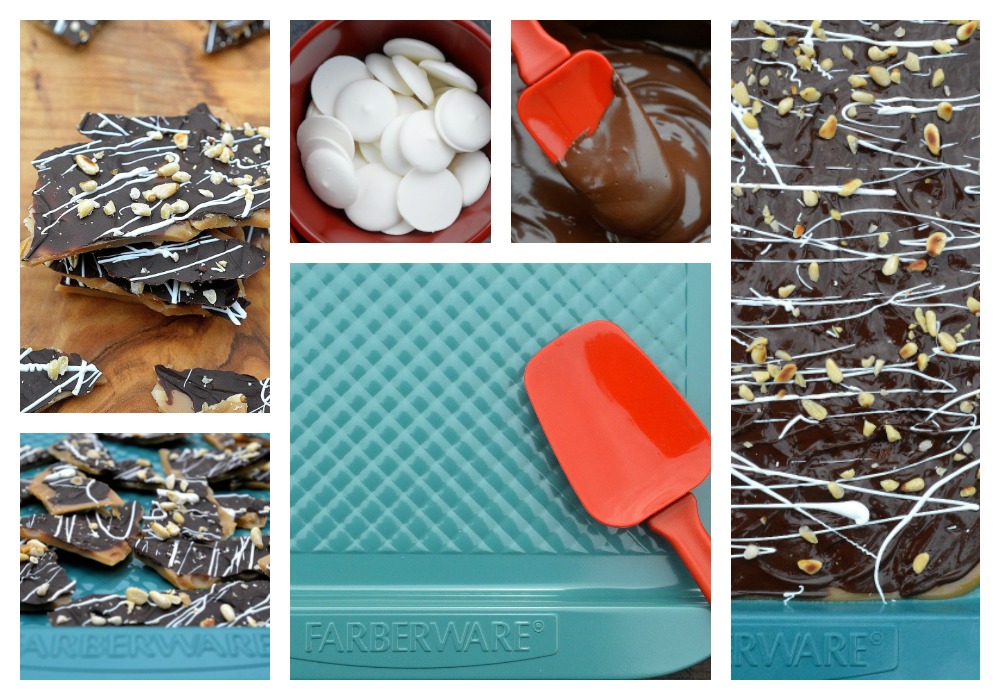 Toffee making requires a good heavy pot. I used this Anolon 3.5 QT Copper Bottom Straining Saucepan from PotsandPans.com to get the job done (its fabulous to straining pasta and vegetables too!). The addition of pour spouts on either side of the pan was a big plus both lefty's and righties are covered!. Anything Anolon is a great gift idea, all year long!
For measuring, my daughter and I love the 5 Piece Rachael Ray Nesting Measuring Cups! It's a great stocking stuffer for the Little Chef or cook in your life!
Check out PotsandPans.com and see just how much they have to offer! From bakeware to cooking supplies and prep tools, they have got you covered. They also have a great selection of serving-ware. Some really pretty pieces. Plus they have good prices and ship fast!
Visit PotsandPans.com for the recipe for Chocolate Toffee Bark and Merry Christmas...Happy Holidays!