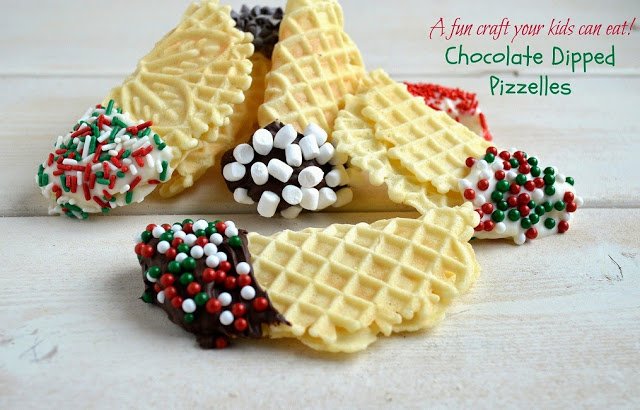 I had an exciting week this week! I did a guest spot on The Dawn Show, a TV show in the Philadelphia area station on WMCN 44 which is the fastest growing Philadelphia area station. Found on Channel 19 or 519 HD for Verizon, Channel 21 or 794 for Comcast and Channel 44 for Dish or non-cable TV.
The show aired today and here is my clip! And yes…I talk fast, lol!
I had a BLAST doing the show! In my segment I presented 4 fun crafts that you can eat or make as a gift with your kids this holiday season, including my children's favorite Edible Christmas Wreaths. Kids LOVE helping in the kitchen, they puff up with pride when they can present or gift something they themselves made or had a hand in and you know what…THOSE memories last a lifetime! I bet 100 bucks each and every one of you reading this has at least one wonderful memory standing at the knee or shoulder of a loved one baking up some goodness for a holiday! Why not give that precious and long-lasting gift to the kids in your life this week!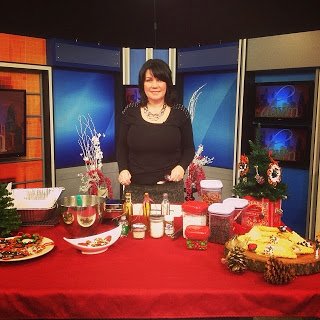 Meeting Dawn Stensland-Mendte was fabulous, she is a smart. competent, talented, beautiful woman and I was so happy to work with her! Everyone at the station (WMCN44) was on point…everyone! They were helpful, nice, enthusiastic and encouraging! For me this was an unusual day, for them this is what they do every day…but you know what…they all made me feel special and I thank them for that! Why can't a gal get fed with no dishes involved and her hair and makeup every day!!! Aaaaah!! That must be the life lol!
I was surrounded with some amazing women that I am lucky to call my friends – Joey Fortman, local radio host and founder of Real Mom Media organized the day. Two shows were filmed. Joey was in both shows showcasing fun toys for the holiday season as well as talking about the influence of local bloggers like me in the Tri-State Area. Linda from Giggles Gobbles and Gulps did a segment on holiday cocktails which you just have to watch! I sampled 2 of them on the set (ssshhhh!!) they were delicious – the other two I SO want to try as well – To me all 4 of her creations were home-runs for your holiday gatherings. The Christmas Cookie Swap Martini made with Kahula, Bailey's & peppermint schnapps wasa-mazing!! The Cranberry Prosecco was SO my kinda holiday party drink! Perfect for a sit down dinner too! Click here for her fabulous holiday cocktails! My friend Denise of the Painted Home and Kelly of Eclectically Vintage did a segment on crafting – you HAVE to see some of their stuff – its genius! And my new friend Beth of DIY Hip Chicks did a really helpful segment on how to fix any disasters that may befall you while entertaining this holiday season! If you take a peek at either of the two shows, I am confident that with all that we offered, you will find some ideas and inspiration that will help or inspire you this holiday season & beyond!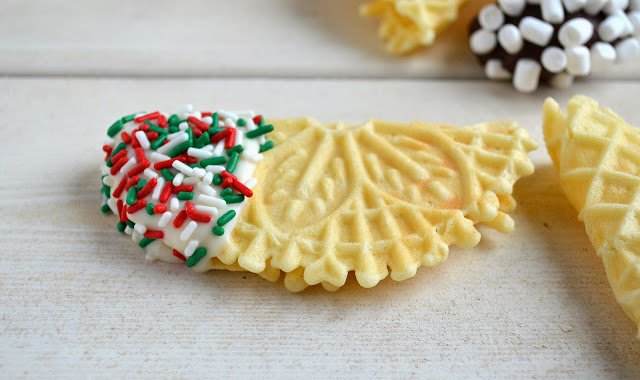 During my day I also met
Lauren Hart
who has for years sung the national anthem and more for my hometown hockey team the Flyers (my husband is so jealous). Lauren will soon debut a new lifestyle show on WMCN covering the arts which is so important to her, local stories and stories with "Hart"
Get it??? …heart! Love that!! I can't wait to see the show on WMCN!
For my segment, I made Chocolate Dipped Pizzelles that were dipped in chocolate and decorated – my kids love doing that! I make killer Pizzelles a cookie my family and I can never get enough of – but a few years ago I thought hey why not make them even more festive for the kids and let them decorate them a bit – and they did. you can too! As a matter of fact you could even buy some and have the kids dip part of them in chocolate and decorate them – its so fun!! For my Pizzelle recipe and the story of where it came from, click here.
I also made these super fun Edible Pretzel Wreaths. I came up with these when my son was just under 3. I wanted him to make something for his grandparents, cousins and aunts that Christmas – they have always been a huge hit! For the recipe for my Edible Pretzel Wreaths, click here.
Finally I made something anyone can make, just to say you made it AND because it's more affordable than buying it – Homemade Vanilla Extract and Homemade Vanilla Sugar! My daughter made both of these a few weeks ago as a teacher gift. If you are a reader of this site, then you know my 9 daughter is pretty accomplished in the kitchen…but you know what…she is super thrilled that she made something so simple for her teacher. Anytime you make something with love…it's special. THAT is something I drive home to both of my kids any chance I get 🙂
Cooking with your kids is not as difficult as you might think – Just remember to clearly tell them their role in a recipe then give them space and encouragement and in no time, they you will be amazed at just how much they can help you! One tip…especially in the beginning parchment paper is your friend! Makes cleanup from any mishaps a snap!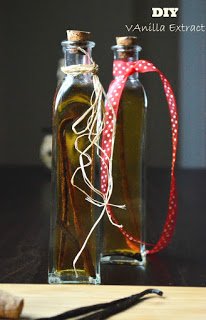 Homemade Vanilla Extract
Items needed

A bottle (think about how often you use vanilla extract)
A vanilla bean (one for each bottle)
Vodka (if you are gluten free, use Tito's Vodka)
That's it! Just run a knife down the middle of your vanilla bean, leaving just the top intact. Fill your bottle almost to the top with your chosen vodka, insert the vanilla bean into the liquid and seal the bottle. Give it a really good shake. Shake it well every day for about 5-6 weeks, then it will be ready to use. You will notice it turn darker and darker..Mmmmmmm! The longer the bean sits, the stronger the flavor. You can also top it off with additional vodka after you use it to stretch it a little further.
Colleen's Notes: If you want to speed the process up a bit, you can always carefully boil the bean and the vodka for a few minutes. It's usually ready in 3-4 weeks that way and you can burn off most of the alcohol if that is a concern for you. Be very careful not to ignite the mixture!
If you are using a bottle larger than 4 ounces you may want to add 2 beans or a bean and a half. If you don't want the vanilla seeds in your extract, just strain them out by using a cheesecloth before using it or transfer the liquid to a new bottle once the extract is finished. I like the seeds, so I keep them.
Vanilla Sugar

Items Needed

Small mason or decorative jar
Sugar
A vanilla bean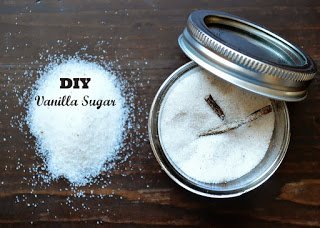 That's it!! Place the amount of sugar you will need to fill your chosen jar in a work bowl. Have your child (or you) slice a vanilla bean down the middle, slicing the bean lengthwise. Then using the tip of your knife gently run it down the inside of the bean halves to remove some of the seeds. Depending on the size of the jar of sugar you are using, slice the bean into halves, thirds or fourths. With your clean hands have them/you massage the seeds and bean segments into the sugar a bit, then pour the mixture into your chosen jar. Shake it every day for about 2 weeks – then it will be ready to use in coffee, on toast, in recipes….Yum!!
Colleen's Notes: If you like you can add a bit of cinnamon to the mixture as well for a different flavor.
Decorate your jar with a bit of ribbon or a label and you are good to gift it!

I hope you have enjoyed these fun crafts you can make with your kiddos…then eat or gift! Do you have a favorite edible gift to give? I would love to hear what it is!!
Happy Holidays!