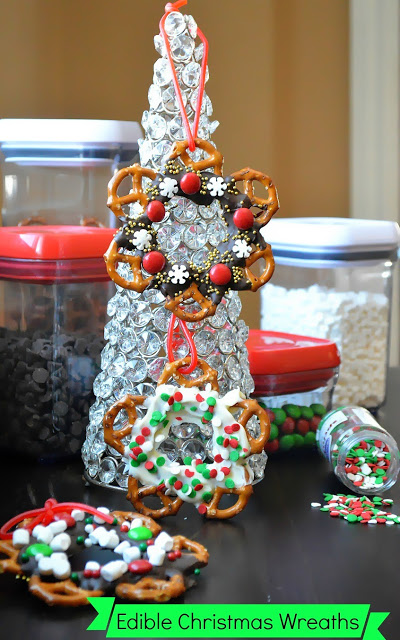 I thought you might like these adorable wreaths since Christmas is fast approaching. This was one of my earliest posts and photos here on Souffle Bombay, updated for today, enjoy!!
If you are a parent, caregiver or grandparent I am sure you are always looking for activities for the children in your life. A favorite activity of my kids and I has always been making edible crafts like this one.
My kids and I have been making these since my son was 2 1/2. My son is now 11 and my daughter 8 and they still love to make (and eat) these fun treats. They have given them as gifts to grandparents, aunts, uncles and cousins. They have brought smaller versions in for their classmates, they have made them for snacks and even decorated the house a bit with them.
The first time my son and I made these, he was so small, so eager, so very excited to help. He swelled with pride after they were finished and again when he handed them out on Christmas Eve. He now makes them unassisted (sniff). BUT he still loves to and I know the memories these hold for both of us will be around for many years to come.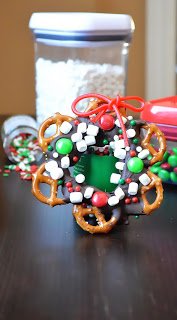 Edible Christmas Wreaths
Mini pretzels
Chocolate chips or Chocolate disks
M&M's
Licorice strings (Pull N Peel)
Melt the chocolate. Dip one end of the pretzels into the chocolate, using the chocolate like glue. On a parchment or wax paper lined baking sheet assemble wreaths. Stick M&M's on chocolate spots to decorate. Then put them in your garage or fridge to harden for a bit. Gently peel off parchment or wax paper. Make a bow from the licorice…and there you go. Store for a day or two in individual airtight baggies.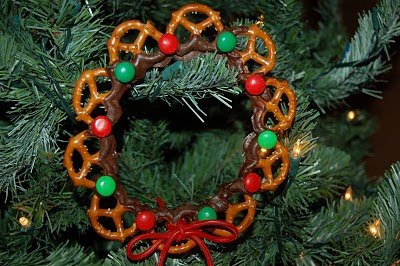 You can also go crazy decorating these with sparkly stuff, leftover gingerbread house decorations or anything the kids dream up…its art, so they can take it anywhere they want it to go 🙂
Enjoy!
Colleen
In December 2013, I did a TV segment on 4 fun holiday crafts you can make with your kids that they can then eat or gift – these fun Edible Christmas Wreaths were one of them. To check out the segment and see the other 3!