Pizzelles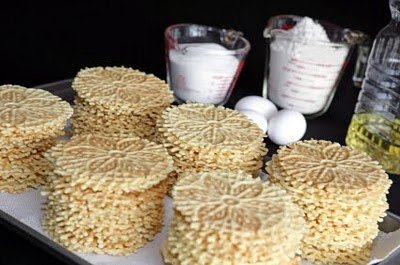 Pizzelles are my favorite cookie…Hands down!
When I was a "kid" first working, I met a woman named Betty whose family had previously had a bakery in South Philly. South Philadelphia is known for some amazing bakery's and food!! One day Betty brought in Pizzelles to pass out to those working at the branch. One bite later I-was-smitten!
To me Pizzelles do not taste like any other cookie…I had never had them prior and I knew then and there that they needed to be a part of my life! Betty used the old family bakery recipe which called for Anise oil instead lieu typical Anise seeds.
Betty gave me the recipe (which I have to say yielded 48 dozen…yikes).  At one time her family owned a huge center city Philadelphia bakery and these Pizzelles was one of its popular items) and a bottle of her "precious" Anise oil, which at the time was not readily available. I still have the original recipe card, taped in my oldest, falling apart, cookbook on the back cover. To me something like this is one of the most wonderful things about cooking…I can't remember Betty's last name or to much about her and I know she is no longer among us as she was older and her health wasn't the best 20+ years ago when she shared this recipe BUT I remember her EVERY time I make these…I see her face and remember her kind spirit and someday I hope many of my friends and family do the same for some of the recipes I have shared 🙂
I seriously do not know how many dozen Pizzelles I have made since then or how many dozen Pizzelles I have eaten since then (lots and lots and I have loved every one)but one thing I do know is that they are my favorite cookie! My kids and husband love them as well! My trusty Villaware Pizzelle Maker has been by my side ever since ..gotta love it when a product exceeds your expectations!
Over the years aI have also made variations to the original recipe including this fun twist that my kids enjoy!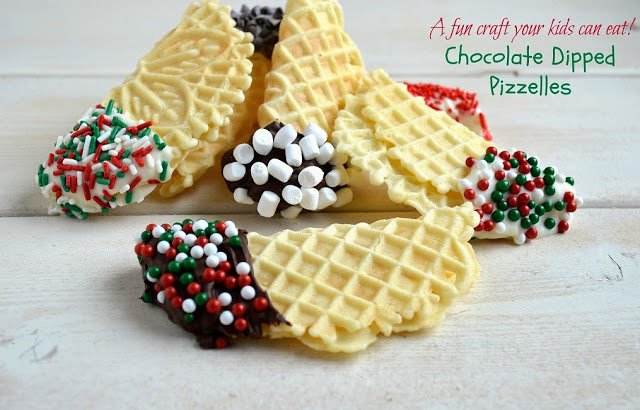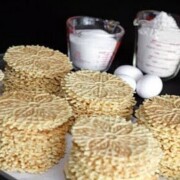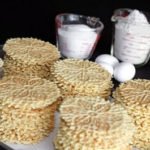 Print Recipe
Pizzelles
Ingredients
1

dozen eggs

3

cups

of sugar

2

cups

of vegetable oil

1 1/2

teaspoons

Anise oil

6

cups

of flour

1/2

tsp

salt
Instructions
Blend eggs and sugar until smooth . Add in oil and Anise oil and blend well. Add in flour and salt, blend well. Let the batter sit for 6 hours or overnight in your refrigerator, covered, to allow flavors to blend.

Make your Pizzelles according to your Pizzelle iron's instruction.
Notes
Colleen's Notes: If you do not have a really good strong mixer (I have a really good Kitchen Aid Mixer) you better make the batter in 2 batches as it is thick and hearty.
If you want to turn some of the Pizzelles into a fun edible holiday craft for the kids (or they want to make some to gift) why not fold a few dozen Pizzelles like a "taco" when you take them off the iron.  Then once cooled, melt some chocolate and let them dip and decorate!
Line a few baking sheets with parchment paper, set out the melted chocolate and decorations like mini marshmallows, sprinkles, crushed candy canes, seasonal candies mini chocolate chips or whatever you dream up and let them have at it.  Once they are finished, let them harden in your cold garage or refrigerator.
For more fun Holiday treats to make with your kids, click here.
Enjoy my very favorite cookies!!!
Colleen