It may be Spring however here in Pennsylvania, it's still chilly!  As a matter of fact, it snowed the other day and less than a week ago we had over a half-foot snowfall. So I decided to make a batch of Easy Lemon Crinkle Cookies to make it seem more like Spring!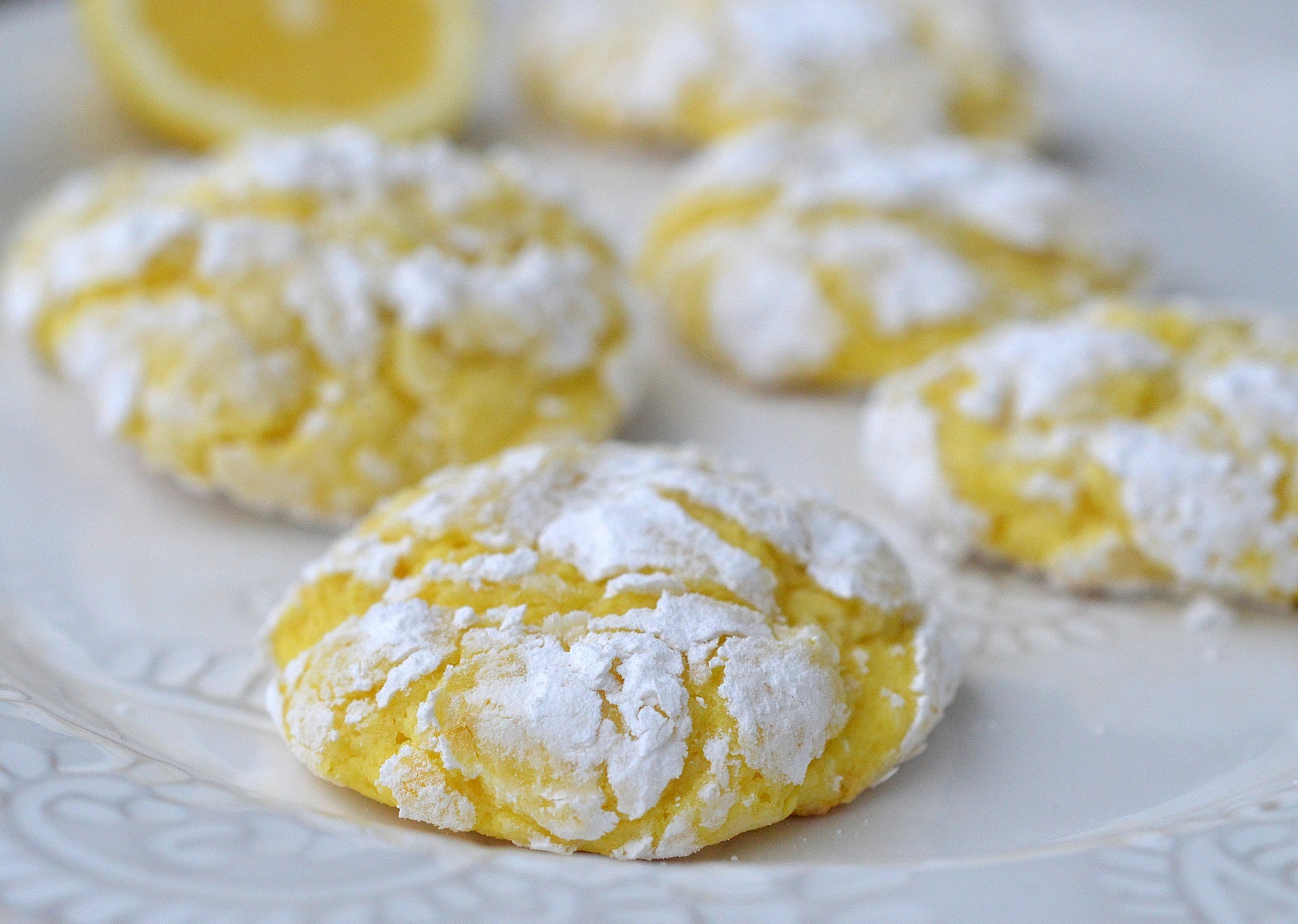 I have written a few times about both my deep obsession, err I mean affection for cookies as well as how much I enjoy "leaving some love" in the cookie jar for my family. Fresh cookies in the cookie jar mean all is right in my world! 
I whipped up a couple dozen Easy Lemon Crinkle Cookies on a whim, breaking from the biscotti and chocolate-ish cookies that had been ruling the jar the past few months. The kids were into them. When you have a glass cookie jar…momma knows every time someone grabs one or two. I swear I can hear the sound of the heavy glass lid coming off and on wherever, I may be in the house. And it always makes me smile 🙂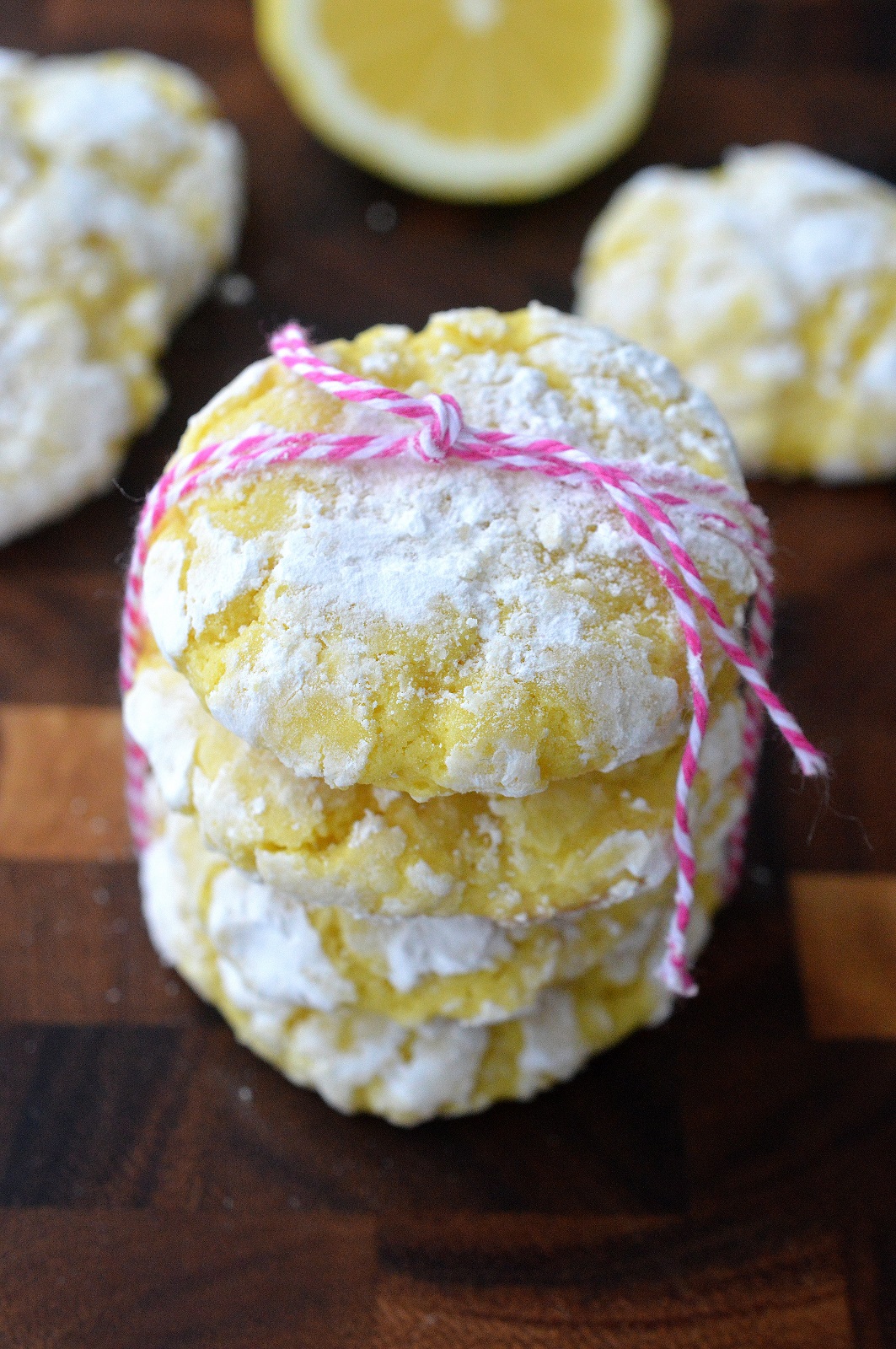 I shouldn't type this or even think it, however, I am amazed that our apothecary-style glass cookie jar made it through a good chunk of my kid's childhood intact. I think I have had that jar in the same spot for at least 8 years (from when Connor was 8 and Samantha at 5 or 6). This is the jar on Amazon if you are looking for one. I like to see what's in the jar (so does the rest of my family).
If you are in the mood for a sweet, bright, lemony cookie. Give these Easy Lemon Crinkle Cookies a try. You can choose to cook them all the way through or pull them out a little under so they are more like a "butter gooey cookie". Both ways are good. You can choose standard food coloring, all-natural food coloring (here's an all-natural McCormick Food Coloring set via Amazon) or no food coloring, although I like the yellow color.
If you are looking for another fun Easter cookie, try my Carrot Cake Biscotti…It's scrumptious any time of the year!
My daughter came across this recipe awhile back via Wicked Good Kitchen, we adapted it from there. This post contains a couple of Amazon Affiliate links which mean if you do decide to purchase something I am a fan of easily off of Amazon, I earn a small commission.
Enjoy!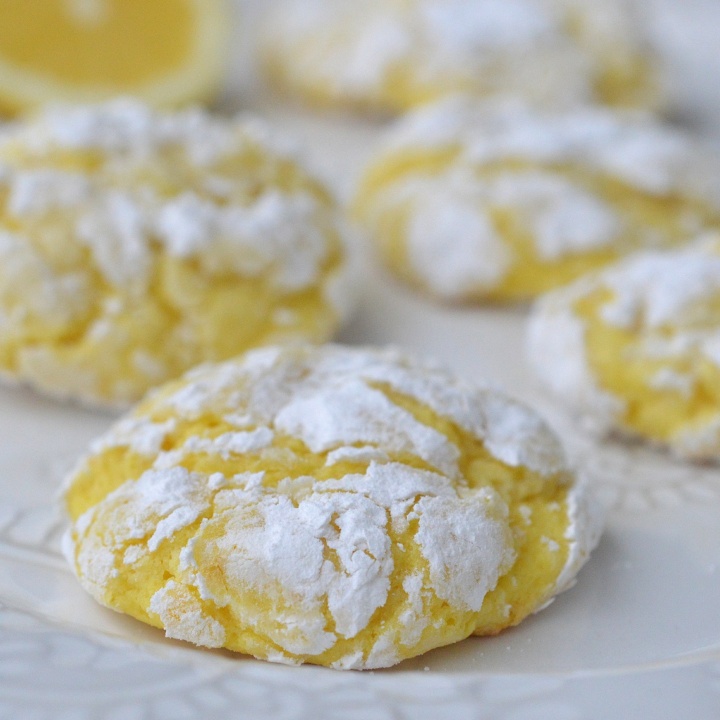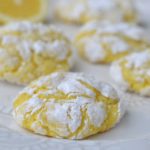 Print Recipe
Easy Lemon Crinkle Cookies
Ingredients
1 8-

ounce

package softened cream cheese

1

stick

½ cup butter, softened

1½

cups

granulated sugar

Pinch

of salt

1

tablespoons

freshly grated lemon zest

1½

tablespoons

fresh lemon juice

1/8

teaspoon

natural yellow food coloring

optional, you can find natural food color on Amazon

1

large egg AND 1 additional egg yolk

2¼

cups

all-purpose flour

2

teaspoons

baking powder

1

cup

confectioners' sugar

for rolling & dusting cookie dough
Instructions
Cream the cream cheese and butter until smooth. Beat in sugar, salt lemon zest, lemon juice, food coloring and salt; mix until fully combined and fluffy (about 2 minutes).

Add egg and second yolk and beat in well until creamy. (Another 1-2 minutes)

Whisk flour and baking soda together in a small bowl to incorporate.

On low speed, gradually add flour mixture and mix until just fully incorporated. The dough will be sticky. Cover work bowl and refrigerate 1-2 hours or overnight.

When ready to bake, preheat oven to 350ºF. Line two baking sheets with parchment paper and set aside.

Ready confectioners/powdered sugar in a small bowl and set aside.

Using a small cookie scoop, being sure each scoopful is similar in amount (so they bake up evenly) and place on baking sheet.

Roll each scoop of dough into a ball using your hands, then roll in the confectioners' sugar to lightly coat.

Place dough balls back onto the baking sheet, allowing for an inch between each

Bake until cookies <g class="gr_ gr_75 gr-alert gr_gramm gr_inline_cards gr_run_anim Grammar multiReplace" id="75" data-gr-id="75">are</g> puffed and crackly, about 13-14 minutes.

The cookies will still be soft in the centers. If they start to brown around the edges, they have baked too long.

Allow cookies to sit for 5 minutes, then gently transfer to a cooling rack until completely cool.

Store in an airtight container/jar for up to a week.

Dust cookies with a small amount of additional confectioners' sugar prior to serving if you choose.