Let's make some Peppermint White Chocolate Biscotti! These biscotti cookies are fun, festive and perfect pairing to a cup of coffee or tea yet are tasty enough to enjoy on their own. They also make a great food gift!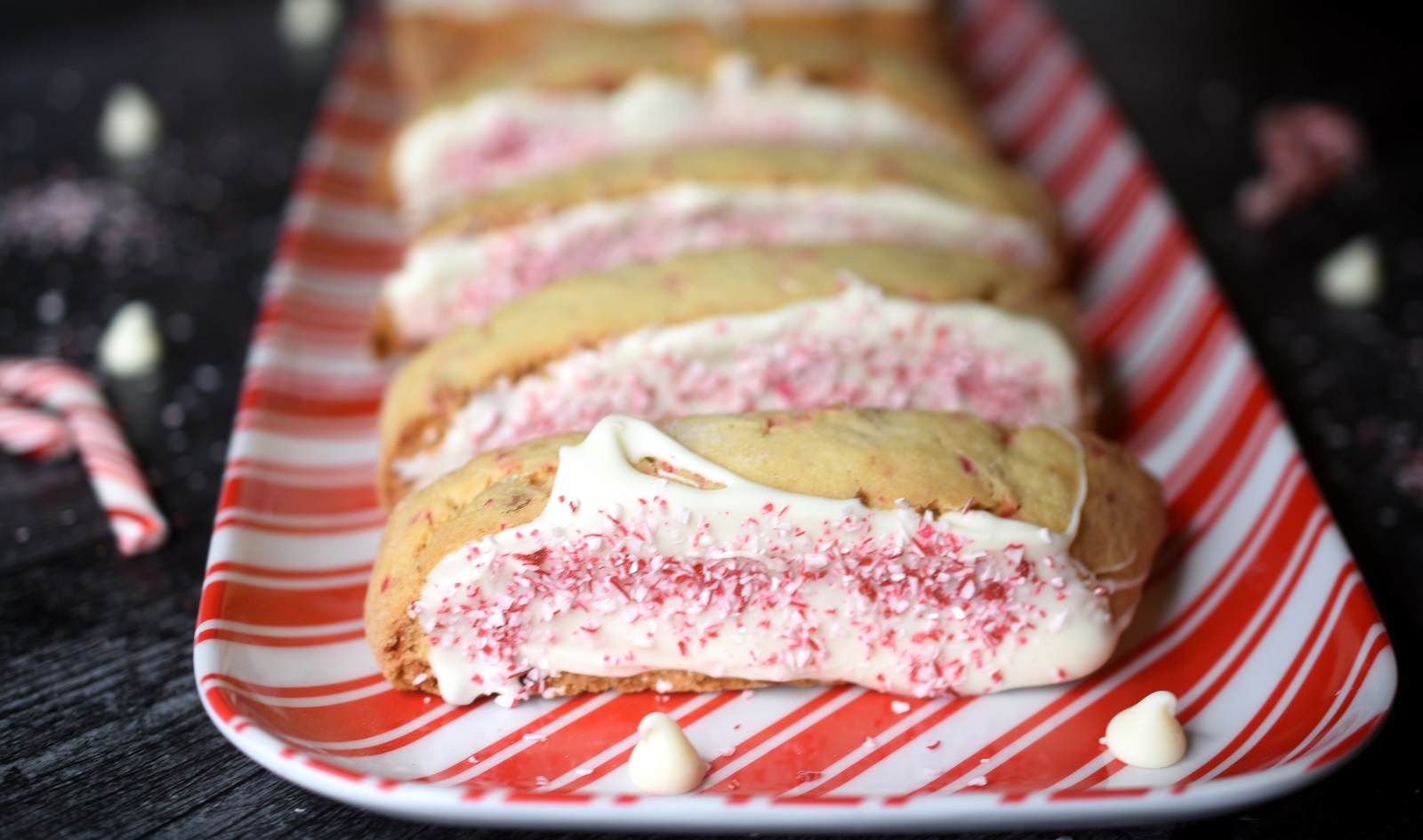 Making Biscotti  is not hard, I repeat, making Biscotti is not hard! Who wants to make Peppermint Biscotti?? It's easy!
I'm a total Cookie Monster! I really am (and so is my son). My daughter on the other hand is all about the cookie dough.
I never had biscotti while growing up in my Irish/Polish family. Not that I recall anyway.
Once I noticed them as a young adult (who was a non-coffee drinker) I paid them zero attention. Then one day about 10 years ago I had one and I have been a Biscotti-making fool even since! No dunking for me, My family and I enjoy them just as we do cookies.
These Peppermint White Chocolate Biscotti have a delicate flavor of peppermint, compliments by the white chocolate. They are not overly sweet and I like to bake them so they are not super crunchy, if you like them hard, just allow them to bake a little longer when you are baking them after they are sliced.
Instructions
All you need to do is make the dough just as you would any cookie and yes you can use a mixer
Then using your hands, shape it on a lightly floured parchment paper-lined baking sheet. You can choose to divide the dough in half and form two flat logs about 12-14 inches long and 3 inches wide (or so). However, for these, I like them large so I use the all the dough and form it into one log.
Next, bake it at 350 degrees for 30 minutes. Pull it out, allow it to cool for 5 minutes, cut it, slightly on the diagonal (½ inch to ¾ inch thick slices), place biscotti on their side and bake it for 10 minutes. Take it out again, flip it and bake 10 minutes more. Place on a wire rack and allow to cool completely.
After the Biscotti cool, melt white chocolate, spread some onto each biscotti, dust them with crushed candy canes or peppermint dust and your in business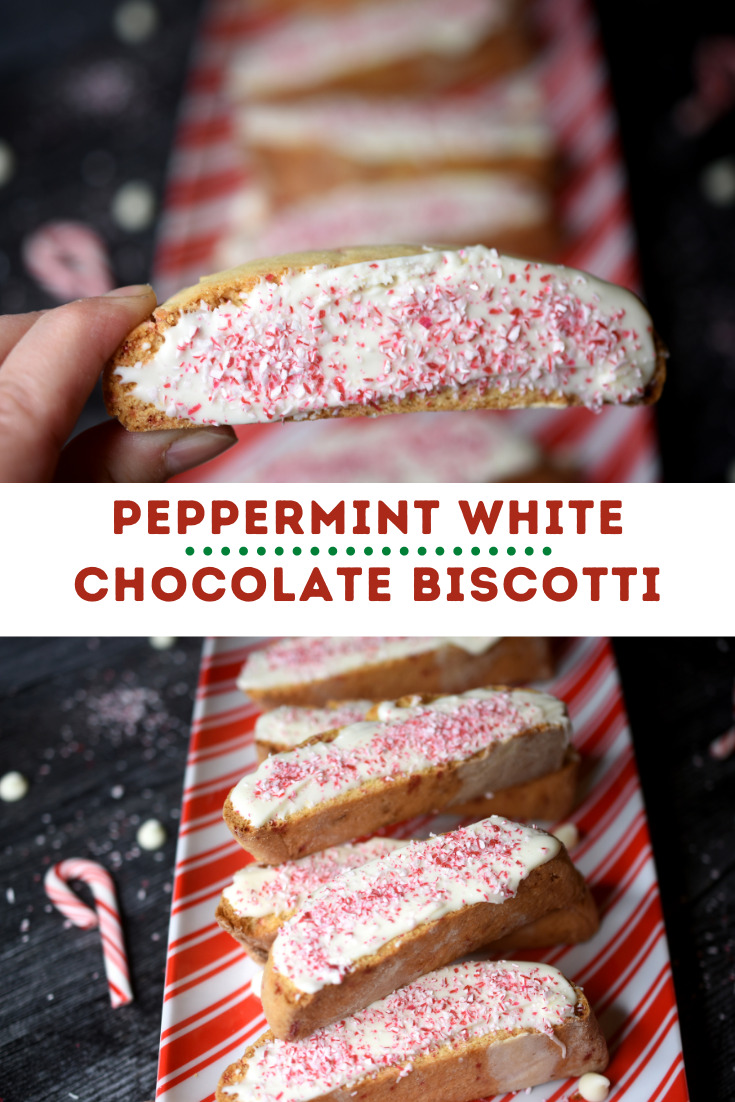 Ingredients
butter 
sugar
eggs
peppermint Schnapps
water
flour
baking powder
salt
white chocolate chips
crushed candy cane or peppermint dust
white chocolate chips
Hope you try these as well as gift these this holiday season!
If you too are a cookie monster, try Oatmeal Raisin Cookies, Candy Cane Meringues, my Pizzelles which are AMAZING and come from an old Philly Bakery or Eggnog Biscotti. And if you like white chocolate, try my make-ahead White Chocolate Peppermint Martini's.
Enjoy!
Originally posted December 2020, updated December 2022.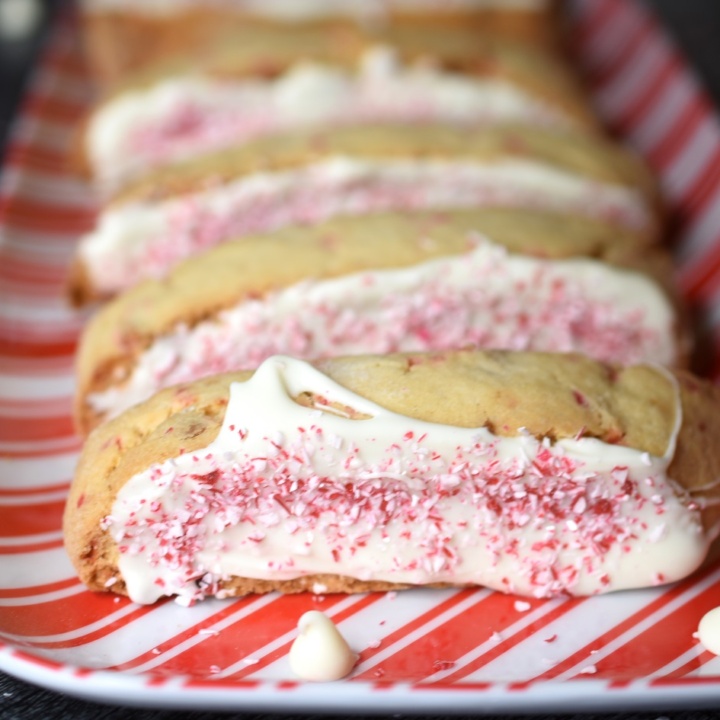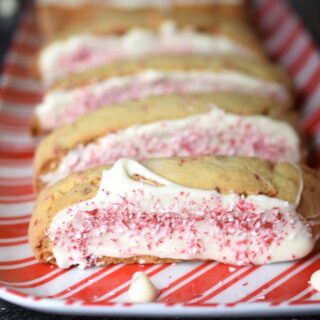 Peppermint White Chocolate Biscotti
Easy to make festive Peppermint White Chocolate Biscotti will compliment any cookie tray, cup of coffee or tea. Makes a great holiday food gift as well.
Ingredients
1

stick

butter

room temperature

1

cup

sugar

2

eggs

3

TBS

Peppermint Schnapps

1

TBS

water

3 ½

cups

flour

2

teaspoons

baking powder

pinch of salt

½

cup

white chocolate chips

2

TBS

crushed candy cane or peppermint dust
White Chocolate Topping
1

cup

white chocolate chips

¼

cup

crushed candy canes or peppermint dust
Instructions
In a large mixing bowl, combine butter, sugar and eggs and mix for about 1 minute or until smooth.

Add in Peppermint Schnapps and water and mix until smooth.

In a small bowl, combine your flour, baking powder and salt and whish to blend. Add that to your mixing bowl along with white chocolate chips and peppermint dust/crushed candy canes and mix until blended and smooth.

Line a baking sheet with parchment paper and dust it with flour.

Turn out your biscotti dough onto the baking sheet, (it will be kind of like a ball) and using your hands, shape dough into a long roll shape, about 12-14" long. With your fingers, smack down on the dough so that it ends up being about a ½" high. It will be sort-of like a long rectangle once your are finished.

Bake for 30 minutes, top will begin to crack in spots. Remove tray from the oven and allow it to cool for 5 minutes. Once biscotti had cooled enough to handle (yet are still very warm) Use a sharp chefs knife or long serrated knife and carefully and quickly cut slices on a slight angle into biscotti shape (approximately ½ inch to-¾ inch).

Flip biscotti to one side and bake for an additional 10 minutes.

Remove from oven and gently yet quickly flip biscotti to the opposite side and bake and additional 10 minutes.

Allow biscotti to cool on a cooling rack.

Once biscotti have cooled completely. Melt your chocolate in 30 second bursts in your microwave, stirring after each 30 seconds. Just over a minute total should do it (depending on the strength of your microwave). If some chips are not melted as you stir the chocolate, allow it to sit 15-30 seconds. The residual heat should melt the rest of the chips. Stir till smooth.

Using a small spoon, coat one side of the biscotti with the melted chocolate, smoothing it across with the back of the spoon. Dust each with crushed candy canes as soon as you spread the chocolate on. Allow to cool to allow chocolate to harden. (A cold garage works wonders).

Keep in an airtight container. Biscotti keeps well for weeks.
Notes
Biscotti will keep for a few weeks in an airtight container. 
If you enjoy biscotti really crunchy, just bake them for a few additional minutes per side. 
Nutrition
Serving:
15
servings
Calories:
336
kcal
Carbohydrates:
49
g
Protein:
5
g
Fat:
13
g
Saturated Fat:
8
g
Cholesterol:
42
mg
Sodium:
136
mg
Potassium:
91
mg
Fiber:
1
g
Sugar:
27
g
Vitamin A:
224
IU
Vitamin C:
1
mg
Calcium:
77
mg
Iron:
2
mg
Follow me on Tik Tok for 1 minute videos