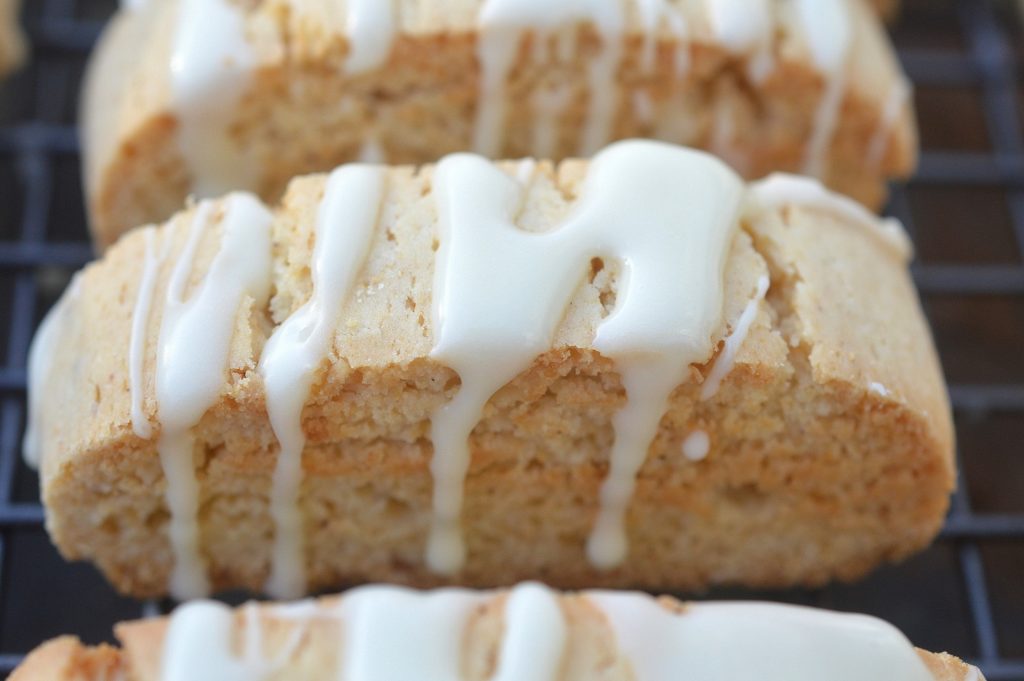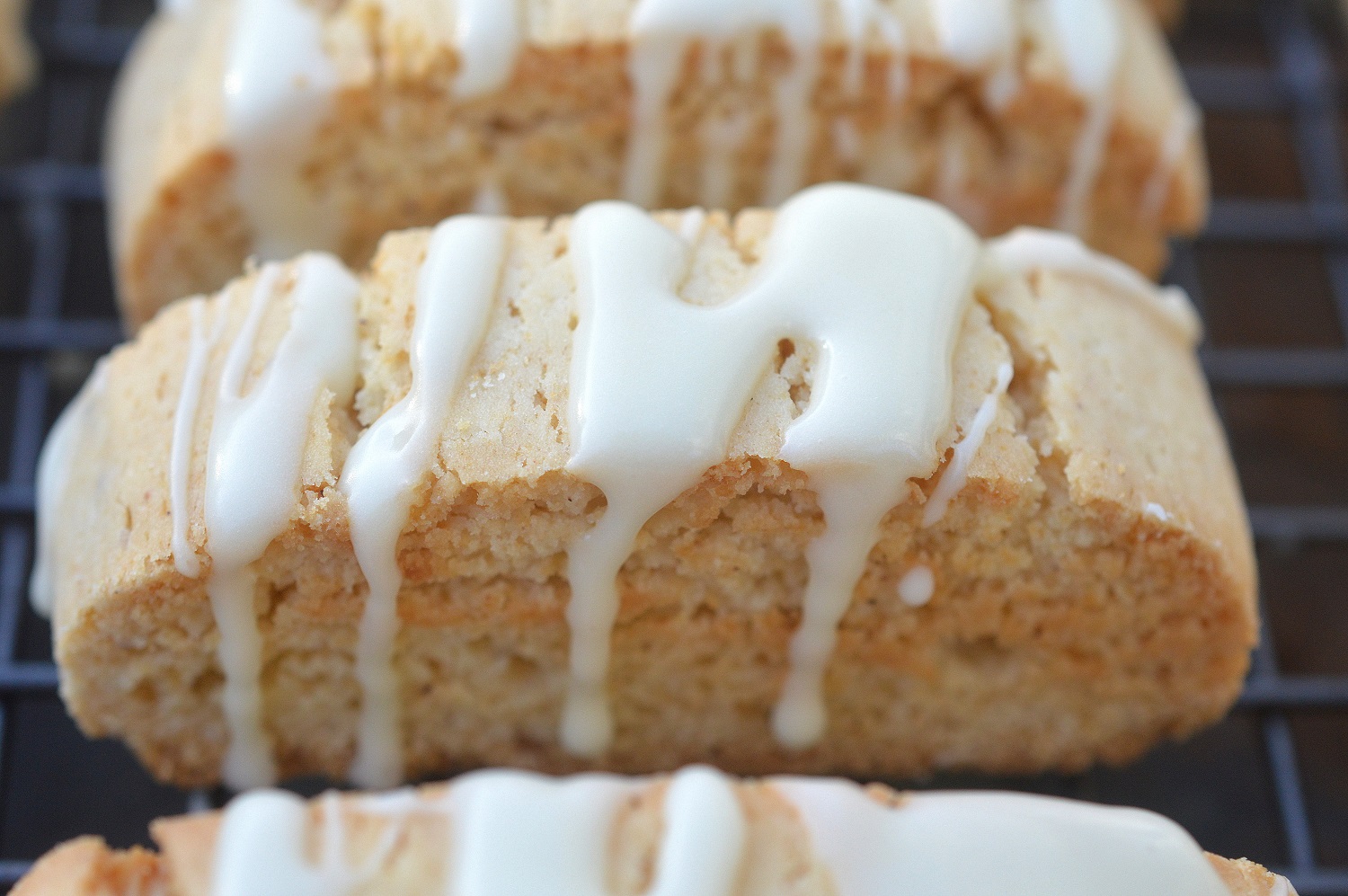 No time to make sheets and sheets of cookies? I've got the solution!  Make these festive Easy Eggnog Biscotti!
Really, they are easy and in my opinion, they stand out from the holiday cookie crowd!  Make a batch, fill a mason jar and tie a ribbon around them and you have yourself a great lil' host/hostess, neighbor or co-worker gift.  Make my friend Brandy's Aged Eggnog to pair with it or give some fancy coffee or tea and you now have one heck of a quality (and thoughtful) gift!
I am happy to partner up again with Davidson's Safest Choice™ Eggs for this years Eggnog Campaign, which you can easily follow by looking for the #SafeNog.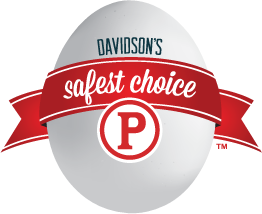 In my house we love Davidson's Safest Choice™ Eggs.  Since I started cooking with my kiddos at a young age, I always feel good about the working with their eggs and I am confident in the may ways I choose to use them in recipes.  Especially when making a delicious Caesar Salad Dressing or my "famous" Irish Cream.  The fact that Safest Choice™ Eggs are pasteurized puts me at ease for any risk (plus we get to eat alllll the cookie dough we want!).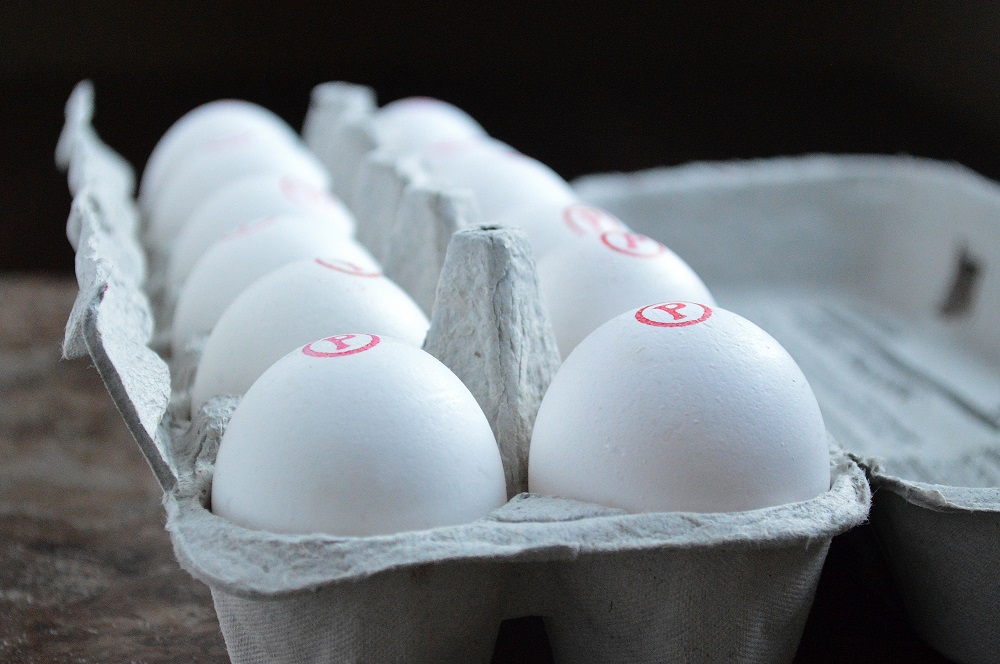 To make this holiday season even more fun Safest Choice™ is having a fun Instagram contest! Simply upload a photo  about holiday cooking, baking, prep, etc on Instagram and use #SafeNogPhotoContest on any of your Instagram photos to be entered to win deadline is 12/24/15.  The winner will be chosen via a random drawing. Good Luck!! Follow them on Instagram, Facebook or Pinterest for recipes, updates, coupons, contests and more!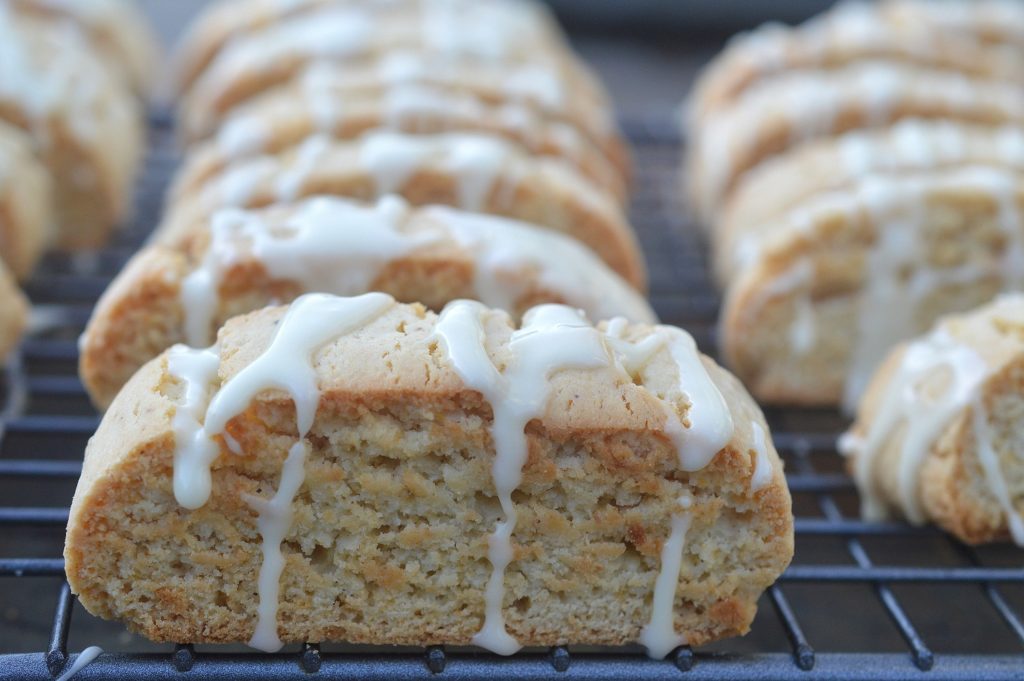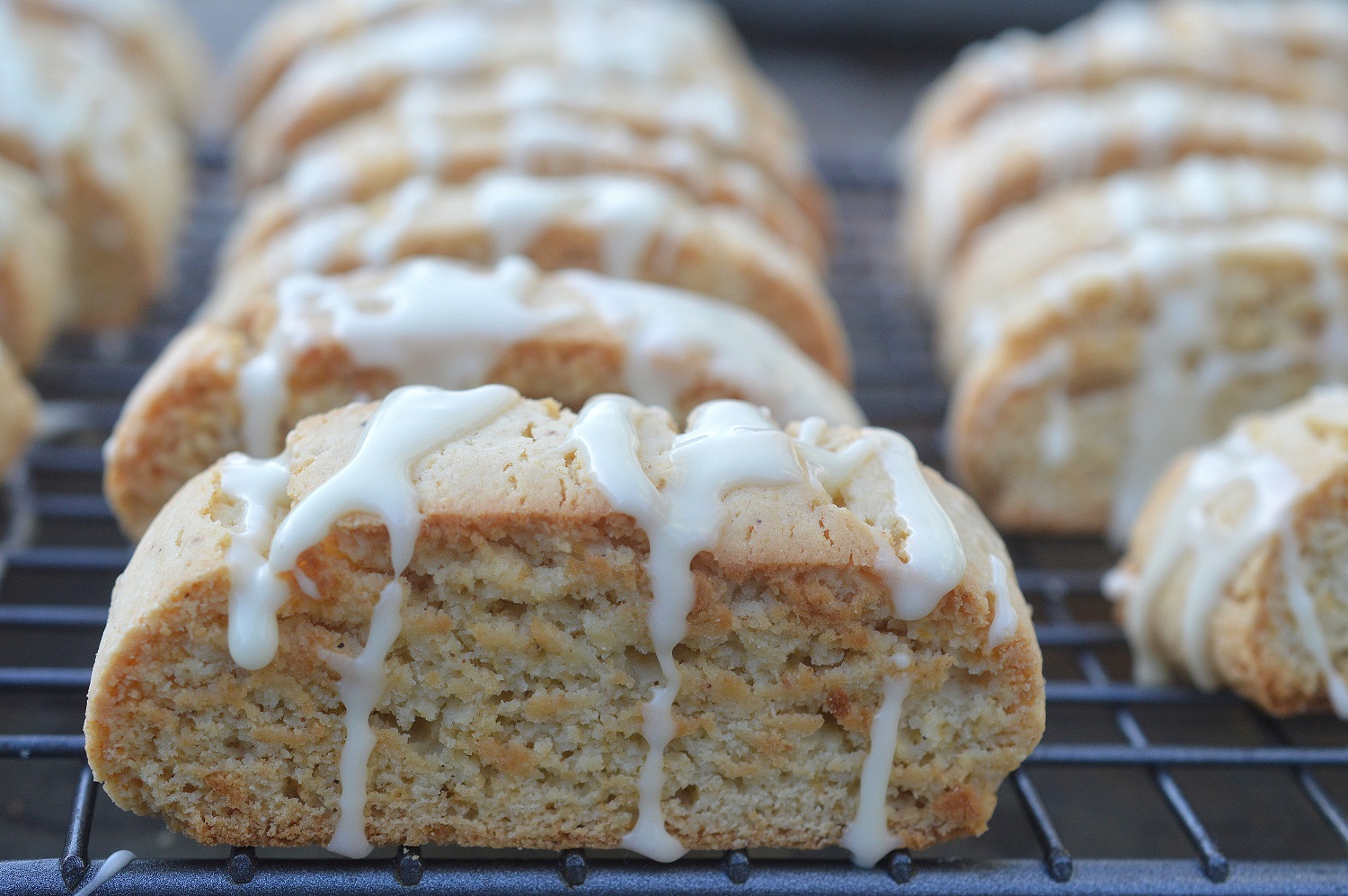 Back to the Easy Eggnog Biscotti. My son (14) who never had a biscotti in his life, ate 55% of these with tea, tea and more tea (he loves tea)!  He said and I quote… "Mom, you HAVE to make these every week!!" I said, sure sweetie's long as you are by my side when I do 🙂
These are really good! They have a bit of whiskey in the dough as well as the drizzle.  Just enough to make them interesting. You can taste of the eggnog as well as the nutmeg.  Feel free to make these as flavorful or as plain as you typically enjoy biscotti. Same goes for hardness.  I bake them just enough for the crisp outside, however the inside is not dry or crunchy at all. Just the way we enjoy them.
Hope your holidays are filled with lots of delicious goodies!
Pasteurized = peace of mind™
Safest Choice™ all-natural, gentle warm bath pasteurization eliminates the risk of Salmonella in eggs without changing the nutrition or flavor. Davidson's Safest Choice® Eggs are pasteurized, so they taste great and are safe for all your favorite egg dishes! Did you know? Most eggs sold in cartons are NOT pasteurized. For more information, visit www.SafeEggs.com/eggs/safest-choice-eggs. Safest Choice™ Pasteurized Eggs are perfect for: sunny side up eggs, poached eggs, soft scrambled eggs, omelets, Tiramisu, Caesar salad dressing, Hollandaise sauce, mousse, homemade mayonnaise, homemade ice cream…and licking the spoon when you bake. For information on raw eggs, visit www.SafeEggs.com/eggs/raw-eggs. Safe from recalls! The egg-related Salmonella outbreak (more than 1900 illnesses) and the massive August 2010 recall (more than 500 million eggs) left questions in consumers


Easy Eggnog Biscotti #SafeNog
Ingredients
Eggnog Biscotti
½ cup butter (1 stick, softened)
1 cup granulated sugar
2 Davidson's Safest Choice ™ Eggs
½ cup eggnog
2 teaspoons whiskey
3¼ cups all-purpose flour
2 teaspoons baking powder
2 teaspoons ground nutmeg
½ teaspoon salt
Eggnog Whiskey Glaze
1 cup powdered sugar
1 teaspoon whiskey
3 TBS eggnog (more if necessary)
Instructions
Preheat oven to 350 degrees.
In a large bowl, combine butter, sugar, and eggs with a mixer(using a paddle attachment if you have one...if not no worries) for about 1 minute or until well blended. Mix in eggnog and whiskey until just blended.
In a separate bowl, combine flour, baking powder, nutmeg, and salt. Working in small batches, mix the flour mixture into butter mixture until all of the flour mixture has been added to the butter mixture and is well blended.
Divide dough in half on a floured piece of parchment paper. Shape each dough half into a long roll shape, about 12-14" long. Carefully lift rolls onto a baking sheet, 3-4 inches apart from each other. With your fingers, press down on each "log" so that they end up being about a ½" high.
Bake for 25 minutes or until golden brown. Carefully lift the parchment paper from the baking sheets and place on your cooling racks. Set aside your baking sheet, as you will use it again. When biscotti had cooled enough to handle, yet are still warm, carefully move them to a cutting board and cut crosswise slices (approximately ½" in size).
Place slices, cut side down, back on original baking sheet. Bake for 10 minutes. Then remove from oven and turn slices over. Bake for another 10 minutes or until somewhat firm and lightly browned. Transfer to wire racks to completely cool, with tops facing up.
Glazing: space biscotti pieces no more than ½ inch or so apart from each other on either a wire rack or parchment paper (hello easy clean-up) dip a metal whisk into the glaze, allowing some of the excess to drip off. Then quickly drizzle back and forth, back and forth across sections of your Biscotti Continue until they are glazed as you like.
For Glaze
In a small bowl, mix together powdered sugar, whiskey and eggnog. If needed, add more eggnog or powdered sugar to achieve desired consistency
Recipe adapted from Home Cooking Memories