I am SO excited about this recipe!! I just love it when an idea comes to fruition! This recipe for The Original Pumpkin Pie - The Way The Pilgrims Made It is one I hope you will try and make it a new Thanksgiving tradition.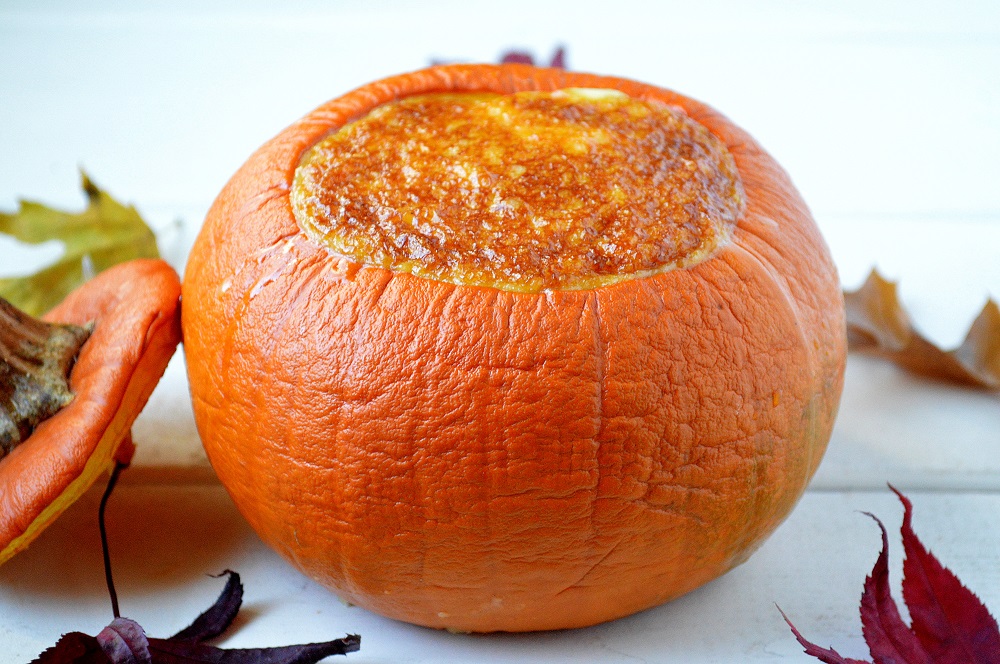 I may not have been at the original Thanksgiving in America, however, the Pumpkin Pie recipe as we know it was not always the way it is made today.
400ish years ago at the first Thanksgiving in Plymouth (Massachusetts) the Pilgrims did not have access to flour. It had been used up or gone rancid on the trip over and they had not yet learned from Native American Indians how to grow and harvest their own.
That would have made it impossible to make any sort of pie crust. Plus, settlers hadn't yet come up with an oven for baking as we know it today.
According to some accounts, early English settlers in North America improvised by hollowing out pumpkins, filling the shells with milk, honey, and spices to make a custard, then they roasted them whole in hot ashes.
The English have always liked their custard.
Look for smaller pumpkins 12-15 inches around, typically called sugar pumpkins or pie pumpkins, like this.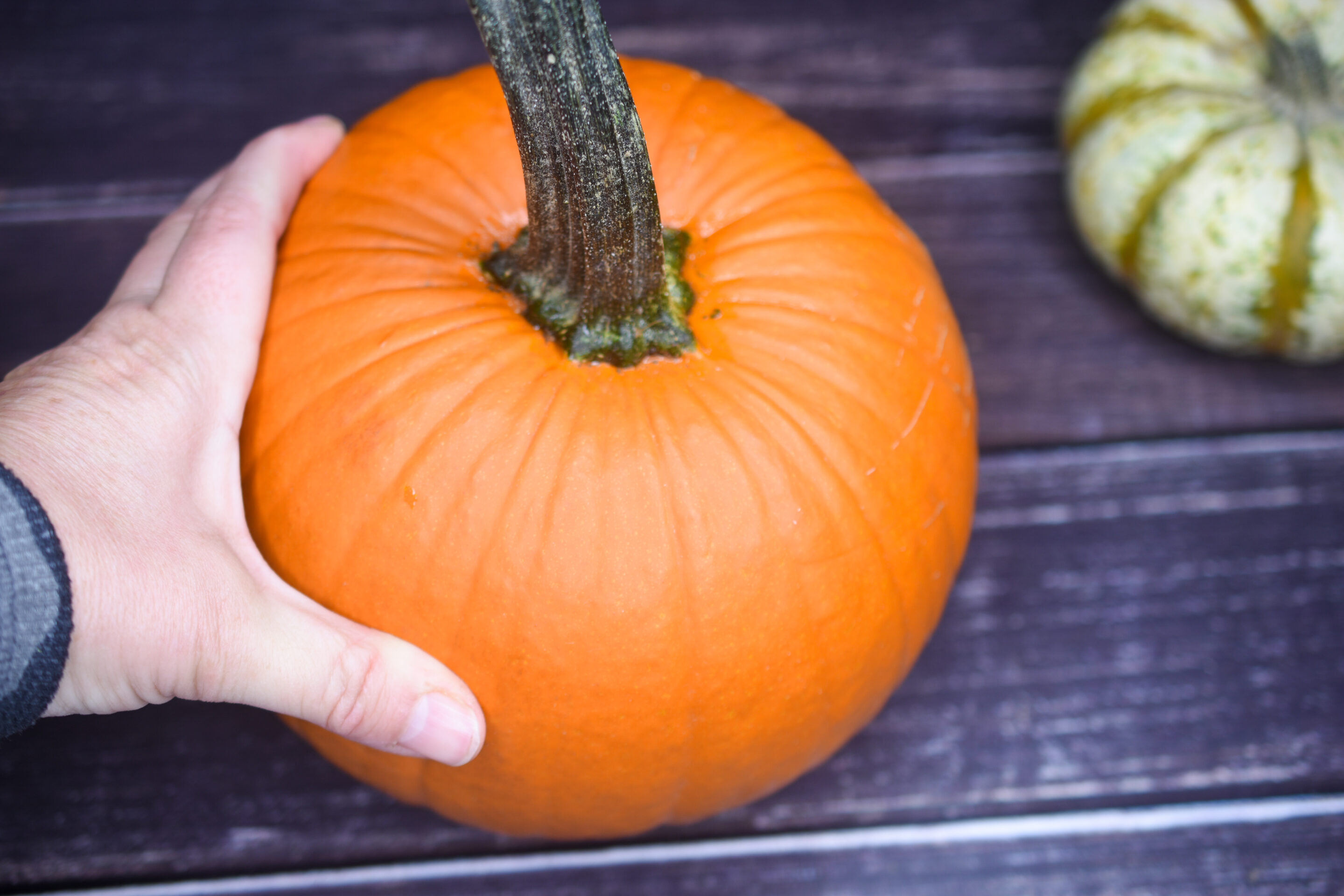 A Pumpkin pie recipe as we know it didn't appear in an American cookbook until the early 19th century
Watch how this is made on my TikTok, it's a 1 minute video
After finding this out years ago, I set out to somewhat replicate what the original Thanksgiving Pumpkin Pie, the way the pilgrims made it.
It was written a number of times that the American Indians did not eat any form of dairy. So this recipe is a marriage of two cultures.
I published this recipe back in 2013, since then SO many have made this for Thanksgiving and Christmas. LOVE that! I have even had teacher tell me they had their kids make it in Home Economics classes and cooking classes.
Ingredients
sugar pumpkin
sugar
eggs
vanilla
heavy cream
cornstarch
salt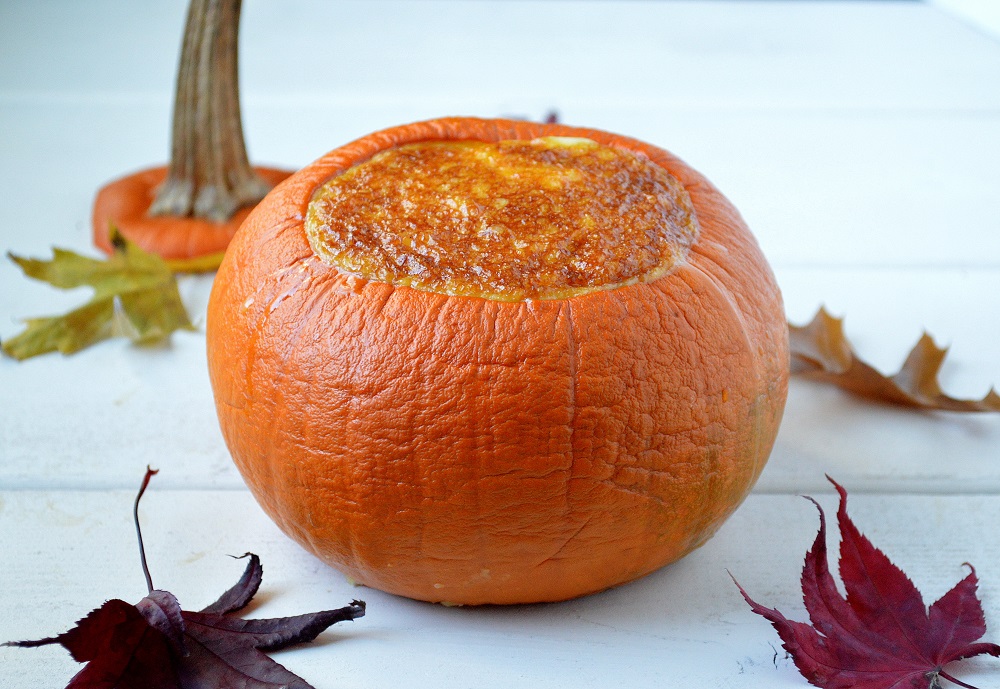 Tips
First select small pumpkin 4-5 inches in height and 12-13 inches or so in circumference (often referred to as a sugar pumpkin or pie pumpkin)
Carefully use a sharp knife to cut away an opening. Pumpkins are tough skinned, be careful when doing this. It does not have to be a perfect circle.
Be careful to not puncture the pumpkin down low to prevent leaks
Use a spoon to scrape away send and guts of the pumpkin.
Optional: reserve the top of the pumpkin to place alongside the dessert if you like (you can add it to roasting sheet the last 15 minutes if you wish.
Don't fill pumpkin to the brim, leave some headspace for custard to expand. It will puff up and then settle down lower as it cools.
Bake on a baking sheet. That is a must. Like with parchment to make any spills/cleanup easier.
If it overflows, just let it go.
It doesn't need to have a browned top to be "done". If you want it a bit browned carefully broil for a few minutes, watching as it goes.
You can use smaller pumpkins for individual desserts, like those that fit in your palm, they are just difficult to cut open. Be careful You can microwave mini pumpkins for 60 seconds, and then in a couple 30 second bursts to make slicing tops off easier. Must be in small increments or pumpkin will burst.
Chef Tip
My TOP TIP is practice this before the big day, make it once before a holiday meal. This is the only recipe out of 700 on my blog I would say this about. It really is easy but a run through is recommended.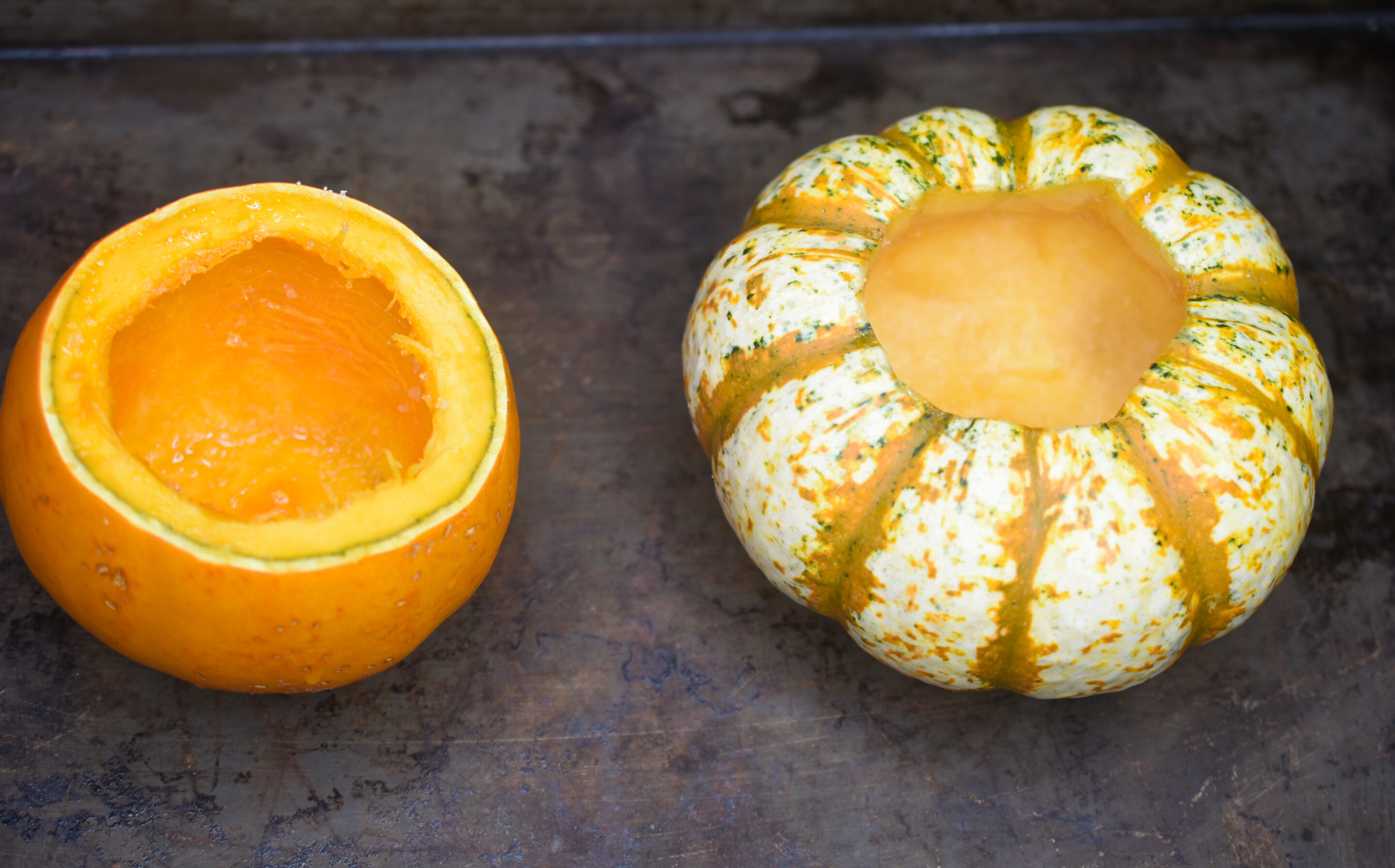 This delicious Thanksgiving dessert recipe is a beautiful centerpiece, and an edible history lesson.
This custard filled pumpkin is easy to make. It tastes a bit like crème brulee and the wonderful part is as you scrape out the custard to serve it you get bits of the roasted pumpkin mingling in.
Bonus! Since the pumpkin is the vessel for this Thanksgiving dessert recipe, no dished to clean!
Variations
To rush things you could begin to cook the custard stove top a bit and then pour into pumpkin(s) and finish in the oven.
Add seasonings to your custard like nutmeg, vanilla bean, cinnamon or pumpkin pie spice.
Choose to make as mini's for individual servings, a bit more work opening and cleaning the mini pumpkins but super cute!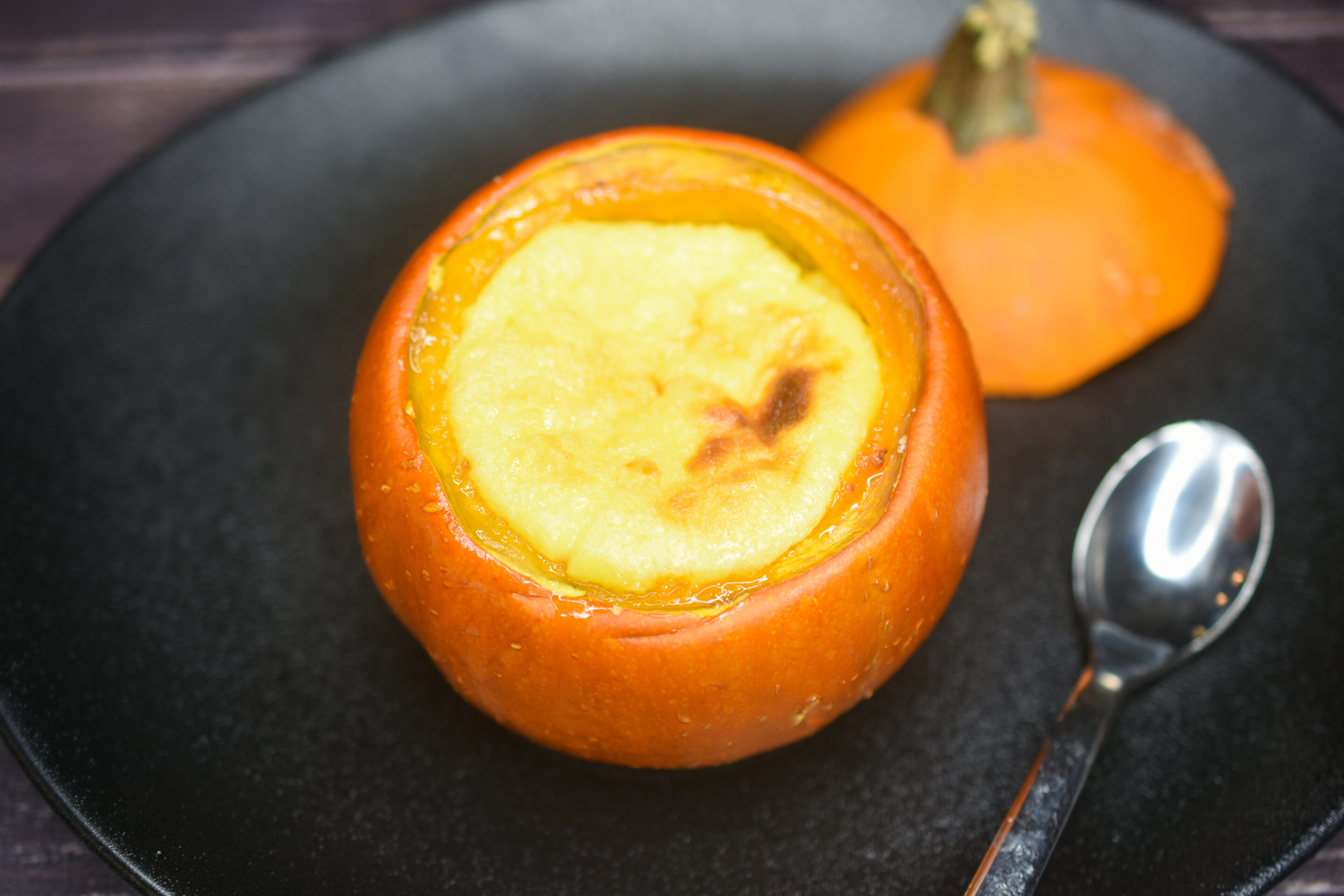 I hope you enjoy this fun and tasty recipe!! Happy Thanksgiving!! Colleen
You may also enjoy there Thanksgiving recipes
Recipe originally published 2014, updated 2022 with images and additional text.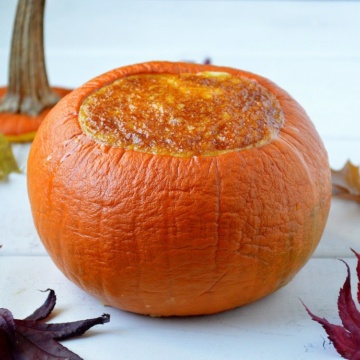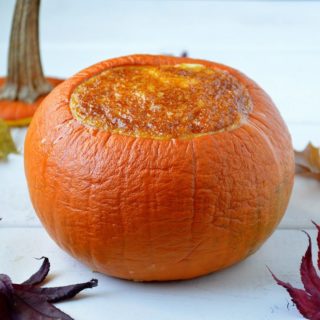 The Original Pumpkin Pie - The Way The Pilgrims Made It
The Original Pumpkin Pie recipe the way the pilgrims made it. Try making pumpkin pie the way it was first made by early Americans. A pumpkin with a custard filling. So delicious & different for a holiday dessert.
Ingredients
1

small pumpkin

4-5 inches in height and 12-13 inches in circumference (sugar pumpkin)

¾

cup

sugar

3

large eggs plus 4 egg yolks

½

TBS

vanilla bean paste or vanilla extract

2

cups

heavy cream

1

teaspoon

of cornstarch

Pinch

of salt
Instructions
Prepare your pumpkin by scooping out the seeds and pulp, place it on a baking sheet, do not put the top of the pumpkin (stem) on the sheet just yet.

Preheat oven to 400 degrees.

In a mixing bowl combine the sugar, eggs, and vanilla and whisk until combined.

Add the heavy cream, cornstarch, and salt and whisk until fully combined.

Pour mixture into your prepared pumpkin (allowing about ¾ of an inch space between the filling and the top of the pumpkin and begin baking it.

Bake at 400 degrees uncovered.

After 15 minutes, cover the top of the pumpkin loosely with foil (don't let it touch the top of the custard or it will stick and "ruin" the appearance) and bake another 15 minutes.

Lower oven temp to 375, place the top of the pumpkin on the tray and continue baking for 15 minutes more. Remover the foil and bake an additional 30 minutes or until a knife inserted into the custard comes out mostly clean.

Turn off the oven, allow the pumpkin to cool for an hour, then place it in your cold garage (loosely covered with wrap or foil) or your refrigerator and allow the custard to set 6 hours or overnight. (You can also enjoy it warm) When ready to serve, scoop out custard into small dishes (you can scrape the sides a bit as you scoop it out if you choose to scrape off some of the cooked pumpkin for additional flavor, I am sure the Pilgrims wasted nothing).
Notes
Choose to enjoy this warm from the oven or chilled. Delicious both ways.
Careful when you tent with foil, the top could become stuck. Baking on a center rack with top rack removed may lessen the need for foil, just keep at watch on it. Ovens will vary of course.
Cook time will vary, there is now way to know the size and density of the pumpkins you use.
I make extra custard 1.5 x the recipe in case I need it, (because again, never know the size of the inside of the chosen pumpkin) if I have leftover I cook in a ramekin and eat as a snack, yum!
Nutrition
Serving:
6
servings
Calories:
402
kcal
Carbohydrates:
27
g
Protein:
4
g
Fat:
31
g
Saturated Fat:
19
g
Polyunsaturated Fat:
2
g
Monounsaturated Fat:
9
g
Trans Fat:
1
g
Cholesterol:
191
mg
Sodium:
62
mg
Potassium:
90
mg
Sugar:
25
g
Vitamin A:
1285
IU
Vitamin C:
1
mg
Calcium:
64
mg
Iron:
1
mg
Follow me on Tik Tok for 1 minute videos