I'm very excited to share these Leftover Turkey Stuffing Balls with you! They are everything you love about Thanksgiving in one. Well, except for the dessert part but you certainly can have that after you devour these…that is if you have room, lol!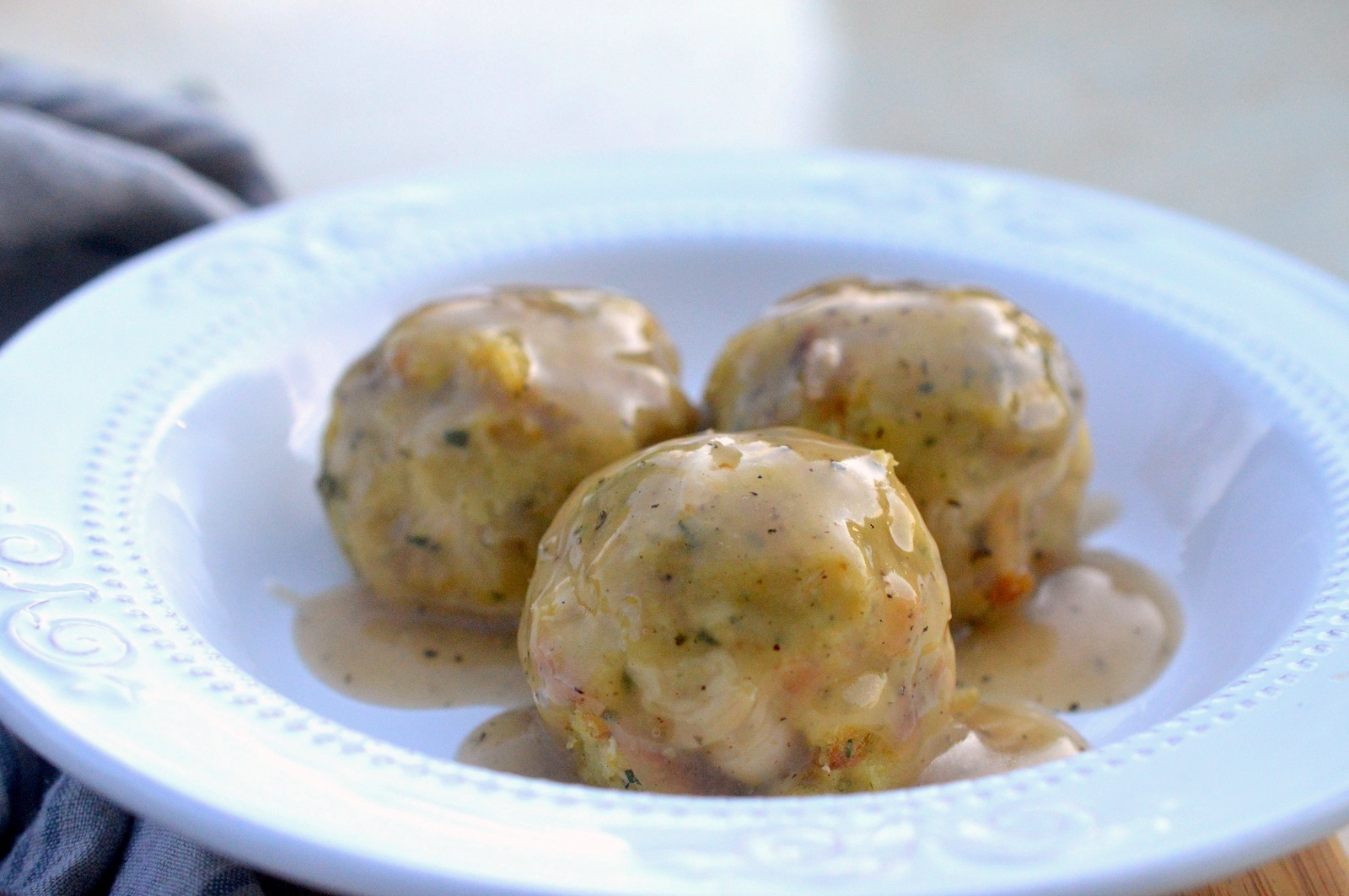 I really have no idea what to call these, I mean sure you can make these with leftovers from Thanksgiving, Christmas or Easter…So they could be Leftover Turkey Balls, however, they have stuffing in them so I thought do I add that into the title. But wait…they also have mashed potatoes, You can see my stress and confusion…right? Haha!
Whatever you want to call these, just call them DEE-licious! You won't be waiting until Thanksgiving, Christmas or Easter rolls around again to make them. I have a feeling you'll be grabbing a turkey breast occasionally throughout the year just to make these! I've made these balls using boneless turkey breast from my farmers market, and then making gravy with turkey wings I buy there as well.
Take a look at the gorgeous, and I mean gorgeous hand-crafted walnut cutting board I was shredding the turkey on. It's made of walnut wood and hand-crafted in Canada. The quality of this board is outstanding.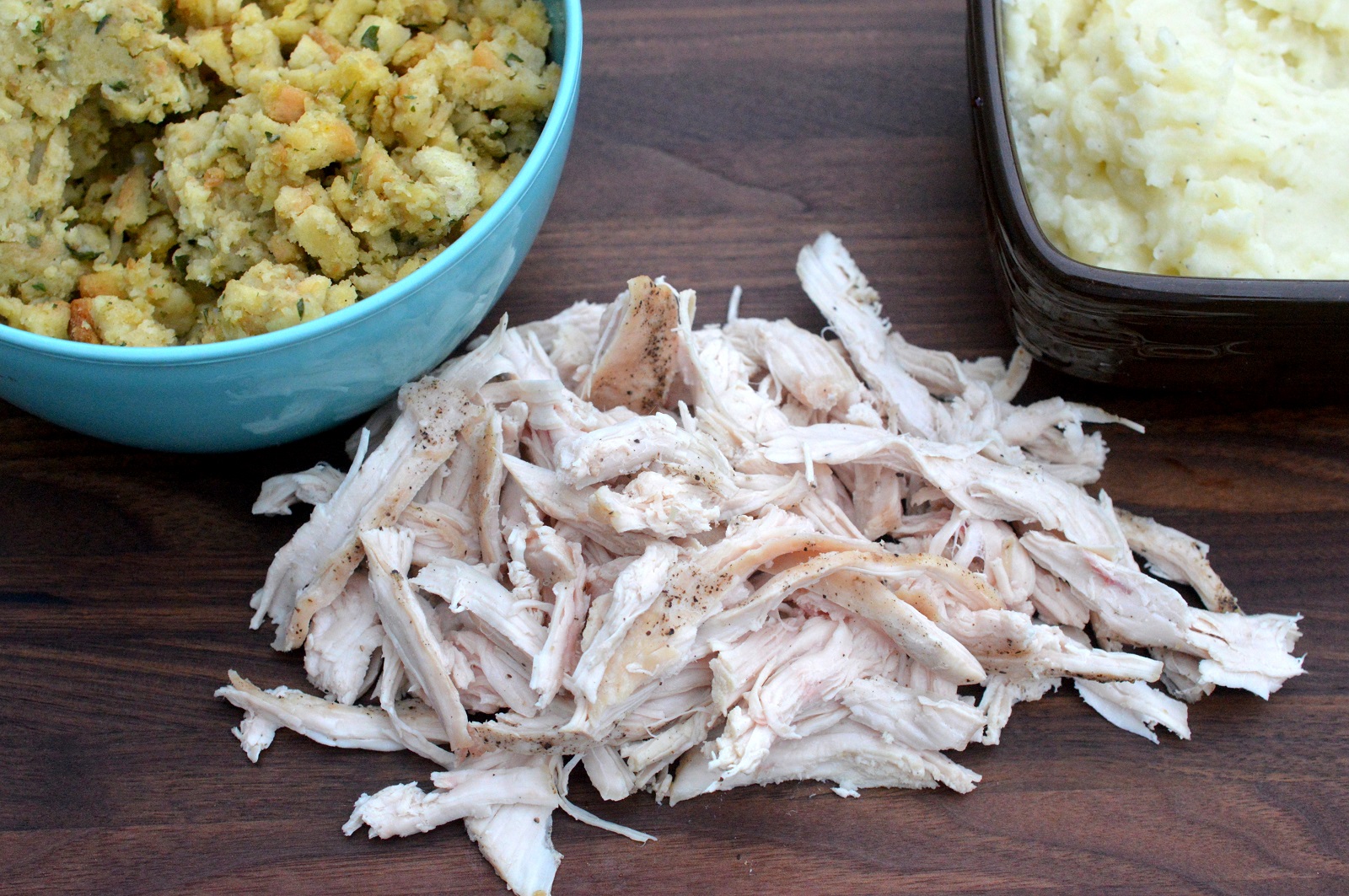 I have a thing for cutting boards. I use them for so many things; as a work area, for cheese boards and charcuterie boards as a tray of sorts for appetizers, etc and when I set up a buffet area, I also use them for a bit of height difference, placing foods and drinks on them to make it all look pretty.
Mevell is a small family business that sources all the wood used to make their cutting boards from Canada and the USA (love that). In addition, to Mevell having a focus on sustainability, they also plant a tree each time one of their cutting boards is purchased.
"For every cutting board we sell, OneTreePlanted.org
will plant one tree in the same region the tree was sourced!
I couldn't love Mevell anymore. Sustainably sourced wood, the planting of a tree, a family business, artisan craftsmanship that results in one stunning cutting boards. If you are looking for a quality cutting board, you have found where to get it! I have about a dozen wood cutting boards in my collection, including one brand that is a household name and

this one

is the absolute best quality-made board I own.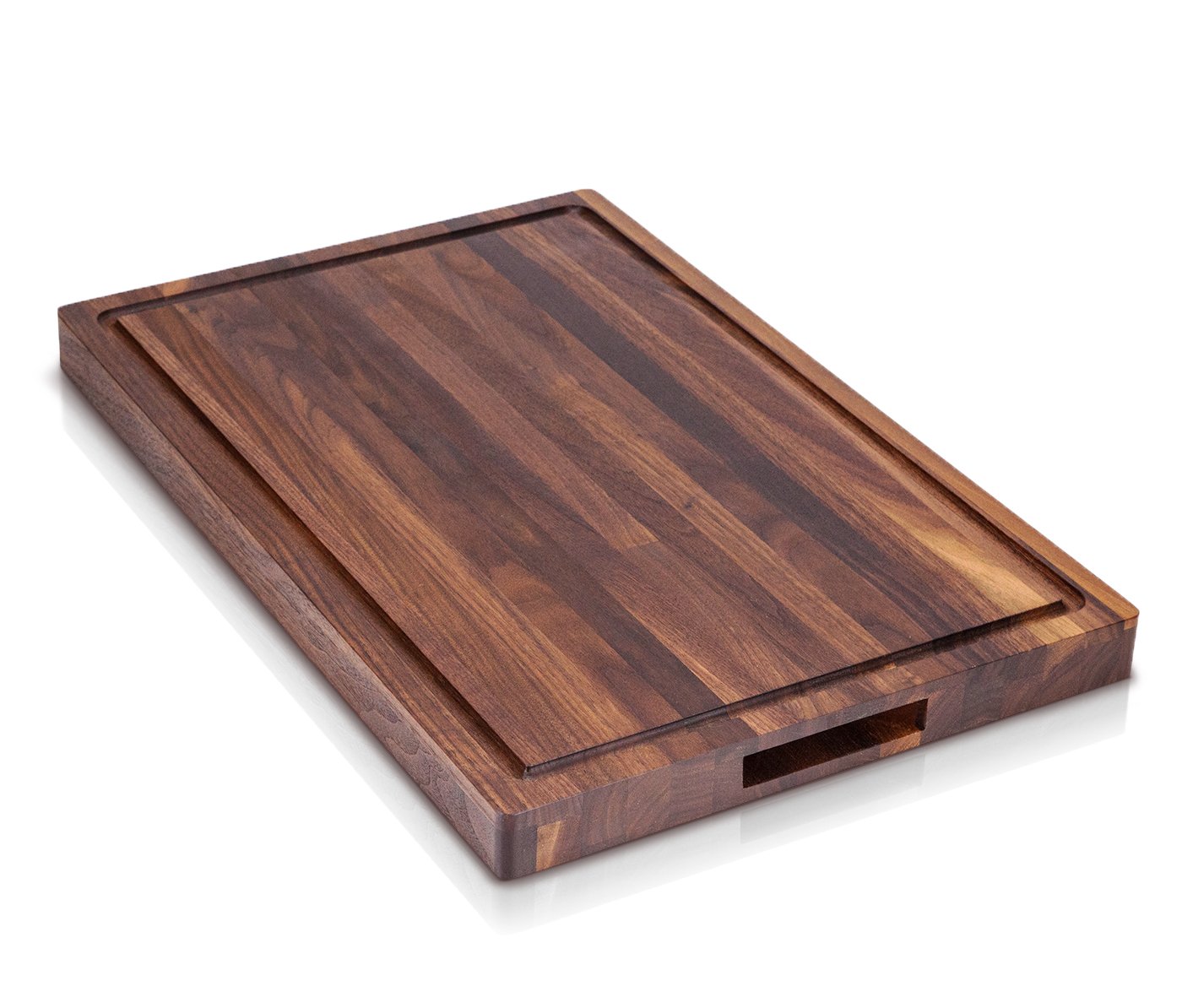 My board is an 18 x 12-inch Walnut Board with juice grooves and handles (love the handles!). Mevell currently has 4 boards (varying wood and sizes) and will continue adding to their product line. I think the price is very reasonable for what you get. You will be surprised! Take a look here.
If you are looking for a gift for someone this holiday season, or a memorable shower or wedding gift. Or need a multifunctional prep and entertaining piece for your own kitchen. This is it!
The cutting board you purchase from Mevell will be around a long time! Pair it with some interesting things like a cheese knife, spreader, cute jars of jams, little pinch bowls, etc and wrap it up in a cellophane bag with a bow. Talk about a fantastic, thought-out gift!
I hope you check them out. Visit Mevell on Instagram, and their website. If you are an Amazon user you can also order this board as well as cutting board oil, conditioner and fabulous cutting board brush via Amazon.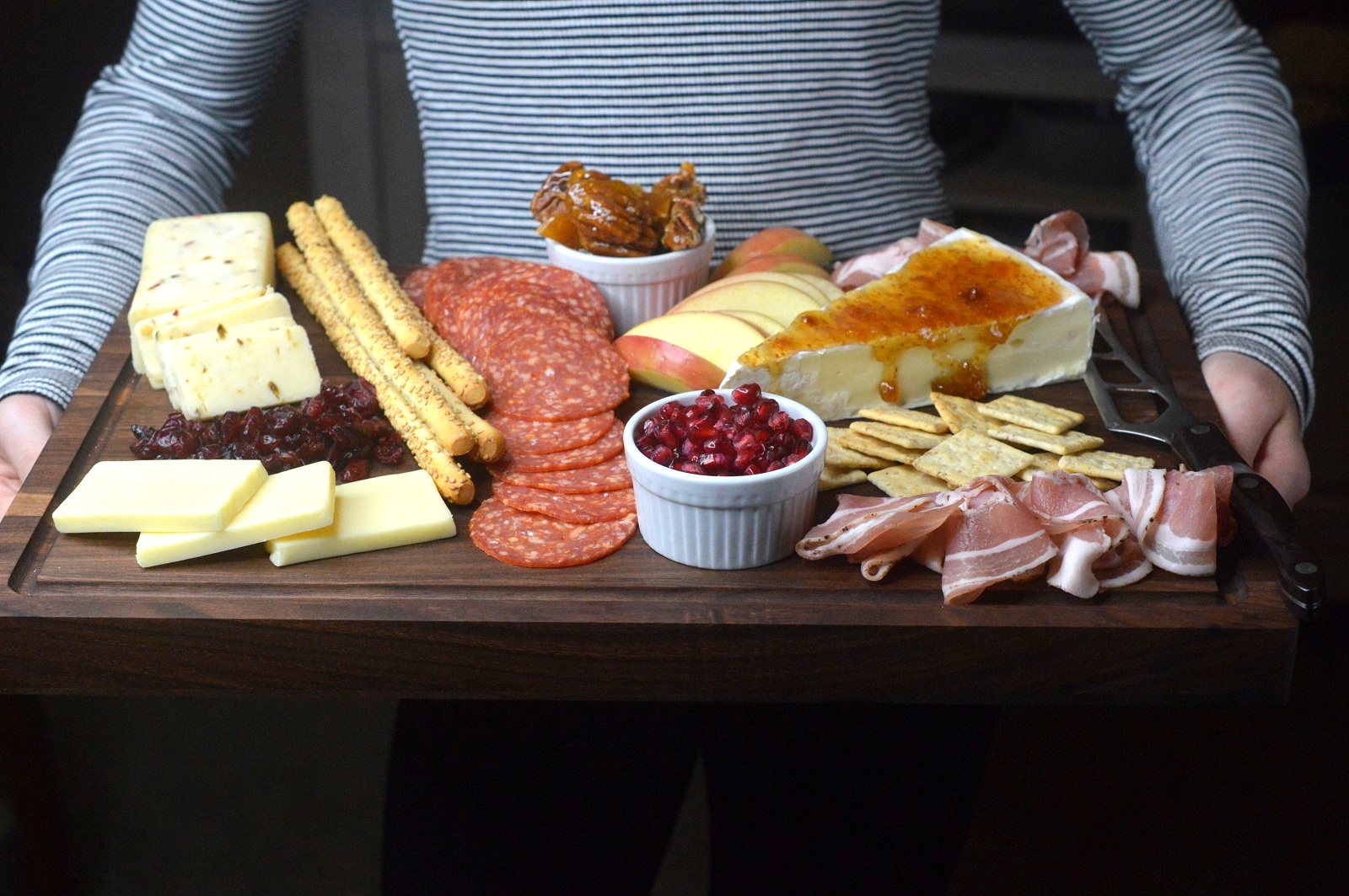 Next week I will be sharing how to make spiced candied nuts as well as tips on building a cheese board and you can see I reached for my Mevell Walnut Cutting Board again. Sigh…So pretty!
As far as these Turkey Balls go…Make them, make them, make them! You will not be disappointed!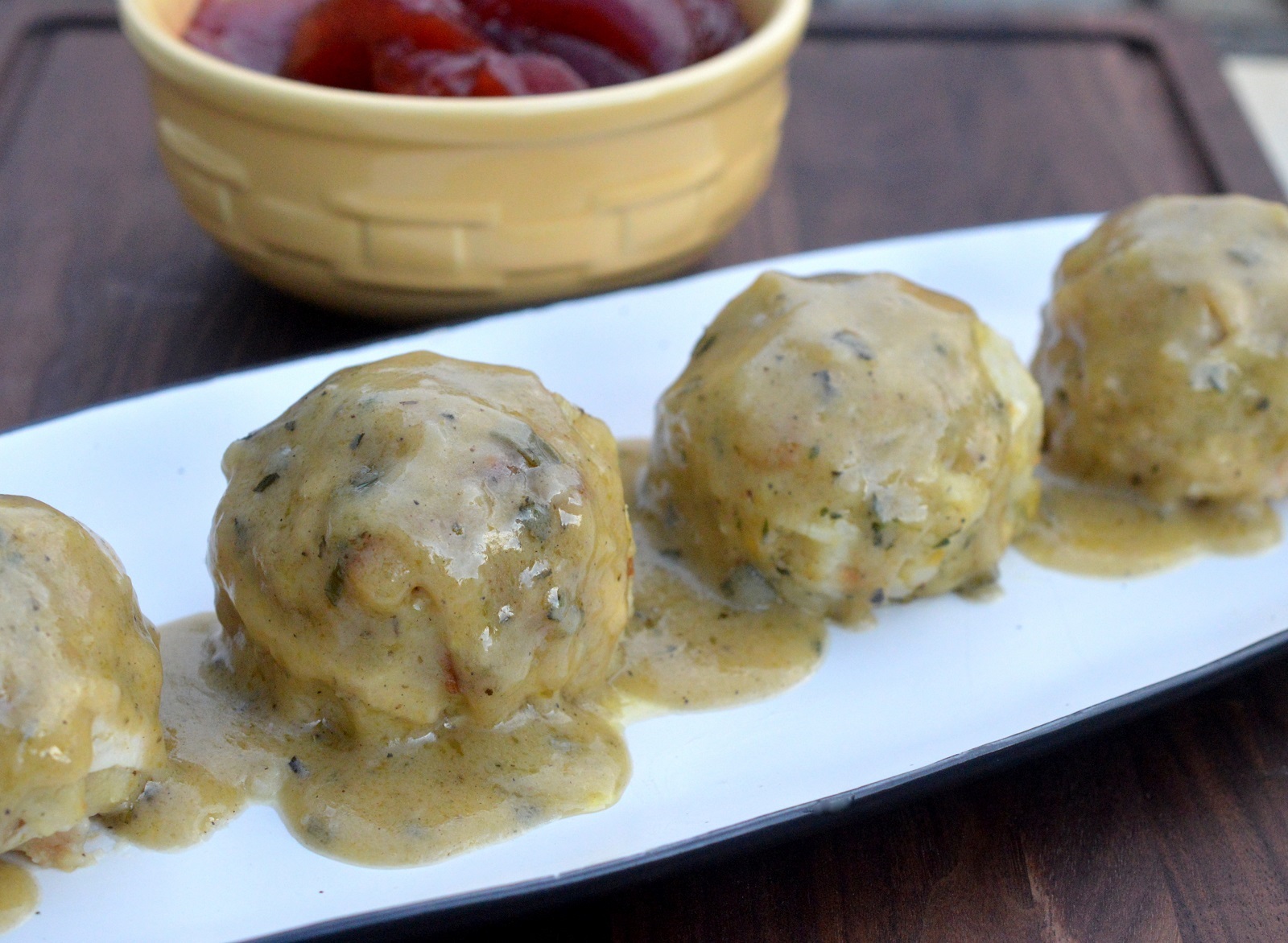 You can use store-bought gravy BUT If you make a killer gravy with fresh herbs like sage, tarragon, thyme, and Rosemary…I say make it. You may just want to marry these balls!
If you do Friendsgiving or any sort of Thanksgiving potluck, these would absolutely be a hit!
Someone asked me if I used an egg or eggs in these or anything to bind them with. The answer is nope! No need. Just combine equal parts mashed potatoes and stuffing and then add in as much or as little shredded turkey as you like. Feel free to season the mixture with black pepper. Other than that everything was already seasoned so no need for more.
How Do You Make Leftover Turkey Stuffing Balls?
This recipe couldn't be simpler when leftovers are around yet its one of those memorable foods that will have you making the mashed potatoes, stuffing and turkey JUST so you can make it again! All you need to do is to combine equal parts mashed potatoes and stuffing and then add in shredded turkey meat. Form the mixture into balls like making a meatball and bake them for 10-12 minutes just to firm up the exterior a bit. The inside is light and fluffy as a cloud. Next, smother them in gravy and add a dollop of cranberry if you like and dig in!
The gastropub where I first had these, rolls them in Panko and then deep-fries them, I see no need for that, popping them in the oven for just a bit to firm up the outside is all you need! I also see no need to add an egg or anything else. These are perfect simply made as shown.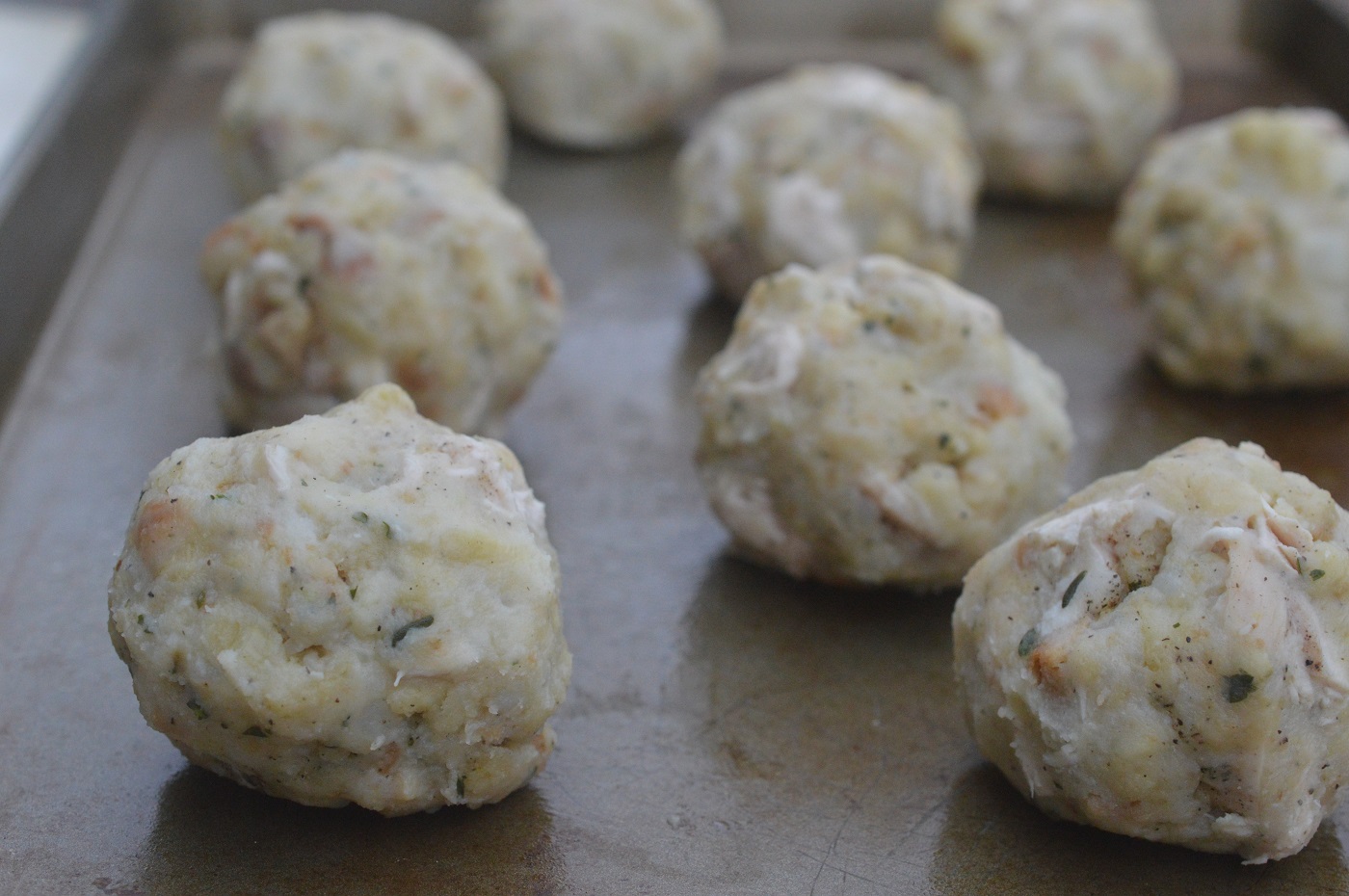 Can I Substitute Chicken For Turkey?
Yes! Feel free to swap in chicken for the turkey.
What Recipe Can I Make With Leftover Mashed Potatoes?
Besides making these Leftover Turkey Stuffing Balls…You can make my "famous" Mashed Potato Pie, or my leftover Loaded Mashed Potato Skillet. My friend Caroline makes Irish Colcannon with leftover mashed potatoes.
What Recipe Can I Make With Leftover Stuffing?
Besides making these Leftover Thanksgiving Turkey Stuffing Balls, I love placing stuffing in my waffle maker to make stuffing waffles and then top those with all sorts of stuff. I have even wrapped stuffing in bacon and made Stuffing Bombs…Yummo!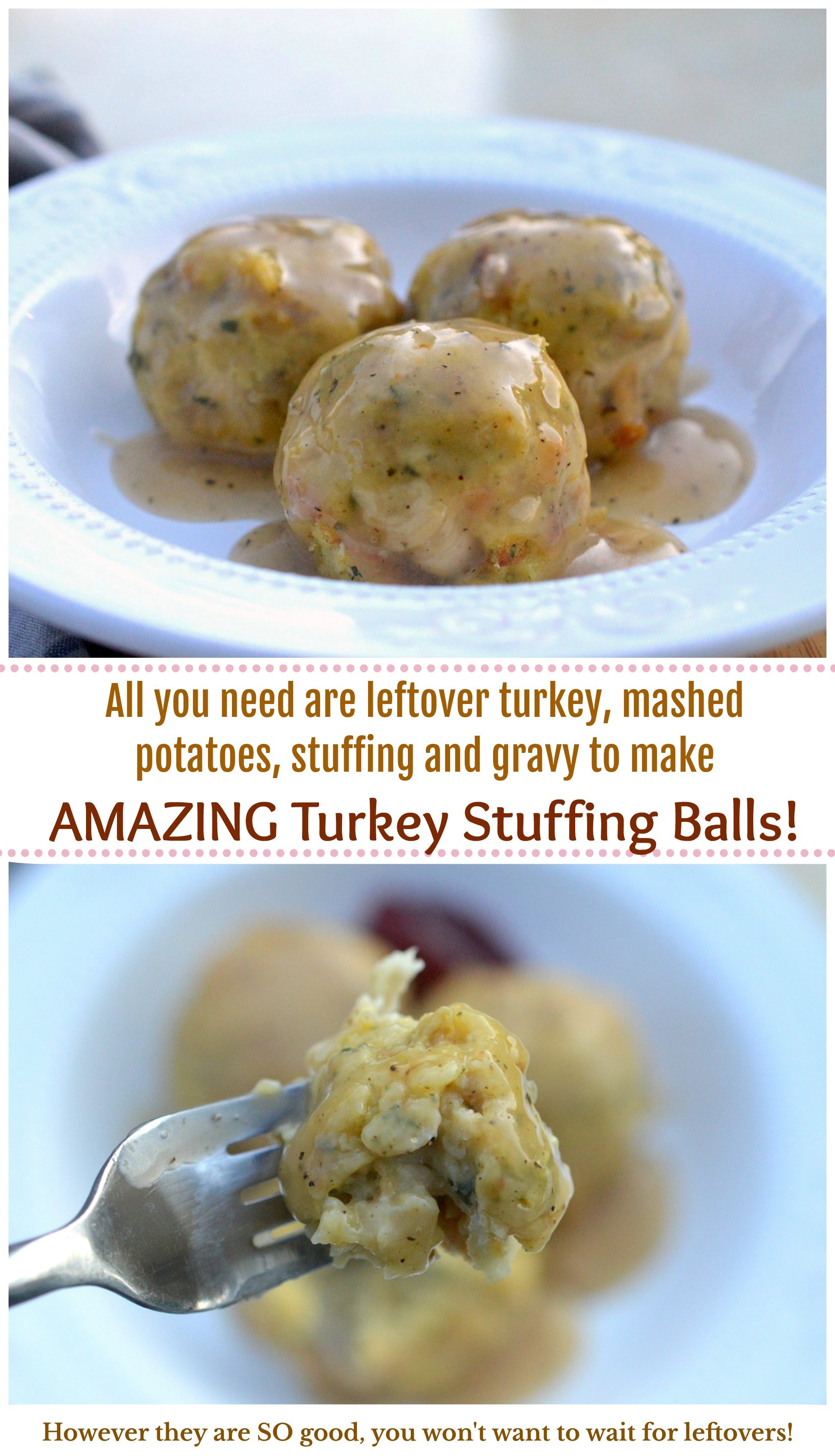 Let me know if you make the Leftover Turkey Stuffing Balls OR if you come up with a better name for them…maybe Gobble Balls?? Because, well turkey and you'll gobble them up…Haha!!
If you are trying to use up leftovers from your holiday meal, you may also enjoy Bacon & Stuffing Bombs, Mashed Potato Pie, Turkey & Rice Burritos or Leftover Mashed Potato Skillet.
If you get a Mevell board, let me know as well. I love sharing products I truly enjoy and think are amazing! Especially when they are a small business!
Enjoy!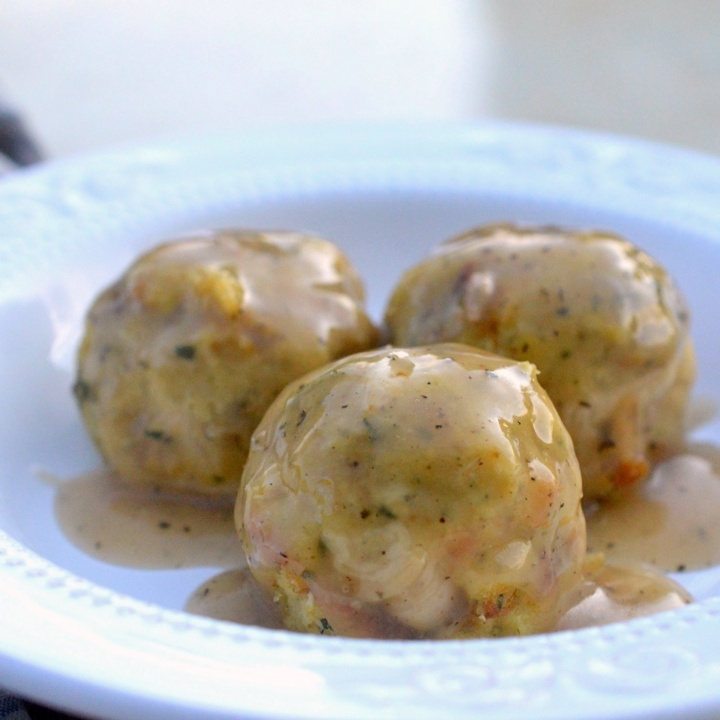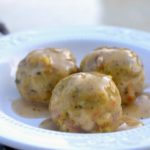 Print Recipe
Leftover Turkey Stuffing Balls
What to do with leftovers?? Here is an amazing way to repurpose turkey, stuffing, mashed potatoes and gravy! These gastro-pub style Turkey Stuffing Balls are SO good you will end up making them on purpose!
Ingredients
3

cups

mashed potatoes

3

cups

stuffing

1 1/2

cups

shredded turkey

Gravy

Optional: Black pepper
Instructions
Preheat oven to 375 degrees and spray a baking sheet lightly with cooking spray.

Warm-up your potatoes and stuffing so that they are easy to handle.

In a large bowl, combine potatoes, stuffing and turkey and season with black pepper if you like. (There should already be enough salt in the ingredients)

Form into balls, pressing down firmly as you would when making a snowball.

Place balls onto the baking sheet and bake for 10-12 minutes.

Plate and coat with hot gravy.

Dig in!
Notes
No real measurements are needed, simply combine equal parts mashed potatoes and stuffing and then add half the amount of shredded turkey.
As far as nutritional info goes, I really have no idea since everyone makes their stuffing and potatoes differently, its just an estimate.
Nutrition
Serving:
2
g
|
Calories:
448
kcal
|
Carbohydrates:
60
g
|
Protein:
19
g
|
Fat:
15
g
|
Saturated Fat:
3
g
|
Cholesterol:
29
mg
|
Sodium:
1252
mg
|
Fiber:
2
g
|
Sugar:
4
g