Goat Cheese Tomatoes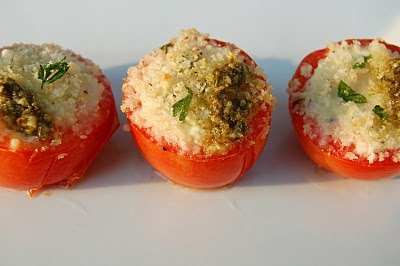 This is one of my very favorite side dishes.
I could seriously eat these beautiful little gems a few times a week.
Next time you are looking for a quick to prepare, oh so pretty and delicious side dish try these Goat Cheese Tomatoes!
My brother Ed had an intense dislike of tomatoes for the longest time…why do you ask?
Well, when he was about 18 months old he was outside sitting on a set of steps adjacent to the house happily eating a tomato from the garden…I mean he was REALLY munching away…his little hands were clutching that tomato so tight…he was unaware of anything else going on other then the task at hand…he was smushing his pudgy little face right into it…gnawing away in a state of bliss…THEN…boom, boom, boom, boom.
Down, down went the tomato, bouncing down each step until finally landing in a small pile of ants busy at work.
Well what was a tomato obsessed toddler to do?
Yup you guessed it…make his way down to his prized snack and once again eat the heck out of it!
How do I remember this so very clearly when I am only 18 months older than him…UH HUH! My Dad has the whole thing on film! GAAAACK!
As a mother you know I (and so many of you) would have dived in to "save" my baby from a horrible fate like eating a pile of ants…nope not MY Dad!! LOL!
It made a great reel!
But guess what…in the end no harm done, just a little extra protein for my baby brother that day. I think the reason my brother stopped his relationship with tomatoes (including pasta sauce) was the fact we must have watched that film, I don't know, 100 times maybe lol! Then finally one day…bam…he is back into the tomato game. Which I must say is a good thing because he makes some killer salsa!
Goat Cheese Stuffed Tomatoes
8 plum or small Campari tomatoes
6 ounces of creamy goat cheese (plain or flavored)
1/4 cup Panko (Japanese breadcrumbs)
1 TBS chopped parsley
1/2 tsp fresh lemon juice
salt & pepper to taste
2 TBS pesto
olive oil
Cut a circle into each tomato and scoop out with a knife or tiny melon baller some of the inside of each tomato…like a pocket.
Cut some of the bottom off or each tomato (especially the plums) to allow the tomatoes to stand. Be sure you do nut cut through the bottom of the tomato.
Flip them upside down on a paper towel for a few minutes.
In a small bowl, combine the Panko, parsley, lemon juice, salt and pepper.
Fill each tomato with goat cheese, scraping the top for a flat even fill.
Using your fingers or a small pastry brush, rim each tomato with a bit of olive oil, then one by one invert each tomato into the mixture, coating the tops and rim.
Bake at 400 degrees for about 15 minutes in a olive oil brushed pan or dish.
If your tomatoes are large you may want to bake longer…I like the tomatoes to be soft and the topping beginning to brown.
Place a dab of pesto on each tomato and serve.
Variations: Depending on your tastes, throw some garlic salt in place of salt into your Panko mix, or a bit of minced garlic, grated Parmesan cheese, cayenne pepper or basil in place of the parsley…whatever…take it anywhere you like.
But hold the ants!!
These are great to bring as a side dish to a dinner you may be going to as they travel well – cook onsite.
You can also serve a couple atop a salad.
Enjoy!!