Fried Calamari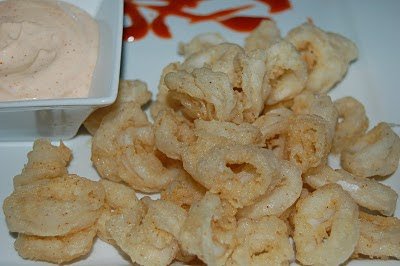 I don't know about you but I reserve some foods to be "special" I don't want to make them at home so I can really enjoy them while dining out. For example creme brulee.
One of them used to be calamari which is one of my favorite appetizers...if it's on the menu 80% of the time I just have to order it.
It's a dice roll...I don't know if I have had more terrible calamari out or more great calamari out.
After a few less than stellar experiences in a row years ago, I decided to start making that fried calamari at home.
It took me a few attempts to get it how I like it but I can now do the happy food dance at home while eating calamari.
My husband loves it and my 8 year old extremely picky son loves it.
My 5 year old daughter who will try everything (but meat) won't touch it though. Hopefully she will come around...if not...more for me (insert evil laugh here)!
I recently heard that folks who have shellfish allergy's are often allergic to calamari too - that freaked me out because my son is extremely allergic to shellfish...he has never tasted it...and has been eating calamari since he was 3.
Obviously he is exempt from that one. Whew!
A couple thoughts about calamari...First, if you can avoid it, don't by it in frozen packages...it's just a frozen block...it's to squishy...it's just not good, yuck!
If you have a Wegmans near you (aaaaaaah hear the music...the clouds part and the sun shines bright....LOVE Wegmans) definitely go there to buy it.
A seafood store should work well too.
Great fried calamari comes down to three things for me:
1. The quality of the calamari (don't want it to tough).
2. The dipping sauce - never get why restaurants feel compelled to serve it with red "spaghetti" sauce - it can be so much more special.
3. The coating - not a fan of breadcrumb coating on calamari.
One more thing...I have nooooo desire to eat the tentacles - my husband and sister love that part (yay for me) I stick with the rings.
Fried Calamari
1 pound of calamari tubes
6 oz bottle of club soda
1 cup flour
½ teaspoon red pepper (more if you want to spice it up)
a couple dashes of salt
vegetable oil for frying
Dipping sauce
¾ cup Mayonnaise
1 TBS Worcestershire Sauce
¼ teaspoon red pepper
½ teaspoon of fresh lemon juice
1 teaspoon chili garlic sauce (it's red in the Asian section of your market)(optional)
I also like to put a nice smear or additional small dipping bowl of the chili garlic sauce for dipping. (I like to dip in both)
Slice the calamari tubes into rings about ¼ inch wide.
Pour the club soda into a medium bowl, place the calamari rings in the club soda, stir until all are submerged. Let sit for 10 minutes.
Meanwhile combine the flour, salt and red pepper, toss until combined.
In a small bowl combine the mayonnaise, red pepper, lemon, Worcestershire and chili garlic sauce, stir well and set aside.
Drain the calamari, blot dry.
Dredge the calamari, one at a time, in the flour mixture and set on a plate until ready to fry.
Heat your fryer to 375, once ready place half of the calamari into the basket and fry for about 1 ½ to 2 minutes or until golden. Don't overcrowd.
When you pull it out place on a paper towel lined plate and blot gently.
Repeat.
This serves 4 as an appetizer.
Hope you enjoy it as much as I do!!
Colleen