Do you enjoy fresh seafood? If so I have a few surprises for you, starting with this in-credible 30 Minute Pan Seared Halibut in Thai Curry Sauce. SO exciting!! Thanks to FultonFishMarket.com for sponsoring this post! You are so going to love this Thai red curry sauce recipe you'll be eating it with fish or chicken. It's so good!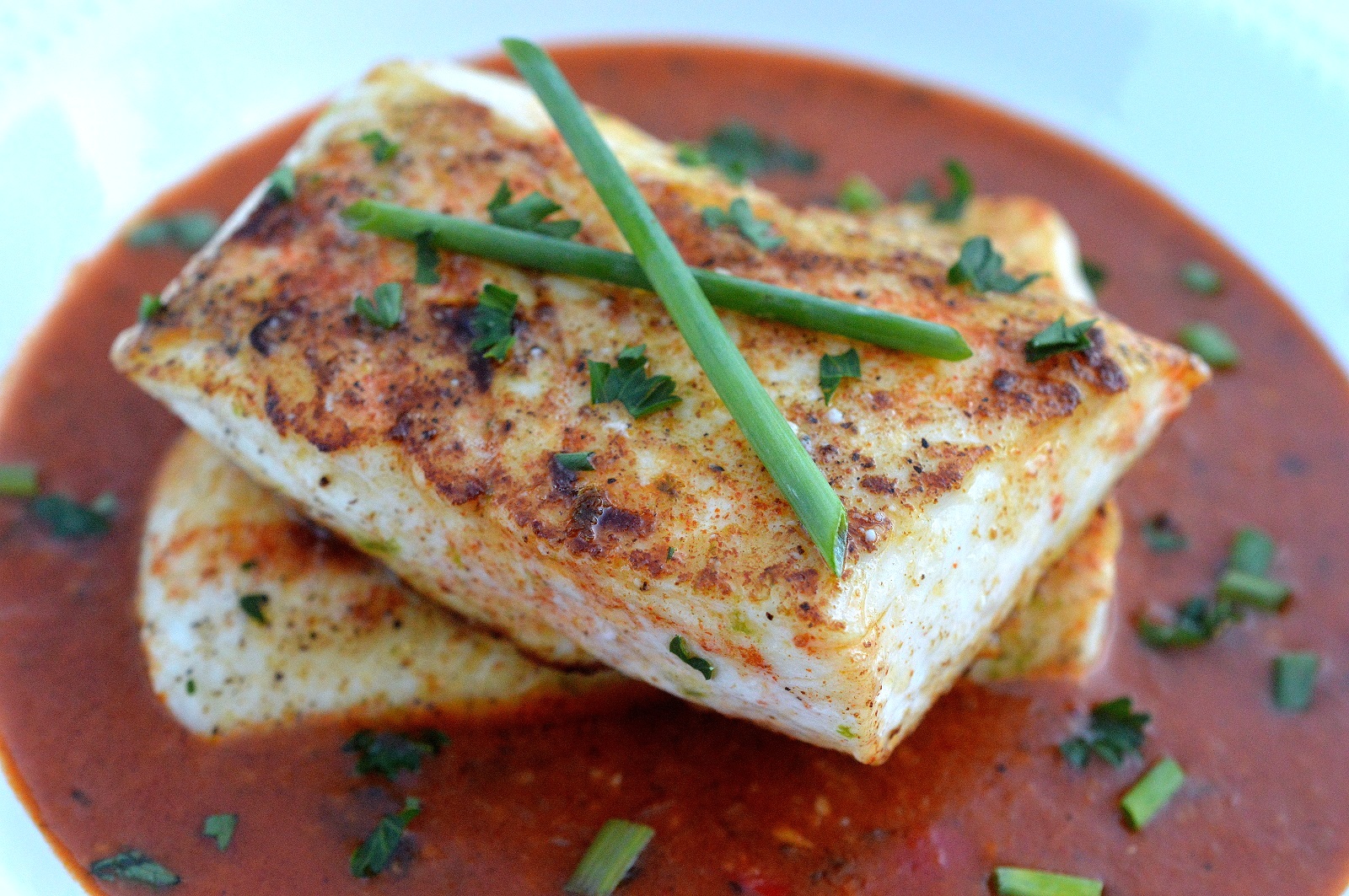 No joke, this 30 Minute Pan Seared Halibut in Thai Curry Sauce is one of the best dishes to come out of my kitchen this year. In my opinion, it is literally a restaurant-quality dish. Made in less than 30 minutes. I was dancing around the kitchen because I was so happy with how red curry halibut came out!
My husband loved it, my son loved it and my daughter loved it (sans the sauce). And me…I was ready to go fishing for Halibut just so I could have some more. Lucky for me I don't have to figure out how to get the kids fishing rods going. Or drive to the ocean, or rent a boat…Because…
The iconic Fulton Fish Market has been in the Bronx area of New York for almost 200 years. All that time, The Fulton Fish Market has been supplying restaurants and fishmongers with the freshest seafood available…and now we have access to the same fresh and delicious daily catch too! They know a thing or two about seafood! If you want the freshest fish possible, short of catching it yourself delivered to your door. And if you want access to the largest selection of seafood in the Western Hemisphere, then Fulton Fish Market is for you!
Just look at this incredible Halibut I worked with!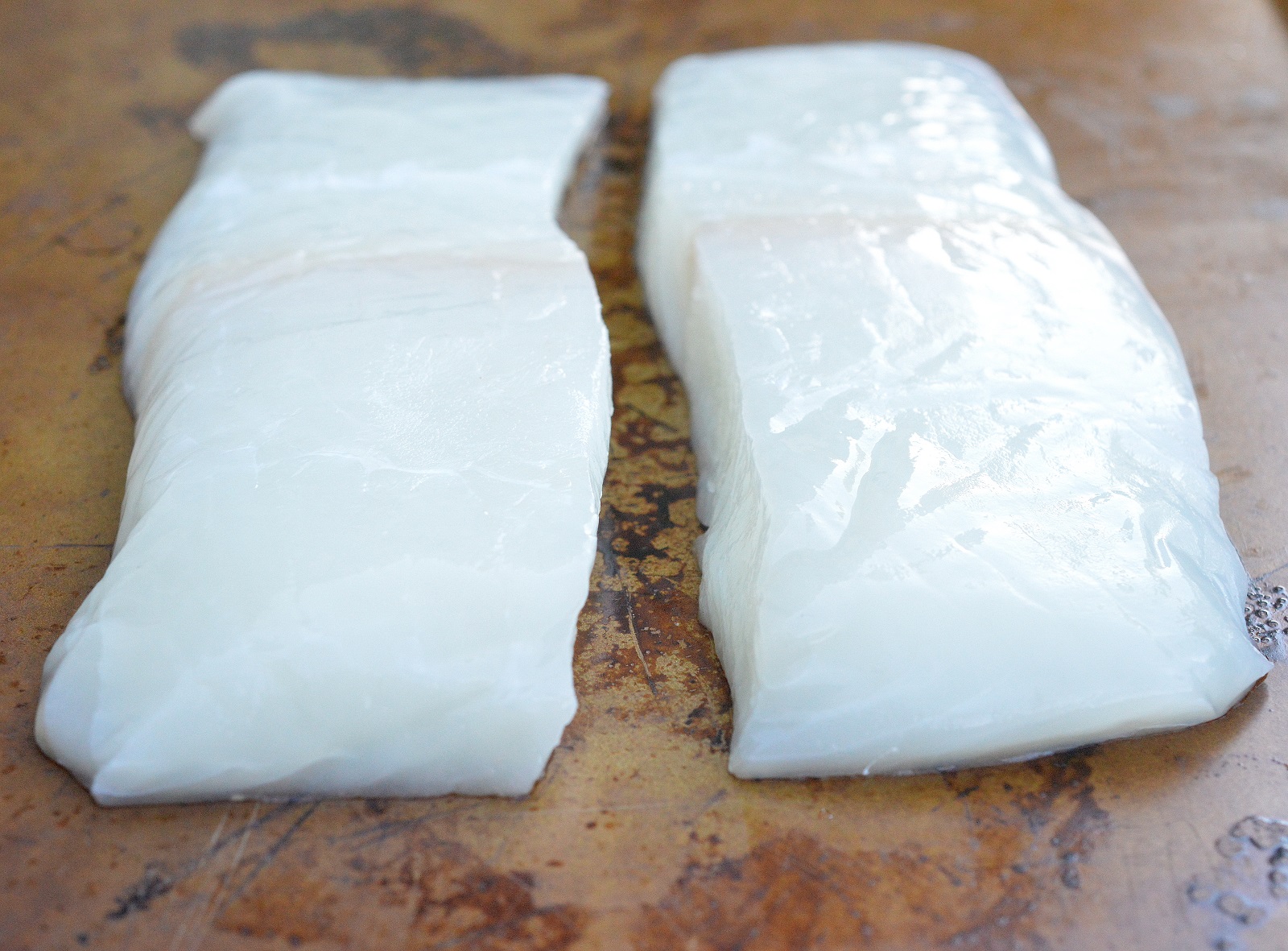 Look at the color of the fish both before and after. THIS was the freshest Halibut I have ever had!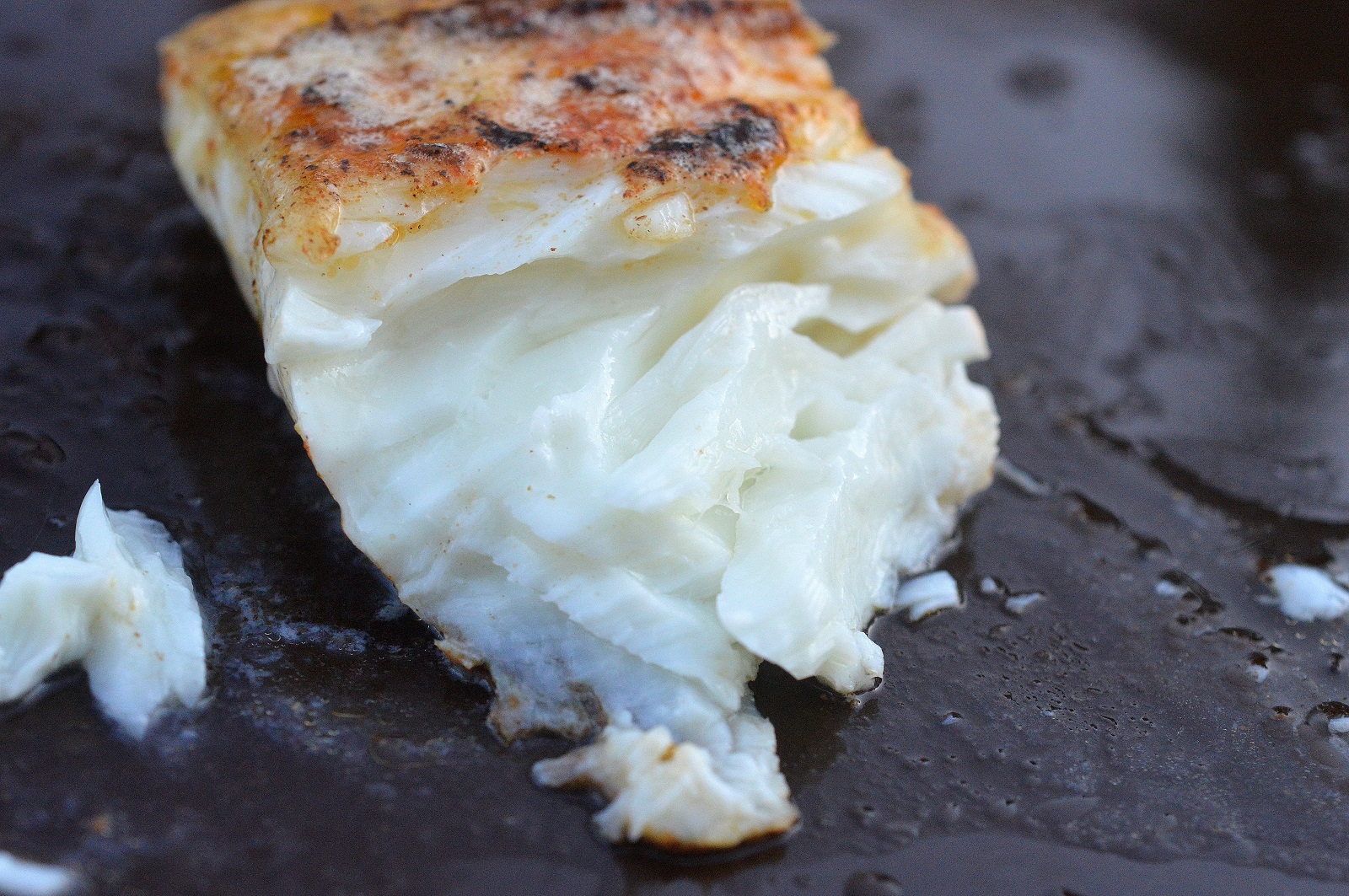 Thanks to Fulton, we now have a better option to buy and enjoy seafood!
FultonFishMarket.com specializes in fish from U.S. waters which have the most highly regulated fishing waters in the world. All of the fish they catch is fresh and sustainable. FultonFishMarket.com guarantees that their fish is sustainably sourced, and is always legal. The selection on their consumer site is carefully curated to offer only the tastiest fresh fish, safest seafood, and most sustainable seafood selections.
Every night at Midnight, between one and two million pounds of the freshest seafood pours across the docks at Fulton Market in New York City. Now via their new online ordering via FultonFishMarket.com we can get some of the days' catch right to our front door…Fast & fresh!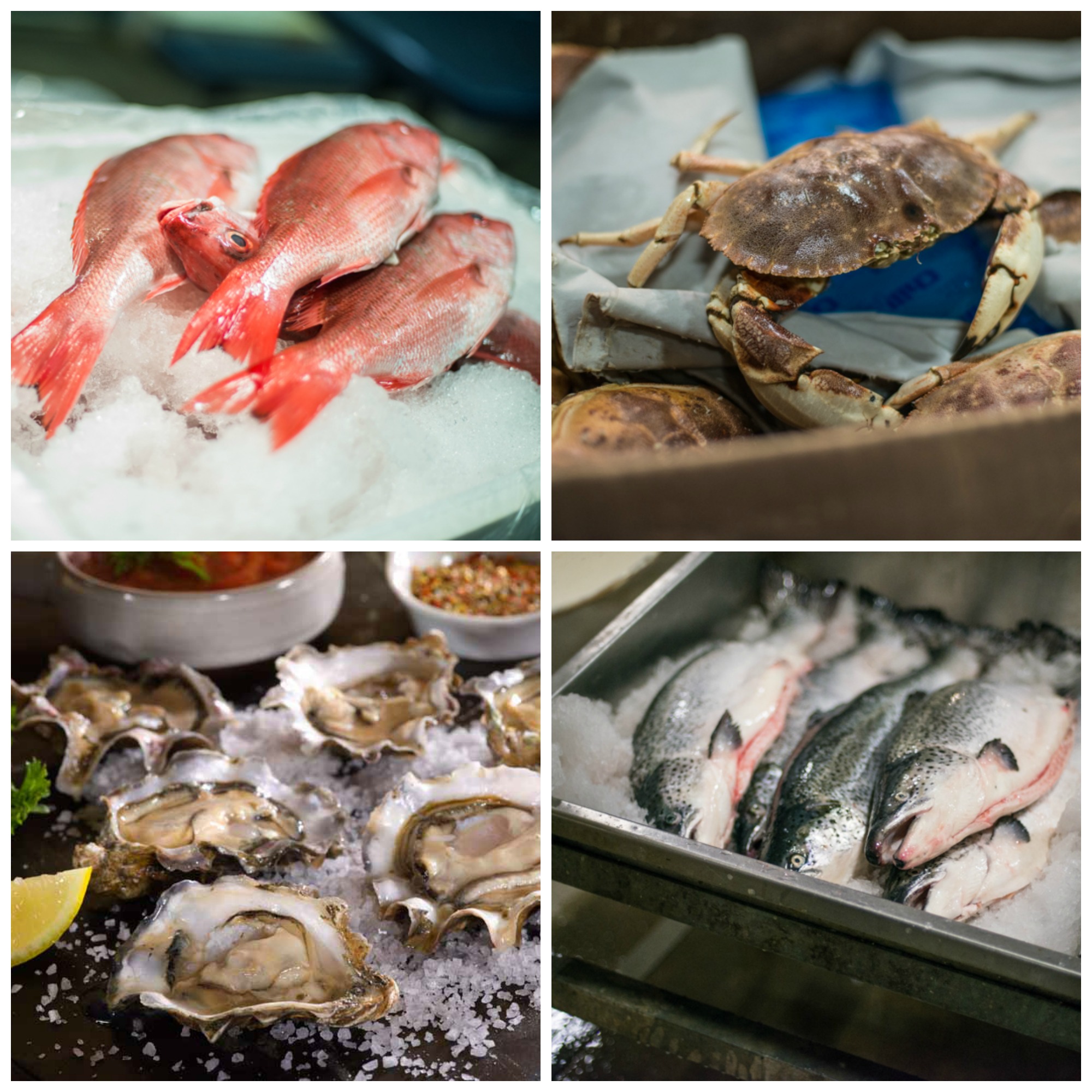 While this fresh seafood haul comes from across the globe, a huge portion is fished domestically. North America has the largest protected ocean area in the world with thousands of delicious, sustainable seafood and shellfish species, most of which you have never tasted.
It's actually surprising how old seafood can be by the time it hits many food store cases. Would you believe it can be 3 weeks and older in some cases? It's true!
Did you know:
Most of the seafood you get at the supermarket or even at that fancy restaurant:
Is shipped from overseas
Often is illegally fished, undocumented or under-regulated
Often is frozen then re-"freshed" before serving
Is farmed in unregulated ponds and crowded pens, fed chemicals, GMOs, antibiotics to keep diseases in check and/or gassed to artificially color the meat
IS NOT what is on the label, or the menu listing, but some other species entirely
Usually is not fished or farmed sustainably
Is not inspected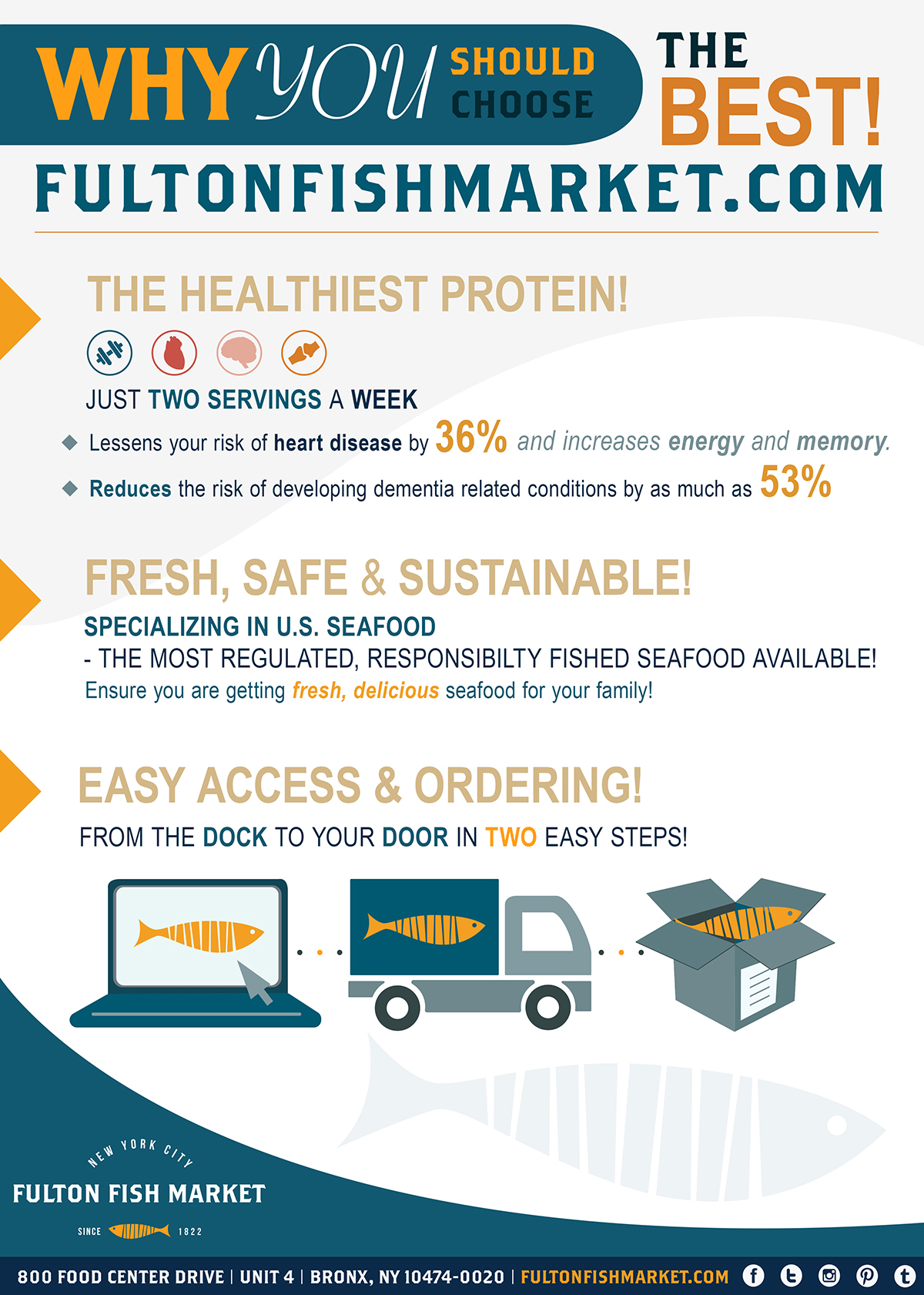 FultonFishMarket.com can have their fresh daily catch to your front door in 3 days or less!
I hope you try this! It may look like a lot of ingredients, however, this decadent and delicious 30 Minute Pan Seared Halibut in Thai Curry Sauce comes together fast and in under 30 minutes. make it, make it, make it!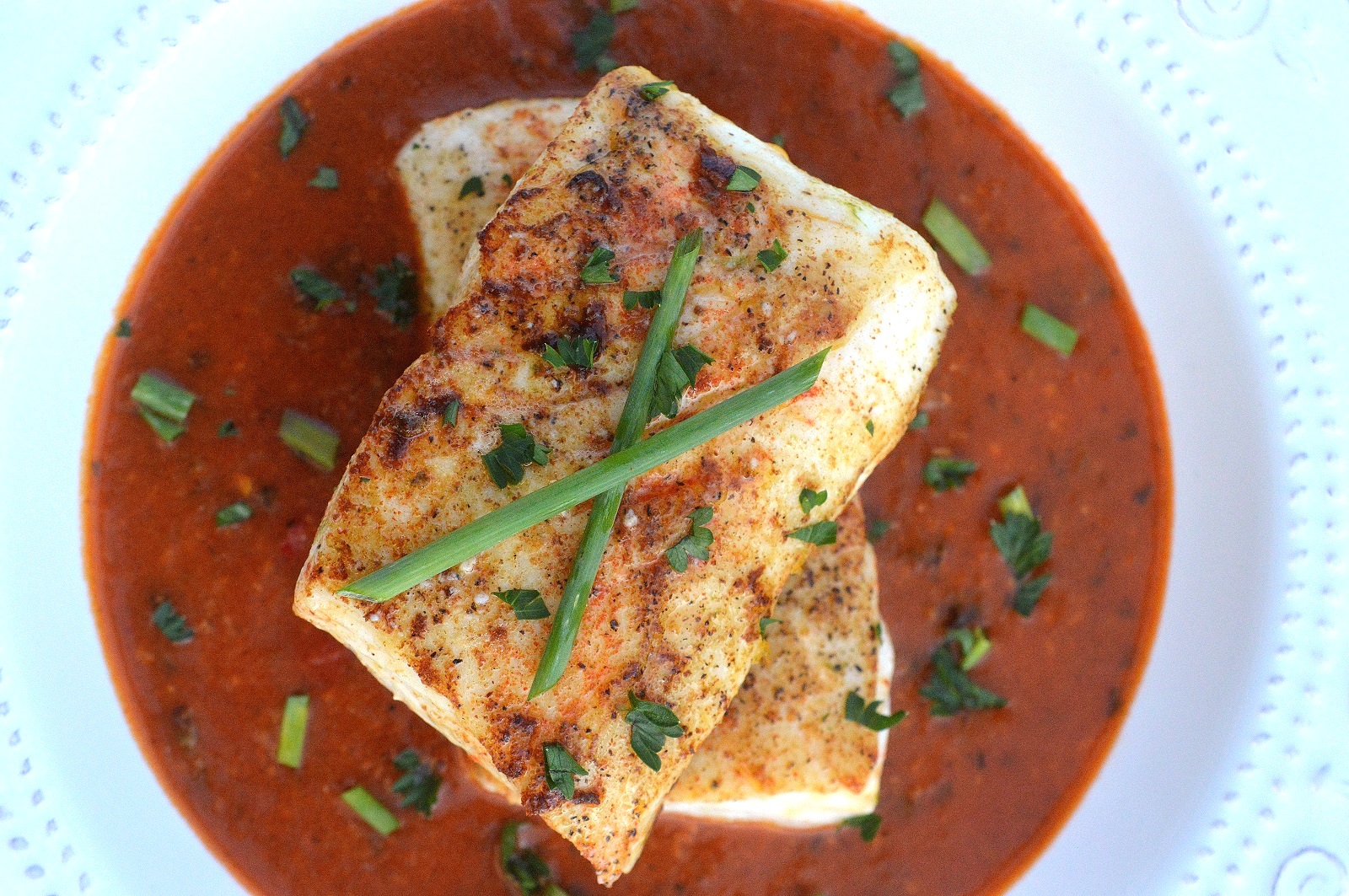 More Seafood Dishes
I love shrimp! And have made a lot of dishes with shrimp. Here are a few of my favorites:
Expert Tips For Making Thai Red Curry Sauce
While this does have more ingredients than most of my recipes, this a really easy dish to make and SO worth it. My expert tip for this red curry fish sauce:
Make sure you marinate the fish for at least 15 minutes.
Handle the fish with gentle hands so it does not break apart.
Use a nonstick pan
Enjoy!
I am not a nutritionist or registered dietician, I do my best to provide the most accurate nutritional values using a WordPress plug-in calculator. Any nutritional data I provide is an approximation. Actual dietary information can vary based on ingredients and portion sizes.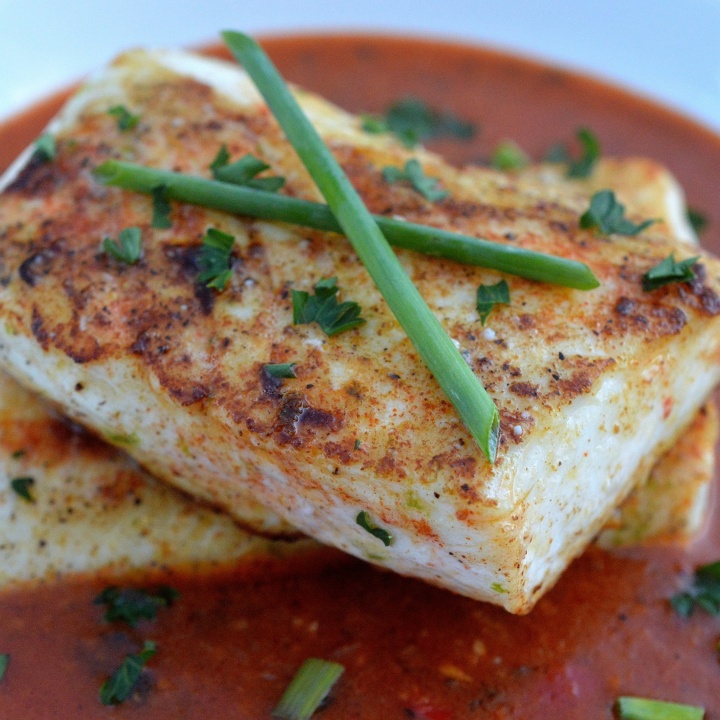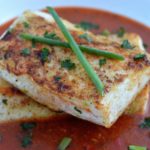 Print Recipe
Pan Seared Halibut in Thai Curry Sauce
This simple Halibut in a Thai Curry Sauce recipe is just as good or better than a restaurant!
Ingredients
3

TBS

butter

4 - 4

ounce

portions of fresh Halibut

Lime zest

Kosher salt

Black pepper

Paprika

Grapeseed or olive oil

Sauce

3

cloves

garlic

1

TBS

fresh ginger

2

TBS

parsley

1/4

cup

Vidalia onion

3

TBS

lime juice

Salt & pepper

2-3

TBS

Thai Red Curry Paste

3

TBS

Tomato Paste

3/4

cup

white wine

1

cup

coconut milk

1

TBS

brown sugar

3

TBS

diced red pepper

not spicy
Instructions
Season Halibut with lime zest, salt, pepper and paprika. Set aside to marinate for 15 minutes.

In your food processor, process your garlic, ginger, onion and lime juice until smooth or finely minced. This could pose a challenge for large processors, since its a small amount of ingredients. If so, do it by hand then add in the lime juice.

Melt butter in a non-stick skillet or frying pan. Over med-high heat, pan sear the halibut, about 2-3 minutes per side until cooked through. (Cook time will vary based on the thickness of your fish).

Carefully place fish on a baking sheet or plate tented with foil.

In the same pan, add your mixture from the food processor and saute for 4 minutes. If you need to add a smidge more butter, do so.

Add in your Thai red curry paste and tomato paste, blend well and saute for 3 minutes.

Add in the wine and stir briskly, once its simmering add in the coconut milk, sugar and some salt & pepper.

Stir, taste and adjust seasoning or heat if necessary. If you would like it spicier, add in a pinch or two of Cayenne pepper.

Simmer for 10 minutes.

Remove from heat.

Place the fish gently into the pan of sauce, allow it to sit for a minute or two and serve.

OR plate the fish and spoon the sauce around it.

Enjoy!
Notes
This will serve 4 as 4 oz portions or 2 as 8 oz portions...It's SO good...that you are going to want 8 ounces, trust me!
Recipe inspired by a combination of Bon Appetit and Tastes Spicy
Nutrition
Serving:
4
servings
|
Calories:
642
kcal
|
Carbohydrates:
25
g
|
Protein:
26
g
|
Fat:
44
g
|
Saturated Fat:
33
g
|
Trans Fat:
1
g
|
Cholesterol:
101
mg
|
Sodium:
445
mg
|
Potassium:
1238
mg
|
Fiber:
2
g
|
Sugar:
13
g
|
Vitamin A:
3889
IU
|
Vitamin C:
54
mg
|
Calcium:
101
mg
|
Iron:
6
mg