It's so funny that it's often the simple...simple recipes that taste SO good! This Pan Seared Scallops recipe is one of those. Enjoy these seared scallops is or level it up to restaurant quality with a Quick Tomato Curry Sauce. This is insanely delicious!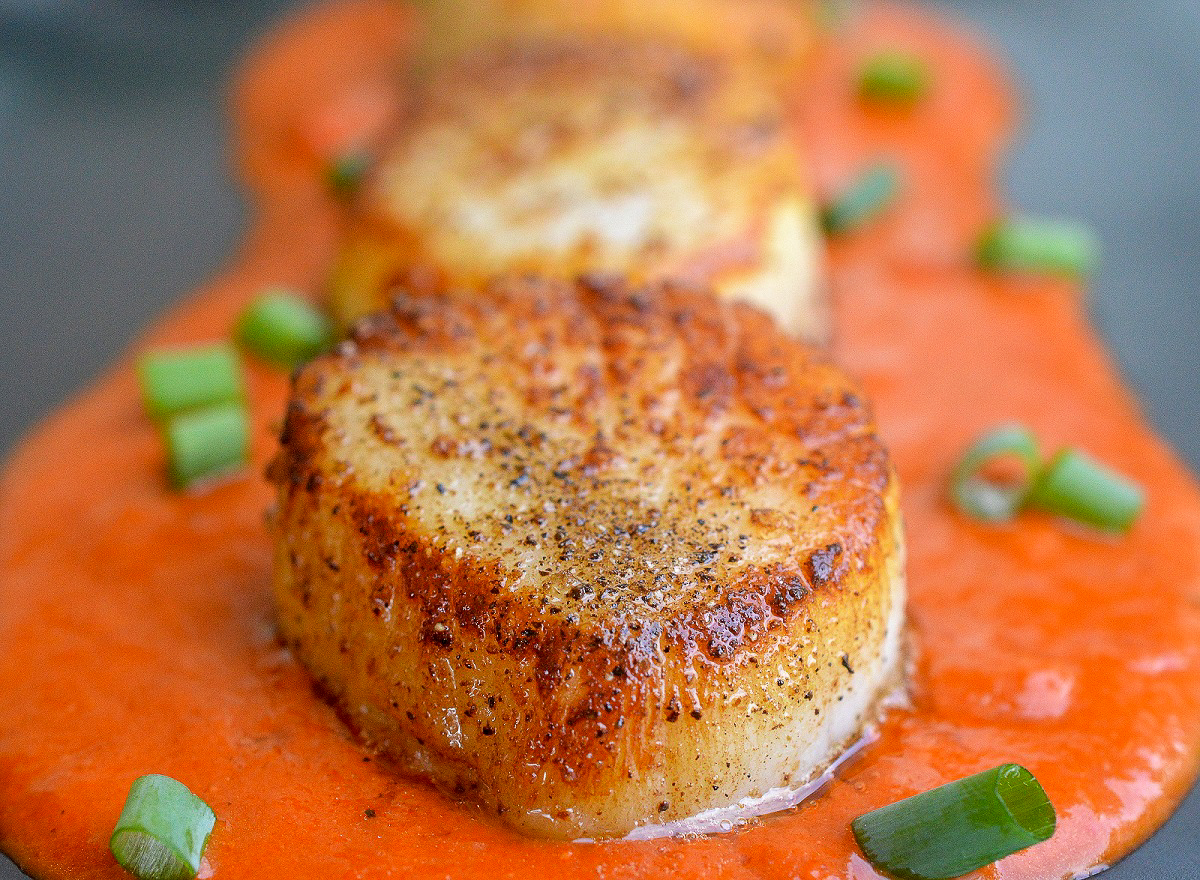 Perfectly seared scallops are the food of dreams. To me, it's funny that ironic reserve their enjoyment of scallops for when they are dining out when they are so fast and easy to make at home!
Ingredients for Seared Scallops
Scallops
Salt
Black pepper
Oil
Fresh lemon (optional)
Butter
Tips for Making Pan Seared Scallops
Look for dry scallops (vs wet scallops which have been shucked on the boat after harvesting and then placed into a container filled with cold water. This preserves the scallops for longer however the scallops absorb water and plump up, which results in a less pure flavor and a tougher texture. They are also often older by the time they arrive at the seafood counter).
Blot your scallops dry with a paper towel.
Season the side facing you with a little salt (remember they are from the sea so they are salty) and black pepper. More black pepper vs salt in my opinion.
Use a cast iron or heavy bottomed non-stick pan.
Heat pan, until its very hot then add in your high heat oil like avocado, grapeseed or olive.
Wait for your oil to shimmer, like little waves, just before it smokes and then begin placing in your scallops gently but quickly, one at a time, seasoned side down. Remember your placement method, so that you will then flip them in the same order as well as remove them in the same order.
As soon as they are placed in your pan, season the top.
DO NOT MOVE THE SCALLOPS...for 2 minutes. To allow them to get that beautiful sear / crust.
After 2 minutes, flip and cook another 1 minute to 1.5 minutes (depends on size and thickness of your scallops) without moving them.
Seconds before you pull your scallops from the pan, spritz them with the smallest squeeze of fresh lemon juice then quickly toss in ½ TBS butter. Quickly give a baste after the butter melts and then pull your scallops with a small slotted spatula to allow any grease to drip off.
Plate and enjoy!
The flavor of the pan seared scallops are perfect on their own. You get the buttery texture and taste from the scallop with the crust built from the salt, pepper and high heat. They are delicious as is.
However, if you want to try something new, you will not believe the flavor that you get from this easy tomato curry sauce with just 3 ingredients in less than 15 minutes!
We all know that seared scallops are de-lic-ious! But this is next level when you also make the tomato curry sauce! This is one of those meals that you take a bite and look over at whomever made it or whomever you are enjoying it with.
That look that says mmm-mmm!
I enjoy a delicious curry sauce, and by curry, I don't mean one flavored with curry powder. What I like enjoy is a tomato curry.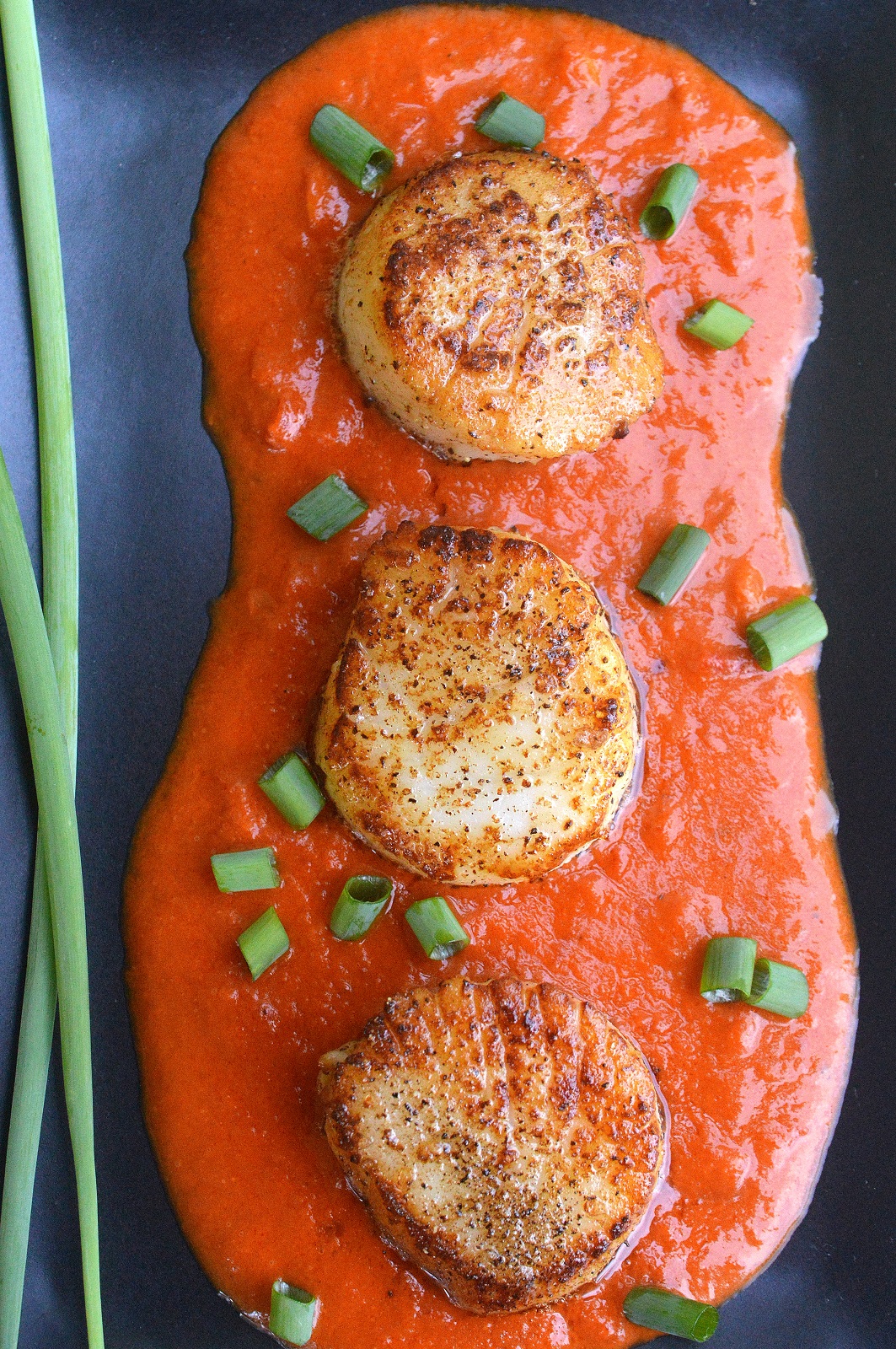 What is a Tomato Curry
Tomato curry is made with tomatoes, spices, and sometimes other ingredients like onions, garlic, and peppers. It can be prepared in multiple ways and is commonly found in Indian and Southeast Asian cuisine.
Curry powder has a distinct, color (yellow), taste and smell. I just have never been a fan of it, so I stick with tomato curry. A main ingredient in curry powder is turmeric which is a taste I don't enjoy. Even though its so good for you!
We all know that a good curry can take a long time. I actually came across a kit, which I bought for my 13 -year-old niece (who fell in love with curry dishes in Ireland last summer, the Irish are currently obsessed with curry dishes). She made it 2 weekends ago and we could not get over the depth of flavor that developed in such a short period of time. So I decided to mimic that for a quick weeknight meal with what I had on-hand.
Is this an authentic tomato curry recipe?
No. This is just what I make when I want that flavor with almost no effort.
One of the reasons this quick curry sauce recipe is so robust and flavorful is because I started with a high-quality tomato sauce.
All you need for this Tomato Curry Sauce is
A good tomato sauce (the better the quality of the sauce...the better this will taste),
Coconut milk,
Thai Red Curry Paste,
And of course some salt & pepper.
If you want more heat, add some cayenne pepper as well (I did). Yum!
10 minutes later...Boom, you have a small pot of deliciousness.
I typically make this to use with sautéed chicken over rice, which is really flavorful. I decided to try it with some beautifully seared scallops and we were all wowed! Why have I never come across this on a menu??
This right here is a new staple for me, I still can not believe the flavor from just a few ingredients and such a short period of time. Sure it's not a traditional curry, but boy does it ever taste good!
Make this 3 Ingredient Quick Thai Curry Sauce and use it on sautéed chicken pieces, veggies, shrimp, scallops or rice. Trust me, you will be doing the happy food dance! If you look for meatless meal options, check out the two previous posts I did for Jar Goods - Cheesy Meatless Mushroom Meatballs and Grilled Eggplant Parmesan.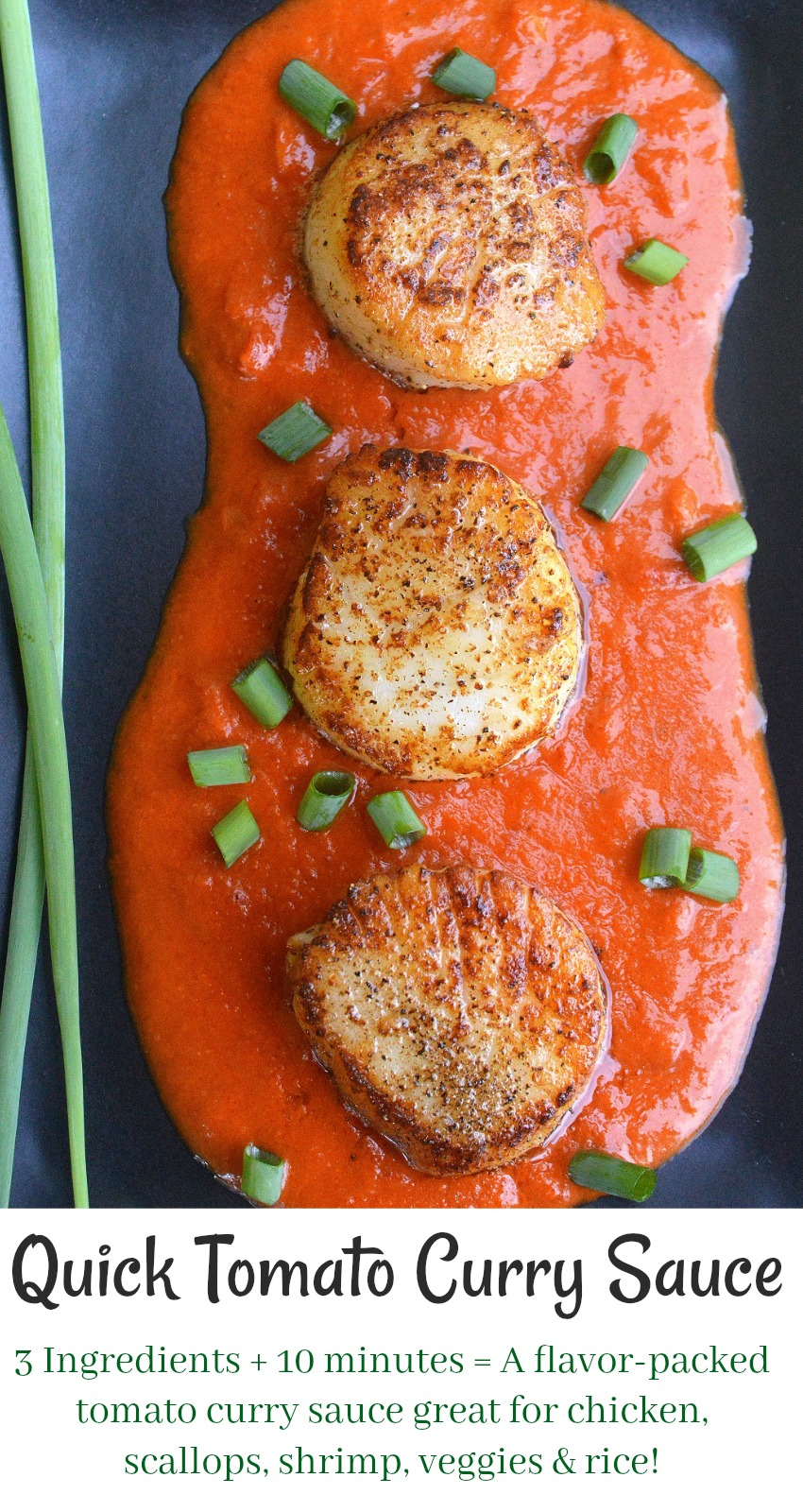 Other Recipes To Try
Stuffed Mushrooms - Perfect for an appetizer or light meal
Crispy Rice with Spicy Tuna - This one takes more time than most of my recipes due to the cooling of the crispy rice, however it is SO worth it!! Just like Cheesecake Factory!
Seafood Soup - THIS...Will blow your mind! SO good AND so easy!
Hope you enjoy!! Happy Cooking, Colleen
Originally posted June 2017, Updated June 2023.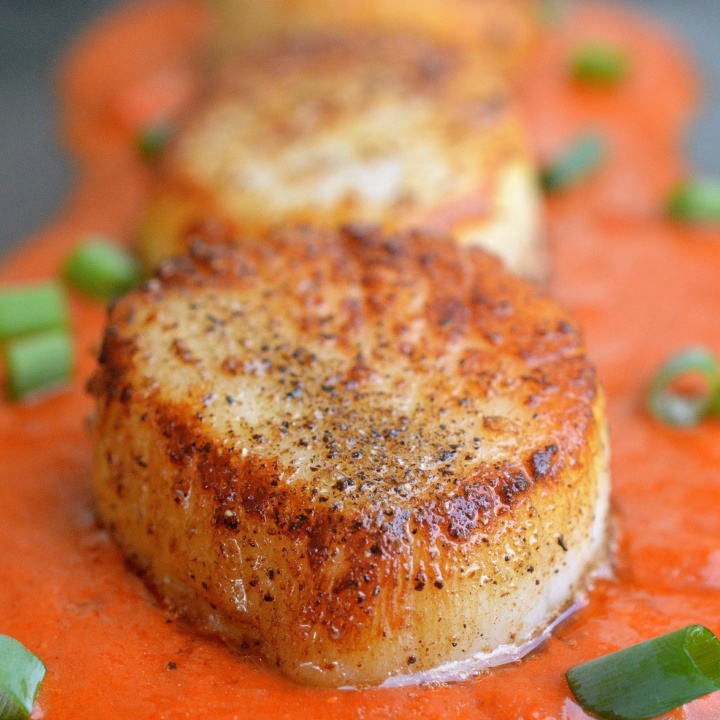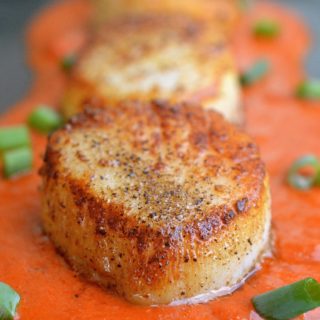 Seared Scallops with Quick Thai Curry
Seared Scallops are delicious on their own however when paired with a quick Thai Curry Sauce, they are elevated to a restaurant quality dish. Make this recipe in 20 minutes or less!
Ingredients
8

oz

Good Quality tomato sauce (I prefer spicy, mild works as well)

or a good quality tomato sauce

¾

cup

coconut milk

2

heaping TBS Thai Red Curry Paste

avocado or olive oil

16

scallops

Salt and black pepper to taste

Optional A sprinkle of Cayenne pepper for more heat

pat of butter
Instructions
In a saucepan, combine sauce, coconut milk and paste. Whisk until fully combined and heat until bubbly. Season, taste and adjust to your preference.

The sauce can be made a day or two ahead. The flavor intensifies as it sits.

To make scallops

Heat a non-stick pan until it's almost smoking hot add 1 TBS grapeseed or avocado oil (higher smoke point, it's what I use) or olive oil.

While pan is heating, pat scallops dry and season one side with salt & pepper.

Add scallops one at a time to the pan and allow them to cook about 2 minutes (without moving), season face side up while they cook. Flip and cook for an additional 90 seconds (depends on size, more or less). Last few seconds add a bit of butter, baste.

You are looking for a nice golden brown crust like you see in my photos.

Gently Remove scallops from the pan to halt the cooking process, blot on a paper towel (if you choose) and plate.
Nutrition
Serving:
3
servings
Calories:
185
kcal
Carbohydrates:
8
g
Protein:
12
g
Fat:
13
g
Saturated Fat:
11
g
Polyunsaturated Fat:
0.3
g
Monounsaturated Fat:
1
g
Trans Fat:
0.003
g
Cholesterol:
19
mg
Sodium:
679
mg
Potassium:
513
mg
Fiber:
1
g
Sugar:
3
g
Vitamin A:
435
IU
Vitamin C:
6
mg
Calcium:
26
mg
Iron:
3
mg
Follow me on Tik Tok for 1 minute videos