If you enjoy poke or sushi, you will flip for this Crispy Rice with Spicy Tuna appetizer. It hits all the flavor and texture notes!
What type of tuna should I use
For this recipe you want to look for good quality Ahi Tuna, specifically sushi grade or sashimi grade. They are pricier vs standard tuna cuts however, a little will go a long way. I fed 4 people with ¾ of a pound.
Last year I was a The Cheesecake Factory with a couple friends and they had an appetizer special - Ahi Tuna on Sushi Crispy Rice. We devoured it! It blew all of our minds. Of the may dishes we had that evening THAT was the standout.
So you know I had to replicate it!
This spicy tuna crispy rice recipe is not complicated at all in my opinion. However, it does take more time to actually make it than 98% of my other recipes simply because of the chill time required for the sticky rice after you make it.
It is so worth it in my opinion. You can make the sticky rice the day before if you like that way its ready to go when you want to make Crispy Rice with Spicy Tuna for an appetizer or light meal.
How to make Crispy Rice Cakes
Make your sushi rice according to package directions and allow it to cool for a few minutes. This is the rice I use.
Add in a TBS of rice wine vinegar, a ½ TBS sesame oil and a little drizzle of agave or honey and stir.
Press it into a 9x9 (or larger) dish (all depends how thick you want your crispy rice cakes).
After rice cools down, place it in your refrigerator until it is completely cold. At least an hour or overnight. Just be sure your cover it with plastic wrap so it doesn't dry out. TIP, cold "falls" so the lower placed in your refrigerator, typically the quicker it will chill.
When ready to cook your crispy rice cakes, flip out your rice and cut it, using a sharp chefs knife, into squares or rectangles.
Heat enough oil in your large pan with sides to cover the bottom. Once oil is hot, carefully place rice cakes in without crowding and fry on each side until crisp. Add additional oil as necessary in between batches. Just make sure oil is hot before placing new rice cakes in.
Oil will pop etc. as as moisture is in the rice so be careful and don't have the littles around as you do this.
Once rice is golden on both sides to your liking, remove and place on a wire rack to get ready for assembly.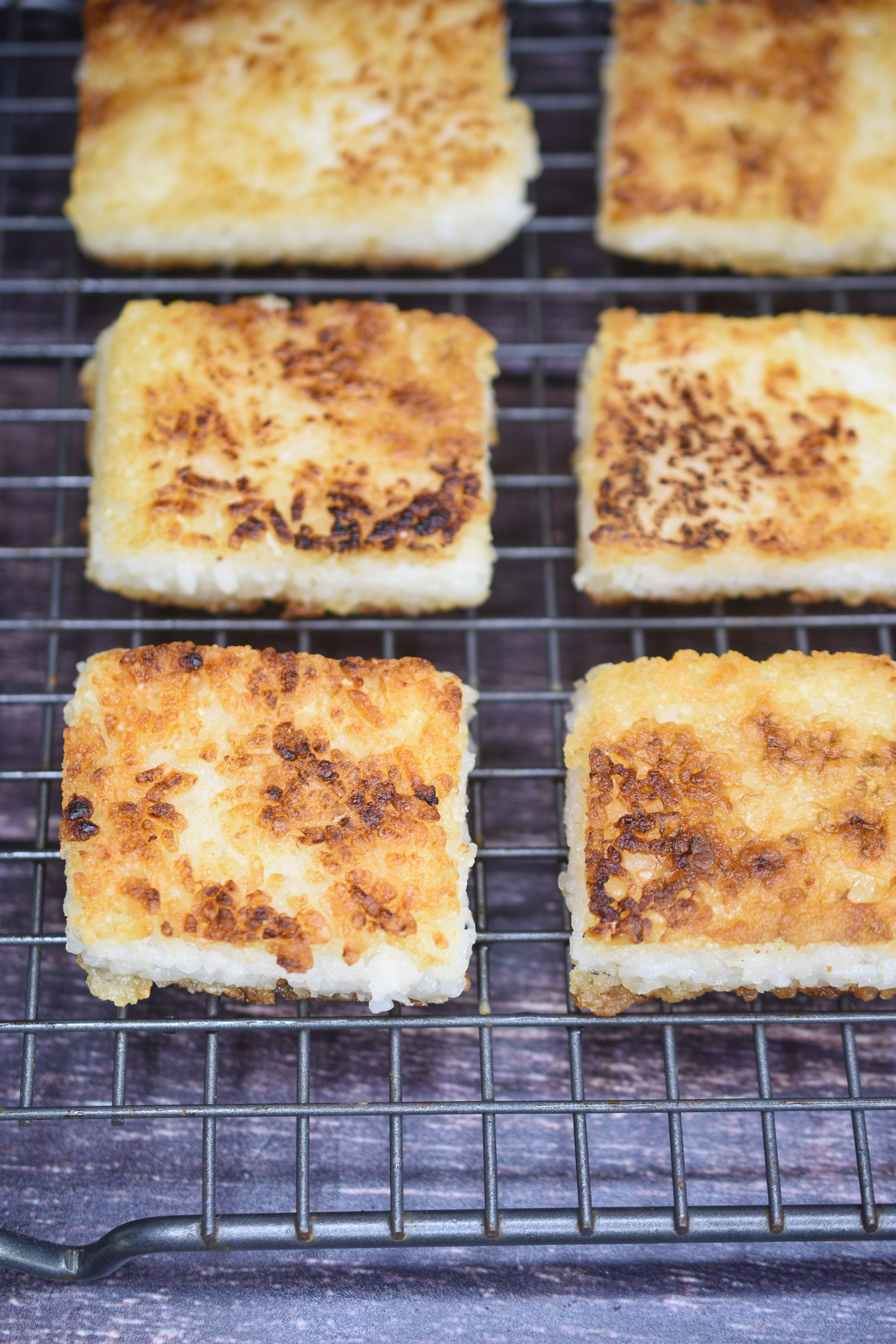 How to make Spicy Tuna
First make your sauce for the mayo. Combine Japanese Mayo (I use Kewpie), soy sauce, sriracha and a squeeze of fresh lime or lemon and combine. Set aside in the refrigerator until ready to use.
Purchase quality sushi grade tuna make sure its chilled and then with a sharp knife slice it into a small dice.
Just before serving toss the tuna with the some of the sauce and mix gently until well combined.
This crispy rice with spicy tuna recipe really is such a fun appetizer and it is so flavorful!! The contrast of flavors and textures just work! Yum!! If someone doesn't like raw tuna (like me) they may be surprised that they will enjoy this recipe. I know I sure was when I was at The Cheesecake Factory.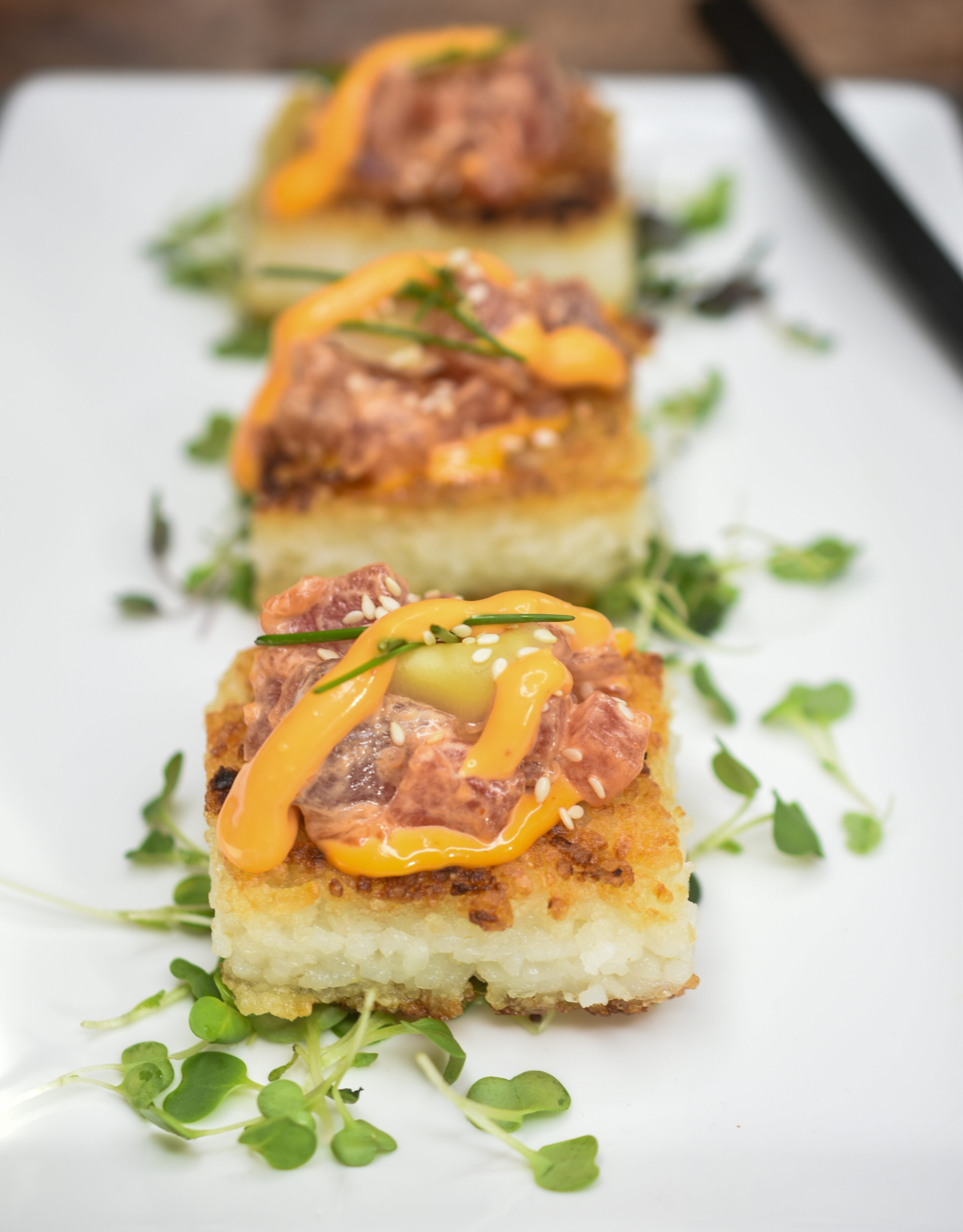 Other recipes to try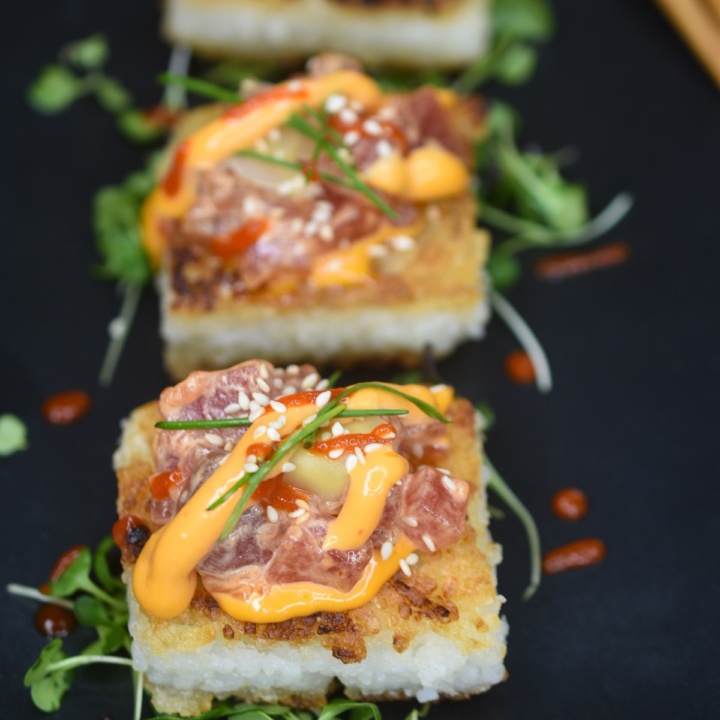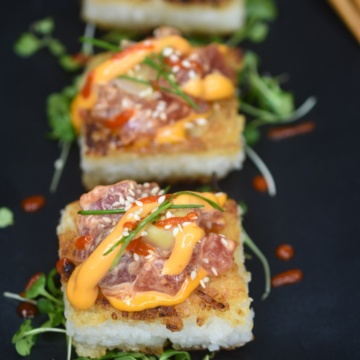 Crispy Rice with Spicy Tuna
Crispy Rice with Spicy Tuna recipe. Love the flavors and texture of this. Inspired by The Cheesecake Factory Spicy Tuna with Crispy Rice appetizer.
Ingredients
Crispy Rice Cakes
1.5

cups

sushi rice cooked to package instructions

I use Lundberg Family Farms Organic Sushi Rice but any sushi rice will work

2

TBS

rice wine vinegar

1

teaspoon

sesame oil

½

TBS

sugar

pinch of salt

oil for frying
Spicy Tuna
¾

pound

piece of sushi grade ahi tuna

more or less depending on how much you want to mound on

¼

cup

Japanese mayo (Kewpie)

1

TBS

soy sauce

½

TBS

sesame oil

2

TBS

Sriracha (or more if you want more heat)

Splash of rice wine vinegar or a squeeze of fresh lime
Garnish
sesame seeds

chives or scallions sliced thin
Instructions
Cook the sushi rice according to package instructions (be sure to rinse it).

Combine the rice wine vinegar, sugar, sesame oil and salt in a small ramekin or cup and pop it in the microwave for 15-20 seconds or so. Just to warm it so the sugar melts (alternatively you could also use agave vs the sugar). Stir to combine.

When the rice is finished cooking, drizzle it with the vinegar mixture and gently use a fork to mix it in.

Spread the rice out on a baking sheet to allow it to cool for a few minutes. When you can handle it, line a 9x9 or 9x13 sized dish with parchment paper (all depends on how thick you like your rice cakes). Press it into a place using another piece of parchment paper on top and PRESS down hard to compact it and make it even.

Allow this to chill 4 hours or overnight. I you are in a rush, once it has cooled to room temp, you can pop it in the freezer for an hour.

Make the spicy tuna sauce by combining the mayo, soy sauce, sesame oil, sriracha and vinegar or lime. Stir until combined and smooth. Set aside.

When ready to assemble. Chop your cold tuna into very small pieces (as pictured). Toss it with half the sauce or as much as you would enjoy. Set aside.

Remove rice from your pan and using a sharp large chef's knife cut it into squares or rectangles. Or even if you have a small biscuit cutter or the like, circles.

Heat just enough oil in a pan with 1-2 inch sides to coat your pan fully about ⅛ of an inch deep. If you have a large pan you may be able to cook them all at once (but don't crowd or you wont be able to flip them over). If not cook in batches.

This will pop and possibly splatter a bit while the rice crisps up. Be careful. Allow squares to cook 3-4 minutes per side or until golden brown and crisp. Place on a wire rach as you remove them for a couple minutes. Add additional oil as needed.

I like to smear some of the sauce on a plate along with some microgreens for a pop of color. Place a rice cake, spoon tuna mxture ontop and then garnish with sesame seeds, chives or scallions oe whatever you dream up. Drizzle with extra sauce if you like and/or some Sriracha for an extra kick and enjoy!
Notes
The crispy rice squares are delicious on their own and might be enjoyed by kids who may not be interested in the tuna 🙂
Nutrition
Serving:
4
servings
Calories:
316
kcal
Carbohydrates:
16
g
Protein:
22
g
Fat:
18
g
Saturated Fat:
3
g
Polyunsaturated Fat:
9
g
Monounsaturated Fat:
5
g
Trans Fat:
0.03
g
Cholesterol:
38
mg
Sodium:
549
mg
Potassium:
243
mg
Fiber:
1
g
Sugar:
2
g
Vitamin A:
1876
IU
Vitamin C:
5
mg
Calcium:
11
mg
Iron:
1
mg
Follow me on Tik Tok for 1 minute videos