Love salmon recipes? How about new and delicious way to enjoy salmon? Look no further than Salmon Meatballs! This easy and tasty Salmon Balls may just become a family favorite.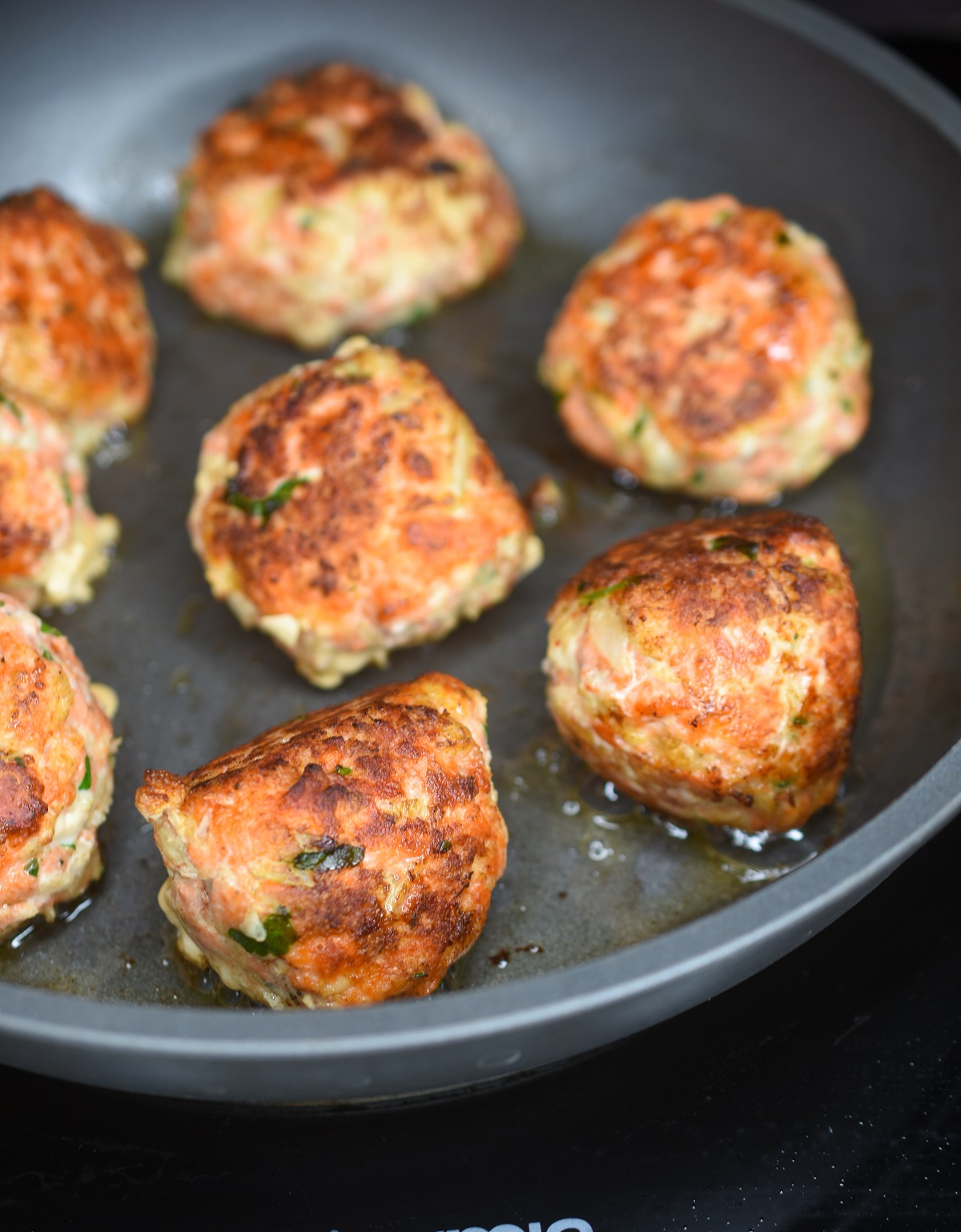 Salmon Meatballs are a great way to enjoy the heart-healthy benefits of this powerhouse protein in a fun and flavorful way.
Benefits of Salmon
Salmon is loaded with protein, healthy fats, and various vitamins and minerals. The omega-3 fatty acids found in salmon are beneficial for heart health, brain development, and joint health.
Salmon is also high in B vitamins, selenium, and potassium. Many people believe that eating salmon regularly can help improve your overall health, reduce inflammation, and boost your immune system.
In addition, salmon is so versatile. There are so many recipes you can make with it.
Ingredients
Onion, parsley & garlic
Uncooked salmon
Salt, black pepper, red pepper flakes and smoked paprika
Panko or breadcrumbs
Fresh lemon juice
Egg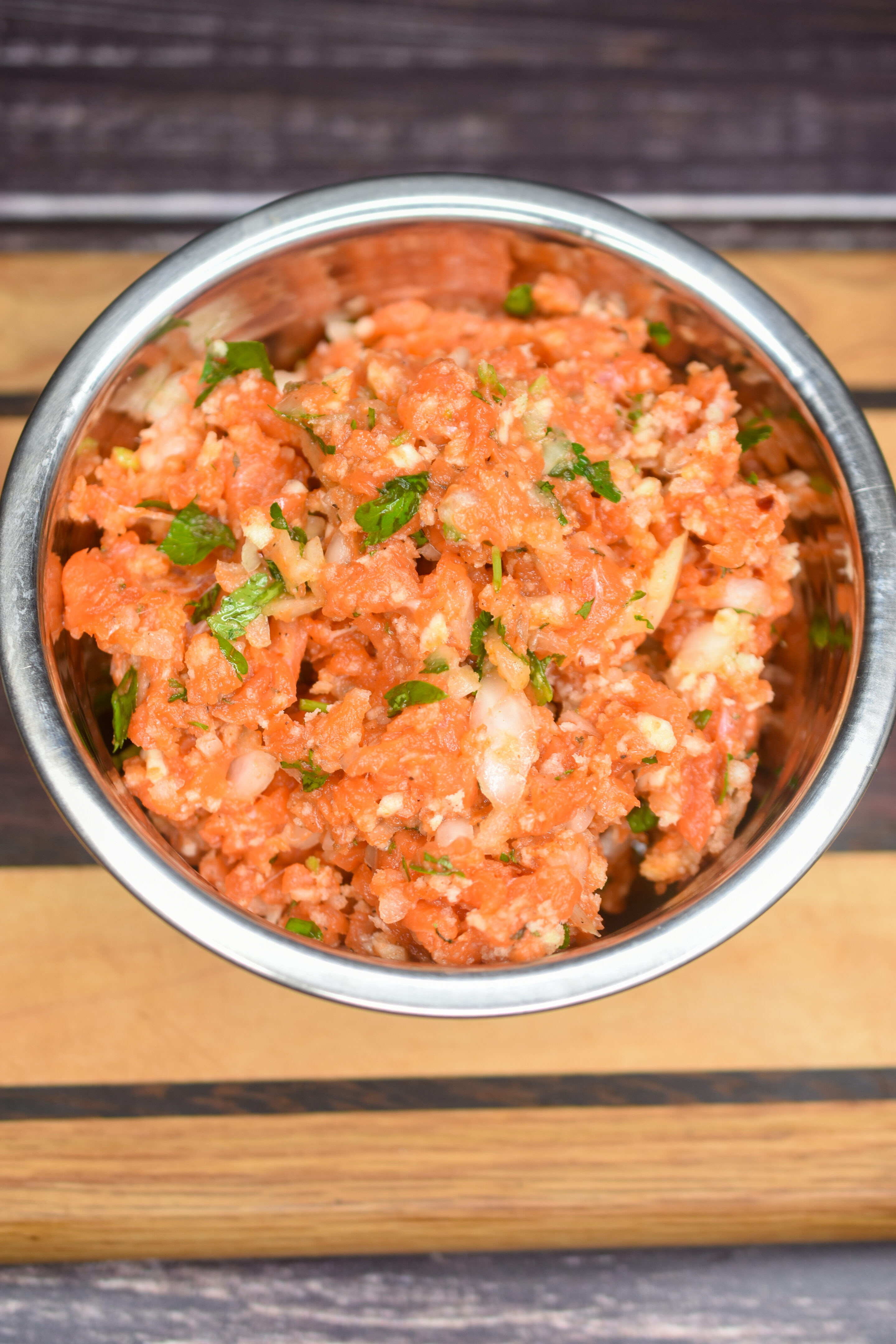 Variations
It's easy to change up the flavor of these Salmon Balls. For something a little spicy, add in chopped jalapenos and Cajun seasoning.
Give them some Asian flavor by adding in some sesame oil, hoisin, chili with garlic paste, soy sauce, ginger paste or grated ginger etc. And cook them in sesame oil as well.
You can choose to bake them. They bake up fine, however my whole family agreed (I made them both ways fried and baked and taste tested), that fried was the tastiest way.
If you purchase higher grade tuna, cook salmon meatballs to your desired doneness. Which means choose to cook them through, mostly through or have them lean more medium. Whichever your preference is.
Enjoy as is, or on a roll and make a bahn mi out of it, yum!
I made a lemon cream sauce as you see in some of the images of this post. It was a nice light addition.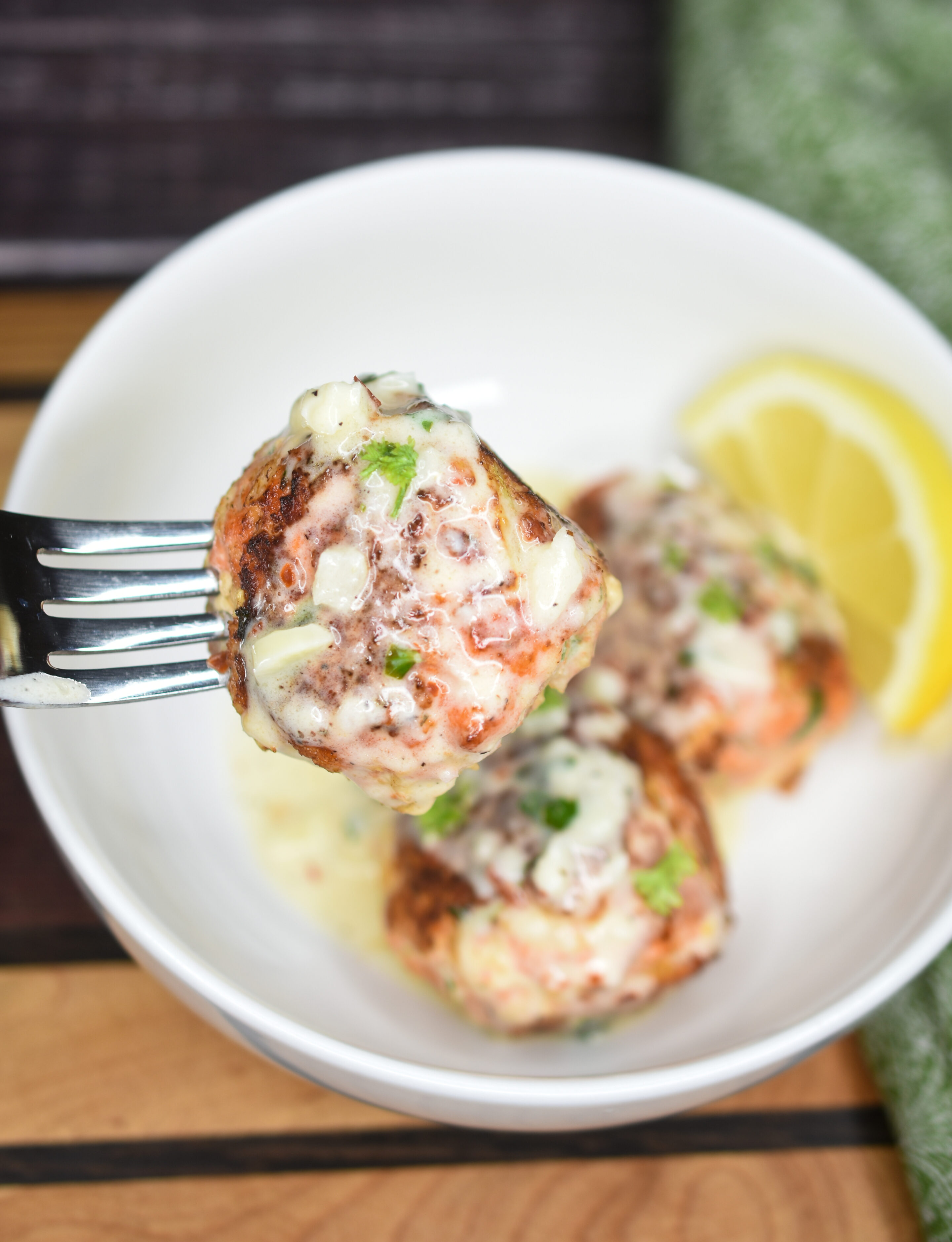 Salmon Balls are a delicious and healthy way to enjoy salmon. The combination of flavors, crunchiness from the bread crumbs, and flakiness of the salmon make for a truly delicious meal. Serve these up as an appetizer or a main course, and you won't be disappointed. Enjoy!
Other recipes to try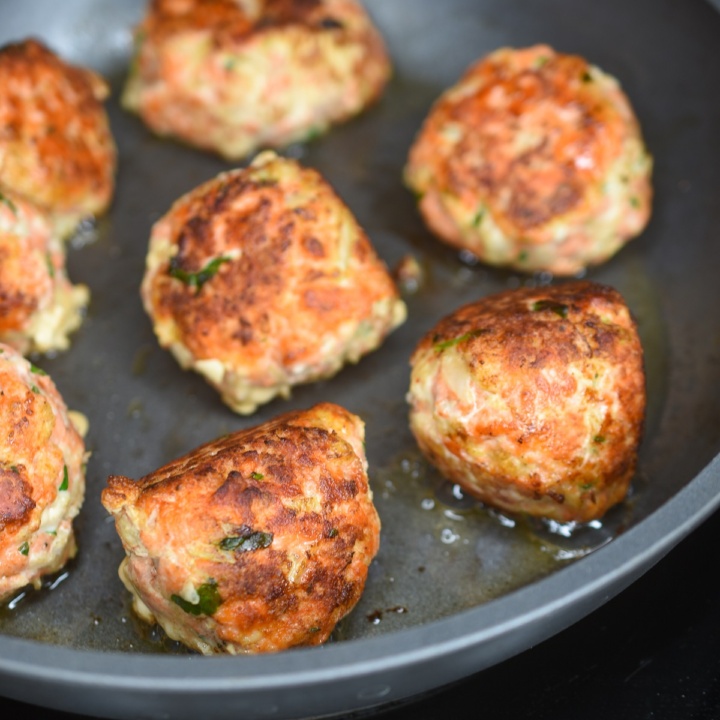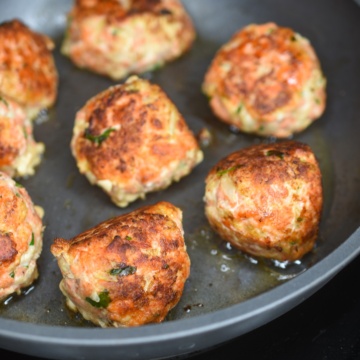 Salmon Balls
Recipe for Salmon Balls, another way to enjoy salmon for dinner. Flavorful and easy to make!
Ingredients
¼

cup

sweet onion or scallions

small handful of parsley

2

garlic cloves

1

pound

uncooked salmon

pinch

red pepper flakes

½

teaspoon

kosher salt

½

teaspoon

black pepper

¾

teaspoon

smoky paprika

1

egg

squeeze fresh lemon juice

½

cup

panko or breadcrumbs
Instructions
Place onion, parsley and garlic in the bowl of food processor and pulse until minced.

If your salmon has skin, use a sharp knife and carefully cut the salmon meat from the skin and place into bowl of food processor. Discard skin.

Pulse a few times and then add in the eft of the ingredients and pulse until combined.

If you have the time, scrape the mixture into a bowl and allow it to chill for 30 minutes or so so the flavors mingle and the mixture sets.

When ready to cook, form a very small patty and cook it off to taste, this wat if you need more seasoning you can adjust the mixture before you form into balls (something I always recommend when making meatballs, burgers, meatloaf etc).

Form the mixture into balls, like you would a traditional meatball. Pressing firmly to compact each ball as you would a snowball to help it hold its shape.

Heat just enough oil in a large pan/skillet to just coat the bottom. Once hot, add the salmon balls without crowding.

Cook for about 5-7 minutes, flipping them halfway through. Cook time will depend on your preference for doneness as well as size of balls.

Once the salmon balls are golden brown and cooked to your liking, remove them from the skillet and serve enjoy as is, with tarter sauce, a lemon cream sauce or on a roll banh mi style.
Nutrition
Serving:
3
servings
Calories:
316
kcal
Carbohydrates:
15
g
Protein:
35
g
Fat:
12
g
Saturated Fat:
2
g
Polyunsaturated Fat:
5
g
Monounsaturated Fat:
4
g
Trans Fat:
0.01
g
Cholesterol:
138
mg
Sodium:
609
mg
Potassium:
836
mg
Fiber:
1
g
Sugar:
2
g
Vitamin A:
388
IU
Vitamin C:
1
mg
Calcium:
68
mg
Iron:
3
mg
Follow me on Tik Tok for 1 minute videos