Want dinner in a hurry? One with amazing flavors? This Ground Meat & String Bean Stir Fry is it!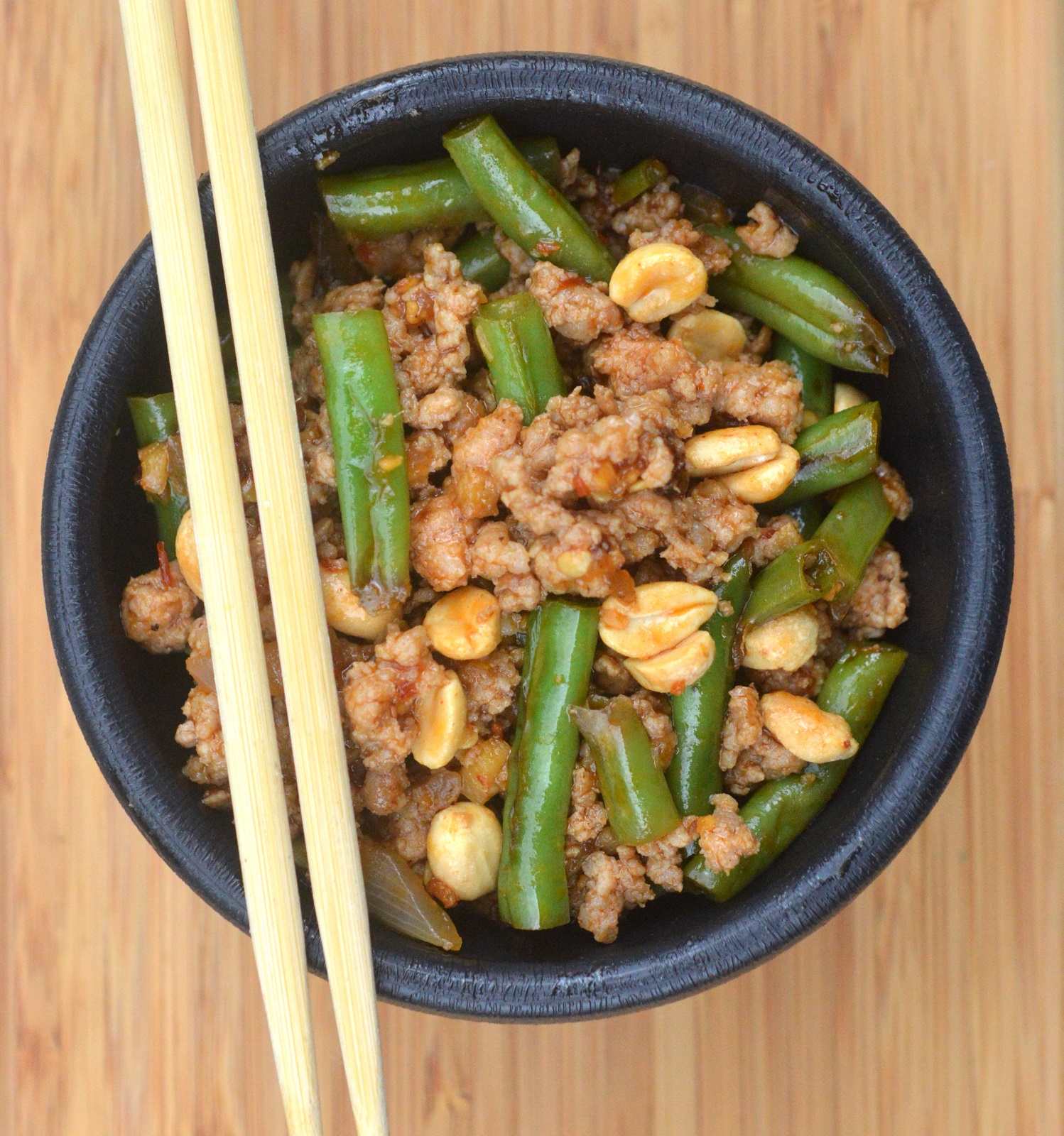 This easy meal of Ground Meat & String Bean Asian Stir Fry will not disappoint!
You could say that I am a food snob…sorta. It's just that I want what I eat to taste good. If it doesn't why bother eating it and if I am out and have to pay for something that I know I could have made better myself, that really annoys me.  Whether it's a sandwich, a piece of fruit or an amazing entree, I just want it to be delicious!
I know you can relate?? Right?
In addition to wanting what I eat to taste delicious, I also really enjoy learning more about where the food my family and I eat comes from. I love the story and the knowledge behind it and I really enjoy sharing that information with you via this website and my social channels. From the humble potato to seafood, meat, cheese, wine, booze and more, I totally dig getting behind the scenes and learning more!
Learning more about America's farmers is of special interest to me. Their dedication and passion for what they do amaze me. How farming has changed in the last couple of decades is so interesting. The cutting edge science and research that goes into what they do, the necessary pillars of income to keep a farm profitable, the animal care, sustainability, the multigenerational stories, and even standing on the acres and acres of land they own to do what they do all fascinate me!
My experience touring veal farms this year and today's recipe were funded by The Beef Checkoff . The funding that goes into the Beef Checkoff arms the beef industry with the research capabilities and knowledge necessary to drive demand for beef for generations to come. Every dollar helps promote beef around the world, elevate consumer trust with the latest news on nutrition and safety, supports cutting-edge innovation. In addition to beef, veal is also supported.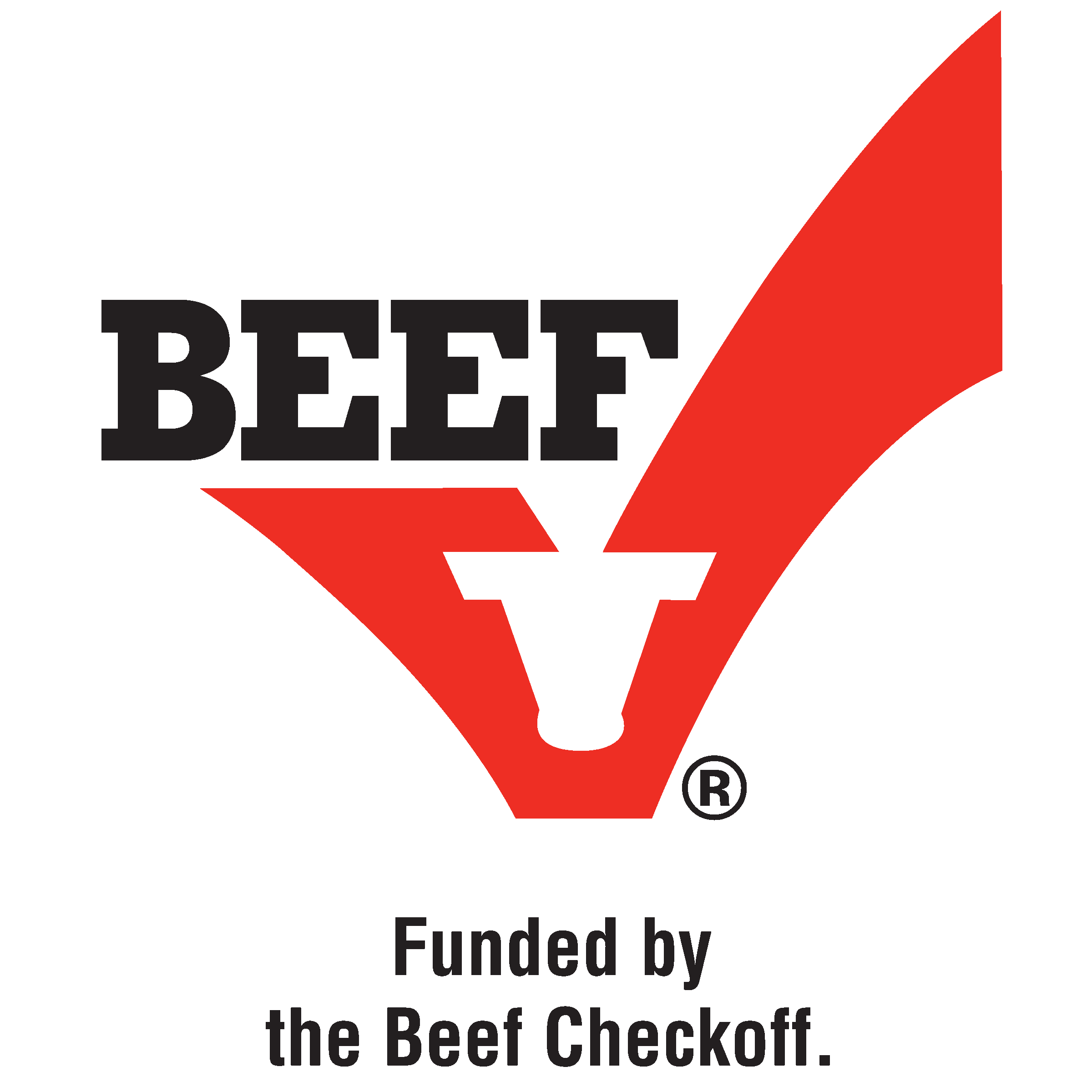 Veal farms are located near dairy farms primarily in New York, Pennsylvania, Ohio, Michigan, Indiana and Wisconsin.
What Is Veal?
Veal is nutritious, nutrient-rich meat harvested from calves typically 22-24 weeks old, weighing 550-600 pounds. Did you know veal calves, for the most part, are a byproduct of the dairy industry (dairy farmers sell male calves since they are in the business of producing milk which male cows cannot do). In my opinion, veal is delicious; it is more tender than beef and picks up the flavors used in its preparation.
To find more out about the three types of veal raised today, visit VealFarm.com.
As you can see these calves are not babies, one of these can easily push a grown man around.. Pictured these calves are about 450-500 pounds. They go to market at about 550-to 600 pounds.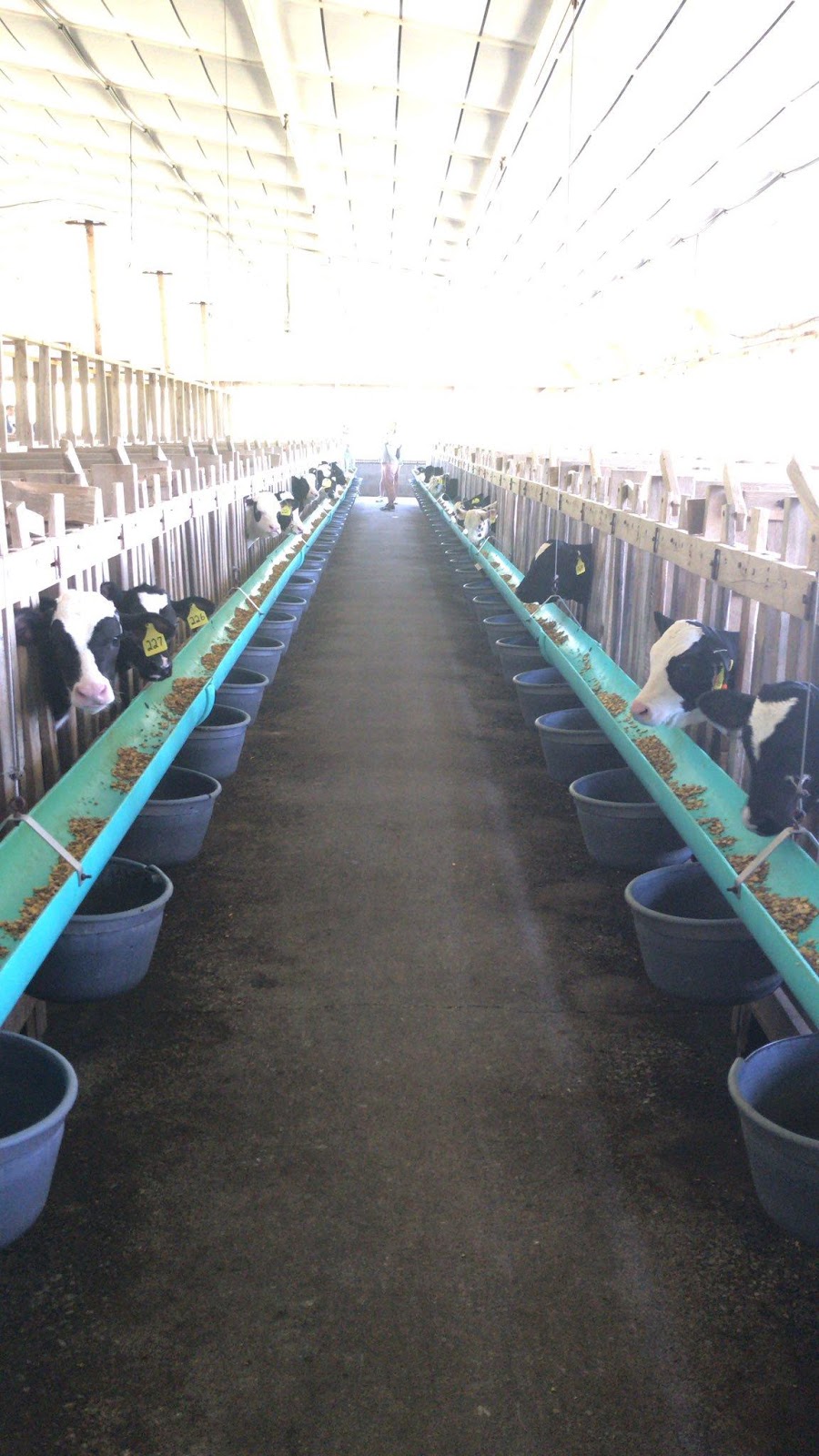 Open barn filled with light and fresh air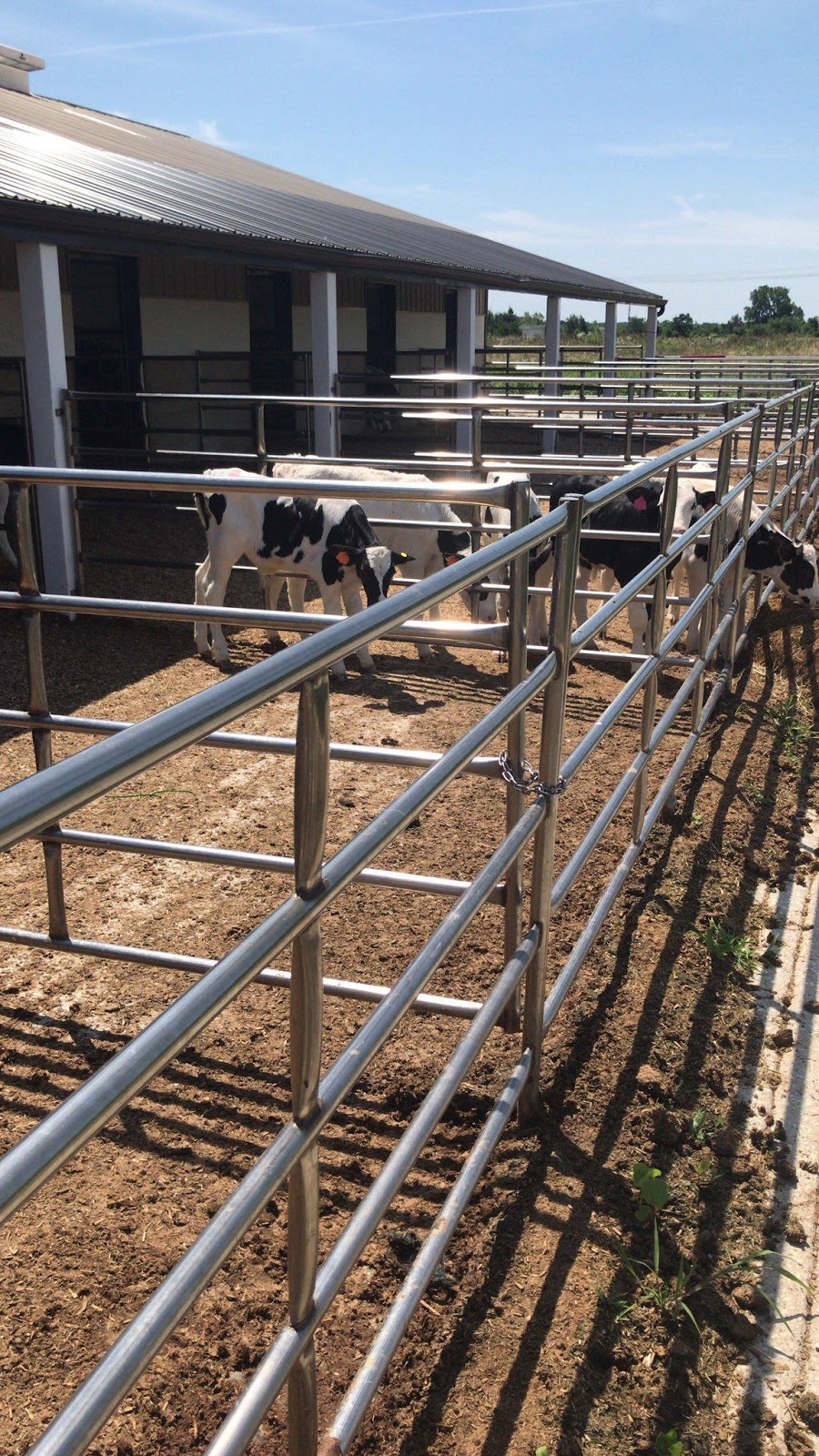 Calves can go outside on some farms if they choose

Calves are fed a diet of milk replacer and some grain. Percentages vary from farm to farm.
Is Veal Healthy? Eat Better, Eat Veal
A 3-ounce serving of cooked trimmed lean veal is a good source of key nutrients including vitamin B-6, vitamin B-12, niacin, riboflavin, zinc, selenium and choline. What's more, a serving of lean veal has just 170 calories, making it one of the most nutrient-dense protein foods around! Typically the higher the protein in your meal, the longer you feel full. Mission accomplished with veal on the menu!
In comparison…
1 serving of lean veal has 27 grams of protein and JUST 170 calories. To get that much protein, it takes about…4 servings firm tofu (260 calories) OR 4-1/2 servings of almond butter (880 calories) OR 4-1/2 medium hard-boiled eggs (330 calories) OR 1-2/3 cups hummus (900 calories).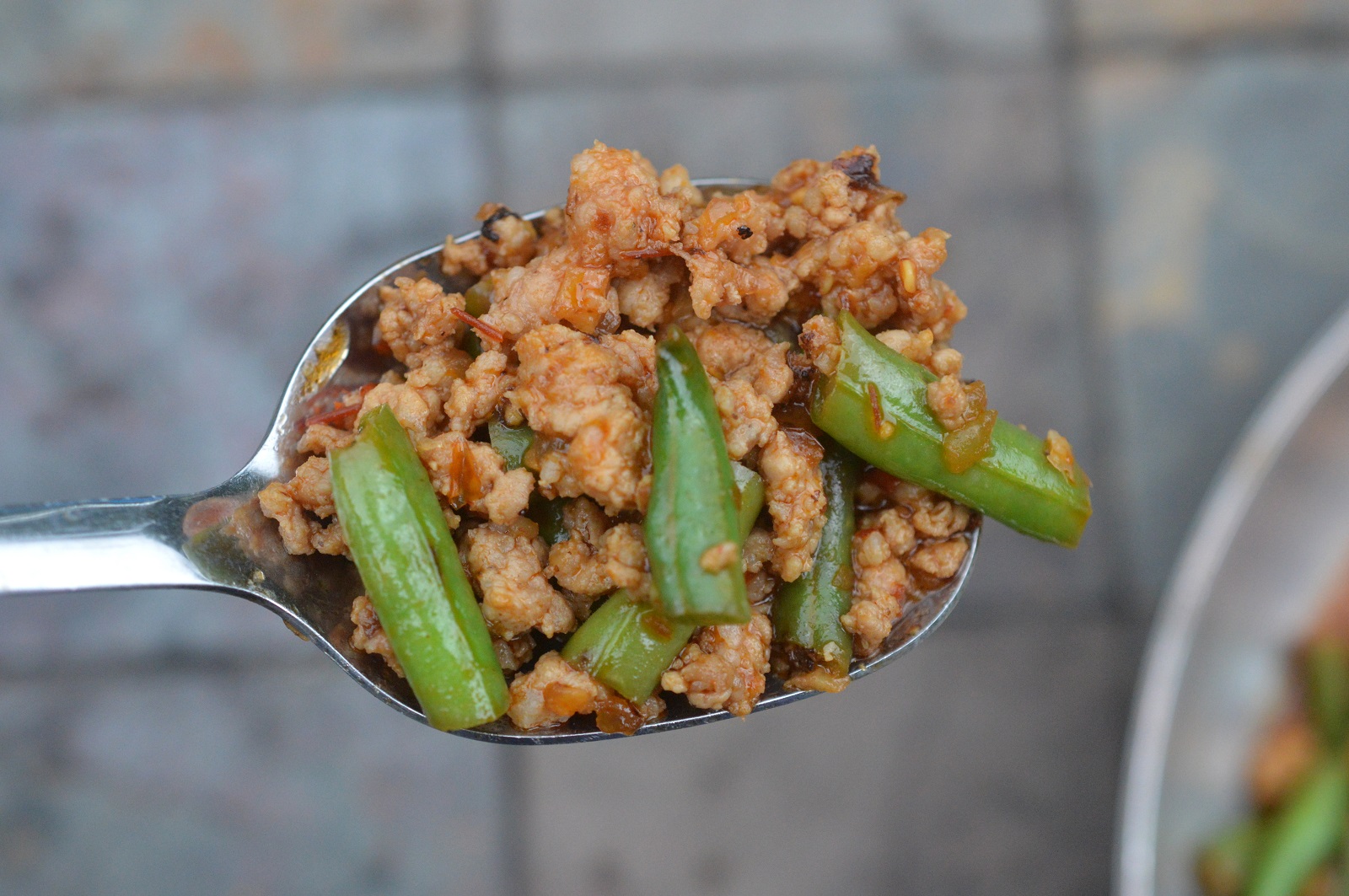 How Is Veal Raised?
Milk-fed veal calves are raised for 6 months and weigh about 550 pounds when marketed as veal. Other farmers and ranchers raise calves to approximately 1200 pounds and marketed them as beef.
Contrary to popular belief, today's veal is raised in airy barns, full of light and fresh air, they are not tethered in any way. The calves have plenty of room to move about and buddies to play around with. Some farms I visited have outdoor access if the calves feel like going outside, they can. There are even some farmers that raise pasture-raised veal.
Practices such as castration, dehorning, and tail docking are not necessary in the raising of veal. Additionally, hormone implants are not permitted for use in veal production.
Where does the "veal is raised in tiny crates or tiny houses and they can't move about for the duration of their lives" come from?
You do in fact see hutches when you drive by dairy farms, and some ice cream stands on farms house calves…Those, are where "baby" dairy cows (calves) are being housed for the earliest parts of their life. When a calf is born, unlike humans, they are born with zero immunity. Human babies pick up immunity from their mother's placenta, while cows do not SO for that reason the first 6-8 weeks of their life both female dairy calves and male veal calves are in individual areas. On veal farms, those individual areas may have a partition which after 6-8 weeks is removed giving them a larger area and companions. On many farms after that period, the veal calves are moved to larger group pens which house 6-15 calves. It comes down to the individual farmers and their way of caring for their animals.
To find out more, visit VealFarm.com
What Does Veal Taste Like?
Veal has a delicate taste and is very tender. Most cuts of veal cook quickly. In my opinion veal cutlets and ground veal pick up the flavor of the sauce you are making with it or from the ingredients used in the method of preparation like it does in this Ground Meat & String Bean Asian Stir Fry recipe.
Veal chops on the other hand shine when cooked on the grill or in a grill pan. They really don't need much, just some seasoning and maybe a smear of sauce or a couple of spoonfuls of gremolata. It's just so tender and flavorful!
What Recipes Can You Make With Veal?
You can do anything you want with veal, treat ground veal like you would any other ground meat, same goes for the cutlets. You don't have to have red sauce anywhere near veal if you don't want it. Yes, every method of Italian cooked veal is delicious; however, there are so many more places you can take it. For a variety of veal recipes and videos, visit the Veal Made Easy website.
I have a Mediterranean Veal Burger on my site which explodes with flavors as well as a Veal Milanese Salad.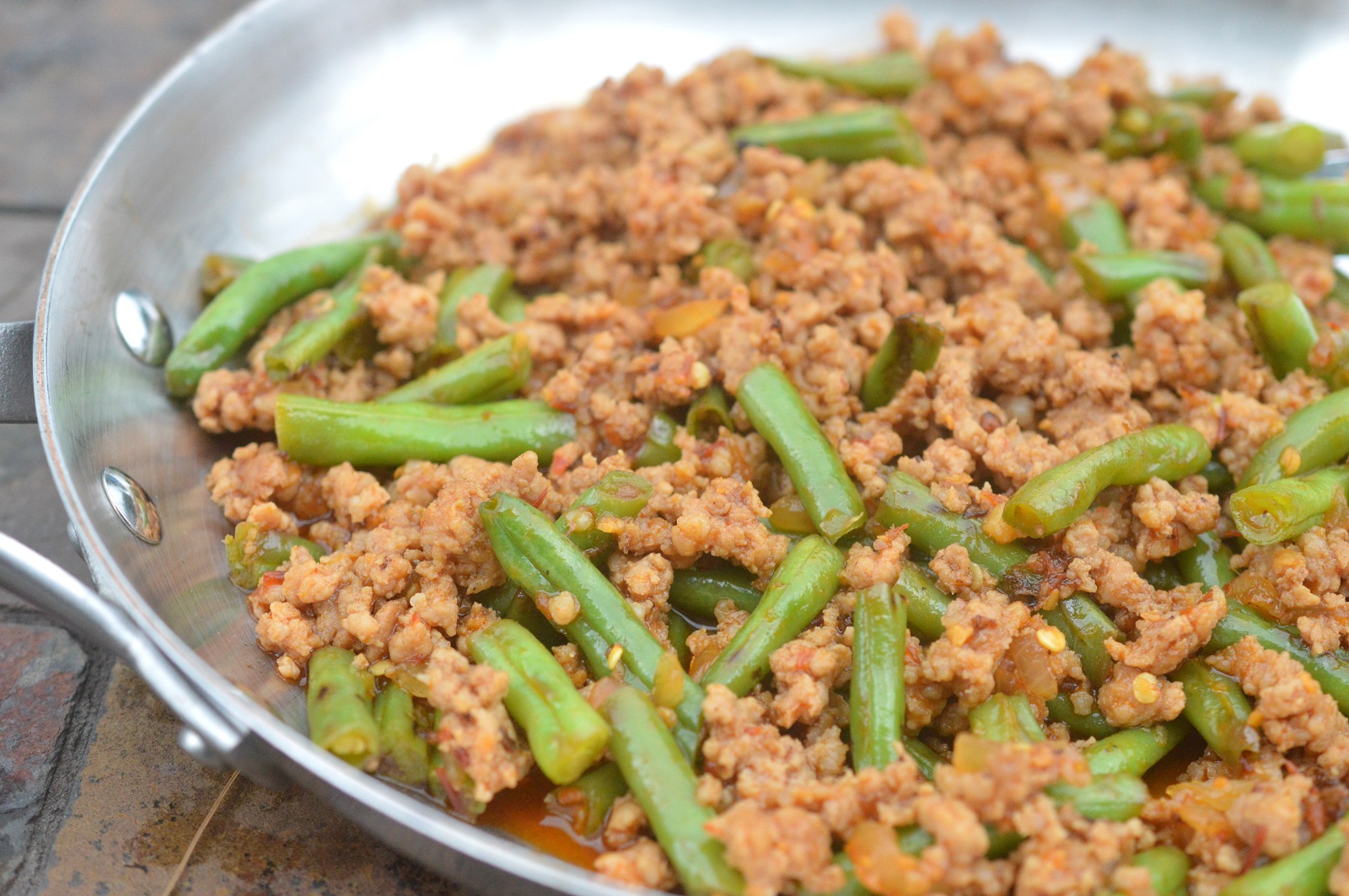 Did you know that when it comes to sustainability, the veal industry shines?
First, veal as food gives purpose to male dairy cows. Previous to the veal industry, often male cows were not kept around after birth.
When veal is harvested, just about the whole animal is used. For example, heart sacks are used by hospitals to create life-saving heart valves. Bones are used for mineral supplements, collagen is used for plastic surgery, hides for leather goods and blood for medical testing (like strep testing).
The veal industry also has an amazing animal traceability program. They can trace each calf from the dairy farm they were born on all the way to the package of meat in the store or at the restaurant.
Veal farmers know where their calves come from, how much of their mother's colostrum they received (important for the animals' overall health), they know how much each calf gets to eat during their lifetime (and separate a slower-eating animal from a faster-eating animal if necessary so everyone is well fed).
Contrary to popular belief, chickens, turkeys, ducks and many pigs are harvested at younger ages than veal. Lamb can be the same age or a little older than veal and beef is the oldest at harvest of the common proteins.
I hope this helped educate you more than you were when it comes to modern-day veal farming. And that if you currently do not cook with veal, for whatever reason, that you give it a try.
Please let me know what questions you have.
SO far this year, I have been on multiple veal farm tours in 3 states and have learned from and chatted with the responsible for 70% of America's veal production. From Amish farms to Mennonite farms to traditional family farming. I've spent time with multiple veal veterinarians as well, whose primary goal is assisting veal farmers in raising healthy, happy animals.
Do I Need A Wok To Make  A Stir Fry?
Nope! No wok necessary! You can make a stir fry in any skillet you have. I like to use a larger skillet when I make a stir fry. When you are making a stir fry, it comes down to having a hot pan, a bit of oil and then quickly adding your ingredients and getting the cooking done fast.
I hope you try out this super-delish recipe for Ground Meat & String Bean Asian Stir Fry! Tag me on Instagram @soufflebombay with your take on it!
What Variations Can I Make To This Ground Meat and Green Bean Stir Fry?
You can add in additional vegetables if you like such as shredded carrots, peppers, snow peas or 1-inch asparagus pieces. Serve over rice or enjoy plain. You can also enjoy this stir fry as lettuce wraps or over chopped lettuce as a salad. I enjoy adding peanuts to mine as well.
Enjoy!!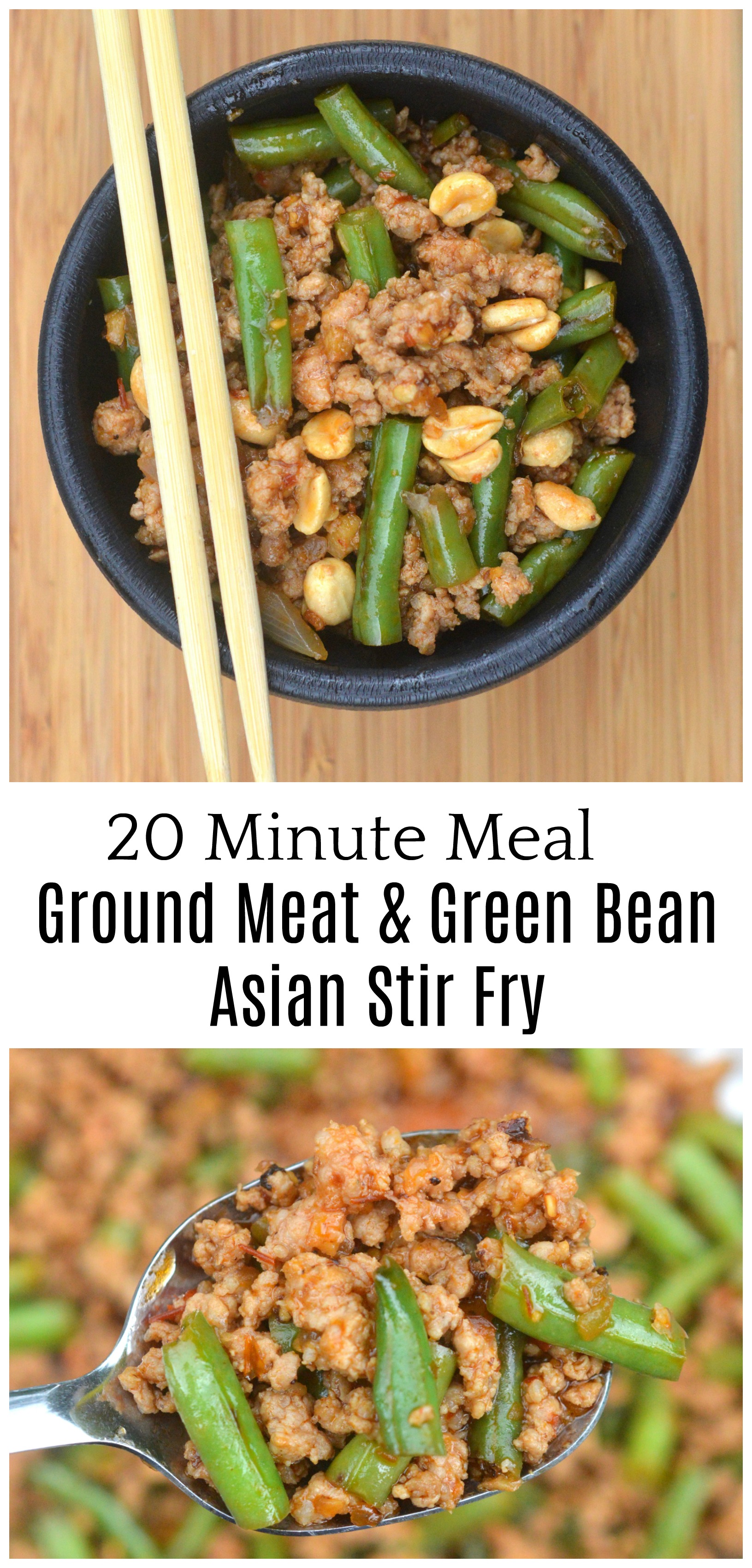 Print Recipe
Ground Meat & String Bean Asian Stir Fry
This easy recipe for Ground Meat & String Bean Stir Fry helps you get a quality meal that tastes great on the table for your family in 20 minutes!
Ingredients
2

TBS

grapeseed or olive oil divided

1/2

pound

fresh string beans cut into 1-inch pieces

1/2

cup

finely chopped onion

2

TBS

garlic paste or 2 large garlic cloves minced

1

TBS

ginger paste or 1/2 TBS minced fresh ginger

1

pound

ground veal

1/4

cup

soy sauce

2

TBS

Mirin

1

TBS

chili with garlic sauce

1

TBS

sesame oil

Snipped scallions for garnish

Optional: Chopped peanuts for garnish

Jasmine

Basmati or white rice for serving
Instructions
Heat a skillet over med-high heat, when hot add in 1 TBS oil and the green beans.

Allow the green beans to begin to char, stirring them around occasionally. YO want these to remain crisp-tender, so all in all cook for 3 minutes.

Remove green beans from the pan and set aside.

Add the remaining TBS of oil and the onions, saute for 2 minutes. Add in the garlic paste and ginger paste (or minced garlic and ginger) and stir for 30 seconds.

Add in the ground veal using a spatula to break it up and mingle it with the onion mixture.

Cook veal until cooked through.

If any excess liquid accumulates, drain it off.

While meat cooks, combine sauce ingredients and whisk until incorporated (soy sauce, mirin, chili with garlic sauce and sesame oil...which by the way are all found in the Asian section at your grocery store).

Add in sauce and heat through until bubbly.

Remover from heat and garnish with scallions and if you like chopped peanuts. Serve as is or over rice.
Nutrition
Serving:
4
g
|
Calories:
345
kcal
|
Carbohydrates:
14
g
|
Protein:
30
g
|
Fat:
19
g
|
Saturated Fat:
5
g
|
Cholesterol:
117
mg
|
Sodium:
697
mg
|
Fiber:
3
g
|
Sugar:
4
g