One of my favorite salads is a Milanese Salad. Today I'm sharing a Veal Milanese Salad that works whether you are making it for one or a dozen and I'm also talking about today's veal industry...It's not what you think!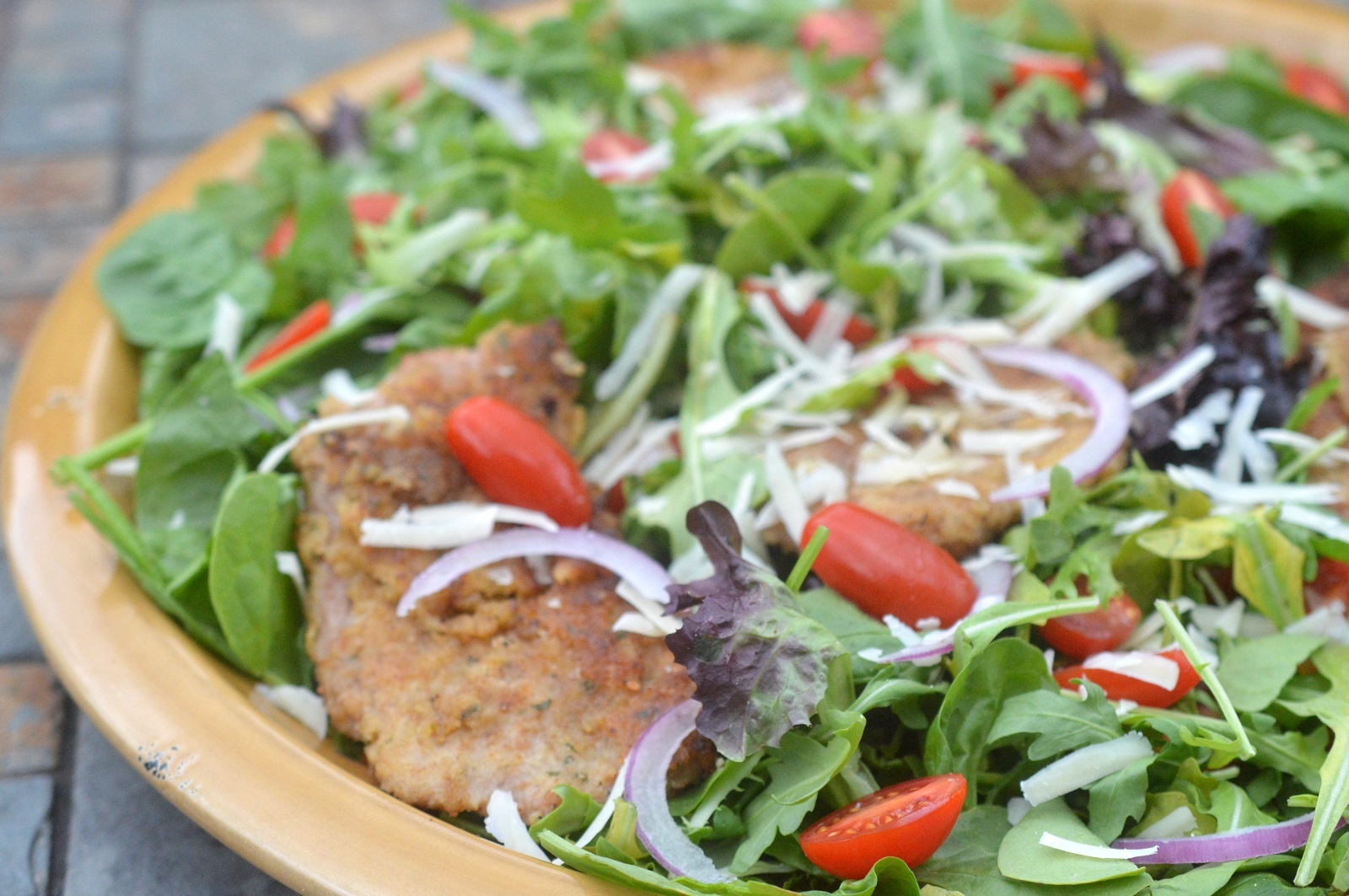 Am I the only one who gets on salad kicks? I can literally a salad every day for a week and then all of a sudden, I stop...forget about them and then a few days later crave a salad and can't think about eating anything else.
This recipe for Veal Milanese Salad is simple. All you really need to do is quickly prep the salad ingredients, and then set them aside (or chill them) until you are ready to enjoy.
You can choose to enjoy the veal cutlets warm and crispy as a traditional Veal Milanese or as a Veal Mileanese Salad, which is what I love to make.
Serve the Veal Milanese warm and crispy from the pan or at room temperature, your preference. serve them at room temperature on the salad.
This post is in partnership with The Beef Checkoff Program.
How Do You Make Veal Milanese Salad?
Making a Veal Milanese Salad is pretty simple. All you need to do is gather your greens which are traditionally arugula, however, I like to add some spring mix to that as well.
Add in your tomatoes, Parmesan cheese, and sliced red onion.
This salad honestly only needs a nice squeeze of fresh lemon juice and a drizzle of olive oil. However, if you want you can make a quick light dressing of say...olive oil, lemon juice, honey, a small dollop of mustard, salt & pepper or use a store-bought dressing you enjoy.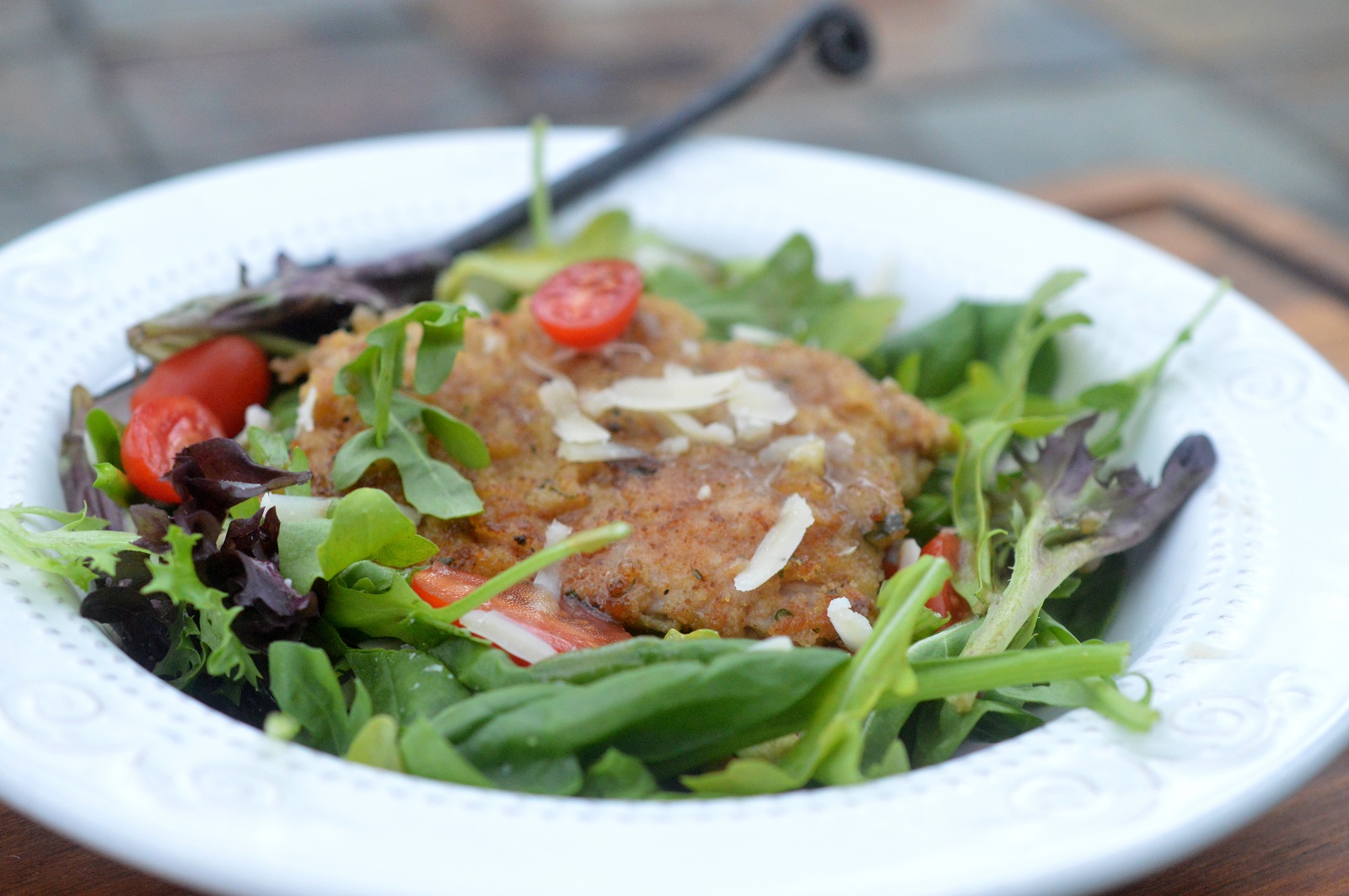 Let's Talk About Veal
Recently, I was in the NY Finger Lake area touring veal farms and learning more about the veal industry.
What an eye-opener that trip was for me. Growing up my mom's favorite out-to-dinner dish was veal. Back then, veal had somewhat of a bad rap. SO VERY MUCH HAS CHANGED in the veal industry the past 20-25 years. I'm very thankful for the education I received on this trip as well as a subsequent veal trip I was on a few weeks after this one.
In the '70s and '80s American veal farmers adopted the European way of raising their animals. That way of raising veal livestock all changed 25 or so years ago and continues to evolve with a focus on animal care and comfort. Let me clear up a few myths for you and share some of what I know:
What Is Veal?
Veal is nutritious, nutrient-rich meat which is more tender than beef.
Harvested from calves typically 22-24 weeks old, weighing 600-650 pounds.
Veal calves, for the most part, are a byproduct of the dairy industry (dairy farmers sell male calves since they are in the business of producing milk which male cows can not do).
In my opinion, veal is delicious, it is more tender than beef and picks up the flavors used in its preparation.
How Is Veal Raised?
Contrary to popular belief, today's veal is raised in bright barns, full of light and fresh air.
The calves have plenty of room to move about and buddies to play around with.
Some farms I visited had outdoor access if the calves feel like going outside, they can.
There are even some veal farmers that raise pasture-raised veal.
Practices such as castration, dehorning, and tail docking are not necessary in the raising of veal.
Additionally, hormone implants are not permitted for use in veal production.
If you have ever seen small white "hutches" when you drive by on dairy or beef or veal farms, this is why: Those are where "baby" dairy / veal calves are being housed for the earliest parts of their life.
When a cow is born, unlike humans, they are born with zero immunities. Human babies pick up immunity from their mother's placenta, while cows do not SO for that reason the first 6-8 weeks of their life both female dairy calves and male veal calves are in individual areas.
On veal farms, those individual areas may have a partition which after 6-8 weeks is removed. On many farms after that period, the veal calves are moved to larger group pens which house 15-30 calves. It comes down to the individual farmers and their way of caring for their animals.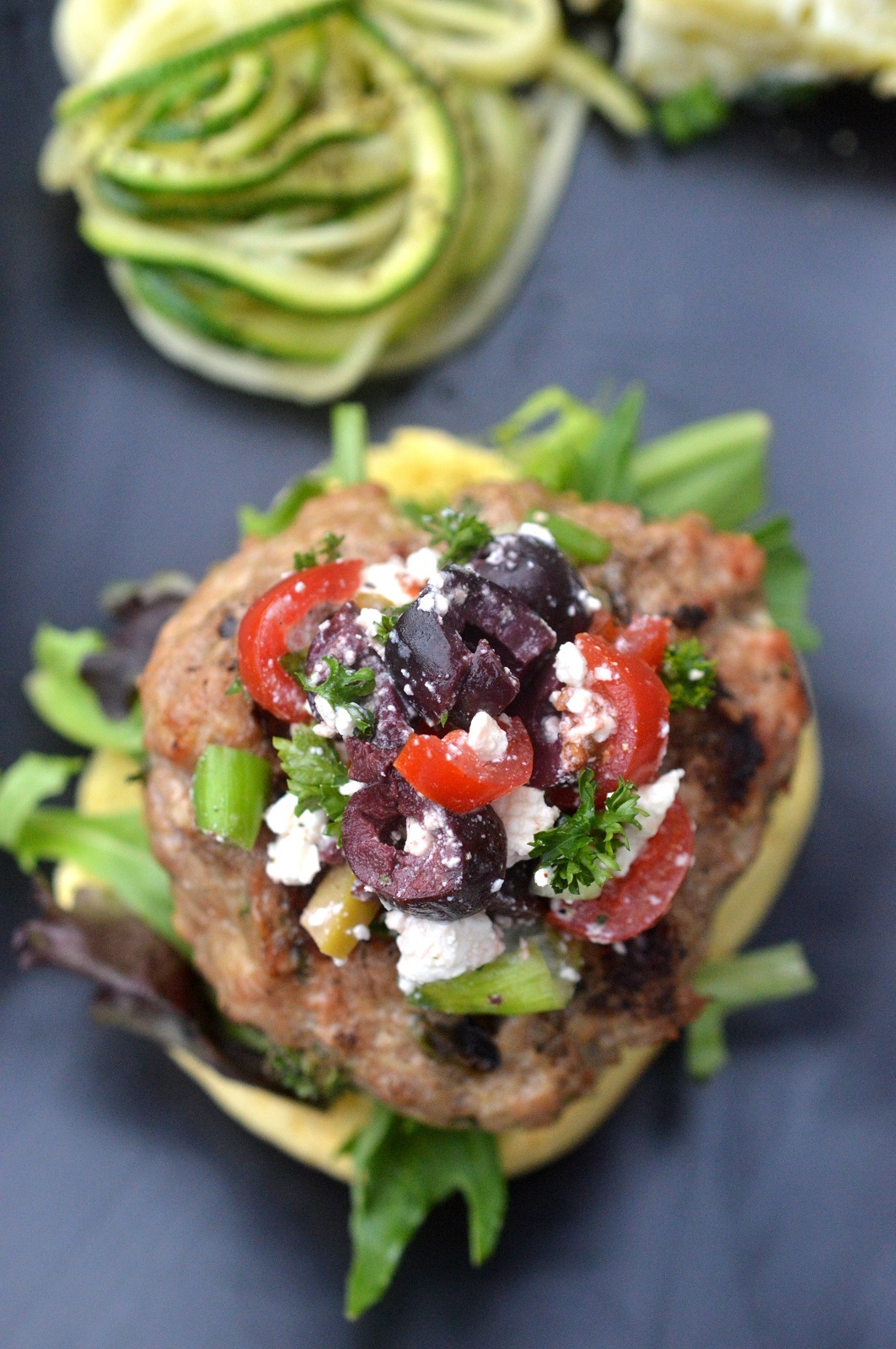 These Mediterranean Burgers are made with ground veal, and are a favorite burger of mine!
What Does Veal Taste Like?
Veal has a delicate taste and is very tender. It is not gamey.
In my opinion veal cutlets and ground, veal picks up the flavor of the sauce you are making with it or from the ingredients used in the method of preparation.
Veal chops on the other hand shine when cooked on the grill or in a grill pan. They really don't need much, just some seasoning and maybe a smear of sauce or a couple of spoonful's of gremolata. It's just so tender and flavorful!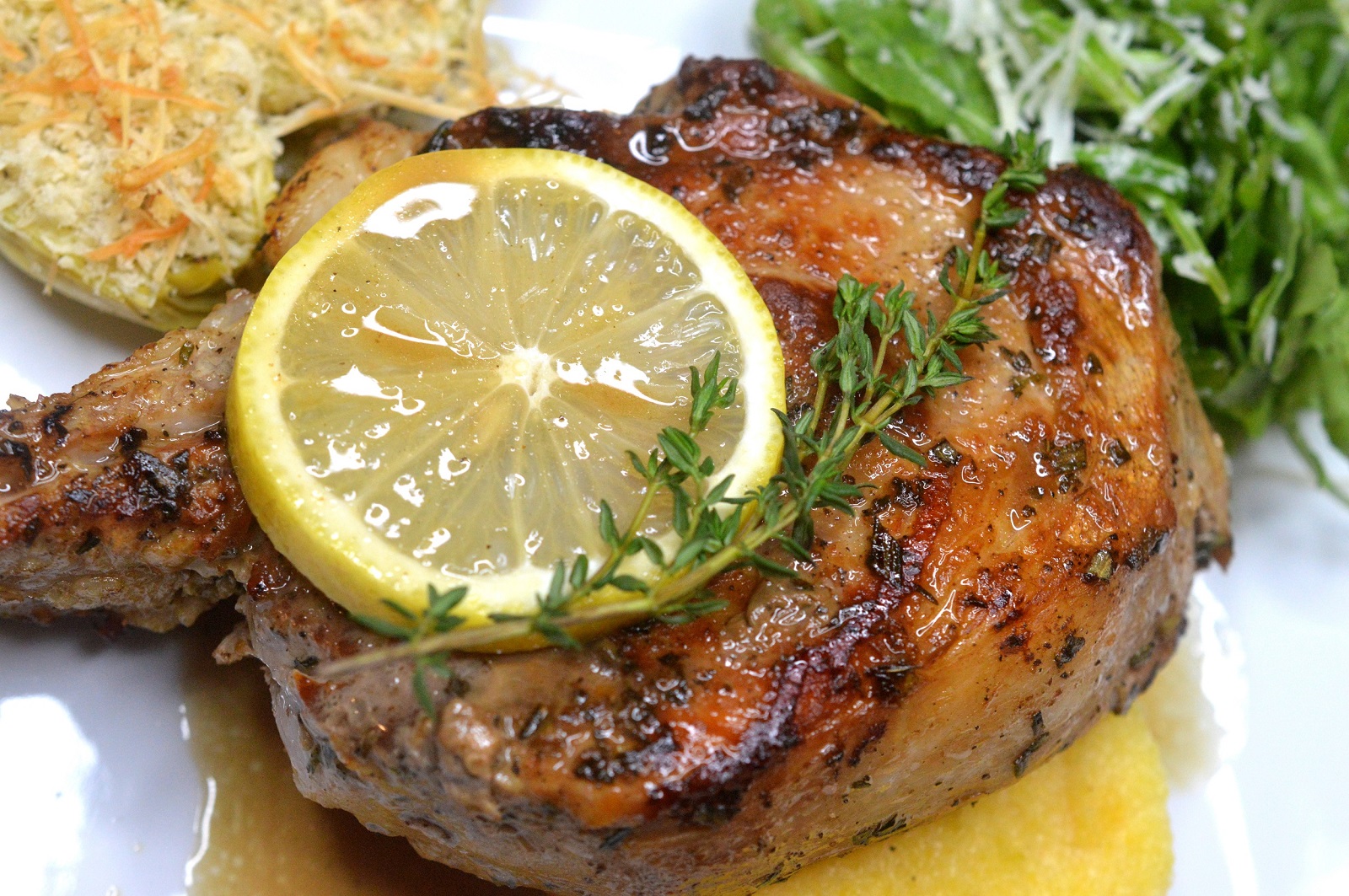 Another veal recipe to try: Pan Fried Veal Chops. If you ever see veal chops on a menu... Order them! Or try making them at home.
What Recipes Can You Make With Veal?
You can do anything you want with veal, treat ground veal like you would any other ground meat, same goes for the cutlets. You don't have to have red sauce anywhere near veal if you don't want it. Yes, every method of Italian cooked veal is delicious, however, there are so many more places you can take it. For a variety of veal recipes and videos, visit the Veal Made Easy website.
Did you know that when it comes to sustainability, the veal industry shines?
First, it gives purpose to male dairy cows.
When veal is harvested, just about the whole animal is used. For example, heart sacks are used by hospitals to create life-saving heart valves. Saint Jude's Children's Hospital is the largest customer when it comes to that. Bones are used for mineral supplements, collagen is used for plastic surgery, hides for leather goods and blood for medical testing (like strep testing).
Traceability is something most veal farmers pride themselves on.
The veal industry also has an amazing animal traceability program. They can trace each calf from the dairy farm they were born on all the way to the package of meat in the store or at the restaurant.
They know where their calves come from, how much of their mother's colostrum they received (important for the animals' overall health), they know how much each calf gets to eat during their lifetime (and separate a slower-eating animal from a faster-eating animal if necessary so everyone is well fed).
Contrary to popular belief, chickens, turkeys, ducks and many pigs are harvested at younger ages than veal. Lamb can be the same age or a little older than veal and beef is the oldest to harvest of the common proteins.
I hope this educated you more than you were when it comes to modern-day veal farming. As always I am so very grateful for America's farmers and all they do to provide my family and me with the foods we enjoy.
Please let me know what questions you have. Thus far in 2019, I have been on multiple veal farm tours and have learned from and chatted with the people responsible for 70% of America's veal production. From Amish farms to Mennonite farms to traditional family farming. I've spent time with multiple veal vets as well, whose primary goal is assisting veal farmers in raising healthy, happy animals.
If I can't answer your questions, I do have quick access to the experts that can.
Other Veal Recipes To Try
Learn more on Veal Made Easy website and Veal Made Easy website.
Enjoy!!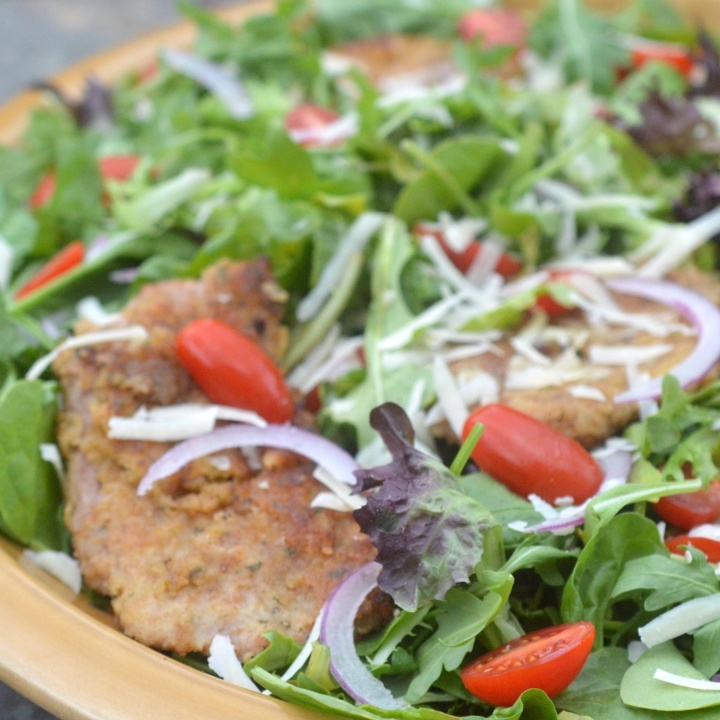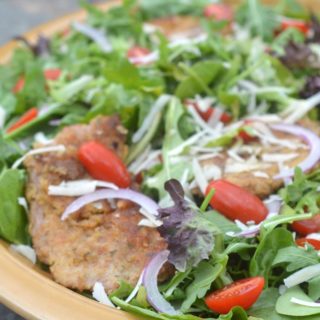 Veal Milanese Salad
Veal Millanese Salad is both delicious and satisfying. A perfect warm-weather meal!
Ingredients
6

cups

arugula or arugula and spring mix combo

2

cups

grape tomatoes

halved (or chunks of tomato of your choice)

½

of red onion

sliced thin

Parmesan cheese

shaved (as much or as little as you enjoy)

¾

cup

Panko

¼

cup

grated Parmesan cheese

2

TBS

minced parsley

Kosher salt

Black pepper

4

veal cutlets

½

a fresh lemon

Olive oil
Instructions
In a bowl, combine arugula, (spring mix if using), tomatoes, onion slices and shaved Parmesan cheese. Toss until combined and set aside.

on a plate, combine breadcrumbs, grated cheese, parsley, salt and pepper and toss to combine.

Dredge veal cutlets one at a time in the mixture to coat both sides, place on a baking sheet or clean plate until ready to cook.

Pour in just enough olive oil to lightly coat your pan and heat over med-high heat.

Once oil is hot, add veal and cook until golden brown on the downside, about 2 minutes. Flip and cook 1-2 minutes more (depends on the thickness of your cutlets, see notes)

Remove cutlets from pan and place on paper towel-lined plate to drain off any excess oil.

To serve:

Either place one cutlet on swerving plate, and top with salad OR create a big platter as I did in the post. Top with additional shaved Parmesan. Squeeze your lemon over top the salad, moving it around to get a little juice everywhere. Drizzle with olive oil and serve.
Notes
Cook time on the veal cutlets will depend on size and thickness. Typically veal cutlets are thin and even. If yours are on the thicker side, give them a few pounds with a mallet to thin them out.
I often will pour ½ cup or so of olive oil or grapeseed oil and add to that 2 cloves of smashed or minced garlic and some salt & pepper. I let it sit for 30 minutes or so and then use that oil to drizzle salads like this or use to saute veggies, or rub on steaks and whole beef tenderloins. SO yummy!
Nutrition
Serving:
4
g
Calories:
825
kcal
Carbohydrates:
21
g
Protein:
38
g
Fat:
35
g
Saturated Fat:
12
g
Cholesterol:
390
mg
Sodium:
830
mg
Fiber:
3
g
Sugar:
5
g
Follow me on Tik Tok for 1 minute videos