Raise your hand if you love Mexican inspired foods and flavors (I know I sure do)! Whether its dining at a favorite local Mexican restaurant or trying my hand at various recipes at home. I. Am. In. One of the dishes I enjoy making a half dozen or so times a year (and my family & friends enjoy eating) are enchiladas. Today I am sharing how to make Enchiladas. For the protein, I chose veal. This post is sponsored by Beef Checkoff funded Veal, Discover Delicious However, all opinions are my own.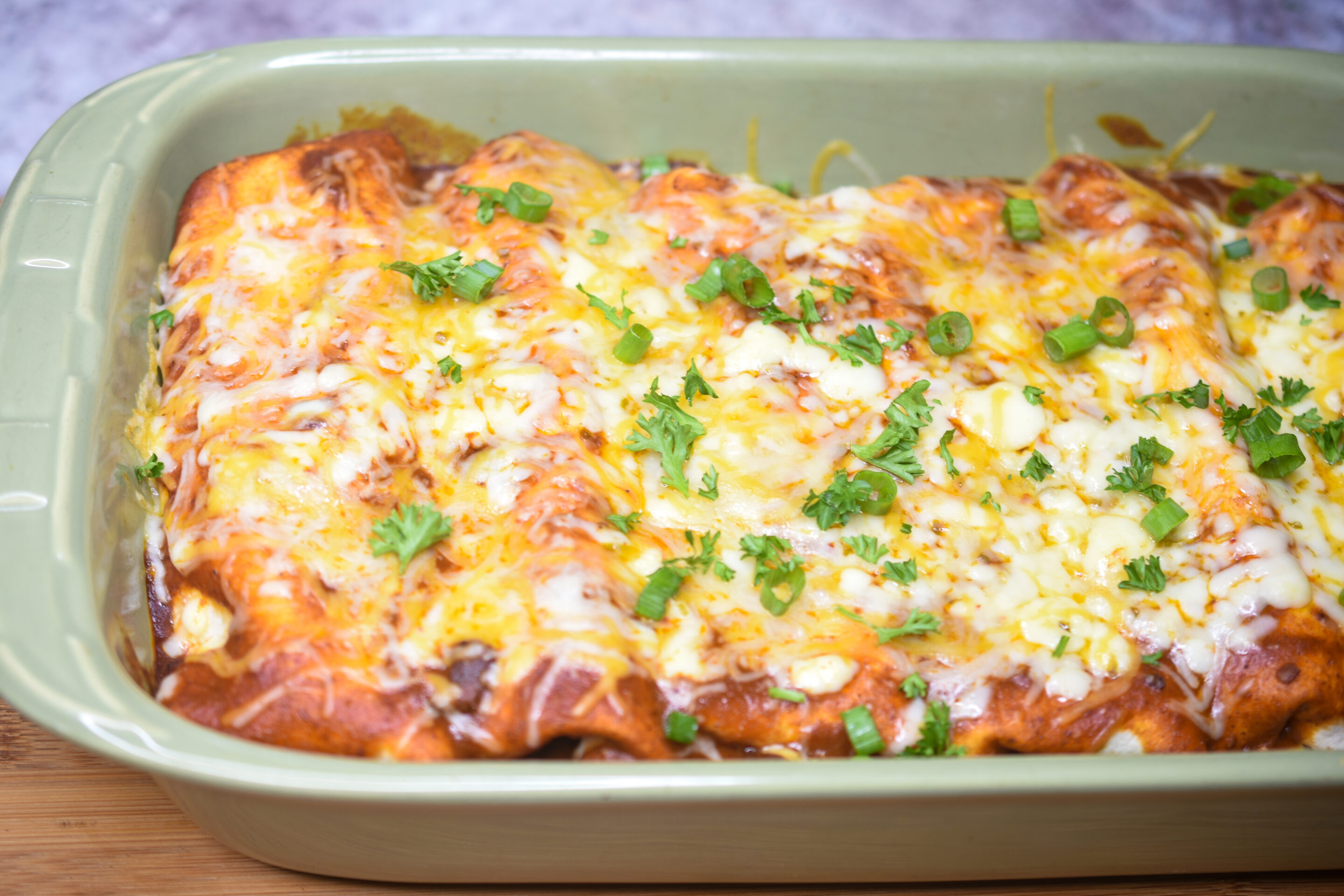 This recipe for how to make enchiladas is easy, a beginner cook can do it. Choosing to use ground meat, in this case ground veal makes this enchilada recipe quick to prepare. If you choose to make your own Enchilada Sauce it only takes 10 minutes and in my opinion it's a fresher, deeper flavor vs using a can of sauce from the market.
I make Chicken Enchiladas, Beef Enchiladas and Ground Veal or Ground Beef Enchiladas. It depends on my mood. When I make chicken enchiladas, I make them with a spicy white cheese sauce. When I make beef enchiladas, I spend hours cooking a chuck roast to then shred and use the drippings for the sauce base. The quickest of the three types of enchiladas I make is the ground meat. Many Mexican dishes take hours and hours to make which is why they are so flavorful.
How Do You Make Ground Meat Enchiladas?
Ingredients to make this easy recipe: Ground veal, chopped onion, taco seasoning (homemade or store-bought), garlic, black beans, a small can of green chilies or a jalapeno (optional), fresh lime, tortillas, shredded cheese and enchilada sauce. For garnish, you can add pico de gallo or salsa, scallions, cilantro or parsley, shredded lettuce and sour cream.

You can make your enchiladas as tame or as spicy as you wish. Same goes for the amount of cheese and beans. Add as much or as little as you enjoy. You can't really mess these up!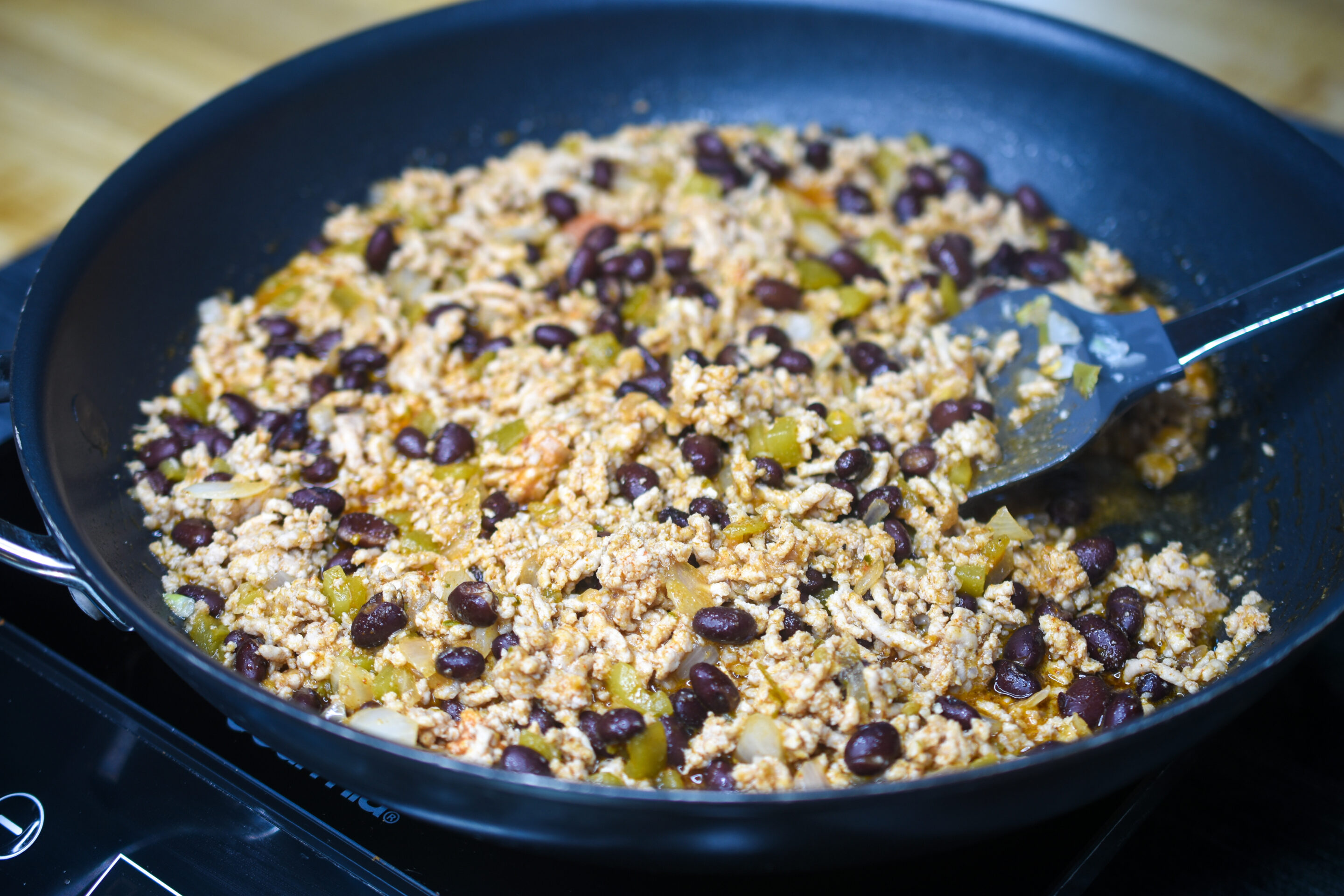 What Variations Can I Make To Ground Meat Enchiladas?
You can add ingredients like chopped jalapenos or canned diced green chilies which I often do.

Add in more beans, add in corn or even diced sweet potatoes (yum!).

You can swap the variety of beans you use.

Make these enchiladas as spicy or as tame as you enjoy.

I place the enchilada sauce on the bottom of the dish as well as on top of the enchiladas, however you can choose to add some to your meat mixture if you like.

Add as much or as little cheese as you enjoy.

Often I use a combination of freshly shredded Pepper Jack cheese and a shredded Mexican blend. Feel free to use whatever cheese you enjoy. I always choose flour tortillas when making enchiladas, however if you enjoy corn tortillas you can use those.
What do you know about modern day veal farming?
For many people, veal is a favorite. The taste, texture, nutritional information and ease of cooking make it a winner. Many others say absolutely no to it because of something they read or heard in their youth or preconceived notions about it. Veal is misunderstood in my personal opinion. If people who have never given veal a chance understood veal and how farming practices have significantly evolved the last couple of decades as well as the sustainability story of veal their mindset would change and they would be at least open to trying it.
Let's Talk About Veal Farming:
Veal is a nutritious, nutrient-rich meat which is more tender than beef*. It is harvested from calves typically 20-22 weeks old, weighing in around 500 pounds.

Veal calves start their life on dairy farms (dairy farmers sell male calves since they are in the business of producing milk which male cows cannot do). In my opinion, veal is delicious; it picks up the flavors used in its preparation.

Back in the 70's and 80's American veal farmers adopted the European way of raising their animals. Those practices have completely changed, as far back as 20 years ago actually and they continue to evolve with a focus on animal care, comfort and sustainability.*

Contrary to public perception, veal calves are raised in airy barns, full of light and fresh air.

The calves have plenty of room to move about and buddies to play around with. Some farms I visited have outdoor access, so...if the calves feel like going outside, they can.

Practices such as castration, dehorning, and tail docking are not necessary in the raising of veal.

Hormone implants are not permitted for use in veal production.*
SO then....Where does the idea "veal is raised in tiny crates or tiny houses and they can't move about for the duration of their lives" come from?
When you drive by dairy farms (including some farms and farm stands that sell ice cream) often you may see those small hutches with a young calf in them.
The hutches temporarily house newborn calves during the early weeks of their life.

Much like human babies, veal calves are born with little to no immunity. To keep them safe and healthy during their first 6-8 weeks of life, both female and male dairy calves are often housed individually.

On veal farms, those individual areas may have a partition which after 6-8 weeks is removed.

In 2017 the Veal Industry met their self mandated goal to have all veal calves raised in group housing. Allowing calves plenty of room to move around, lie down, groom themselves, and interact with each other

. It comes down to the individual farmers and their way of caring for their animals. To find more out about the veal production story, visit Veal.Org.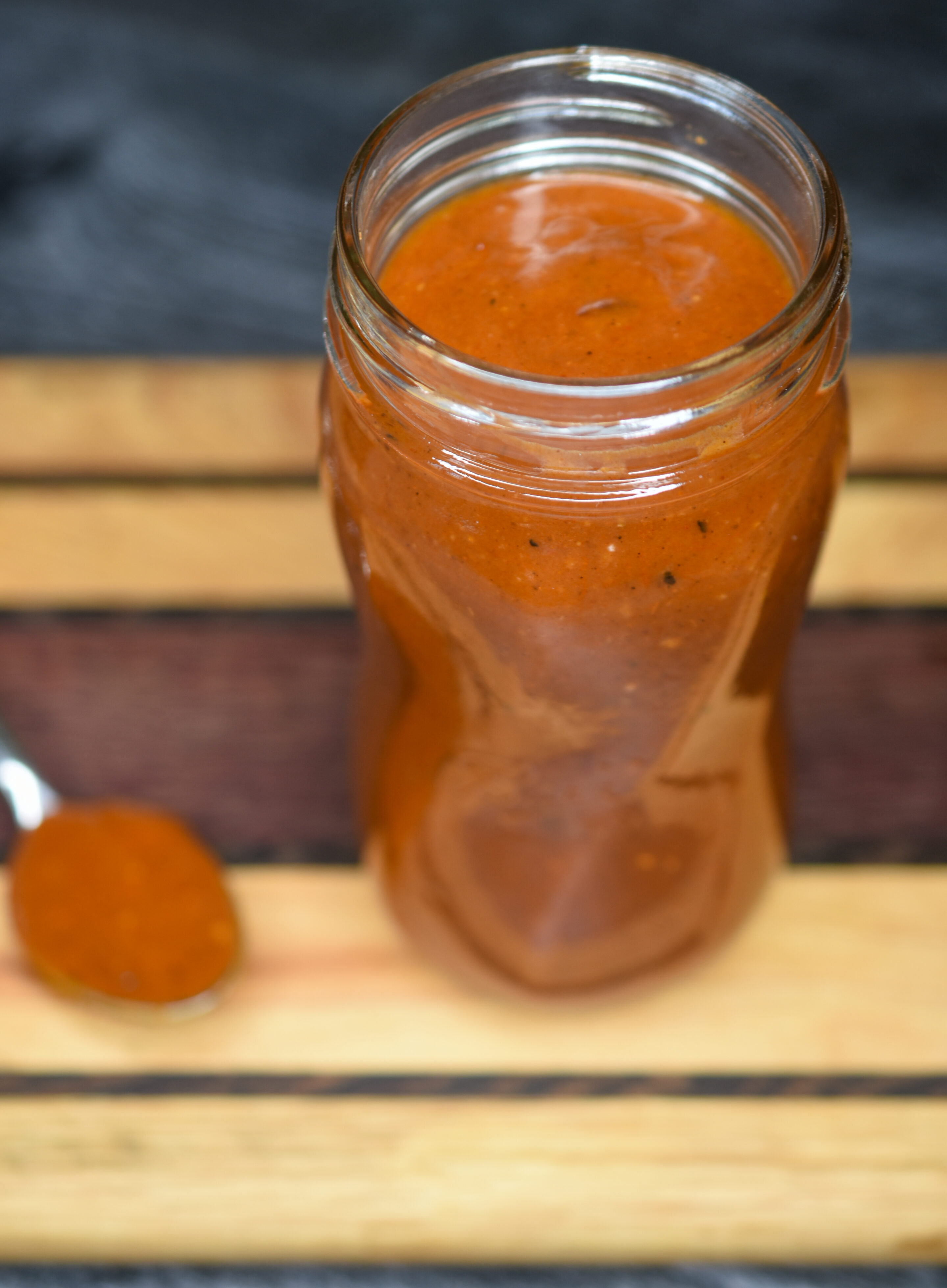 Let's talk about veal nutrition. A 3-ounce serving of cooked trimmed lean veal is a good source of key nutrients including vitamin B-6, vitamin B-12, niacin, riboflavin, zinc, selenium and choline. What's more, a serving of lean veal has just 170 calories, making it one of the most nutrient-dense protein foods around!*
Typically the higher the protein in your meal, the longer you feel full. Mission accomplished with veal on the menu! One serving of lean veal has 27 grams of protein and JUST 170 calories. To get that much protein, it takes about…4 servings firm tofu (260 calories) OR 4-½ servings of almond butter (880 calories) OR 4-½ medium hard-boiled eggs (330 calories) OR 1-⅔ cups hummus (900 calories).*
Did You Know That When It Comes To

Sustainability

, The Veal Industry Shines?
Veal gives purpose to male dairy cows.

When veal is harvested, just about the whole animal is used. For example, bones are used for mineral supplements; collagen is used for plastic surgery, hides for leather goods and blood for medical testing (like strep testing).*

Traceability is something most veal farmers pride themselves on.
THE VEAL INDUSTRY HAS AN AMAZING ANIMAL TRACEABILITY PROGRAM. THEY CAN TRACE EACH CALF FROM THE DAIRY FARM THEY WERE BORN ON ALL THE WAY TO THE PACKAGE OF MEAT IN THE STORE OR AT THE RESTAURANT.
Farmers know where their calves come from, how much of their mother's colostrum they received (important for the animals' overall health), they know how much each calf gets to eat during their lifetime (and separate a slower-eating animal from a faster-eating animal if necessary so everyone is well fed).*

Did you know that

veal calves are bigger than pigs and older than chicken/turkey when they are harvested.*

Beef Cows are about 3 times the size of a veal calf when they are harvested

.*
I hope I helped educate you more than you may have been when it comes to modern-day veal farming. As always I am so very grateful for America's farmers and all they do to provide my family with the foods we enjoy.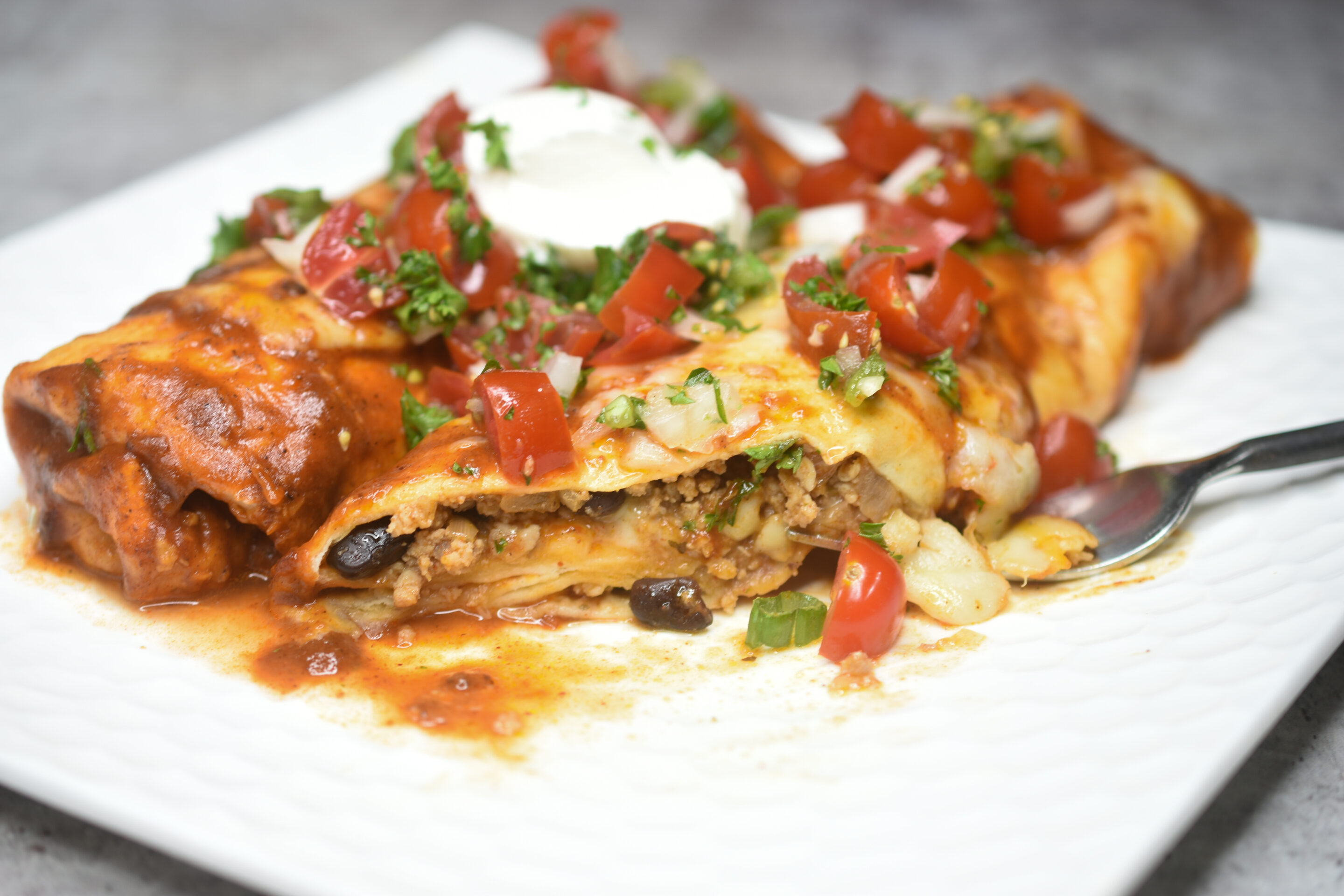 Tips How To Make Homemade Enchiladas
Make your own enchilada sauce, it makes a difference and its easy, just 10 minutes!! You can even do this a day or two ahead if you want.

Roll your enchiladas up nice and tight. Tucking in the ends and then assertively rolling them up.

Cook your enchiladas with foil on (add the cheese later). Once the enchiladas are warmed through, remove the foil and add extra cheese.

Enchiladas are best enjoyed right from the oven.

I LOVE topping the pan of enchiladas with shredded lettuce and pico or salsa. The added crunch from the shredded lettuce is perfect.
I hope you make this easy Enchilada recipe. If you enjoy veal or what to try a few recipes using various cuts of veal, some of my favorites are:
Notice how not a single veal recipe I shared above has any "pasta" sauce involved, lol?? Kinda funny when so many associate veal with Italian food! Sure THAT is delicious however the recipe ideas to use veal for are endless!
* All factual information can be sourced from Veal.org.
Nutritional information is calculated via a WordPress plug-in as I am not a nutritionist or R.D.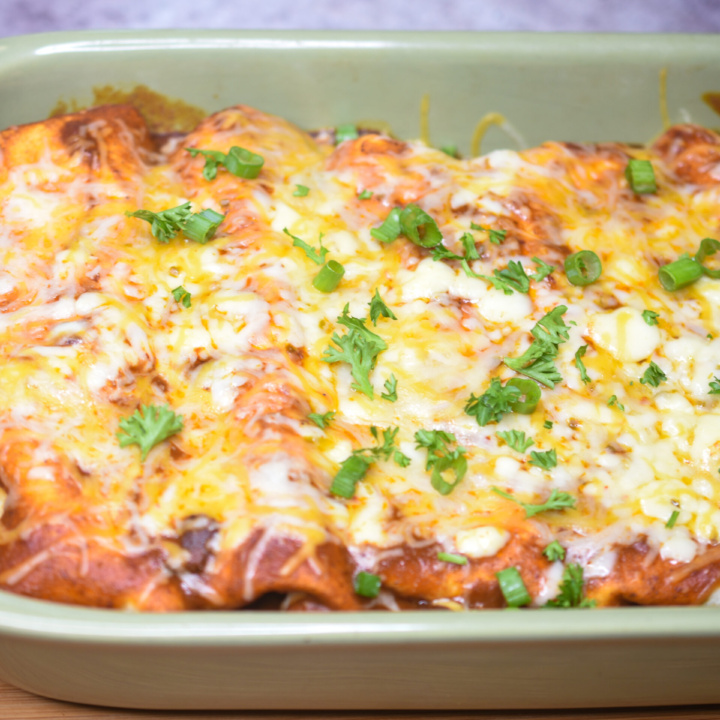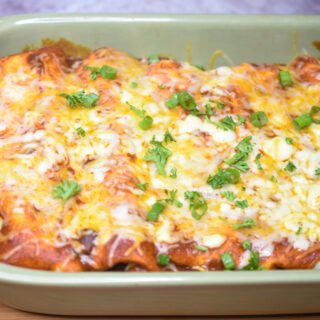 How To Make Enchiladas
Homemade Enchiladas are delicious, especially when you make your own Red Enchilada Sauce. This easy recipe is made with ground meat and is SO yummy!
Ingredients
10 Minute Homemade Red Enchilada Sauce
2

TBS

grapeseed or olive oil

2

TBS

flour

2

TBS

chili powder

1

teaspoon

onion powder

½

teaspoon

dried oregano

¼

teaspoon

of salt

⅛

teaspoon

black pepper

Pinch

of cumin

optional

2

TBS

garlic paste or 1 teaspoon garlic powder

3

TBS

tomato paste

2-3

TBS

chipotle peppers in adobo

sold in small cans

2

cups

beef broth

you can also choose to use vegetable or chicken broth

1

teaspoon

sugar

Squeeze of fresh lime
Enchiladas
1

pound

ground veal

1

cup

chopped sweet onion

1

small 4 oz can of diced green chilies or ½ to a whole minced jalapeno

2 ½

TBS

taco seasoning

homemade or store-bought - see recipe below

¼

cup

water

2

TBS

garlic paste or 2 cloves garlic minced

15

oz

can black beans

drained and rinsed

Squeeze of fresh lime

6

large flour tortillas

burrito size

3-4

cups

of shredded cheese

see notes, your choice

Red Enchilada Sauce

1

head iceberg lettuce

1

cup

or more Pico de gallo or fresh salsa (typically found in refrigerated produce section or make your own)

Optional garnish: Cilantro or parsley

snipped scallions, sour cream, avocado chunks)
Instructions
Homemade Enchilada Sauce Instructions (Make First)
Add oil to a small sauce pot or skillet.

Once oil is hot, add flour and whisk right away, for about 1 minute.

Add in spice mixture, whisking vigorously.

Add in garlic paste (if using) tomato paste/chipotle mixture, whisk vigorously as you do.

Add in beef broth slowly, ⅓ at a time whisking the whole time as you do.

Whisk until sauce becomes smooth.

Add in sugar.

Bring sauce to a simmer for a couple minutes.

Add in squeeze of lime, stir and remove from heat.

Taste and adjust.
Enchiladas
Heat a large skillet (with sides) over med-high heat. Once the pan is hot, add oil. As soon as oil shimmers, add in ground meat, onions and if using jalapenos/chilies. Moving mixture around often until mostly cooked through.Pour off any fat.

Add in taco seasoning, water, garlic paste/garlic and black beans and cook for 5 minutes or so until water cooks off.

Spritz with fresh lime and stir.

Taste and adjust seasoning.

Remove from heat.

Spread some enchilada sauce in your casserole dish (9x13 dish is perfect), just enough to cover the bottom and set aside.

Lay one tortilla out at a time, place the meat mixture down the center, allowing empty space on either end.

Top with cheese and roll up enchiladas and place seam-side down in your casserole dish. Repeat.

Spoon sauce overtop.

Bake 375 degrees for 20 minutes. Pull out, top with cheese (if you choose), place back in the oven 5 minutes or until the cheese is melted.

Remove from the oven, top with shredded lettuce, pico, scallions, cilantro/parsley and enjoy!

You may also wish to serve with sour cream and or avocado chunks.
Notes
Tips
- Get your "mise en place" organized before the cooking. Which means have all ingredients out and set out.  When making  his sauce while it only takes a few minutes to make, you will need to move quickly when adding ingredients. 
Notes: Choose the cheese you enjoy, such as Pepper Jack, cheddar, Monterey, or a pre shredded Mexican blend. I do find a difference in taste when you shred a block of cheese yourself vs using store-bought pre-shredded. However I have also used pre-shredded with success. Often I will use one type in the Enchiladas (I like Pepper Jack or Monterrey Jack for that) and another on top (more freshly grated Pepper Jack or Cheddar or a blend). Use what you enjoy.
For homemade taco seasoning:
Combine 2 teaspoons onion powder, 2 teaspoons garlic powder, 1 ½ TBS paprika, 1 teaspoon oregano, ½ teaspoon red pepper and ½ teaspoon of salt. Combine.
Nutrition
Calories:
427
kcal
Carbohydrates:
31
g
Protein:
28
g
Fat:
21
g
Saturated Fat:
10
g
Cholesterol:
86
mg
Sodium:
1206
mg
Potassium:
612
mg
Fiber:
7
g
Sugar:
4
g
Vitamin A:
1227
IU
Vitamin C:
6
mg
Calcium:
354
mg
Iron:
4
mg
Follow me on Tik Tok for 1 minute videos