If I could only eat 5 foods for the rest of my life, I would put shrimp down as one of them. I love shrimp, like that first crush that never goes away kinda love! These Shrimp Nachos are fun to make and eat. Perfect for the upcoming nice weather (I am looking at you Spring) and evenings out back with a fire, nibbles, and cocktails.
Published on April 12, 2108. Updated June 5, 2019.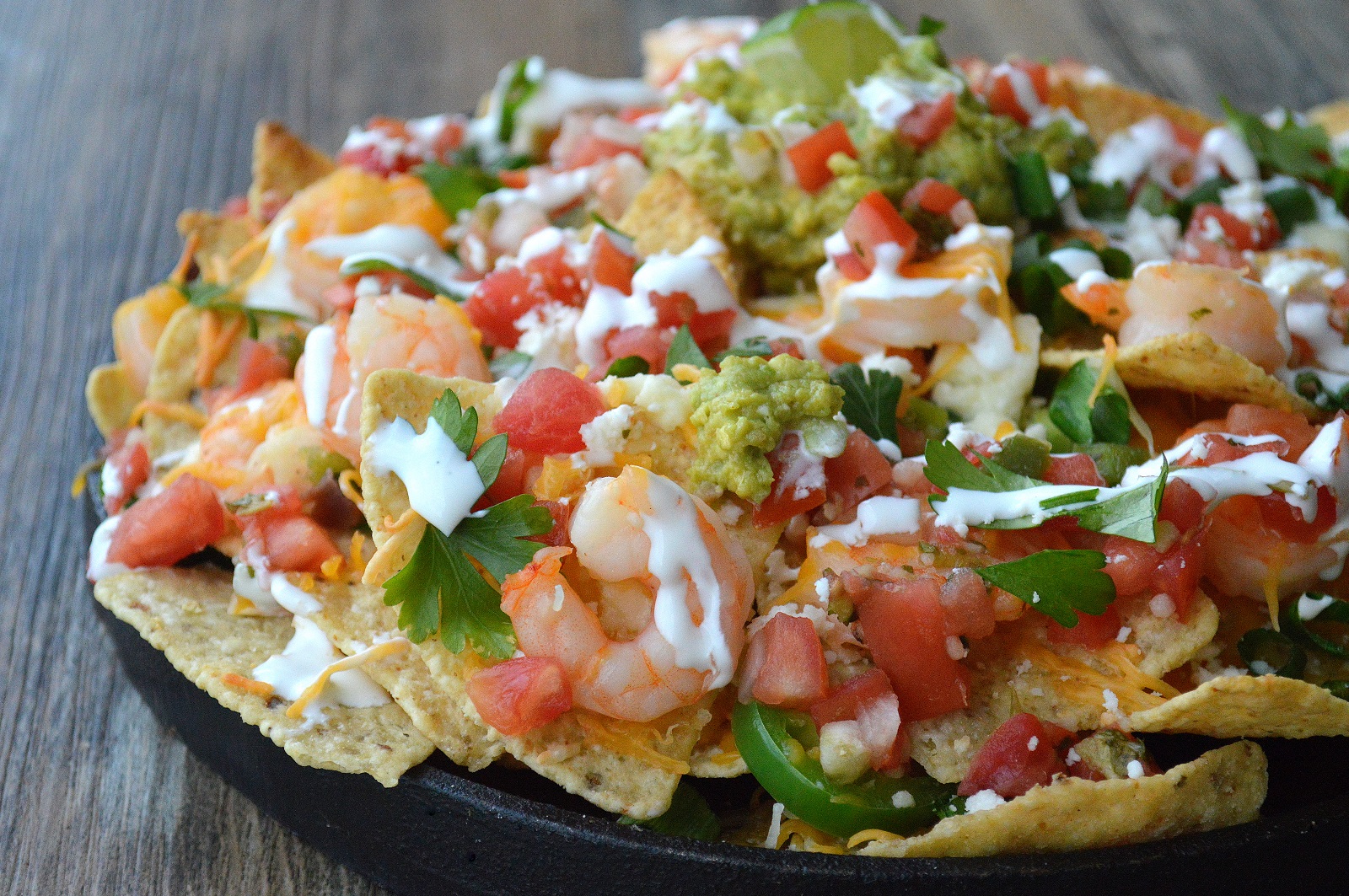 How do you enjoy your nachos? Do you make them at home or are nachos something you save for when you are out to eat? Do you like them loaded with everything imaginable or more scaled back? When it comes to making nachos, what I love about it is you really don't need a recipe, you just add on as much or as little of the foods you enjoy.
It's easy to make nachos at home and these Shrimp Nachos are easier than traditional chicken or beef thanks to Gorton's Simply Bake Shrimp! Gorton's Simply Bake Shrimp is amazing on its own or over pasta! Just think, delicious shrimp that you don't have to defrost, peel and clean? AND no dirty dishes as a result! What's not to love??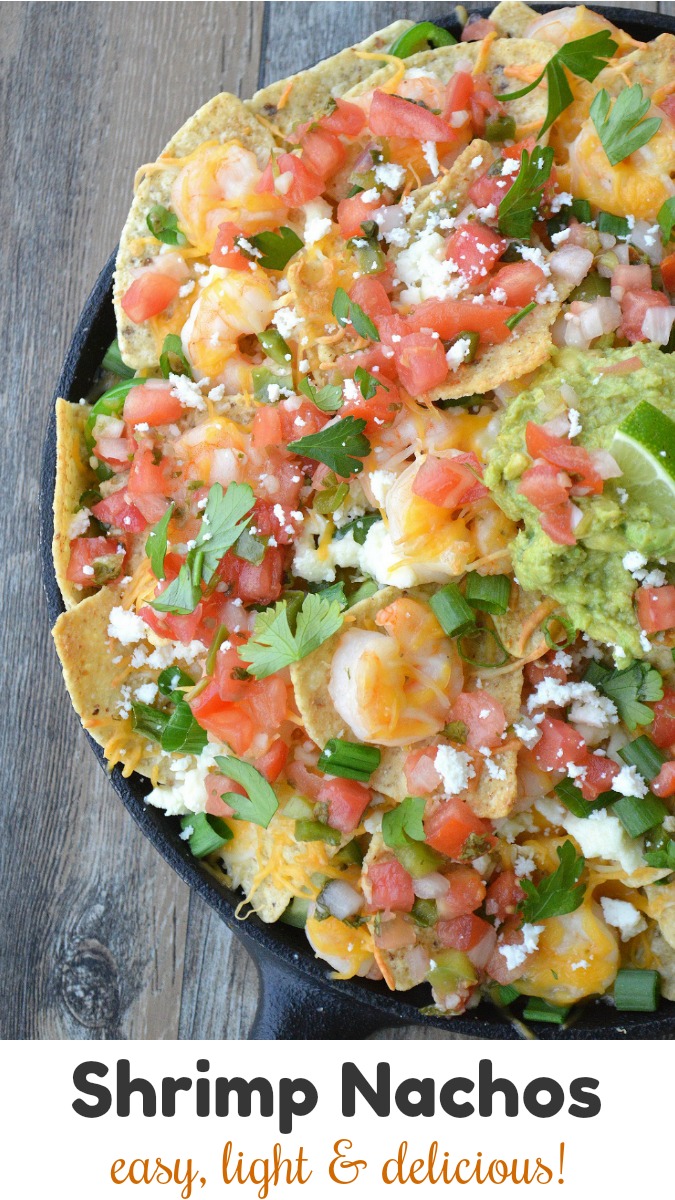 I teamed up with Gorton's Seafood once again to bring you this easy, yummalicious recipe! Why go out when you can make delicious /restaurant & bar food at home?? Last time, I made Crispy Fish Tacos…You need to check those out, delicious!!
Gorton's has long been a name to trust and their iconic fisherman now graces the boxes of over 50 products! Gorton's Everyday Gourmet line includes Simply Bake Classic Shrimp Scampi, Simply Bake Salmon, Jumbo Butterfly Shrimp and more. Chef-inspired dishes that bring something special to your table with no effort!
Gorton's Simply Bake Shrimp Classic Scampi is SO easy to make. All you need to do is preheat your oven, place the foil packet on a baking sheet and before you know it you have perfectly cooked, perfectly seasoned shrimp scampi to toss with pasta, put over a potato, eat on its own or do like I did and use for nachos.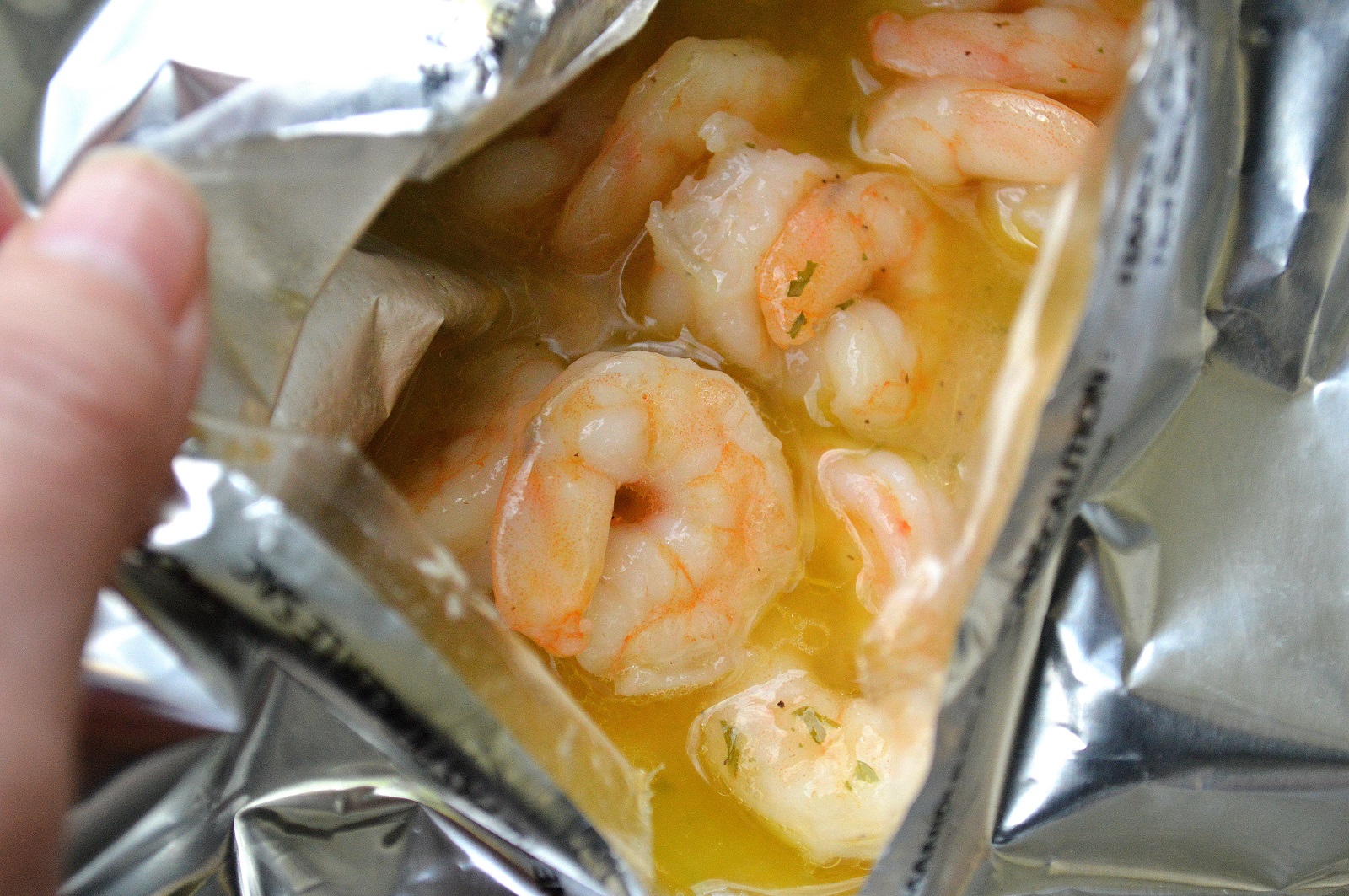 Of course, you have all the Gorton's classics as well in their Classic lines, like my kids favorite, Beer Battered Fish Fillets, and Fish Sticks. Plus my childhood favorite Fried Clams! The Smart Solutions line fantastic when you are looking for easy lighter options, they have over a dozen choices including Shrimp Bowls…Yum!!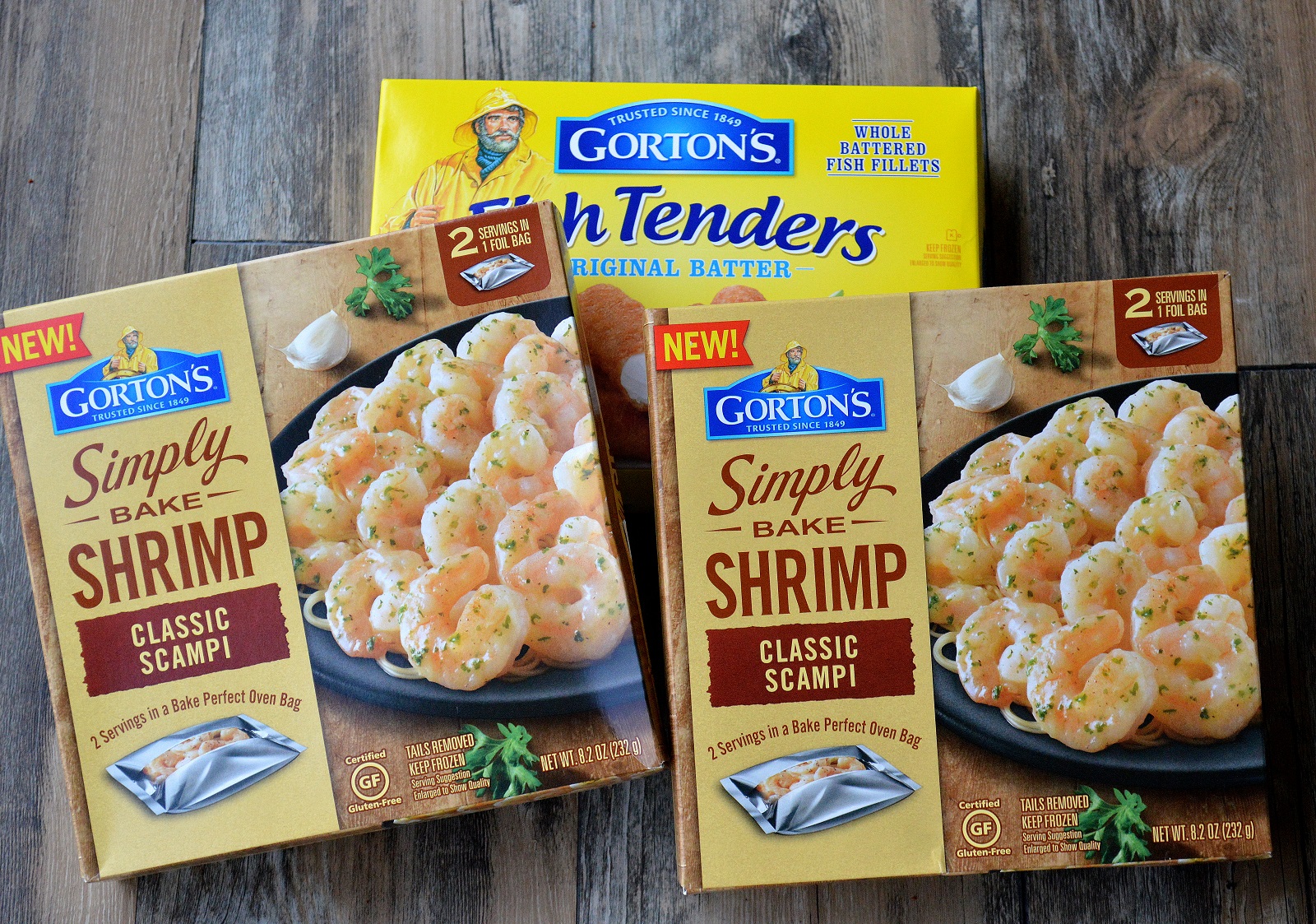 Founded in 1849 in Gloucester Massachusetts, Gorton's has been providing families with quick, easy perfectly prepared seafood for generations. They make it easy to get dinner on the table.
If you are ready to switch up your nacho game and make Shrimp Nachos, simply decide what you want on them. I added jalapenos, pico de gallo, some quick homemade guacamole, scallions, shredded cheddar, and Monterrey jack cheese, crumbled queso fresco and then I added a drizzle of Mexican table cream. I kept this light. Not a lot of cheese, no sour cream. Just fresh and bright. We enjoyed the heck out of these! No chip was left behind and for sure no shrimp was!!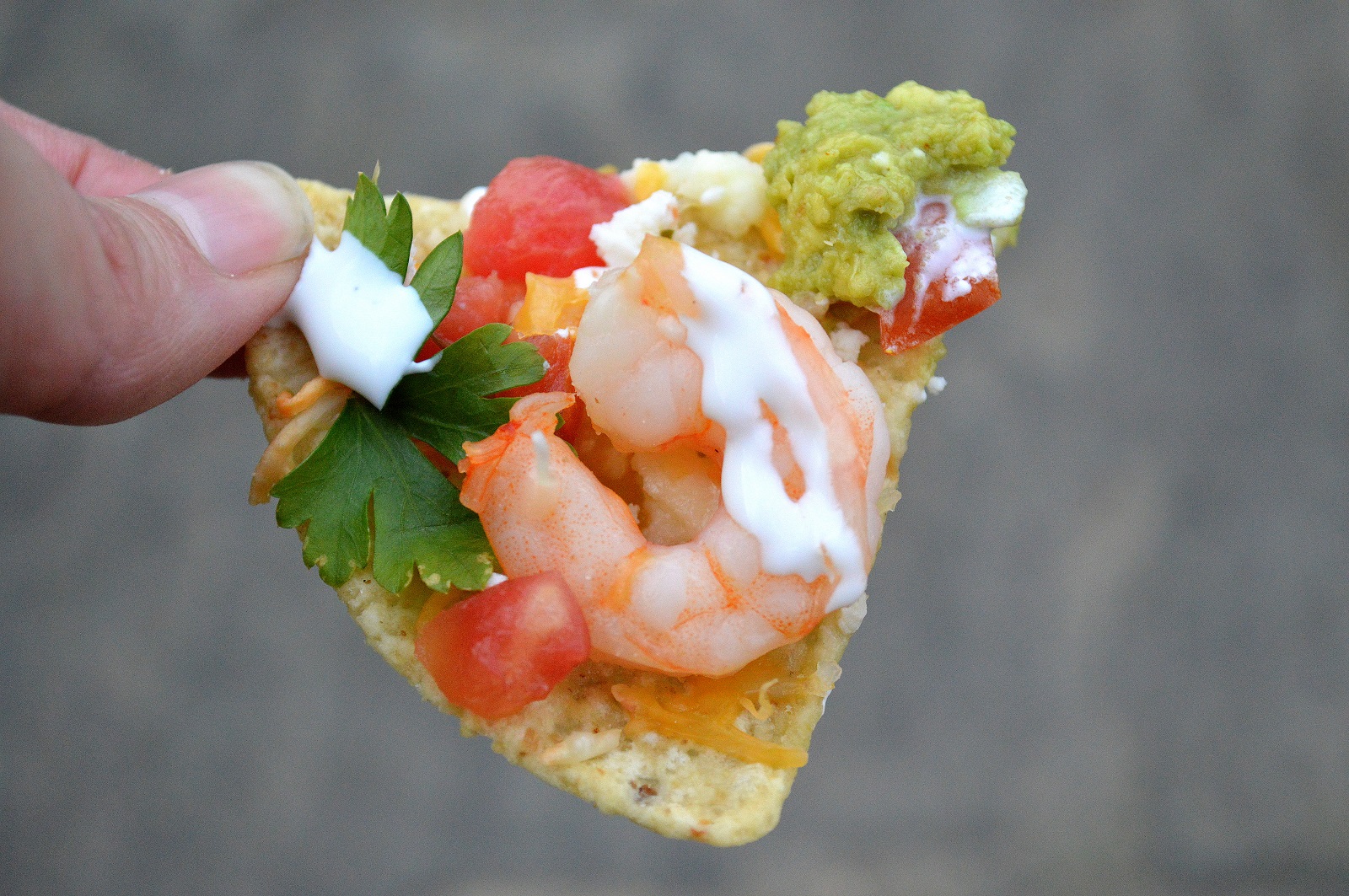 How Do You Make Shrimp Nachos?
Making shrimp nachos is easy. Substitute shrimp for your traditional protein and dress the nachos accordingly. This turns out lighter and brighter than traditional nachos. Perfect for warm-weather outdoor dining! Assemble nachos and the fixings you enjoy and scatter shrimp scampi or garlic shrimp that you make yourself overtop.
I first melt the cheese onto the chips via the oven (you can also use a pourable cheese) and then quickly dress them with things like cilantro, additional cheese, beans, tomatoes, avocados or guacamole. I add the shrimp at the end and serve. Yum!
What Variations Can I Make To Shrimp Nachos?
You can take these nachos anywhere you want them to go. Use Gorton's for a quick, no mess addition of flavored shrimp or make garlic shrimp or even blackened shrimp to use. Swap out guac for avocado chunks. Add sour cream and/or hot sauce. Make this super cheesy or add just a nut. Add corn, beans…whatever you wish to make it your own! You really can't go wrong when making nachos!
Make these Shrimp Nachos simple or loaded. Go for it, pile on the cheese, make a creamy cheese sauce from shredded Monterrey jack, pepper jack, Mexican cheese blend, and some sour cream or hot sauce, whatever you want. Add black beans, refried beans, etc! There are no rules with nachos.
All I know is that making these shrimp Nachos was a snap thanks to Gorton's Simply Bake Shrimp Scampi! No prep and no mess (and no stinky shells!). Look how pretty a pan of these are! Bet you and your special someone or your friends would enjoy these with a cocktail, ice cold beer or glass of wine as we did!
If you recreate these Shrimp Nachos, let me see them so I can highlight them on my Instagram story. Tag me @SouffleBombay or #soufflebombay.
Follow Gorton's on Facebook  & Instagram for news, specials and recipe inspiration! Visit the Gorton's Seafood website for all product information, company history and tons of recipes
Enjoy!!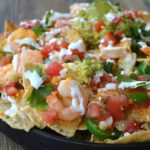 Print Recipe
Shrimp Nachos
This twist on traditional nachos is light and bright! Sub shrimp for beef or chicken and enjoy!
Ingredients
1

box Gorton's Simply Bake Shrimp Scampi

Tortilla chips

Cheese

Shredded Mexican blend, Shred your own pepper jack or Monterrey Jack cheese or use a cheese sauce

Sliced jalapenos

Slices

scallions

Chopped tomatoes or pico de gallo

Guacamole

homemade or store-bought

Queso Fresco

crumbled

Mexican table cream

yum!

Snipped fresh parsley or cilantro
Instructions
Cook shrimp according to package directions.

While shrimp is baking in its packet. If making fresh guacamole, do so now (avocado, lime juice, salt, garlic, diced avocado, red pepper) or cut up your avocado to add to the nachos.as is (yum).

On a baking sheet or in a cast iron pan or oven-safe pan, add tortilla chips, scatter cheese, jalapenos, and scallions (you can do layers. (If adding any type of bean do so now).

Set aside.

Once shrimp is done, drain the juice (you can save it for tossing with pasta the next day).

Scatter shrimp over the nachos and bake at 350 just until cheese melts.

Remove from oven, add queso blanco, guacamole or avocado, pico or tomatoes and whatever else you would like to add.

Drizzle with Mexican table cream (if you choose), scatter parsley or cilantro and enjoy straight away!
Nutrition
Serving:
6
g
|
Calories:
291
kcal
|
Carbohydrates:
23
g
|
Protein:
14
g
|
Fat:
17
g
|
Saturated Fat:
8
g
|
Cholesterol:
49
mg
|
Sodium:
409
mg
|
Fiber:
4
g
|
Sugar:
2
g