Looking for a delicious salad that can double as a meal? This robust Steak Fajita Salad will do the trick for lunch or dinner! Grab a fork and dig in!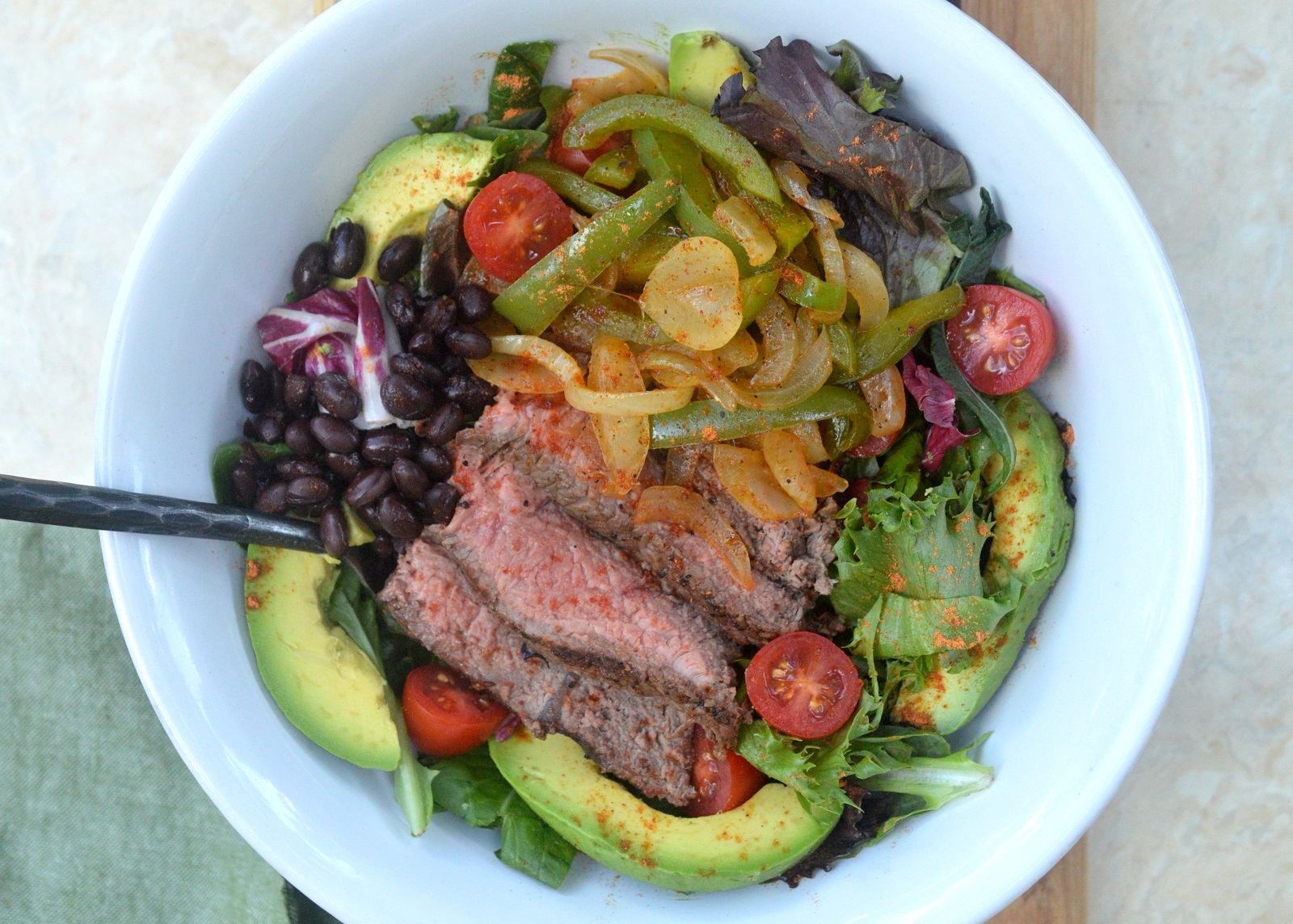 Here's the thing when it comes to a Fajita Steak Salad...It's easy to make, it's robust enough to stand alone as a meal and you can make it with your favorite freshly cooked steak(s) or use up leftover steak. Wait...who ever has leftover steak??  Haha, I know...I do too and boy do I love it sliced up cold the next day! 
My sister is the one who turned me onto the idea of a Steak Fajita Salad. She decided to go on a diet a few weeks ago (something she hasn't done in years). She and some of her co-workers all purchased the book The 4 Hour Body from Amazon and wow did they all ever drop some weight fast! The first 20 pounds came right off! From what she tells me it's about eating a good amount of protein and keeping it low sugar and low carb.
My sister keeps telling me she is obsessed with eating "her" Steak Fajita salad at work (she works at a really nice restaurant in my town). Even on her days off, she either pops in there to order one for her lunch or she makes it herself at home. She's smitten, she even carries a small baggie of taco seasoning with her, lol! In lieu of salad dressing, that is what she chooses to use plus it boosts the flavor.
Since I was curious as to what the fuss was all about as well as being more focused on smart eating choices as summer draws closer, I decided to whip one these up and now it's also a new favorite of mine! Thanks sis!
I hope you try this Steak Fajita Salad out for yourself! You can easily customize it to make it simple or loaded with all kinds of add-ins.  I can also see this being a pretty (and delicious) salad to put out at a barbecue, or gathering as well. Simple grab a big platter and arrange it all on there, place a pair of tongs next to it and people will dig in.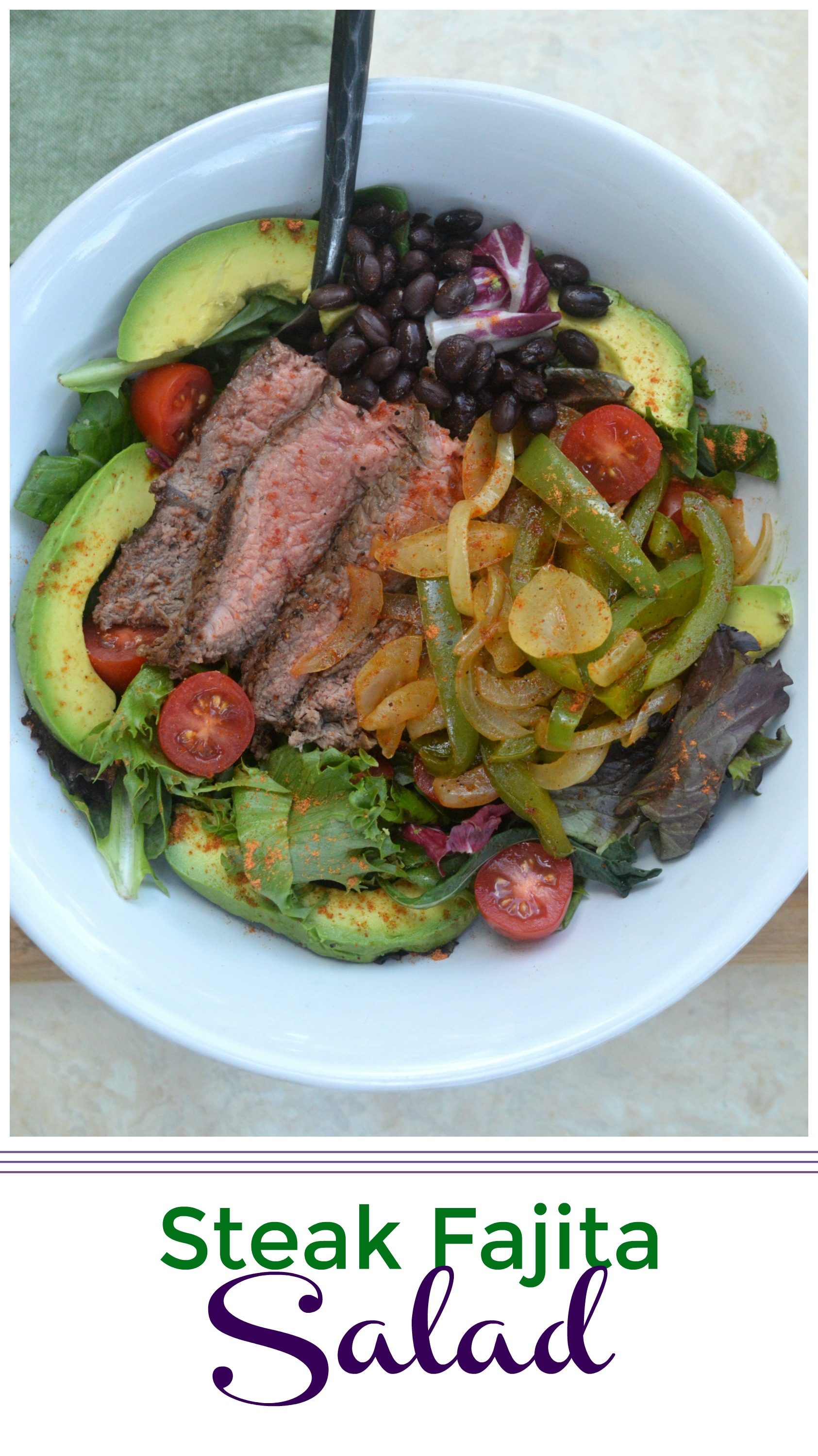 How Do I Make Steak Fajita Salad?
First, you need to choose the base of your salad, your greens. Romaine lettuce, Iceberg lettuce, spring mix or whatever you enjoy. You can even do a combination of greens. Choose your steak. either cook steak(s) specifically to make this salad or use up your leftover steak. I prefer my steak cooked to medium for this salad. Next, choose your add-ins. Things like peppers and onion (which you will saute), black beans, avocado chunks, slices or guacamole, black beans, tomatoes, cheese, etc.
Assemble your salad components, cook your steak, allowing time for it to rest prior to slicing and cook your onions and peppers. Then once your steak has rested, slice it down, and assemble the salad.
What Variations Can I Make To Steak Fajita Salad?
Make as many variations to this recipe for Steak Fajita Salad as you like. Choose to use chicken vs beef for starters, or shrimp for that matter. You can add in one cheese, a variety of cheeses or no cheese at all. You can add in anything else you feel you would enjoy, here are some suggestions:
Pico de gallo or tomatoes
Black olives
Avocado slices, chunks or a lump of guacamole
Sliced jalapenos (if you enjoy heat)
Any kind of tomatoes you enjoy or a variety
Cheese suggestions, Pepperjack, Cojita, Monterrey Jack, cheddar (whichever you enjoy)
Peppers and onions (sauteed is what differentiates this salad from the norm however if you are jonesing for raw, go right ahead)
What Dressing Should I Use On Steak Fajita Salad?
As I said above, to save calories my sister simply sprinkles on some taco seasoning and loves the taste as everything combines together. Since the peppers and onions are sauteed and warm, you really don't miss a dressing. If you want a dressing for this salad I have made that goes perfectly with this salad, whether you choose beef, chicken or shrimp which you will find below.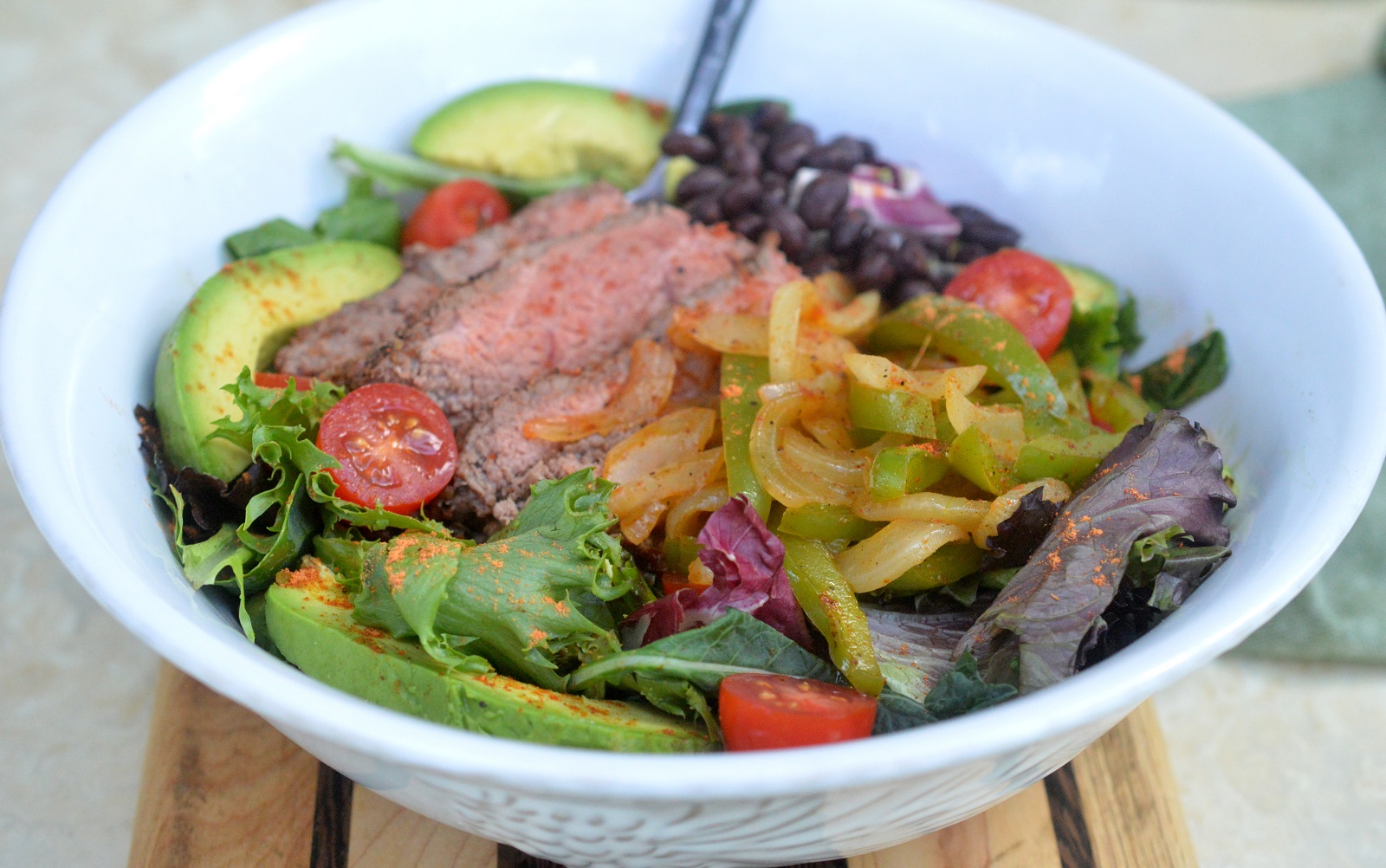 Follow along on my Instagram or Facebook Stories for cooking tutorials, tips and more!
Enjoy!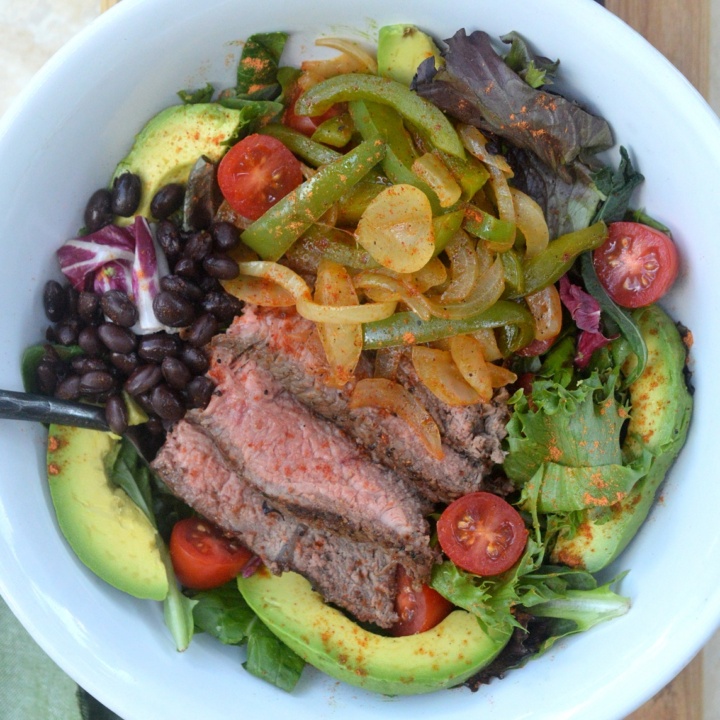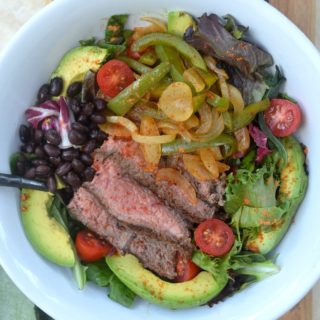 Steak Fajita Salad
If a fajita and a salad had a baby...this would be it! Delicious, robust and perfect with steak, chicken or shrimp!
Ingredients
Steak

I enjoy ribeye or tenderloin for this

1

large Vidalia onion

sliced

1

large green or red pepper

sliced

6

cups

salad greens

½

cup

sliced tomatoes or pico de gallo

½

cup

black beans

1

avocado sliced and seasoned or ¾ cup guacamole

1

TBS

taco seasoning

Optional: Salad dressing of your choosing or the recipe in the note section
Instructions
Cook your steak to your preference of doneness (or use leftover steak). Season your steak well with salt, pepper and either fajita or taco seasoning. If you would like to make your own seasoning combine ½ teaspoon of the following - chili powder, garlic powder, paprika, cumin, and salt. Add to that ⅛ teaspoon of black pepper and mix until well combined before using.

Saute onions and peppers with a small amount of oil, season with salt, pepper, and taco/fajita seasoning.

Once steak has rested, slice and assemble the salad and enjoy.

See notes for a simple salad dressing to use if you like.
Notes
To make a salad dressing to go with this salad: 4 TBS olive oil, 5 TBS lime juice, 1 TBS garlic paste or 1 crushed garlic clove, ½ teaspoon cumin, ½ teaspoon chili powder, 1 teaspoon honey, ½ teaspoon salt, a pinch of red pepper flakes in a mason jar or salad dressing shaker and shake vigorously until emulsified.
Nutrition
Serving:
2
g
Calories:
604
kcal
Carbohydrates:
40
g
Protein:
43
g
Fat:
30
g
Saturated Fat:
8
g
Cholesterol:
104
mg
Sodium:
634
mg
Fiber:
17
g
Sugar:
6
g
Follow me on Tik Tok for 1 minute videos