Many of us are planning what to serve or bring to the Easter dinner, as well as how to decorate and add the extra touches that make our holidays memorable. This Giant Deviled Egg makes s fun and tasty centerpiece appetizer that people will be talking about.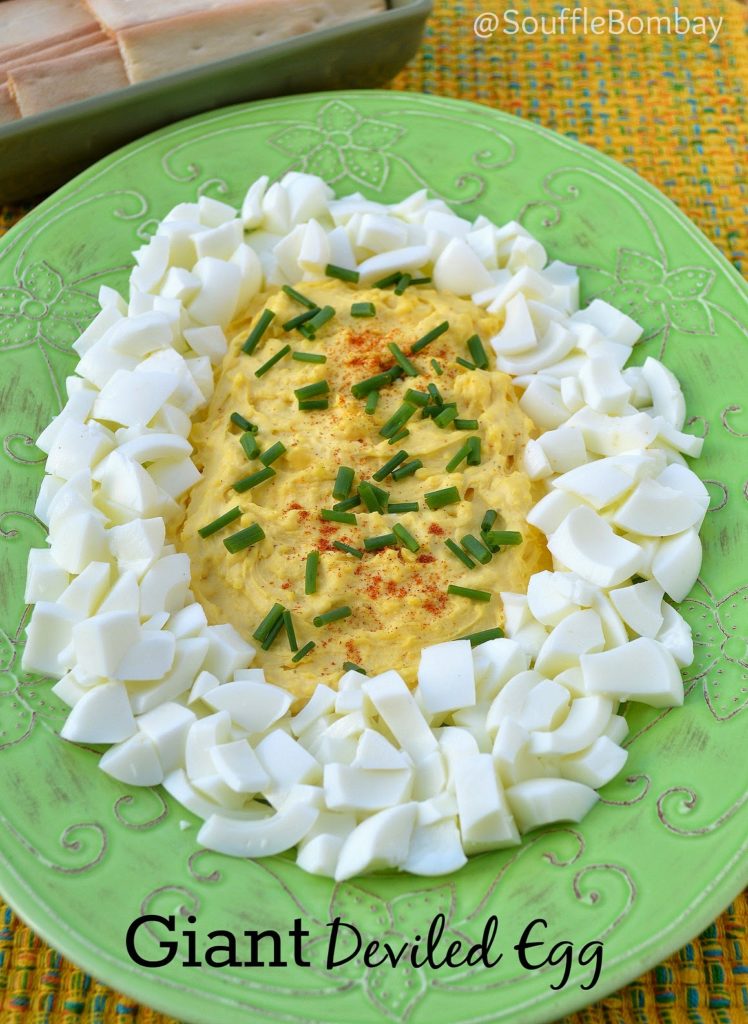 4 years ago, I attended my first in-person food blogger event - I met bloggers in person for the first time, made some friends, learned a few things and ate well!  One friend I made that weekend  was Jackie, aka The Diva That Ate New York, who brought to the event a Giant Deviled Egg (the event was called The Big Summer Potluck - so we all brought a dish...SO fun).  I have no clue what she called it, I actually didn't even taste it but the memory of the fun of it left an impression on me so I thought it would be a perfect thing to share this Easter!
Make this Giant Deviled Egg with is really a deconstructed deviled egg turned dip with your leftover eggs or make it just because.
I remember this quickly disappearing not a scrap of this was left, people loved it!  Add bacon, hummus, guac - whatever you like...Make it your own!  Deviled eggs are always a hit and delicious on their own BUT scooping up some of the egg whites and the yolk mixture with your favorite cracker takes the yum-factor to another level!  Above I used 12 Extra Large Eggs, however you can use any amount of eggs you choose,  -Before mt family devoured ate it, I actually made some fresh Guacamole Dip and topped it with that.  It-was-ridiculously delicious!
I really don't think I need to give you a recipe for this, just the idea.  Make the deviled egg part they way you normally do.  However, in case you do need/want a recipe...here you go 🙂
Giant Deviled Egg
12 large/extra large hard-boiled eggs
Mayo to your liking (about ¾-1 cup)
1 teaspoon dry mustard
Salt and pepper
Paprika (just a dusting)
Chives
Crackers
Separate the yolks from the eggs.  I have found that if you hold an egg in your palm and gently slice just a bit of the white - not cutting into the yolk...you can pop the yolk out with almost no residue.  Which makes your while pure white.  If you do have residue, just rinse off the remaining whites or gently wipe them.  Place yolks in a small bowl and whites on your cutting board.
Dice whites up into bite sized chunks, set aside.  Mash yolks with a fork until no large bits remain, add the mayo, mustard, salt and pepper and mash until combined and creamy.  Add more may of necessary.  Grab a platter, mound the yolk mixture in the center, surround it with the egg white chunks, sprinkle with paprika and chives and serve with crackers.  Have fun with this & enjoy it!!
We would like to give a huge thank you to the companies that made this give away possible! Thank you to John Boos for the beautiful maple cutting board, The Spice House for their spice and baking gift sets, Divine Chocolate for their luxuriously rich Fair Trade Chocolate gift basket, Wilton Armetale for the elegant egg plate, and Tree Hut for the body scrub and lotion.