If you enjoy fresh tuna, this easy recipe for Blackened Tuna Bites is one you need to try. I often make it as an appetizer when we have people over and it always wows the room!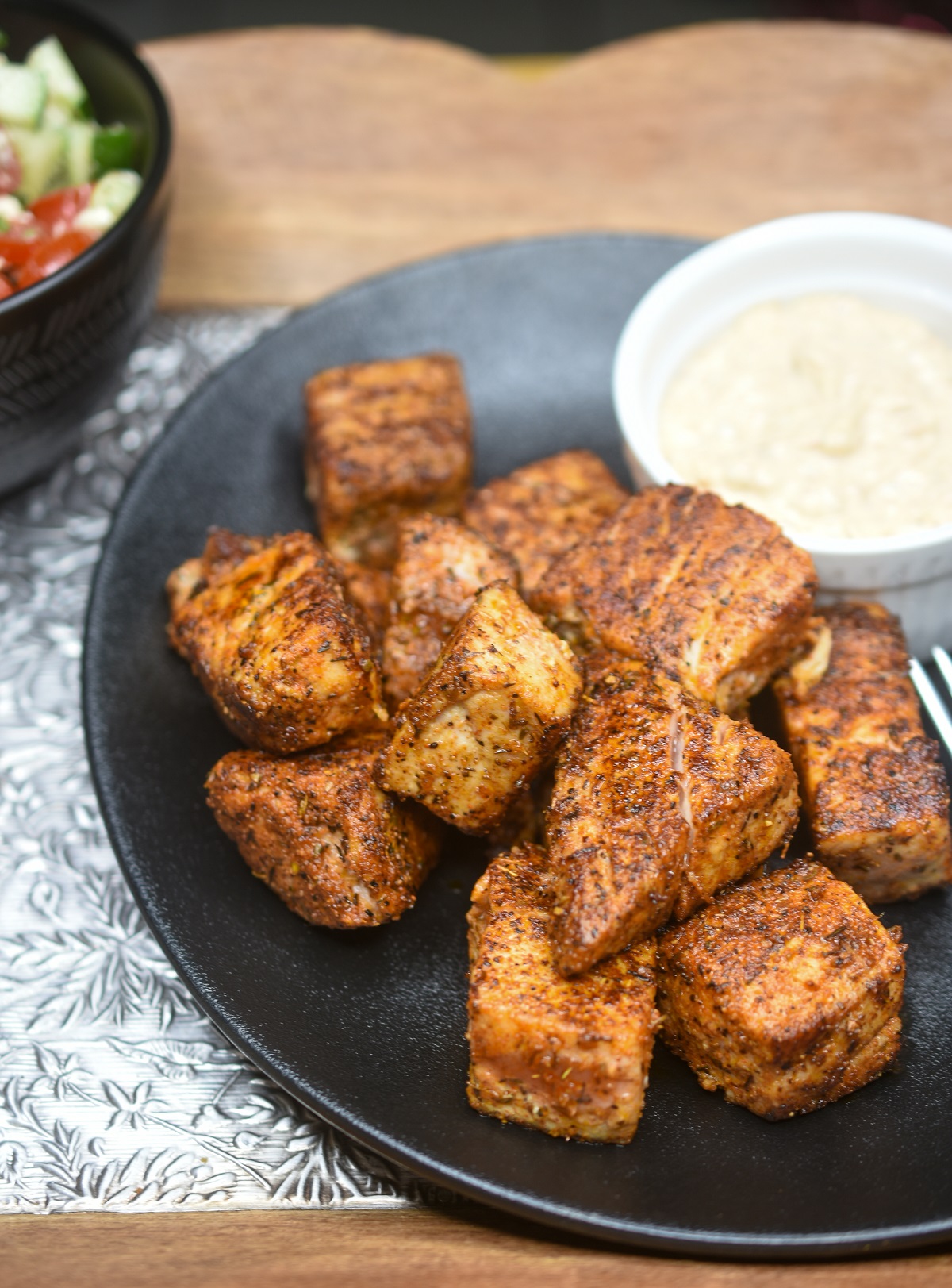 Have you ever made something you think is so simple and then people go nuts for it? This fresh tuna recipe is one of those.
It is so funny that you can spend 2 hours on a dish and think it is going to be a hit. Then meh, no one really says anything. But then, you throw something together in 10 or 20 minutes and its talked about and requested for years! Am I right? What the heck people, lol!
Another one of those easy recipes that is always a hit and the recipe is asked for is this Hot Onion Dip. Minutes to assemble with items almost always on-hand and inexpensive to make. People go crazy, ha!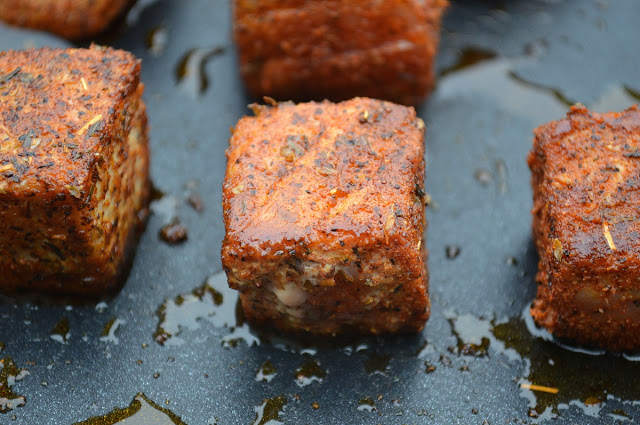 These Blackened Tuna Bites simple yet amazing. The better the tuna, the better the bite! You can also keep the fish whole and make Blackened Tuna Steak
So many people have asked how to make them or asked to have me make them for them ever since. I personally must have sold a ton of Blackened Redfish Magic by Paul Prudhomme (which is the seasoning I usually use on this).
I swear its always the easy dishes that get people!
Ingredients to make Blackened Tuna
Fresh tuna steaks
Blackening seasoning (my favorite is Blackened Redfish Magic)
Oil for cooking such as Avocado or Olive oil
Variations
Instead of making tuna bites, you can keep the tuna steaks whole and make blackened tuna steaks as an entrée.
Swap blackening seasoning for Cajun seasoning. Similar, Cajun just had more of a kick.
Tips
The better the quality and freshness of your tuna steaks, the better the taste.
Coat the tuna after cutting into chunks, coating well to toss.
Use a nonstick skillet.
Heat the pan, add the oil, once oil is hot add tuna. Use tongs to gently move each piece so that all sides get a quick sear.
Cook to your preference of medium, well done or more on the rare side (again quality tuna comes into play if you opt for more rare).
For the Tuna Bites I swear by Chef Paul Prudhomee Blackened Seafood Magic Spices - they are seriously fantastic and I have been using them for years! Chef Paul was a Louisiana native and a heck of a chef. He passed away in 2015 shortly after I first published this recipe. 🙁
You can call these blackened tuna bites or spicy tuna bites, I call them de-lic-ious!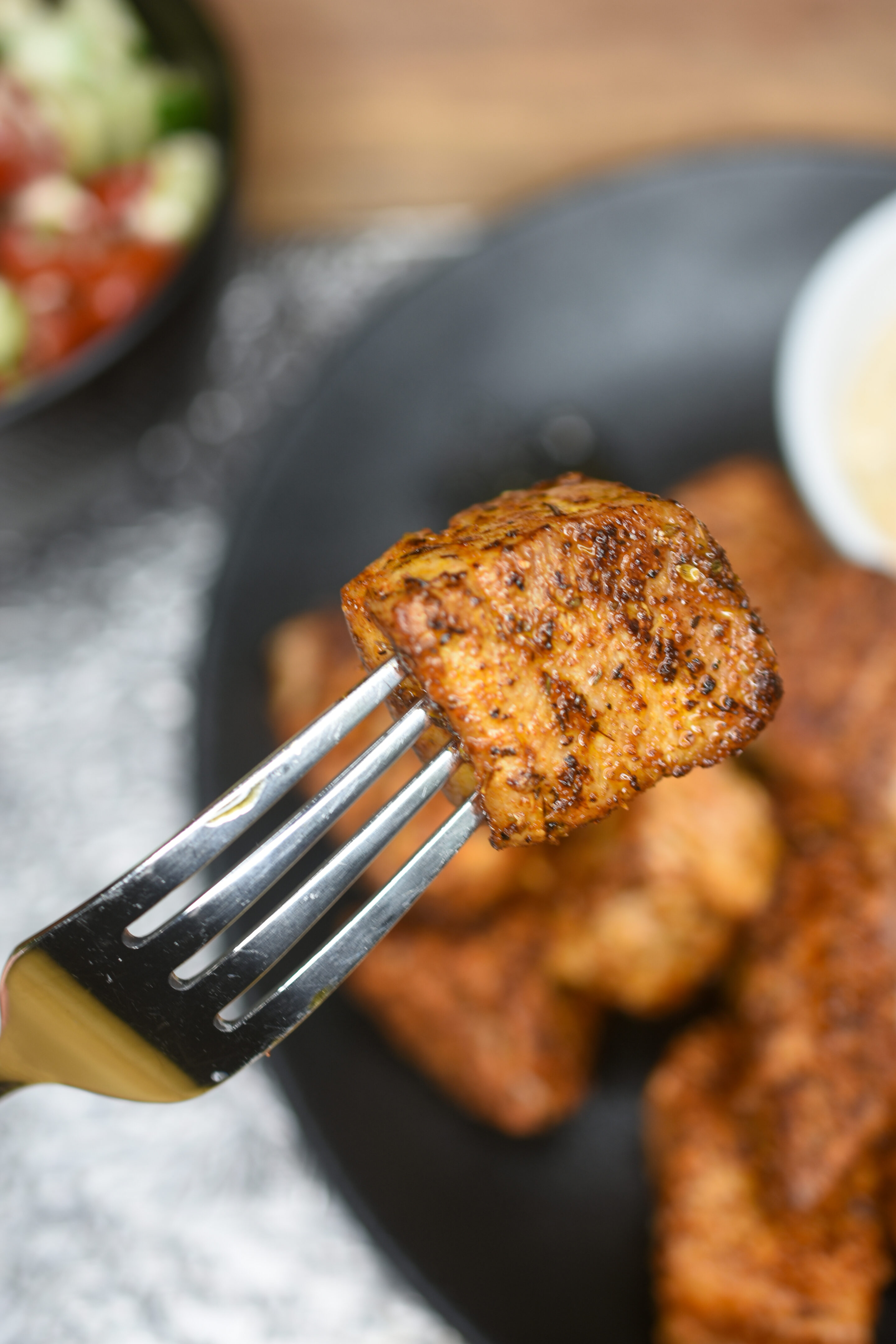 Quick & easy recipes to try
Enjoy!
Post updated July, 2023, originally published June 2015. Post contains an affiliate link. If you purchase something I recommend from Amazon, I may receive a small amount.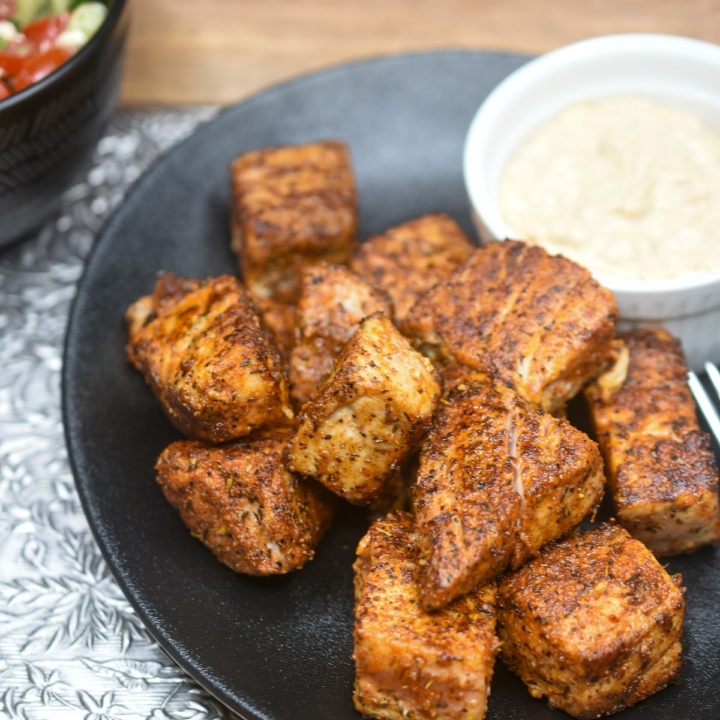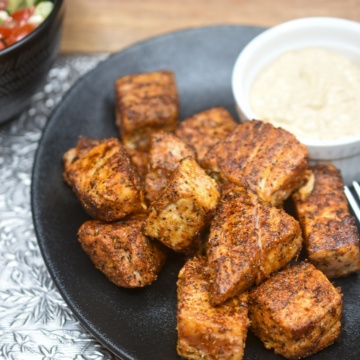 Recipe Blackened Tuna Bites
Blackend Tuna Recipe. Easy 3 ingredient recipe is big on flavor and a part favorite! Enjoy as Tuna Bites or whole blackened tuna steaks.
Ingredients
Tuna Bites

1

pound

piece good quality tuna steak

2

TBS

grapeseed or olive oil

3

TBS

Paul Prudhomme Seafood Magic

used above or Blackened Seafood Magic or whichever blackening seasoning you enjoy best

Aioli

½

cup

mayonnaise

1

TBS

relish

Few dashed Worcestershire sauce

A squeeze of fresh lemon juice

A dash or two of Cayenne pepper
Instructions
Lightly coat your tuna in a bit of oil.

Cut the tuna steak into bite sized cubes.

Gently pres tuna cubes down into the seasoning mixture and coat all sides with it.

Place coated tuna pieces on a plate.

Heat 1 ½ - 2 TBS of  oil in a non-stick griddle or skillet until very hot but not smoking.

Place tuna pieces into the pan and cook over high med-heat until each side of the cube is cooked and golden brown/blackened.

You need to move quick so the tuna doesn't cook all the way through.  Total cook time should not exceed 2-3 minutes if you still want your tuna pink inside.

If you want it rarer, you need to cook it even less.

Remove each tuna piece (based on size) as soon as it is done and plate.

Combine all ingredients in a small bowl and mix until smooth and creamy.

Eat the tuna alone or with some of the sauce...either way, enjoy!
Notes
Nutritional calculation is calculated assuming you use all of the sauce which I am sure you will not. So calories are less. 
Nutrition
Serving:
2
servings
Calories:
838
kcal
Carbohydrates:
2
g
Protein:
54
g
Fat:
67
g
Saturated Fat:
11
g
Polyunsaturated Fat:
30
g
Monounsaturated Fat:
23
g
Trans Fat:
0.1
g
Cholesterol:
110
mg
Sodium:
2125
mg
Potassium:
589
mg
Fiber:
0.1
g
Sugar:
0.3
g
Vitamin A:
5000
IU
Vitamin C:
0.1
mg
Calcium:
23
mg
Iron:
3
mg
Follow me on Tik Tok for 1 minute videos