Need a quick and easy dinner idea? These Lemon Pepper Pork Chops can be made in under 20 minutes. Just add a side vegetable or two like green beans and maybe some cauliflower rice and you are good to go!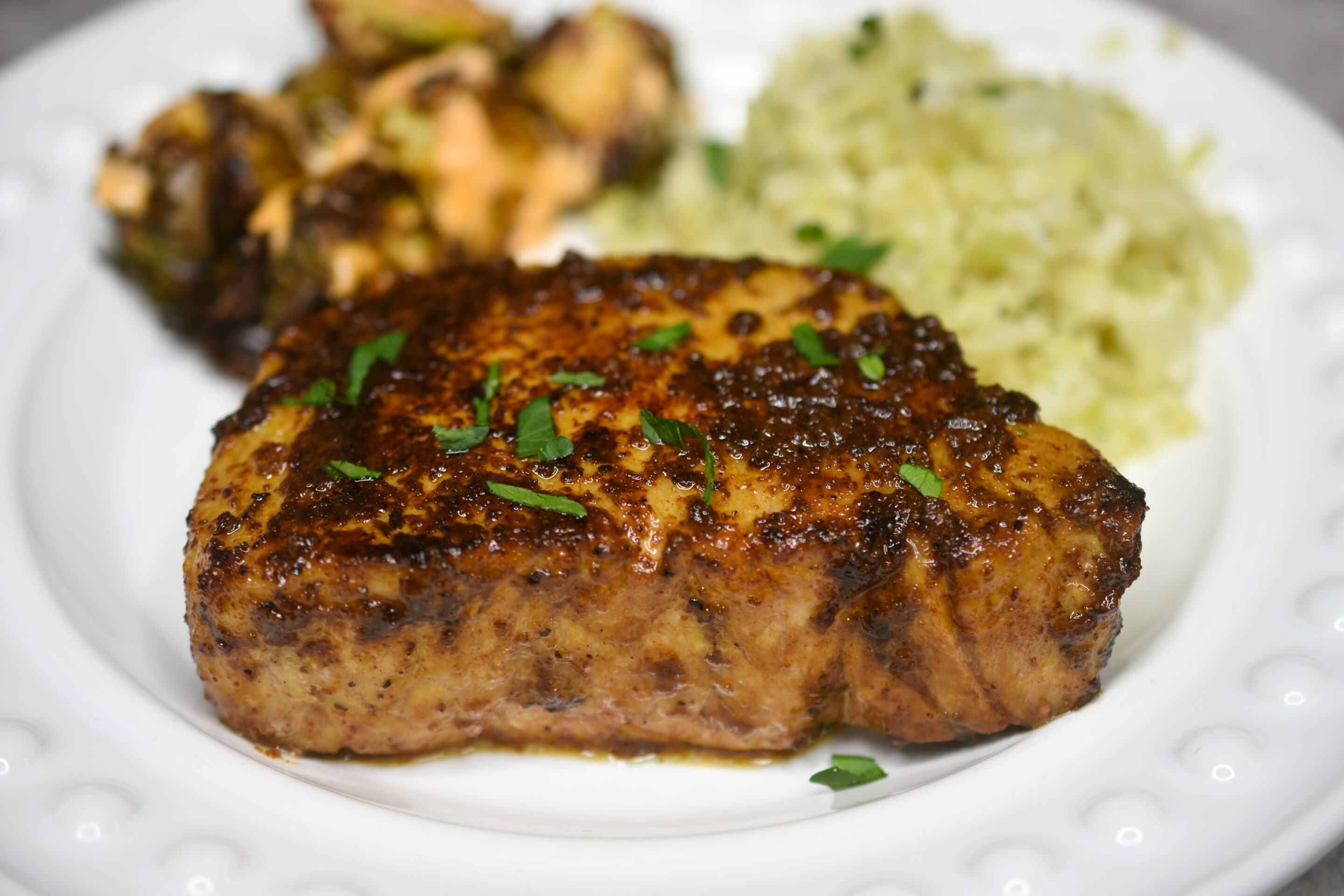 This recipe for Lemon Pepper Pork Chops calls for just 6 ingredients and cooks quickly. The sauce is super flavorful. Actual cook time will depend on how thick your pork chops are.
This easy skillet pork chop recipe is actually a prizewinning recipe, created by my friend Janet.
Years ago, she won a contest with the Pork Board for coming up with this recipe and I have been making it a couple of times a year ever since.
If I was pressed to name my favorite protein, I am pretty sure I would go with pork. It is just so versatile. Pulled Pork, spare ribs, port tenderloin, roasts, chops and hello...Bacon!! Not to mention, Have you ever enjoyed a whole BBQ pig at a luau or Octoberfest? Ahhh-mazing!
Ingredients To Make Lemon Pepper Pork Chops
Boneless pork chops (as thick or as thin as you enjoy)
Lemon pepper seasoning
Garlic powder
Butter
Dijon Mustard (I like Grey Poupon Country Dijon best)
Worcestershire sauce

How To Make These Skillet Pork Chops
Start by allowing your pork chops to sit at room temperature for 20-30 minutes to allow the chill to come off the meat. Combine lemon pepper seasoning and garlic powder and mix together, set aside. Pat your chops dry with paper towels. Season your chops on all sides (yes, even the sides and ends).
Melt 1.5 TBS butter in a skillet or wok. Once melted add the chops, allowing space between each chop, and sauté for a few minutes until browned, Then using tongs, brown edges and ends of chops before flipping them to the raw side. Add an extra TBS or two of butter when necessary. As soon as chops are just about cooked through (I remove at 130-135) remove them from pan and add into the pan additional butter, mustard and Worcestershire. Stir with a spatula or whisk until combines and bubbly and add chops back in for a few minutes to finish cooking. Remember the temperature of meat continues to rise after you pull it from an oven or pan. Be careful to not overcook. Here are the recommended cooking temperatures for pork straight from The Pork Board. I personally shoot for the low end since I do not enjoy dry chops (or meats for that matter).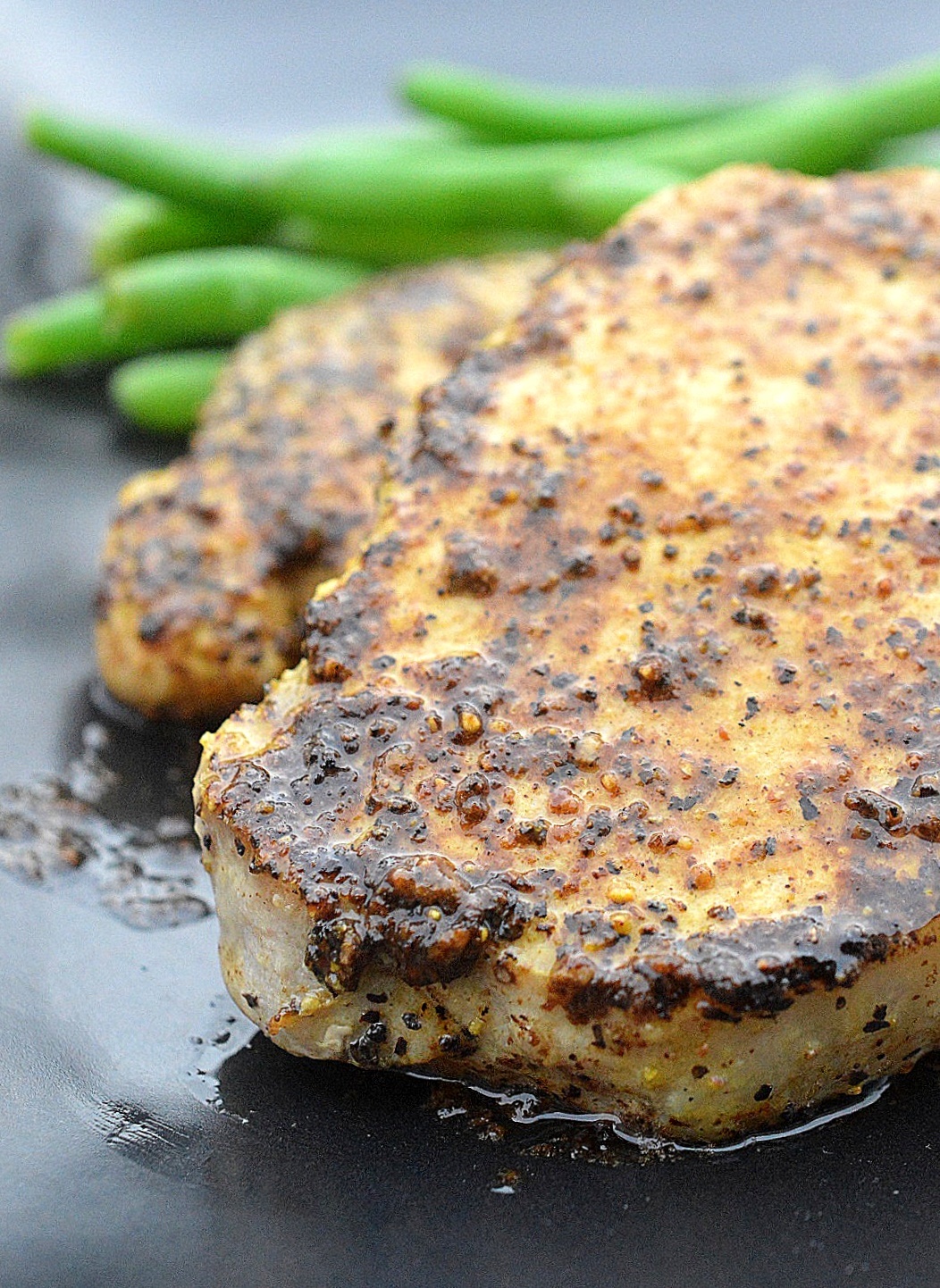 I hope you enjoy this easy pork chop recipe. It is rich since you do use butter, however it is a low-carb and Keto friendly pork recipe.
Tips:
Use boneless chops (cook time will depend on thickness of chops)
Season the chops all-over.
Cook over med-high heat initially and then turn the heat down to medium.
When cooking the pork, use tongs to sear the edges and ends. You'll get greater flavor that way as well as render one of the fat the pork chops may have.
Use a digital meat thermometer to help determine doneness. No one enjoys dried out pork.
If you enjoy pork as much as I do, check out my Bacon Jam (which is so stinking good I eat it off a spoon AND its insane on a burger!!), Pork Belly Bites, my super-popular Asian Pork Meatballs (no filler) in a Ginger Honey Glaze or my BBQ Pulled Pork Pizza. There is just something about pulled pork, cheese, BBQ sauce and pizza dough that makes me weak in the knees. (same goes for Pulled Pork French Fries).
See all of my pork recipes here. I have a lot!! See, I wasn't kidding about my love of pork!!
Enjoy!
Nutritional information calculated via a WordPress Plug-in (I am not an RD or Dietitian). Post contains an affiliate link which means if you decide to purchase a recommended item, I may receive a few cents. Recipe originally published November, 2011. Updated with recipe card, photos and text March, 2021.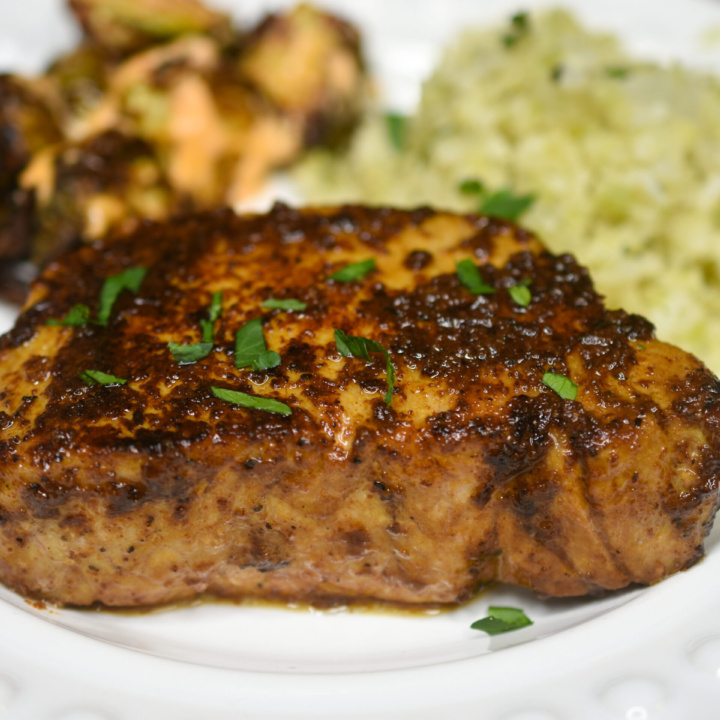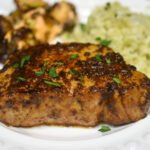 Print Recipe
Lemon Pepper Pork Chops
Need dinner in a hurry? This easy Lemon Pepper Pork Chops recipe can be made in under 20 minutes. It also happens to be a prize-winning recipe.
Ingredients
4

boneless pork chops

1

TBS

lemon pepper seasoning

1

teaspoon

garlic powder

4

TBS

butter

1 ½

TBS

Dijon mustard

(I use Grey Poupon Country Dijon)

1

TBS

Worcestershire sauce
Instructions
Lightly coat chops on both sides with lemon pepper seasoning.

In a large frying pan melt 2 TBS of your butter, add chops and saute over medium heat until done about 2-3 minutes a side for thinner chops, more for thicker chops.

Remove chops and cover with foil.

Deglaze your pan with your additional butter, Worcestershire sauce and mustard. Move it around quickly with a spatula or big spoon until it comes together. Put chops back into the pan for 1 minute to coat with sauce. Pour remaining sauce over chops and serve.
Nutrition
Serving:
4
servings
|
Calories:
321
kcal
|
Carbohydrates:
3
g
|
Protein:
30
g
|
Fat:
21
g
|
Saturated Fat:
11
g
|
Trans Fat:
1
g
|
Cholesterol:
120
mg
|
Sodium:
271
mg
|
Potassium:
574
mg
|
Fiber:
1
g
|
Sugar:
1
g
|
Vitamin A:
371
IU
|
Vitamin C:
1
mg
|
Calcium:
28
mg
|
Iron:
1
mg