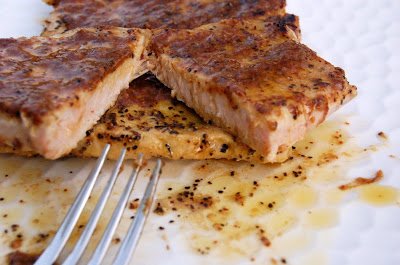 Notice all of the juicy goodness on the plate above…I apologize in advance for any plate licking you may be compelled to do..Neither myself or Kerrygold can be held responsible for any embarrassing moment that may occur at your dinner table…lol!
As I stated in my Caramelized Onion Butter post the other day, Kerrygold introduced 2 new butters to 50 food bloggers recently and asked us to tinker around with them. I for one have been having fun…after all not much in my book is better than a good butter!
Today, I want to share with you a dish that comes together in a snap and is bursting with flavor! The combination of the seasoning, butter, Worcestershire and the mustard is really different and tastes fantastic! The great news is that it is a rich dish that is lightened up with the use of Kerryholds' new Reduced Fat Butter, gotta love that!
Lemon Pepper Pork Chops
4 or 5 pieces of boneless pork chops, not to thick
Lemon pepper seasoning
2 TBS Kerrygold reduced fat butter
2 TBS Worcestershire sauce
1 1/2 TBS Grey Poupon Country Mustard (or another grainy mustard)
2 TBS additional Kerrygold Reduced Fat Butter
Lightly coat chops on both sides with lemon pepper seasoning.
In a large frying pan melt 2 TBS of your butter, add chops and saute over medium heat until done about 2-3 minutes a side for thinner chops, more for thicker chops.
Remove chops and cover with foil.
Deglaze your pan with your additional butter, Worcestershire sauce and mustard. Move it around quickly with a spatula or big spoon until it comes together. Put chops back into the pan for 1 minute to coat with sauce. Pour remaining sauce over chops and serve.
Add a nice Caesar and some steamed veggies and you have yourself a quick and easy weeknight meal! If you add in some mashed potatoes…the sauce mingling with the potatoes is a great taste as well. My 10 year old son couldn't get enough!