Pulled Pork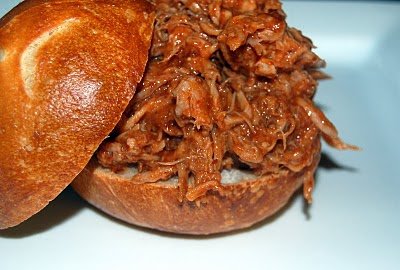 Goodness I love pulled pork!!
When we have BIG parties or head up the mountains to go skiing with a group, pulled pork is there!
What a fantastic make ahead, feed a huge crowd, travels great, folks love it kind of dish Pulled Pork is!
This past week I had been dreaming about a pulled pork sandwich (yup, that's me I dream about a sandwich...not winning the lottery, not having Johnny Depp fall madly in love with me, not winning American Idol...I dream about making and eating food! lol)) so I had my sister pick up a 12 pound pork shoulder at the BJ's by her home and bring it over Saturday night.
While we were having fun with folks over for dinner, the pork was slow roasting in the oven. (Gotta love that!)
Now...how does one know that their husband loves them?? Not just loves them but LOVES them??
Flowers? Nope!!
Kisses? Guess again!!
Presents? Not quite!!
I know my man loves me because I was one tired gal by 10:30 Saturday night...the week had caught up with me. The pork that was happily roasting away in the oven was not going to be ready to come out until midnight. THEN after it cooled a bit it would needed to be pulled...so my knight in shining armor rode right into the kitchen and took care of business for his tired wife!
He said he pulled pork from 1 am until 2:45 am!!
In the morning I was like WHAT 2 hours pulling pork? He said "honey, I didn't want to do it wrong or miss any fat" HA! Love his high standards when it comes to food!
Sigh...True love!!
And you know what...the pork was perfect!!
Everyone at my sisters Sunday watching football had a feast!! Thanks baby!
After much experimenting, this is how we like our pulled pork.
Slow cooking it in the oven gives it some crispy bits as well as the melt in your mouth pieces...a perfect combination. You can customise the sauce to how you like your pulled pork best. Some are into cider based sauces...some are into barbecue based sauces...mine is down the middle just the way we like it.
OH...and be sure to pop some hot out of the oven chunks of pork into your mouth while pulling...so stinkin' good!! If there happens to be a dog in your house...you may need to sedate him/her. This is one dish that send them over the moon (the men too)!
Pulled Pork
7-10 pound pork shoulder
Spice Rub
6 TBS paprika
3 TBS brown sugar
5 TBS Kosher salt
2 TBS dry mustard
2 TBS garlic powder
Optional: 1 teaspoon red pepper If you want your pork to have a kick (Yes!!)
Sauce
1-2 cups apple cider vinegar (just depends on how much of a vinegar taste you like...I go with 1 ½ cups
1 cups grainy mustard...you know what I am going to say...Grey Poupon Country Dijon!!
¾ cup brown sugar
3 TBS minced garlic
1 cup ketchup
1 teaspoon red pepper (if you want some kick)
Optional - if you want more of a BBQ tasting sauce...taste it first, then decide if you want to add it ½ to 1 cup of your favorite BBQ sauce.
Rolls(I like them hard and crusty...the husband likes them potato soft)
If you are using a cut of pork that has skin on it, you need to cut the skin off and boy is that work. It just depends on what cut of pork you are using. I have used pork shoulder, pork butt, pork roasts, center cut pork roasts all with success. I use a small serrated knife to have complete control over what I am doing.
Set aside
In a bowl combine all ingredients together for the rub.
Place pork in the pan or tin you will be cooking it in. Rub every inch of it liberally with the rub. Depending on the amount of meat you are working with...set aside some of the rub you made careful not to touch it with your "meaty" hands in case you have extra. If so, store in a baggie for next time - it will keep well for a year. Place your coated pork into your baking dish or tin pan. Let it sit in the fridge for 2 hours or overnight. You really need to let it sit for at least 2 hours or you will not get the juice from the pork you need to make the sauce while it is cooking and in order for your sauces to be a success...you need a good amount of drippings
Bake at 325 degrees for 30 minutes. Lower the oven to 300 degrees and cook for another 4-6 hours or until you can easily pull pork apart with 2 forks.
Once you take it out of the oven, pour all the pan drippings carefully into a large pot. Set your pork aside to cool a bit (at least 15 minutes and up to one hour). To your pot full of pan drippings add your mustard, brown sugar, garlic, ketchup and red pepper. Whisk it well until fully incorporated. Bring to a boil, then turn off the heat.
Once you remove the pork from the oven, let it sit for 15-20 minutes prior to pulling. Use two forks and separate the meat bit by bit, discard any fat.
I often use my fingers when I can here...that way I can feel if their are any pieces I want to toss...you just have to wait a bit more for it to cool.
Note: Some pieces of pork yield more liquid than others. If yours is not giving off enough liquid and the pan is getting dry during cooking, just add some water.
Enjoy!!